How to Choose the Right Enterprise eCommerce Platform
eCommerce May 05, 2020

Main / Blog / How to Choose the Right Enterprise eCommerce Platform
In most cases, deciding on the best eCommerce platform for your enterprise can be a real challenge. As we know, enterprise eCommerce platforms are very expensive. Moreover, you need a lot of effort and it takes a lot of people to set up, maintain and run an online shop at the enterprise level. For that reason, you need to be very careful with your decision when choosing a solution for the enterprise. Moreover, since the enterprise has significantly different requirements from small or medium businesses, you should make the maximum effort during the research stage. If you will select the wrong platform, it will have a negative impact on your business.
The article below contains insights into what features should have a perfect enterprise-level eCommerce platform and enterprise eCommerce platform comparison. The Dinarys team thinks that this information will give you a clear idea of the suitable features of popular enterprise eCommerce solutions and will help make the decision making process a little bit easier.
What Features Should Enterprise eCommerce Solutions Contain?
As we said above, the eCommerce solution for the enterprise should be different from a standard solution for online retail. How can you make the right choice?
The best way is to put some group effort into the decision-making process since it is a business-level decision. Some companies can even hire a consultant from outside the organization. Why? They do this in order to receive objective feedback and insights on the company's needs. Still, you can create a list of your requirements when it comes to the platforms you are looking for. Then, the best eCommerce platform for the enterprise should meet all your business goals since it will have a great impact on your short-term and long-term future.
To help you with this task, we have gathered a list of vital features for an enterprise eCommerce website.
Top five crucial features of eCommerce websites of enterprise-level retailers are:
Performance of the website
Capacity to handle traffic
Product images and description
Secure payments and data security
Mobile-friendly online store
All of these have a great impact on your online business. If you want your enterprise-level online store to be successful, pay attention to all these features.
Below you will find out more information about every feature and understand why they are important.
Statistics show that eCommerce brought in 15% of total retail sales this year in the US. That is why selling online is so important for retailers. But, to be a successful retailer, you should be aware of the most common issues eCommerce businesses are faced with.

#1 Performance of the Website
The speed of your eCommerce website has an impact on your customer experience and decisions. Akamai agency said a delay of 100-milliseconds reduces conversion rates by 7%. Moreover, an online shop delay of 2-seconds increases bounce rates by 100%. As for mobile shoppers, 3-second delays result in a 53% chance that customers will leave your website.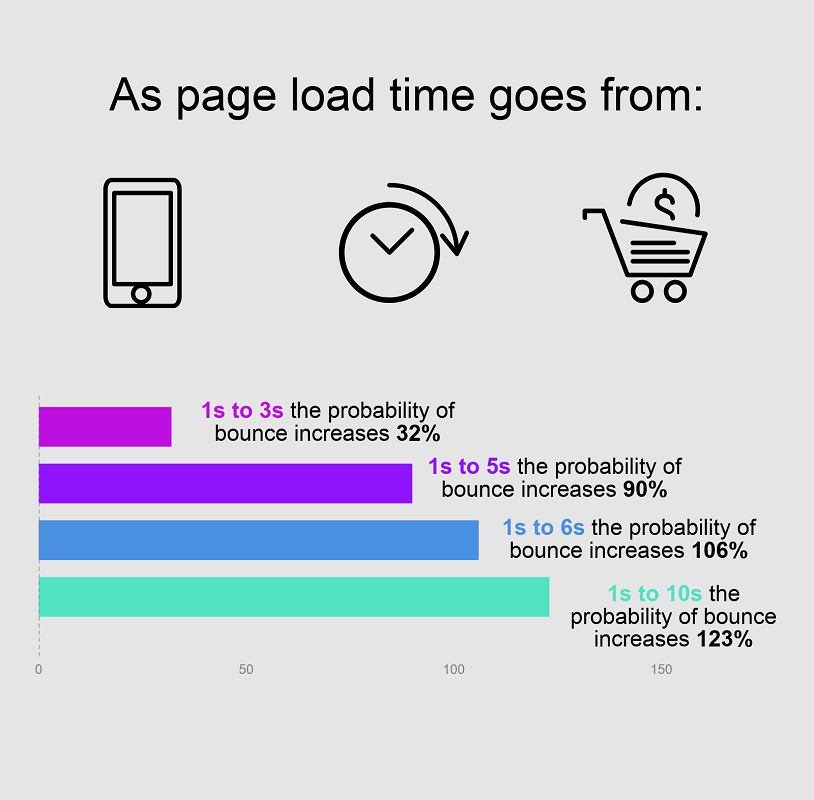 Online shops with low speeds do not have a good position with search engines. For Google and other engines, the page loading speed is a ranking factor. So, if your online shop is too slow, it may not show up despite all the efforts you put into SEO.
To avoid this problem, your future eCommerce platform at the enterprise level should be high performing.

#2 Capacity to Handle Traffic
Another important feature of an enterprise eCommerce website is the ability to handle large amounts of traffic to your website.
If your online store is flooded with a huge amount of visitors, the website could break down. Moreover, such situations often result in the server being overwhelmed and catastrophic problems for your business reputation.
To avoid this issue, we recommend SaaS (software-as-a-service), cloud-based eCommerce platforms for enterprises, supplied with up-time guarantees.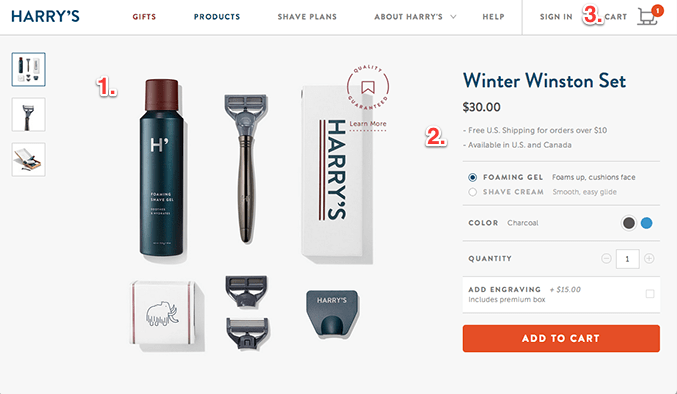 #3 Product Images and Description
Adding, importing, and updating product information is a routing many online retailers wish to avoid. Moreover, this process is very time-consuming.
Unlike a physical store, where shoppers can see products and read its packaging, the online shop can only provide product images, descriptions, and specifications.
When you are in the process of searching for the best eCommerce platform for the enterprise, pay attention to the platform API (application programming interface). If your future online shop will have an integration with API, you can send product information directly to the website from your PIM (product information management system) or ERP (enterprise resource planning). This approach will save your time and effort so you can concentrate on more important aspects of your online business.

#4 Secure Payments and Data Security
When online shoppers make a purchase on your online store, they provide you with their name and payment details. This is why you need to keep this information safe and secure. Your best future platform for enterprise eCommerce websites should be safe, because failure may cost a fortune for you and your business.
The study, conducted by Ponemon Institute said, a data breach costs businesses about $141.00 for each compromised record. For enterprise-level companies, the total of data breaching is about $3.6 million.
If you want to avoid this problem, your future eCommerce platform should be Level 1 Payment Card Industry (PCI) Data Security Standards (DSS) certified.
This means that the platform can take care of your customer information and your online shop is secure.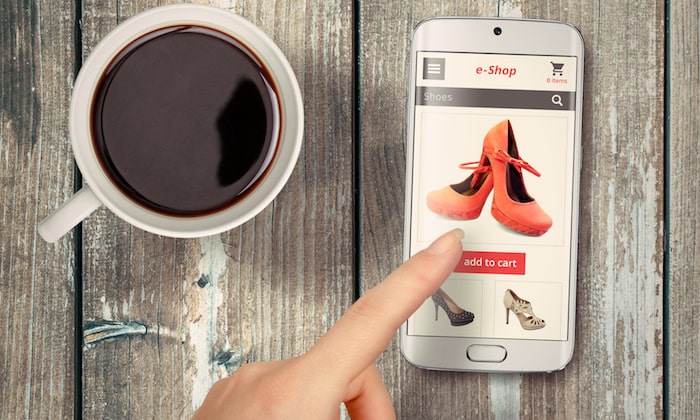 #5 Mobile-friendly Online Store
A recent article by Business Insider informed us that, by 2020, all retail eCommerce sales will come from mobile devices and account for 45% of online sales.
To be successful, your enterprise eCommerce website must be mobile optimized, since not all enterprise level online shops are right for mobile.
For this, you can choose a responsive theme for your enterprise eCommerce platform or hire an eCommerce agency to develop it for you.
Now you have a clear idea about the most important features for an enterprise-level eCommerce platform and reasons why they are important. With this in mind, it is time to take a closer look at the top eCommerce platforms for large retailers and decide which solution is most suitable for you.
List of the Best Enterprise eCommerce Platforms
When looking for the best platform for an enterprise eCommerce store, consider such popular enterprise eCommerce platforms as Magento, Demandware, and Hybris. Below, you will find a brief overview of the top enterprise eCommerce platforms, including their pros and cons.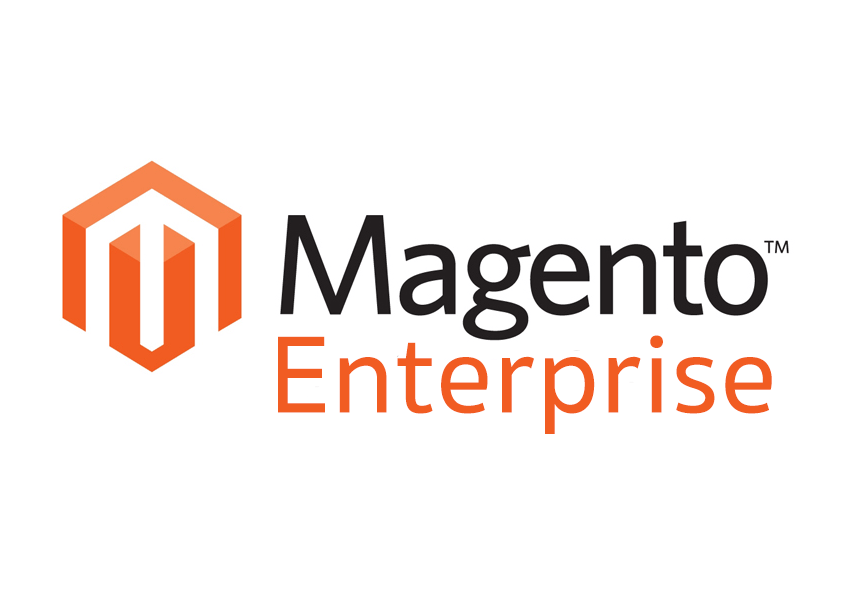 Magento Enterprise Edition
Magneto is a leader in eCommerce, since the platform is very agile and has great customization. Online retailers think that Magento is the best eCommerce platform for enterprise because it has a wide range of modules and integrations to provide shoppers with a great experience and seamless customer journey. Therefore, if you want to save money on further online shop customization, this is your choice.
The platform has a free community version, which contains most of the core functionality.
For enterprises, Magento has an Enterprise Edition that meets most business needs. This solution is supplied with online customer support, faster indexing, built-in page cache, and other benefits.
The platform offers powerful marketing capabilities, shopping experience, and customer loyalty programs. Its most popular features are:
Visual merchandiser
Configurable products
Customer loyalty options
And even more.​
Recently that platform released a Magento 2.0 version without previously perceived platform weaknesses. To find the best version for you, you can consult with an eCommerce agency to weigh the pros and cons. If you want to migrate from Magento 1.x version to Magento 2.0 take into account that custom modules and integrations won't work.
Pros
Magento is a self-hosted eCommerce solution with tons of modules and plugins. This allows online retailers to add new features to meet their business needs at any time. If your online shop need maintenance, you can easily find a developer or certified eCommerce agency.
Cons
Unlike other enterprise eCommerce platforms, Magento Enterprise has no built-in tools for omnichannel retail. But don't panic, because Demandware provides users with such features. In addition, in the beginning, you will need an eCommerce team to set-up an online shop for you. If you will migrate from Magento 1.x version to Magento 2.0, you will lose most of the custom modules.
Cost
The price of Magento Enterprise is $18.000. You will also need additional budget for the design, server, and development.

Demandware
If your business plan includes omnichannel retail, Demandware is the best solution for you. The platform provides online merchants with features for seamless businesses across all channels, including online and physical stores.
By default, the platform has such perks as POS, order management, and offline store operations. Moreover, this hosted solution has tools to assist store visitors and enhance their physical store experience.
Pros
Demandware is aimed at omnichannel retailers who search for a smooth and end-to-end eCommerce platform. Online shop owners will not have to worry about service maintenance because the platform is fully hosted cloud-based solution.
Cons
It could be a problem to find a good developer to maintain your online store on this platform, since Demandware is not very popular among eCommerce tech people. In addition, if you find the team, the price of development and maintenance would be very expensive compared to other platforms.
Cost
The price of Demandware depends on the online retailer's income. CPC Strategy shows that companies with annual sales between $20 million and $500 million pay platform fees from $200,000 to $700,000, annually. Server fees vary from $250,000 to $600,000 per year.

Hybris
If you are looking to expand overseas or have a strong international presence, take a closer look at this platform. By default, the platform comes with:
Multicurrency
Multisite
Multi-language features​
In addition, Hybris tools are available in several languages.
The platform is also very powerful when it comes to:
eCommerce management
IT management
Marketing
Merchandising
Pros
Built-in multi-language, multi-site and multi-currency capabilities make this platform a perfect choice for international retailers. Users might also enjoy its product management and centralized content features.
Cons
Most platform users gave this platform low scores when it came to ease of updating and reporting capabilities. Hybris also has additional fees for integrations.
Cost
The price of Hybris starts at $54,000 per year. The platform has several pricing plans:
pay-per-use,
long-term licensing, and
revenue share.
The Best Enterprise eCommerce Solutions: Final Thought
Finding the right eCommerce platform is very important, especially for enterprise-level companies. For that, you should build a list of the main platform features and then research the best enterprise online retail platforms or choose from platforms we reviewed in this article.
If you are looking for an eCommerce team to set-up, maintain, or customize your enterprise online store, do not hesitate to contact Dinarys. Just fill in the contact form below and our managers will get in contact as soon as possible.
Want to read more
Get fresh articles, news and case studies to your email firstly
Related articles