Magento 2 Ecommerce Development Guide
Magento Mar 30, 2020

Main / Blog / Magento 2 Ecommerce Development Guide
Magento is one of the most popular ecommerce platforms in the world. With more than 500,000 downloads, its users include huge companies and small businesses alike. Magento website development is growing more and more relevant worldwide, as more and more online retails choose the platform for their ecommerce needs?
Why? Because this CMS is the most customizable of all, with tons of plug-ins to meet any business need.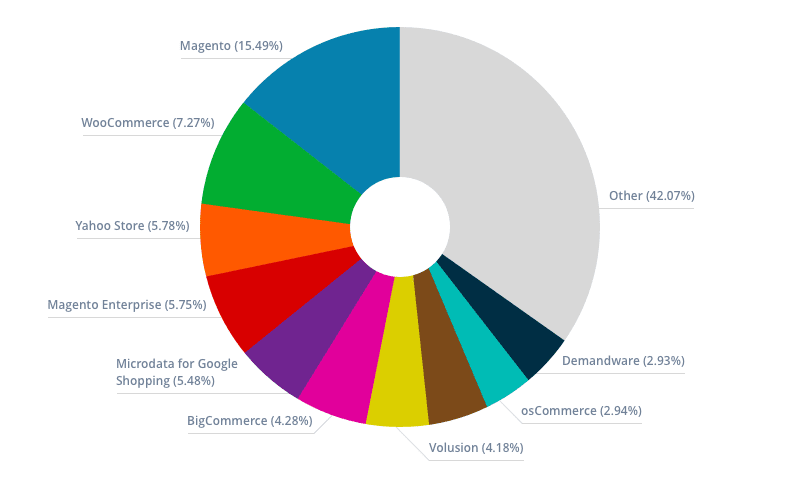 As open-source software, Magento allows its users to customize their online shops. For those with time or inclination for software development, there are many ready-made modules.
This technology is definitely a wise choice for ecommerce stores of different types, however, before making any commitments, we recommend checking out Magento ecommerce demo store to see how it actually works.
Many of our clients are interested in outsourcing custom development, but are concerned with the cost to develop a custom Magento website. Our team at Dinarys is excited about up-to-date features and beautiful Magento website design, but for many clients the question is simple: How much does it cost to develop a Magento website?
It's a more complicated question than you might think. Determining the price of Magento website development services isn't like pricing a piece of fruit. So, we would like to help you understand the thought that goes into it.
In this article, Dinarys team members will share insights about Magento editions and pricing, tips about Magento modules for any online shop, and estimating the time needed for development.
You might also like: What is the Best Multi Channel Ecommerce Platform?
How to build a Magento website, and how much will Magento eCommerce website cost?
Again, the cost of Magento ecommerce website development is a complicated question, and it's one of the most common questions our sales managers receive.
First, you should know that there are many factors that influence the cost when building ecommerce website with Magento of any type of software development.
The size of your company and the nature of its business needs are a factor, and the specific Magento pack needed.You need to figure out the complexity of the future solution and specific features to set up like a Magento multi language store.
There are several editions of Magento, including Basic Magento, Community Edition, and the Enterprise Edition. Therefore, if you want to make an ecommerce website in Magento, you need to choose the right pack. But what's the difference between them, how to set up a Magento store and which one is best for your budget? Let's find out!
You might also like: How to Integrate a Payment Gateway in Your eCommerce Website
What's the difference between them, and which one is best for your budget? Let's find out!
1. Basic Magento
Basic Magento is perfect for a simple e-commerce website, offering good functionality without the bells and whistles. It's a great solution for small companies, because it's so quick to get up and running.
The price for a Basic Magento ecommerce website starts from $1,000, and could reach as high as $40,000. With a Basic Magento development package, you will receive features like:
Basic Magento functions
A simple Magento theme or design
Access to the Magento website with a strong community of developers and users
A seamless, easy-to-use Content Management System (CMS).
Note: This edition does not include integration with back office systems
2. Community Edition
If your business already has an online shop, and you would like to order migration services from another ecommerce platform to your new Magento ecommerce store, then the correct choice is custom development of an ecommerce website on the Magento Community edition.
Custom development of a Magento Community website starts from $15,000. It includes the above features, with the following editions to take your business to the next level:
Custom Magento website design
Back office systems integration
Custom product attributes
Customer groups
Host migration
Extensions, plugins, and modules
3. Ecommerce website using Magento Enterprise
Magento Enterprise is the perfect choice for large, enterprise-scale businesses. This edition provides you with the complete suite of Magento features.
The cost of development for a Magento Enterprise ecommerce website starts from $60,000. It's well worth it for busy professionals, because of the amazing automation features included with Magento Enterprise. This version of Magento can control the whole process, from orders to shipping. It cares for your ecommerce operations, leaving you free to focus on strategic matters. Or sit back and relax!
With Magento Enterprise, you receive the above features, plus:
Mobile friendly website
Many more built-in modules
Free client support
The option for hosting through Magento
Discount and coupon codes for customers
Social media integration
And much, much more
So, choosing the right edition of Magento is the first step in budgeting for custom website development. But it's not the only one! Keep reading for the Dinarys take on Magento website development costs.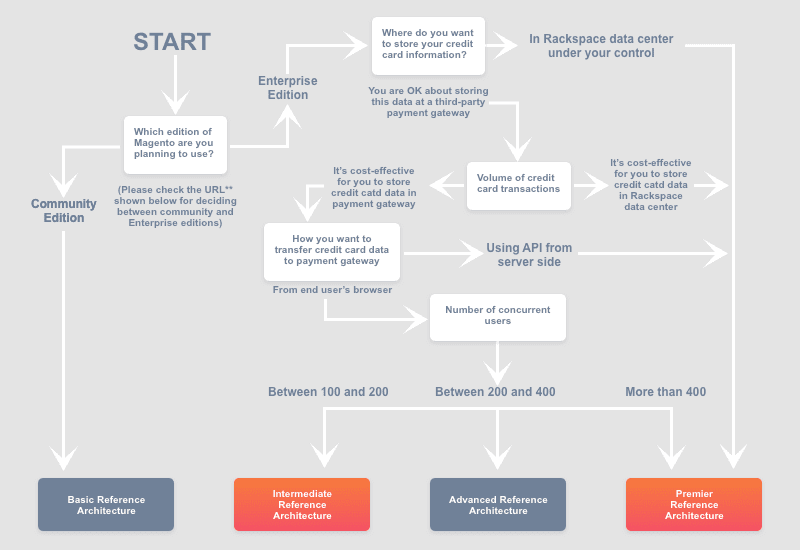 The True Cost to Develop a Custom Magento Website
If you're serious about joining the Magento community and taking advantages of the many benefits of this CMS, let's take a look at extra costs. You should factor these in from the beginning of your project.
Server
Server cost is one of the most basic steps to take into account when asking how to create an ecommerce website in Magento. Simply put, the question is where your online shop will be installed, and there are several options. First, you could purchase a server to keep in your office, taking on all associated costs in-house.
Another option is to use a shared hosting service. This is a much more agile route, because you can effortlessly scale the server up and down depending on your current business needs.
Related article: Top 9 Essential Features for Custom E-Commerce Websites
Domain
When you're plotting out the cost to develop a Magento ecommerce website, don't forget about the domain fees. At Dinarys, we usually add the price of the domain to the total Magento cost of development.
When you're choosing and purchasing the domain for your online shop, don't forget to check on your basic keywords. Your domain name should be closely associated with your business. That way, you can increase your sales and attract more buyers.
Theme
Every website needs a clean, attractive, and easy to use theme. Magento ecommerce websites are no exception.
The Magento store offers a great selection of free themes that are perfectly fine for many sites. Another option is to buy a paid theme, or even to develop a custom theme from scratch. That last option is the most expensive, but also the most flexible, and it's the only way to truly make sure your finished website matches your vision.
If you decide to go with a paid or custom theme, be sure to factor in the price of development when budgeting the overall project.
Also read: Fast and Furious – How to Speed Up Your Magento Website
Extensions
Most Magento ecommerce sites use plenty of extensions. Like themes, there are both free and paid extensions, and custom development of new extensions is very common. If you plan to spend money on enhanced functionality for your Magento website, be sure to include the development cost in your list of expenditures.
Development
The development stage is where the bulk of your budget will be spent. Paying an entire team of developers can add up fast.
However, it's crucial to the success of any online venture. The team performs development, customization, and implementation of your Magento online shop. They upload product images, create categories, and fill in everything else that makes an ecommerce website possible. After launch, they may offer maintenance and support, ensuring that your online business is successful.

How Long Does it Take to Create an Ecommerce Website Using Magento?
The big question. Are you ready to learn the answer?
Keep reading. Below, the Dinarys team has prepared an approximate estimate of how long each phase of Magento website development takes. This comes from our own extensive experience with global clients in a broad range of industries.
Breaking down the project into segments works great for planning purposes, because different teams may have their own rates, depending on their assignments and the skill levels of the individual developers.
Ready to begin?
Initial Interview – It takes 1-2 days to determine the client's needs and business goals. In this phase, we also select the correct Magento edition and determine which plug-ins and extensions the site will need.

Magento Installation – Once we've identified the software needed, it generally takes less than 1 day to purchase it, install it, and perform basic configuration.

Modules and Plugins – After the Magento platform is in place, the team will purchase any necessary modules and plugins, such as the search bar, shipping module, checkout module, payment module, a blog, and various SEO extensions. Generally, this takes from 1-3 depending on the number and nature of the modules.

Custom Module Development – Depending on the specific needs, each custom module will take at least one day to create.

Theme – If you opted to use a premade theme, then searching the Magento archives for the perfect one takes just a few hours. Developing a custom theme generally takes at least 1 month.

Premade Theme Configuration – Once we have sourced a premade theme, setting it up and configuring it for your site takes approximately 1 day.

Custom HTML Layout – If your site requires a customized HTML layout, then it takes up to 1 month to set it up to work with the engine and all plugins.

Custom Theme Creation – Creating a custom theme and HTML layouts to go with it will take 3-4 weeks, up to 1 month.

Testing – Testing and QA depends on the complexity of the website, and can take anywhere from 1 day to 1 month.

Final Settings and Deployment – Once the website is ready for launch, the final steps take 1-2 days.
So, now you know the work that goes into creating an ecommerce website in Magneto. But how much does it cost?
Again, it depends. The hourly rates for Magento developers depend on their level of experience, and the scope of the project. Generally, the hourly rate ranges from $65 - $150.
To save time, we have prepared the following list of tips for custom Magento modules that almost any online shop needs.
Magneto Custom Module Development
Before you order any Magento website development services, and certainly before ordering modules or other software, spend some time browsing the Magento store. Look at the plugins that offer basic, necessary site functionality for Magento sites.
For example, checkout modules. With the basic Magento checkout, the customer is required to go through several pages, filling out multiple fields on each. The hassle of so many extra steps lowers conversion rate as shoppers grow frustrated and drop out.
Looking through Magento add-ons reveals a solution! As just one example, Onestep Checkout is a $20 module that allows online retailers to implement a fast, easy checkout with just one click for shoppers.
If you need more flexibility and features, like checkout without registration, or purchase via phone, try Configurable Checkout for $69.
Another important component is a good SEO module. The native Magento SEO features aren't enough for modern needs.
We recommend SEO – Advanced SEO Suite, which costs $149. Another good option is simply called Advanced SEO Suite, for $249. They're both cost-effective with a sub-$250 entry fee, and they will do wonders to boost your organic traffic, if properly used.
A search extension is one of the most useful things you can add to your Magento online store. If shoppers can't easily find the products they want, they're far less likely to buy. If your home page has a search bar or console, it makes it that much easier for visitors to convert into buyers. A study by eConsultancy shows that visitors who use an online search feature generally convert 1.8 times higher than the site average.
The specific search console can vary from site to site, but here is our list of the top Magento Search Extension features.
Search suggestions
Product suggestions
Spelling correction
Analytics
For specific search modules, the Dinarys team recommends Search Autocomplete and Suggest, a $39 plugin that adds autocomplete to your online shop's search function.
Another option is Search – Advanced Sphinx Search Pro, for $99. By installing either of these, or another well-designed search extension, you have a good shot at increasing your conversion rate.
If premade modules are not sufficient for your business needs, then you need to purchase custom Magento module development. Generally, Magento module development services start at $1,500. Before pulling the trigger, you should be sure that the revenue generated from the custom module more than covers the cost.
Custom Magento module development is a lengthy process that covers several stages.
Analysis of the existing website and any previous custom development
Defining the scope of the project.
Development work itself
Testing and correction of any errors
Implementation and launch
Keep in mind that the exact price of custom plugin development is generally time-based, depending on the number of man-hours it takes the development team to complete the work.
How to Choose the Best Magento Website Development Services
In development, as in most fields of business and professional services, the cheapest option isn't always the best one. What do you need to know about selecting and ordering Magento website development services?
Tips to Hire Magento Developer
Be aware of the time and advanced development skills needed to design, build, and configure a Magento online shop. If you need custom work done on a large site, and a team tells you they can develop the entire thing in one month, they are likely not being straight with you.
When budgeting, remember that good ecommerce agencies are made of full-time, salaried professionals who will devote many hours to your project.
If you receive a lowball quote that is far below the others, or that sounds too good to be true, the resulting work will likely be of low quality. Remember, you get what you pay for.
Even the most talented student or PHP developer cannot build an entire Magento online store alone. This is a large project that requires multiple people with complementary skillsets, including SEO, web design, analytics expertise, graphic design, and UI development for both front and back ends.
Outsourcing to an offshore ecommerce team is a great way to save money. These development houses are usually fully staffed with all the needed experts and can deliver a solid product on schedule. Best of all, they can do it at a fraction the cost of a US team.
Remember that your new Magento ecommerce website isn't a golden goose, and it won't magically start making money immediately. Online retail is a crowded field with many competitors. To make your online store successful, you need to keep putting in work, including marketing, promotion, social media presence, and advertising campaigns across multiple channels.
When choosing a development house, you need a serious company that can support and manage the project at all stages. Plan to become long-term partners with the development team.
On average, the hourly rate for Magento development ranges from $65 - $250.
Magento Development Company Choice
Among thousands of companies, it is hard to choose the best provider. We recommend checking companies' rating websites and carefully read reviews before contacting your potential provider. We recommend choosing the custom Magento development company on the basis of:
the number of employees;
the company location and time zone;
clients' reviews and testimonials;
portfolio and case studies;
relevant industry and technology expertise;
internal processes and the quality of communication.
Summary
So, now you know how to create a website using Magento.
Generally, the hourly rate of Magento developer ranges from $65 - $150

| | |
| --- | --- |
| Initial Interview | It takes 1-2 days to determine the client's needs and business goals. |
| Magento Installation | Generally takes less than 1 day to purchase it, install it, and perform basic configuration. |
| Modules and Plugins | From 1 to 3 days depending on the number and nature of the modules. |
| Custom Module Development | At least one day to create. |
| Theme | Developing a custom theme generally takes at least 1 month. |
| Premade Theme Configuration | Approximately 1 day. |
| Custom HTML Layout | Up to 1 month. |
| Custom Theme Creation | 3-4 weeks, up to 1 month. |
| Testing | From 1 day to 1 month. |
| Final Settings and Deployment | 1-2 days. |
It's hard to estimate the cost of Magento website development without having the specific technical requirements on hand. The project size, complexity, and customization needed all influence the price.
Price estimation can be a gray area for both parties without an in-depth analysis of technical requirements. On average, though, the development of an online store ranges from $1,000 to $50,000.
Do you have a project in mind? Dinarys is always available to provide free rough quotes and free online consultation. Fill out the form, and a Dinarys team member will contact you ASAP.
Want to read more
Get fresh articles, news and case studies to your email firstly
Related articles