Shopware migration case study
Antik Wein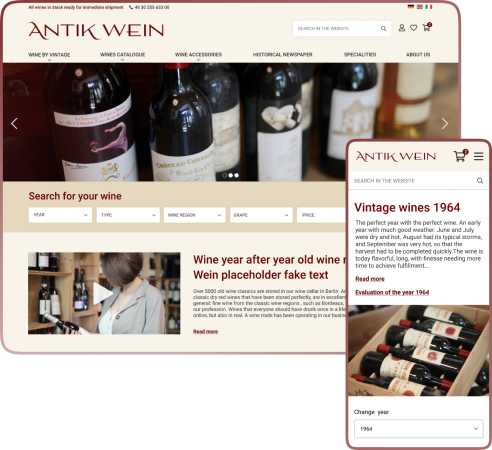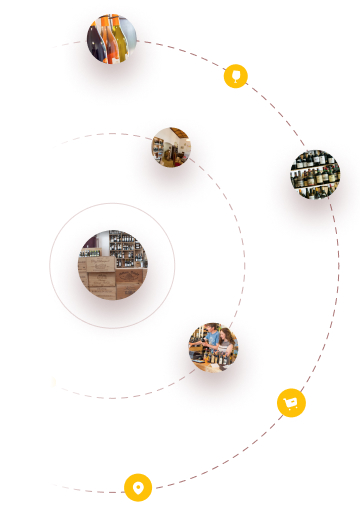 Challenge
Antik Wein is an ecommerce website of a German premium wine shop located in Berlin that sells some of the oldest wines in Europe. Obviously, shop owners didn't want to miss out on an opportunity to expand over the digital commerce sector and sell their wine remotely internationally.
Exactly for such purposes, they initially created an online store based on Shopware 5. But recently, the time has come for a major update, which lead the company to turn to us for migration to Shopware 6 and store redesign. And we've thrown in some extra features eventually as well.
Project goal
To migrate the existing ecommerce website from Shopware 5 to Shopware 6 and revamp and update an online store with the redesign
Team
BE Developer
FE developer
PM
QA
Project timeframe
November 2020 - ongoing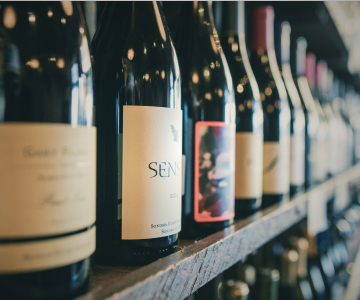 Project tasks
Conduct migration from Shopware 5 to Shopware 6, which included:
Full data migration;
Full content migration for further renovation.
Add new functionality to the website:
Smart product sliders;
New Homepage elements;
Custom sliders for the Product details, Cart, and Newspaper pages;
Custom Vintage Newspapers search plugin;
Updated listings;
Custom main search;
Wine color swatches;
Updated product categories;
Client requirements
The client required us to do the following:
Migrate the data via a custom script from Shopware 5 to Shopware 6;
Create and integrate smarter and more intuitive search tools;
Optimize and update listings and sliders for more convenience;
Create custom plugins for search and navigation on the site;
Add some more customer-inviting features (like wine swatches).
Home page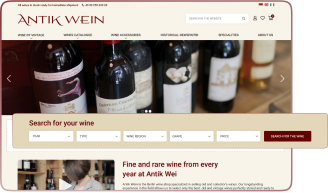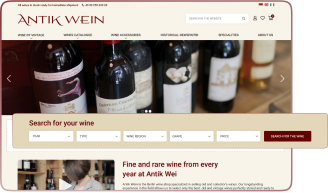 Vintage wines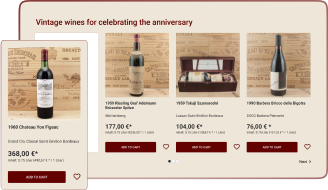 Selected wines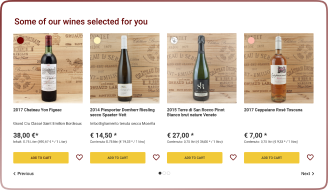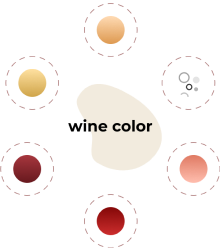 Wine certificate of authenticity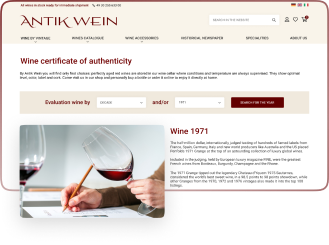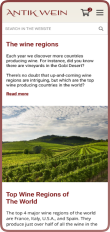 Newspapers search plugin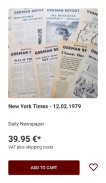 Solution
In the course of the project, we successfully moved an existing Shopware 5-powered website to the Shopware 6 core. For that, we had to use a custom script in order to transform legacy custom fields into product properties.
Once the essential data and functionality were properly migrated, we focused on redesigning certain aspects of the store and building from scratch others.
Thus, we implemented custom logic for product sliders, added wine anniversary indications to the Homepage, and search by the date of the desired Newspaper.
Results
The migrated and redesigned website runs better, navigates more smoothly and intuitively, and is overall more convenient for people to use for good wine shopping. Different categories of goods now have proper listings, there are more detailed filters now (including "by year", "by region", "by color", "by price", etc.). Also, now, customers can see the exact color of wine they are browsing by seeing a proper swatch in the product details, listing, and slider.
It was about time we renovated our online retail point. The old site was feeling pretty chunky in certain places and you could feel that it's outdated on the frontend. It didn't take us long to realize that such 'feels' are quite bad for business. The guys did a great job at helping us update. There were no pitfalls, no extra downtime. They just went and did their job.
Got an ecommerce website that may as well step out of its "legacy shoes"?
Let's update and renovate it together!
Contact us