Hire Magento Developer
Magento is among the top market-leading, hugely popular software development platforms out there used as a core framework by no less than 12% of ALL existing ecommerce solutions in the world. If you are looking to create or upgrade an online retail store or solution of another purpose of any scale and complexity, we are an official Adobe Solution Partner here to give you in-depth experienced Magento developers for hire at reasonable individual rates.
Get Top-Of-The

Line Expertise For Your Magento Project

Magento offers unprecedented opportunities for building both commercial and non-profit solutions of an industry-leading, game-changing level. The versatility and software power it brings to the table simply cannot be ignored by modern companies and entrepreneurs, especially if they are looking to gain the following advantages.

Reducing development costs

Hiring a highly-qualified, experienced specialist or team of specialists one time is much more optimal and cost-efficient than coping with long-term project hindering errors and flaws left by underspecialized "professionals" with a fake portfolio. Especially, when it comes to the platform such as Magento which needs proper handling for ultimately beneficial results.

Getting access to Magento and ecommerce expertise

If it's about online retail, hiring truly savvy specialists that know Magento specifics in and out is a must for the profitable, fruitful operation of your future online store. The extensive expertise you get with our Magento aces is simply invaluable as compared to the long-term results you get.

Starting your project faster

A properly qualified team of Magento experts doesn't drag the kick-off stage for long and knows exactly which details to gather beforehand in order to achieve the smoothest, most hassle-free workflow possible. This also means overall faster time-to-market which is always a good thing.

Getting full support and maintenance

True professionals never forget about the project once it is done and finished. A properly qualified team of Magento developers will help you support the created product in its operational environment, maintaining possible issues that may only occur in the field.
Our Expertise
We have enough successfully finished, profitable projects under our belt. We provide a unique range of Magento expertise accumulated and tried by years of professional operation in the market to help you gain or boost positions in the global market dramatically.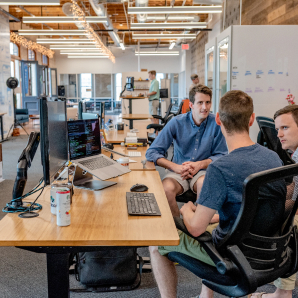 Custom Magento

Store Development

Are you looking to create and launch an online store for selling exclusive goods, a regular mass retail outlet, or a full-blown extensive web marketplace? We offer expertise and collaboration powers to tackle an ecommerce solution of any complexity, purpose, and format.

In-depth knowledge of the field coupled with a custom approach enables us to bring you truly authentic solutions that deliver your business message across, emphasize your brand specifics, and simply conquer the hearts of buyers.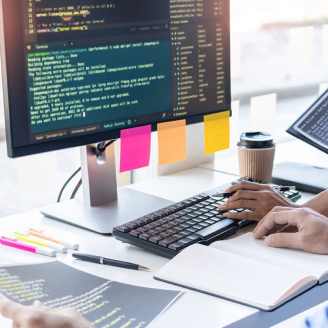 Migration To Magento 2
Are you still struggling to manage a legacy system based on the first version of the Magento platform or on some other outdated framework? This affects your costs in all the wrong ways, undermines your competitive edge, and hinders performance in the market dramatically. We can help you timely migrate your solution to the Magento 2 foundation in order to achieve higher conversions and smoother overall performance. This should take your solution straight to a new level of quality.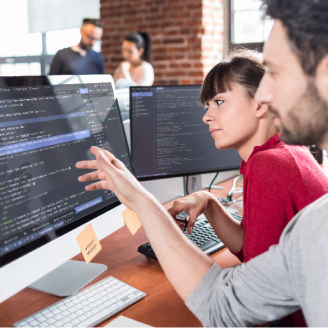 Custom Extension Development
Are you already running a Magento-powered store but would like to expand it in your own way? No big deal. We have savvy specialists to help you create completely authentic, custom extensions dedicated to your solution exclusively. We can create something that perfectly translates your brand attributes or tackles a specific issue or effort you are looking to implement.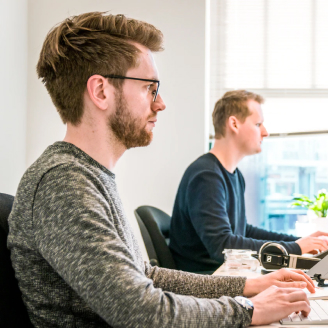 Full Store Support
Once we complete and finalize your custom Magento solution, we commonly offer full-on technical support during its further operation in the market. This will save you from lots of potential headaches concerning live performance. There are certain issues that may appear only after your online solution gets its first inflows of traffic and we are here to help you fend them off.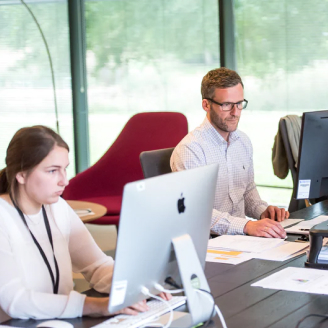 Do you have an idea?
Contact our specialists to discuss the launch of a custom project to be handled by seasoned ecommerce design professionals.
Contact us
How We
Work
We believe that a fully custom and individualized approach can bring niche-defining results and this is why we focus on this format of development especially. And since every project is unique in its way, we usually adjust workflow specifics based on the following common project stages.
Gathering your project needs
First things first, we set things straight in terms of each and every goal, desire, and needs you have concerning your project, including requirements, specifications, project vision, and other specifics.
Picking fitting candidates
Once we settle all the needs, wishes, and requirements, we set out to pick the most individually fitting developers for your project out of our pool of professionals.
Interviewing and hiring devs
The most optimal candidates go through detailed interviews in order to render out and gather your perfect team of specialists through the most attention-intensive approach.
Starting a project with ongoing support
With a carefully picked and gathered team of professionals in place, we can properly start off your project, supplementing it with in-depth support every step of the way.
Our

Case Studies

Using an individual approach to every project, our Magento developers always find and offer the most optimal solutions to the clients. The aim of Dinarys developers is to do the most for your business. Some of our projects' results are represented below.

Mon Tresor Bebe

Mon Tresor Bebe is a children's wear and gifts wholesale website. It lacked the flexibility of orders and payments. Our solution was to migrate the store from Shopify to Magento 2, customizing about 50% of lacking functionality on our own and adding the retail sales functionality in the second phase of the project.

We started with thorough research of several third-party paid modules. Having found the proper module, we customized it in-depth, adding our 2 cents to the default Magento 2 core as well. A lot of custom work was done.

In the long run, Mon Tresor Bebe has become an ultimately convenient, versatile place to shop with all the features and tools necessary to make user's time hassle-free, simple, and intuitive.

View project
It's a High Time to Hire Magento Developer
If you have an idea for building a Magento-based website in your mind and look for developers with appropriate skills and relevant experience for its implementation, an important decision that should be made is to choose the best professionals.
Dinarys provides Magento highly qualified developers or a team of developers who always carefully delve into the project considering all the details, business needs, and client's requirements. Hiring such experts will be an optimal solution for your project that will bring benefits such as cost-effectiveness and getting high-quality services.
Our rigorous selection process of Magento developers is a key to success that helps us to deliver the most optimal candidates to our clients, making them happy with the results. So, let our Magento professionals make wonders for your ecommerce business!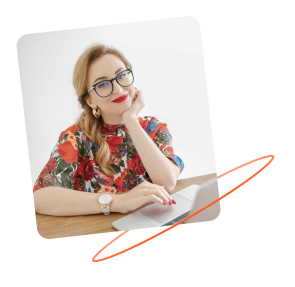 FAQ
There are tons of dedicated Magento development options out there and it once can easily get lost and confused in the range of offers. This is why it can be challenging to hire truly reliable, qualified professionals. Make sure to pay attention to official certificates and titles the provider has, their portfolio, previous client feedback (it's best to take your time and make sure the feedback is real), and independent reviews online. A true professional won't ever turn down a detailed discussion of services and your future project workflow so keep this in mind as well. Today, whole specialized agencies exist to help you find the top talent, like ours.
We have a well-formed pool of tried-and-tested specialists with all the proper certifications. We can offer you to pick from a number of Magento-certified developers and access tools and expertise of an official Adobe Solution Partner.