Migrate to Shopware 6
We help businesses leverage new benefits and opportunities by migrating to Shopware 6 from Shopware 5 or other e-commerce platforms.
Benefits of Migrating to Shopware 6
Shopware 6 first appeared on the e-commerce market in 2020 and in less than 2 years, it has become absolutely superior to Shopware 5, highlighting such advantages as
Intuitive interface
The new augmented admin panel provides even more convenient navigation, which ensures a faster search for the necessary management tools. Everything has become simpler and more minimalistic yet remained as intuitive.
Higher productivity
A newly-implemented graphical interface makes it even easier to fill the website with quality content. Now, even completely non-tech-savvy users can handle content allocation and structuring.
Boosted SEO opportunities
New SEO tools help easily and quickly adjust and adapt to relevant user search needs with the help of the new Shopping Experience feature. It helps dynamically analyze shifting search engine standards and requirements.
More sales channels
Some extra promotional features help significantly increase brand awareness. You can integrate the website not only with social networks but also into joint trading platforms and use them as sources of data for promotional strategizing.
Flexible rules and policies
The Rule Builder is an excellent tool for configuring the ability to customize the rules and policies of your digital business. This enables you to stay flexible in terms of meeting regulations for different target business groups.
Migration Process
As Shopware certified partners, we are responsible for every step of the Shopware 6 migration process:
Project discovery
The kick-off stage where we gather and analyze requirements, select a convenient collaboration model, and settle all other project workflow specifics.
Planning migration
Thorough planning, during which we pick the main migration method and outline all specifics of the process, is paramount for achieving the smoothest, most high-quality migration
Theme migration
If there is a need, first, the overall software theme of your legacy data system is modernized to match newer standards and grant the proper performance for further data storing and processing.
Installing extensions
All necessary essential and additional plugins, third-party extensions, add-ons, and other extra elements are integrated to boost the versatility and performance of the new platform
Developing custom functionality
Hardcoding and integrating a number of custom features helps tailor the modernized system to specific business needs and make the updated data environment authentic.
Data migration
The most expertise- and effort-intensive stage where we carefully migrate all data with beforehand backups and proper data security measures that help prevent data loss or damage.
QA & Testing
The modernized system must undergo a series of combined manual and automated testing iterations, as well as detailed Quality Assurance to polish up the edges and achieve the best result.
Website launch
The final stage is properly launching the modernized website, granting ongoing post-launch support and maintenance to tackle any unexpected occurrences that may happen in the field.
We place importance on the order of these steps, which minimizes the risks and ensures the smoothest migration.
Which Data Can Be Migrated?
We help automatically transfer the following types of data during the migration to Shopware 6:
Categories of products and/or services
A full list of products and/or services
All previously used images
Client base
Information about the manufacturer of products
Each product's reviews
For this, we create a sturdy target storage solution that firmly holds and protects even important sensitive data.
Case Studies
Antik Wein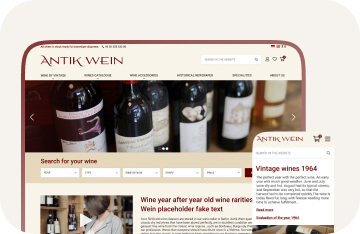 Project goal:
The company sells premium wines online. The task was to transfer all data from Shopware 5 to Shopware 6
Result:
Intuitive navigation installed.
The user can see not only the price of the product but even the natural color of the wine.
Tennis Only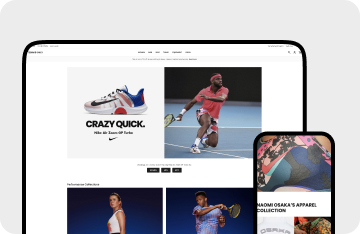 Project goal:
A company that sells tennis products online. The task was to transfer the website from Prestashop to Shopware 6 while maintaining their unique design and the existing databases of customers, products, and orders.
Result:
About 80% of all functionality has been implemented in the new platform and about a dozen unique custom plugins have been created.
A new search system and a convenient photo gallery have been created.
This website's development has not been finished yet.
Why Choose Us for Shopware 6 Migration
Shopware 6 may suit your business much better than its predecessor on multiple levels. We can develop top-notch solutions based on the platform, as well as help you build and connect Shopware plugins to custom products.
Shopware 6 is a better alternative than other e-commerce solutions like Magento because of its scalability and advanced SEO capabilities.
FAQ
No, all data about the product including the description, manufacturer, and photo will be saved automatically. In order to transfer the information about the payment methods and saved business events, special target storage will be created.
It all depends on the requirements and website's functionality, as well as the original platform, which can be Magento, WooCommerce, PrestaShop, etc. In each case, there will be some potential problems that do not have a single unified solution.
You will receive updated functionality that is more convenient for both the users and the website administrator.