Magento 2 Migration Services
Migrate seamlessly to Magento 2 from Magento 1 or any other e-commerce platform! Our experts will make the migration process quick and efficient, allowing you to experience all the benefits of the advanced platform.

Why Migrate to Magento 2?
Magento is a leading e-commerce platform, offering a sky-rocketed user experience and an abundance of features. Magento 2 reinvents the essential features of the e-commerce software solution, bringing breakthrough development practices
Improved performance and scalability
Magento 2 features an advanced indexer that speeds up query performance. This indexer enhances the overall speed of your online facility by regularly updating the data, such as catalog data, users, prices, and more. Magento 2 provides a much faster website loading time, which results in a joyful user experience and boosted annual sales for your store.
Improved operational efficiency
Thanks to multi-source inventory management, customizable and touch-enabled admin, and optimized cloud infrastructure, Magento 2 can effectively handle all your e-commerce needs. Processing the huge numbers of orders simultaneously and managing a large inventory becomes a breeze with this advanced platform. Thus, Magento 2 can handle 39% more orders an hour than Magento 1 and load up to 50% faster.
New shopping experience
Page load time is critical for a successful e-commerce website and it directly influences customer engagement and conversion rates. By reducing the overall page weight and improving response times, Magento 2 streamlines the shopping process. Besides, the platform is mobile-friendly, enabling users to view sites on all devices.
Easier check-out process
One of the huge advantages of Magento 2 compared to Magento 1 is a 51% quicker end-to-end checkout process. As a result, users can promptly complete their orders.
Migration Process
Whether you are migrating to Magento 2 from Magento 1 or from another platform, the process requires a comprehensive and consistent approach. This is not the case when a few clicks from the admin panel would work. Consider the following critical stages of the migration procedure:
Project discovery
First of all, you should recognize the need for migration. Which issues and tasks do you have that can be addressed with the more capable e-commerce platform?
Planning migration
Proceed with setting the project goals, reviewing your existing site, and identifying the extent of changes your migration will require. Create the list of features you wish to add to the platform. Develop a step-by-step migration plan and a timeline.
Theme migration
Magento 1 theme cannot be migrated to Magento 2. Therefore, a qualified vendor can offer either creating a Magento 2 theme that would replicate your previous one or developing a tailored theme that would comply with all your goals.
Installing extensions
Magento 1 extensions are incompatible with Magento 2. If you need to preserve the features of Magento 1 extensions, you will need professional help. Developers can select the proper extensions for Magento 2 or create custom extensions.
Developing custom functionality
Depending on your business needs, you can either preserve the features of your previous platform or ask developers to build customized functionality.
Data migration
The store data, such as products, orders, customers, and more, must be securely transferred to a Magento 2 structure. You will need efficient tools to migrate your entire database and make it perfectly compatible with the new platform structure.
Testing
Once the migration process has been completed, you should thoroughly test your Magento 2 website. Make sure that all the data has been transferred correctly, there are no bugs, and you can place orders utilizing all configured payment processors.
Website launch
Site deployment requires several steps and a certain downtime that you would want to minimize. An expert team will complete the process quickly and seamlessly.
Which Data Can Be Migrated?
An essential step of Magento 2 migration is the proper database migration. You will primarily need to migrate customer data, products and product categories, orders, and sales.
Discovery phase
Products and product categories
Orders
SEO-friendly
Let's Kick Off Your Magento 2 Migration!
Want the whole process to run without a hitch? Contact us now, and the certified Magento 2 experts will thoroughly consult you on your project.
Contact us
Case Studies
Mon Tresor Bebe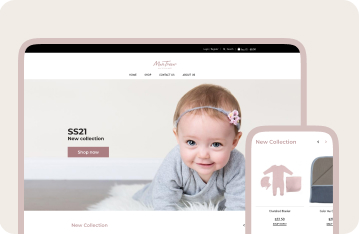 Project goal:
to upgrade the website functionality by transferring it to a more advanced platform, develop customized major parts, and boost the functionality of retail sales.
Solution:
Determining the right third-party paid modules, which could help efficiently expand the website functionality.
In-depth customizing the module with specific changes to the existing Magento 2 core.
Result:
The online store acquired unique functionality and versatility. Mon Tresor Bebe has turned into a convenient place to shop, offering a convenient, simple, and intuitive user interface.
Kontakt Home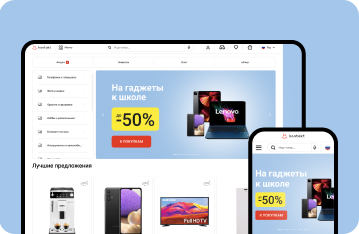 Project goal:
to build a new online store based on Magento 2 and integrate it with the client's existing system.
Solution:
development of a new website that operates faster and smoother, has higher security standards, and provides broader capabilities for all kinds of users. Magento 2 was chosen to allow implementation of flexible software with great functionality and excellent performance.
Result:
Kontakt Home has become a convenient, high-performance online semi-marketplace with custom design and complex integrations. In general, the client received a significant upgrade of their e-commerce business and the security of their online presence.
If you plan to enhance your business gains and reinforce your market positions by migrating to Magento 2, you need nothing less than a leading developer. Dinarys is an Adobe Certified Partner, which already speaks for the company's expertise. Our profound knowledge of the industry and years of successful experience empower us to offer exclusive and efficient solutions. Regardless of the project complexity, our client-oriented, creative approach allows us to find winning solutions that perfectly match your tasks and brand specifics.
FAQ
Even if your current platform is working more or less fine, there are several reasons to consider switching to Magento 2.
If you are utilizing Magento 1, you probably know that the platform representatives stopped supporting it in June 2020. This means updates for plug-ins and modules are no longer available. Therefore, to make better use of your e-commerce platform, you should think of migration.
Once the support ends, security patches are no longer produced for the previous versions. Therefore, your store may experience security issues.
If your store operates on the other platform, but it fails to process the continually growing number of orders, a high-performing Magento 2 can successfully remove the problem.
If you are losing customers at the checkout stage, Magento 2 will make the checkout process quicker and easier for users to prevent customer churn.
The duration of your migration process will primarily depend on the following criteria:
The volume of customizations;
Store complexity;
Required extensions;
Data migration requirements.
The migration for an average store with minimal third-party integrations will take from 3 to 6 months.
We offer a comprehensive approach to our clients' projects. Our experts thoroughly consult the clients before the migration starts and guarantee competent support after the project finishes.
Contact us today to get advice or start your Magento 2 migration right away!
Our qualified professionals will address all your concerns and help you achieve your business goals.