OpenCart to Magento Migration: A Step-by-Step Guide in 2021
Magento Jun 13, 2020

Main / Blog / OpenCart to Magento Migration: A Step-by-Step Guide in 2021
At some point in your business growth, your current platform could be no longer satisfying the needs of your online business, and you might be considering OpenCart to Magento 2 migration. Our recent client, the Ukrainian car parts retailer, has had the same situation with his OpenCart online store.
When he decided to expand his product range, he found that his e-commerce platform could not support the required number of items and had a slow loading speed. We offered him Magento 2 because it is the dominant platform that allows adding an unlimited number of products and handles substantial traffic. For this project, we developed a tailor-made plug-in for data migration, since OpenCart vs. Magento has different requirements toward the data.
When we had finished the data migration and initial settings, the client received a fast-loading online shop on Magento 2 that satisfied the client business needs.
If you also want to switch from OpenCart to Magento 2, continue reading. In the article below, we share the detailed migration process and highlight the pitfalls that can occur during the migration.
Migration from OpenCart to Magento 2: Automated Migration Tools
As you might know, the migration of the online store is a complex project. Some people use migration automation tools such as Cart2Cart and LitExtension.
Talking about the pricing of migration from OpenCart to Magento with LitExtension, you should remember there exist 2 migration solutions. Among them are:
Free Demo Migration. It lets you test the migration and moves a limited amount of objects from OpenCart to Magento 2 store.
Full Migration. It allows migrating an unlimited amount of products, categories, attributes, and other entities from Magento 2. The price of full migration can be calculated in dependence on the number of entities or additional parameters that will be selected for migration. If you want to check the detailed price of this kind of migration, you may use the LitExtension pricing calculator.
Such tools as Cart2Cart and LitExtension automatically migrate your ecommerce data e.g. product, orders, customers, categories from your current ecommerce platform to the new one.
The migration process with such tools looks quite simple and consists of the following steps:
Create the Account
To conduct the automated migration, you need to register a new account within the system or sign up with your Facebook or [Google+] account.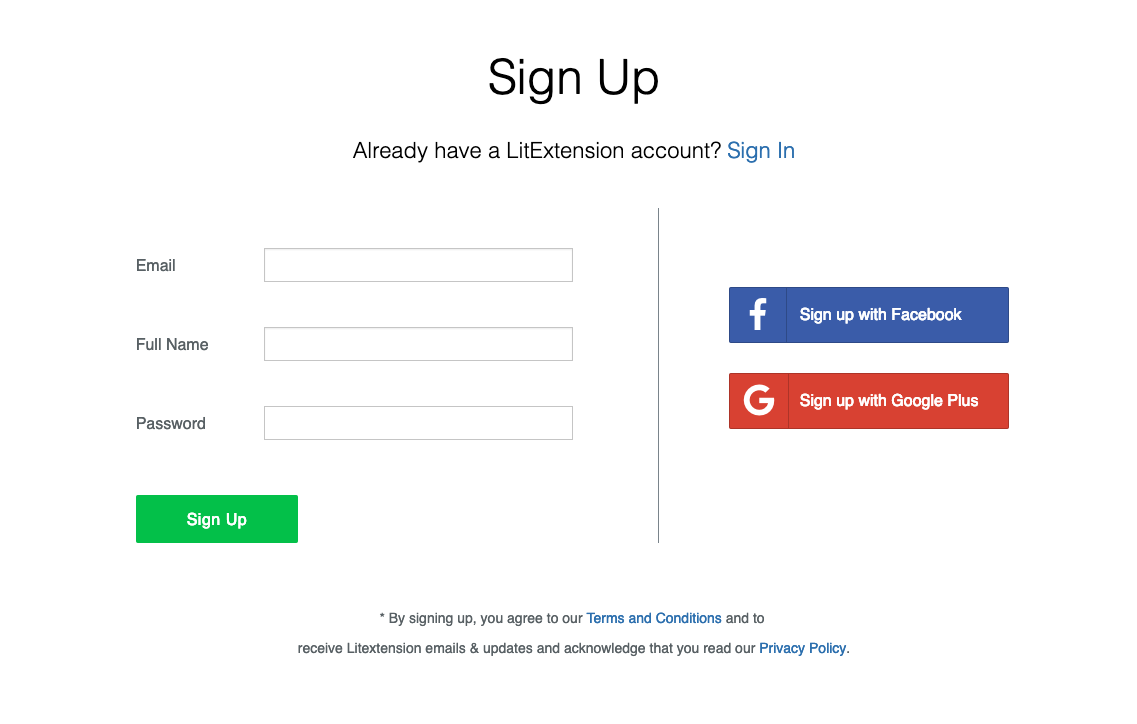 Image source: LitExtension
Provide E-commerce Platform Details
Then, you need to choose your current e-commerce platform from a list and provide your current store URL.
Next, download the Connection Bridge and upload it to your OpenCart root folder.
Then, choose Magento as a Target Cart, give your store's URL, download the Connection Bridge and upload it to the root folder of our Magento store.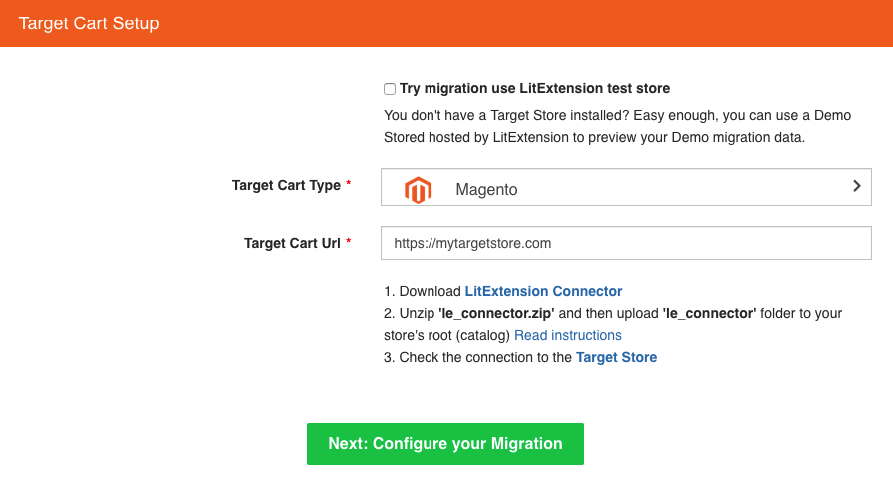 Image source: LitExtension
Select Entities for Transfer
Then you need to select data you want to migrate from OpenCart to Magento, like product details, customer information and so forth.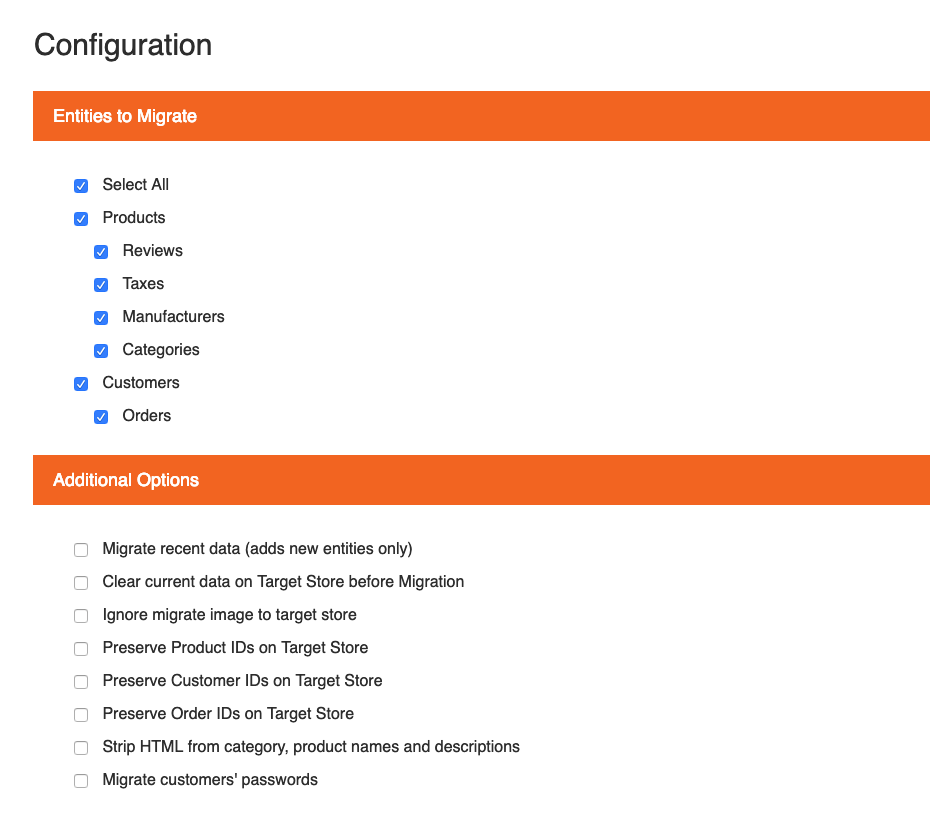 Image source: LitExtension
Start Demo
During the demo migration, only a limited number of entities will be moved to your live Magento store.
Launch Full migration
Then you can launch the full data transfer. For that, you need to click on the "Start Migration" button and migration automation tool will start the data transfer.
Still, the automated migration tools are not a silver bullet. Even during the automated migration process, some mistakes may occur. While developers can use such tools successfully, in the hands of amateurs the migration automation tools can turn out to be a total disaster.
For that, we recommend hiring the e-commerce development team, that can build an online store on Magento 2, migrate OpenCart database to Magento, and ensure that everything transferred correctly and the one online store is bug-free.
Switching from OpenCart to Magento Platform
Now, let us tell you about the stages of a typical e-commerce migration we perform for our clients.
Data backup
When switching to another e-commerce platform manually or even with migration automation tools, some data could be lost. To prevent such issues, we usually prepare the backup of all the data from your old online store.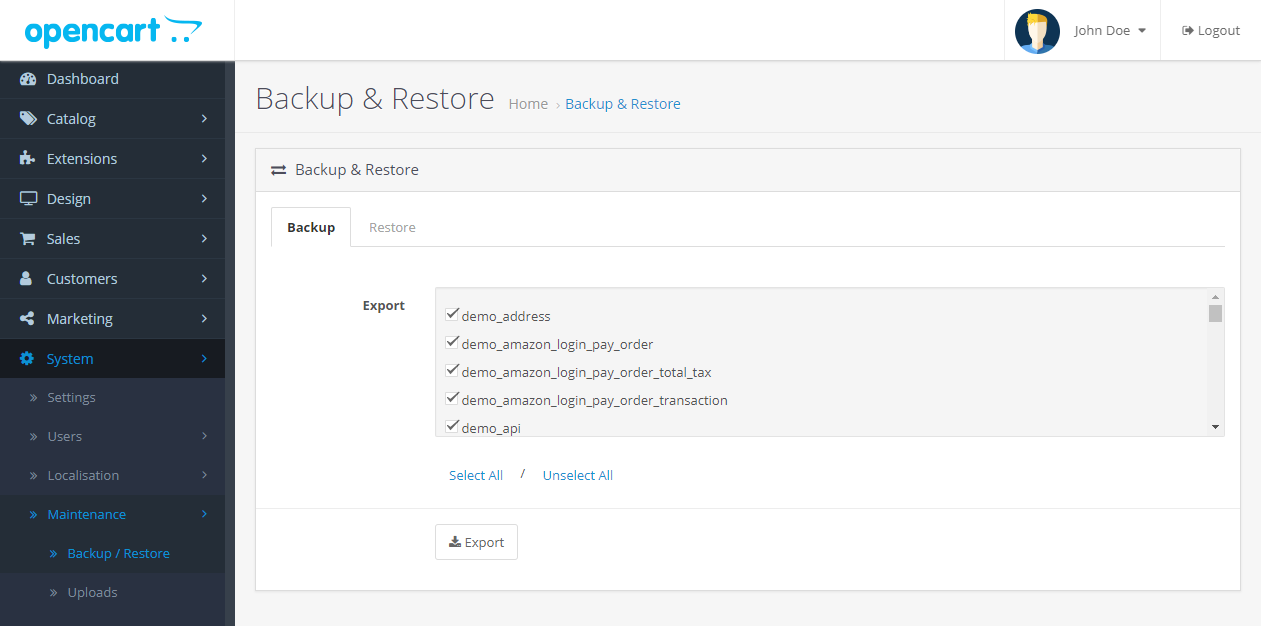 Image source: OpenCart Documentation
Products Migration
In this stage, our developers migrate products from OpenCart to Magento. We usually migrate as the quantity, name, color, size, and so on. Since Magento 2 allows customizing URLs, we also migrate all the product page URLs from your previous online store to keep your online store ranking by search engines.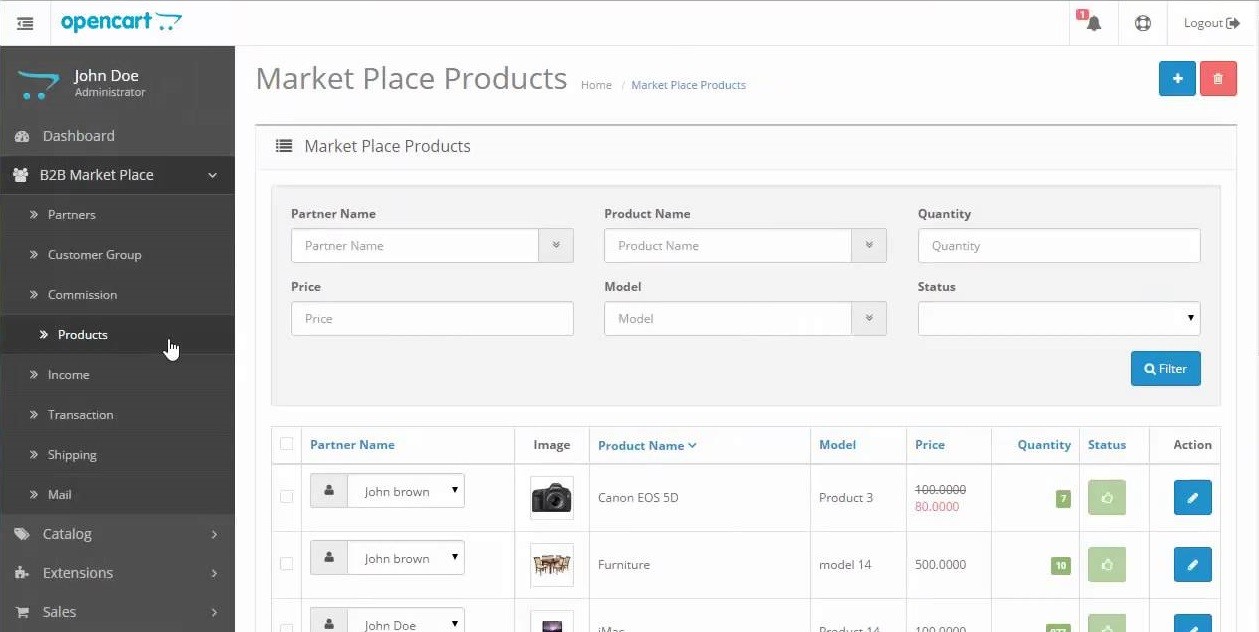 Image source: Webkul
Customer Details
To make your new Magento 2 online store convenient for your existing clients, we also migrate their information from OpenCart online store as name, password, contact number, shipping address, order history and all that.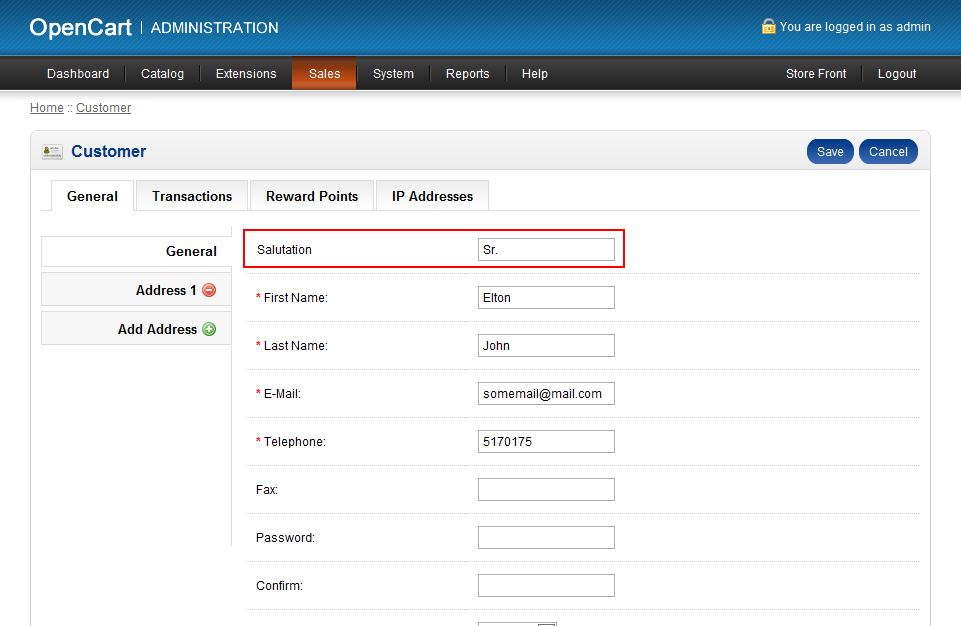 Image source: iTechTuts
Orders
We know how the order information is vital for successful online retail. We migrate all the information as customers related to the order, the order status. We also transfer products from OpenCart to Magento for seamless order fulfillment after the platform switching.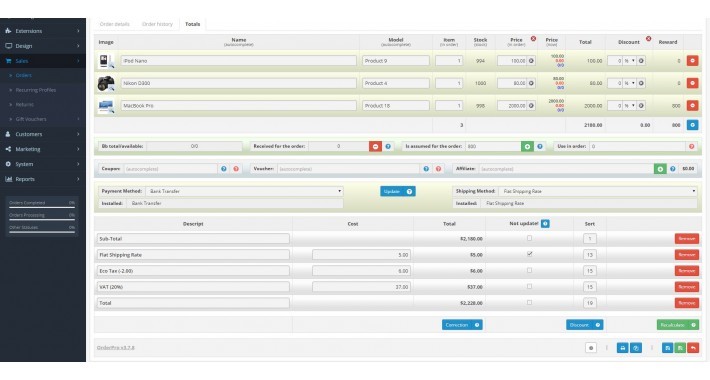 Image source: OpenCart
Payment Gateway
As we know, Magento has many integrated payment gateways, which decrees time in the payment gateway integration. In this stage, we migrate the configuration details as API pay, a secret key and the API signature from the OpenCart platform to your new online store.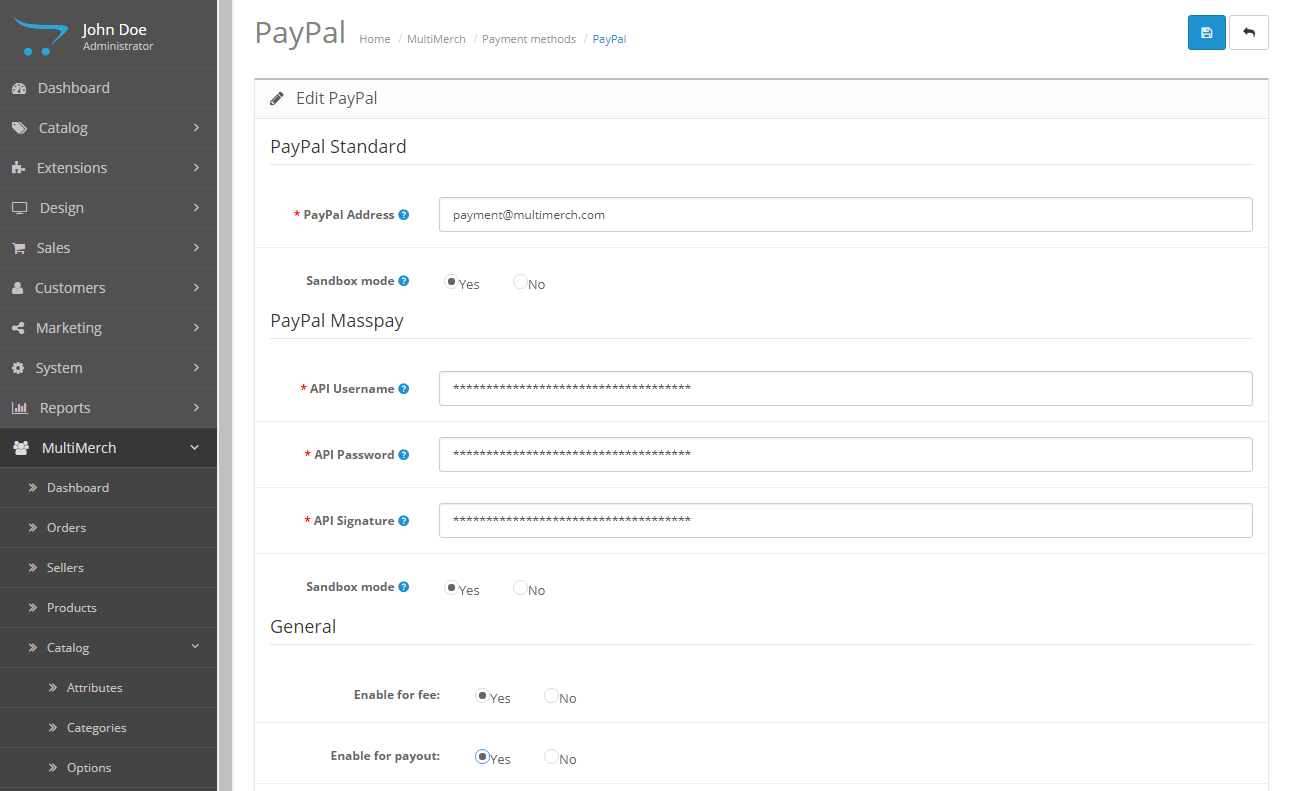 Image source: MultiMerch Marketplace
Design customization
If you want to save the storefront of your previous online store on OpenCart, our design team will customize the Magento 2 theme, or create the new one that will correctly reflect your brand identity.


Image source: GitHub Pages
Through Testing
After export OpenCart data to Magento, we usually conduct both manual and automated testing of such aspects as responsiveness, functionality, performance, robustness. After the testing stage, you will get the online store on Magento 2, which is ready to receive and fulfill new orders.
Challenges of OpenCart to Magento Migration
As we have said, the migration is a complex project. When transferring the data from one e-commerce platform to another, the following challenges could occur:
The Loss of Customer Information. The most common problem is the loss of customers' credentials. To avoid it, during the migration from OpenCart, our developers export customers details and migrate this data manually.
The Loss of Order History. To conduct the migration safely, we recommend our clients store their information about the orders on third-party integrations, like ERP (Enterprise Resource Planning software), which would be integrated with the new platform without the order history loss.
What Results Will Magento 2 Migration Bring?
Wrapping up
Without any doubt, Magento 2 provides a professional online ecommerce system, compared to which OpenCart proves to be weaker.
And it doesn't matter if you are using OpenCart for a long time, or you are a newbie, we advise taking into consideration Opencart Magento migration. Magento platform is considered robust and able of supporting your business growth in the long run. Moreover, it has more incredible scalability and more advanced features.
We hope that this article gave you a clear vision of the migration from OpenCart to Magento 2. If you have a project in mind, want to compare OpenCart vs. Magento in 2018 and change OpenCart to Magento, or you are looking for the development team for your future migration, fill in the contact form, and our team will get in touch.
Want to read more
Get fresh articles, news and case studies to your email firstly
Related articles