Magento vs Shopify: ECommerce Platforms Comparison
Magento Jan 04, 2020

Main / Blog / Magento vs Shopify: ECommerce Platforms Comparison
The Magento Shopify topic is neverending. They are the two undisputed kings of ecommerce. How can you possibly choose between them? Our guide shows you the pros and cons of each.
Choosing Magento, Shopify, or another ecommerce platform is a crucial step for any aspiring online retailer. Especially when time and budget are limited, the platform choice will have a direct and immediate impact on the success of the enterprise.
Keep reading as Dinarys' most experienced developers lend their experience about the differences between Shopify and Magento. These are the two most popular platforms. Each has their pros and cons, and each is worth considering.
If you're toying with the idea of an ecommerce store, or if you're looking to migrate your existing store, then you're probably already aware of the wide range of ecommerce platforms and CMS.
Magento is the most popular, with a 24.6% market share. Shopify is a close second, at 19.7%. If you compare the features, pricing, and business models of the two platforms, you'll see they have some significant differences.
Magento is open-source, and the basic platform is completely free.
Shopify, by contrast, starts at $29 per month.
Magento users need to provide their own web host. They also need to install and configure the software themselves. This does require some development skills, so companies like Dinarys offer professional setup services.
Shopify, on the other hand, is hosted and configured by Shopify themselves.
Those are the main differences between the two platforms. Now, let's do a deep dive, and highlight the specific advantages and disadvantages of Magento versus Shopify ecommerce solutions.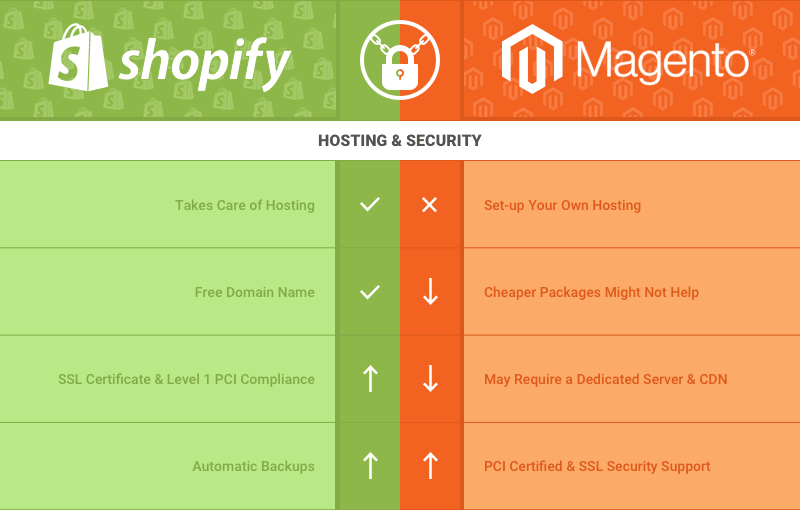 Shopify Review
Let's start with Shopify, one of the leaders in the ecommerce industry. It is a hosted SaaS solution that handles all coding issues, although users are free to made changes to their stores using HTML and CSS.
Advantages and Disadvantages of Shopify
Shopify has over 325,000 global users, and it is the most reliable platform for selling online. It's perfect for people looking for a simple, easy to use solution that can still handle complex tasks. This platform offers a very user-friendly admin panel, letting even average users build a functional, attractive ecommerce site.
The platform is also great about keeping up with modern trends. For example, they recently deployed Amazon integration, letting users sell on Amazon right from the admin panel.
Let's look even deeper into the most important selling points of this platform.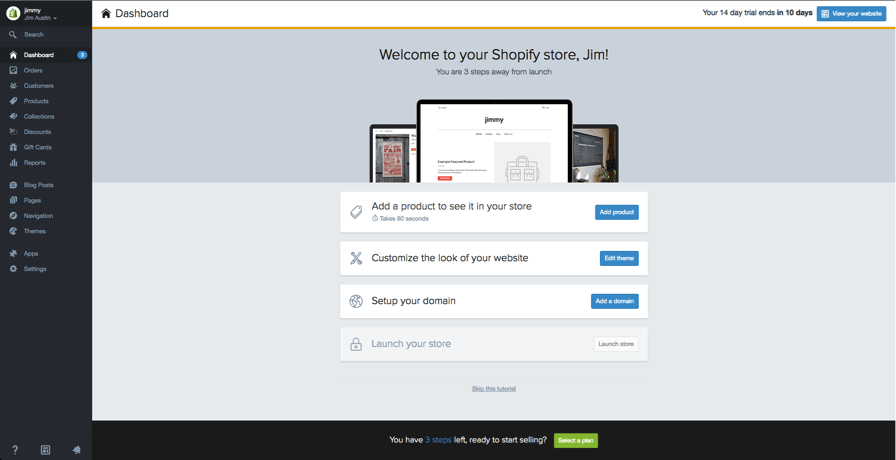 Ease of use
Shopify's biggest claim to fame is its ease of use. The platform offers simple tools that anyone can use, including a WYSIWYG drag-and-drop interface, and simple theme editing. Even if you've never built an ecommerce site before, you can still build something functional and attractive using this platform.
On the buyer side, Shopify-powered stores offer a seamless customer experience, secure payments, and an easy checkout process.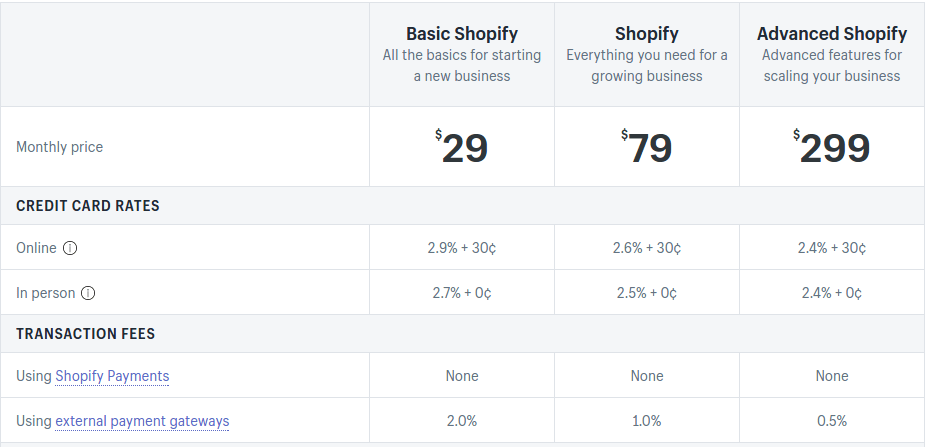 Pricing and Additional Fees
Of course, price is a large concern to anyone making the Magento and Shopify choice. Shopify offers a 2-week no-risk free trial to all new users. If you find this platform fits your needs, then their pricing starts at $29 per month. There is also a per-transaction fee of 2.9%+$0.30 for all users using the Shopify payment gateway.
You can reduce that fee by setting up an external payment gateway (credit card processor). If you bring your own gateway, then the platform only charges 2% per transaction. If you are planning to scale your business, this may be the better option.
Design and templates
The other big difference between Magento or Shopify is Magento's flexible and customizable nature. This platform offers a huge range of free and paid themes for online stores, giving you fine control over your shop's look and feel.
Since it is a hosted solution, its customization options are limited. They offer 10 free templates, or the option to purchase a paid theme starting from $140.
Also read: How to Create an E-Commerce Store with Shopify
Technical Support
This is where Shopify really shines. Shopify offers 24/7 tech support to all store owners. The support team is reachable via several means: live chat, e-mail, or phone. So, no matter when you encounter a problem, this platform has someone ready and waiting to help.
They also provide a selection of online guides and tutorials to help merchants maintain their websites. Most of these are very well-done and helpful for users at any level. This is an important point to consider in any ecommerce cms comparison.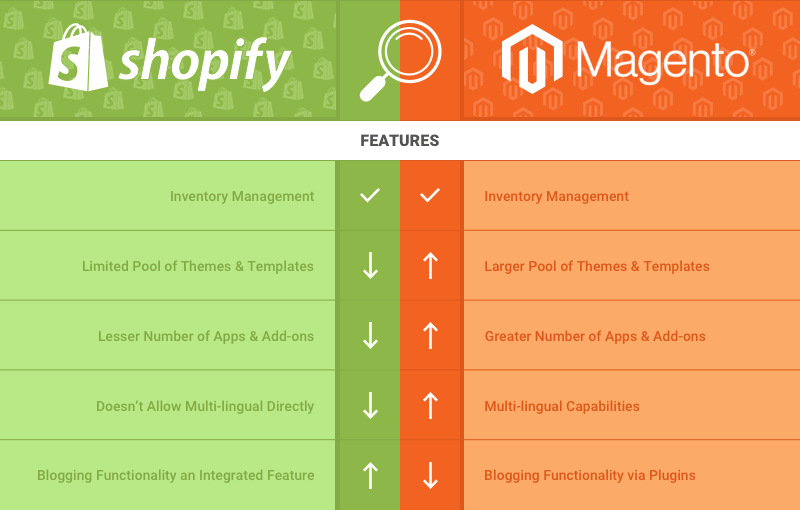 Magento Review
Now, let's give the Magento ecommerce platform the same close inspection. It has its own advantages and disadvantages.
As an open-source solution, it is very flexible and suited for any kind of online retail. Many have called it a "masterpiece of software craftsmanship." However, to take full advantage of the platform, ecommerce business owners need to either have their own programming knowledge, or contract with an ecommerce agency for help.
It works in any market around the globe, since it supports multiple currencies and tax rates. You can even offer different currencies and tax rates on the same store. This platform is also easily integrated with several payment gateways, including PayPal. That's no surprise, since eBay is the parent company of both Magento and PayPal.
The CMS offers well-organized categories and a clean, professional style. It has a rich feature set that allows you to tailor your online store to your specific business needs. Some of the features it offers include customer segmentation, promotion, and even private sales.
Also read: How to Hire the Best Magento Developers
Due to its open-source nature, Magento also provides retailers with an extended plug-in architecture. Virtually any custom feature can be programmed into Magento, given enough technical know-how.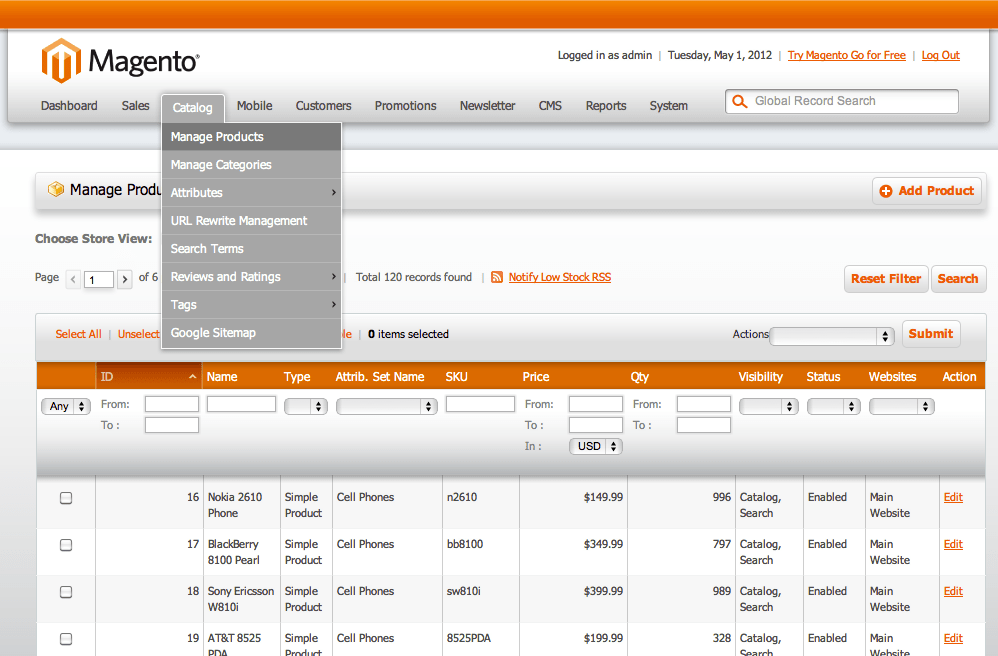 Ease of use
Although it's flexible and powerful, Magento isn't as user-friendly as Shopify. The platform isn't meant for people without much technical skill, who are just looking for a basic, simple online store. There is a learning curve to get up and running. Alternatively, you could hire an ecommerce agency to set up Magento for you.
Magento Ecommerce Packages Comparison
Magento users have two licensing options. The first and most common option is the Community Edition, which is free and does not charge a monthly fee. It's ideally suited for small to medium sized businesses.
If you have a very large company, or need to implement many special features, you should investigate Magento Enterprise Edition. Pricing for Magento Enterprise varies depending on specific needs. If you think this might be the option for you, fill out the form below and a Dinarys representative will be in touch to give you a rough estimate.
Magento provides users with two options. The first one is Community Edition. It is free and does not have any monthly subscription. It perfectly fits small and medium businesses.
If you have a big company and want to develop comprehensive online shop, your option is Magento Enterprise Edition. If you want to know how much does it cost to develop and online shop with Magento Enterprise, fill the form under the link and Dinarys will give you a rough estimate.
Additional Fees: Ecommerce Hosting Comparison

So, in essence, Magento is free. However, if you need to implement custom features, you may need to pay for premium extensions, or even to have new extensions developed. With Magento, you will also need to factor in the cost of web hosting. Magento is a resource-intensive application, so hosting won't be cheap.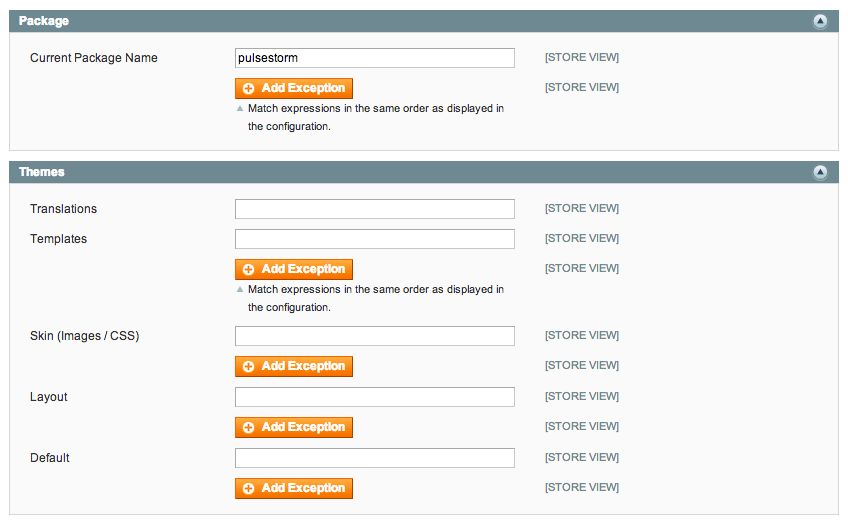 Design and templates
Owing to its popularity, Magento already has a large number of templates available. You can browse through them on the Magento Marketplace. All themes listed there are responsive (mobile-compatible), customizable, and user-friendly.
The Marketplace also offers 13 free Magento themes, and a larger number of paid themes starting from just $1.
If the Marketplace themes aren't quite right for your store, or if you want something truly unique, then you should contract with an ecommerce agency. This is also the best way to surprise your customers with custom features - a great point in Shopify Magento comparison.
Related article: 5 Tips for Magnificent eCommerce Website Design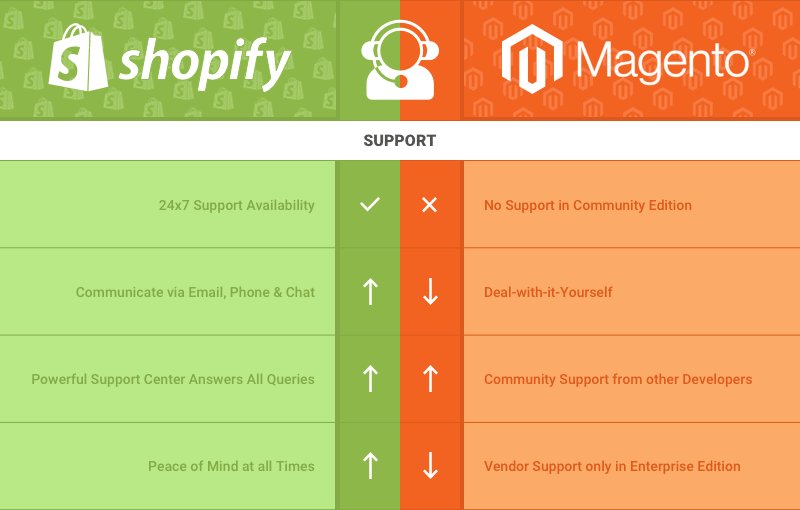 Technical Support: Magento Community vs Shopify
If you're a brave enough soul to use an open-source ecommerce platform, then you probably already know the sorts of problems that can develop. Luckily, Magento offers a huge developers' community where you can find the answers to most problems.
Please note that the free Magento Community edition does not include any professional tech support services, so you shouldn't be shy about diving into the forums.
Enterprise Edition users do receive tech support directly from Magento.
In the end, Magento's open-source nature is both a blessing and a curse, depending on your developers' skills.
Also read: How to Speed Up Your Magento Website
Magento offers education courses, some of which are free. These can be a great help in understanding the platform. However, if you don't have the time, then an ecommerce agency like Dinarys can provide you with these skills, ready to go.
Shopify vs Magento
Let's keep comparing the two platforms. These are some other important factors when choosing Shopify or Magento.
Basic functionality
Product catalog management
Shipping options and shipping charge calculation
Options for coupons, discounts, and sales
Payment gateway options
Templates and themes
Plugins and extensions
General customization
Basic functionality of Shopify vs Magento 2
Magento and Shopify both offer powerful basic ecommerce functionality to start and maintain your store. However, Shopify is much easier to set up. If you're looking to get started quickly and without much hassle, we recommend Shopify.
Product catalog management
The Shopify Starter plan costs $29 per month, and still limits the number of products you can sell at one time. A Starter store's catalog can only offer 25 items. To increase or remove the limit, you need to upgrade your plan.
Magento Community, which is free, already offers an unlimited number of products in the catalog.
However, keep in mind that not every store would benefit from unlimited product listings. If you add too many products to your site, it could affect loading speed and cause other problems. As a hosted and managed solution, this platform won't have these problems.
Also read: How Much Does It Cost to Build an Ecommerce Website?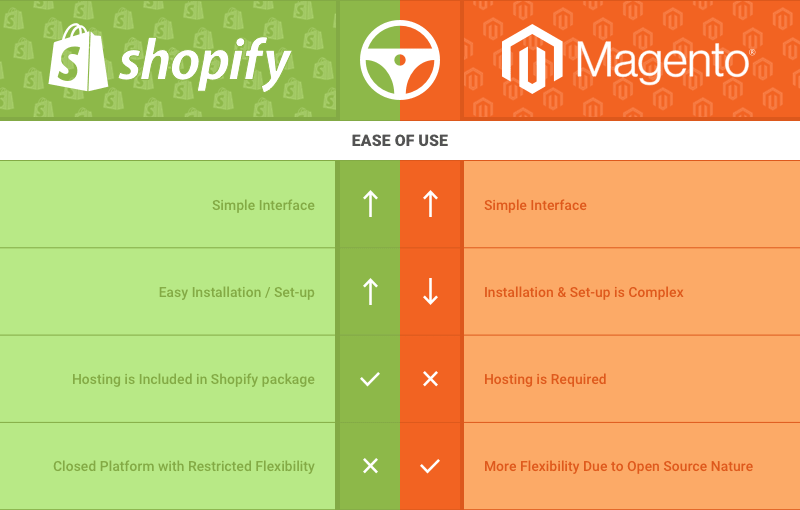 Shipping options and shipping charge calculation
Magento and Shopify both offer powerful, flexible options for calculating shipping charges. Shipping is one of the most important aspects of online retail, at least for stores that sell physical goods. If you sell overseas, you will want to pay particular attention to the interface and options available.
Options for coupons, discounts, and sales
This is another important consideration for online stores, and discounts aren't offered at all on the Shopify starter plan. It is available on higher-end plans. On Magento, all users are able to create discount codes and sales.
Payment gateway options
As you consider your choices between Magento or Shopify, be sure to keep the payment processors in mind. You may or may not already have a favored payment processor, but it's an important decision.
Shopify offers over 70 options for payment gateways. Magento, by default, only supports a few. However, you can expand this functionality to include almost any processor by using third-party addons.
Also read: Top 9 Essential Features for Custom E-Commerce Websites
Templates and themes
Both Magento and Shopify offer a huge variety of designs and templates. It won't be hard to find one that makes your online store attractive, inviting, and helpful in speeding the customer journey.
The main difference between the two platforms here is that while Shopify provides only a few free themes, Magento Community offers quite a large number. However, the free Shopify themes are generally more modern than Magento's.
On either platform, though, you have a broad choice of paid themes. These can offer you enormous control over your store's look and feel, for a price starting from $80 on Shopify, or just $1 on Magento.
Another important consideration is your mobile customer base. More and more people shop on their devices, and you need to be sure to cater to this trend. Magento and Shopify both offer free responsive templates that will look good on any device.
Also read: Does Your Business Need Mobile Website or App?
Plugins and extensions
If you need to extend the basic functionality of your online store, and you likely will need to, then you need to use an extension or plugin.
Shopify offers hundreds of extensions, while Magento offers over 5,000.
However, even on Magento, you might not find one that precisely suits your need. If that's the case, then Dinarys is ready to help. We have experience and expertise in developing for both Shopify and Magento, and our team will work with you for the entire length of the project. We make sure we understand your business goals, and we dedicate ourselves to fulfilling them.
Also read: The Benefits of Magento Custom Module Development
General customization
Every market has its own quirks, and every online retailer wants their own unique store to set themselves apart from the competition.
Magento and Shopify both offer extensive, robust customization. You have access to the HTML and CSS of sites built on both platforms, giving you great control over the look and feel of the store.
However, we have to give the nod to Shopify. It offers a much more user-friendly admin panel, giving you access to colors, fonts, and many more features.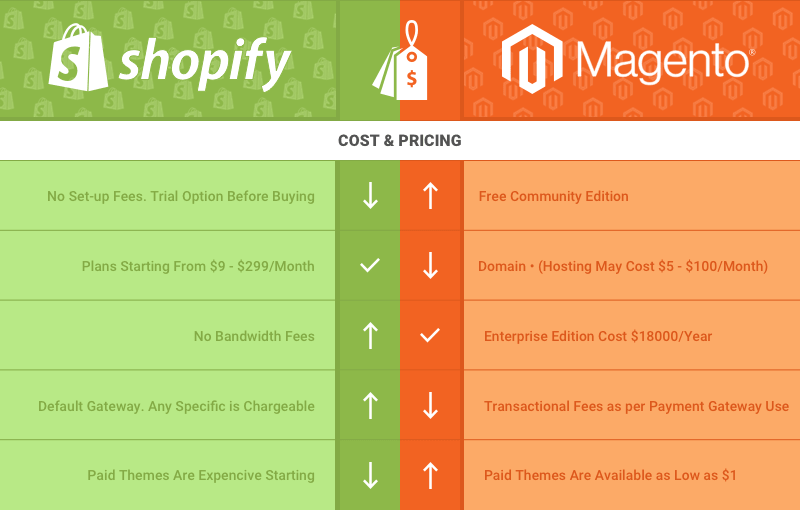 Comparing Magento vs Shopify Prices
As you've seen, although Magento is technically free, you are likely to incur a great deal of extra fees as you go through the process of setting up your store. Shopify, on the other hand, bundles all their fees into the Shopify membership plans.
Neither platform charges a setup fee. Shopify offers a 14-day free trial, during which you can cancel without any risk. Since Magento is open-source, it of course does not charge a setup fee.
Magento and Shopify Plan Comparison
We obviously need to include the ecommerce price comparison. Shopify does charge a fee per transaction, either through their own payment gateway, or as a transaction fee if you bring your own processor. If you use your own payment gateway, their pricing is as follows:
Lite Plan ($9 per month): 2% per transaction
Basic Plan ($29 per month): 2% per transaction
Shopify Plan ($79 per month): 1% per transaction
Advanced Plan ($299 per month): 0.5% per transaction
Magento does not charge any transaction fees. If you run a Magento store, you'll only pay the payment processors themselves.
Concluding the Ecommerce Platform Comparison
Shopify and Magento are both powerful, flexible ecommerce platforms. However, we recommend Shopify for beginners to the online retail space. It's much easier to set up, and help is much more readily available thanks to its hosted, managed business model. Take into account the Shopify pricing comparison before making the final choice.
Although Magento is technically free, you will need to purchase your own hosting, and do the work of setup and installation on your own, or pay a third party agency like Dinarys. It can be challenging for the layman, so many people choose to have us do the heavy lifting.
On the upside, Magento is potentially much more powerful and flexible than Shopify, which necessarily constrains users to fit within their basic model.
Do you still have questions about which platform is best for your situation? Dinarys is here to help with ecommerce comparison task and make the right choice. Just fill out the form below, and we'll be in touch ASAP.
Want to read more
Get fresh articles, news and case studies to your email firstly
Related articles