Ecommerce Website Development
Every modern commercial business needs a dedicated ecommerce website to provide products or services in an intensely active online environment - this has become an unspoken market standard over the years. We are the official Magento and Shopify partner willing to build for you a sturdy, customer-focused ecommerce outlet that will boost your overall profits through the web segment of consumers
Get a Custom

Ecommerce Website to Meet Relevant Demands

We create custom ecommerce resources from scratch based on your specific business and industry specifics and requirements. Depending on the niche you are operating in, the audience of users you are targeting, and internal business nuances, we can build you:
A B2B and B2C website
An online marketplace
A headless commerce solution
A multi-store website
A mobile ecommerce application
Our Expertise
We have seasoned ecommerce development specialists with in-depth expertise in all relevant commercial website creation technologies, approaches, and insights. Here's what in particular we invest into the development process.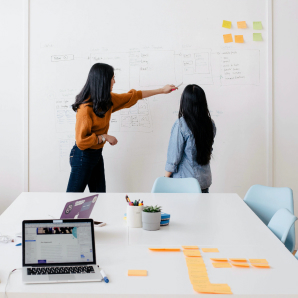 Shopware ecommerce
platform
Shopware allows creating versatile, high-performance ecommerce solutions of any format, size, and purpose. It helps to integrate your digital commerce outlet with multiple relevant sales channels, manage products in a convenient, hassle-free way, manage digital assets throughout, use SEO optimization features, and much more.
We know how to most properly integrate Shopware PWA and how to build all-around optimized projects from the ground up without burning a hole in your pocket.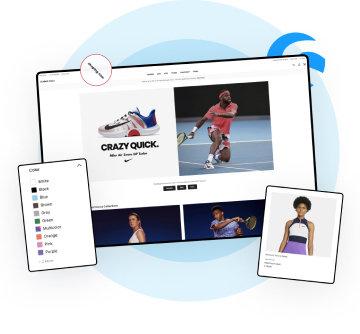 Magento 2 Ecommerce Website Development
Magento is arguably the most popular and widely used ecommerce platform with the hugest online community out there. This powerhouse of a digital commerce engine helps us create in-depth optimized, multipurpose, lightning-fast performing, authentic solutions tailored closely to your needs and goals.
We are not embellishing, Magento 2 provides unprecedented ecommerce website creation capabilities. Which we'll gladly put to good use in terms of your project.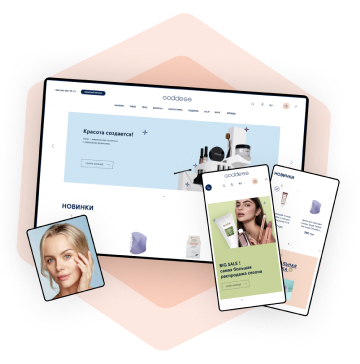 Website Design
We can set off the full-blown website design project with the outline and complete creation of the basic web resource architecture. We know how to build firm, reliable website foundations that guarantee fast and smooth performance with versatile functionality additions.
For your project, we can build a design that will be easy to scale and develop further through either readymade integrations or hardcoding editions.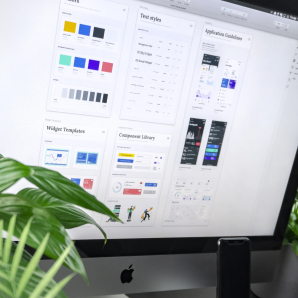 Ecommerce Integrations
If you already have a non-commercial website representing your business online, we can easily turn it into a full-scale ecommerce store or only partially integrate it with the necessary commercial features. For instance, we can integrate multiple payment gateways with your existing website to enable online transactions on it. Or we can design a convenient online shop window that allows customers intuitively and comfortably select and order products.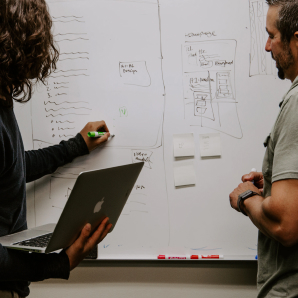 Do you have an idea?
Contact our specialists to discuss the launch of a custom project to be handled by seasoned ecommerce design professionals.
Contact us
How We
Work
We prefer to form an individual approach to every other project in order to squeeze the most potential out of specific product roadmaps. In order to grant the subsequent, smooth workflow and high-end quality, we implement the following stages in most projects.
Discovery Phase
The kick-off stage dedicated to preliminary business research and analysis, requirements gathering, roadmapping, general project discussions, etc.
Website design
At this stage, our software engineers outline and build the basic product design - a versatile scalable software carcass to be extended with further functionality.
MVP/Product development
The finished design is filled with features - either hardcoded or integrated, basic and in-depth functionality specifics, and other things that set the whole website in motion.
QA & Testing
Thorough Quality Assurance and combined manual and automated testing practices help us polish up the end product and launch a flawless software piece.
Deployment and support
Lastly, we help properly deploy the finished product in the required operational and/or distribution environment, additionally providing post-launch support and maintenance.
Projects We
Worked On
We develop high-quality custom ecommerce websites for our clients. The main purpose of our experts is to provide first-rate services considering all the requirements and your business needs. Some of our works are presented below.
Goddess Online Store Development
Goddess is a popular European online store of cosmetics with multiple brands offering their products within a centralized web marketplace. The client's request was to upgrade the store.
We started to redesign an existing ecommerce website based on the Magento 2 powers with the necessary functional customizations implemented along the way.
View project
Race Pro
Race Pro is a vendor of car modifications and parts. The client contacted us for building a B2B/B2C platform to go online with his offer.
The goal of the project was to build a custom ecommerce website for selling car parts and modifications from scratch.
View project
Why Choose Us for Ecommerce Website Development
The crucial points while looking for an ecommerce development partner are reliability and a high level of professionalism. Moreover, equally significant is not just good quality of provided services, but taking into account needs, requirements, and challenges to overcome for a certain company.
Apart from deep expertise and extensive technologies proficiency, Dinarys experts are fully dedicated to your project and always strive to find the best solutions in terms of your business goals and estimated budget. Our individual approach to every project is the thing that strongly allocates us from competitors and helps to exceed the client's expectations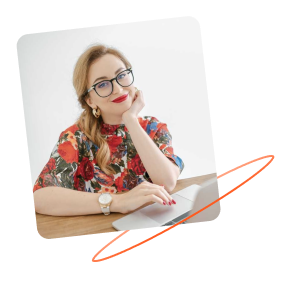 FAQ
The final cost of creating a new ecommerce website from scratch depends heavily on the scope of functionality, underlying ecommerce platform, business requirements, and other aspects of the product creation. We select platforms and create project roadmaps individually for every other case in order to help you achieve the most cost-efficient solution that closely fits your business needs and customer satisfaction goals.
It is crucial to pick an ecommerce framework that fits your necessary security and scalability requirements, offers mobile-friendly capabilities, and can grant smooth and rapid website performance. We conduct an in-depth analysis of each project in order to select the most fitting platform, but prefer focusing on Magento and Shopware as our "weapons of choice" in our line of work.