DevOps Support and Maintenance
Benefit from ongoing support and project-specific services. This includes continuously monitoring the performance of infrastructure and services, updating server software, constantly interacting with the development team, and granting excellent onboarding for new project members.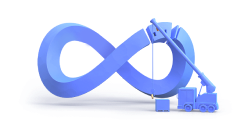 Benefits of DevOps Implementation
Let us help you push your level of performance, profits, and productiveness towards an absolutely new level.
Reduced time to market
Perfectly coordinated team workflow helps turn your project ideas into market-defining products that outrun the common competition.
Increased team productivity
We achieve more by efficiently employing DevOps methods to streamline processes and providing individually-profiled talents to grant speed, smooth functionality, and innovative approaches.
Risk reduction
We successfully use continuous integration and delivery practices in DevOps, which significantly reduce risks and provide confidence in the implementation of future changes.
Resilience
A fault-tolerant and self-healing project is when, for instance, the declaratively described structure of the IoT can be easily reused due to the ability to bring everything to the expected state and rapidly recover after a failure.
How We Work
Full DevOps application support maximizes the uptime of your services, which minimizes the potential negative impact of downtime on your business.
Discovery and planning
Our team always starts a project only after fully understanding the goal pursued by the customer, and the most accurate planning ensures a quick and high-quality achievement of this goal.
Setup and transition
We provide qualified assistance in setting up and placing your websites and applications, regardless of the type of hosting, as well as help to qualitatively set up your other services of any type and complexity.
Continuous support
We always guarantee ongoing support during the lengthy development process up to the release date.
Continuous improvements
Our priority is the stable and fast operation of your service. We are able to fully analyze the product and constantly improve it, as well as thoroughly identify issues and quickly solve them.
Our DevOps Toolkit
We guarantee the quality of DevOps services and employ a range of tools selected based on your individual goals and needs.
Incident tracking
We track and process IT incidents, eliminate issues between team members, and monitor overall progress. A unified system of centralization of IT problems allows our team to gain insights and effectively solve various problems.
Next-gen monitoring
We know how to anticipate incidents, as well as analyze incidents that have already taken place thanks to constant monitoring and logging. For this, we use:

Prometheus+Grafana services.
Datadog service.
Various cloud-based services.
Pagerduty service for creating a notification system to boost management and prompt decision-making.
Log analysis
Using network log analysis tools, we extract meaningful data and pinpoint the cause of a system or application error. We analyze trends and patterns of significant events and, on the basis of this, make decisions and ensure safety.
CI/CD
We provide continuous integration, delivery, and deployment. Forget about the problems of integrating new code - let us find the most proper solution. We are developing CI-Git-like services and usually use the CD service to deploy Kubernetes clusters. We also use tools such as Flux and ArgoCD.
​​Scripting
Our team performs the assigned tasks dynamically, flexibly, and efficiently. We use scripting to automate deployment and infrastructure management, which greatly improves workflow quality and simplifies work.
Source code management
To effectively manage modifications and versions of the source code, we use repositories and services based on which we build CI. In this way, we provide a GitOPs approach where the infrastructure and application deployment codes are in one place in the Gita.
Infrastructure as a Code
We implement declarative infrastructure management using the Terraform tool. You don't need to manually create instances, networks, and the like in the cloud provider's console. To do this, it is enough to create a configuration in which you can visualize the future infrastructure.
Configuration tools
We use the Ansible tool to scale automation, manage complex deployments, and improve performance.
Application containerization
We use OS-level virtualization techniques to deploy and run distributed applications. Several applications or services can run on the same host while accessing the same OS kernel.
Need DevOps support and maintenance services?
Contact Dinarys experts Contact us
Our Work
We've worked with online entrepreneurs from Eastern Europe, Germany, and the USA, putting years of field experience into handling highly-ambitious projects.
Deutsche Telecom Case Study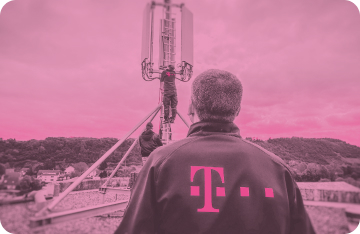 Our client is Deutsche Telecom's Croatian subsidiary that needed to implement containerization of telecom apps and end-to-end automation of image updates upon making code changes, as well as to integrate and automate CI/CD processes. Our team integrated and improved CI/CD processes for multiple development teams. Our approach allows reducing the number of routine tasks for developers by 30-40% https://dinarys.com/deutsche-telecom
Backendless Case Study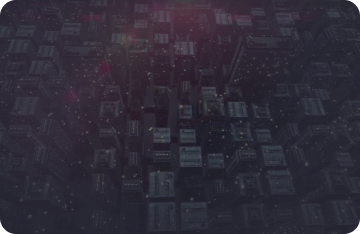 A mobile application development platform teamed up with Dinarys to automate the ongoing delivery of features, so their customers – app developers – could get their apps out as quickly as possible. Our team implemented a software algorithm where any code changes are followed by the creation of a fresh Docker image (based on the changes made), after which, the app deploys in the OpenShift cluster with the updated Docker image. https://dinarys.com/backendless
Need DevOps maintenance and support services?
Make Dinarys your tech partner of choice and get a sturdy competitive edge through innovation and collaboration.