7 Reasons Why You Need to Integrate Marketing Automation with CRM
eCommerce Mar 27, 2020
Main / Blog / 7 Reasons Why You Need to Integrate Marketing Automation with CRM
Using CRM is a must for every entrepreneur as it allows you to communicate with clients, store their data, and do many other things a modern business cannot go without. However, CRM itself doesn't solve many problems that arise when you try to increase sales, plan your promotional campaign, or sort data for marketing activities in various ways. This is when marketing automation comes into the game. CRM and marketing automation combined bring numerous benefits. Here are seven proven reasons why.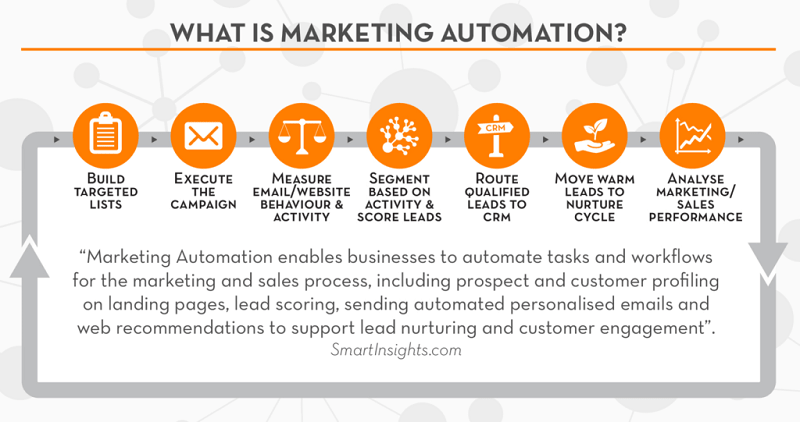 1. Improves Communication Quality
Merging of marketing automation with CRM allows you to drastically improve the quality of leads. When you group leads by the certain parameters, you can then provide your Sales Department with the instructions - on how to conduct a call or meeting with the particular type of client.
Take as an example a company that sells manufacturing equipment. Usually, closing a deal for such a company could take weeks or even months. During this period a client can go off the hook for various reasons. However, these reasons can be figured out in advance, and ways to retain the client can be developed. This can be done with the help of data analysis - one of the features marketing automation provides.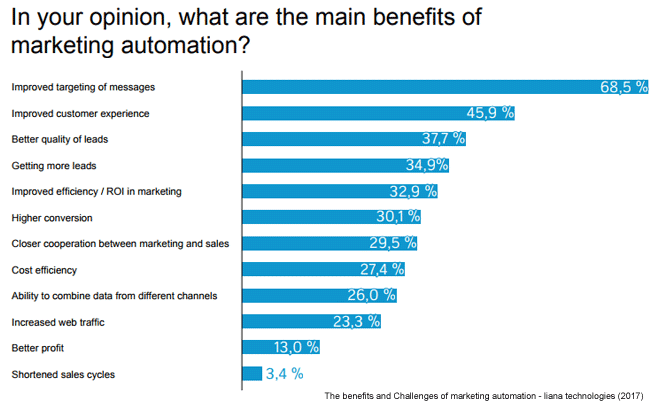 2. Tracks User Behavior
One can hardly find a CRM that doesn't allow the tracking of all sales activities with a client. However, there are not that many CRMs that can do something with this data in terms of behavior analysis.
In the meantime, if you integrate marketing automation, you will get all the data on activities with a particular client in a way you can analyze it. Using tools like Edrone help to implement various measures to analyze consumer behavior. What's more, data can be transferred to your CRM automatically.
3. Gives More Options to Work with Data
As we've already seen, when it comes to data processing, CRMs usually do not provide many options unless specific automation tool is integrated. Here we come to one of the biggest CRM marketing automation benefits - data transformation.
When you use client data from a CRM to contact them, and use this data to plan your advertisements and sales - these are two different types of activities you need separate sets of data for. For example, you need to group clients based on their email domain (Gmail, yahoo, corporate, etc.). There is no CRM that allows you to do that.
CRM integration with marketing automation allows you to increase the ways and forms of data interpretation. The way you need to transform data is up to you. That's also how you can start working with data quicker. Which is what the next reason is about.
4. Saves Time
CRM and marketing automation solutions are time savers when used properly. Instead of having two different interfaces for marketing and client data storage, you get one integrated solution which you can use in one interface.
Moreover, the majority of actions like publishing, mailing, and personalization activities can be done faster. The only thing you need to do is to choose the right algorithm (choose the key feature for grouping - set the actions needed to be done in CRM - assign tasks to employees).
5. Connect Marketing and Sales Teams
Communication is the key when it comes to coordination between marketers and sales teams when using CRM. It is not about chats or messengers - it is about the types of data to be shared.
Marketers and sales team treat client data in different ways. While the sales representative is more interested in contact data (for example), the marketing specialist needs behavioral or geolocation characteristics. Such a difference causes barriers between marketing and sales teams, and the marketer needs to group clients by the specific features before sending data to sales department.
The best CRM for marketing automation would solve this task by default, as grouping will be completed at the campaign planning stage.
When sales can see the marketers activities in CRM, it allows them to understand more about all the how's and what's about client interests.
6. Improves Scalability
Marketing is sometimes about figuring out successful patterns, and after these patterns are defined, you need to find the way to use them for your benefit. It is better for you to have an option for the implementation of a successful decision, as fast as possible.
Well, scalability issue can be solved with the marketing automation. Right after you find the working pattern you can point out the groups of clients to which this pattern can be applied to, and promptly assign to sales representatives actions that have to be done in that regard.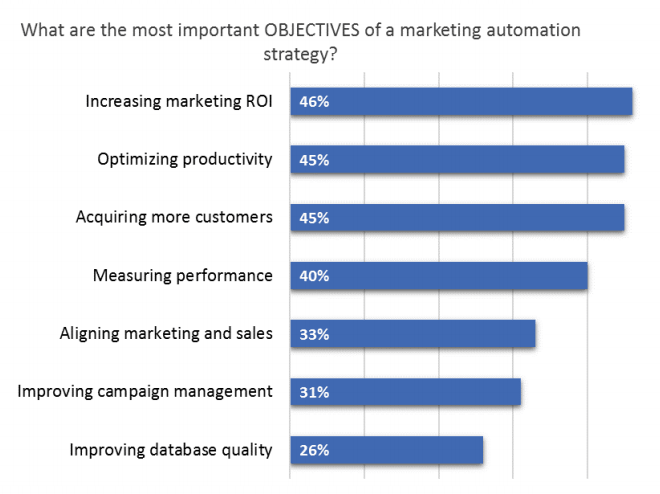 7. CRM with Marketing Automation Is a Trend
The majority of companies today provide integration, as a couple of years ago they were introducing cloud CRMs. There is just no other way for a company if it wants to be competitive, as such integration helps to meet client needs better and sell more. According to the Salesforce State 2017 research, marketing automation increases productivity, so let's make your business more efficient.
Conclusion
To conclude, whether your business is acting in a b2b or b2c field, it is still necessary to have a CRM. No matter what kind of marketing activities are conducted by the company - automation needs to be implemented. Today, it has to become a standard due to the results automation can provide.
Integration of marketing automation to CRM gives you better analytics, many options to process data, and better communication between departments. If you still have some questions or are looking for a help, we are here to give a hand and implement a marketing automation system in your CRM.
Want to read more
Get fresh articles, news and case studies to your email firstly
Related articles