E-commerce Chatbots: Why You Need Them for Your Online Store in 2021
eCommerce May 10, 2020

Main / Blog / E-commerce Chatbots: Why You Need Them for Your Online Store in 2021
Several years ago, most people associated the word "bot" with pop culture robots from the 80s and 90s science fiction movies. However, since this time, a lot has changed. Now, the word "bot" has an entirely new meaning, especially for online retailers. Moreover, about 80% of businesses plan to use chatbots for their online businesses by 2020. If you want to stay competitive at this time, you should also consider integrating e-commerce chatbot to your online store.
Why are chatbots so popular and what value do they bring to the online business? We know some the answers.
In this article, we will tell you:
Current state of e-commerce chatbots
How chatbots add value to e-commerce websites
The best e-commerce chatbot examples and use cases
Stay tuned!
The Current State of E-commerce Chatbots
As we said, e-commerce chatbots continue gaining popularity in the e-commerce field. Why? Because of changes in customer preferences. Messaging has become most popular than ever before. The top messaging apps count more monthly users that social media networks do.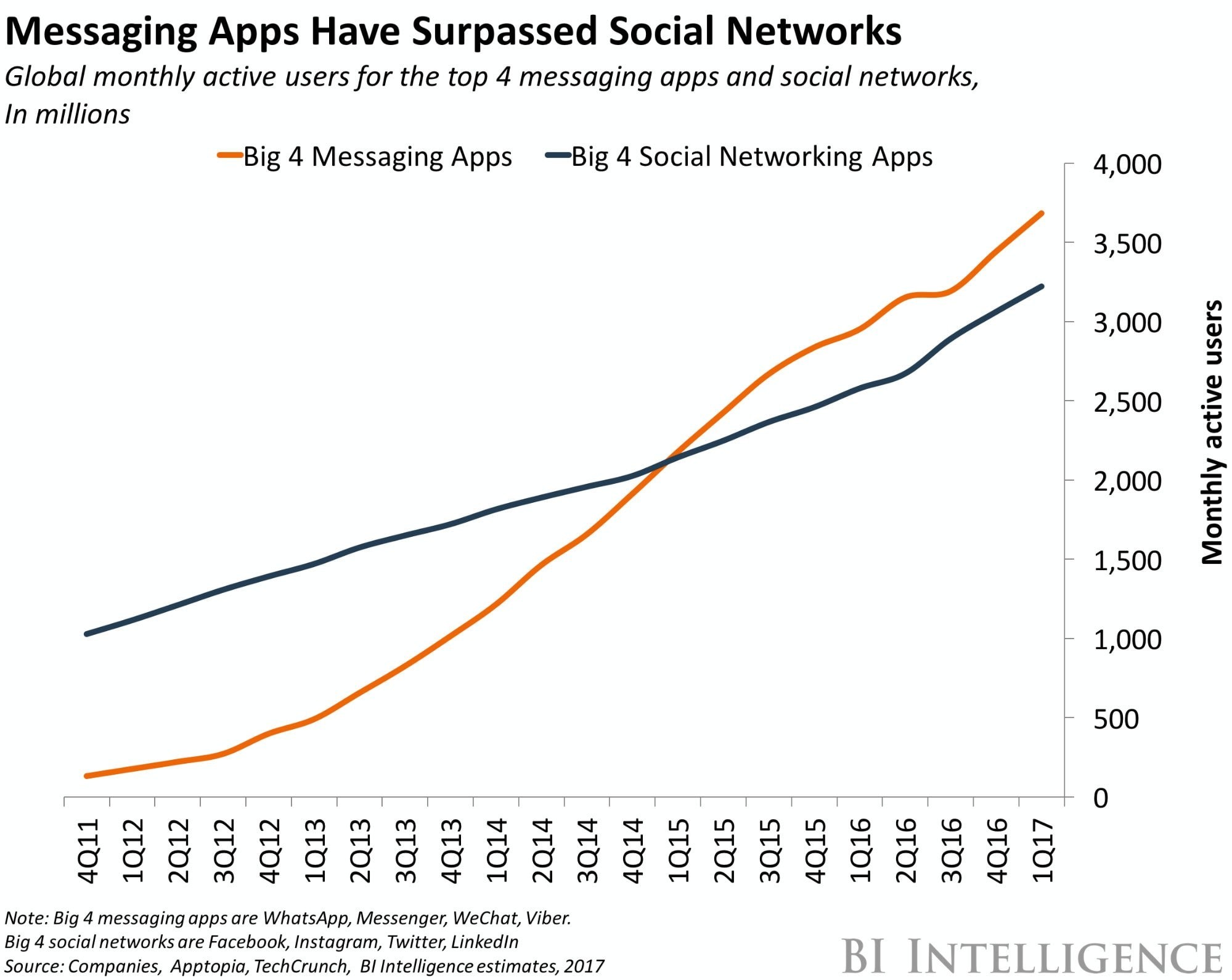 Image source: Apruve
Furthermore, the average open rate for private messages is 98%. That percentage is five times more than the average open rate for email (20%).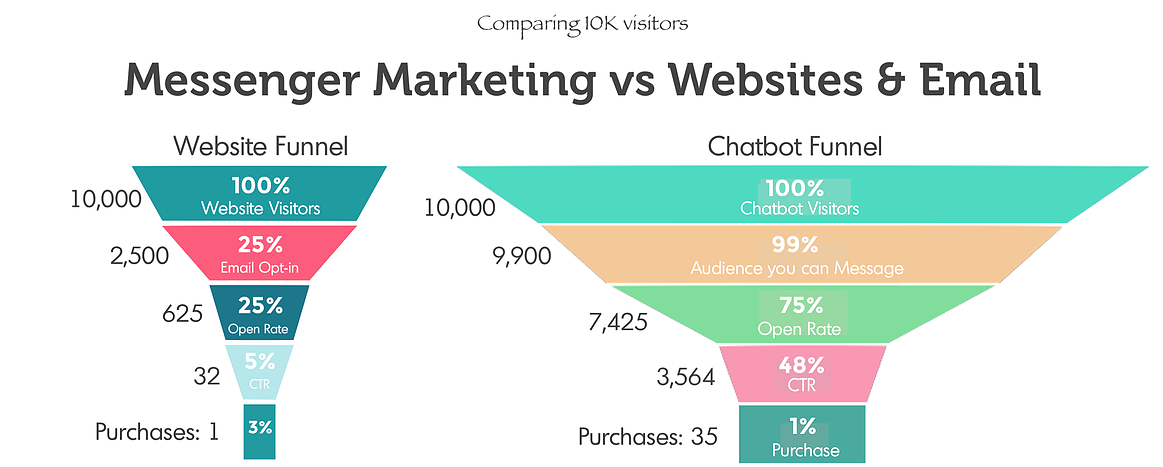 Image source: Ecofin.es
With this in mind, let's find out, what the role of chatbots in e-commerce is and how they help brands in increasing customer acquisition, retention, and gaining customer loyalty.
According to World Retail Congress's research, the use of chatbots on digital e-commerce platform is a key factor why the UK's biggest online retailers increased their sales by 23% in 2018.
Another e-commerce chatbot statistics showed that 40% of shoppers would interact with an e-commerce chatbot in the case the online store has one. In this way, e-commerce chatbots are a perfect tool for online retailers to direct potential customers to the information they need to convert.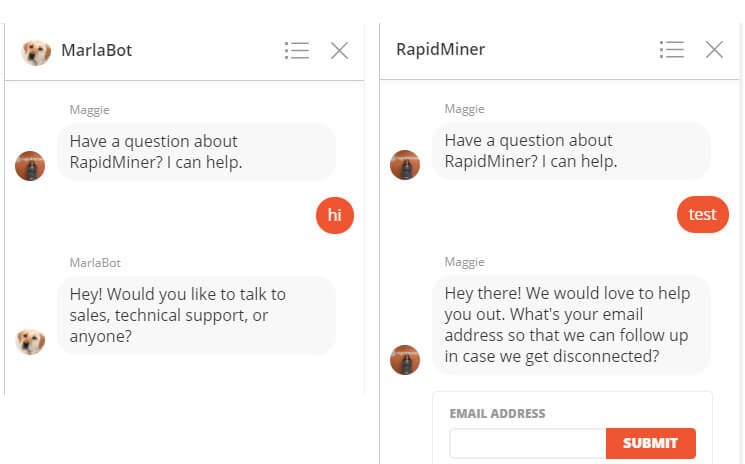 Image source: Belitsoft
A great example of the company that also receives benefits from chatbot integration is RapidMiner. The company replaced every lead capture form on their site with a chatbot. Moreover, the results were impressive. According to their case study, a chatbot generated over 4,000 leads. Additionally, 25% of the sales pipeline was influenced by chatbots.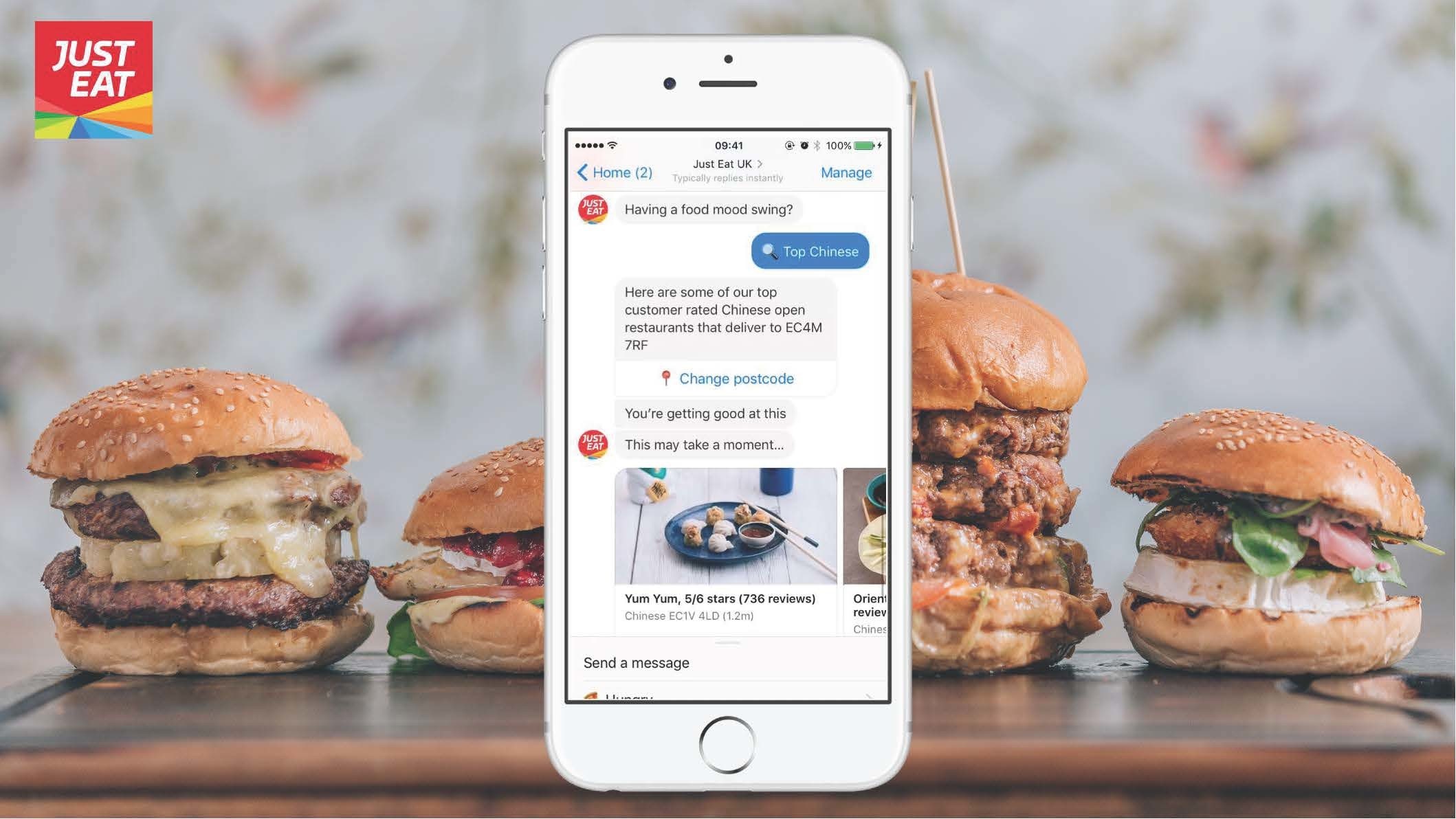 Image source: ZX.YCN
Just Eat, online food order and delivery service, said their chatbot drove a 266% conversion rate, compared to an average social ad.
Regarding customer retention, chatbots could also be handy. By providing a personalized experience, Tommy Hilfiger's Messenger chatbot resulted in 87% rate of returning customers.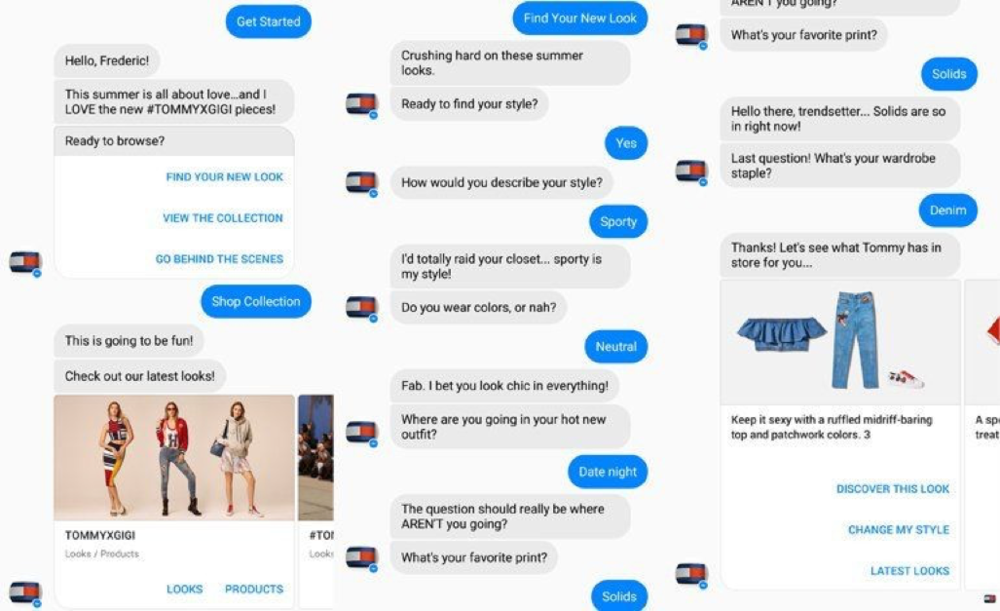 Image source: Chatbot Guide
How Do Chatbots Add Value to E-commerce Websites?
Below you will find the information on how exactly e-commerce chatbots could add value to your business.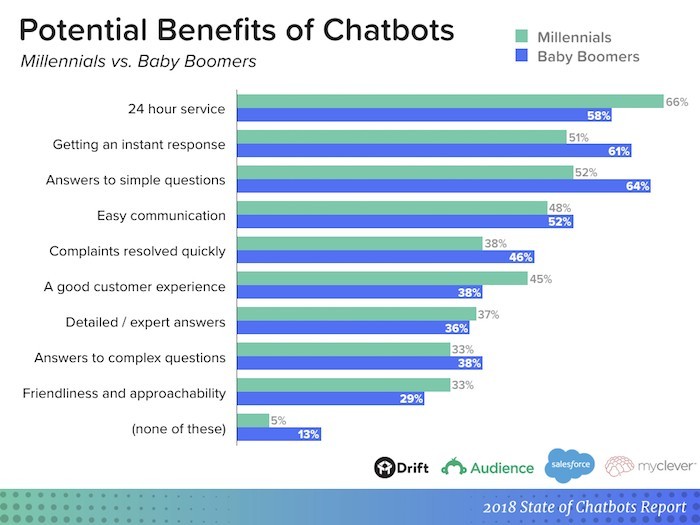 Driving Customer Acquisition Via Social Media

Social networks are a prospective channel for gaining new customers for your online store. For instance, 30% of online shoppers prefer making purchases from social networks, such as Facebook, Twitter, and Instagram. Moreover, 85% of orders, received from social networks, come from Facebook, which makes this platform the leader among other systems.
Currently, there are over 100,000 chatbots on Facebook Messenger. Such bots can recommend products, process orders, collect customer information and more. If your target customers use Facebook Messenger, you should consider FB chatbot development. It allows connecting with potential customers, automating customer engagement and interactions.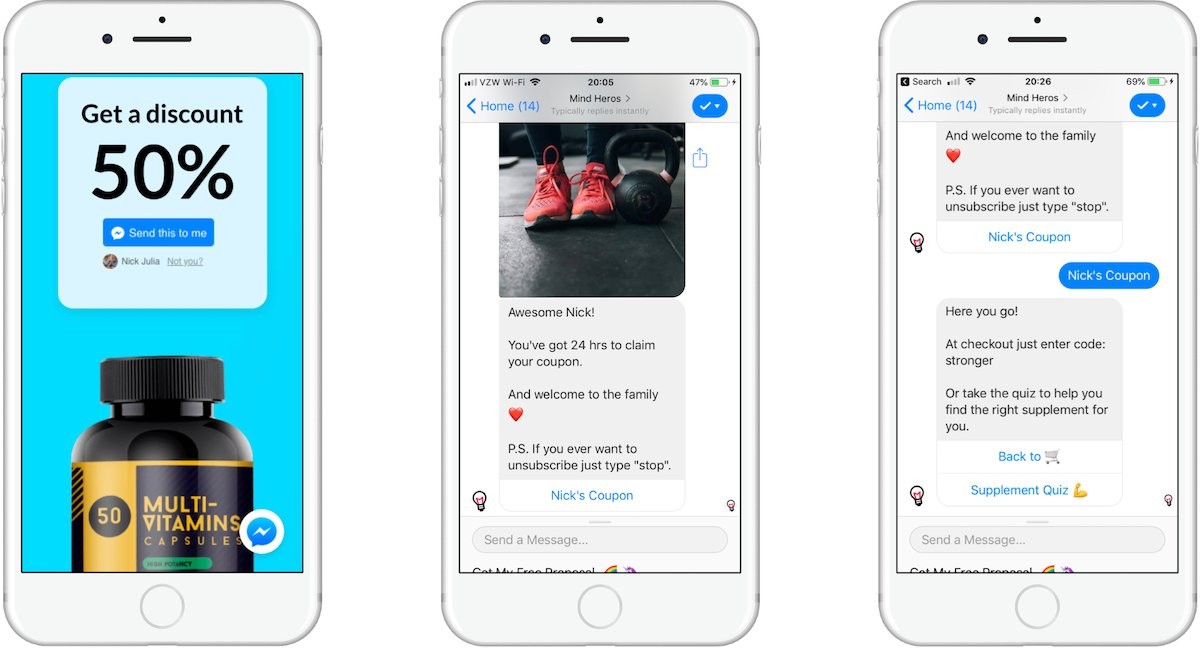 Image source: Shopify
Let's see, how customers interact with Facebook chatbots. Imagine that your potential customer wants to buy something from your online store. So, instead of going to your online store and searching for products, the customer sends a message to you through your business page on Facebook.
The chatbot would ask the customer about the necessary product and then send the link with this product to your e-commerce website. This way, a bot decreases the number of steps the customer takes in the sales funnel. Simple.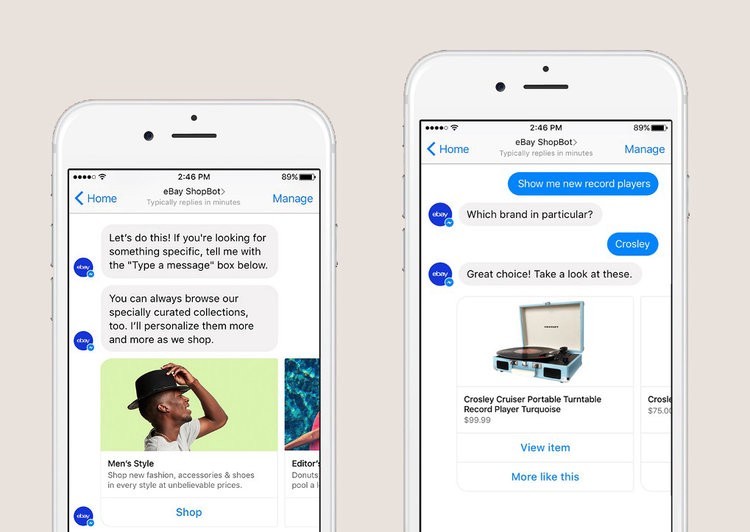 Image source: markgrowth
Increasing Conversions
The primary goal of all businesses is to increase profit. With chatbot software for e-commerce, you can be even closer to improving conversion rates. With the integration of chatbots with your e-commerce website, app or your business account on Facebook, you can quickly push your potential customers down the sales funnel and urge them to make a purchase.
Moreover, chatbots open new cross-selling and upselling perspectives. Online retailers use this technology to offer customers relevant items based on past purchases. Businesses that engage with customers through chatbots, influence purchase decisions and increase average order value.
For instance, OHRA, an insurance company, used a chatbot for increasing conversion rate from their new campaigns. For that, the company integrated a pro-active chatbot that appears when the customer is on the relevant page. As a result, the company increased the conversion rate from 35% to 100% during just one week after the chatbot launch.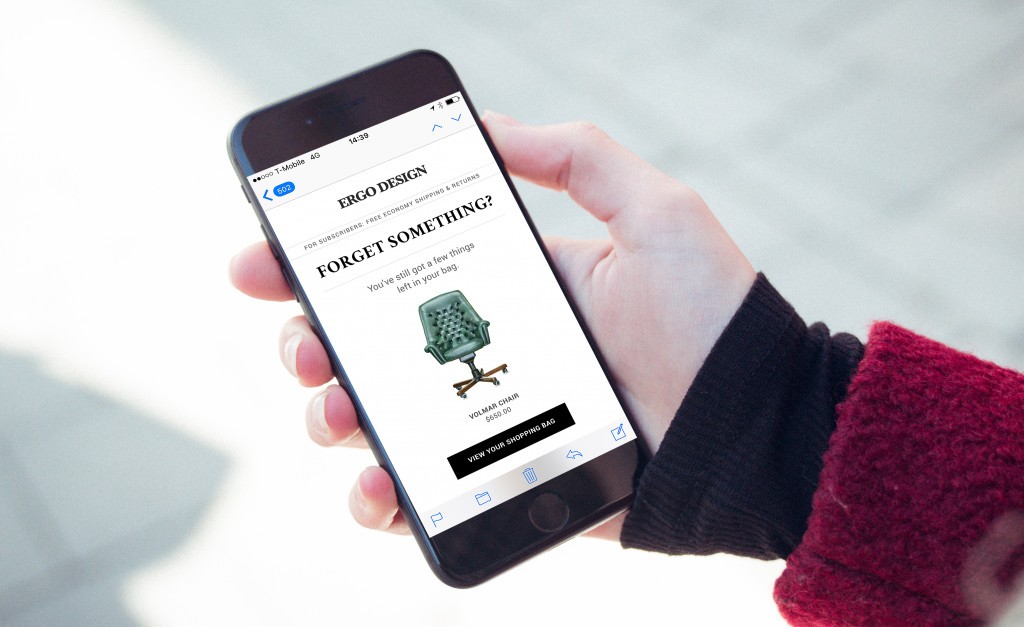 Image source: Miva
Reducing Shopping Cart Abandon Rate
A too long checkout process is one of the reasons shoppers abandon their carts. According to a study, about 23% of online shoppers will abandon carts if they have to register a user account in online stores. By integrating a chatbot to your online store, you can make this process shorter and reduce the number of abandoned shopping carts.
Let's look, how eBay chatbot deals with it. As virtual personal shopping assistant, Shopbot helps customers to find products and buy them with guest check out interactively and seamlessly.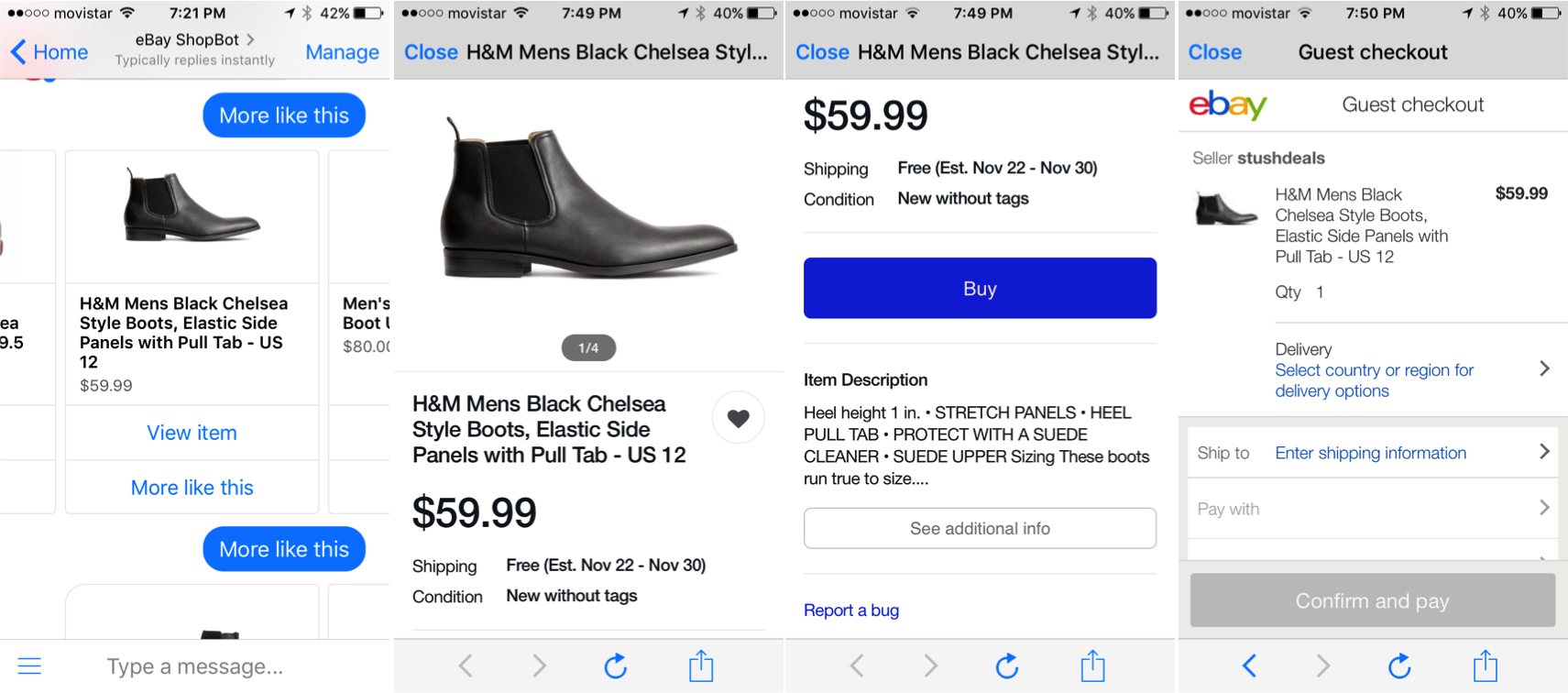 Image source: ecommerce-chatbots.com
Another use case of how chatbots deal with abandoned carts is remarketing. If a customer added some products to the shopping cart and then left your online shop without finishing the checkout, a chatbot reminds him about uncompleted purchases on the Facebook Messenger.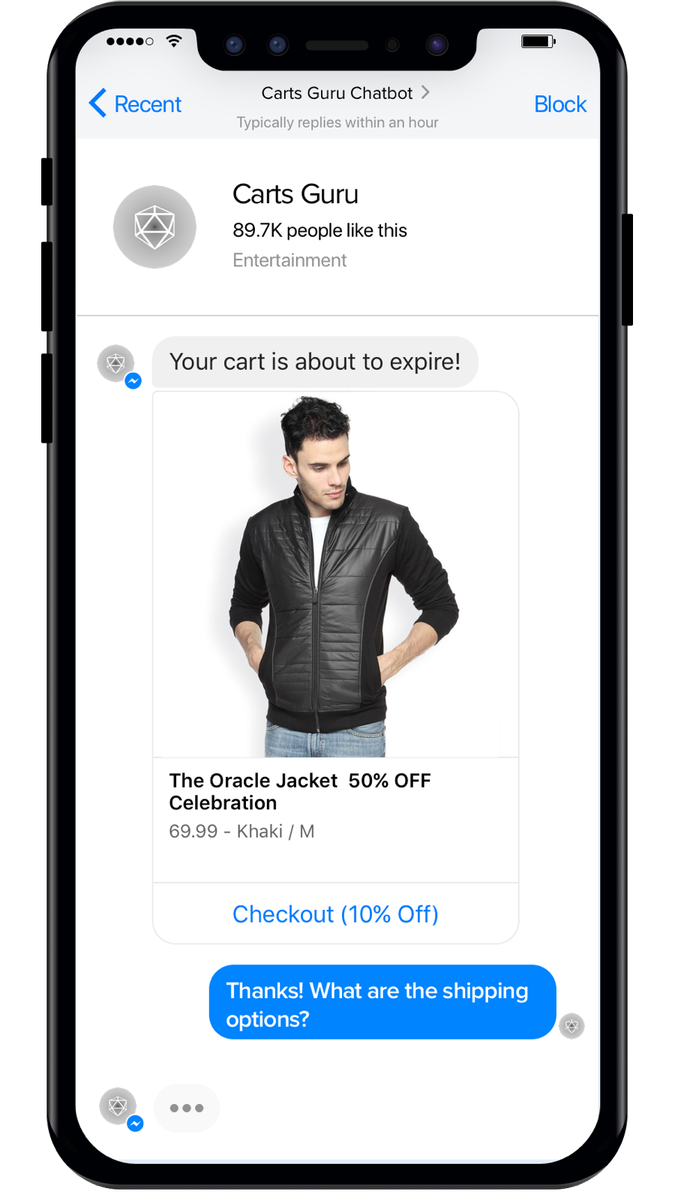 Image source: carts.guru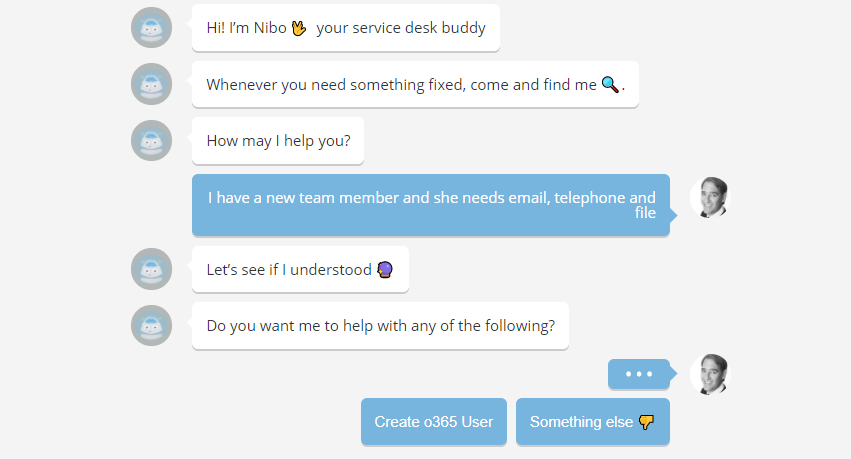 Image source: nibo.ai
Improving Customer Satisfaction
E-commerce chatbots can clarify all customer doubts by providing 24/7 support. Your customers would no longer suffer from annoying calls and scroll endless FAQ sections. Moreover, with chatbots, you eliminate the human factor. As we know, humans react on the basis of their emotions and mood. That way, a representative of your online shop would always be in a good mood and talk to customers in a good way.
According to BI Intelligence report, chatbots allow for reducing customer support costs by 29%. While answering simple questions, such bots will redirect customers to customer service staff only for handling some complicated situations.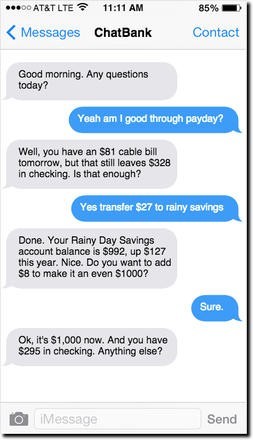 Image source: Chatbots Life
Here is an example from the Royal Bank of Scotland who integrated "Luvo" chatbot for their customer service. With this bot, customers receive help on their queries and problems quickly and without merely waiting.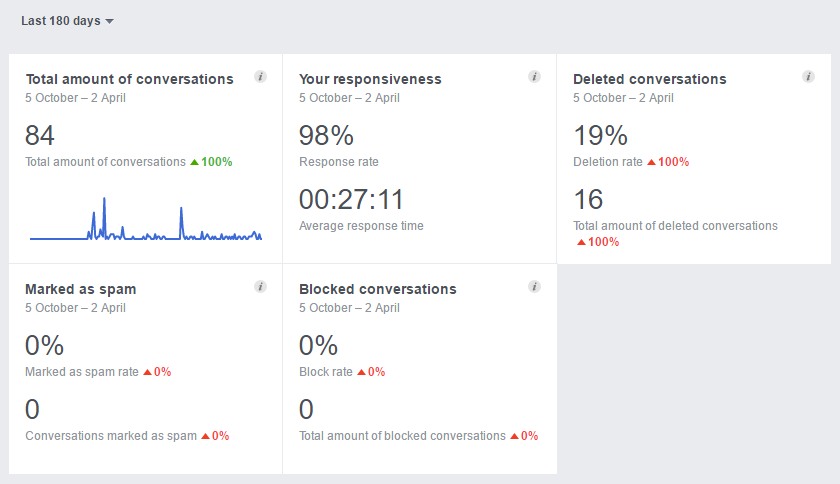 Image source: The Marketing Technologist
Collecting Customer Data
In the modern digital era, it is all about the data. Even your customers' behavior could be turned into data. Moreover, with proper analysis, you can understand your customers better. For many online retailers, chatbots are automated touchpoints on the website.
AI collects all customer interactions with e-commerce chatbots. You can use this data to enhance customers' service in the future. Storing purchase histories could also be helpful in personalizing shopping experience and targeting relevant products according to the previous purchases and customer behavior.
Building Customer Loyalty
To have a successful online business, online retailers should not only acquire customers but also retain them. Keeping online shoppers satisfied with your services is the most effective way to build customer loyalty. In this case, chatbots might be helpful. By providing customers with personalized conversations and facilitating engagement, chatbots are a great tool to make your customers coming back for more.
For instance, Landbot asks each new visitors their name. Then, during a conversation, the bot addresses them by name, which makes a positive impact on customer loyalty. You can also link a chatbot with the loyalty program so that it will suggest rewards and exclusive offers to loyal customers like in the example below.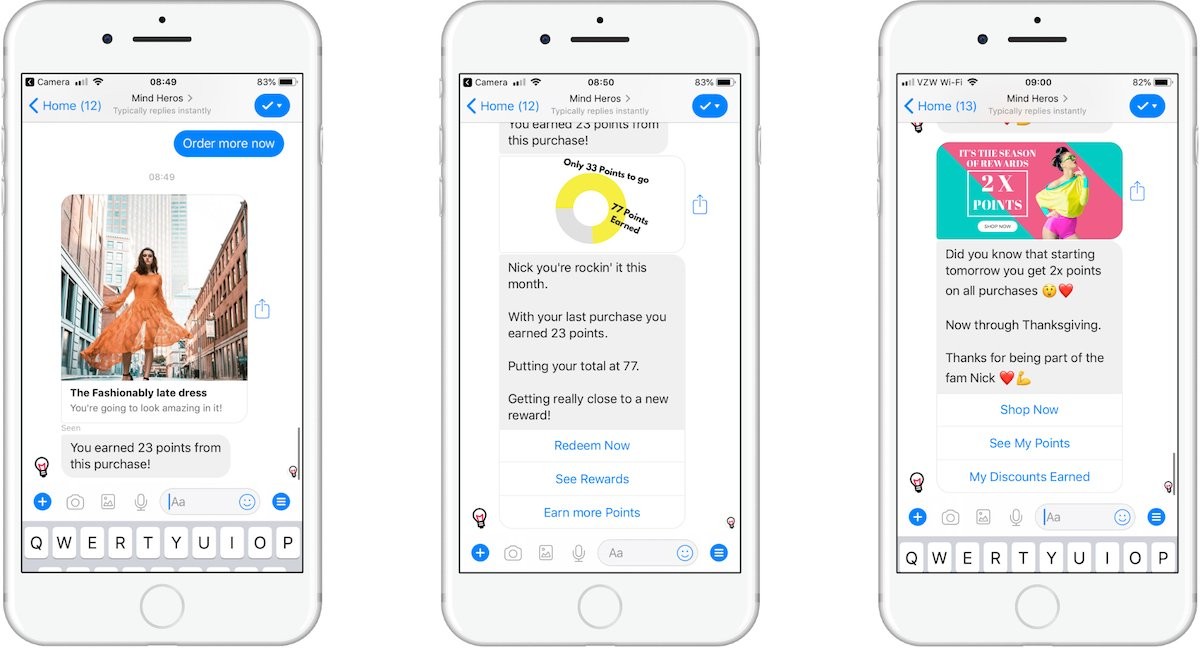 Image source: Mind Heros
The chatbot reminds customers about their rewards, encourages redemption, and updates point balance.
Once we developed a similar e-commerce chatbot, aimed at building customer loyalty for local Asian food restaurant Budusushi. Now, customers can contact a chatbot on the website and in the Telegram messenger. Developed for a particular restaurant loyalty program, this chatbot conveniently informs customers about the number of bonuses and their recent order status.
The Best E-commerce Chatbot Examples
If the value chatbots can bring to your business inspire you, let us go even further. Below we share the best e-commerce chatbots use cases. You can adopt the most useful e-commerce chatbot features for your online retail business success.
Use Case 1: Product Recommendation
One of the chatbot use cases is to recommend products by customer preferences. This way online retailers could learn more about customer preferences and shopping patterns while increasing customer engagement and making upsells. Let`s see, how Aerie and H&M chatbots do that.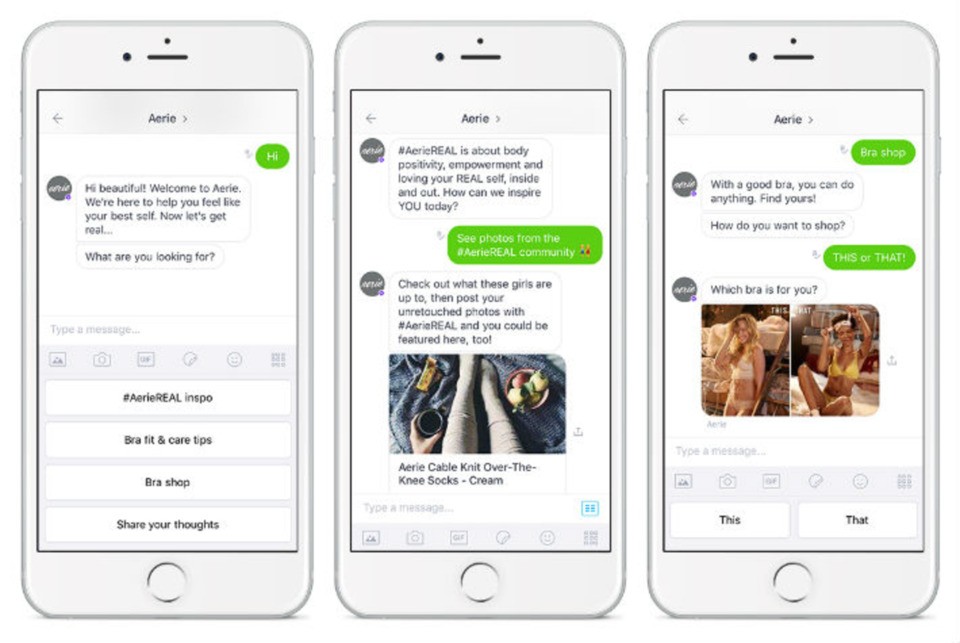 As we said, Aerie, women's intimates' retailer, uses product recommendation chatbot to offer customers more personalized shopping experience. This chatbot's main function is to suggest items according to customer' preferences. By implementing "this or that" function, the customer has to choose between two options to give a chatbot the idea about their preferences. After narrowing down the customer tastes, the chatbot makes personalized recommendations according to unique style preferences.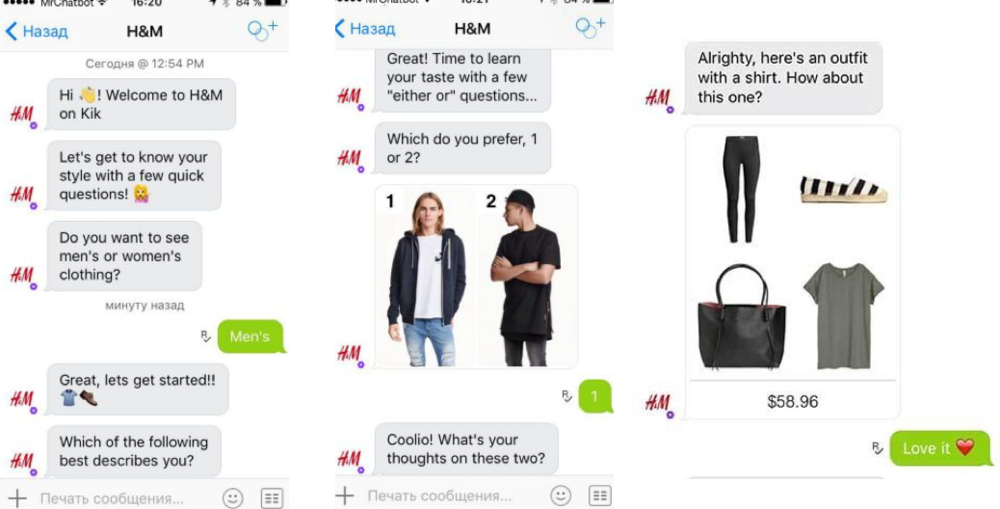 H&M, another fashion retailer, also successfully applies chatbot for the business. H&M Facebook Messenger chatbot recommends goods on the basis of customer preferences. The customer needs to select photos of clothing they like the most. Then, chatbot analyzes the answers and suggests items that suit the customer's particular style.
Use Case 2: Personalize Product Search Results
Another case of successful use of e-commerce chatbots is providing customers with personalized on-site search results. This way online retailers could increase conversion rate since the bot finds the right products for customers that suit their particular size and color. Also, such chatbots improve the customer journey by making it smooth and short. Let`s check some examples.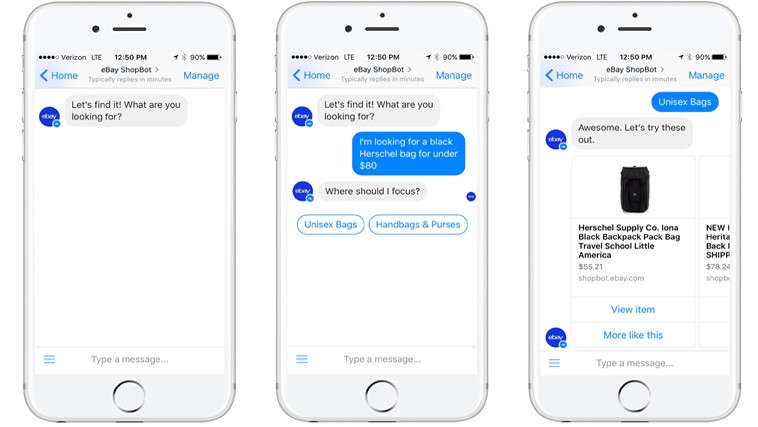 Image source: Bay Inc
eBay, the leader of online retail, has a virtual shopping assistant called ShopBot. Its primary goal is to help customers in finding necessary items. The chatbot gathers the product details, including color, style, and fit, and suggests relevant articles. Another excellent feature of ShopBot is piloting a simple Facebook Messenger tool that reminds bidders 15 minutes before an auction listing is about to end. For that, the online shoppers remember to get in a last-minute bid.
Shopbot has become very popular among eBay customers. To be specific, customers are three times more likely to use the chatbot features than on-site search for finding products. On the other hand, Al chatbot learns from each interaction with a customer and improves the shopping experience. From a business perspective, Shopbot improves retention, engagement and drives conversions.
Use Case 3: Order Automation
This particular use case of e-commerce chatbots works great for the restaurants and coffee shops. By integrating Facebook Messenger chatbots, you can provide customers with a short and straightforward journey. At the same time, Facebook chatbots, developed for order automation, could significantly increase sales and customer retention.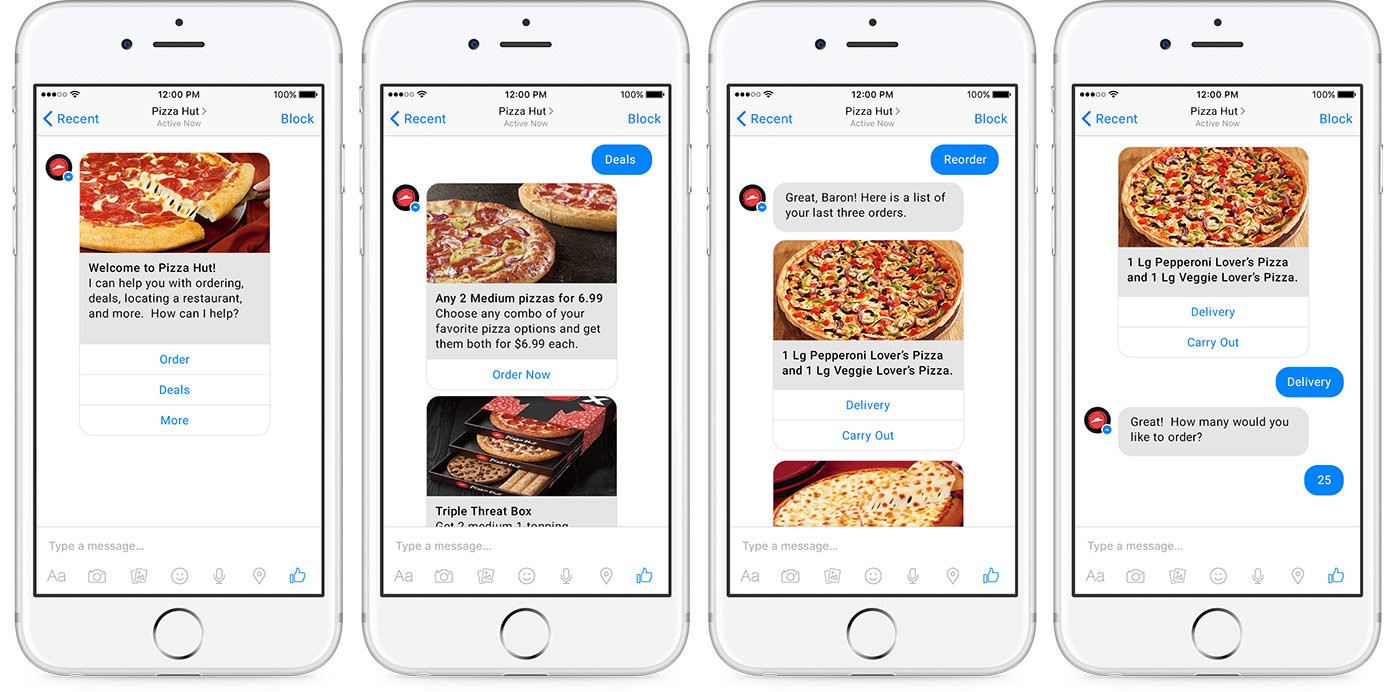 Image source: Engadget
Pizza Hut was the first company, which integrated an order automation chatbot with not only Facebook but also with Twitter messengers. This way, customers save their time by ordering pizza on their favorite social media platforms.
Another notable feature is that customers can save their favorite pizzas and reorder them the next time. Also, the Pizza Hut bot provides customers with the latest promotions, as well as and answers to frequently asked questions. To order pizza from the Messenger chatbot, customers need to like Pizza Hut Facebook page and set up their payment information.
Why Start Chatbot Development for E-commerce?
Now, with the use of chatbots in e-commerce, retailers could increase customer acquisition, retention and build customer loyalty. There is a wide range of applications for AI chatbots for e-commerce and social media platforms integration thus opening new perspectives for your online business.
If this article inspired you to integrate a chatbot into your online store, we are here to translate all your ideas into reality. We can develop a chatbot for an e-commerce website with further technical support. To get the quote and receive a rough estimation, fill in the contact form, and we will contact you ASAP.
Want to read more
Get fresh articles, news and case studies to your email firstly
Related articles