7 B2B eCommerce Payment Systems in 2021
eCommerce Apr 27, 2020

Main / Blog / 7 B2B eCommerce Payment Systems in 2021
There are lots of different options for customers to purchase goods with just a couple of clicks; and we are seeing millions of dollars being transferred from one account to another on a regular basis. This has proven to be one of the most convenient ways to pay for goods and services.
Luckily, there are payment options in b2b eCommerce, too. With their help, many types of transactions can be performed, and those can be transactions either on exchanges or between trading partners. In any case, there are some qualities that are similar for most types of b2b payment systems in the current eCommerce arena:
Provide escrow-type services, for example, guarantee some degree of quality specification;
Assess, at least partly, the credit score and worthiness of buyer;
Guarantee payment to the seller;
Provide quick collection of resources with some level of discount to the seller;
Create reports about deliveries, invoices, payments, approvals, etc.;
Eliminate security risks that are connected with the paperwork needed to set up accounts;
Provide an opportunity to deal with unfamiliar companies without the fear of fraud.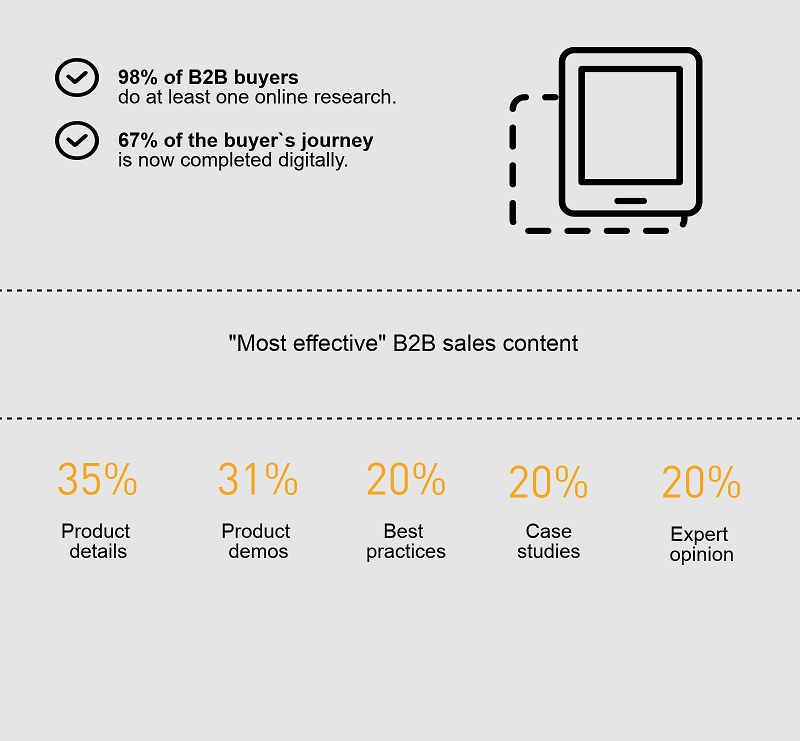 If you work with other businesses, as opposed to end consumers, you know what difficulties exist or might come forward. Most development companies that work on creating online b2b payment systems are also aware of the challenges that the industry faces on a daily basis. They keep improving security and speed, even though creating a b2b eCommerce solution also involves improving current workflows of the company working on this task.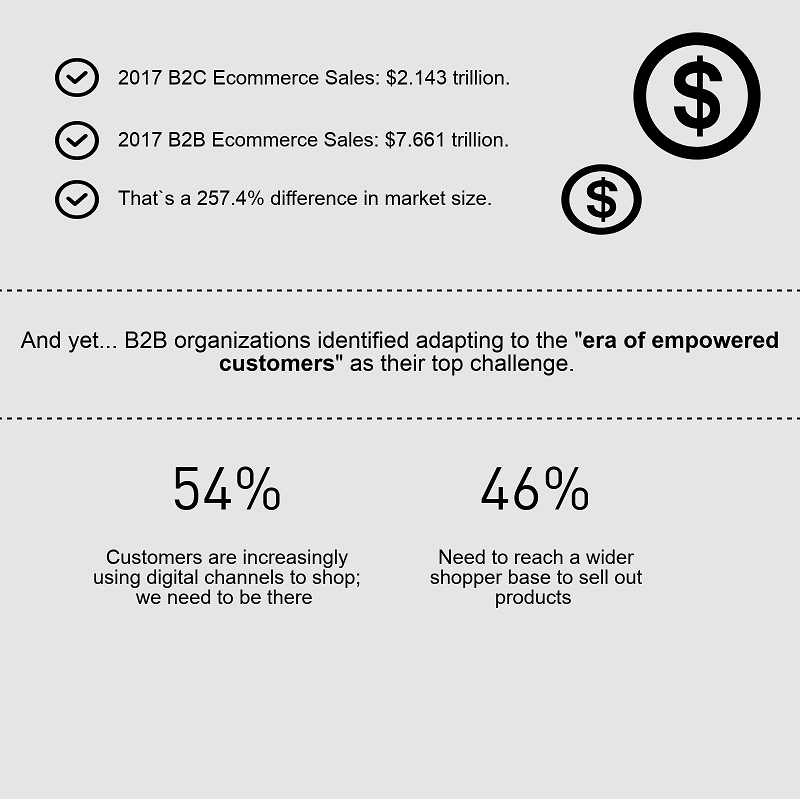 Challenges of using b2b payment methods
Even though there are some challenges, as you'll see below, development of a successful product is worth it, as advanced payment solutions are in high demand now. To overcome the challenges, it is important to clearly understand what they are and how they should be dealt with both on the technology and management sides.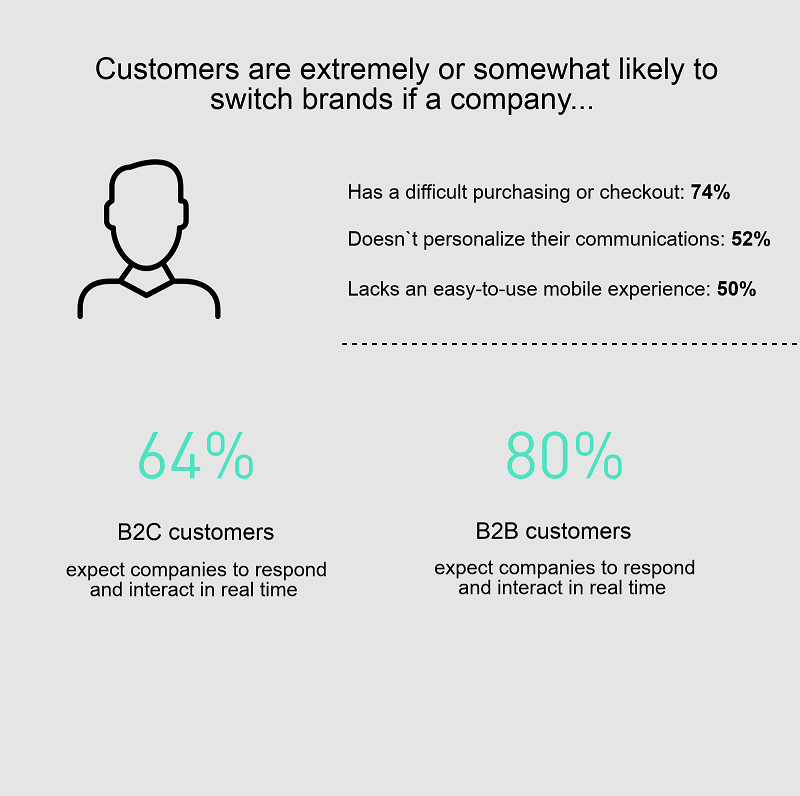 First of all, there is purchasing approval. When a business sells something to another business, there might be many parties involved, including different departments or even third companies with additional complicated software. In this case, one person may send a request, and then another person authorizes that request within the same company. This can create more complicated arrangements than might normally exist when the deal is just between one seller and buyer. This means that good b2b payment solutions need to be able to track such details and handle them successfully and efficiently.
There are also different b2b transaction types that might also include checks. Some industries (like medical and legal environments) still prefer to deal with checks rather than move to exclusively online transactions for transfers. This means that their needs should also be satisfied by online payment services. B2B purchases tend to be much larger than B2C ones, which is why business to business sellers look forward to qualifying for the best interchange rates to interact with their buyers. Making the process flawless is a task for eCommerce payment systems.
Also, let's not forget about security, which is a cornerstone of trust when it comes to large transactions. The safety of sensitive data is a top concern nowadays, especially when it comes to financial operations. In B2B eCommerce, any breaches can be fatal if there is a data leak, which is why many solutions use tokenization when the data is encrypted, replacing it with a token so that there is no need to repeat it again and again, thus decreasing the risk.
7 eCommerce payment systems to watch
Here are seven of the best known names in the industry. Most of them have been on the market for quite a while, which makes them truly experienced; however, it doesn't mean that their younger competitors don't deserve any attention. This material can be used as a short reference to get a general idea of what exists on the market.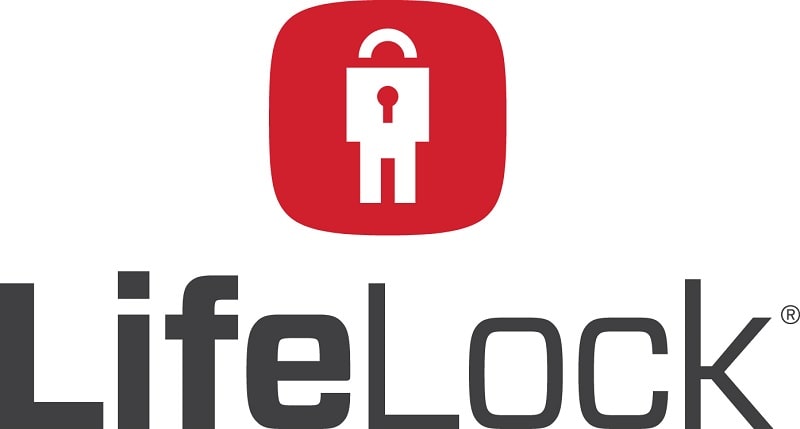 Established in San-Diego in 2002, this company has been offering its clients a combination of patented analytics, proprietary data and consumer behavior insights. This has been possible thanks to the ID Network, which is a network of consumer behavioral data gathered from different industries. Among the main features are credit risk analysis and verification, as well as Transaction Protector and Transaction Advanced Intelligence. The cost of services depends on the volume of transactions required by the client company.

This company was established in 1999 in the USA and later bought by Ericsson. Now it has two separate platforms representing the core billing application of the enterprise. The first is called MetraNet: a software for invoicing, billing and pricing that serves B2B merchants. It also offers integrated quotes, account receivables and revenue recognition. The second platform is Metanga, which is a cloud-based solution helping customers integrate billing features with different CRM systems, as well as supporting different kinds of billing such as subscription and usage-based.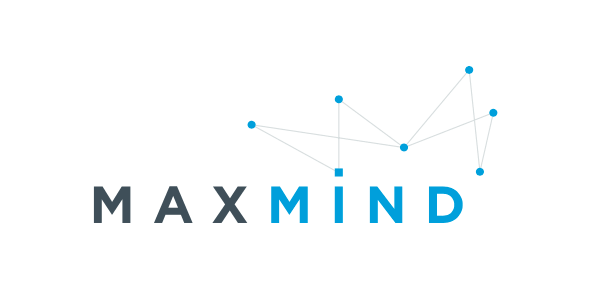 This is a vendor of payment security that is able to flag potential fraud in payments for companies that represent the b2b eCommerce segment. MaxMind does its job with the help of minFraid software, which is used by more than 7,000 businesses. It also has a GeoIP product that can benefit you by providing an IP geolocation, which is already used by over 5,000 organizations, to date. This fraud protection product is very popular, and goes through about 45 million registrations of accounts and online transactions. As for service payment, with minFraud, it depends on the number of queries your company might want to receive. The cost per query is $0.005.

This company is comparatively new, having been established in 2013 in Minneapolis; however, it has gained a good reputation after featuring many interesting options for their B2B customers. Among these options are consolidated invoicing for single payments, payment reminders, credit applications & approvals, as well as a real-time A/R dashboard that provides its users with the opportunity to manage open, closed and overdue accounts and invoices.
It also enables sellers to automate corporate accounts. All of this gives sellers the chance to save above 50%, compared to offline accounts receivable costs. Another benefit is the many different types of payments that are accepted, including paper checks, ACH, credit card or other methods. Monthly fees for services may be different depending on the number of invoices, corporate accounts or the general level of servicing.

This company is well-known for their postage metrics and different mailing services; however, at some point, it started expanding and also became known for its eCommerce solutions and its b2b payment processing, in particular. They have two services dedicated to hybrid ebilling and escrow services, and one of them, called Pitney Escrow, has been in use for a while.
Together with Pitney Pay, these services are supposed to make guarantees for companies on purchases made from trading partners that are not yet familiar, by creating an escrow account. It also provides buyers with the unique opportunity to approve goods before releasing funds and pay several parties during a single transaction. This bundle is very helpful for buyers; however, it also helps companies that are concerned about online transactions to try services without actually risking much.

This company is the oldest in this list. It was founded in 1863 in Minneapolis and survived many changes both internally and externally. It is now famous with the U.S. Bank Freight Payment system, known previously as the Syncada solution. It is a payment system and a freight audit that allows for management of online global freight payments.
With its help, companies are able to forget about paper transportation invoices and switch to electronic. Another benefit is the possibility of conducting automatic audits on invoices to get rid of any possible errors and eliminate both security breaches and risks of fraud. The pricing of the services varies, though the company keeps this specific financial information private.

Last but not least, among the models of b2b payments is Basware. Its main products are cloud-based applications for invoicing and purchase-to-pay. They claim to connect over a million companies located in more than a hundred countries. The applications not only allow for receipt of b2b payments, but also provide users with recommendations on how to control costs, manage finances, increase cash flow and improve relationships with suppliers. Specific pricing is not disclosed by the company.
Conclusion
To sum it up, there are quite a lot of b2b payment processors on the market now; however, it doesn't mean that this niche is closed. Whether you have a business working with other businesses or are an entrepreneur who is driven to create a new b2b payment system, we are always glad to discuss your ideas or questions at Dinarys. Please contact us to get started.
Want to read more
Get fresh articles, news and case studies to your email firstly
Related articles