Don't Make These 4 Mistakes if You Accept Online Payments
eCommerce Feb 19, 2021

Main / Blog / Don't Make These 4 Mistakes if You Accept Online Payments
No matter your business's size, you likely already have or are considering opening an online storefront. Online shopping has been gaining traction, likely due to the convenience of purchasing products online from anywhere in the world. However, before you launch your online store, consider your current online payment setup and if it's technologically up-to-par, secure, and customer friendly.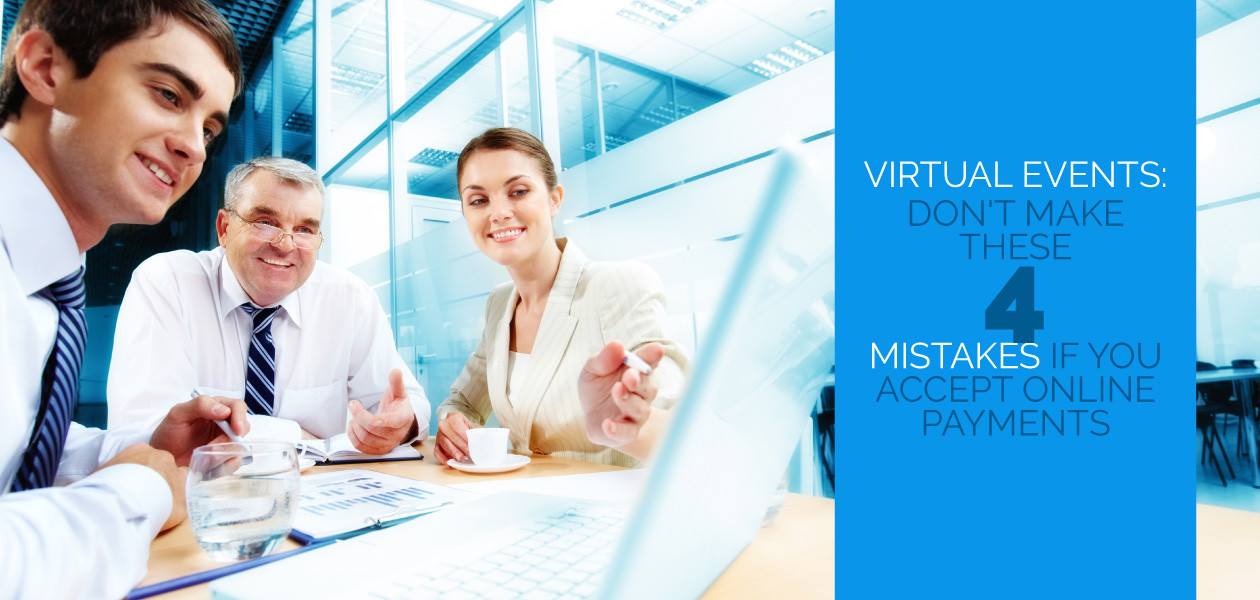 Even though you're probably familiar with what makes a good website as a user, you might not have a checklist in your head for what an ecommerce website needs to function. Thankfully, you don't need to be an expert in the nuances of web design and customer transaction efficiency to process and accept payments online.
In this article, we'll walk through several common pitfalls to avoid when you set up your website's payment page:
Not Integrating Your Payment Software

Not Adapting to Mobile

Lacking Payment Security

Creating an Overly Long Check-Out Process
If any of these mistakes remind you of your website's current payment setup, it's not too late. All of these errors can be fixed with the right software, some customization, and patience. You can also always hire a consultant or web developer if you think your website needs more intensive help.
1. Not Integrating Your Payment Software
There are two ways to collect eCommerce payments. The first way, hosted payment gateways, takes customers to a third party website such as PayPal to complete their transaction. While this approach may be appealing as the hosting website assumes responsibility for security, being navigated away from your website during a transaction can make customers nervous and lead to abandoned purchases.
The second way to collect online payments, integrating your payments into your website, creates a customer friendly purchasing experience by keeping their entire shopping experience on your website domain.
A few other benefits to using integrated payment gateway software are:
Recurring billing. If you sell a subscription service or product, invest in an online payment software that automatically renews and collects payments every billing cycle.
Transaction reporting. Your payment software should also enable you to track your transaction history, allowing you to apply filters and pull reports to view sales history, lapsed payments, and product demand.
Limit information re-entry. Re-entering financial information over and over again wastes time. Find a payment software that securely stores your customers' financial information to let them make additional purchases without slowing down to re-enter their information multiple times.
Automatic Receipts and Actions. Your payment processor can save your customers and staff time by automatically re-trying failed payments caused by network or processing errors. For lapsed payments, your process can send alerts to both your staff and your customers, keeping everyone one the same page as the issue is resolved.
Do your research and find payment processing software that best fits your business. Many developers have created software for specific industries and business sectors, allowing your organization to pick and choose software that matches your business model rather than forcing your software to work for you. For example, this guide explains how nonprofit-specific payment processors should carry additional features to support auctions, event registrations, and donation matching programs.
2. Not Adapting to Mobile
In 2019, 53% of sales were completed on a mobile device, and this number only continues to rise. If your online store doesn't support mobile users, you may be losing up to half of your potential customers.
Websites that don't support mobile-responsive forms look unprofessional and can be seen as outdated or unsecure when a customer is deciding whether or not to follow through with an online purchase. Additionally, scrolling through unformatted lines of text can make for a frustrating experience that could result in even adamant customers abandoning their purchases for a mobile-friendly competitor.
There are a few ways that your business can ensure mobile-responsiveness on your website. Here are some of the most common:
Choose a CMS theme that supports mobile. If you are using a service like WordPress, check to make sure the theme you've chosen has mobile accessibility. If it doesn't, you may need to consider a rehaul with a new theme.
Incorporate mobile-specific coding for custom sites. If your organization has a completely custom-built website, you might consider asking your web development team to incorporate mobile-specific coding to the website you already have set up.
Integrate mobile-responsive payment tools. It's not enough for just your homepage to be mobile friendly. Ensure your store, check-out cart, and confirmation emails all work just as well on your phone as your desktop.
Lots of little things can lead to an abandoned purchase. Too much scrolling or images cluttering the phone display can be enough to convince a customer the frustration isn't worth it. When you adapt to mobile, make sure your website accommodates the limited space with less text and fewer images to distract from your customer's goals of finding what they need and making a purchase.
3. Lacking Payment Security
An unsecure website will lead to headaches at best and stolen financial information at worst. Though it can be tempting to put off installing security updates and patches, a security breach can irreversibly damage your customers' trust and scare them away from buying from you again.
Different customers may prefer to use different payment options as well, and your payment processing software needs to securely support all of them. Whether your customers are paying via credit card, debit card, or ACH, you should be able to handle the payment without risking their financial security.
When you're looking for payment processing software, consider whether to invest in PCI compliance or PCI certification. CharityEngine's guide to payment processors for nonprofit provides a breakdown comparing the two.
PCI compliant payment processors have:
Completed a self-assessment and determined they meet the standards set by the Payment Card Industry.
Installed a firewall separating credit card data from wireless networks.
Checked off a list of security measures that they've taken into account for their software.
PCI certified payment processors require inspection by a qualified security assessor who will:
Inspect the security measures taken to protect payment data.
Look into the software's development.
Checked the software developers' training process.
PCI certified software's stringent requirements often take up to six months to complete. This means that while PCI certified software is more secure, it will take longer to get up and running. For most organizations who accept online payments, PCI compliant payment processors will handle security with no issue. However, if you have questions about your customers' financial security, reach out to your online payment processor.
4. Creating an Overly Long Check-Out Process
Check-out should be fast. Customers buy online because it's convenient. Long payment processes with pages of information fields or extra steps can cause some to wonder if their purchase is worth the hassle.
Research estimates that a combined 49% of cart abandonments are due to check out processes taking too long or requiring customers to create a site account. While it can be tempting to use check-out as a chance to learn more about your customers, ask only what you need, or you can risk losing a sale.
Here's a few ways to clean up your payment process to encourage customers to see their transactions through to the end:
Keep forms to a single page. Multi-step payment processes that require scrolling through pages can seem like a significant effort for something customers expect to accomplish in a few clicks.
Limit information fields. Some purchases, registrations, and other customer forms do require more information than just a credit card. However, you can create a more customer-friendly experience by adapting your forms to only ask questions that apply to your customers.
Clear and obvious page layout. Your customers will never make a purchase if they can't figure out where the check-out page is. Ensure your website's navigation has clear menu items for key items such as your store and check-out.
When first setting up a website, regularly check your front-end operations to make sure everything is functional. Try to put yourself in a new customer's shoes and navigate your website to test if every step of the purchasing process is obvious and working. Replace broken links, update outdated information, and remove clutter that could get in the way of important website features.
Summary
Online payments can be complicated, but it's worth doing the research to head off any mistakes before they can cause more impactful problems down the road. However, if you do end up making a mistake, it's unlikely you're the first, so advice shouldn't be hard to find. There's also no need to be afraid to ask a professional. Find a consultant or web developer to provide a consultation or get started on a rehaul if you need the extra help.
As you set up or update your current online payment system, double-check to make sure you're on track for a secure, customer-friendly paying experience.
Want to read more
Get fresh articles, news and case studies to your email firstly
Related articles