10 eCommerce Site Search Best Practices You Should Be Following in 2021
eCommerce Jun 04, 2020
Main / Blog / 10 eCommerce Site Search Best Practices You Should Be Following in 2021
It is pretty obvious that all business owners want to make more sales and expand their businesses further. eCommerce has provided a platform for these individuals to get a bigger audience than they are used to.
This means that the online market is pretty much the biggest thing right now, though there is no guarantee of success just by making a switch from brick and mortar stores to eCommerce.
When you decide to create an online store, make sure you look at the most popular trends in site design. Certain practices in web design stand out from others and applying these to your eCommerce website can make a big difference. Let us focus on eCommerce site search best practices and identify some of the best eCommerce site search components of 2019.
Importance of Site Search Optimization
An on-site search engine is one of the most important features to have on your eCommerce website. Sometimes, users may be looking for a specific item from your store, and the best way to help them find it is by installing such tool.
Once you have decided to add this tool, you have to optimize it. It is quite frustrating to get results you were not expecting when you use the search engine on a particular website. Users will always go to the website of a competitor with the aim of finding the same item.
Many businesses have not yet seen the importance of applying eCommerce search solutions. An eCommerce site with a good search tool has a higher chance of getting more traffic because it values user experience.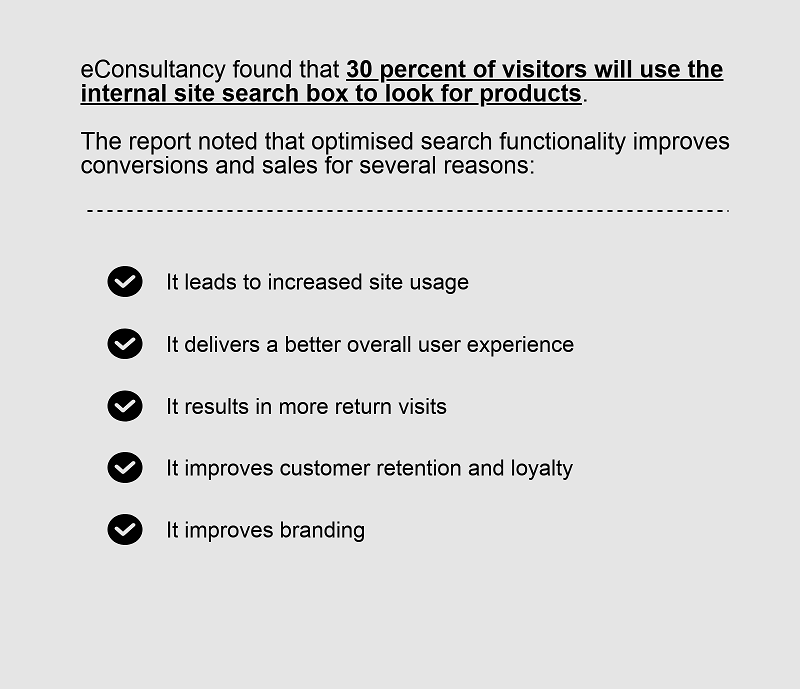 We will look at some of the best eCommerce site practices and how they impact the businesses that use them. Before we can go ahead to look at these practices, let's look at the importance of an optimized internal site search.
One of the most apparent differences between a physical shop and an online one is the presence of a human assistant. A sales assistant will help you find an item you are looking for. Your customers expect to get the same kind of assistance when they visit your eCommerce business, as well. The search tool will act as a sales assistant in this case.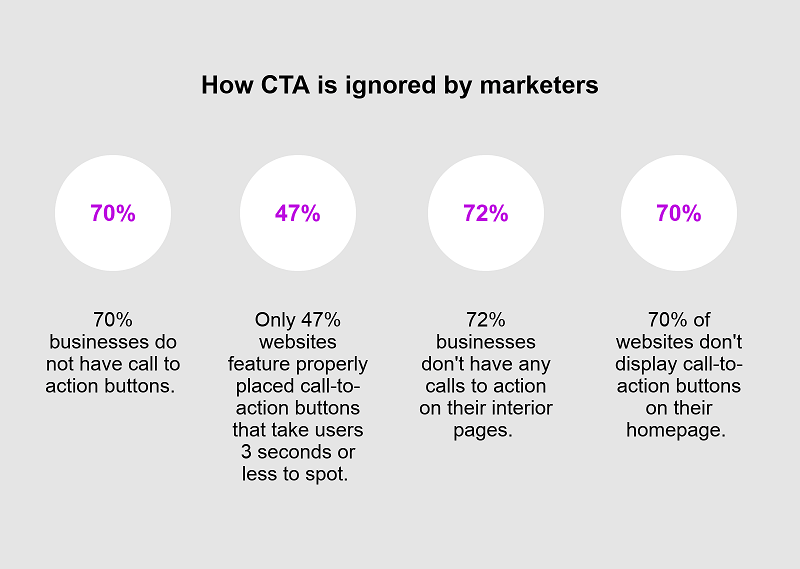 A better tool for your website will facilitate better sales due to the following reasons:
It increases the number of interactions with customers on your site;
The user experience has been drastically improved;
The chance for return visits increases;
It plays a big role in branding your business; and,
Your customers build trust, which results in loyalty.
10 Best Elements of eCommerce Site Searches
Adding a search box on your site is a good move on its own; however, this does not help you increase your conversion rates. Putting effort into optimizing your box is what makes a big difference. Here's how a great search box can increase the functionality of your website.
1. Design that increases search box usability
The search box should be located in a place where it can easily be identified by a visitor. Some businesses have boxes placed at the bottom of the page, where their company details are. This is a bad design because it will surely fail at getting the attention of visitors.
Moreover, the visitor has to navigate all the way down to the very end of the page just to perform a search. The best place to add the box is at the top of the webpage - specifically at the top right or the middle.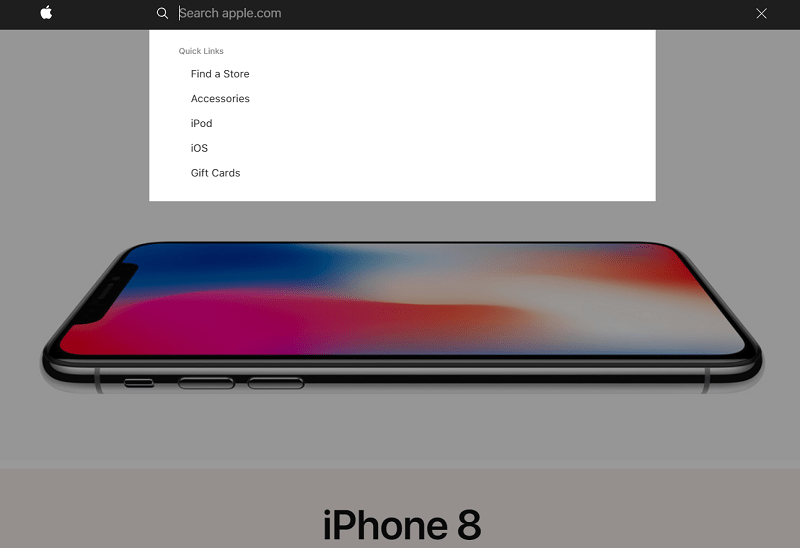 A good example of this practice is seen on the Apple website. You will notice that the search is at the top right, which makes it very obvious to identify. Appliances online has the search box located at the top center which is also very convenient.
2. Ability to search from the results page
The concept of searching within the result page is a fairly simple one; however, this doesn't mean that all eCommerce sites have this functionality. This feature provides easy use of the search box because a search input is present every time you go back to the results of the search.
This feature also allows users to quickly change or modify their search. The best part is that they do not have to worry about retyping everything they type in the previous search.
Mobile users benefit the most from this feature. An online business should acknowledge the importance of mobile users and try to add this feature to their website.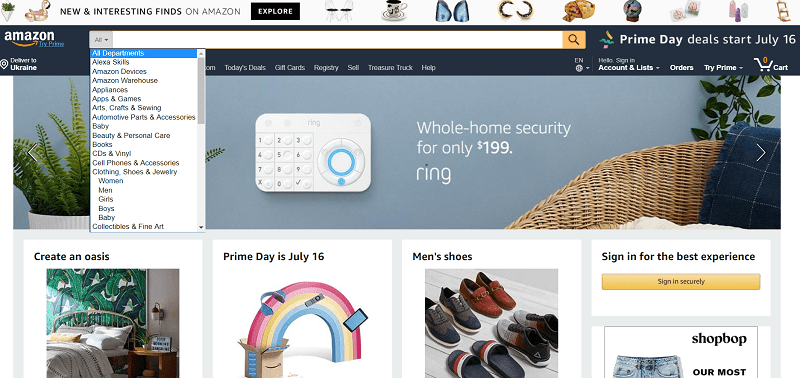 Also, Amazon has incorporated this feature on its website to make buying very easy for users.
3. Make use of synonyms in the results
When you describe your product online, don't expect customers to type the exact words you use. You have to take this into account when optimizing your box for better user experience.
This solution simply makes your website search function even smarter. The synonym tool will enable any user to find the item they are looking for, regardless of your original description. A good example is the use of mittens in the place of gloves.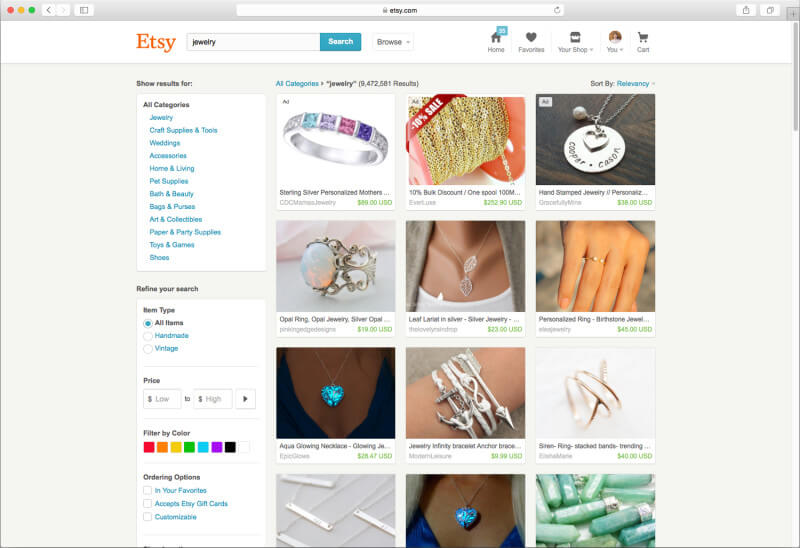 You can create a search engine that can associate similar words and provides the results a customer is looking for. This tool has been included in some of the leading eCommerce retail websites such as Amazon, Etsy, and many others.
4. Increase the number of input languages
One of the most important reasons for expanding to the online platform is to get exposure. Your business will be able to reach more people not only locally but globally, as well.
As a business, you do not want to limit yourself to a particular region when you can be doing better in many other places. The best part about doing business online is that you can have different language inputs.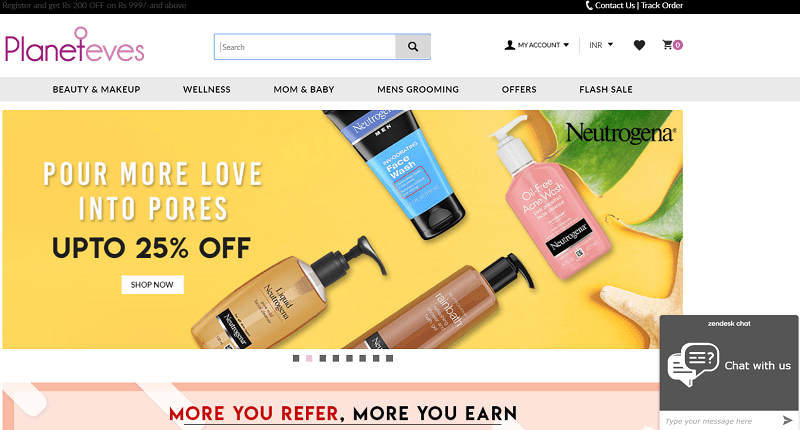 This feature works well for your online store and for the individuals who buy products from it. For example, the Planeteves website allows visitors to change the language settings by choosing the country they are currently in.
5. Both grid and list view should be provided as options
A lot of eCommerce businesses make the mistake of generalizing their customers. The truth is that different individuals have different preferences. This is also noticed when it comes to responding to certain information.
When you create your website, never lose sight of this. Provide several options for your customers and let them choose which style best suits them.
6. Personalize with machine learning
Machine learning can be a very useful component of your search engine design. Online retailers have used it to recommend certain products to their customers. In addition to this, machine learning can also be used for merchandising and handling any messaging and other content features of your website.
With respect to optimization, you will probably use this tool for product recommendations. Machine learning has vastly contributed to personalization. This component of design encourages the interaction of customers within the website and promotes products on a personal level.
When a customer searches for a particular product, machine learning enables them to see other products that may be related to what they are looking for.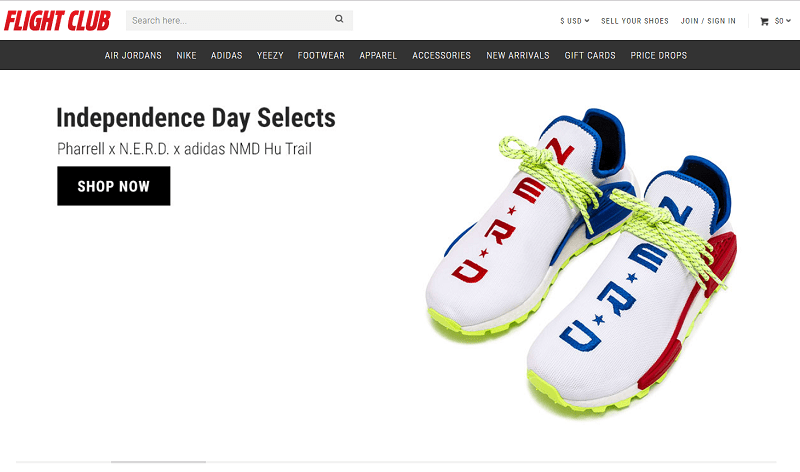 This is, basically, what machine learning can help you achieve. A good example of machine learning implementation can be found on fightclub.com.
7. Add predictive autocomplete to provide results quicker
Another important solution is a fast search interface. Typing can take up customer time and this will definitely affect the overall user experience.
A lot of eCommerce businesses have realized that it is important that customers get their results as quick as possible. To make this possible, quick JavaScript search interfaces with the ability to predict results are being used.
This practice has improved the user experience on a lot of devices and, particularly, smartphones. With predictive search engines, customers can receive suggestions for goods they are looking for, even after typing only the first few characters.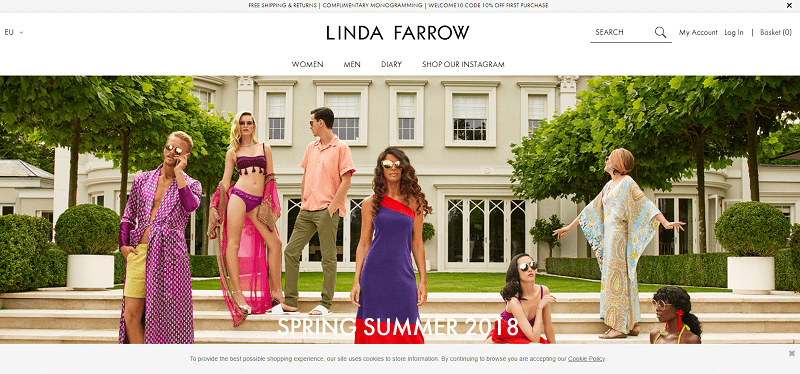 Some businesses, like Linda Farrow, take this to the next step by providing pictures in the suggestions. Some websites have also adopted search tools that show the product a customer is looking for in the drop down.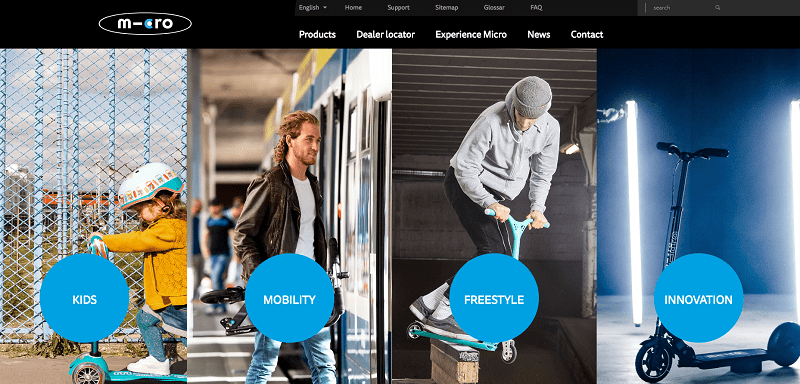 The inclusion of filters in these dropdowns has also enabled quick and precise searches on the websites. A good example can be seen with Micro-mobility.
8. Optimize with comprehensive analytics
Before using any tool to optimize your search engine capabilities, you have to understand what it is. This ranges from how it works to the advantages it will offer to your customers.
You have to look for various solutions that will have the best reporting. Examples of such solutions include the following:
Total number of filters in use and frequency of their usage;
Total number of searches made;
The most successful queries;
Most sought after products by your customers;
Queries that are performing as initially expected;
Geographical information of where most queries are performed; and,
Queries that did not show any results.
You will know what your customers are looking for based on the terms they type in your search engine. This can help you fix any problems with product availability, as well. This tool will enable you to make a comparison between the tactics that work and those that don't.
You can look at various locations where most searches are being made and use this information to expand your business.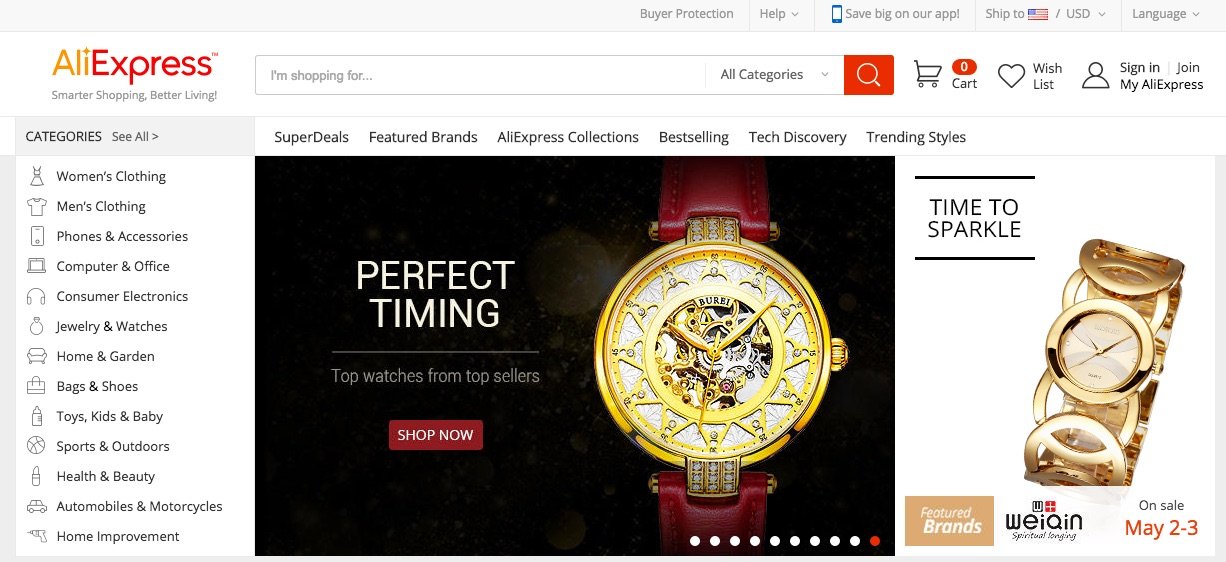 This tool is widely used by so many retail websites, from Amazon to AliExpress.
9. Optimize for mobile search
Smartphones and many other mobile devices have made it possible for people to get access, regardless of time and location. For this reason, many individuals use these devices to make online purchases more often than they use their desktops.
Your eCommerce business should be well aware of the impact mobile devices have on online marketing. Take all the necessary measures to make all search optimization practices work on mobile devices.
When well implemented, this strategy will surely lead to increases in conversion rates; however, you have to be aware that making your website available on mobile devices can be a bit tricky.
Your interface is supposed to be able to process more complex queries, something that has been accomplished by some of the biggest online retailers like eBay.
Many more online retailers will be able to easily incorporate this solution into their website and increase the size of their audience significantly.
10. Increase the error tolerance of the search box
Another great third-party search engine optimization solution is the elimination of the manual handling of errors. Such errors can now be handled by machine learning, which we described above, and Natural Language Processing or NLP.
Your engine is supposed to be able to provide accurate results, even if the customer gets the spelling wrong. For example, the word yellow may be spelled with only one "l" or body can be written with "I" instead of "y".
By optimizing your search engine to identify these kinds of errors and still provide a result, you increase the chances of getting more of your products sold. This point works quite similar to the use of synonyms.
Best Magento Search Extensions
Magento is a leader among ecommerce platforms. Being reliable, it powers 13% of the top 10,000 online stores. Magento is considered a great choice for a multi-functional store. Among the best magento websites are named such brands as Cox & Cox, Nike, Fred Perry, and Sigma.
However, the default Magento 2 search feature doesn't always fit, especially for a store with a great number of goods. That's why the best Magento sites and other numerous ecommerce businesses determine to use search extensions. These search services often include some handy search features such as:
Magento search relevance,
Magento search autocomplete,
Misspellings,
Synonyms,
Speed
We have made a list of the best Magento extensions.
InstantSearch+
Among the main characteristics of this Magento search extension is high relevancy and search speed. The other advantages are multiple result sorting options and autocomplete. This extension also provides analytics to let understand customer search behavior.
You may use this search solutions extension for free only up to 250 products.
Search Autocomplete + Search Suggest
This is also one of Magento search extensions. It is supported by the Searchanise search service. Here the results are shown immediately as customers search, magento search terms are autocompleted and misspellings are tolerated.
It includes relevant products and categories, search term synonyms as well as special offers in search results. To help the customers find what they are exactly looking for, the images are also included in Magento site search results.
This ecommerce search service is free just for less than 25 products. In case of need for more quantity, you should know that a subscription fee varies from $9 to $54 per month depending on the number of products in the store.
Ajax Search and Autocomplete
Ajax Search and Autocomplete is another search solutions extension that is intended to increase the usability of the ecommerce store. Here is used Ajax search that can search by product attributes and offers many different variants of how to find a product.
Search results displayed in real-time depending on the site visitor types. Search bar appearance can be also customized to match store branding.
The price of this magento 2 search extension is $29.
Sphinx search ultimate
It uses the Sphinx search service for creating hugely precise, relevant results from the first letter. Magento sphinx search extension has a dropdown box of search results with the names and images of the product. In case, no search results are available, there the suggestion is offered.
Sphinx search Magento uses Ajax to make the search process faster. The price of this extension is $149.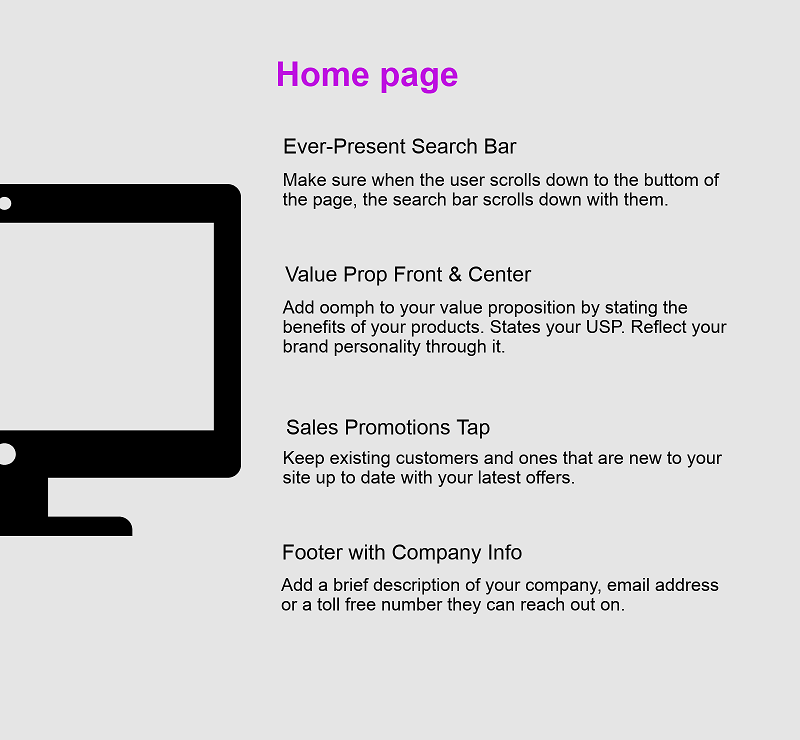 Why Do eCommerce Site Search Best Practices Matter?
Sometimes, many online retailers overlook the importance of the search box and focus their attention on other features of the website. We have looked at some tips showing us that this should not be the case.
In fact, boosting your box capability can be the ultimate game-changer for your business. Not only will it help to provide a better user experience for your customers, it also helps increase your conversion rates and get you more recognition.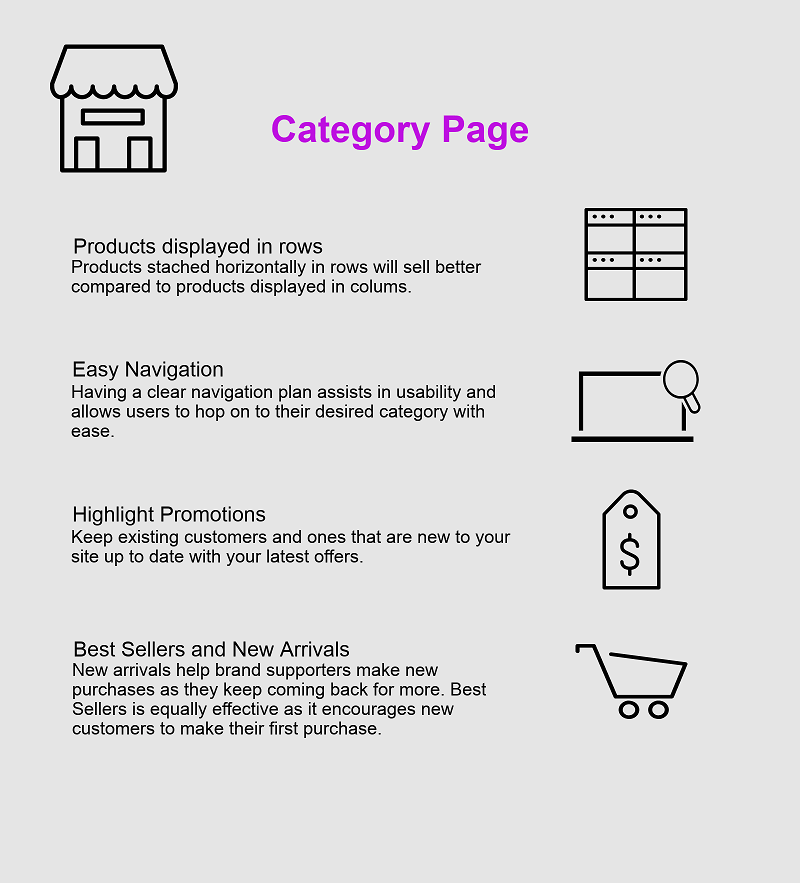 It is very important to keep a few things in mind when optimizing your search tool. One of the primary priorities should be a mobile user. A decade ago, your focus would have been completely different, but things have changed quite a bit.
You can contact Dinarys to get all the best search tool solutions for your eCommerce website. Our team specializes in web design and aims to provide the best services to all their clients!
Want to read more
Get fresh articles, news and case studies to your email firstly
Related articles