Propelling your E-Commerce Business with Magento 2 Shipping Extension
Magento Sep 07, 2020

Main / Blog / Propelling your E-Commerce Business with Magento 2 Shipping Extension
The ultimate goal of every business owner is to increase profit and widen the customer base. E-commerce is a godsend in this respect since the clientele of online shops has unlimited potential for expansion. The internet and digital technologies enabled international or indeed intercontinental reach of such companies that find markets in hundreds of places across the world.
The appearance of such a versatile customer audience has its downsides, though. One of them is the necessity to take care of shipping your merchandise – and this is where Magento 2 shipping extension comes in handy. It is called to bolster shipping functionalities available in vanilla Magento 2.
Magento 2 Shipping Options: The Standard Set
If you own an e-store the huge odds are that it is built with the help of the Magento platform.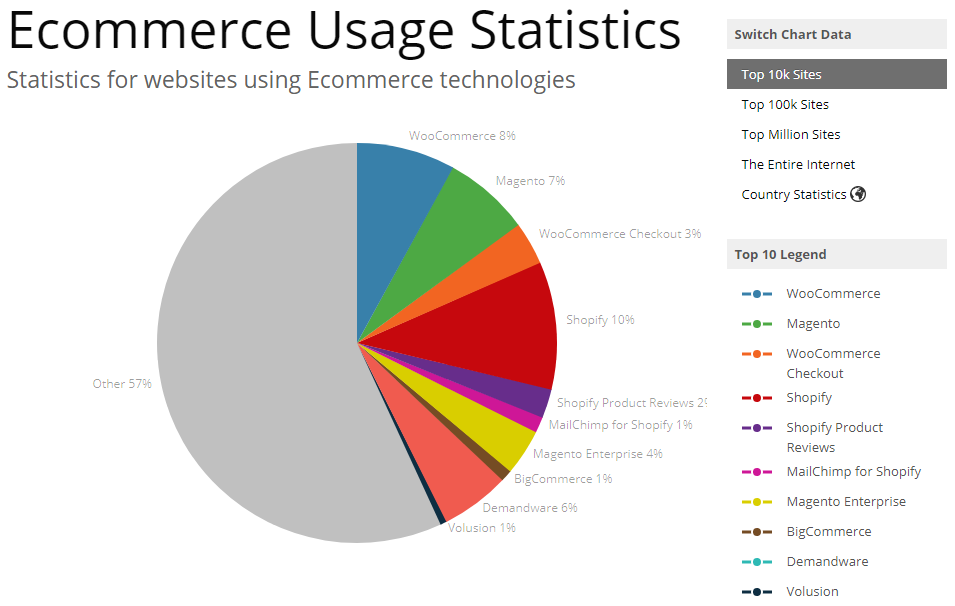 Source justcoded.com
This has become an extremely popular tool in its field since it was marketed in 2007 and the release of Magento 2 version in 2015 firmly established the platform's top position in the e-commerce realm that caters to all categories of enterprises – both B2B and B2C. Its renown is related to Magento's three principal fortes. First of all, having created a site with it, e-commerce merchants get ownership and unrestricted access to hosting services. Second of all, Magento is free. And third of all, it is extension-friendly. This characteristic is especially important with a view to possible customization which allows for adjustments to fit any requirements users might forward. Find more reasons for choosing Magento in 2020 in our guide.
Core Magento 2 provides basic features and tools to build a fully-functional e-store including shipping methods. Configuring them is a cakewalk. On the admin panel of your e-store, you find the STORES tab and then choose Configuration from the menu.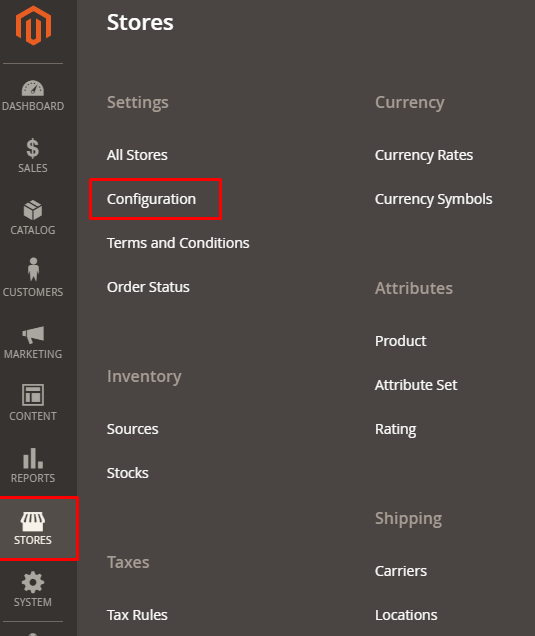 Source www.cloudways.com
Under the SALES tab, you will get a list of options one of which would be Shipping Methods. Let's see how to configure them. Yet before diving into details you should remember two basic things to complete with each option – don't forget to save the configs you have set and don't forget to word the error message you will receive if something goes wrong.
1. Flat Rate
This module lets you offer a fixed sum charged for shipping a product. To set it, you should unfold the respective section and fill in the positions according to your requirements. First of all, you are to enable this option and enter the title and method name. Then you can choose the charge type between Per Order or Per Item, set the shipping price, and choose countries from the list where you plan to deliver your goods (alternatively, you can pick Allow All Countries option not to limit yourself in case you get orders from some unexpected quarters). Finally, you can calculate the overall shipping cost which can be a fixed number or percent amount.
2. Free Shipping
Some adds-on offer Magento 2 free shipping extension but, in fact, core Magento 2 has this option so you can avail yourself of it without installing any supplementary software. This option allows you to boost your sales and foster customer loyalty by rewarding clients whose order amounts to a certain value (say, $300).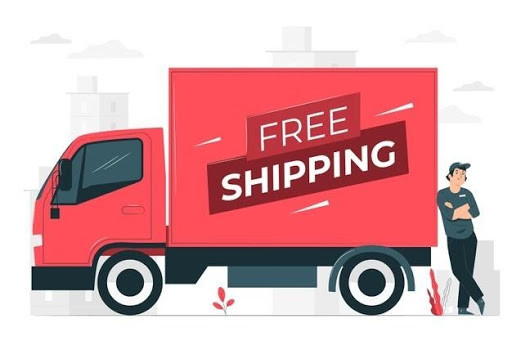 Source www.freepik.com
Configuring it isn't much different or harder than doing the flat rate. Here you also go through the standardized procedure of activating the option, entitling it, entering the method name, and handling the choice of countries. You also are to set a Minimum Order amount to determine the value of the merchandise shipped free of charge and decide whether to see this method if it isn't applicable.
An important part of setting this option is configuring the carrier. To accomplish it, you should choose the carrier service (say, UPS, or FedEx) and then enter the free shipping method (typically it is ground) and the amount threshold.
3. Table Rate Shipping
This method allows the calculation of charges for shipping products depending on their weight, price, and destination. Configuring it starts with filling in the conventional positions as is the case with the two previous methods. What differs configuration of this option is selecting Condition – that is the formula of shipping fee calculation. You are given the choice between three methods (weight vs destination, price vs destination, and number of items vs destination) so you should think carefully before entering your preference. Another difference is the ability to include virtual products in the price calculation (if your store has them to offer).
Now you are ready to create table rate data. After you have entered the data you can use them. To enable it, you should choose the Store view in Magento 2 Admin view. You will see export and import options that you can work with. By clicking on Export CSV you will download a file and can update it in accordance with your needs. Then you click on Choose File and import this file. To make sure you have calculated the rates correctly, you can go through the payment process from another address.
4. Dimensional Weight
This shipping method allows to gauge shipping fees depending on the product volume. It is a usual practice with many shipping carriers.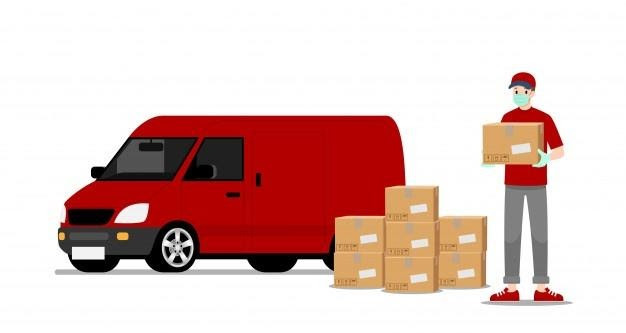 Source www.freepik.com
Magento 2 supports four carriers for shipping merchandise: United Parcel Service (UPS), United States Postal Service (USPS), FedEx, and DHL. All of them deliver parcels to over 200 countries around the globe (USPS is an exception since it performs delivery only within the USA). To avail yourself of their services, you have to sign up and create a shipping account with the carrier of your choice to offer this option to your customers.
5. Magento Shipping
This is another function available on the sign-up condition, but here you will have to launch a Magento account and a Magento Shipping account with the latter based on the former ID. If you go through this procedure you will get an AI-integrated solution that will combine fulfillment functionality with the multi-carrier shipping option directly controlled from Magento Admin panel. In addition to these major boons, the option enables the automatic embedding of new features without any update required and identifying errors if you decide to install a shipping extension for Magento 2.
As you see, the standard set of shipping methods is quite adequate for the functioning of your e-store. However, the experience that Devops-6 has in developing Magento sites indicates that companies are seldom satisfied with features default Magento Shipping offers and sooner or later own up to the necessity of installing an extension to Magento 2.
A Magento 2 Custom Shipping Extension: Reasons for Having One
When it goes about shipping Magento 2 extension installation seems the most natural step when your enterprise has passed the precarious survival stage and is approaching its noontide. How come?
Once you have learned nuts and bolts of your specific business model you will discover that one-size-fits-all nature of core Magento 2 doesn't always dovetail into your needs, so by installing a Magento 2 extension shipping will become the distinction that will give you a competitive edge. Moreover, you definitely see the deficiencies of the standard set of options offered by the framework so you realize that only after adding a shipping extension Magento 2 can satisfy your specific logistic requirements.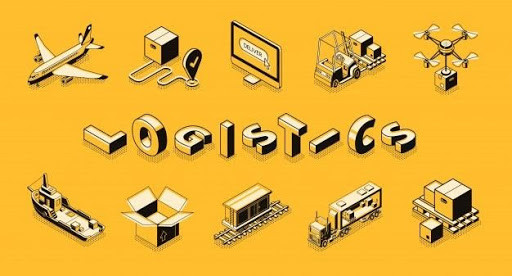 Source www.freepik.com
For instance, it is natural that the cost of delivering a product to a location within your country and the one on the other side of the globe can't be on par. Thus, there arises a necessity to introduce flexible shipping rates and perhaps single out some countries shipping to which is preferable to the vendor. Since core Magento 2 doesn't enable it, a customized extension is the only solution to the problem.
Other useful options absent in the standard Magento set include the ability to track the order, the possibility for clients to choose table rate shipping methods other than those assigned to them, the capability to charge a shipping fee depending not on the actual weight of the merchandise but the volumetric weight, and so on.
The only way to address these challenges is to opt for extensions to fill the breach. What are the functions that such extensions can provide?
Boons That Extensions Can Offer
The experts of DevOps-6 recommend to size up your needs before selecting an extension and review the features offered by core Magento 2 (who knows, it may well be available so there is no need to pay through the nose to get, say, a free shipping Magento 2 extension if it is included into the default set). The most popular adds-on are those that include the following features.
Custom Rate for Admin Order. This feature is in great demand with companies that rely heavily on phone or mail orders and are interested in introducing flexible price policies for individual clients. Such an extension enables the application of custom shipping rates (instead of pre-defined ones) as well as shipping amounts and methods. Moreover, once this extension is installed clients can select a shipping method to their liking as well instead of being confined to those that default Magento 2 offers.
Order Package Tracking. By installing Magento 2 shipping tracking extension you will be able to make use of tracking opportunities extended by the four major carriers (UPS, USPS, FedEx, and DHL).
Frontend Checkout Shipping Options. The one step checkout Magento 2 extension with multiple shipping options comes into play when a customer has added a product to the cart and wants to check out. The add-on enables choosing from a scope of custom shipping options and automatically tots up charges to the checkout summary. Such an extension is perfect for e-stores that have flat shipping price for all merchandise on their roster.
Varying Shipping Policies Depending on Geography. This extension allows tailoring shipping methods and rates in accordance with the location that the product is to be delivered, up to setting different rates for clients who hail from the same city but one lives in the downtown area and another in the suburbs.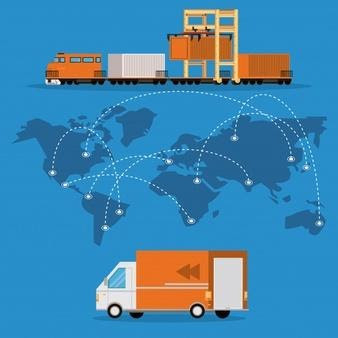 Source www.freepik.com
In this way, you will avoid extra charges for correcting the delivery address and introduce a flexible state-specific shipping price system.
Warehouse Management Option. Known as Magento 2 dropshipping extension, this module is leveraged to optimize shipping-related operations and expenses of your company. The tool will help you to detect items that are available for sale and identify the nearest to the customer warehouse to reduce shipping costs and offer the lowest possible fee which will be attractive for the customer. Some extensions of this type even enable automatic dispatching of emails to the respective warehouse with all details pertinent to the order. Thus, you will minimize the risk of hoarding products into unwieldy stocks and streamline inventory management.
Shipping Cost Calculator. By placing such a calculator on each page (and even carefully adjusting its position) you will keep customers in the know as to the total amount they will have to pay long before they check out. In this way, you will avoid frustrating them with unexpected charges and reduce the number of abandoned carts.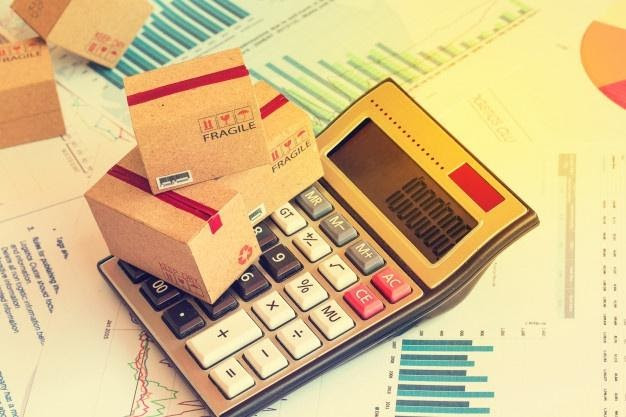 Source www.freepik.com
These are only the basic options that most Magento 2 shipping extensions offer, but the fanciest of them provide invoice management, specification of cart price brackets, and many other features. However different the scopes of functions may be, an enable/disable option is a must-have for such tools which allows to switch it off when not used.
Conclusion
Magento 2 is an excellent platform to build a great e-commerce site with it. However, if you aspire to give your business a powerful boost and cater to the clients' wishes and even whims, shipping extensions can significantly improve the quality of service you provide and streamline the management of your enterprise. The experts of Dinarys are ready to assist you in the choice of the extension, implement the installation, and provide maintenance of any suite you will opt for.
Want to read more
Get fresh articles, news and case studies to your email firstly
Related articles