How to Create a Pharmaceutical Website with Custom Inventory Services
eCommerce Sep 18, 2020

Main / Blog / How to Create a Pharmaceutical Website with Custom Inventory Services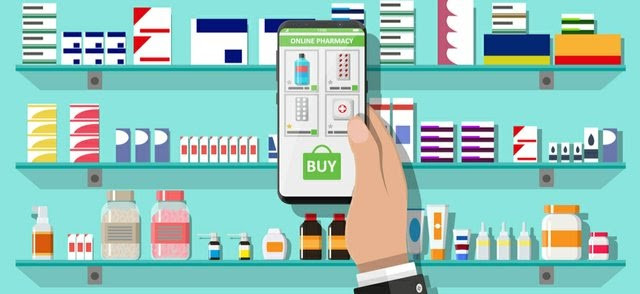 Image Source: www.epmmagazine.com
Today, any industry can be successfully transferred to the internet and thrive there. This is possible because more and more people get access to the World Wide Web and get to experience all the benefits of seamless online customer experience. Real-time communication, easy-to-use search and filtering, orders and payments made in a few clicks, order tracking, and many other perks make customers buy more and ultimately increase sales.
Given the above, modern e-commerce technology would be a perfect option for a pharmacy or a pharmaceutical company. In what other industry the ease of order placement is of such importance to customers? It is important to understand that the ability to order targeted delivery of vital, essential and necessary drugs from home can make life much easier for those who need them.
How to Manage an Online Pharmacy
Although an online pharmaceutical business is quite promising and opens up great opportunities given a broader target audience, it also requires comprehensive management. Be prepared for the fact that serving difficult patients, interpreting and reviewing refill prescriptions, controlling customer's doses, and dealing with insurance papers will become your routine. But that is not all. In addition to that, pharmaceutical companies still need to perform standard business activities related to running marketing campaigns, financial operations, sales, and HR management.
When there is a possibility to automate all of these processes through intelligent managing software and custom inventory systems, performing them manually would be equal to losing money. What challenges would you face in this case? First of all, it's an unsynchronized inventory that can't be tracked in real time, which makes efficient analysis and reporting impossible. Secondly, the preparation of prescription medications might take up to 40% of the total operational time. Not to mention documenting all transactions and customer interactions across multiple channels and recurring billing problems caused by providing incorrect information.
Why Do You Need Management Software?
If you want to create an efficient e-commerce website for a pharmaceutical company, take care of its management system first and foremost. Why? It will help your business store, organize, and process data to ensure effective drug use. This system is aimed to automate processes an average pharmacy faces every day. These include monitoring the stock, dispensing medication, payments, billing, etc. Thus, you can monitor and analyze key performance indicators, stock and warehouse status, sales, costs, and cash inflow in real time, which works well for both chains and individual pharmacies.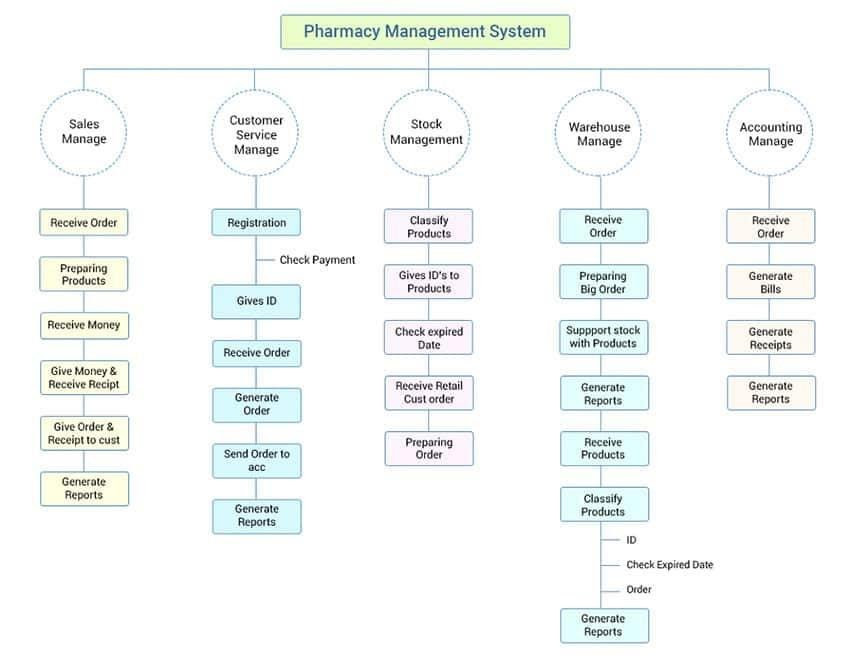 Image Source: www.fieldcircle.com
As you see, any pharmaceutical site needs a multipurpose system that could ensure a smooth workflow at different levels. Due to this, pharmacy management software typically consists of separate modules focused on specific feature sets. Some of the most important ones are inventory, documenting, and analytics management modules. A tricky part is that every business requires an individual approach and features to be embedded in the system. The choice of modules and functionality will depend on what tasks you perform the most often, how you deal with them, and what causes most difficulties.
Inventory Services for Ecommerce Websites
When it comes to pharmaceutical businesses, inventory management is one of the biggest challenges. You will have to deal with a huge number of medical items, monitor their storage conditions and expiration dates. Unsurprisingly, pharmacists spend a fifth of their working day on inventory matters.
Inventory Management within Web Pharm Design
If you want to move your business online, forget about papers and manual work when dealing with inventory. Like it or not, humans tend to make mistakes, and this will certainly affect your reports and income. To run a successful pharmaceutical business on the internet, you need not only a website but also a multi-purpose system to effectively track and analyze all processes. Just imagine that your online inventory is updated automatically and does not require additional intervention from employees. They will certainly have more time to provide quality service to both suppliers and patients. Enhanced analytical capabilities will let you see the customer demand picture clearly so that you can make statistically sound decisions when replenishing the stock.
You can configure the inventory module on your pharma site to take advantage of the following features:
Automatic stock levels updating after sales across all inventories;
Inventory status monitoring by items or locations;
Generating purchase orders for suppliers;
Setting up notifications for products running out of stock;
Integration with third-party solutions;
Reporting, tracking, and much more.
Customized Inventory Management Software
Why is it a good idea to create custom inventory system for your ecommerce website? Nowadays online businesses need a unified stock management platform like never before. Operational practices and sales channels differ from business to business, even for companies within the same industry. That's why it's not an easy task to automate the workflow of an individual pharmacy. In contrast to ready-made inventory management software, custom inventory services are tailored specifically to your business. This means you are not limited to poor functionality or super expensive premium plans. What you get is flexibility and really useful business-specific features designed to serve not others but your particular pharmacy.
Create Custom Inventory and Enjoy the Benefits!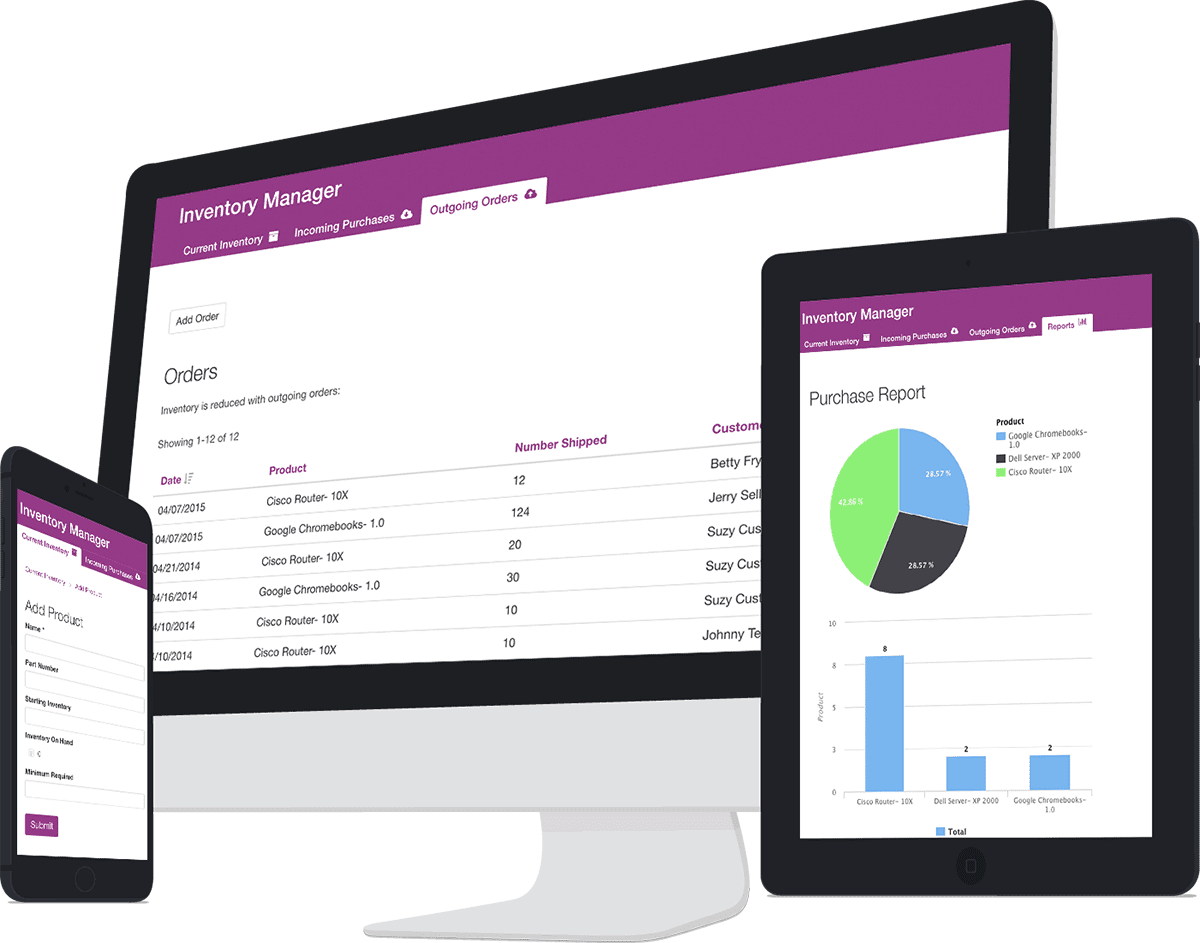 Image Source: www.knack.com
Nothing is impossible when you build the best inventory tracking software from scratch in full compliance with the peculiarities of your pharmaceutical business. You'll have a chance to supplement your inventory management system with any modules or functions to make it even more personalized and easy-to-maintain. Would you like to connect custom inventory with scanner? Do you need easy access to inventory from different PCs? How about accessing reports, historical records, and inventory levels from mobile devices? You are free to implement and customize these and other features whenever you wish.
How could this look in practice? Let's consider a real case of creating a pharmaceutical ecommerce website with customer inventory by the Dinarys team.
Working on one of our recent retail & wholesale business development pharma projects, we have implemented the following:
Created an e-commerce pharmaceutical website from scratch based on laravel, html, css, js;
Improved functionality and optimized processes, which made it possible to reduce the ecommerce website design cost;
Integrated the website with the customer's current system;
Activated payment methods on the site;
Introduced PDF reports generation;
Added a city selection module for delivery;
Added a location module to display different prices in different pharmacies;
Added a delivery methods module (courier service or self-pickup).
Adjusted forwarding orders to managers' emails;
Implemented integration with third-party services.
Inventory Management Tools to Integrate with Custom Software
The primary function of inventory management is recording all transactions, inventory movements, as well as the number of items in stock. However, if you want to make your customized inventory management system as efficient and informative as possible, consider using some of the following tools:
Barcode scanning for data collection. The continuous inventory management is all about timely reporting. Frequent errors and delays can hardly be avoided when employees work on collecting and entering data manually. Using barcode scanners is an excellent inventory tool that makes it possible to increase the accuracy of transactions and eliminate the human factor;
ABC classification. The idea behind it is to categorize all items in order of their importance. A items bring in the largest share of revenue (about 80% of the annual inventory value), so the system controls them particularly carefully. The system prescribes the most suitable conditions in the warehouse and generates detailed records. B and C items are less important for income generation, so they are not provided with excessive supervision;
Warehouse Cycle Count. This system helps you achieve maximum control over the warehouse by performing regular counts of various categories of goods at different times. Thus, in contrast to a physical inventory count, you can detect the causes of errors immediately and pay more attention to A items.
Lot tracking integration. An online inventory tracker for your pharmaceutical website can be configured to store, organize, and analyze items by serial numbers. That's how you can get detailed reports on when certain batches of goods were received from suppliers and when, under what conditions they were finally delivered to consumers. Trace individual shipments and batches of medications to analyze and ultimately optimize their supply.
How Much Does an Ecommerce Website for Pharmaceutical Cost?
Many pharmacies have already experienced the benefits of digitalization and moved their businesses to ecommerce websites with custom small business inventory programs. Do you think it's time for you to put things in order and proceed with workflow management automation? One way or another, you can now answer the question "What is custom inventory?", understand the purpose of pharmacy management software better, and have enough knowledge to start an online ecommerce pharmacy store. To achieve this goal, the first thing you need to do is to create a reliable, functional, and good-looking website.
Luckily for you, our team possesses vast expertise in creating websites for pharmaceutical and other companies, including Magento and Shopware website development. But what is the cost to build ecommerce website? Well, it mainly depends on the number and complexity of features you want to integrate into your website to automate your inventory management processes. We are ready to proceed to creating a custom inventory management system immediately after designing a pharmacy website.
This means you'll get a super efficient tailor-made solution free of excessive functions, which will ultimately impact your ecommerce website development cost. Schedule a free consultation today and get your inventory totally managed ASAP! After your project's careful consideration, we'll be happy to tell you how we are going to help you create a multi-tasking business management platform for your pharmacy.
Want to read more
Get fresh articles, news and case studies to your email firstly
Related articles