How to Build Food Delivery Websites for Local Business
Food Delivery Jun 16, 2020

Main / Blog / How to Build Food Delivery Websites for Local Business
Statistics show us that the food delivery market is growing at a tremendous pace, with online services ahead of offline services. More and more people prefer to order food over the Internet with minimal distraction from other activities and maximum time savings. It's inspiring businesses to create food delivery websites.
Let's look at these facts below:
Online ordering and delivery have grown 300% faster than dine-in traffic since 2014.
It is anticipated that a restaurant that won't offer online food ordering services will lose 70% of its customers by 2020.
According to Statista, revenue in the online food delivery segment amounts to US$107,438m in 2019.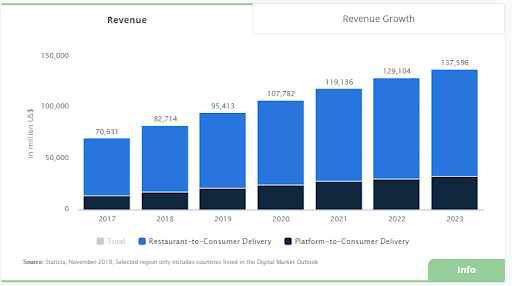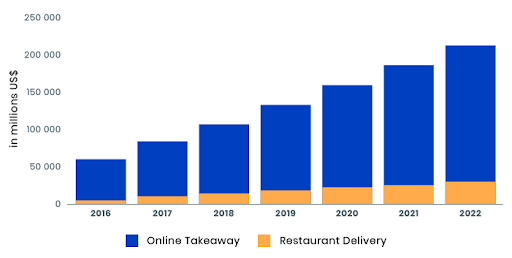 Image Source: www.restroapp.com
The traditional model of food delivery is preferred by consumers. By the conventional model, we mean the process when a customer places an order with a local restaurant and waits for the order to be delivered to the door. Such a model counts to 90% of online food market share, where three-quarters of orders are placed by phone.
Considering the statistics, we can conclude that the restaurant industry is developing rapidly and becoming more competitive.
In this article, we are sharing:
The best examples of food delivery websites
Revenue generation models of food ordering platforms
Tips on how to make a food delivery website
The best food delivery website templates
An approximate estimate on building a food delivery website
Let's get started!
The best food delivery websites
If you have decided to create a food delivery website, you should be aware of the current industry leaders. Knowing them will help your delivery service be competitive on the market. This information is also a great way to get insights into the most useful features for your future website. Below we will tell you about the five most popular online food delivery leaders and how they work.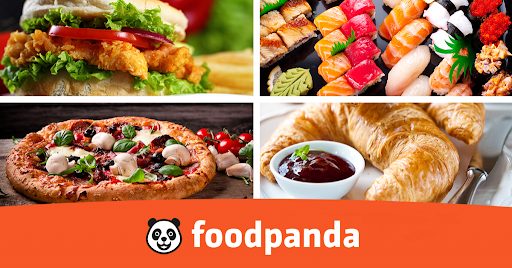 Image source: newsmobile.in
Food Panda
Food Panda is the most significant player in the food delivery market. The company was created in Germany by Rocket, an internet holding company, in 2013. Now this food delivery platform includes 30,000 restaurants in more than 40 countries. The platform consists of a large variety of cuisines and different dishes together with safe and trouble-free payment options. To make the ordering process even more convenient, Food Panda offers users a cross-platform alternative.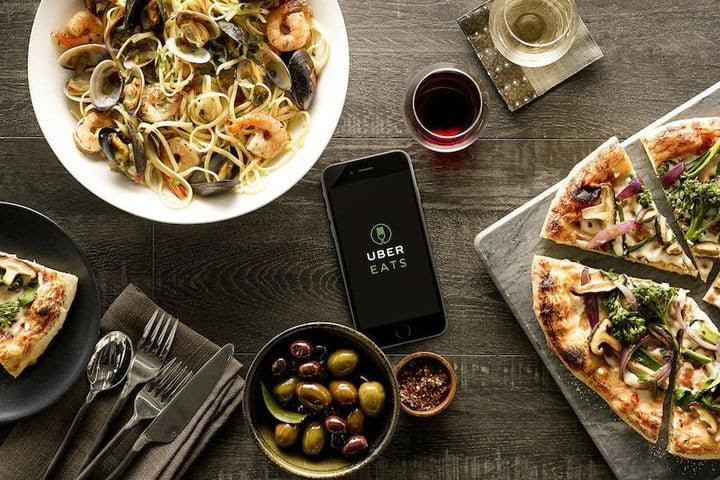 Image source: eater.com
UBEREATS
Most people, who trust Uber to drive them safety around the city, also rely on this company to deliver their sandwiches. The UberEats is a standalone food delivery application. Still, UberEats has many similar functions with Uber, like cashless transactions and estimated delivery times.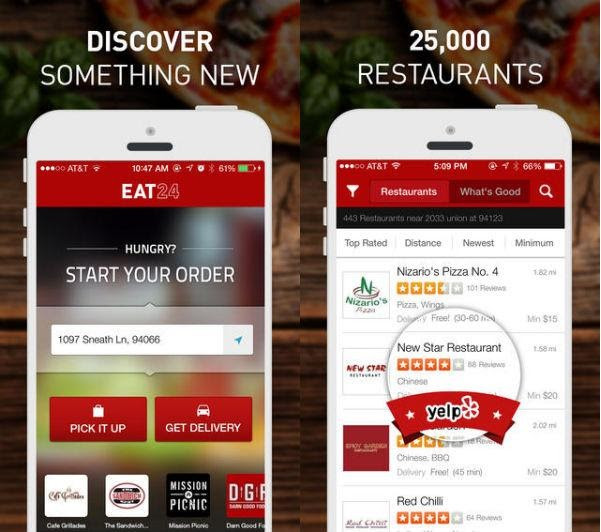 Image source: northphoenixfamily.com
YELP EAT 24
Yelp Eat 24 is a delivery service app that includes a robust system of restaurants rating and reviews. The app users choose the restaurant for the ordering service based on the reviews of other users. So they can rely on the app to deliver their dinner.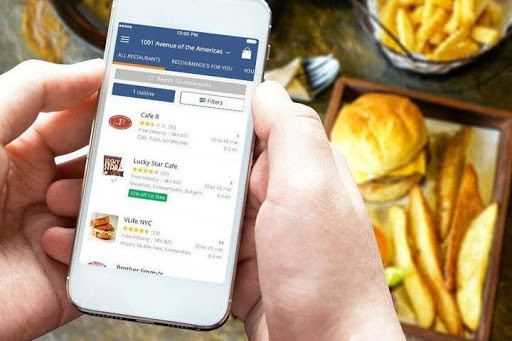 Image source: Delivery.com
DELIVERY.COM
Delivery.com provides its customers with a variety services.The main feature of this delivery service provider is that it does not charge a service fee. Delivery.com's primary source of income is a small percentage of the customer pre-tip subtotal.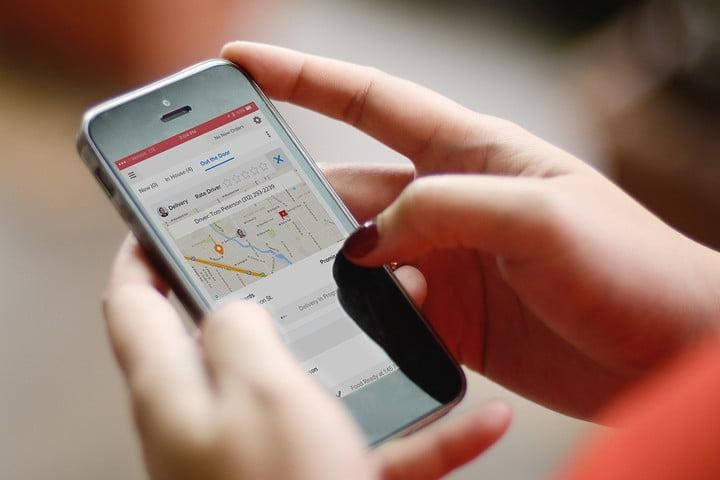 Image source: media.grubhub
GRUBHUB
Grubhub is a food delivery platform that analyses users' location and allows ordering food delivery from the nearest restaurants. Users can also filter the search results by cuisine or a specific menu item. To speed up the process of food ordering, customers can save their delivery locations such as home or work.
Revenue generation models of food ordering platforms
If the best food delivery websites inspired you, it is the right time to think of how to make such a site profitable. Below we share three popular business models of food ordering business.
The Order Only Model
Such a model, used by Delivery Hero, Grubhub and other restaurant delivery services of the first generation aims at offering customers the ability to order food from a wide range of independent restaurants. These online food ordering marketplaces connect customers with the local restaurants, while restaurants handle the delivery themselves. When applying this business model, the platform should provide the process of simple and quick order. The restaurants pay the platform a commission from 7% to 15% per each order received. A great example of such a business model is Zomato platform.
The Order and Delivery Model
Such marketplaces as Caviar, Deliveroo, and Doordash use this model. In this case, the platform handles both order and delivery services. Restaurants also receive benefits from a partnership with such platforms, since there is no need to maintain vehicles or pay couriers. Such food ordering platforms may charge customers a flat delivery fee.
UberEats also uses this model. However, the company went even further. The platform can now offer restaurants to appear at the top of search results for additional marketing fees.
To use this business model, pay attention that fast delivery is the critical satisfaction factor for 60% of customers. You should provide the delivery services in under 30 minutes to ensure your customers' satisfaction. Also, the ordered food should stay tasty and fresh.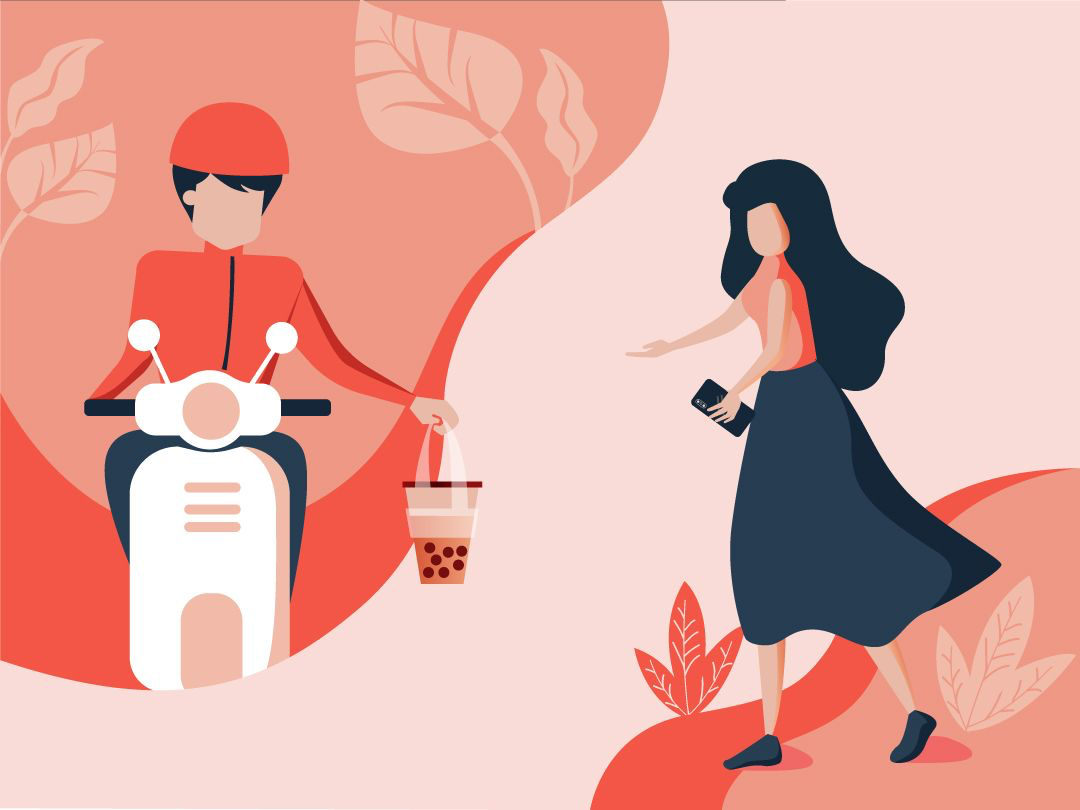 Image Source: www.pinterest.com
The Fully Integrated Model
The third business model, used by such meal delivery startups as SpoonRocket and Sprig, includes the full integration of the process. Such businesses function as a food ordering website, a restaurant and the delivery service. It means that the company develops its food ordering website, prepares meals and delivers orders to customers. Such businesses can serve corporate clients as well as individual customers.
For instance, Metabolic Meals, which uses such a model, is known for arranging corporate meal plans and delivering healthy meals right to offices. Often, such meal preparing services cooperate with outstanding master chefs, creating a competitive advantage.
If you want to use this business model, be careful. Many startups went bankrupt because of the enormous operating costs. Such a business model requires companies to use refrigerated trucks, heaters and ice packs that might be costly.
Still, innovations like drones and self-driving vehicles could reduce the delivery time as well as money on carrier's wages. As we can see, Ele.me, a website to order food delivery from China, covers over 70% of all deliveries by using drones.
How to make a food delivery website
The development of the food delivery website includes many steps such as defining the ordering flow, selecting features, choosing a food delivery website design and platform. Let us dive deeper into each stage so you can understand the flow of food delivery website development.
1. Define the food ordering flow
To make your future food delivery website successful, you should define the flow of how users will place orders. The most common flow includes the following stages:
Once a user visits a site to order food delivery, they use on-site search to choose the restaurant, compare menus, and check out prices and ratings. Then, they select food and place the order.
When the order is confirmed, the user logins to the system or creates a new account by providing contact and bank account details.
After the checkout process, if the payment was successful, they receive a notification that the order has been processed.
Getting notified the order has been processed is the end of the online scenario of a typical food-ordering website. Other stages including food preparation and order delivery happen offline.
You can use this food ordering flow for your future website. So let us move to the second stage.
2. Select the necessary features for your food delivery platform
Selecting the features for your future food delivery website is very important since it will have a significant impact on usability. In most cases, the site needs to be customized for three user roles: the user, the restaurant and the admin. All three should be connected in the website back-end and work seamlessly.
Below we share the feature list for the three groups of users:
Customer
Navigation Menu
Registration
Sign up
Place order
Restaurant details
Filter restaurants by cuisines
Current offers
Address book
Rewards, loyalty, and coupons
Admin
Admin Log-in
Restaurant Management
Website Management
Order Management
Technical Payment
Payment Management
Restaurant Managers
Sign-in
Search by Food Category
Checkout Process
Choose Payment Method
Order Status and Tracking
Help & Support
Your solution should inform the restaurants about new orders, as well as notify customers in the case the restaurant declined the order and then suggest alternatives.
3. Choose a platform or build a custom website
There are several ways of developing a food-ordering website. The first is to buy a clone script. It is an excellent solution for beginners who want to get started in the food delivery.
a) Out-of-the-box food delivery software
For our clients, we recommend the following food delivery software.
Flipdish
This user-friendly online ordering system suits cafes, individual restaurants, franchises, multi-store chains, takeaways, and convenience stores.
Flipdish provides users with the following features:
Online ordering
Order management
Routing
Sales trend analysis
Supports loyalty program
Menu management
Pricing: one-time fee of $485.00
Orders2.me
Orders2.me combines marketing and an online ordering system for restaurants. This software allows receiving orders via Facebook, Mobile, and Web using their existing payment system.
Orders2.me feature list includes:
Supports loyalty program
Sales trend analysis
Order management
Online ordering
Menu management
Pricing: $89.00/month
SpeedLine Pizza POS
This food delivery software includes many advanced features including caller ID, delivery mapping, address verification and even driving directions. SpeedLine Pizza POS supports the following food delivery features:
Delivery Tracking
Dispatch Management
Gift Card Management
Menu Management
Online Ordering
Order Management
Routing
Sales Trend Analysis
Supports Loyalty Program
Pricing: Not provided by the vendor
b) Developing a custom food delivery app
The second way is to hire an e-commerce team to develop a custom CMS according to your business needs. This option requires more time and money.
In our previous food delivery projects, we did a synchronization of back-end and front-end with custom built CRM.
Our best developers worked on that project since custom-built solutions like CRM required advanced knowledge of programming. In this case, all the integrations should be manually done because there are no sync apps available. When you decide to add new features to your CRM, you need to find and hire a team of developers. This fact also makes building a custom CRM a costly solution.
Still, a custom website gives your food delivery business the advantage over the competitors.
4. Create a database of restaurants in your target location
To offer your future customers a wide range of cuisines and dishes, you should create a database of restaurants in your target location. This database should include areas of delivery, menu, contact details, and the like. When collaborating with the local restaurants, you also need to agree on the commission your business will receive from each order. You also need to ensure that your website is capable of managing an extensive database. Another important thing is to decide who will deliver orders received from your food delivery website.
5. Launch an MVP
We recommend launching complex projects as online stores, mobile loyalty program apps, and food delivery websites as MVP. The MVP (minimum viable product) of a food delivery website should include only basic features that allow future customers to make orders and restaurants to deliver these orders. By launching your site as an MVP, you will receive feedback from users on the website usability. Consider this feedback to make your food delivery website even more convenient for users.
6. Optimize to cater to the needs of locales
In food delivery, as in many other spheres, customer preferences may vary from location. The success of your food-ordering website depends on how well you can cater to the needs of the local audience.
Consider the following points to make your ordering service even more successful:
Your website should provide payment options that comply with the preferences of the community in your city. Such payment options as cash on delivery, credit cards, eWallets, and so forth could vary from city to city.
To be successful in a particular area, you should adopt your business as per the local environment. It could take some time to understand what works in online and offline marketing in your target area.
The tastes of the local target audience might also influence your menu. Dishes' categorization and restaurant databases should vary as per local preferences.
The best food delivery website templates
Apart from customer service, the quality of food, and quick delivery, the success of your food delivery website depends on the storefront design. The site should have an attractive design, intuitive interface, and short customer journey to be popular among customers. Below we share the best examples of food delivery website designs so that you could pick one for your business.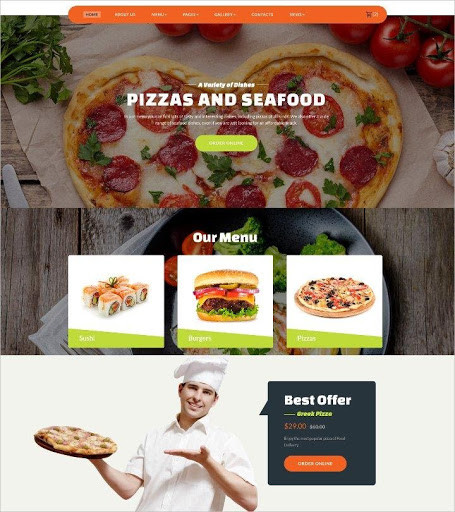 HTML5 Food Ordering & Delivery Service Website Theme
This template is ideal for food delivery website development. It's convenient because the restaurant can immediately find a suitable template, then add objects and images, edit files.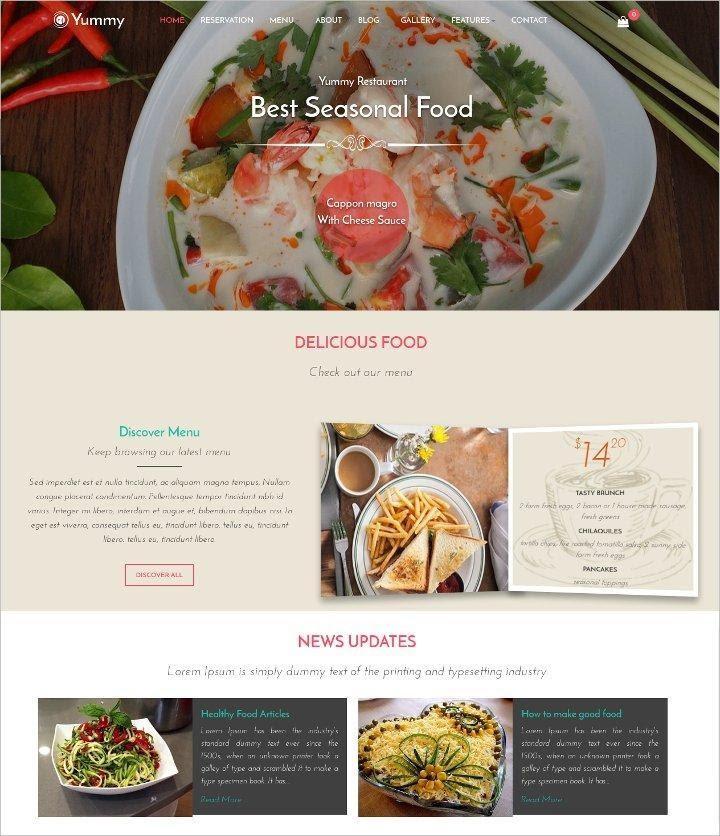 Joomla Website Template for Online Food Business
With this Joomla template, it took only a few hours to create a food ordering and delivery website. The template includes six preset color themes. You can customize it to fit your business and display menu most attractively. This template comes with a handy video tutorial that makes the task much more manageable.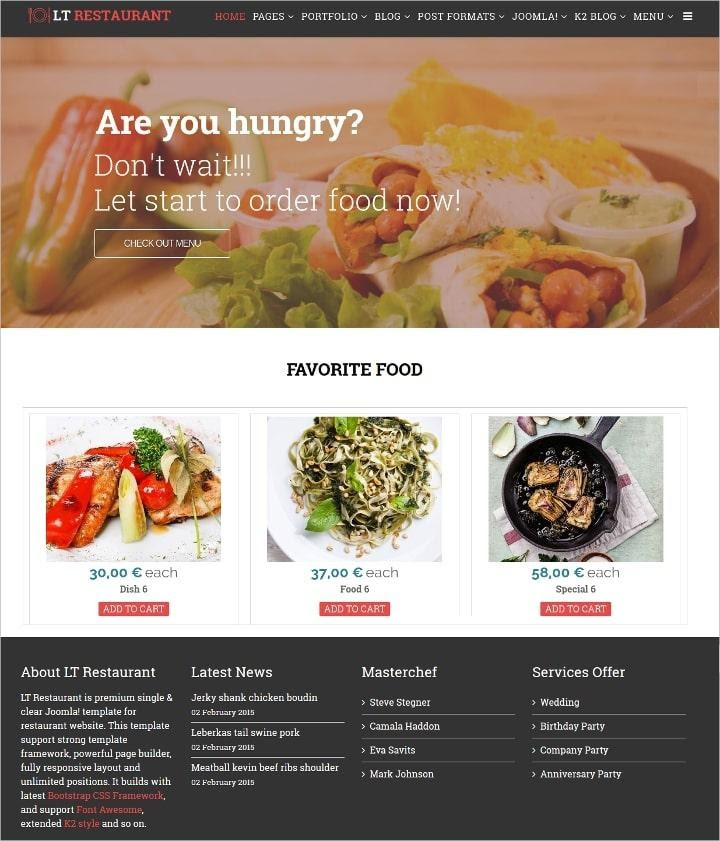 Meal Ordering Website Theme Design Premium Online Restaurant Template
With this premium template for food delivery services, you can easily create a responsive website. It means that the website layout could adapt to the screen size of any device. This template provides users with drag-and-drop layout content, four color themes, and unlimited module positions. With this template, you also receive a flexible homepage with a full-width layout.
How much does it cost to build a food delivery website?
The price of food delivery website development consists of many factors. They are the number of features, development company rate and the difficulty of the projects. Mostly, it depends on whether you want to use a template solution or to build a full custom CMS system for your website. In this case, we highly recommend starting a project with an MVP. Below we share a rough estimate for an MVP of a custom food delivery website.
| | |
| --- | --- |
| Catalog management | 160 hours |
| Content views | 85 hours |
| Authorization and security | 70 hours |
| Reviews and rating | 68 hours |
| Ordering functionality | 68 hours |
| Payments | 43 hours |
| Delivery tracking | 43 hours |
| User profiles | 43 hours |
| UI/UX | 34 hours |
| Database and deployment script | 30 hours |
| Notifications | 30 hours |
The average hourly rate varies depending on the developer's location. For instance, the hourly rate of developers from the USA is from $60 to $100. At the same time, the developers from Eastern Europe, in particular, Ukraine, charge only $30-$40 per hour. On average, creating a food delivery website will cost about $7000, depending on the selected functionality.
Also read:
How to Create Food Delivery Apps
How to Create a Food Delivery Application with POS Integration
How to Create a Custom Bakery Website
Dinarys experience
Our team has been developing software for many years, and creating food delivery websites was among our projects. One of them is Budu Sushi. We carefully analyzed all the client requirements and selected the best technology stack. The front-end of the website is based on React. The scope of features includes a built-in loyalty program and customer support integration.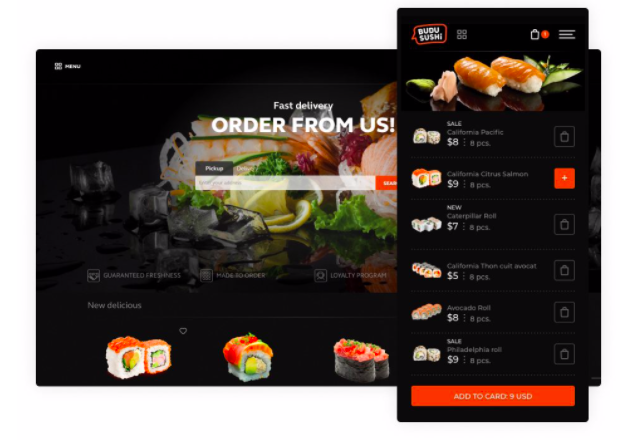 Final thoughts
The food delivery market is viral among consumers. Moreover, it is a prospective field for investments. If you want to create your food delivery website, you have two options. You can use a template for your future site and hire a development team to customize it for your needs. Alternatively, you can hire a team to develop a fully custom solution for food ordering and delivery, which might be costly yet beneficial.
We participated in the development of many food delivery websites. If you are looking for a team to create a food delivery website or consult you on your best strategy, tell us more about your project. Fill in the contact form and our managers will get in touch with you.
Want to read more
Get fresh articles, news and case studies to your email firstly
Related articles