How to Create a Custom Bakery Website
eCommerce Oct 08, 2020

Main / Blog / How to Create a Custom Bakery Website
Today, being online is vital for business success. More and more people prefer shopping online, searching online, and ordering food online. And the recent pandemic has only boosted this ecommerce trend. According to Statista, in 2019, retail ecommerce amounted to more than $3 trillion and it is predicted to reach $6 trillion by 2022.
So, if you are the bakery owner and thinking of creating an online bakery store – you are on the right track.
Keep reading and get inspired (inspiration really matters, especially in such a creative business) with the best bakery websites, discover the process and tips of bakery website development, as well as the functions that are essential for a bakery website, and what the development costs are. In a word, we will give you an answer on how to create a custom bakery website.
Let's start with the inspiring examples of the best bakery website – the culinary art strengthened by the great art of website design. Hope you'll enjoy it!
The best online bakery websites
Bake Me a Wish bakery website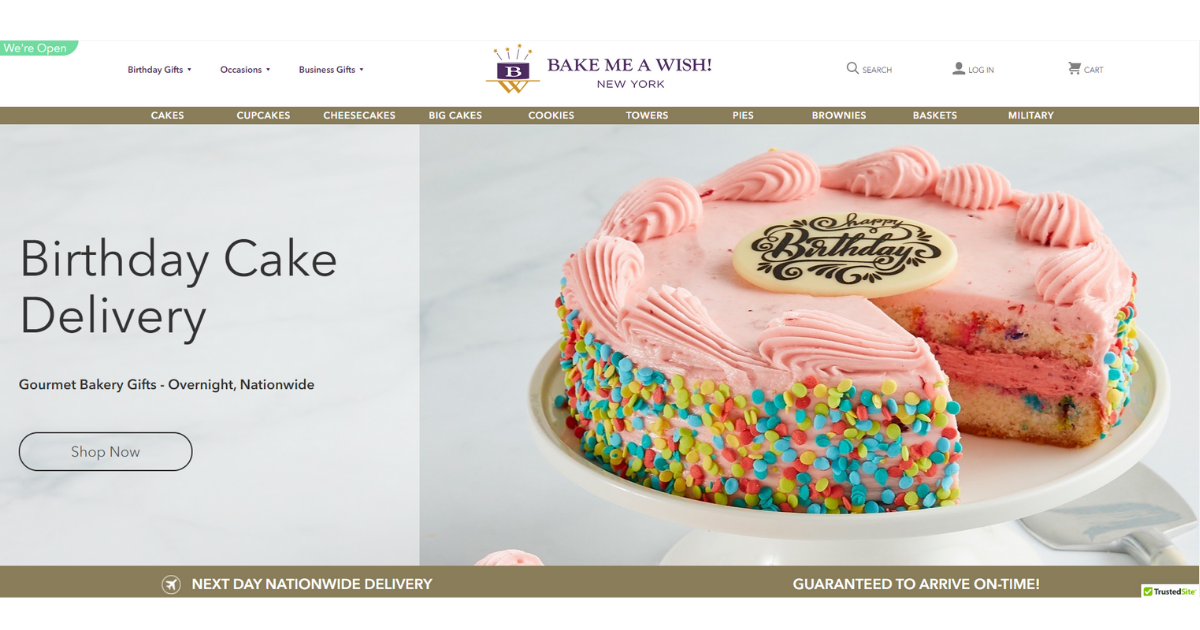 Wondering what is essential for any website, and especially for bakeries? You need to immediately catch the attention of visitors and make them want to buy your cakes. Upon opening the Bake Me a Wish website, you understand that it offers a great variety of products – there is no confusion about this. You can easily navigate through the categories and drop-down menus. Its product card deserves special attention. It includes almost everything you could need: great product images (including the packaging), prices, the option to choose an occasion and delivery date, and previous clients testimonials. The website also provides the product description, as well as shipping details. Thanks to this, a customer will know exactly how much to pay in total.
Emporium Pies website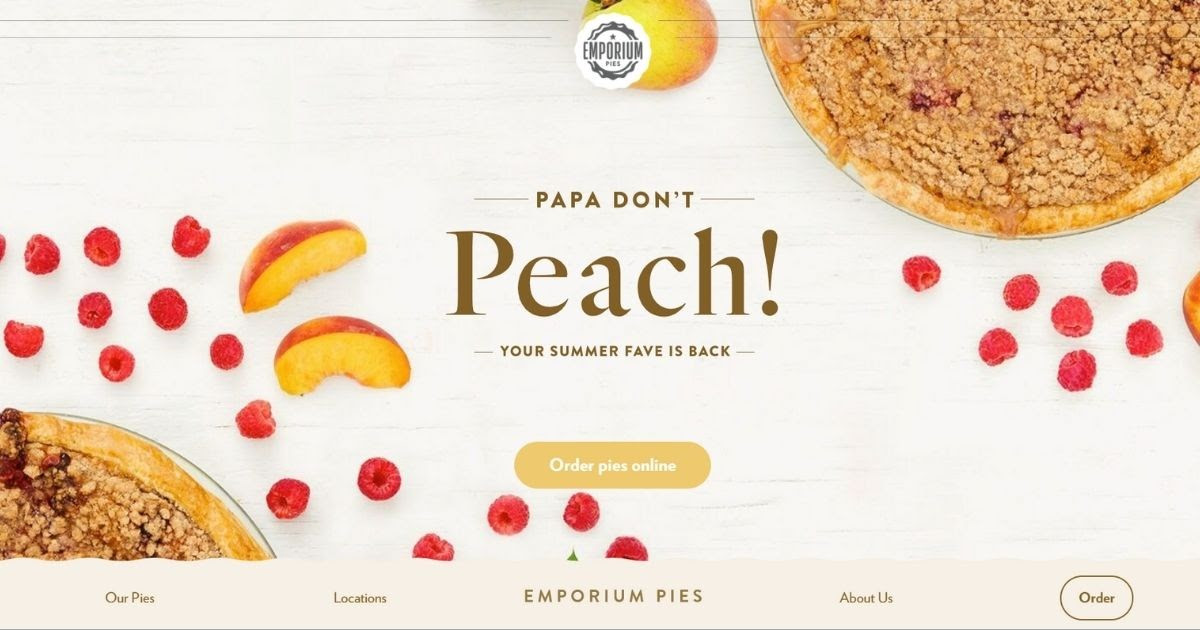 The website design of Emporium Pies is sweet and sentimental, and so it should be, as pies are all about home and comfort. The website design is easy and attractive. It is intuitive – from the very beginning, a customer understands where to move according to their needs. If the sole thing you want is to buy a pie – simply order it!
The homepage provides all the necessary information and it is attractive thanks to the changing seasonal images. Even all the animation isn't irritating – you just enjoy the love of pies. Also look at the "Order" page with its functions – here you can choose the type of delivery (via local delivery or local pickup), schedule the date, and choose the store, where you can receive an order.
The website also offers the opportunity to order from different bakery locations, so your favourite cakes can be delivered from the cafe you adore. The Emporium Pies website was created with care for its customers. Just look at the "Product page" and you'll understand what we are talking about. Here you can see price options, depending on whether you want a whole pie or just a slice.
Thanks to the "Care instructions", you will understand clearly how to store the product, if needed. The Gift Card, FAQ, Social nets and other great options also provide a wonderful customer experience.
Junior's bakery website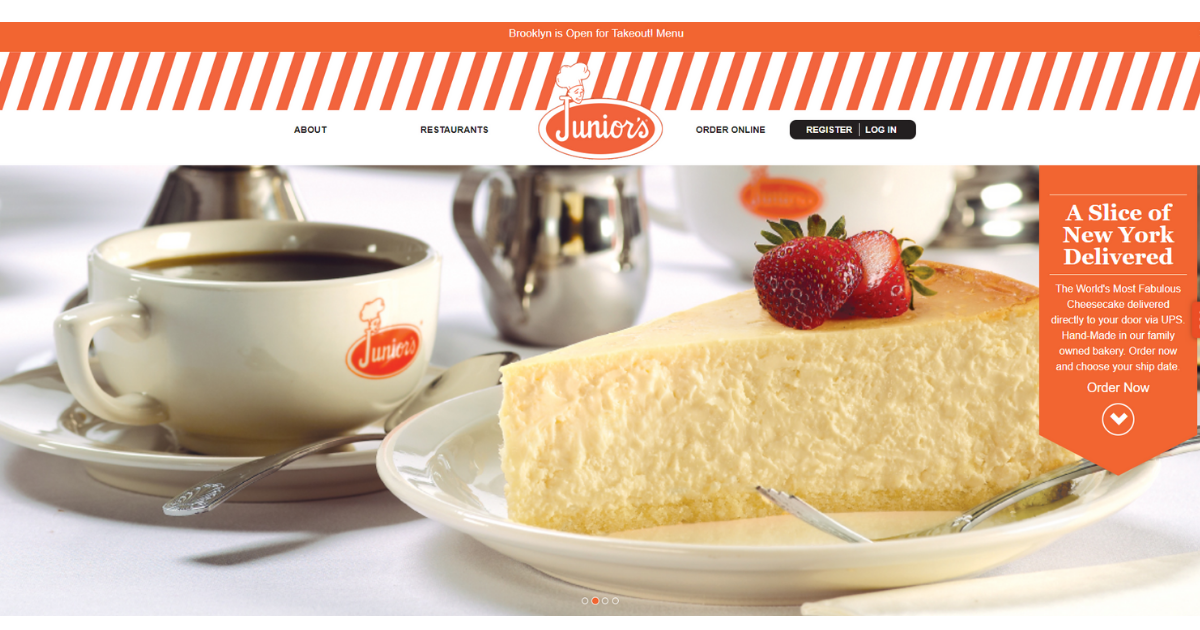 Junior's is one of the most famous places in New York, where you can taste the best cheesecake. This bakery has a long story, which you can discover just in one click from the "Our story" link in the "About" section of the drop-down menu. This website is very useful, offering a great number of options for its users. You can easily order any bakery product they offer, and track your delivery status by entering your email and order number. Also, you can use a "Quick order" option to order from the nearest bakery shops. The website provides several payment options, and notifies users that payments are absolutely secure. Menu, gift cards (both for online orders and visits to the store), shopping cart - we can endlessly describe the functionality of this great Magento-built website.
PAUL bakery website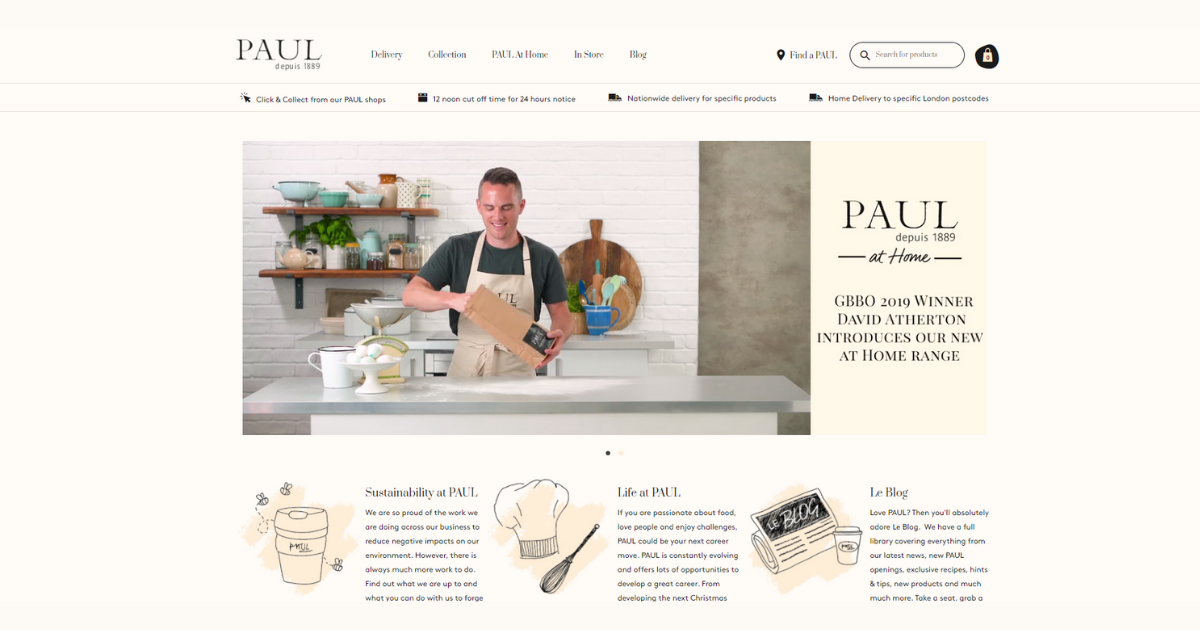 The PAUL bakery website is one more great example of a Magento web solution. Each bakery has its own story, and the Blog extension is an ideal tool for storytelling. Add the "Blog" extension, available in the Magento store, to your website and share stories, recipes and news. Integrate social nets and let your customers share their stories. This will attract more traffic to your website, which means more potential customers for you. The PAUL website has taken advantage of this opportunity; at the end of each product description you can see the bakery hashtag, and link directly to its Instagram page - and we know that Instagram is all about visuals. Let's also look at the product page of the website. It is informative, you have an option to check the delivery availability, read product reviews, and examine detailed information about the ingredients - and of course, there are great pictures. Multiple payment options are available; just one more advantage added to the ones mentioned above.
LadyM bakery website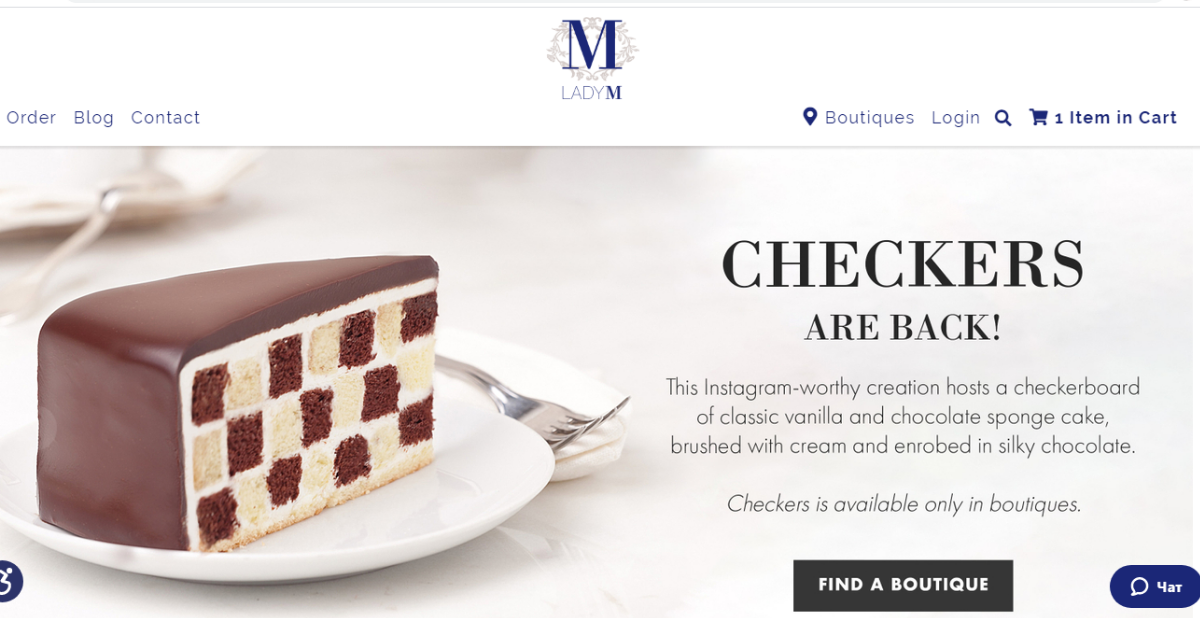 The simple, but attractive design of the LadyM website makes the customer journey comfortable and intuitive. The homepage is absolutely clear and contains all necessary icons for the user, including Order, Blog, Contact, Boutique Locations, Login and Cart sections. It also contains information about the hottest news and offers. The product page contains information regarding dietary restrictions and ingredients, advice on the best times to order, and the opportunity to immediately add products to your cart. What is also remarkable about this website is that you can make special Accessibility Adjustments that can give customers easy access to the website, regardless of their abilities. You just need to push a circle button in the left corner of the web page, and adjust the website as you may need.
We hope you've been inspired by these best bakery websites, and just to make things clear, let's see what important aspects should be considered if you want to make a perfect website:
Perfect navigation - The user should immediately understand where they need to move according to their needs. The fewer the number of menu sections, the easier for your users. Drop-down menus or a single menu are good practices today.

Content - Offer several ways for users to discover your content, and don't overload your users with information.

Ordering - The ordering process should be simple and quick. Otherwise, you risk that your customers will never return, even if your products are perfect.

Extra Features - Add a constructor tool which enables customers to create their own personal content (such as culinary masterpieces). It will attract attention, thanks to its interactivity.
And always remember the "golden" rule – from the very beginning of the website creation, think about your website from the point of view of your customers. Is it easy to use, is it clear, is it attractive enough? Answering these questions is the easiest way to understand what should be corrected or updated.
Dinarys custom development case – Froufrou cakes website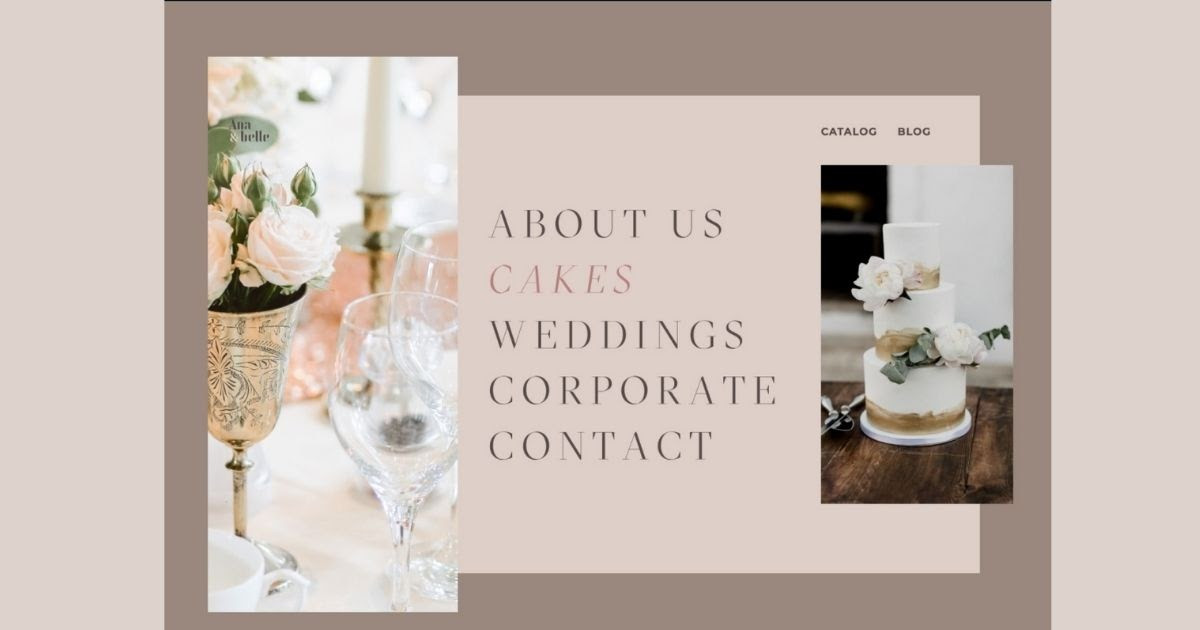 Froufrou patisserie is an online-based company. It produces unique high-end handcrafted cakes available in London and Surrey. The company asked the Dinarys team to fully redesign their website and add functionality aimed at improving the customer journey. We implemented features such as:
Engaging product page animation
Online ordering
Delivery module
Integration with Instagram
Editing all the content and functions from the backend
And remember the following essential points to take into account, no matter whether you want to redesign your existing website or develop a new one from scratch:
The website design should be adaptive and responsive.
UX design providing an easy and quick customer experience.
SEO that will make your website visible.
Discover more about our expertise and see other cases in the Dinarys portfolio.
So we've discovered the examples of the best bakery websites. Now let's see how to build such a website for your bakery.
Hope you remember about the necessity to carry out the market research and creation of your ecommerce business plan in case you are just starting this business. Just the right time to think over creating a fascinating custom bakery website.
Let the professionals take care of all aspects of the development process so you do not get distracted from your culinary masterpiece. We usually recommend hiring an ecommerce team that will help you create the perfect ecommerce solution for your bakery from the very beginning. Having reliable experience in this sphere, the Dinarys team will provide you with the best web solution that can make your sweet business much more successful.
You can read more about the hiring process in the article about How to Hire the Best Magento Developers in 2020.
Seamlessly, we come to one of the most important parts of the process: how to create the website for the best bakery in the world.
Website Development Steps & Tips

1. Choose a domain name and hosting
Start with the main tools for the future website. Domain name – its the URL seen by your customers. In other words, it is the address of your website. Note that the perfect name should be short, simple to remember, and reflect your brand idea. Hosting is the website location. Here you have options: shared host (a place with numerous websites) and dedicated server (a place only for you). The latter is more expensive, but your website will not lose speed.
2. Choose the ecommerce solution
This is highly important as the right platform is the basis and key to the success of the future bakery online shop. Yes, we have enough options to choose from available ecommerce solutions. But what solution is the best? We suggest choosing between these two open-source solutions: Magento and Shopware.
Both of these platforms are good enough and you won't go wrong when choosing either of them for your ecommerce needs. Magento is an open-source solution that has already gained high popularity. It has a bigger developers community, which means you have a higher chance of finding a reliable tech partner, or support if needed. Remember that Magento is a quite scalable, flexible and customizable platform offering awesome and useful features.
Shopware is an easier-to-use and cheaper platform. It also offers a number of great features that enable your website to catch the attention of the users. As an example, its special feature gives you the opportunity to include detailed description of the items. It is important to mention that Shopware is a German platform, but it supports the English language. So despite a smaller community than Magento, you will not face significant challenges in using it.
To go deeper into the theme we suggest checking our comparison of these 2 great ecommerce solutions.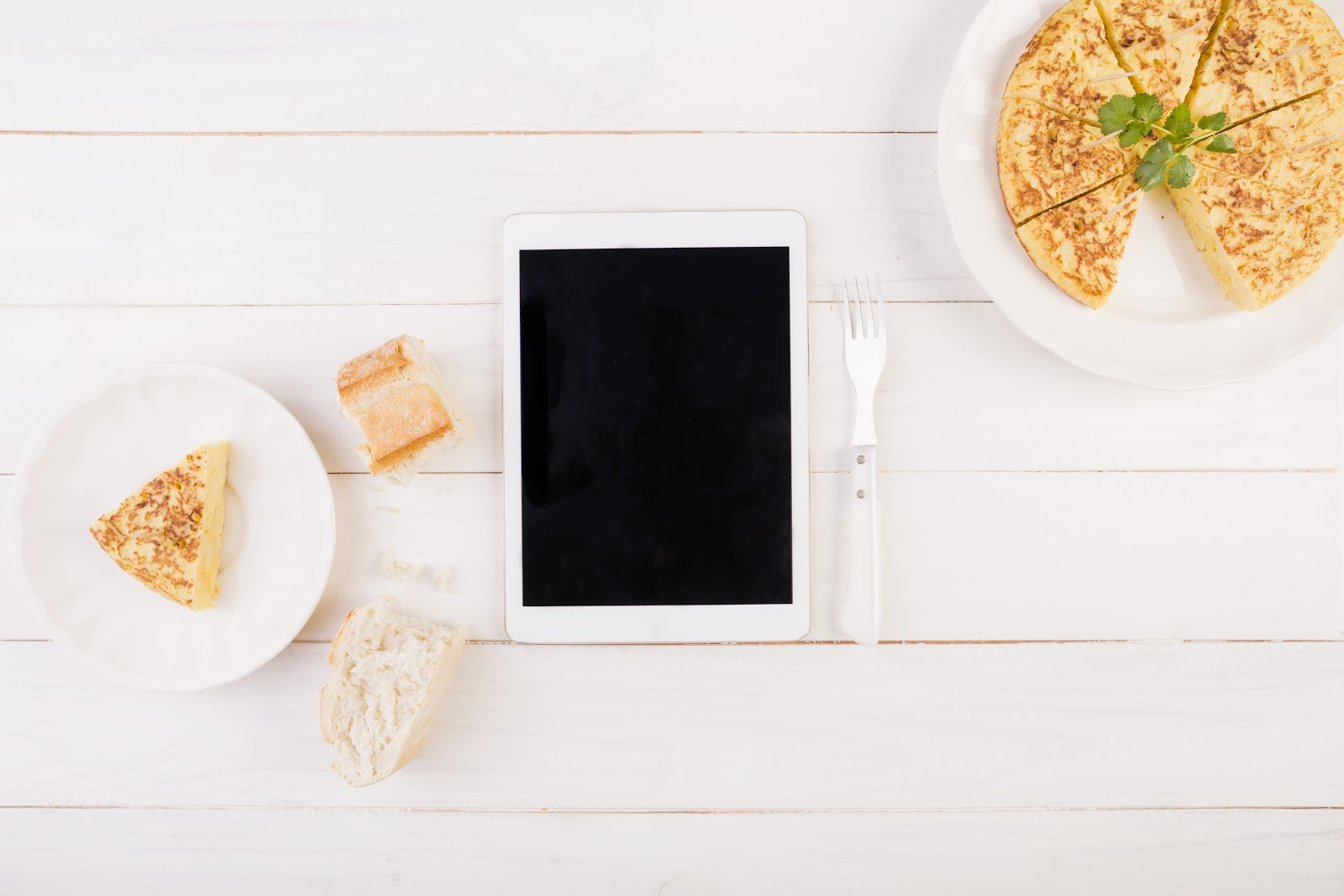 3. Choose the best bakery website template
Magento and Shopware offer a number of themes, both free of charge and paid. So you can choose the most suitable according to your vision, or develop a custom theme that will be unique and created exactly for your online bakery.
4. Take care of the content
Here are some tips, which are essential for every type of website and especially bakeries:
Tip 1. Tell your story. Everyone loves stories. Storytelling is a great tool to come closer to your customers and attract their attention. Maybe you have some secret recipes that your family carefully kept from ancient times, or you are ready to tell your success story, or share your cooking process. Share everything you want to. Usually, this content is in the "About us" section of the website.
Tip 2. Show your works and menu. It is important to upload high-quality photos. And it is not just because of some technical requirements, it is all about the content as well. Remember about the rule of the first impression, which you have no opportunity to repeat.
Tip 3. Feedback is also essential. Nice pictures? Great, but you should also convince people that it is not just an image. Share your previous clients' feedback. It means trust – combine the wonderful pictures with the tasty quality.
Tip 4. Connect the website with social nets. It is one more promotional tool for your local bakery.
Tip 5. Easy contact. Make people feel that there is no challenge in contacting you. Create a powerful CTA (call-to-action) directing the customers to your contact page.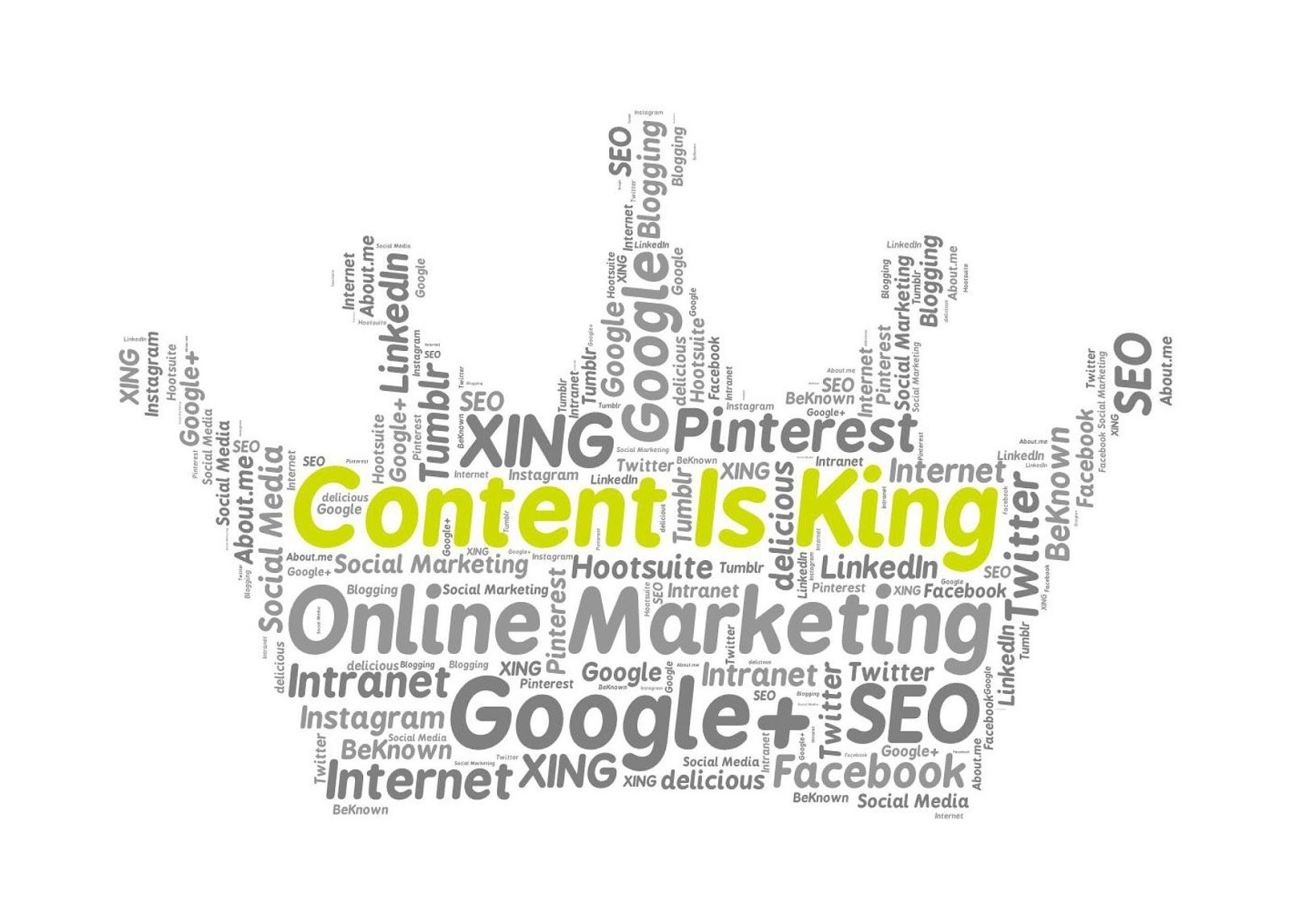 5. The launch time comes after testing
Don't underestimate the importance of testing. It ensures that every website component works smoothly, the images are loading in the right way, and the buttons work well. It is also about the first impression, which cannot be repeated, as mentioned above.
An excellent bakery brings joy – the same is true about the website for a bakery online store.
Essential Functions of a Bakery Website
What functions of your bakery website are important to consider for your business success? Check the list below so you do not forget something important.
1. Security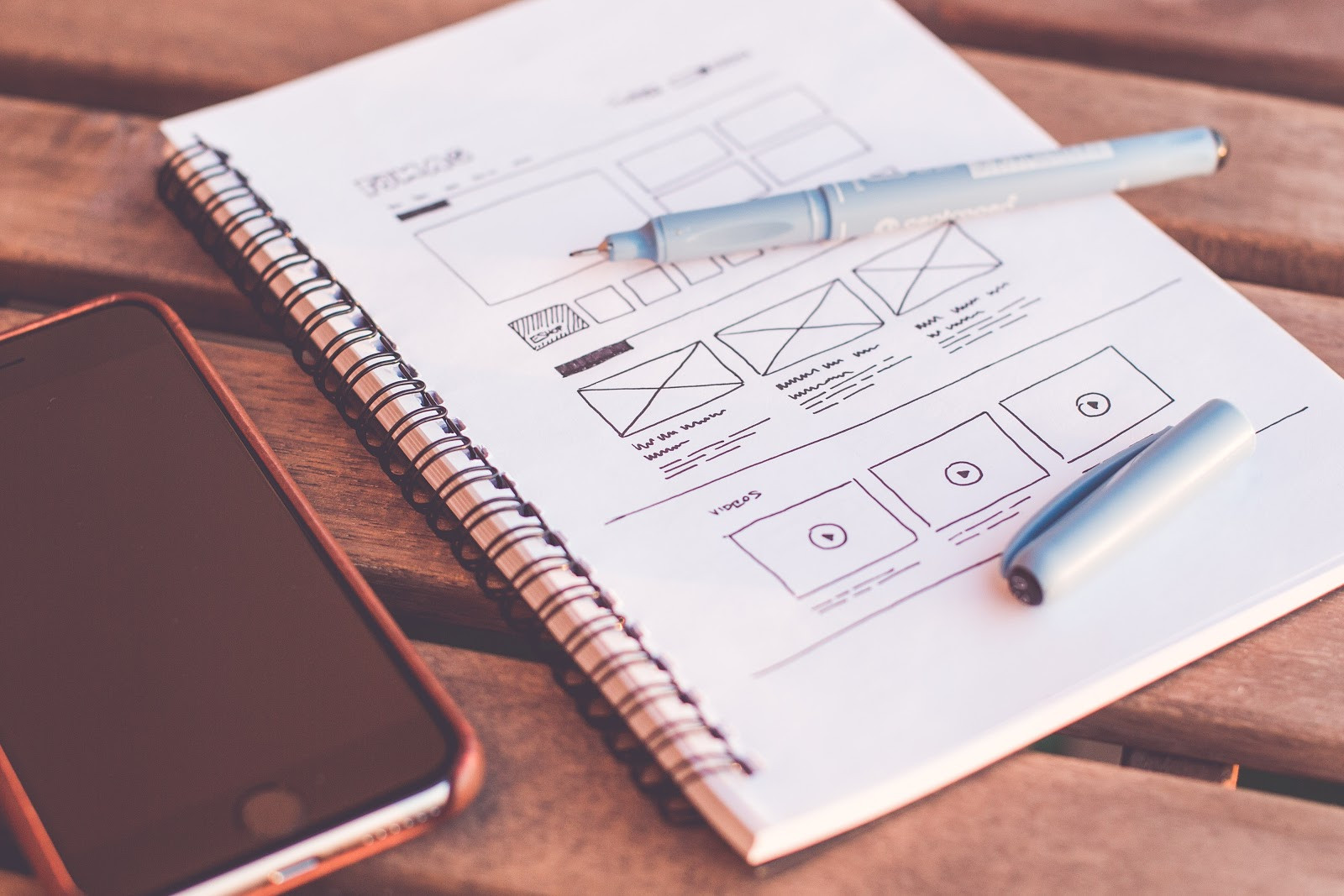 Your customers should be sure that their contact and financial information is securely protected.
2. Images
Your website should clearly demonstrate the product you offer. It is especially important for the bakery business as you sell online what people should want to eat immediately just by looking at the product's image. The images can be both static and animated. The more interaction you add, the more you will attract your potential customers.
3. Social media integration
The popularity of social nets is indisputable. Your customers are already there. Offer them the opportunity to share their experience on social media. It is your additional marketing tool.
4. Order function
The order process should be quick and easy. People are usually annoyed with something that takes a lot of time.
5. Search function
Last but not least, provide your customers with the opportunity to quickly and easily find anything they need or want.
How Much Does It Cost to Build a Bakery eCommerce Website?
This question is among the first to ask. But there is no general answer, as development services costs usually depend on different factors. You should consider the following points that can determine the price:
Type of hosting
eCommerce platform you choose
Custom development or using ready-made templates, themes, etc.?
What functions and modules should be integrated?
Will you do it yourself or hire a professional web development team?
The location of a developer/team also matters.
You should also take into account that there are usually one-time expenses and regular fees (monthly or annual). Consider this aspect during budget planning. On average, the cost of a bakery website can start from $2000, but always keep in mind that this is quite a preliminary estimate. Are you dreaming about your own bakery website and ready with your main requirements? The Dinarys team is always here to provide you with a free consultation and help with an approximate estimate.
Conclusion
Custom website development requires time and budget. But it also brings a unique customer experience that is the basis for success. We hope that this article inspired you and brought you closer to understanding how to create your bakery website, what the process looks like, and who can help you to take care of all the technical issues of the process.
Make sure that your project will be appropriately released – hire a reliable tech partner. The Dinarys team is proud of having strong expertise in custom web development of any level of complexity. Being a Magento and Shopware partner, our company has a number of successful projects, and our team is always ready to offer you a free online consultation. Just fill out the form and the Dinarys team members will contact you!
Want to read more
Get fresh articles, news and case studies to your email firstly
Related articles