Shopware 6 vs Magento 2: Can the New Player Dethrone the Leading CMS?
Shopware Jun 27, 2020
Main / Blog / Shopware 6 vs Magento 2: Can the New Player Dethrone the Leading CMS?
Having an eCommerce store allows you to sell products 24/7 to a global audience and to spend fewer costs compared to running a physical shop. Yet, the variety of existing eCommerce CMS is so wide that it's hard to decide which one to choose. In this article, we'll compare two of the most attractive options on the current cart CMS market - Shopware 6 vs Magento 2. Read on, if you want to build a web store or migrate from Magento 1 which won't be supported after 2020.
Both CMS have a lot in common. They are open-source that allows endless customization opportunities and scaling the store as your business expands. Both have communities of developers and shop owners around them. Even community events including "Magento Live" as well as "Meet Magento" have analogs regarding Shopware.
Having solid expertise in the eCommerce development at Dinarys, we know all the ins and outs of both CMS. We've chosen only the most valuable decision making criteria to help you make a balanced solution. Ready? Let's dive in!
Shopware vs Magento 2: an overview
Developed in 2008, Magento is one of the leading eCommerce platforms in the world. It has 12% of the global eCommerce market share and powers over 250,000 online stores. Magento can be called the industry standard regarding eCommerce CMS. The number of Magento 2 features and configurations seems nearly endless. It has the biggest popularity in the US and Great Britain, according to builtwith.com. Among the Magento customers are Nike, Burger King, Christian Louboutin, Rosetta Stone, Vizio and many others.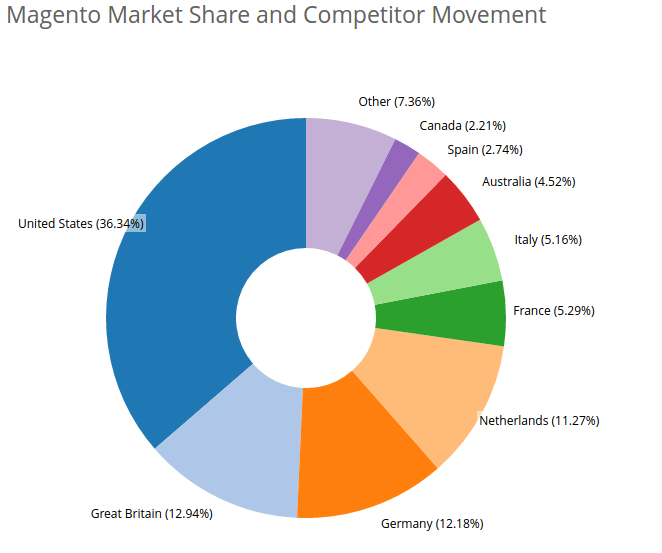 Image Source: www.shopping-cart-migration.com
Shopware was founded in Germany in 2000. It has above 80,000 installations. It's the leading CMS in the German-Speaking Countries including Germany, Switzerland, and Austria. It is among the top 4 leading eCommerce platforms in Germany with a market share of 6,17%.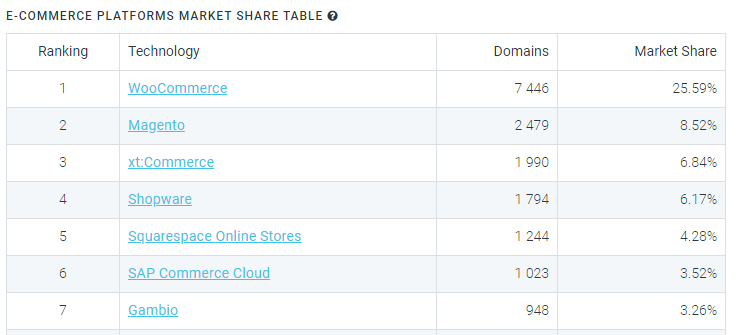 Image Source: Datanyze
You can see the number of Shopware stores by country below.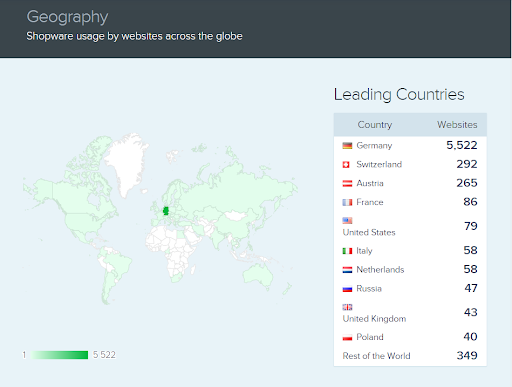 Image Source: www.similartech.com
But in the last few years, Shopware has become recognized as a good alternative to the more expensive and complex Magento. On the table below, 1,384 webshop owners decided to perform Magento 2 migration to Shopware. Besides, customers migrate to Shopware from other platforms like osCommerce, PrestaShop, etc. If you're interested to know what it takes to migrate to Shopware, check our step-by-step guide.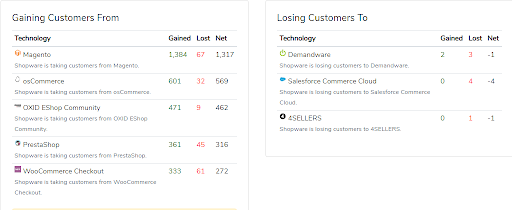 Image Source: trends.builtwith.com
Shopware customers include Aston Martin, Discovery Channel EU Store, Mars, M&Ms, L'Oreal, Philips, etc.
Shopware vs Magento 2 Comparison
In our opinion, the basic criteria for choosing between eCommerce CMS are usability, performance, cost, community size and SEO capabilities. Here is a summary table of our comparison. Read on for a detailed description of differences between Shopware vs Magento.
| | | |
| --- | --- | --- |
| | Magento | Shopware |
| Usability | Complex UI. Performing installation and configurations may require external help from developers. | Simple and intuitive UI which helps to get started easily for everyone. |
| Performance | Scored 25% slower in our test | Scored 25% faster in our test |
| Cost | €17,870 per year | The Shopware Professional Edition costs €1,925 paid one-time. And the Professional+ Edition is €5,995 |
| Community | 150,000+ developers | 40,000+ developers |
| SEO | Is ranked 4th in the top eCommerce CMS with a score of 95 concerning SEO. However, to use its SEO potential, every option has to be configured manually. | All SEO settings are configured automatically but can be modified if needed. |
Usability
Admin panel usability lets you tweak configurations and manage content of your e-Store easier. Its helps you or your employees to spend less time on such operations.
Shopware
Shopware boasts to have a simple-to-use admin dashboard from the initial release. Because of this, it's much easier to start using this CMS for new users. Shopware backend is compatible with any OS and browser.
Shopware has a great feature that enables you to open numerous menu items simultaneously with no page reloads. Also, it supports double-click and drag-and-drop features. It can help to spend your time more productively compared to Magento.
Magento
Magento 2 has received slightly better UI compared to the previous version. But still, Magento's UI is much more complex as it contains probably thousands of different settings. Thus, you'll have to refer to the Magento 2 documentation or search help online. Performing the Magento 2 installation and making configurations is also challenging if you're not familiar with coding.
You are not alone if you want to try Shopware. Check out our experience of working with customers who wanted to develop or redesign their Shopware store.
Performance
Performance and consequently page load speed heavily affect eCommerce site user experience and conversion rates in the result. Check yourself, would you like to wait for 10s after entering each site you find at Google? The same goes for your customers. So if conversion rates and amount of sales are important metrics to you, make sure your site loads as quickly as it can.
Both CMS have a built-in Varnish Cache that is a necessity for any website, especially for eCommerce one. However, Shopware's shopping worlds take additional time to run after page load. But it's rather a minor disadvantage.
Shopware and Magento both offer enough performance for online stores with more than thousands of orders per day. They also enable CSS and JS files merging, image compression to improve it further.
In the image below, you can view the performance testing results of ShopWare 5 vs Magento 2.3.2 made on Medium. According to them, Shopware's response time is faster concerning almost every tested web page.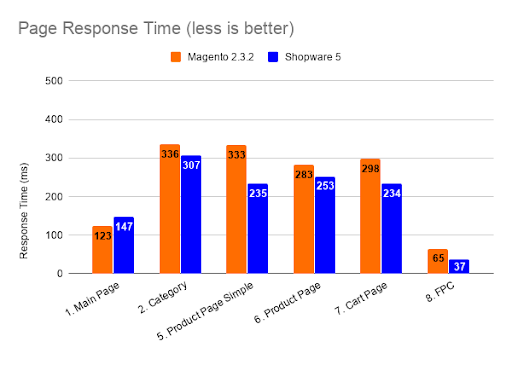 Image Source: Medium
Cost
Reducing costs is undoubtedly valuable for every business as it can increase your profit. However, product value and its benefits are also valuable and shouldn't be neglected.
Both Magento 2 Community Edition and the Shopware CE are free. However, as your business grows you may need more advanced features.
Magento
Magento 2 Enterprise price is €17,870 per year
Shopware
Shopware is undoubtedly much cheaper. The Shopware Professional Edition costs €1,925 paid one-time. And the Professional+ Edition is €5,995. These prices also include a 12-month manufacturer support. There's also the Enterprise Edition but the price is not specified on the official site. Hence, if you have a small to medium business or looking for a cheaper solution pay a close look at Shopware.
By the way, at Dinarys we have an advanced business analysis expertise in eCommerce. If you need a consultancy to choose between Shopware and Magento depending on your business peculiarities, you can drop us a line.
Community
Community aspect is important for everyone who want to quickly find a needed plugin or ask help from other users. This is doubly important regarding the open-source nature of Magento and Shopware and, therefore, wide customization opportunities.
Magento
There are more than 150,000 Magento 2 developers, making it one of the largest programmer communities globally. Magento Enterprise users can ask assistance at the official help desk. Nonetheless, the CE users can also search for solutions at developers' portals or post there a question.
Shopware
The community of Shopware is more than 40,000 developers. That's OK because they are mainly from Germany, while the Magento community is international. Nevertheless, Shopware's official site also has the English localization. There you can find documentation and webinars covering Shopware as well as download Shopware plugins. For Professional and Professional+ Editions you can order a support service. According to the data we've found, It costs around €636 - €3264 per year.
Magento 2 SEO vs Shopware SEO
If your web store is difficult to find in the search engines then it doesn't matter how beautiful or functional it is. SEO is one of the most popular ways to drive traffic to your site.
Magento
The ecommerce-platforms research shows that Magento is ranked 4th in the top eCommerce CMS with a score of 95 concerning SEO. Among Magento SEO capabilities are editing robots.txt file, adding Magento 2 sitemap, image optimization, canonical tags, working with meta tags, etc. However, all of them need to be configured manually. And with such a variety of these settings, it takes a decent amount of time and effort.
We've recently wrote about the Magento SEO capabilities, in case you want to know more about them.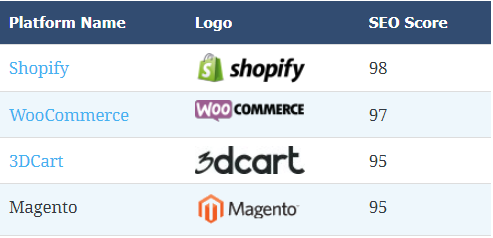 Image Source: ecommerce-platforms.com
Shopware
In contrast, Shopware has all SEO settings configured automatically. You can still change them by hand. Nevertheless, shop owners with no SEO proficiency will surely benefit these automatic configs.
Why Shopware software can become as popular as Magento?
It's obvious to choose something well-known like Magento or Shopware, especially if you migrate from Magento 1 and don't want to get used to an unfamiliar CMS. Still, popularity is volatile. Shopware has plenty of tempting benefits that give it a solid chance to become as popular as Magento.
We've already posted a summary of Shopware advantages on our Linkedin. Here we'd like to describe the new features of Shopware:
Better checkout process
In our opinion, Shopware has a better checkout procedure that decreases customer bounce rate and therefore improves your conversion rate. Concerning Magento, installing Magento 2 plugins or making additional configurations is needed to reach the same effect. There's also a slide-in side cart feature that uses the AJAX technology which brings great usability.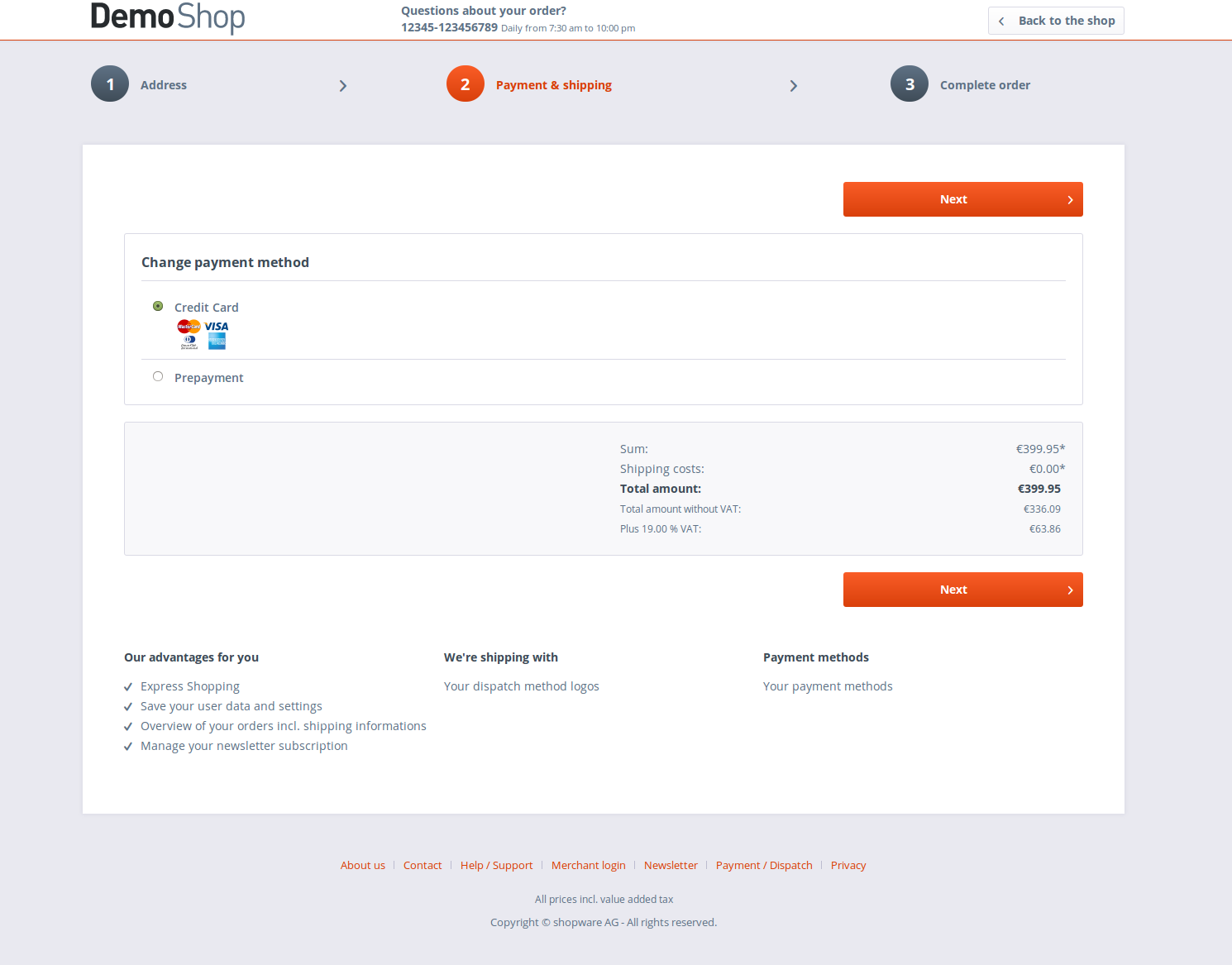 Image Source: www.sellxed.com
Useful actions log
Shopware eCommerce CMS logs every performed backend activity in a special file. It allows you to detect problems and content modifications of your eCommerce site. Also, Shopware has a system log to find out about system errors. It may come in handy to fix minor issues even if you don't possess skills in software development.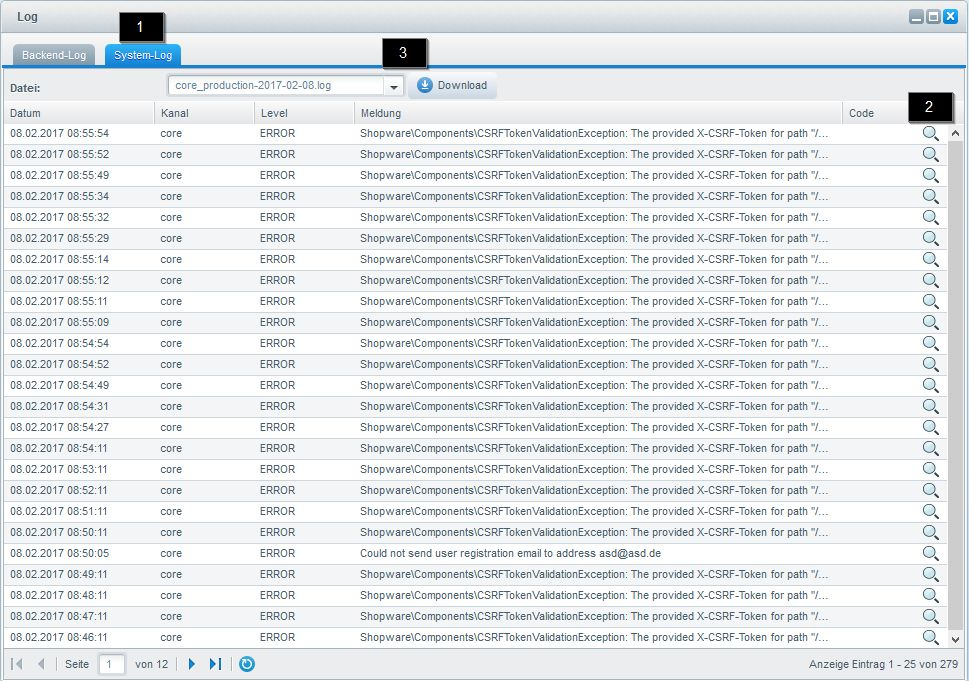 Image Source: sbp-testingmachine.s3.eu-west-1.amazonaws.com
Media manager feature
This feature allows to access all of your site media from one place. Once uploaded, you can utilize them for various categories or products afterward. Besides, image upload in Shopware is quick and clean. Magento has the flex technology regarding image uploading. In some cases, its usability is not at its best.
Shopping world feature for storytelling
Providing emotional shopping experience helps your e-store to stand out and engage customers. A storytelling feature called the shopping world offers just that. The shopping world is the script of how your product will be presented to a client. You can create the shopping world using various preset templates including video, text, and images. All of these are accessible from Shopware backend and don't require any specialized skills.
Free text fields
The next feature that enables you to save many development hours is free text fields. It allows the programmers to swiftly append text fields to forms, e.g. login screen. To do this in Magento, you'll need to install Magento 2 extensions and sometimes configure additional settings.
Conclusion
Regardless of your choice, Magento and Shopware both are modern, powerful, and scalable CMS. They are capable enough to build a stable and secure eCommerce store for your business. So there's no mistake if you choose any of them.
For small and medium companies we advise to go with the Shopware eCommerce platform. It is cheaper, easier to set up, has a more intuitive interface, and some unique features. But if you own a large company, Magento may fit you more. This CMS is more difficult to set up, but it has more customization abilities. Besides, it can cope with a bigger amount of data and traffic.
If you want to create a web store, redesign it or migrate to another platform, you'll need a reliable and skilled development team. Dinarys company has more than 5 years of experience with a strong focus on eCommerce development. Clutch, a customer reviews platform named us a top web developer in 2019. Our pros are great teamwork and dedication to deliver the software of high quality that meets your demands. Get a free consultation by contacting us right now.
Do you want to be the first to find out the changes in the software development or eCommerce worlds? Subscribe to our blog on LinkedIn, Facebook or Twitter.
Want to read more
Get fresh articles, news and case studies to your email firstly
Related articles