Restaurant POS Systems: How to Create a Food Delivery Application with POS Integration
Application Development Nov 27, 2020

Main / Blog / Restaurant POS Systems: How to Create a Food Delivery Application with POS Integration
Having some restaurant food in 2021 is a completely different process than it used to be some 9 years ago. Now, you don't have to wear an evening dress, spend 40 minutes on the road, and keep your back straight the whole dinner long. You can order food delivery home and enjoy the chef-made cuisine in a cozy atmosphere.
Record-breaking consumer demand helps food delivery newcomers become global giants. Let's talk about restaurant POS systems (Point of Sale), discuss whether it's worth integrating delivery in terms of your business, and take a look at exemplary brands in the niche.
Why Do You Need a Food Delivery App?
In the restaurant industry, food delivery apps have made a big innovation shift in the last 10 years. The category "Food and Products" has become one of the fastest-growing during the 2020 pandemic - +40-50% of global value. Businesswire predicts that the global online food market will reach $154 billion in value in 2023 with a CAGR of 11.5%.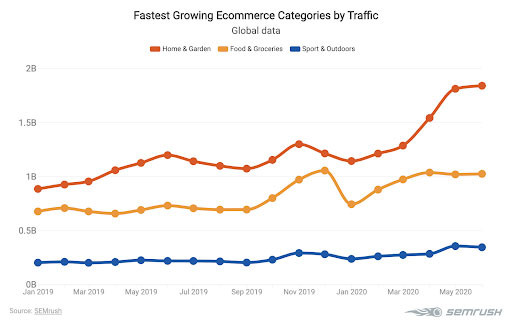 Image Source: SEMrush
The online food market revenue forecast over the next four years is pushing business owners to take action. There is an increase not only in total revenue but also in the Platform-to-Consumer Delivery segment by 30% compared to 2020.
Let's look at the Revenue forecast for the Online Food Delivery Market in Europe from 2017 to 2024.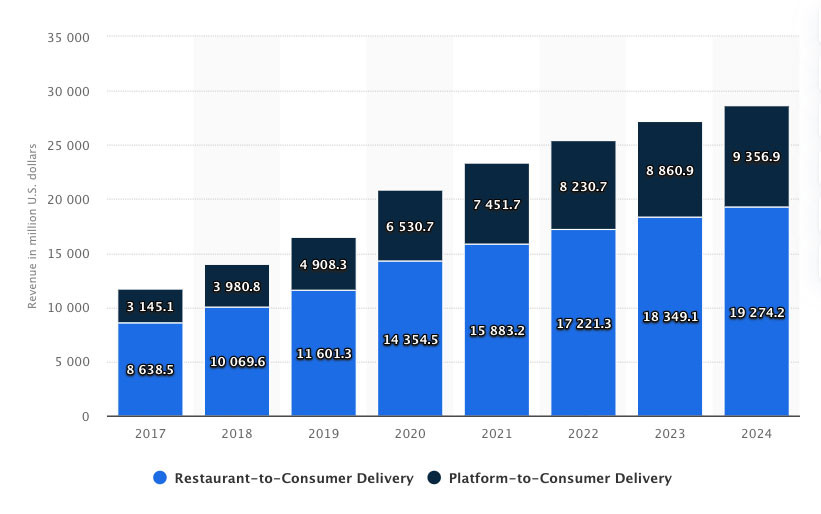 Image Source: Statista
Delivery satisfies some of the basic human needs. In a world of constant stress and deadlines, people are increasingly delegating. According to statistics from GlobalWebIndex, most people prefer the delivery app because of the fast and often free shipping. Then there are discounts, special offers, loyalty rewards, as well as a great variety of options and restaurants. You read more about the business benefits of food delivery apps in our guide.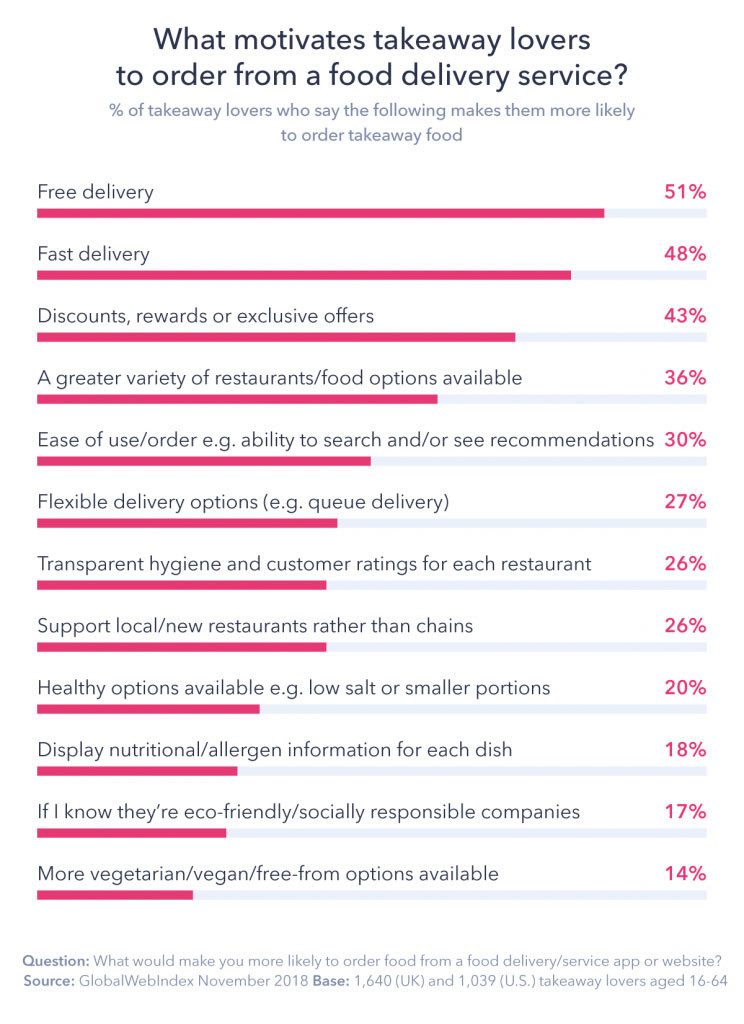 Image Source: GlobalWebIndex
The coronavirus pandemic is deterring people from visiting public places. More and more people are choosing food to go or delivery. Restaurant business owners are switching to digitalization. A food delivery app is the best way to stay afloat during a tough time.
There are two options: run your own delivery app or use a third-party service. Affiliate services get an average of 20% of the order value. Having worked with third-party delivery, restaurant managers often decide to optimize part of the cycle on their side and go for internal POS restaurant integration.
Let's talk about the difficulties that may arise when launching the application and what specifics you should take into account.
Establishing a food delivery business
Food delivery businesses face four main challenges: targeting and choosing a business model, communicating with partner restaurants, tech issues, and partnerships.
Target audience analysis and business model selection
Only after thorough market research and drawing up a portrait of the target audience, a proper business model for food delivery service should be selected. The most common option is "restaurant to consumer". It's suitable for large restaurant chains. Real cases include Domino's Pizza and KFC. Then, there's "platform to consumer", which is currently the market leader. UberEats, Deliveroo, and Grubhub all do business this way.
Let's look at a table with Top food delivery apps by downloads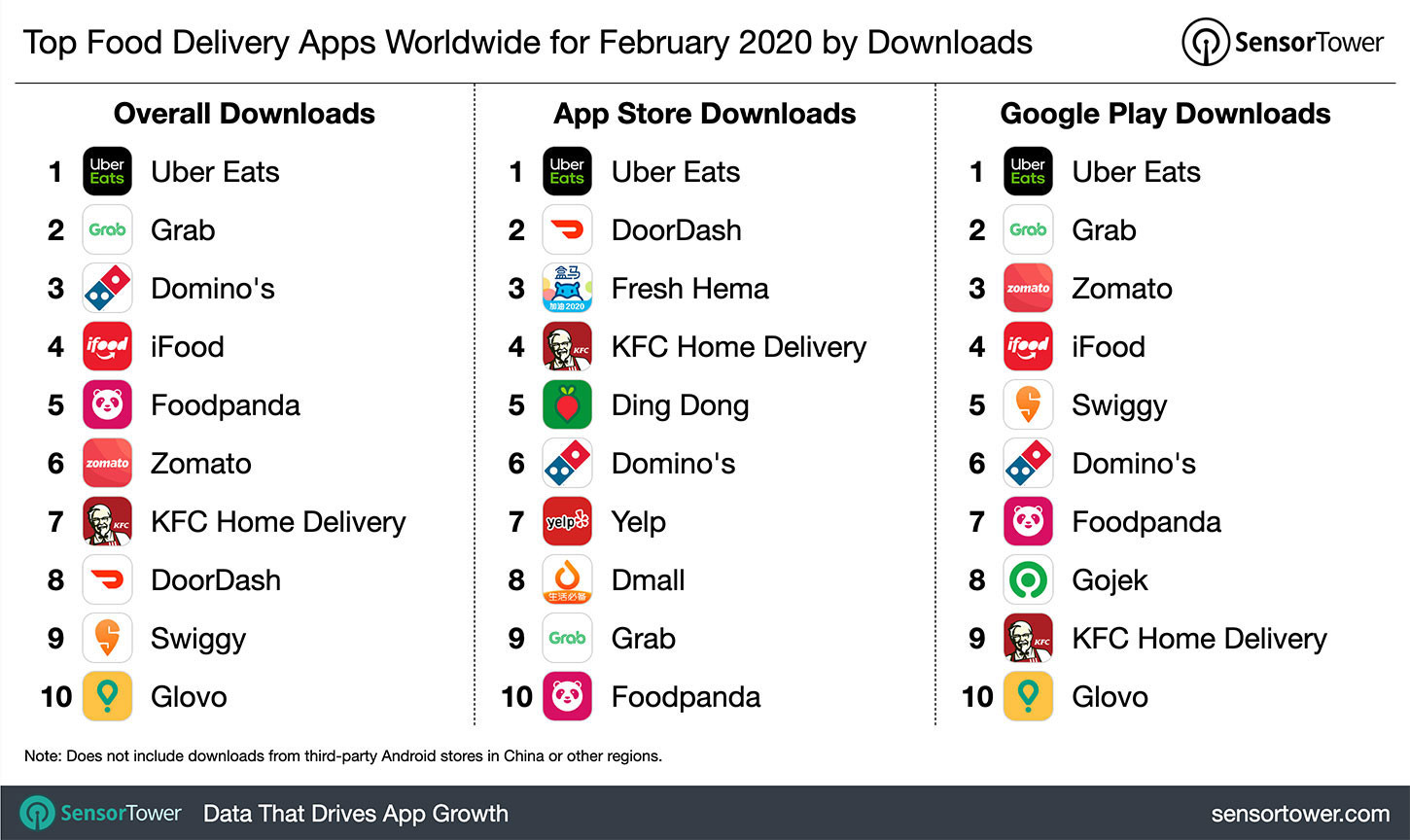 Image Source: SensorTower
Employing delivery workers
You can either hire in-house employees, which requires a more thorough approach to deal-making, or partner up with freelancers (just let eager people work based on a flexible schedule) like Uber does.
Also read:
How to Hire the Best Magento Developer
How to Hire the best Shopware Developer
Delivery app development
It is important to choose a reliable integrated delivery network app developer. Delivery services often provide separate apps for drivers, restaurants, and customers. Make sure to also implement versions for both iPhone and Android. Choose a technology stack that is ready for high loads. The restaurant version should include such core elements as the admin panel and functions for placing and managing orders.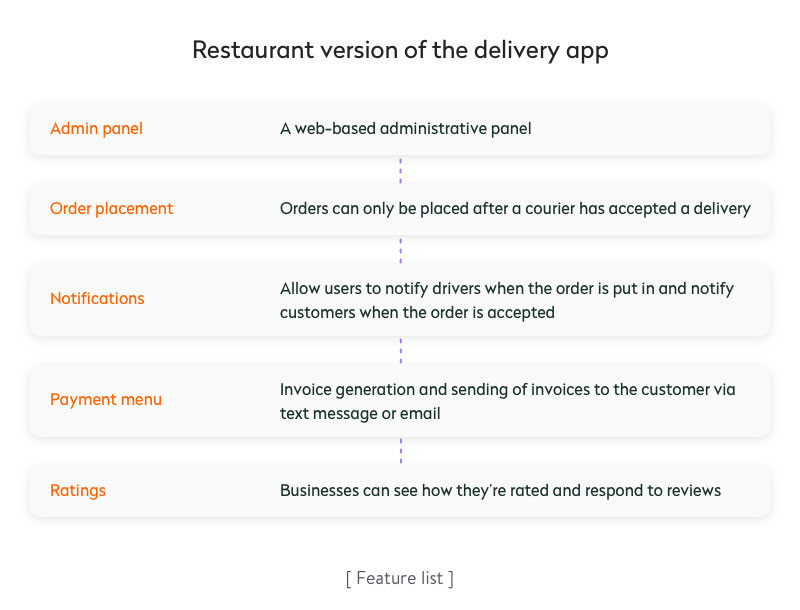 Image Source: Yalantis
Partnerships
A wide network of partners allows you to gain momentum and take a leading position in the market. For long-term cooperation with restaurants, you need a unique product offer. Risky gathering strategies for partner companies can damage reputation. Your best bet is to take up integrating apps with POS.
When a user places an order in the app, it is automatically displayed in the restaurant's POS system. IT companies are connecting restaurant POS systems and delivery platforms. Let's elaborate on the subject of the best POS systems for restaurants offering delivery.
Delivery Apps and POS Systems
Early food delivery startups didn't have the opportunity to integrate with restaurant point-of-sale systems. This means that data for all sales channels was not collected in one place. This slowed down the business process and became a bottleneck. Not to mention the number of human factor-caused mistakes.
The need to fix the inconvenience attracted third-party developers. They came up with solutions that bridge the operational gap. Several years later, tablets and other gadgets appeared in restaurants, which contributed to the automation of many processes.
Managers can now get analytics that can be used to improve the business overall. Although still in some establishments, employees manually enter data on online orders into the POS system.
In 2018, one of the leading delivery platforms, GrubHub, integrated with five POS systems. UberEats bought orderTalk to leverage its expertise in POS integration. Given the number of restaurant POS solutions, the integrated delivery network app implementation is quite challenging. Let's take a look at how some of the best POS systems for restaurants offering delivery were made.
Best POS Systems for restaurants and food delivery 2020
Food delivery point-of-sale systems help restaurants manage orders, track and process payments. Best restaurant integration POS systems offer internal tools for managing orders through the dedicated platform, online, and in the restaurant. Such solutions help manage delivery by couriers and perform online payments. Here's what truly savvy developers came up with when their clients decided to integrate a mobile app with POS in terms of their restaurant business.
Lightspeed
A cloud commercial system for restaurants and bars of all sizes. Includes customer and inventory tracking, order management, and more. Available offline worldwide. This integrated delivery network app allows establishments to create and edit menus, update data on warehouse stocks. Customers can also make orders at the restaurant via tablets at the table or other gadgets.
Square
The company has been operating in the market since 2009. It is an efficient platform with software, hardware, and payments to streamline operations. Provides a detailed report on sales, the ability to manage menus, tables. Sends orders directly to the kitchen. Additionally, you can manage order history, location, and customer catalogs.
Trivec
A European POS system for restaurants, cafes, and hotels. The software can fulfill the purposes of cash registers, terminals, inventory tracking, financial functions, etc. Provides weekly sales reports. My Trivec cloud service collects data in one place, allowing you to easily assess the global state of your business performance.
Best restaurant pos integration & delivery POS Integration
UberEats
POS integration in UberEats makes the job of operators much easier. Orders are sent to the POS-system. This eliminates the need to re-enter data, reduces errors, and help ultimately save time. Orders from UberEats go straight to the kitchen so food is prepared faster. There is also a menu control option.
Grab, Glovo, Bolt Food, Zomato, Deliveroo, DoorDash
In terms of these solutions, orders are sent via a third-party platform directly to the POS system and to the kitchen. Such commercial software integration greatly simplifies the food delivery process.
Starbucks
Starbucks is one of the best examples of an integrated delivery network app. Until 2014, the company worked with Square, a popular POS supplier. Then, Starbucks invested in Oracle, a genius in the POS-supplier industry. The company provides the data needed to make business decisions and scale.
For example, it sends offers to customers according to their purchasing preferences. That being said, Oracle is an easy-to-use system. An intuitive menu helps the barista quickly take orders, and the back office to manage commercial rotation and inventory.
Burger King
The company also partners with Oracle MICROS. The solution is flexible and can be efficiently adapted to particular business needs in the process of scaling. MICROS system is multilingual, supports multiple user IDs, and boasts a great level of security. It allows you to monitor the activities of each employee. Managers can track workflows from home and set up convenient notifications. There are also many customizations for specific goals and needs.
KFC
KFC selected Oracle MICROS RES as its partner. Since 2010, a highly intelligent system has helped improve the quality of service and speed up transactions in establishments.
Domino`s
Domino-Pulse is a POS system that features automatic courier routes, inventory ordering, detailed data reports, order tracking, and more.
Aromakava
An excellent case of POS integration from Ukraine - Aromakava and our Dinarys team. A dedicated IT company has been developing mobile, web applications, and eCommerce sites since 2014. Their partnership with a popular coffee place helped reduce the costs caused by plastic loyalty cards for regular customers. Aromakava and Dinarys transferred the loyalty program to the digital format, thereby increasing the average check. All in all, the solution also helped:
boost brand awareness;
retain more customers via the loyalty program;
inform more customers about special offers;
increase the overall number of regular customers and their dedication to the brand.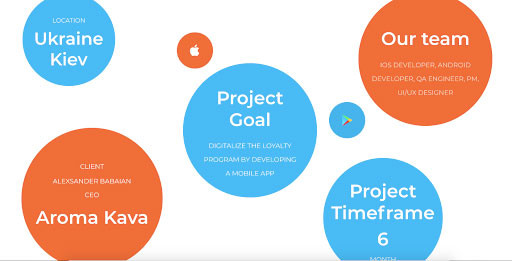 Image Source: Dinarys
Software integration helped Aroma Kava baristas and offline representatives get flexible management of promotions and special offers using POS terminals. Now that we realize the ultimate importance of a POS-system for the food delivery business. But how to integrate POS with an app - who can help with this?
How to Integrate POS with an App
To integrate with the POS system safely and without modifications, you should choose the right specialist. One of the best food delivery app developers in Ukraine is Dinarys.
The company creates unique applications, designs websites, optimizes the cloud structure, and offers eCommerce solutions. Will help with the integration of the POS-system for the restaurant business. It automates manual delivery processes, creates and tracks orders, and processes invoices.
Apart from Aroma Kava, the company has worked with Asian food restaurant Budu Sushi, a leading forklift dealer who required Magento 2 migration services, and other major projects.
In 2020, customers are demanding quality service and fast interaction. Delivery POS integration will satisfy the customer needs quickly and to the maximum. The system offers options for business solutions both at the start and in the process of scaling. The key to success is right in front of you - Dinarys will help you ultimately improve the business.
Contact us and we will offer the best solution for your specific company!
Want to read more
Get fresh articles, news and case studies to your email firstly
Related articles