How Much Does It Cost to Build a Mobile App for E-Commerce in 2021
Application Development Jan 13, 2020
Main / Blog / How Much Does It Cost to Build a Mobile App for E-Commerce in 2021
Modern e-commerce sphere goes beyond desktop experience. In 2018 mobile traffic to e-commerce stores increased to up to 64.5 %. At the same time, the latest statistics of U.S. mobile retail commerce sales showed that shoppers prefer e-commerce mobile app features to purchase at e-commerce websites.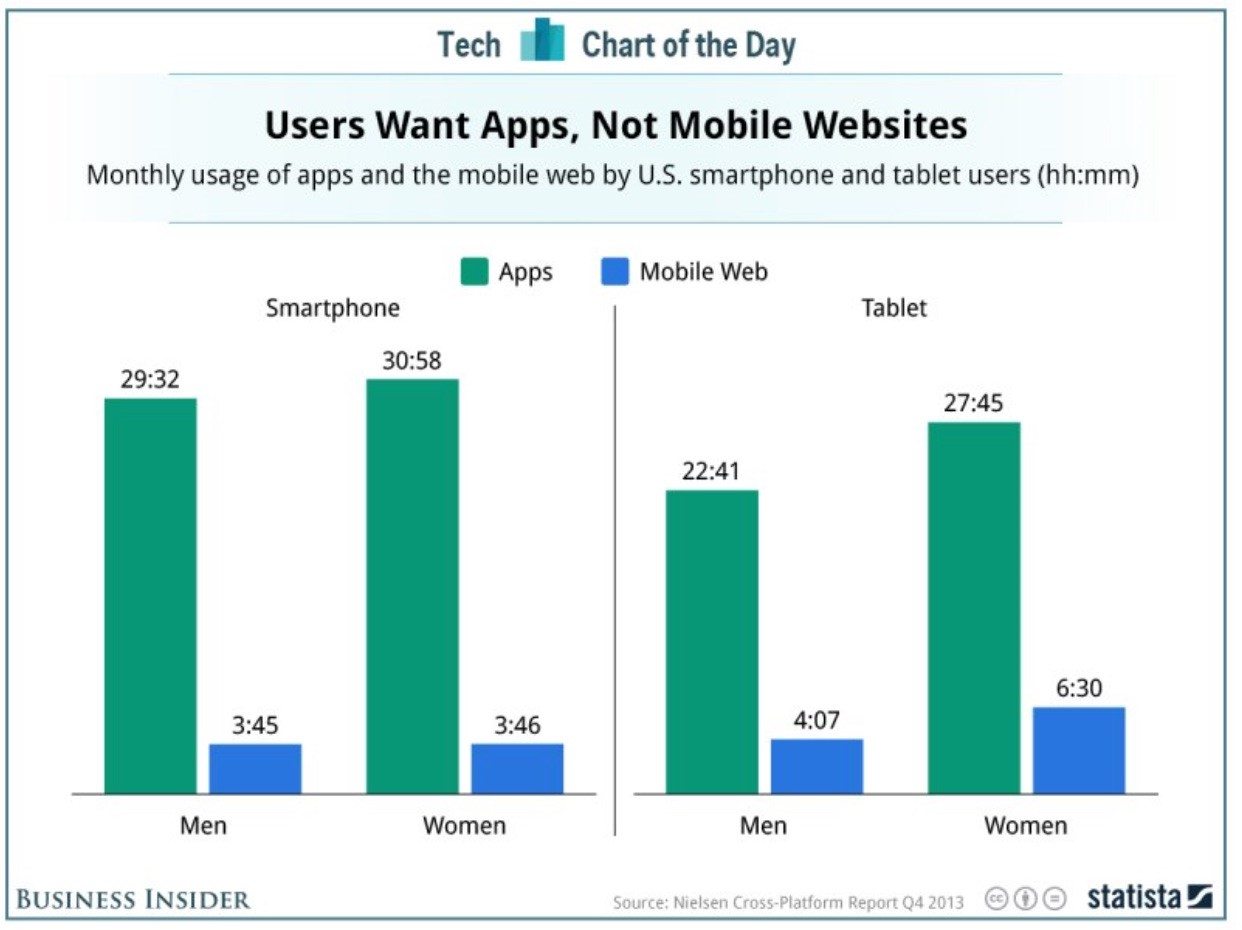 Image source: Business Insider
This image shows that mobile apps are more popular than mobile websites.
Moreover, according to the American Customer Satisfaction Index, users who shop over the mobile apps are more satisfied with their purchases than traditional retail customers are.
These stats tell us more about reasons why customer use e-commerce mobile apps.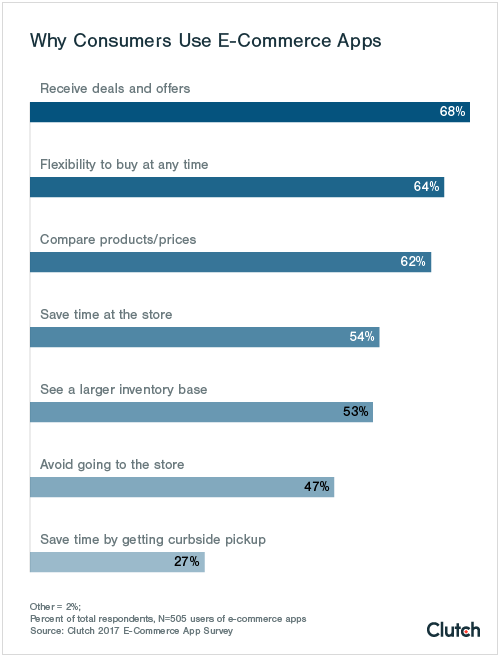 Image source: Clutch
Since more people browse online shops with their mobile devices, the mobile sector looks even more promising.
However, Internet Retailing report showed only one of ten retailers offers an e-commerce app for its clients.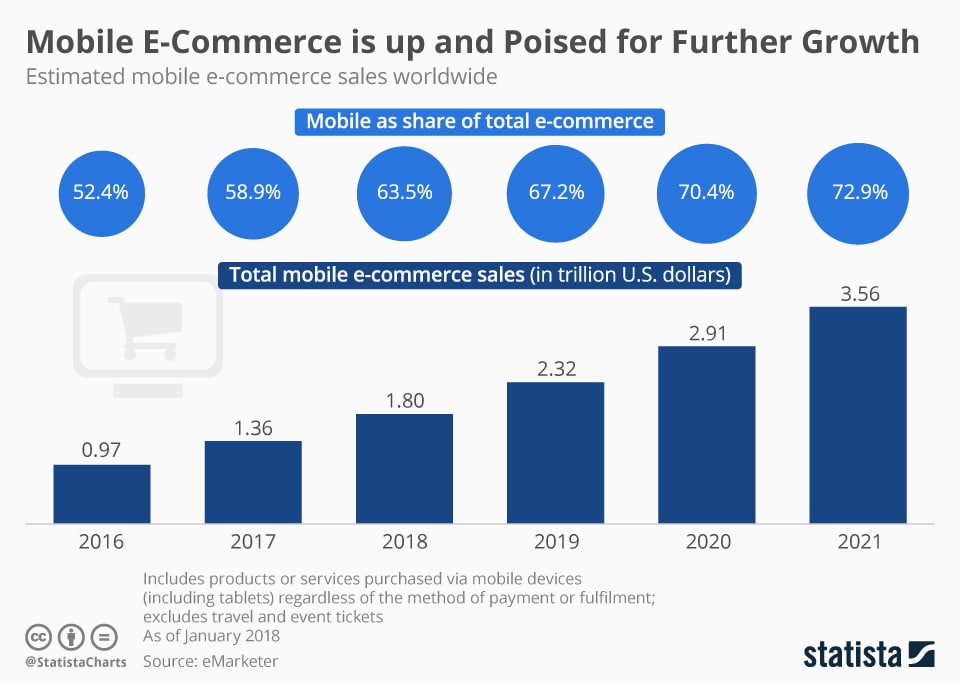 Image source: Statista
In this article, we will tell you about
Benefits of mobile apps for e-commerce business
Most popular shopping mobile apps
As well as e-commerce app development price
Continue reading to identify new growth points for your company.
Benefits of mobile apps for e-commerce business
The sphere of mobile commerce is growing year by year. Many online retailers consider mobile apps as an alternative channel to generate sales and build brand equity. However, there are even more benefits to your business.
For instance, according to Criteo research, shoppers who buy via the mobile app are twice as likely to return to your online store within thirty days, compared to customers who purchase via the mobile website.
Another advantage is that the mobile loyalty application is a great way to increase interaction with existing customers. Also, loyalty programs increase customer retention, which leads to higher revenue for your online store.
With the combination of simple navigation, usability, and satisfying UX, the e-commerce mobile apps show a higher conversion rate. According to Criteo research, mobile apps cause more shoppers to complete the desired action compared to mobile and desktop websites.
Also, shoppers who access online stores through e-commerce apps view 4.6 times more products, compared to customers who use mobile websites.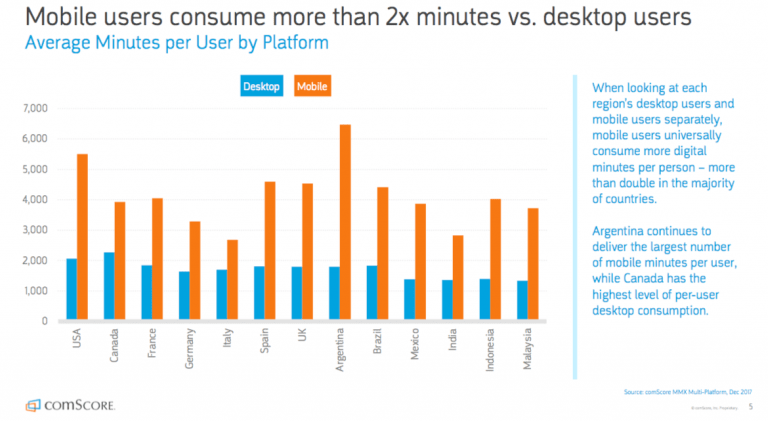 Image source: Comscore
Finally, e-commerce mobile apps have a higher order value. The average order value for apps is 140% and 130% better than on desktop and mobile websites.
Most popular e-commerce mobile apps in 2018
Now you understand the value that mobile apps give to online business. Let's dive into the most popular mobile applications for online retail. These favored mobile apps will help you to know how your future shopping app should look.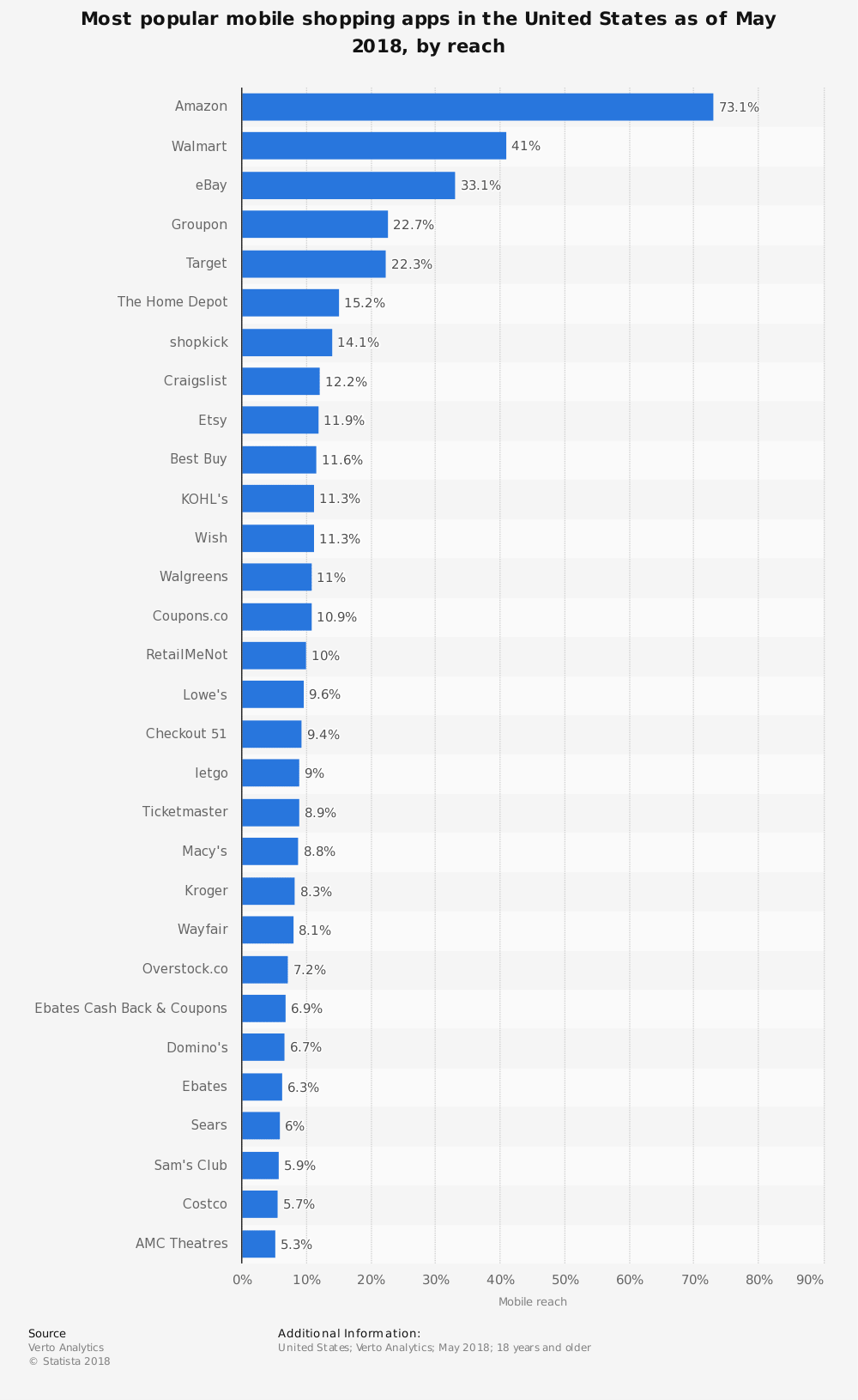 Image source: Statista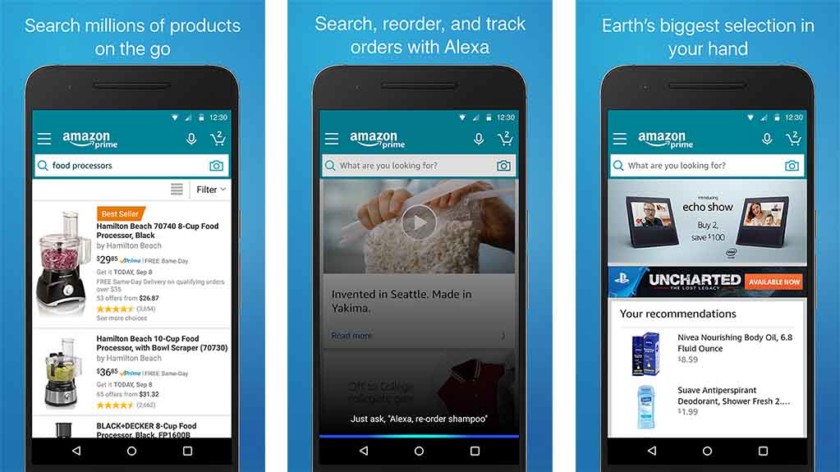 Image source: Amazon
Amazon app
Amazon is the leader in online retail. On their website, you can find almost any product of which you can imagine. App users can get detailed information about the product they want to buy and read reviews left by other people who already purchased this product.
Another great feature of the Amazon app is product comparison. The app allows users to compare prices and check product availability by scanning the barcode or snapping a photo of the product.
Amazon customers can finish the checkout using their Amazon account or with 1-Click ordering. This feature allows them to place orders automatically and skip the shopping cart.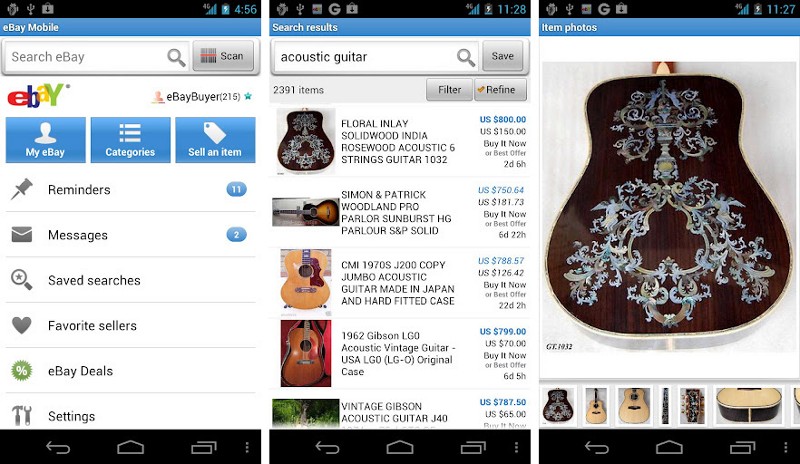 Image source: eBay
eBay app
eBay is another leader in the two-sided marketplace sphere. eBay mobile application gives users the opportunity to sell and buy new and used products. The app includes a bargain feature, which makes this app an auction to some extent. Like the Amazon app, eBay has a product search via a barcode. To make the app even more convenient, it provides users with notifications and alert features.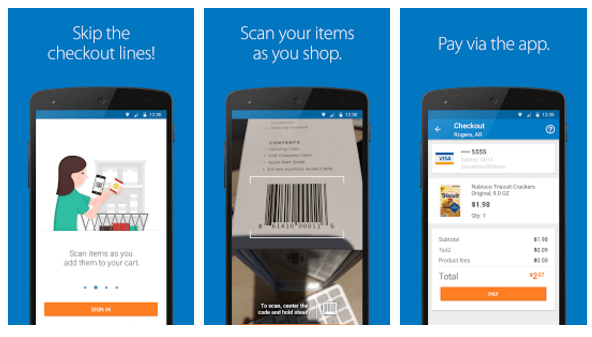 Image source: Walmart
Walmart app
Walmart, the king of offline retail, also gives shoppers a convenient online shopping experience. Walmart app includes the following features: a shopping list, product search via barcode scanner, order refills and top items by category. Walmart customers often make the shopping lists before visiting the store. The app checks the inventory before customers enter the store and calculate the total cost of a user's in-store shopping cart.
What determines the cost of e-commerce mobile app development?
If you are interested in developing a mobile app for your online store, you probably have some questions.
Below we share some cost-effective factors and other elements that can increase or decrease the cost of e-commerce mobile app development.
Feature list
The feature list for e-commerce mobile application is almost the same as for the e-commerce website.
The essential features for e-commerce app include:
User login
User profile
Product catalog
Checkout process
Product search
Payment gateway
If you want to develop a simple application, basic e-commerce mobile app features would be enough to provide your customers with a convenient shopping experience. The cost of building an e-commerce mobile app with basic e-commerce features starts from $8.000 for both iOS and Android.
At the same time, if you want to include advanced features, consider the following list:
Online Chat
Product review
Push modifications
Multiple Payment Options
Guest Checkout
Wishlist button
Social Media Integration
Product filters
Recommender system based on ML algorithms
Tinder-like swipe-to-right-to-like-left-to-pass
Instagram-like photo feeds
As well as others.
The e-commerce mobile app development cost with the following features might be significantly higher. Still, we recommend starting with basic e-commerce functionality. As your business grows, you can include more advanced features to your app.
UI/UX design
The design of a mobile app is critical. UI/UX influences conversions. You need to provide customers with a seamless shopping experience. This type of experience is only possible if you can create a great app design.
To design a great app, mobile app designers start with creating customer journey, wireframes, and prototypes.
The first thing to do is to describe how users will interact with your e-commerce mobile app; it's screens and functions.
At the stage of customer journey development, it is necessary to map out the user journeys in your future app.
This stage requires answering the following questions:
What app will users see when they open the app?
How many steps does it take to create a user profile?
How will users see the product catalog?
As well as, others.
At the next stage, it is necessary to create wireframes which show how your screens will look.
Wireframing includes the following steps:
Outlining the detailed layout of each screen of the app
Adding buttons, icons, and other visual elements
Creating several variants of each screen by playing around with navigation, buttons and other visual elements
While laying out the screens, keep in mind the primary objective of your app.
The prototype of your future e-commerce app will help you and app developers validate your idea.
It is highly advisable to give your customers time to test your e-commerce app. This way you will receive feedback and will be able to improve the UI/UX and other app elements.
The cost of developing the mobile app design may vary depending on the app complexity, the number of screens and features. Below you can find the table with e-commerce mobile app estimation in hours.
| | | | |
| --- | --- | --- | --- |
| | Simple app | Average app | Complex app |
| Wireframing | 14 | 56 | 140 |
| UI (user interface) design | 14 | 87 | 210 |
| UX (user experience or interaction) design | 7 | 28 | 200 |
Platform
iOS or Android? The answer to this question depends on your business type and target audience. Below we take a closer look on the differences between Android and iOS users.
This information will help you to choose the platform for your future app.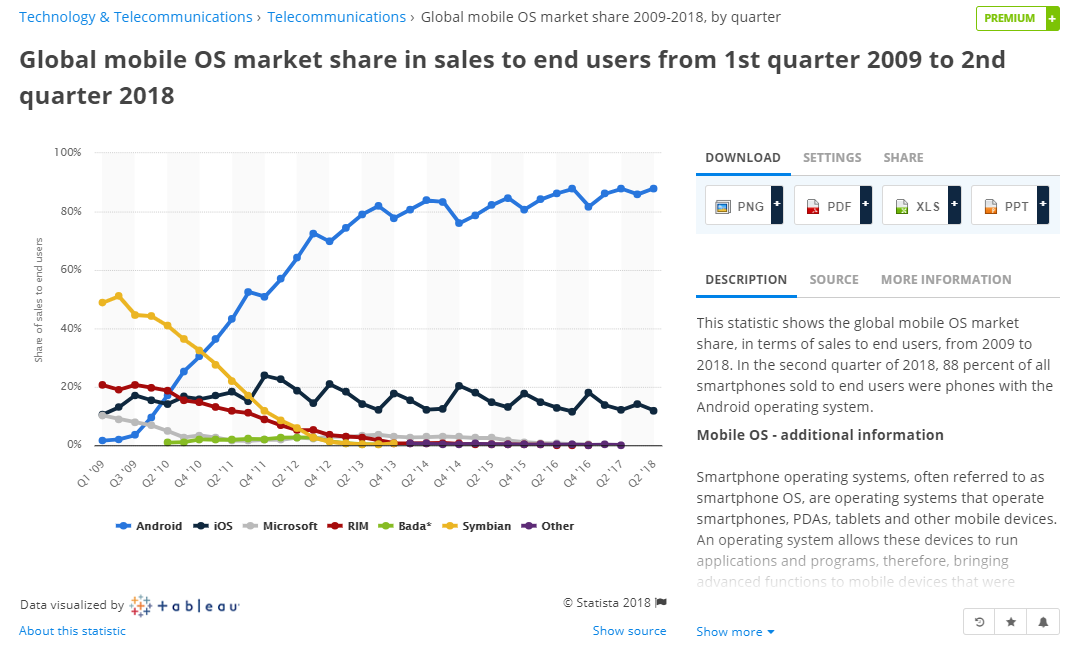 Image source: Statista
Developing an app on Android
At this stage, consider that Android has the most significant global platform share. According to Statista, 88% of all smartphones sold to end users were phones with the Android operating system. If you choose this platform for your app, you will reach a broader audience.
Still, users of this platform are from lower-income areas. Also, the cost of e-commerce Android app is higher. The higher price is due to it taking more time to develop an app for Android in comparison with the iOS app because of the considerable model diversity of Android phones.
Developing an app for iOS
iOS users typically have higher education levels, higher income, more engagement, and spend more per app. Moreover, they have a higher customer lifetime value. It means they will bring more profit to your business.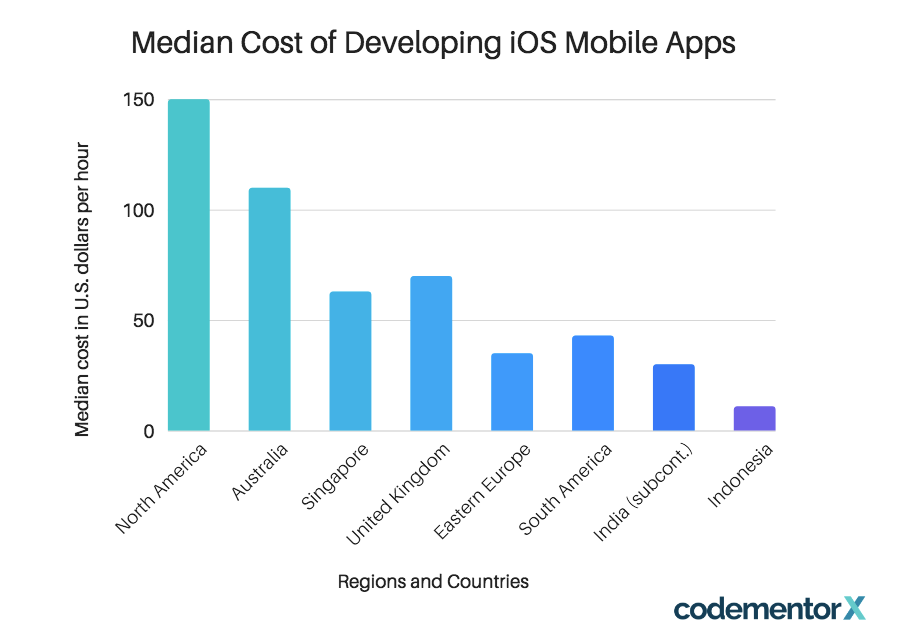 Image source: Codementor
The location of the developer
It is not a secret that the country, where the developer is located, determines their rate per hour. Another factor is the experience.
For instance, if you want to hire a mobile app developer from Canada or the US, expect to pay from $50 to $250 per hour.
Developers from Australia charge from $50 to $150 per hour.
The price of the UK-based developers, as well as developers from Western Europe, varies from $35 to $170.
The cost of one hour of developer work in Eastern Europe, in particular in Ukraine, is from $20 to $150.
Indian developers, known for their low rates, charge $10-$80 per hour.
Still, a single developer will never deliver a full-value mobile application. You will also need at least one designer and QA manager to ensure that your app is bug-free. We recommend hiring an e-commerce team to make the process of project development more transparent.
Maintenance
As we said before, Apple often updates its system; which is also true for Android. To make your app operate correctly after the system updates, you need to evaluate the cost of further app maintenance.
The estimated e-commerce app cost of maintenance is 20-30% of your initial budget. For instance, if the e-commerce app development cost is $100,000, the annual cost of its maintenance will be at least $20,000.
This cost is why you should carefully prepare your budget for the development of such a project.
How much does it cost to build an e-commerce app?
The price to develop a mobile application for the online retail sphere depends mainly on the app complicity, the developer experience, and location.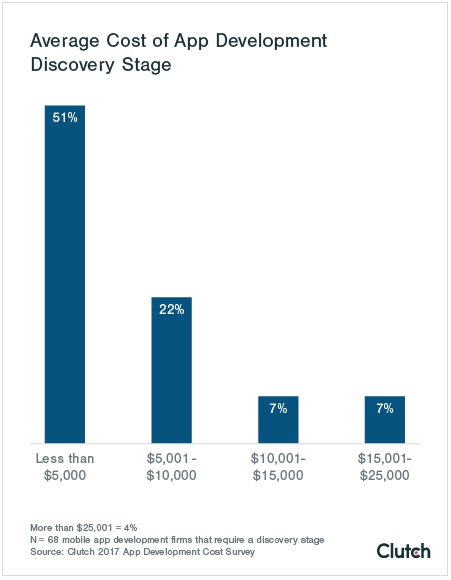 Image source: Clutch
Conclusion
We hope this article about e-commerce mobile apps cost motivated you to develop a mobile application for your online business. If you need additional consultation about the mobile platform that will suit your business the best, let's talk!
Fill in the form, and we will contact you ASAP.
Want to read more
Get fresh articles, news and case studies to your email firstly
Related articles