How Much Does an eCommerce Website Cost in 2020
eCommerce Mar 27, 2020
Main / Blog / How Much Does an eCommerce Website Cost in 2020
Today, anything can be sold via the Internet, from online courses to homemade jewelry, and even groceries and household goods. However, what does it cost to build an ecommerce website? How can a budding entrepreneur get started?

Statista shows that in 2016, there were 1.3 billion online shoppers globally, and the trend is only growing. This continual growth is what makes ecommerce such a great opportunity for entrepreneurs.

How much does an Ecommerce website cost?
The exact costs for a custom ecommerce website depend on the business and its needs. Some of the most common factors include:
Customer base – The expected traffic and number of customers will determine the platform and programs to be used. A small online shop with limited traffic will be cheaper than one with many visitors. With more traffic comes the need for more robust hosting, as well as more frequent maintenance, and often the need for more advanced features. All of this requires more hours and skill from the web developers, although this can be easily mitigated by contracting an offshore development team.

Supporting applications – ERP, or the Enterprise Resource Planning solution, refers to the ecommerce platform software that manages inventory, shipping, invoicing, and other backend functions. Large ecommerce enterprises may use several ERP packages, each of which may cost upwards of $100,000 per year in licensing fees. On top of this base cost, integrating all of this software can require hundreds of man-hours of programming and development. To save on these costs, startups may choose "off-the-shelf" ERP solutions that require little to no custom work, at the expense of customized functionality.

Marketing – Of course, all this software is useless without customers to use it. Any analysis of the cost of an online shop should include a marketing budget. There are many ways to attract traffic to a website, including social media, video marketing, mobile marketing, and even traditional methods such as mass mailing. Most small companies and startups spend about $2,000 per month on marketing.

Ecommerce website features and functionality - If your business model requires any custom features, then the development cost of these must be factored into the budget.

To give you an idea of some of those custom features, check out our previous article, The Top 9 Best E-Commerce Features.

Large companies can afford the budget for the coolest, most interactive features to promote their products and stand out from competitors. At Dinarys, we often build features like outfit previews and meal constructors, as well as customer loyalty programs. A smaller company can take advantage of these features through off-the-shelf plug-ins.

Content – As marketing mavens say, content is king. For an online store, content should include product images, descriptions, and prices. It may also entice customers with buying guides, blogs, contests, and more. Be sure to factor in content creation when estimating the time to create your website. A store with 1,000 products could require many hours to fill in product images and descriptions. As with most ecommerce tasks, an offshore development team can help with this at a cost savings.

If you're still not sure exactly how to create an ecommerce website, the first step is almost always deciding which platform to use. The Dinarys team is here to help! In previous articles, we published overviews of the Best Free Ecommerce Platforms and Paid Ecommerce Platforms. Read both guides to start down the path towards your own online shop.

What is the Cost to Develop an Ecommerce Website?
The exact cost to develop a custom ecommerce website depends on factors specific to each business, and it's impossible to give a general estimate of ecommerce website price. What we can do in this section is consider the important factors that directly affect custom online shop development cost. So, how much does an ecommerce website cost?

As always, the Dinarys team is available to help with more specific planning, providing information about online store development cost. To start, read our two-part article How to Build an Ecommerce Website, in which we describe this process and describe ecommerce website design cost.

Ecommerce Web Design
Web design is one of the most significant factors in ecommerce development budgeting. Most SaaS platforms include templates and themes to apply to an ecommerce project, which are usually customized to some degree to fit the individual site.
These tools save time and money, but still carry costs. Most basic themes cost up to $300, but installation and customization can cost up to $2,000. A very elaborate, customized site that really stands out from the crowd may cost up to $100,000.

Ecommerce User Experience (UX) Design
The user experience is arguably the most important part of an online shop, and the cost of development should always be factored into the overall budget. Ecommerce UX design is focused on the desires and needs of your visitors, and is a key component in converting them to buyers and paying customers.
You might also like: How to Build a Successful Retail Website for Your Business
An intuitive ecommerce interface means visitors are more likely to make a purchase. By helping the visitor quickly and easily find their desired product, avoiding frustrating errors and delays, you will see an immediate increase in sales.
The Dinarys team has extensive experience in online shop UX design. If you'd like to see some examples of our work, read our previous article 5 Tips for Magnificent eCommerce Website Design. It's a great source of ideas, inspiration, and tips.
Good UX design typically costs up to $2,000. Measuring the effectiveness of the UX design is a continuing process, well past development and initial launch.

Product Images and Graphic Design
The visual elements of an ecommerce site typically cost from $500 to $2,000. Stock photography can be quite expensive, as can be custom photography and graphic design work.
However, it is one of the most important elements of online shop development. A visually engaging website is far more likely to attract visitors and retain them long enough to turn into customers than one that is too plain.
You might also like: 7 Key Advantages of CRM for E-Commerce
High-quality product images are also essential for a successful online shop. Do not cut corners on this element. Your distributor may already have professional product images available. If not, an offshore designer is often the best option to optimize product images.
A striking, memorable logo falls into the same category. If your business does not already have a recognizable logo, we recommend hiring an offshore design team. Typically, they will deliver results in one week to one month.

Ecommerce Web Hosting
Web hosting cost is one of the more predictable variables in ecommerce development budgeting. Most SaaS platforms offer some level of hosting, although it can be limited in the amount of storage, traffic, and even the number of orders, customers, and products.
Still, SaaS hosting can be a good option for small companies and startups. As the business grows, most owners move onto dedicated hosting. Before this point, they typically spend between $20 and $250 per month.
Hosting for larger online shops costs upwards of $300 per month. To add tight security, a top concern in today's age of cybercrime, hosting could cost up to $2,000 per month.

Training and Ongoing Support
Finally, don't forget the ongoing costs of running an ecommerce store. Whether you are a solopreneur or manager of a large team, you are sure to need training and support for your site. Expect to pay from $500 to $1,200 for the initial training, depending on the sophistication of your Ecommerce platform and the number of employees to be trained.

How to Calculate Custom Ecommerce Website Development Cost
Those are the most important financial costs in creating an online shop. However, a good cost analysis should also include the allocation of developers' time. Here's a typical breakdown.
10% Planning and pre-development tasks
55% E-commerce system Configuration and Database development
25% Design
10% Project Management
How Much Does an eCommerce Website Cost in 2019?

| | |
| --- | --- |
| DOMAIN NAME | Cost: $5 to $15 per year |
| WEBSITE HOSTING | Cost: $75 to $200 a year (depending on traffic and hosting features) |
| CONTENT MANAGEMENT SYSTEM (CMS) | Cost: $0 to $15,000+ per year (depending on the platform chosen) |
| ECOMMERCE FUNCTIONALITY | Cost: $500 to $5,000 (initial investment) |
| WEBSITE DESIGN OR THEME CREATION | Cost: $250 to $20,000+ (initial investment) |
| COPYWRITING | Cost: $50 to $500 per page or article |
| SEO | Cost: $300 to $1,500 per month |
| MULTIMEDIA DESIGN | Cost: $250 to $10,000+ (depending on level of interactivity required) |
| DATABASE INTEGRATION | Cost: $5,000 to $25,000 per integration |
| ONGOING WEBSITE MAINTENANCE | Cost: $500 to $1250 a year (depending on number of updates required) |

How Startups Can Reduce the Cost of Development
If you are on a tight budget, don't worry. That's a very normal situation for any startup, and we have solutions. First, an offshore development team can greatly reduce the cost of development, without affecting quality. Outsourcing is one of the great tools of modern software development, and every company should take advantage.
There are also many low-cost choices in ecommerce platforms. Hosted solutions like Shopify or WordPress can let a new company get started without a large outlay of funds.
A hosted solution means that the backend code for the online shop is owned and maintained by the platform provider. It's similar to renting a space for a brick-and-mortar store. You can use the space as you like, running your business from it, but major renovations and improvements are out of the question.
Hosted solutions are a great way for any online store to get started, and Dinarys can help you configure and customize whichever one you choose.

Pitfalls, Hidden Costs, and How to Spot Them
Most businesses today see the benefit in owning an ecommerce website. Development and coding is easy with the help of an outsource team, as long as you know your priorities between time, cost, and customization. If you need a website built from scratch, and you need it fast, the cost will be higher, and so on.
Here are a few additional questions to ask yourself before hiring an outsourced development team.
Does your business have in-house resources that could deliver a quality online shop in less time and at less cost?

Does your in-house team have the specific knowledge and expertise needed for modern ecommerce development?

Who will take ownership of ongoing maintenance and support?
These questions will bring you to the cost to develop and maintain an e-commerce website, and help you decide whether to develop in-house or outsource.
After this initial decision, you should create a list of essential tasks and features for your online store.
Domain registration
Reliable and scalable hosting
SSL Certificate
Payment gateway
Planning
UX
Visual design
Development and documentation
Testing
Copywriting
Images
These are only the most essential, base-level considerations in creating a functional e-commerce site. It can be a complicated business!

14 Critical Questions to Ask Before Starting Custom Ecommerce Website Development
In the initial planning stages, you should also ask yourself and your team these questions.
Do you need to develop a new website from scratch, or can you redesign your existing site?
How many pages will your new website need?
How many products do you sell?
How many variations, such as color and size, do each of your products have?
Do these variations affect the price?
Do you have content ready to publish for your website, or do you need to create it?
What about product images and web design?
Do you already have a web hosting package suitable for ecommerce? If not, should your outsourced development team set up the hosting?
Do you have a suitable domain name for your site, or do you need to identify and register one?
How will you accept payments? A turnkey solution like PayPal, or a custom payment gateway?
Do you have your products with prices and descriptions organized in a spreadsheet?
Do you want your site to have a blog?
Do you want the site to be responsive, for visitors using mobile devices?
Do you need any custom features on your site, such as a mailing list?

The True Cost of an Ecommerce Site
In most cases, developing an eCommerce website costs between $2,500 and $5,000 in total. As in most business, skimping on the initial investment will mean lower returns later on.
Compared to the costs of a brick-and-mortar store, eCommerce is a steal. After factoring in rent, inventory, interior design, marketing, personnel, and equipment, a B&M store often costs between $100,000 - $200,000 to open. But would you ever dream of opening that store by cutting corners everywhere, with disorganized shelves, a painfully slow checkout line, and the likelihood that the whole place might burn down at any moment?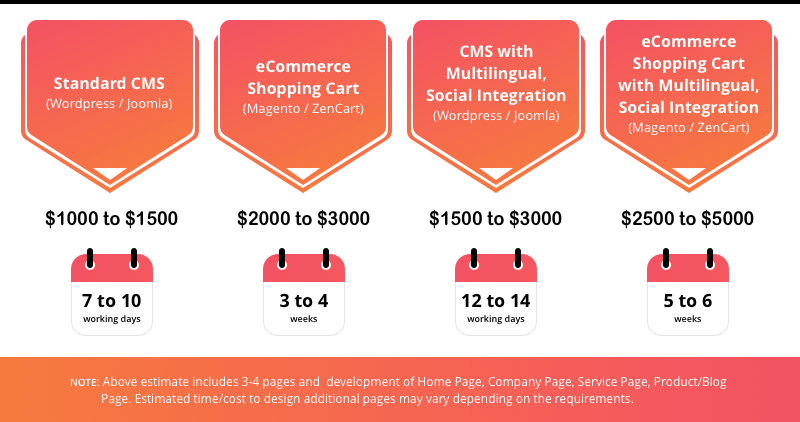 Taking the time and resources to set up an online store right, from the start, is a far less costly and less risky proposition. Most successful stores will pay off their initial investment in the first year or less.

How to Select an Outsourced Ecommerce Development Team
Of course, we're biased towards ourselves, Dinarys. No matter where you turn for your development needs, though, you should follow these steps first.
Create a list of features your online store needs. Order it according to importance.

Be prepared to describe your business, brand, and target market.

Make a list of your ecommerce business goals.

Look at your competitors. Create a document listing what they are doing right, what they are doing wrong, and what you can do better.

Set your budget. Be sure to include web development, web design, and post-launch maintenance and support.

Identify ecommerce agencies and outsourced teams as candidates for your business.

Before engaging with an agency or team, check their portfolio and references carefully.

Finally, contact your "finalists", providing them with the documentation you've created, and ask for an estimate.

Free Ecommerce Website Consultation
We hope you have found this article about custom e-commerce website cost useful.
If you have additional questions, please don't hesitate to contact us at Dinarys and discuss how much it can cost to build e-commerce website. Leave a message and your contact information, and we will be in touch quickly.
Want to read more
Get fresh articles, news and case studies to your email firstly
Related articles