Customer Loyalty Programs for Small Business: How to Build Customer Loyalty
eCommerce Oct 19, 2020

Main / Blog / Customer Loyalty Programs for Small Business: How to Build Customer Loyalty
The modern buyer is offered a huge number of products and services for all tastes and budgets, which allows them to be extremely picky when choosing a seller. Nowadays the customer is concerned not only about the price-quality ratio (otherwise they would be satisfied with the market giants), but also the uniqueness of the product and the attitude towards the client. The question is, how to build customer loyalty and why does your business need it?
According to Fred Reichheld, the author of "Loyalty Rules! How Today's Leaders Build Lasting Relationships", a 5% increase in customer retention causes more than a 25% increase in profit (because people are likely to purchase more from a company over time).
What Is Customer Loyalty?
In the Journal of Retail, e-loyalty is defined as a customer's favorable attitude toward the e-retailer that results in repeat buying behavior, which is similar to the offline market behavior.
Factors That Influence Customer Loyalty
If you want to implement a good program and get the advantages of growing customer loyalty, you need to know the drivers of customer loyalty, which will show you the direction to move in.
A Feeling of Trust
According to Loyaltylion's research, 76% of respondents admitted that their loyalty depends on the level of trust. If people can, without a shade of hesitation, recommend the service to their friends and be sure of the quality of the product provided, it will obviously help in winning customer loyalty.
Exclusivity
The presence of special rewards and benefits, such as a loyalty bonus system, attracts 74% of customers.
Personalized Interactions
Epsilon, a global leader in connecting people and brands, reported that 80% of people are more likely to make a purchase if the brand offers them individual experiences. For instance, while working on increasing customer loyalty in restaurants, you can create special offers or gift coupons based on a person's previous orders.
Different Types of Customer Loyalty Programs
Help your customers feel special by giving them a VIP status to aim for.
1. Point Program
The idea is simple: "The more you spend – the more points you will get". Points should be exchangeable (f.e., for discounts or free items). This program type works best on platforms where people frequently buy something for a low price (which is why it is the most popular within online stores).
2. Tier Program
The point is to divide the levels of loyalty. The more activity the buyer shows, the higher level they rise to (hence, the more privileges they receive). This system is usually used for rare large purchases, most often in the travel industry.
3. Spend Program
Customers receive credits for how much they have spent. The credits can then be exchanged for a discount or a gift. Although the program looks very simple, it helps to increase an average order value.
4. Paid Program
Customers buy VIP subscriptions to get access to special offers and discounts available only to paid members.
5. Value-Based Program
This has a deeper psychological ground: a brand builds emotional connection with customers(for example, by advertising that every $1 of $10 spent will be donated to charity). People want to be involved in charitable causes, so it will definitely form a positive opinion about the image of your company.
6. Partner Program
Two businesses have an agreement to provide each other's loyalty program members with extra perks.
7. Game Program
The trend for gamification makes the bonus earning process fun and competitive.
8. Hybrid Program
Finally, this means that two or more programs from the above list are combined.
Advantages and Disadvantages of Customer Loyalty Programs
The benefits of customer loyalty programs speak for themselves.
Sales Growth
Nielsen, a global data analytics company, conducted a large-scale survey that showed that 84% of respondents were more likely to make further purchases from companies with a good loyalty program. Business owners actively use this strategy, as they get more regular customers who are ready to make big purchases. Customers are also satisfied because they see that the brand values and encourages their trust. Dinarys can offer you assistance in increasing, for example, customer loyalty in restaurants – take a look at our portfolio to find out more about our Magento-based ecommerce projects.
Profitability
Entrepreneurs know how expensive it is to promote products and services to people unfamiliar with the company. Think about it – the cost of attracting a new buyer is five times the cost of returning an existing one. In addition, a customer's loyalty greatly increases the chance that they will try your new product (while spending 31% more money).
Free Advertising
Loyal customers know that they can trust you, and therefore people from their circle of communication will hear them mentioning your products or services, not analogues from your competitors. It is like a free PR team who is genuinely rooting for your brand.
Everything, however, has its downsides, and mobile customer loyalty programs are no exception:
Financial Losses
It is clear that giving someone a gift means getting less money. A 5% discount seems tiny and not able to change much, but in fact even this can strongly influence the profit. To avoid this problem, you should create a well-balanced and cost-effective program.
No Uniqueness
The market is overcrowded. This leads to the fact that all variations of customer loyalty programs already exist. And even if you have a completely new idea, it will be nearly impossible to protect it from plagiarism.
Best Customer Loyalty Programs
Let's take a look at some companies that implemented customer loyalty programs with the most successful results.
Starbucks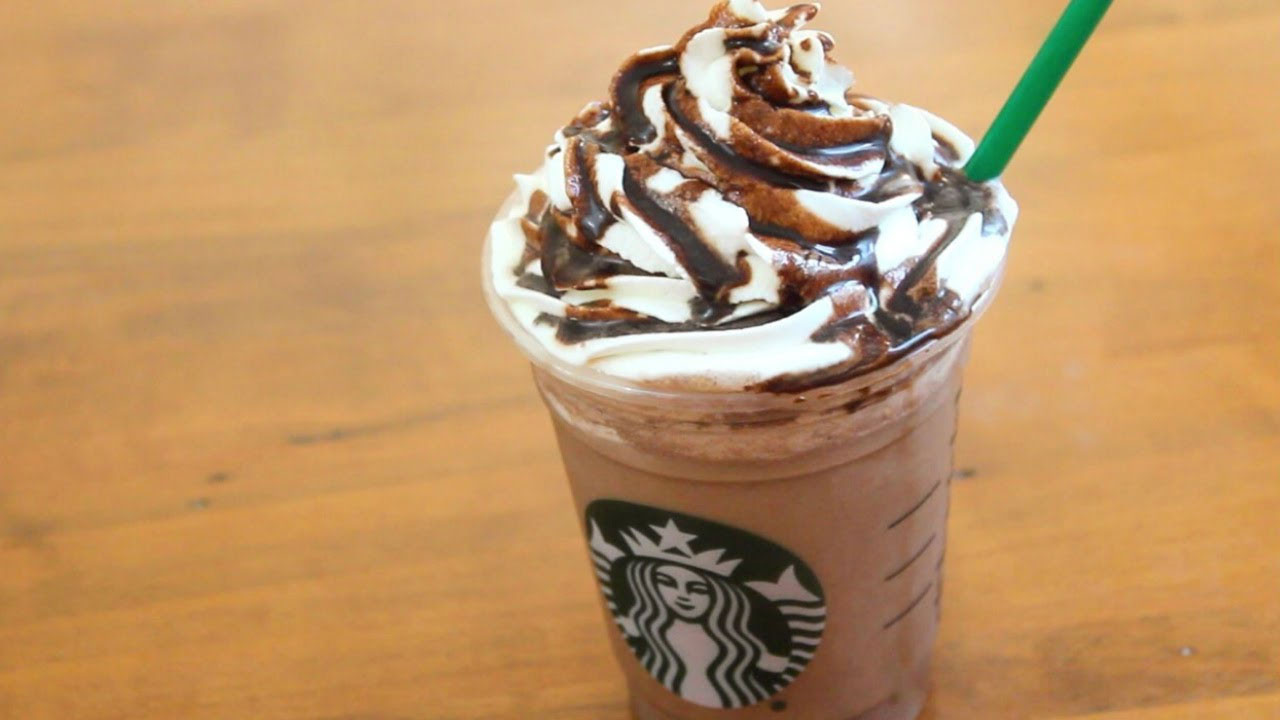 Source: www.youtube.com
It is a well-known fact that the Starbucks mobile app is the most popular restaurant app. The reason is quite simple: no one has ever made a better loyalty program. The app gives customers the ability to:
earn and exchange points;
get refills;
enjoy personalized offers;
pay with the mobile wallet.
The application is designed in such a way that everything is intuitively understandable, and it is not overfilled with details like many other customer loyalty mobile services. It also keeps people in touch with the latest Starbucks news and discounts.
Dunkin' Donuts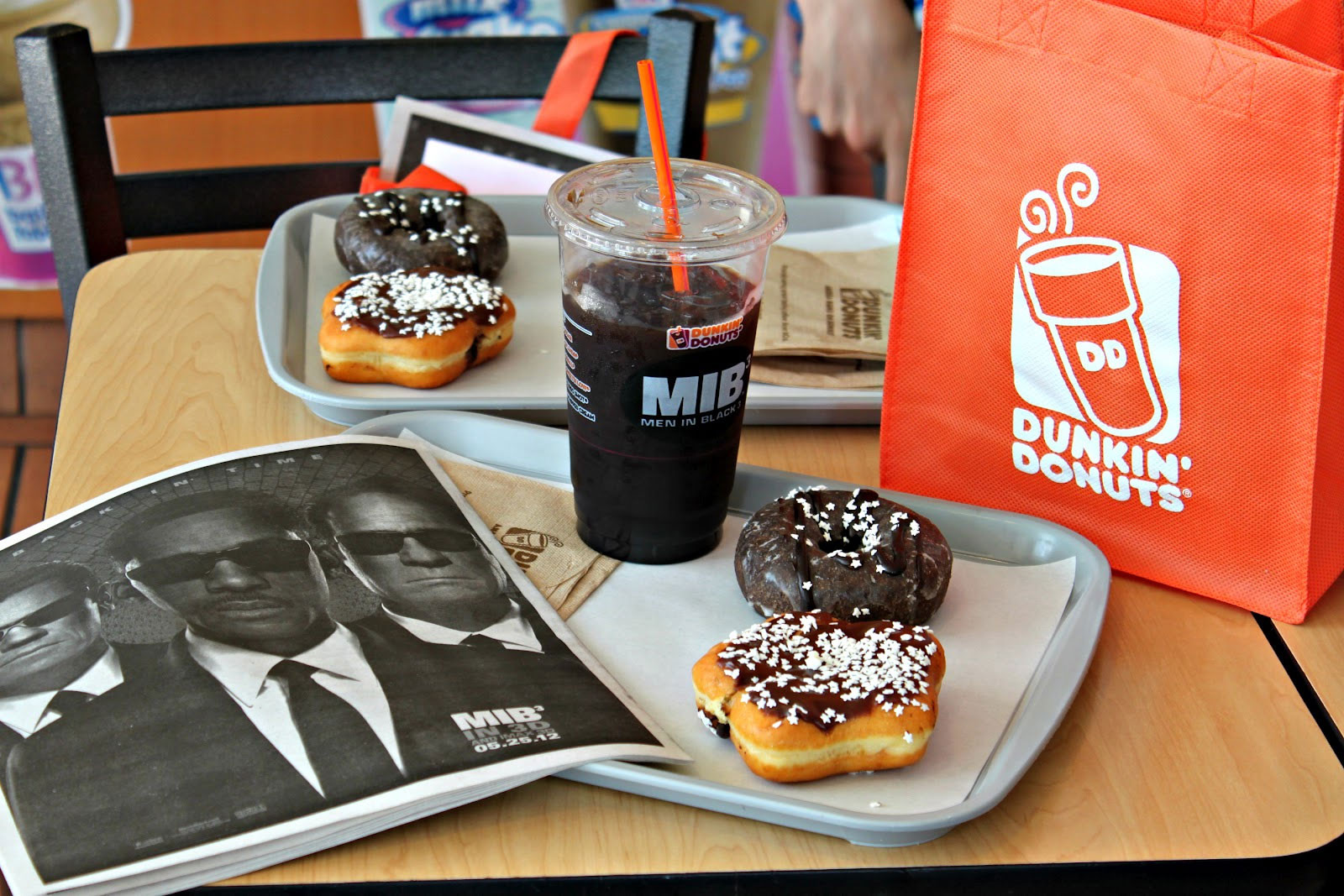 Image Source: buon-food.blogspot.com
The Dunkin' Donuts Perks Rewards Program was initially created to give customers points for visiting. Now DD's customer loyalty mobile app program has more than 6 million members. This program was the reason for an increase of 30% in customer's lifetime value, frequency and amount of money spent per visit.
All the members can use "On-the-Go Ordering": they can order something up to 24 hours in advance, pay using a mobile wallet and simply pick the order up later.
This customer loyalty programs case study shows us that the best programs have features that cannot be easily replicated or performed better than the original.
Building a Customer Loyalty Application
Having your own application is a necessary step in building customer loyalty for your brand. Let's look deeper into the reasons and features you need for it to work.
Why Use Special Software?
Customer loyalty software is a tool for tracking and gradually increasing the customer's value after making a purchase. It includes categories such as customer engagement, marketing, loyalty programs and gamification.
Flexibility
You will be able to think through the app design and create unique features for your business such as a reward system with different conditions for earning and possibilities of using bonuses. Notifications will also be useful – people will automatically get messages about events and promotions, receive birthday greetings and VIP invitations.
Automatic Tracking
The software continuously collects and structures customer behavior data, so no changes will go unnoticed. Therefore, you will be provided with all information you need to provide a really perfect service and raise your customer loyalty score.
Promotion on Social Media
People should be able to register using social networks or share posts with tagging your company for additional bonuses, which will increase the audience reach.
Which Tools to Consider?
Based on our experience, here is a list of the most important tools for customer loyalty programs.
Tapmango
After a 30-minute setup you will be able to fully customize the program. Tapmango easily integrates and works with other POS systems. A feature that is especially important for creating customer loyalty programs for coffee shops and fast food restaurants is that the app supports franchises. You can customize almost every element so that your brand is well represented. Another pleasant feature is automatic rewards not only on birthdays or special events, but also as a reminder when a customer has been absent for a long time.
Loopy Loyalty
This is a great option for small businesses – simple yet effective. The setup is all about making a digital punchcard model (a purchase is a punch, after a certain amount of punches a customer gets a reward), so it will not take long. The card is integrated with online payment platforms and stored in the mobile wallet.
FiveStars
A powerful tool for any kind of business, this one is especially useful for customer loyalty programs for cafes. It allows to create new flexible reward programs than punch cards and therefore engage even more customers. It also monitors each buyer's activity and forms reports. The most interesting part here is the marketing – the software automatically sends out rewards, reminders, and one-time promotions to keep people engaged.
How to Create a Customer Loyalty App?
In 2020, having a decent application is necessary even for small businesses, so it is important to understand which basic functions must be implemented. In our opinion, a good app needs to include:
User Profiles
All user's activity is tied to their profile, so it is important to have personal data saved and protected even if the app is deleted. Also, here you will be able to see the customer's preferences and form personalized offers based on them.
Loyalty Block
It is a part of the customer loyalty mobile application where one can see available coupons and discounts with full information, including expiration date. It should be possible for a cashier to scan a QR-code so that the customer could use their gift.
Push Notifications
Keep people engaged and make sure they never forget about you. A notification with interesting offers or contest invitations will inspire customers to use your app more. There is also the old but gold template of "just X more points to get a reward".
In-App Map
Such maps allow you to avoid wasting your time while creating a way using a separate application. Moreover, it is one of the customer loyalty programs features that will attract active people who are ready to do some walking to pick up their order – and it is good for your establishment's image.
Analytical Tools
Data should be collected and analyzed carefully – from the gender and age of buyers to the average time of one's peak activity. It will help you find imperfections in the application, as well as give you an understanding of where to move further and how to meet the needs of the target audience.
The list is not big, but it can cause a huge impact on your small business and help you quickly promote it.
Our Customer Loyalty Programs Examples
The Dinarys team has developed a dozen of customer loyalty apps and websites. Today we'd like to share a couple of our projects to give you real-world examples.
Aroma Kava
Our team did some work on replacing the plastic card loyalty program with an iOS and Android mobile app. Below you will see a short bullet point review of this 6-month-long process.
Our goals:
improving brand recognition;
introducing a reward system;
increasing the loyalty ratio and order value.
What we implemented:
informative main screen (visible bonus balance);
map (the nearest Aroma Kava coffee shop);
menu (availability and cost of particular drinks or desserts);
history of purchases (the previous orders' cost and number of bonuses);
push-notifications (how close people are to the next gift or loyalty level);
personalization (extra birthday bonuses).
How we did it:
addition of custom features;
integration with the CRM, WMS and custom loyalty service;
integration with POS-terminals;
integration with a service for notifications.
Technical details:
iOS HTTP networking – Alamofire;
iOS app development – Swift4;
POS plugin – Microsoft .NET Framework;
rest API on a backend – PHP+MySQL+nginx;
push notifications – Firebase;
SMS notifications – TurboSMS.
The result of this challenging process speaks for itself – the Aroma Kava application reached over 50,000 active users and topped the iTunes Food and Drink apps list in Ukraine; the average check increased by 20%. Check out a detailed case study if you are interested.
Budu Sushi
This was another half-a-year project that ended well. The team created a convenient website for receiving orders.
Goals:
making a website for a small business;
increasing the number of orders.
What we implemented:
loyalty system (bonuses from each order);
selling franchise;
core e-commerce website features.
How we did it:
market research and development plan;
design creation;
back-end with third-party integration and front-end development.
Technical details:
the back-end – PHP, MySQL, and Apache (Yii 2 framework);
the front-end – React;
1C integration;
customer loyalty mobile payment – LiqPay.
As a result, we successfully digitalized the business and made it profitable – now Budu Sushi gets about 130 online orders per week. We prepared a case study for this project too - we suggest checking it out if you are interested in customer loyalty examples.
How to Develop Customer Loyalty?
Finally here are some general tips based on our experience.
Be Careful About Feedback
At the very start of your business, every review matters. If you want to find an audience, you need to show that you take into account the wishes of your customers and make an effort for them. Even if not everything is perfect, the attitude and diligence will be appreciated.
Personal Data
A survey by NetSmart Research showed that 83% of web users sometimes feel frustrated or confused while scrolling websites. By customizing your website or application, you can reduce this frustration. Use everything you get from your analytical tools to tailor the products and offers to individual customers.
How to Improve Customer Loyalty?
For businesses that already have a market presence, here are some things to be done that can take customer loyalty to a new level.
Identify Your VIP Customers
Do a comprehensive analysis of your company's customer data over a certain period, the number of customer referrals, the impact of social media posts on sales, and you will see who is in your VIP group. Your next task will be to figure out how to make more people become the members of this group. Identify the reasons that make your customers loyal. According to a recent study, fast delivery, exchange or return, access to up-to-date information and personalization are among the most frequently mentioned factors.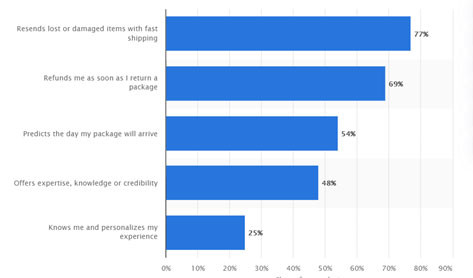 Image Source: www.statista.com
Show That You Appreciate Their Trust
According to Matt Mansfield, the SEO Specialist at Small Business Trend, just 20% of your existing customers will give you 80% of your future profits. Doesn't that deserve some encouragement? A special bonus system for a small group of the most loyal customers will make them feel respected and pleased. Others will strive to get the same benefits, which will ensure the return of most buyers.
Remember: There Is Always a Human Behind the Screen
Nicole Robertson, Co-Founder & CEO of Swap Society, says that she often contacts her customers in person (over email, phone or even a meeting) to get honest reviews and make sure that her business's customer loyalty ratio is high enough. Buyers need to know that you care about their experience and are ready to listen to both praise and constructive criticism.
Conclusion
Today, numerous studies confirm that the importance of customer loyalty in ecommerce is increasing. It is not surprising – among the current abundance of offers, it is important for the seller and the buyer to find each other, so every little business needs some promotion. And even when the customer is found, a business needs to take care not to lose them. Your only solution will be implementing a loyalty program.
To choose the right program, you need a deep understanding of both the trade and the psychological aspects that will affect the behavior of the person in relation to your promoted product. This is where a team of our developers, who have experience in dealing with the most complex cases, could be your best assistant. Contact us for an initial consultation, and let's make your business a success story together.
Want to read more
Get fresh articles, news and case studies to your email firstly
Related articles