Most Promising Online Retail Trends in 2021
eCommerce Feb 04, 2020
Main / Blog / Most Promising Online Retail Trends in 2021
eCommerce has dramatically changed the way we buy offline and online. The evolving software innovations such as a focus on delivering personalized shopping experience are improving customers' comfort day by day. Along with this, their expectations are also growing. Hence, if you want to effectively engage your customers, you should never stop updating your eCommerce store to satisfy their demands.
This article will help you stay on track of the latest news in the ecommerce industry and provide you with such useful information as:
The current market size of the e-commerce market
The latest retail trends in 2020
Let's get started!
What is the current market size of e-commerce?
In 2019, sales in e-commerce reached about $3.5 trillion. According to Statista, in 2023 they will hit $6.5 trillion.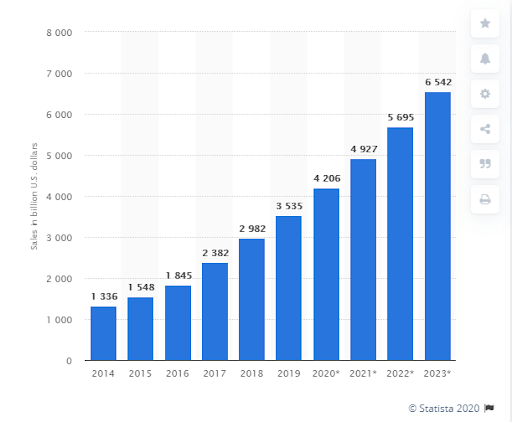 Image source: Statista
It's not surprising because the online shopping process becomes more and more convenient. Above 18,400 shoppers who took part in the survey by KPMG named the benefits of online purchasing over physical shops. The most significant ones are the ability to shop 24/7, compare prices, buy cheaper, and save time.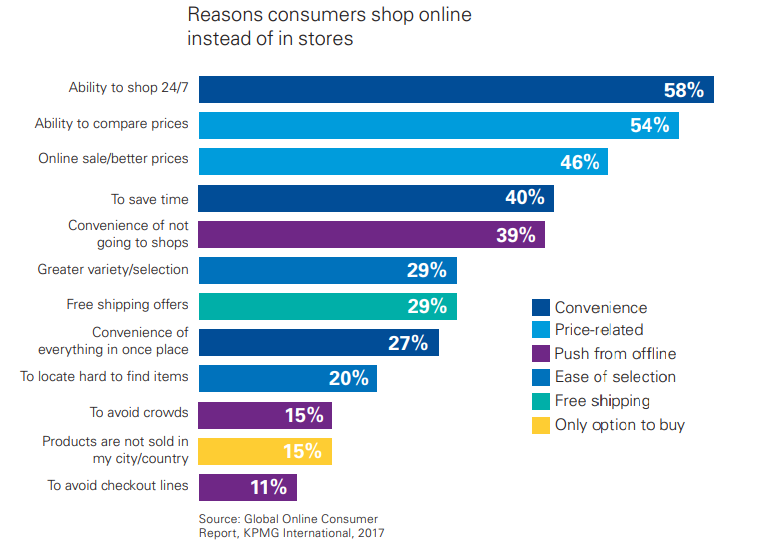 Image source: Global Online Consumer
Due to the rapid growth of smart speakers' popularity, more and more customers search for products using voice searches. Voice commerce sales are possible to amount to $40 bln by 2020 compared to $2 bln in 2018. 65% of users aged from 25 to 49 use their voice-activated devices every day.
To achieve success in online commerce, you need to be aware of current retail industry trends. Below we share the top trends to take into consideration in 2020.
What are the latest eCommerce trends?
1. Video product descriptions
Image source: Snapagency
Among the e-Commerce trends to watch in 2020 is the rising popularity of video content used to present your products. Since videos are more demonstrative than text, they engage and convert customers better. Above 60% of users would choose to watch a video description initially rather than read text.
This means you should add videos about the product to your product page. However, don't ignore text descriptions as you should use them in addition to video content. Besides, you can use videos for your marketing campaigns. To do this, add videos to your Facebook and Instagram ads. It's also a good idea to add videos to your marketing emails and landing pages.
Digital devices are currently affordable for almost everyone. As a result, over 4 billion people have internet access globally. For this reason, your video content should be relevant, useful and catchy to your customers as there are an incredibly wide choice of eCommerce sites to buy from. If your video content is not of a high level, users can easily search for an e-store that has a better one.
2. Micro marketplaces
What can be better than selling products via your own website? The answer is selling them at several additional spots on the internet as well. For instance, you can list your products in social networks and Google search results. Furthermore, you can boost your sales on micro marketplaces by launching ads.
This retail technology trend provides great opportunities for every merchant as they extend the number of locations containing your products. By our expectations, emerging brands can gain the most benefit from this trend. It's because if your company hasn't become popular yet, customers are unlikely to visit your website directly. Hence, until you become recognizable, micro marketplaces allow you to sell products and at the same time gain more authority.
Image source: Digitallysound
3. Progressive web apps (PWA)
Although the term "PWA" emerged in 2015, this kind of apps isn't widespread yet. However, we expect it to become one of the biggest trends going into 2020 and the following years. PWAs are web apps that can be accessed via mobile and desktop browsers. However, being accessed on mobile devices, they deliver user experience similar to native mobile apps. It's especially valuable for mobile eCommerce because 65% of product orders via website were performed using mobile devices in 2019.
PWA can significantly increase user engagement of your e-store. We've already thoroughly described PWA benefits. There you can also follow this link to find the results of famous brands achieved by implementing PWA including AliExpress, Twitter, and Forbes.
In short, if you visit a PWA website via a mobile browser, you don't need to spend time downloading a mobile app. When you open it, you'll receive a notification offering to add a PWA to the home screen. If you go there, you'll see the app icon that looks just like of the native app. The difference is PWAs are incredibly light and, thus, install in a few seconds. For instance, Twitter's PWA weighs only 600 KB.
Image source: Miro
The PWA app proposes to the add its icon to the home screen.
Among other PWA benefits is they work much faster than regular websites. The record-breaking page loading speed achieved with PWA amounts to only 0.1 seconds!
PWA apps can even function offline thanks to pre-caching. Consequently, users can add products to their carts offline. Then the order will be sent once the internet connection is restored.
Using PWAs is good for your SEO. Since PWA is a web app that has the URL, it can be indexed by the search engines. The link to your PWA site can also be shared by users.
All the above-mentioned advantages are so beneficial that PWA can literally revolutionize the user engagement of your eCommerce website. That's why we recommend eCommerce entrepreneurs to implement PWAs to their websites in 2020. Because you'd better hurry to amaze the users until this type of apps becomes commonplace. Contact Dinarys Software Development Company if you want your PWA to be implemented on time, on budget and be sure it runs smoothly and bug-free.
4. Voice Search Optimization
Image source: Motocms
The market of voice commerce has grown large and is ruled by such products of global brands as Google Assistant, Alexa, Siri, etc. The number of devices with voice assistants (including smartphones) is expected to grow from 2.5 bln in 2018 to 8 bln in 2023. Currently, about 20% of search queries are made via voice.
To gain maximum benefits of this e-commerce trend, you should SEO optimize your products. Also, there are some differences between text and voice search queries. The latter ones tend to be long tail. Therefore, you should optimize product pages with relevant and long-tail keyword phrases.
5. Drone delivery
What a decade ago could sound like fantasy is now a reality. Starting from the end of 2019, Amazon service called Prime Air is intended to start their delivery using flying drones. They plan to deliver small-sized products with weight lower than 5 pounds (2.2 kg) to clients within 30 minutes of ordering. Drones' maximum fly height amounts to 24 kilometers.
Of course, we don't propose you to start using this new trend for your eCommerce store at the moment. However, we'd like to inform you that delivery is becoming automated too. Thus, Amazon's orders will be delivered amazingly fast and cheap in 2020. In the future, other big eCommerce companies may start using drone delivery too to stand competition with Amazon.
6. In-car shopping
Americans spend about 19 days per year stuck in traffic jams on their way to work. At this time, 135 million drivers utilize their mobiles and search for the nearest malls, gas stations, order products online and so on. This predicts in-car shopping to become an attractive way to drive sales for eCommerce.
The geolocalization tool that is available in every mobile device enables you to suggest the relevant products according to various criteria including drivers' location, previous search requests, buying history, etc.
That's the second trend in eCommerce where we mention Amazon. Concerning in-car shopping, they offer an innovative service which implies delivering products to the boot of a car. That's right, a courier gains access to the customer's vehicle and places a package there. This service provided a lot of convenience to Amazon's clients since they don't spend time on contacting additional intermediary bodies.
7. Product customization
Among the latest eCommerce shopping trends is product customization. Customers always want to buy unique products to express their originality. With the rise of websites' functional capabilities, more and more e-stores offer their customers the possibility to customize a product. As for clothes shops, users can choose a product color, size, add a logo, etc. Another example is automaker Nissan that enables customers to choose car exterior and interior colors and add various accessories.
Customizable products also enable you to gather data about customer preferences. Later on, you can use it when targeting customers through your online ads.
8. B2B sector
The B2B sector can use the advantages of online retail. Wholesale customers expect the B2C features from wholesale e-commerce websites. It means B2B online shops should be as convenient as B2C online stores, they should include product catalog, shopping cart, and checkout options.

The line between B2B and B2C is blurring also thanks to marketplaces like Amazon and Alibaba.

Alibaba marketplace generates 80% of all sales in China. This marketplace becomes a mediator between Chinese manufacturers and Western businesses.

Amazon is also becoming friendlier to the B2B sector. In October 2017, the marketplace launched a paid program called "Business prime shipping". They designed this program for B2B companies from Germany and the US.
You might also like: What is the best eCommerce platform for wholesale?

Modern e-commerce platforms allow for turning B2C online shops into B2B using extensions. If you want to enter the B2B sector, consider extra B2B features for your e-commerce website.
9. Chatbots
The next point on our list of trends in eCommerce industry is chatbots. In recent years, chatbots have become an effective solution for online business. Why? Because you can use them for sales, customer service, and marketing.
There are 1.3 billion users of Facebook Messenger. Businesses often integrate chatbots into Messenger. This helps them save time and resources on live chats and online shop managers.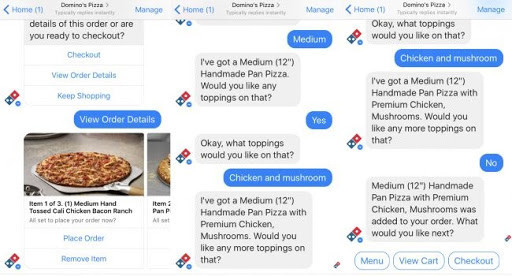 Image source: ipglab
A great example is Domino's. This famous fast-food company has integrated a Messenger chatbot to improve their ordering process. With full-menu ordering, customers make orders faster and in a more convenient way.
Online retailers can get the advantages of chatbots apart from Facebook Messenger. For example, you can integrate a chatbot into the chat of your existing online shop.
10. One-click purchasing
Convenient customer experience is a must for a modern online shop.
Integrating one-click purchasing and one-step checkout extensions is a global e-Commerce trend followed by many retailers.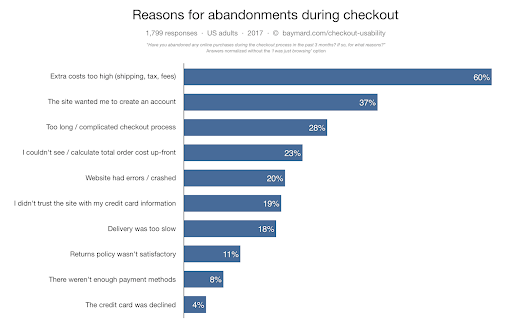 Image source: baymard
In fact, 28% of online shoppers abandon their shopping carts because the checkout process is too long and complicated. Multi-pages check out is the third reason why shopping carts get abandoned. Other top reasons for the shopping cart abandonment are extra shipping (tax, fees) costs (60% of online shoppers) and no guest checkout (37% of online shoppers). A single page checkout makes the buying process much more convenient. This results in increasing conversions and decreasing the shopping cart abandonment rate.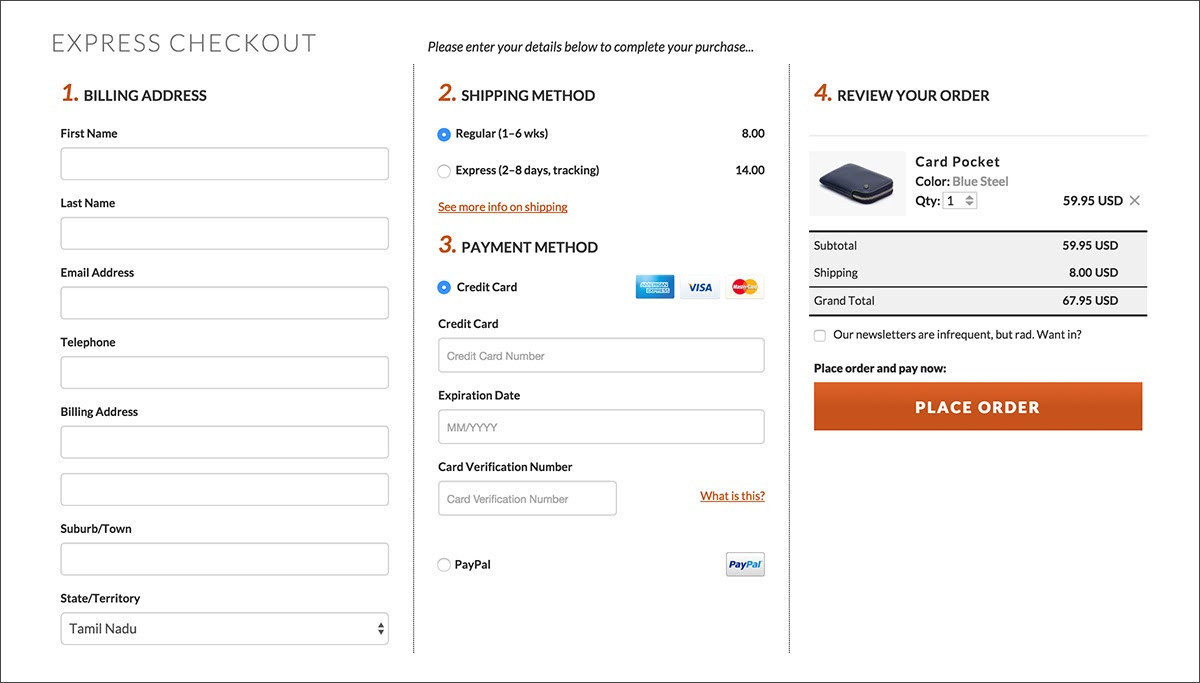 Image source: iksanika
There are many extensions, which optimize the checkout process. Still, you will need a developer to integrate these extensions to your online store. Moreover, an e-commerce developer will help you find a perfect solution for your platform.
You might also like: 6 Tips of E-commerce Checkout Page Optimization for Increase Sales
11. AI and machine learning
Artificial intelligence (AI) is among the top ecommerce trends for 2021. It is becoming a powerful tool in increasing conversions. Online shops use this technology for more personal communication with customers. This, as a result, increases customer lifetime value and average order value. For instance, you can use AI for analyzing customer behavior or offer shoppers more personal discounts based on their previous purchases.
Machine learning technology is even more powerful because it combines several types of artificial intelligence. Chatbots powered by machine learning collect input from shoppers and give them relevant answers. This way, machine learning can help to automatize customer support. This technology also suits providing customers with more relevant on-site search results. The technology generates a search ranking based on relevance for that particular user.
12. AR and VR
Among the eСommerce customer experience trends are augmented reality and virtual reality which are very popular. Why? All shoppers adore these technologies. The report showed that 40% of customers would buy a product at a higher price if they can test it in VR/AR first. Moreover, 61% of customers are loyal to brands, which provide them with AR features.
Many brick-and-mortar retailers have already integrated AR technologies into their in-store experiences.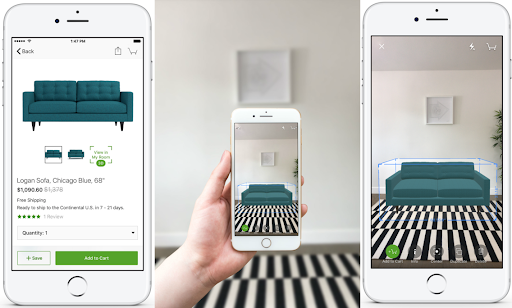 Image source: thisisinsider
Let's look at Houzz, a home design and interior decorator company. After launching its augmented reality app, the company found it influences the buying decisions. In particular, shoppers are 11 times more likely to buy an item after using the app.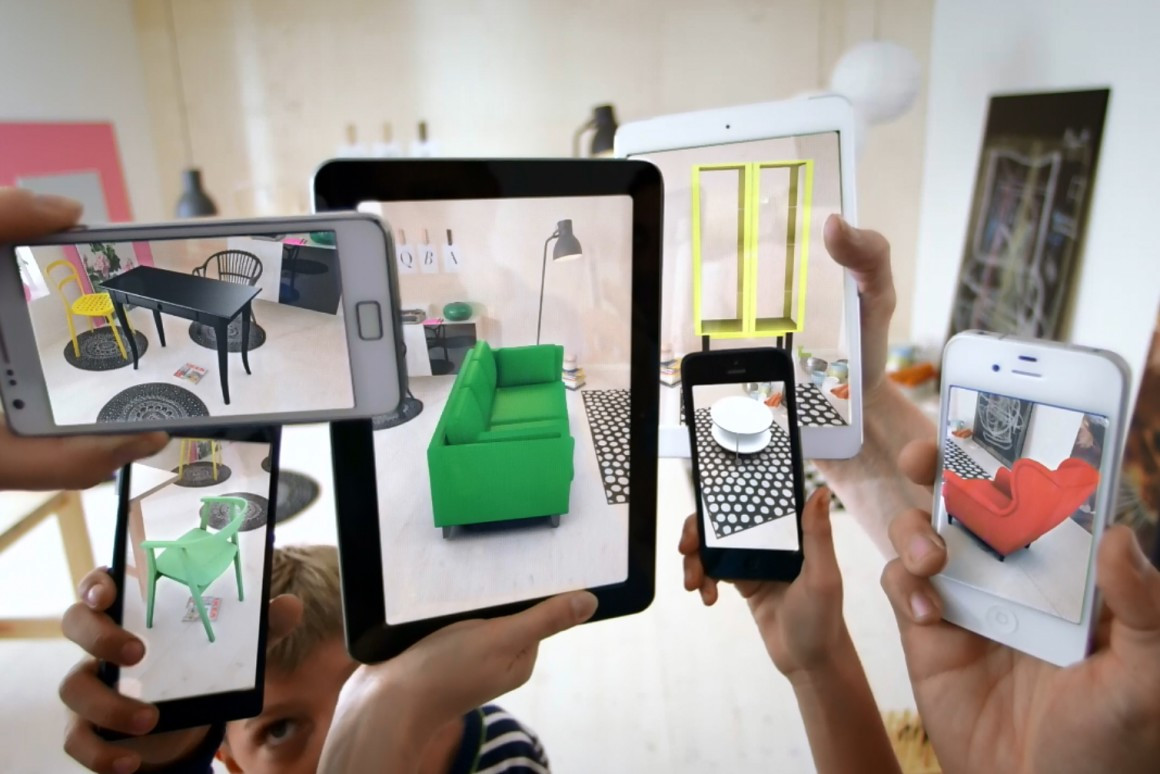 Image source: Newatlas
Another example is a famous home interior company IKEA. Their AR app helped increase customer loyalty. The app allows customers to place 3D products in their homes and see whether they fit.
Final thoughts
The e-commerce industry will never stop developing. New technologies and solutions appear on a regular basis. Thus, all online retailers should keep up with the emerging trends in eCommerce. Otherwise, it's hard to achieve success. Online shoppers expect more from online stores. Outdated online shops with old features are no longer profitable.
The tips from this article might be useful in making the website more convenient for customers. With the current trends in eCommerce technology you can increase the following business metrics of your website:
Video product description can help you showcase your product advantages more convincingly.
PWA can significantly improve the user experience by making your app much faster, lighter and able to work offline. Developing one PWA replaces an iOS, Android and web app.
AI can help your website increase average order value by offering related items.
Voice search optimization can modernize your SEO tailored to a new approach to searching.
You might also like: 7 Most Important Ecommerce Business Metrics Every Online Store Owner Needs to Track
We hope this article inspired you to make some useful changes at your online store. In case, you aren't used to sit on the sidelines and want to update it according to the latest development or design trends, we suggest you to look no further.
Dinarys company is a software development company with more than 6 years experience in eCommerce. We are the official Magento and Shopware CMS partners. Clutch, a customer reviews platform named us the top web developer in 2019. Even if you don't know the specific features you need to update, contact us. We'll gladly provide you a comprehensive consultation concerning your eCommerce website or app.
Want to read more
Get fresh articles, news and case studies to your email firstly
Related articles