11 Best Website Conversion Optimization Tips for Your Ecommerce Website
eCommerce Feb 05, 2020

Main / Blog / 11 Best Website Conversion Optimization Tips for Your Ecommerce Website
Have you ever wondered what the secret of successful ecommerce marketing is and what is ecommerce conversion rate? We are sure you have, and we know the answer. Many successful online business people would agree that a great part of their websites' prosperity lies in implying reliable optimization tactics. Most of them focus on the conversion rate for ecommerce, that is, the amount of your store's visitors who really bought something from you and brought you actual revenue.
What is a good conversion rate? Average eCommerce conversion rates range from 2% to 4%, so, you don't need any inflated expectations for your online business. Even if your online performance is brilliant, you can still win only around 4%. But, how do you increase website conversion rates even to 4%? This article is the answer.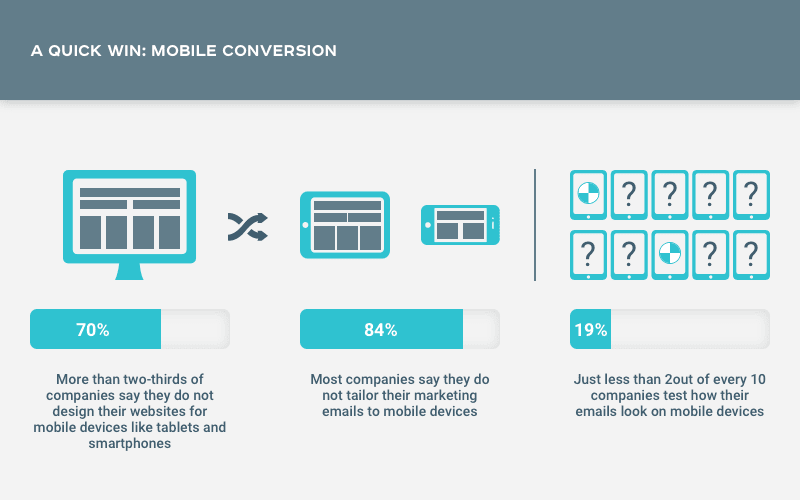 The problem is, there are now too many website conversion optimization services, tools, and software for improving your online performance. It may be really difficult for an entrepreneur to choose the best one among them.
By "the best," we mean those which would perfectly suit your site, and nobody else's. That is why we have prepared several useful tips for increasing website conversion rates. They will help you navigate the dangerous ocean of online sales and find an ideal solution to your problems in terms of ecommerce conversion rate optimization. Let's have a look:
Tip 1. Keep Your Site's Style Simple But Seductive
We have already described the essential functions for each ecommerce site here. But you need to present them properly, too. You need to change your online store's UI and UX to make it more enjoyable for your potential buyers to navigate through ecommerce conversion funnel. Only then it will have a tremendous impact on your conversion rate.
Here, we offer you some simple CRO steps to follow:
Use images of people, and make sure that models in the pictures are looking at the text of your product's advertisement, as that will significantly increase the attention paid to it.
Remove huge product banners. They don't really help you – in fact, they have the opposite effect. It's better to highlight some exact figures and useful information. Actually, if your products are already well-known, these banners are just a complete waste of your money!
Involve copywriting for conversion – you should know the great power of words. Try to be precise and specific, believable and unique. Before creating pop-up ads, special buttons and banners on your landing page, answer these simple questions:
Does this title make a certain claim?
Does it make a real promise to me, the potential buyer?
Is the offer unique?
Is it valuable – e.g., something I would pay for?
Do I believe it?
Use bright colors. Employing eye-catching elements (for example, Buy Now Buttons) of contrasting colors may increase your conversion rate by 32%!
Be yourself. Express your personality and don't hide behind trivial slogans. Be open.
For some further recommendations, see our article about successful online store designs.
Tip 2. Put Your Customers Above All Else
Each and every successful entrepreneur's testimonial will tell you that the secret is always in the people – both in those working in the company and in those buying its goods and services. The best strategy to increase conversion rate optimization for ecommerce is the correct segmentation of your audience and treating different customers according to their unique interests and wishes.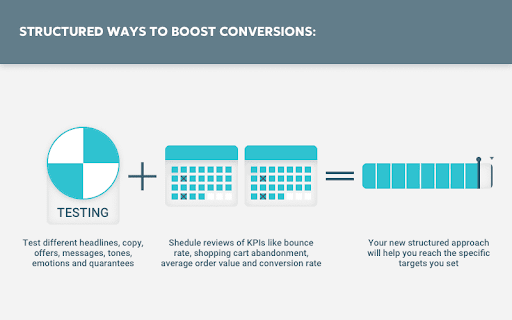 For that, you should conduct a great deal of testing research and a lot of experimentation. The history of experimentation tells us that some tests succeed and some fail. That's only natural. Both of these results present a perfect tool to use for growth. Use testing to learn new design possibilities! The more you employ A/B testing and multivariate testing as a necessary part of your business strategy, the more you will drive your decisions by actual data readings rather than by subjective feelings.
All of the known behavioral differences of your clients should be mentioned in your testing criteria. Design tests that are aimed at the right visitors.
Don't be lazy – it is worth it.
Tip 3. Check The Checkout
Imagine this situation. Your customer is choosing his or her dream product and moving towards buying it. Everyone seems to be satisfied. But wait – there's a problem; a huge problem called the checkout page. It is difficult to navigate, overloaded with banners and images offering more goods, and is messy in general.
What's more, you may have a multi-page checkout – and it's not bad at all if tests have proven that your customers are pleased with it. Unless that's the case, don't do it. To increase conversions, don't place any further advertisements, any external links or confusing images on the page. Those will inevitably distract the attention of your potential buyers and they will stay just visitors. The percentage of abandoned carts will grow, and that is not what you need.
Just keep in mind that the checkout page has only one goal. It turns your visitors into happy customers. That's it – it shouldn't perform any other goals or functions. Every single step in the checkout process ought to be well-thought-out and specially designed to achieve this very aim. Any additional links, ad images, or website elements that seem alien should be removed.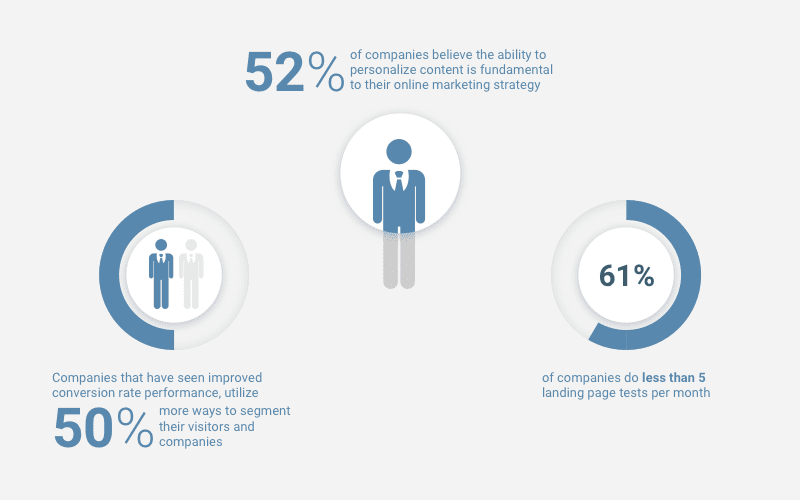 Your first step in making your checkout page really helpful and successful may actually be very simple. Just remove the navigation from it. Really. We are all well aware that your customers may want to come back for some more products or just delay their purchase. But is that what you really need? You need them to buy your things. That is why your ideal checkout page should be, simply:
Instead of navigation, you may add further descriptions of your products and their reviews. Try different templates, see which is the best for your site and use it for your conversion rate!
Tip 4. Fix Your FAQs
This is a holy grail of conversion rate optimization techniques. We really hope that you already have this section in your online store. Then you can breathe and relax. Our figures and arguments in this area will only increase your self-confidence and improve conversion rate (and that's another tip, too!).
Having product FAQs can increase your conversion growth speed rate by 69%! Online shopping can be a difficult process because you never know for sure how the purchased item will look or work. In brick and mortar shops, customers have the opportunity to ask thousands of questions about:
size,
shipping,
guarantees,
discounts,
price changes, and
conditions of use, etc.
This information is important to them. So, having a FAQ section is a must for those ecommerce entrepreneurs who really care about their customers. There, you may include all the questions you often receive directly from your clients or see in the comments. Try conducting some polls and tests, clearing out what may be wrong and which part of the purchasing process is difficult for your buyers. Don't forget to place your tips where they can be really helpful for your customers. Answer all their questions and make them return to you! Read more to learn how to increase conversion rate.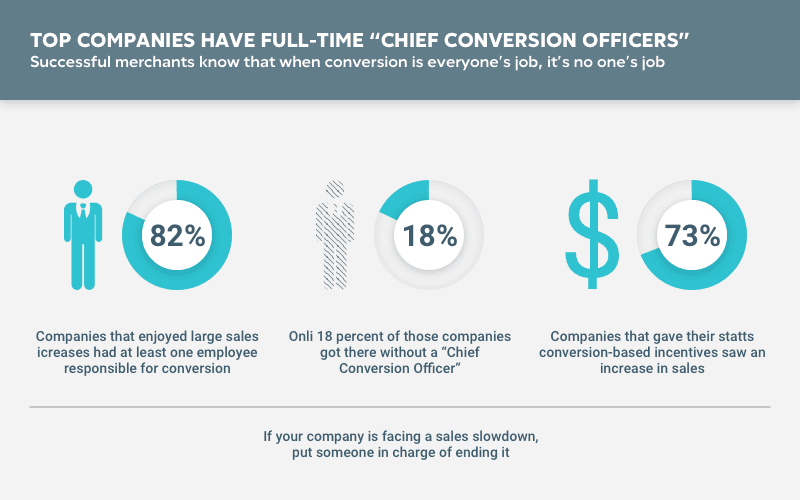 Tip 5. Optimize Your Social Share
You know what era we live in. Social networking prospers and it is necessary for us to use all its possibilities to improve website conversion rates. Recommendations from friends are very influential when it comes to a person's purchasing decisions. You can encourage even more buyers to share on your site by making the sharing process quick and simple.
Create easy to use social share buttons and test various designs for them. Use different styles and options and test them out to see what works best on your very site. It may take you some time, but it is worth it – anything that can influence the decision to make a purchase is worth trying. Actually, 81% of shoppers say posts from their friends on social media have influenced their buying decision.
Test different vocabulary, too. You should think of the best way to sound concise but still attract attention. Do such phrases, as "Share the love," "Tell your friends," or "Tweet your purchase" lead to more posts? Find out and use the results in your favor!
You can also adjust your timing. When is the most appropriate moment to ask for a review or social share? Is it while your customers are still shopping? Then you can even create live videos and posts on Instagram immediately after a purchase, because everybody loves reporting about their purchases. Or, later, when your customers have already seen what a great product you offer, they can share their experience of using it – creating an additional ad for you!
Tip 6. Use live chat software
This can increase conversions, however, if you decide to use real-time chat software, if need to be available during business hours and immediately respond to customers who request a chat. Do not let the software go into a mode that says that you are currently unavailable and that they may leave a message. If you cannot be there when they want to communicate then it's better not to implement it at all.
Also, do not forget the fact that live chat is a real human connection and with the help of this function, you can build confidence in the purchase on your site, as well as lifelong loyalty in the future.
Tip 7. Create Urgency and Scarcity
Scarcity is good because your customer feels a limited supply of goods and this is what affects the quick purchase decision. Urgency is a time-based strategy, making customers develop a fear of missing out which compels them to buy within the limited time constraints. It's all about importance. If your product or service is important, then users will be more inclined to respond to urgency. Also with scarcity tactics, customers are motivated to buy products on your site, as they see other people also prefer this.
It is also possible to artificially create a scarcity, starting from an exclusive VIP offer that is available to former customers.
If your products are good enough and have earned the respect and confidence of customers, then a low offer can create high demand. If products quickly disappear, you have no time to lose! You make a decision and buy it immediately!
Tip 8. Provide 360° View of Products
Larger product images increase conversions. But what about moving on and provide a 360° view of your products? Let your customers have no doubt! It will be better if they get acquainted with real experience with a 360° product overview. The usual product description no longer gives users such confidence.
Due Maternity added the 360-spin to their images, which increased their conversions by more than 27%. Don't forget about conversion rate optimization basics.
Tip 9. Optimize for mobile devices
Every day, more and more people use their mobiles to surf the web and make purchases. If your online store does not provide excellent opportunities for mobile devices, you are missing a large number of sales. Mobile speed optimization is a successful mobile user interaction strategy, loading a website should not take more than 3 seconds, otherwise, your client will leave your site, and this will lead to a low conversation speed.
We offer you some steps to work your website speed faster
Use a responsive and mobile-optimized theme and design.
Following Google's standards will help increase the speed of your mobile page.
Keep on checking your website speed using any online tools.
Tip 10. Add Product Videos (if possible)
Did you know the use of e-commerce product videos on product pages can help you increase online sales and increase the conversion rate of your e-commerce website? Video helps people imagine what they will feel when they have a product in their hands. In fact, visitors who don't watch a video but still have the ability to watch it convert faster than those who don't. 73% of online consumers say they're more likely to buy a product after watching videos explaining how it works and how it looks. Videos enhance customer experience: four times as many consumers would rather watch a product video than read product description.
Tip 11. Use Reviews and Testimonials to Gain Trust
Social proof helps to positively impact potential customers. Nothing beats the power of reviews to help customers make a purchasing decision and be optimistic about their choice. Reviews are powerful in building trust, research has already confirmed the fact that positive reviews significantly increase sales.
Local Consumer Review Survey 2020 shows us that:
Consumers read an average of 8-11 online reviews before they can trust a product and decide to buy it.
88% of consumers read reviews on the site.
61% of consumers will use the product only if it has 4 or more stars and if it will contain reviews of people who have previously tried it.
That's it?
All of these recommendations on how to improve conversions for websites are only auxiliary. Test and experimentation processes, consulting both your loyal buyers and potential customers, redesigning your online store and segmenting your audience – all of these are effective methods of website conversion optimization which require a fair share of trial and error. Still, it is necessary to increase conversion rate and revenue and, most importantly, make your clients really happy. That is why we are here for you. And how you know what is an average ecommerce conversion rate.
Dinarys, a young agency that already has a massive portfolio, is ready to help you solve all the issues concerning your ecommerce business. Our experienced and friendly team will develop the best methods and techniques of CRO for websites to implement in your business. With us, you will improve website conversion rates on your site and find the most effective software to achieve your goals. Contact us to let your ecommerce business grow!
Want to read more
Get fresh articles, news and case studies to your email firstly
Related articles