Magento PWA - an Advanced Solution for Boosting UX of Your Magento Store [2021]
Magento Jun 10, 2020

Main / Blog / Magento PWA - an Advanced Solution for Boosting UX of Your Magento Store [2021]
Progressive Web Applications (PWA) is quite a young concept that was introduced in 2015 by the Google team. It turns a regular website into an application that fully functions straight out of the mobile browser. When launching such a solution via the desktop browser, however, everything works like an ordinary website. Currently, PWA solutions are supported by all the common browsers, like Google Chrome, Firefox, Opera, and Microsoft Edge.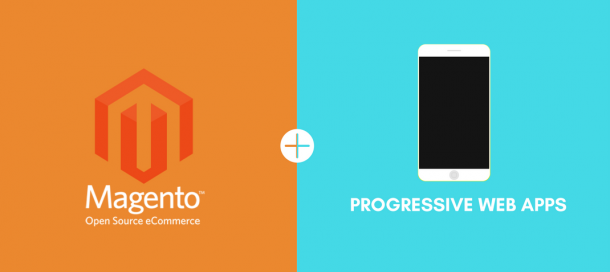 Image source: Rishabh Soft
The initial implementation of PWA was introduced to the public on May 2016 by a team of developers responsible for Washington Post - a formerly regular website and full-blown hybrid PWA piece of software currently. But let's dive deeper into the detailed progressive web app definition, consider the major web application features list, and discuss the nuances of creating such solutions based on Magento-powered resources.
We'll also clarify that the PWA format of solutions for Magento isn't by far a universal fit for everyone out there and its most distinctive features can also be implemented via other existing Magento tools, based on the different development principles.
PWA - Definition
So, progressive web app: what is it? It is, basically, a web resource that falls under three main characteristics introduced initially by Google: Reliable, Fast, and Engaging. These are reached by employing trending web technologies and tools like Service Worker, Web App manifest, HTTPS, App shell, Push Notifications, and others.
An advanced technological approach provides users with:
an ability to interact with the site offline;
immediate notifications;
an ability to install an app straight from the browser.
From the functionality perspective, the initial launch of a PWA is based on the Service Worker script. At the same time, caching takes place. And only then, the View data start to load in accordance with every other user request or another event. Following each event, Service Worker goes into an idle mode until another user request takes place.
How Does PWA Work?
First off, a user launches your website, ideally, from their smartphone. Next, the website is displayed in the form of a functional app. Users can add a shortcut to this site to personalize their UX on top of getting faster access to eCommerce procedures, offline functionality, push-notifications, immediate page load, etc.
The Renowned PWA Cases
The most prominent PWA implementations include such giants as:
Pinterest
OLX India
Aliexpress
Starbucks
Flipboard
Forbes
Yummly
Uber
Soundslice
Can Any Website Be Turned Into a PWA?
To transform your website into a PWA, the resource must be initially configured to fit the following points of the progressive web app checklist:
employment of a secure data transfer protocol HTTPS (instead of HTTP);
responsive/adaptable site page coding;
a separate URL dedicated to each web page.
If we're talking about transforming Magento-powered sites in PWAs, then additionally, you have to make sure that you employ the 2.0 version of the platform or higher.
Progressive Web App Features vs Native Software Features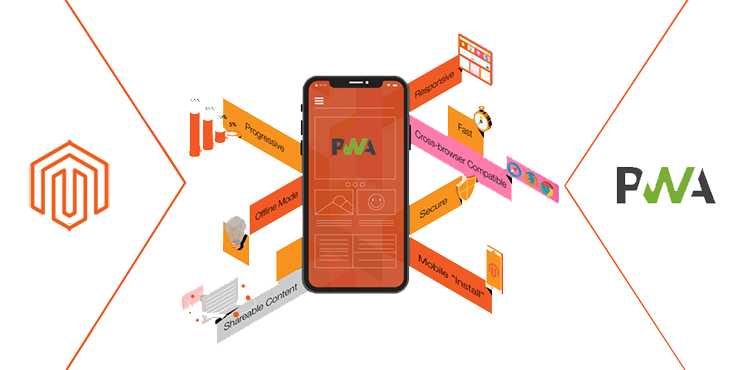 Image source: Astrio
With the difference of PWAs from regular websites figured out, we should now also clarify how such solutions differ from native software. Here's an approximately common PWA feature list which directly indicates the differences from standard features of web applications:
Light weight.As opposed to regular apps, PWA doesn't consume any user device memory to load. This solves memory issues for users without requiring them to delete anything to optimize space;
Autonomous updates.No need to go to the App Store or Google Play to update your app, it all happens automatically, without any manual input needed from the user;
Extensive support.PWAs are supported, as we have already mentioned, by all modern versions of the most used browsers like Google Chrome, Opera, Firefox, and Microsoft Edge. Moreover, they are compatible with any mobile hardware, no matter the form-factor and other physical parameters.
Pros & Cons of PWA
PWA is a front-end solution that is an individual application in nature which interacts with eCommerce resources via API. In other words, business and decision-making processes are being separated from the visual part generation, which accelerates the performance as a whole. Let's take a closer look at the main progressive web apps advantages and disadvantages.
Pros
Accessibility. Websites transformed into PWAs can perform either at low Internet connection speeds as well as in the completely offline mode. All the data and user requests are automatically sent to the server once the connection is re-established.
Security. Employing HTTPS protocol instead of HTTP, PWA solutions are better protected from hacker attacks (for instance, MITM attacks) and other unauthorized network activities;
High loading speed. Due to the specifically implemented caching feature, PWAs load rapidly, under three seconds and faster (even when there are memory-consuming animation, video, and other media content);
User-friendliness. The push-notification sending tool, shortened idle time, and overall intuitivity, the PWA interface gets an advanced level of user-friendliness.
Cons:
Possible issues with finding experienced devs. According to practice, despite the modern realities we live in, it may be difficult to find a truly experienced PWA developer as of now - all due to the young age of the PWA concept;
Project costs. Potentially, you can become a victim of a mercenary-minded PWA development company only because good PWA devs are so scarce. Makes sure to turn only to reliable progressive web app companies that have already built a certain reputation among the clients and can boast an extensive portfolio.
Does Everybody Need PWA?
For the sake of complete objectivity, let us note that it may be reasonable to focus on PWAs for 9 out of 10 Magento 2 users. In terms of this framework, currently, PWA is still an experimental concept. Thus, if you take a Magento 2 solution and start adjusting it to the PWA standards, you won't be able to select from a full assortment of dedicated modules in Magento Store. Just because most of them have the code logic that is based on the static page rendering. And there are no fully PWA-compatible modules for Magento 2 as of yet.
How to Integrate a PWA With Your Magento-Based Store?
If you still choose to take the PWA route and transform your existing Magento-based solution into a progressive web app, here are the major methods it is usually done.
Integration via Magento PWA extension
The most trivial thing to do would be simply installing a Progressive Web App extension on your Magento website. You can find numerous extensions from various providers in the official Magento store, both freeware and paid (paid ones usually cost no more than US $150).
On the other hand, as practice shows, not all PWA modules by far can provide developers with a full-blown PWA functionality for a regular site. Some of them simply add the push notifications features without affecting the page loading speed at all. So make sure the extension you stop at gives you the functionality you require.
Integration via Magento PWA Studio
PWA Studio is a tool available for Magento 2.3. It helps to deploy PWA solutions based on Magento in no more than a few days. Moreover, as opposed to regular extensions, in the Studio, you will find a whole scope of capabilities for implementing features that provide correspondence with Google's PWA policies. In the long run, your store will be connected to the PWA backend via API.
Integration via Magento 2 PWA Theme
You can also employ a complex solution - Magento PWA Theme - which is based on such renowned software products as PWA Studio, ReactJS, and GraphQL. Thus, apart from PWA correspondence features, you'll get API access that will provide the connection of your basic Magento store with the updated PWA capabilities.
Basically, this is considered to be the most "vanilla", i.e., regular way to go when creating a PWA based on Magento - you won't have to involve any additional third-party software products.
Some developers, however, note that PWA Studio for Magento could be much better optimized overall. We'd recommend using an alternative paid solution that was created a few years ago - Vue Storefront. Coming from the practice, it is much more demanded by developers and, by the way, is compatible with older Magento versions, not only with the second one.
So if you feel the strict necessity to turn your Magento-based resource into a PWA, you'd better go for this third-party solution or some other.
Progressive Web App Development - Summary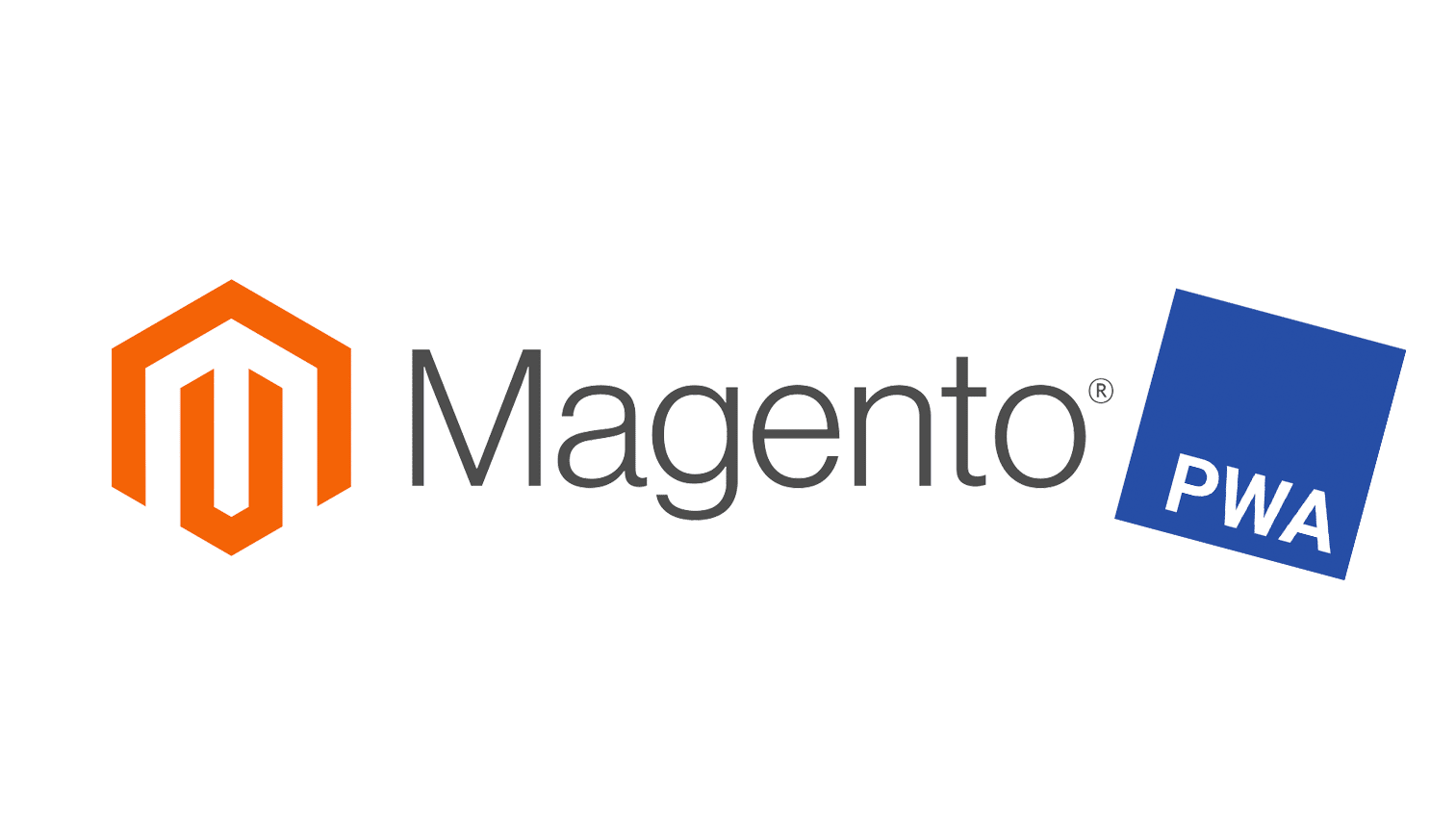 Image source: React etc
As it may seem superficially, creating a Magento progressive web app is a great way to enhance the overall Magento resource UX. It also helps to facilitate its further support and maintenance - due to an extensive functionality it boasts, it will remain an advanced, go-to option for most users.
Nonetheless, when it comes to practice, certain peculiarities of the Magento platform can somewhat complicate the proper implementation of PWAs as of yet. Moreover, it can be an excessive effort because all the UX features a PWA can boast may be implemented just fine via existing Magento tools.
Let our progressive web app development company help you implement a customized solution of your own - be it a PWA or standard Magento-based resource. We have a team with some of the best, in-depth experienced web and progressive web app developers out there to create a solution of any level and purpose that will fit the particular demands of modern users most properly.
Want to read more
Get fresh articles, news and case studies to your email firstly
Related articles