How to Quickly Make an eCommerce Website with Shopware
Shopware Sep 29, 2020
Main / Blog / How to Quickly Make an eCommerce Website with Shopware
The development of online businesses worldwide is much faster compared to traditional offline businesses. It goes without saying that eCommerce businesses help increase sales and get more customers. In 2019, online retail sales of physical goods in the USA amounted to 343 billion dollars!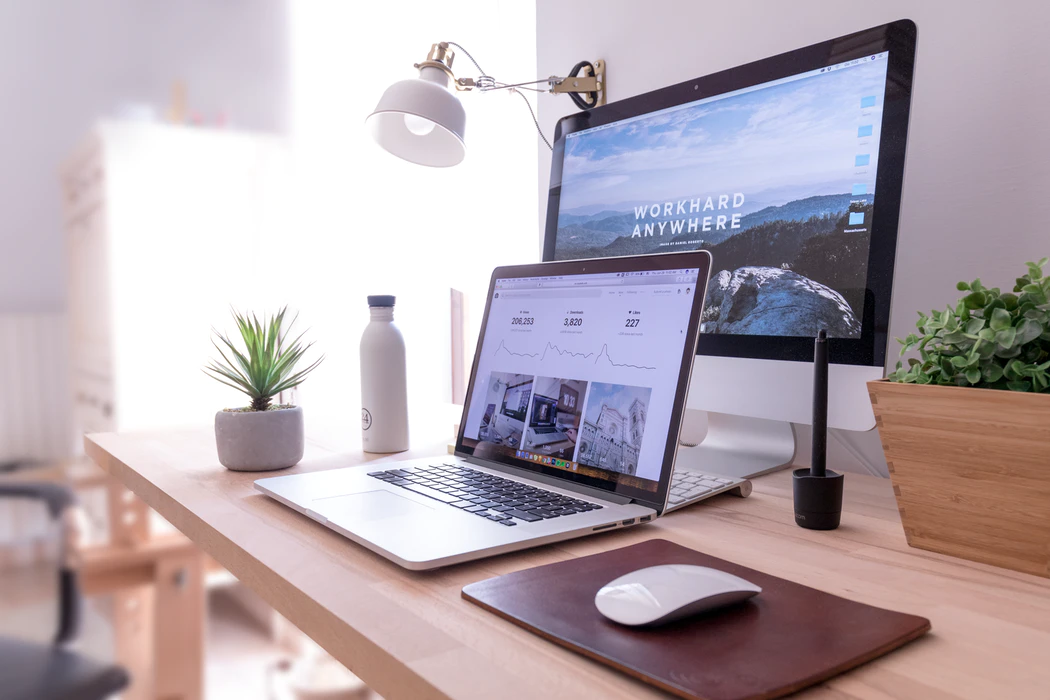 Image Source: unsplash.com
And this number is only expected to grow. But first things first. You can't start your business online until you create an eCommerce website. In this post, we'll share some tips that will help you create ecommerce store online and get more customers! Moreover, we'll explain why it is easier than you might think, especially when you're using Shopware - one of the best eCommerce platforms.
Building an eCommerce Store from Scratch: Basic Steps to Follow
No matter what kind of website you want to create; the first thing you need to do is plan your project, determine its main goals and budget. Here are the main steps to follow.
Analyze the kind of services or products you want to sell
Before you create an eCommerce site, you need to browse the web and analyze your competitors. It is of utmost importance to decide what kind of products you want to sell through your website. First, you need to estimate the local demand and analyze all local suppliers. When you finally do comprehensive research, you'll have a clear idea of your future website.
Select a business model you are going to use
You have to decide whether you are going to sell your goods only through your website or also through marketplaces. You can use both channels to get more customers and increase sales.
Choose your domain name
Once you have chosen your business model and the type of products you are going to sell, it is time to choose your website's name. Remember that it can't be a random name; it should be relevant to your products. It should also be clear and understandable to your audience. However, if you are only starting your business and have a limited budget, it would be better to start with a shared domain. When your business grows, you'll buy a dedicated domain.
Choose your eCommerce website builder
The internet is overloaded with ready frameworks that allow you to create a website from scratch. Moreover, you don't even need to have development skills and experience in this niche to do this. The best solution is the use of Shopware - a trusted eCommerce platform based in Germany. Today, it has more than 80 thousand users. Overall, it's a superb solution for those who want to create online store eCommerce website for free.
Think about the design of your eCommerce site
Though some users still think that design is not essential, remember that your website is not only your online store, it is your online face. Your goal is to attract customers. If your offline store has dull and cluttered windows, your customers will probably go to your competitors. The same can be said for your website. It should include as many details about your products or services as possible. Prices, descriptions, high-quality images, rating - all this will help you sell products faster. But don't forget about the convenience of your buyers.
Add a payment gateway
Any online business needs to offer several payment methods. It will be great if the framework that you choose for building the website has inbuilt payment options. The most popular solutions are Paypal, Paypal Plus, and bank or credit cards. We gathered top payment systems in one of our blog posts.
Choose a shipping partner
After you create an ecommerce site, it is time to think about a shipping method. When choosing a framework for building your website, you should also think about shipping configuration. A reliable solution usually has included delivery services that offer available shipping charges.
We've just reviewed the basic steps to follow for those who want to create an eCommerce store and finally reach more clients online. But remember that it is not enough to create a website; you should also invest in marketing. This will help your customers see your website, reach your services, or buy your products.
What Does a Shopware eCommerce Platform Offer?
Shopware is an eCommerce product built by German developers. This tool hit the market almost ten years ago. Today, it has more than 3500 plugins, themes, and modules. The Shopware enhanced eCommerce system has a good usage rate in Germany and other European countries. Today, it's a perfect solution that can easily meet the changing demands of eCommerce and allows you to focus on customer experience.
Shopware eCommerce integration with payment systems
One of the main reasons why people choose Shopware is its smooth and straightforward integration with well-known payment gateways. Simply put, when you choose Shopware, the customers of your online store will be able to pay for your services using Skrill, Stripe, PayPal, or Braintree. This platform also supports integration with Microsoft web services such as WordPress CMS and various APIs.
The system also has a cost management panel that can easily be customized. Users can use various themes to create a marketplace that meets their needs.
Overall, choosing Shopware as an eCommerce solution is a good idea for those who want to enter the online market but their budget is limited and they simply can't afford custom development.
Our company already has experience of working with Shopware. Our client from Ghana needed to create a website from scratch. We used Shopware, and in the course of work, we also added some other options such as inventory integration, professional UI and UX design, online ordering options, and a delivery module. Thanks to Shopware, we created an online store that has all the basic functions and even more!
How to Create Custom eCommerce Site Using Shopware 6
Here's a comprehensive guide on how to create a Shopware online shop in a few clicks. Following these guidelines, you'll create your first Shopware B2B shop that will introduce your business online.
Create your online account
Access the official website of the Shopware eCommerce platform and select "Start now". After that, you'll be asked to enter your email, password, and the name of your future online store. Wait for a few minutes until the system creates an online store for you. After that, choose the language and the currency of your store.
Create a custom home page
After you log in, you need to create a home page. For doing this, you need to go to the dashboard and click on Content - Shopping experiences. You'll see a page with a variety of layouts to choose from. You are also allowed to choose various blocks such as the shop page, landing or listing page, etc. Here's the main information you need to know about all these pages:
The shop page usually includes some general terms and the contact form;
The landing page includes a few theme pages with a variety of design and marketing tools;
The listing page includes a product listing.
To learn more, read our guide on creating a successful ecommerce homepage.
Section type
Now, let's move on to structuring. This tool allows you to choose how your layout is going to be structured. You can either choose a layout with a sidebar or with the full page width. After you make the decision, don't forget to enter the layout's name.
Assign your layout
Go to Catalogue - Category. Find the Edit button and click on it. Now, assign the created layout under "Layout Assignment". Refresh the front end page, and you'll immediately see the changes.
Add products
For adding products, you need to go to Catalogues - Products - Add Product. You'll see a menu where you need to add a title, description, manufacturer, price, deliverability, and media. There's also a powerful Shopware eCommerce CMS system. Don't forget about SEO; meta title, meta description, and SEO keywords have to be added under each product.
Shopware eCommerce Solution: Overview of the Main Benefits
The main reason why we recommend choosing this platform is that it is a robust and scalable eCommerce solution that allows you to create an online store in a few clicks. Let's review the main benefits of this platform:
A big choice of editions. If you are only starting your online business, the free edition is enough for you. When your business grows, you can upgrade to the premium account.
A wide array of eCommerce functionalities. The system allows you to add various extras that broaden the functionality of your online store.
It's a scalable solution. The platform can easily manage high volumes of web traffic.
Flexibility due to the API first approach.
Open source under MIT license.
A variety of superb options that allow you to customize your store as you want.
Low total cost of ownership.
Short time needed to deploy your store.
Simple Shopware shop migration. The whole process of migration from the old version to the newer one is straightforward. The Migration Assistant will help you complete the task. But you need to check what plugins are out of date and update them if necessary.
The capability to extend the platform using plugins or individual apps.
Grow your online store with Shopware 6! It's a future-proof platform that allows you to grow your business online. Based on our vast experience in ecommerce development, we find Shopware 6 a powerful tool that is gradually strengthening its position in the modern eCommerce market.
If the whole process of building a website with this tool seems too cumbersome to you, just contact us! We'll help you tackle this challenge or consult you to choose the best roadmap to success.
Want to read more
Get fresh articles, news and case studies to your email firstly
Related articles