10 Best Practices for Creating a Successful eCommerce Homepage
eCommerce Mar 19, 2020

Main / Blog / 10 Best Practices for Creating a Successful eCommerce Homepage
The Homepage is the most important page for every online shop. We can compare it to a prime-time television slot or the storefront of your business. This page is very functional for visitors because it can seduce them and convince them to become customers or continue down the funnel of discovering more about your business. In this article, the Dinarys team has prepared ten tips for designing an eCommerce homepage using current trends and experience from eCommerce leaders.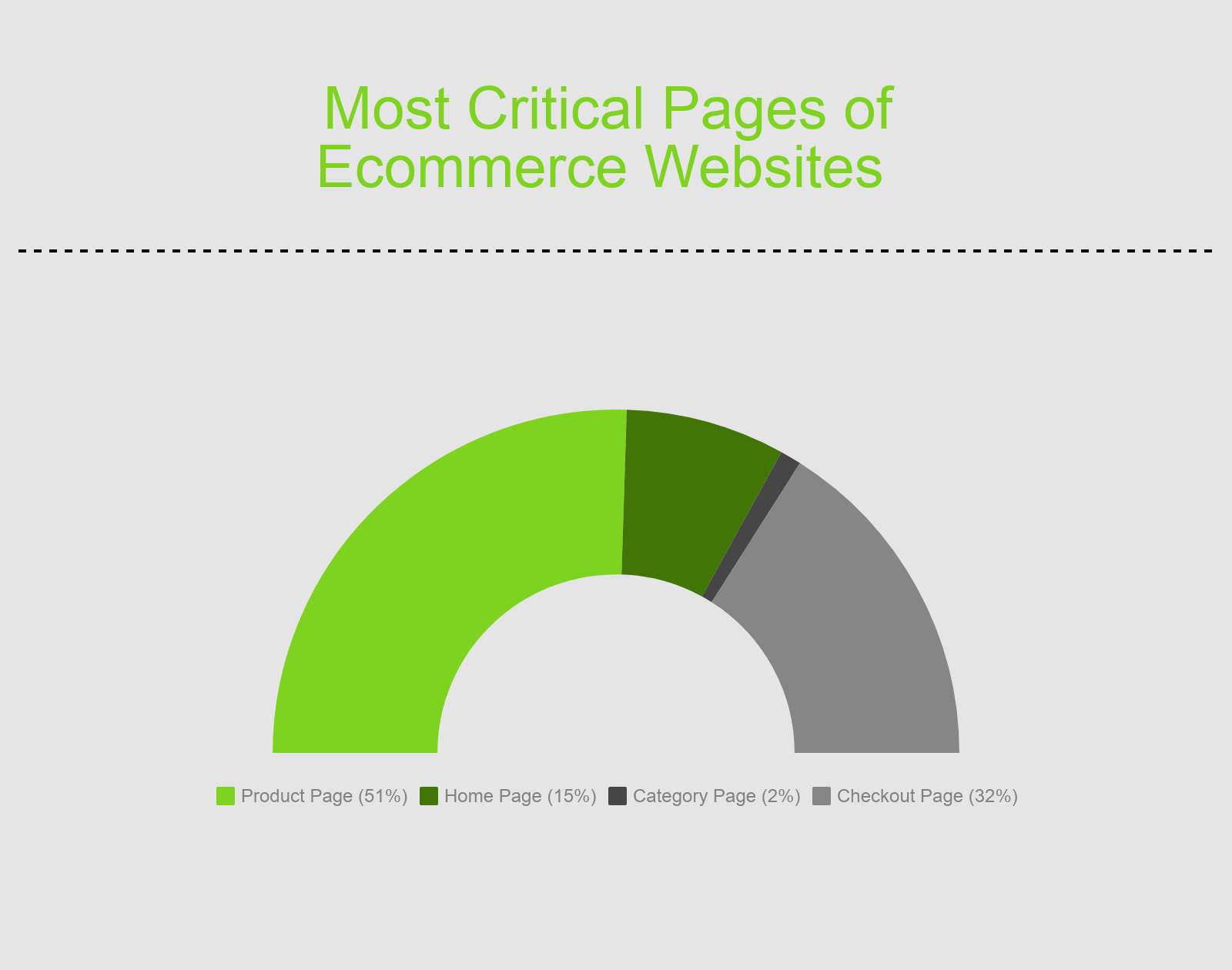 If you have decided to develop an eCommerce website, you should know that this is a fast growing industry. According to Emarketer, sales from the eCommerce sector are expected to rise up to $4 trillion by 2020. Even today, the sector of online retail is crowded with potential competitors; therefore, you should try hard not to lose clients and to stand out from the crowd. Moreover, research by Canva keeps us informed on how people react to beautiful visual content. Their research indicates that over 20% of the human brain is solely devoted to vision. Considering this, online businesses should pay more attention to eCommerce website homepage design.
If you want your online retail website to be successful, you can refer to these eCommerce homepage best practice. Are you ready? Let's begin!
eCommerce design and brand perception
As we said before, online shop design has an impact on how your customers behave and how they perceive your business. If you do not have a clear idea of the differences between a standard website and an eCommerce website, we want to clarify and explain them to you. An eCommerce website is a place where online shoppers conduct money transactions over the internet. The leaders of the eCommerce sphere include such platforms as Magento, Shopify and WooCommerce (an eCommerce plug-in for WordPress websites).
Online shops work great with both B2B and B2C segments. With an eCommerce website you can:
to sell your goods or services 24/7
improve order fulfillment
avoid geographical limitations
start a business with low operational costs (in comparison to brick-and-mortar stores)
express your company values and brand identity via eCommerce website design
Also read: Top 9 Essential Features for Custom E-Commerce Websites
B2B companies often think that eCommerce websites work only for B2C segments, but this is far from the truth. More and more B2B buyers want to experience a convenient customer journey without additional paperwork. Moreover, in 2020, the B2B market is expected to be twice as large as the B2C. Sound impressive? We think so!
We can't wait to share even more useful tips on how to make an eCommerce homepage layout even more effective. Keep reading!
How to design an eCommerce homepage and avoid failure
All online retailers know that the homepage is the highest traffic page for an online shop. This single page has such goals as increasing sales, driving customer confidence and increasing CLV.
Also read: How Ecommerce Business Can Increase Customer Lifetime Value
Creating an effective homepage for an online store can be a challenge, especially if you have hundreds of items and product categories. You should think twice before putting many elements on the home page, in order not to distract customer attention. Most online retailers want to put all products on their website homepage, though this truly is the wrong strategy. Keep reading to find out how to build the best eCommerce homepages using tips from eCommerce leaders.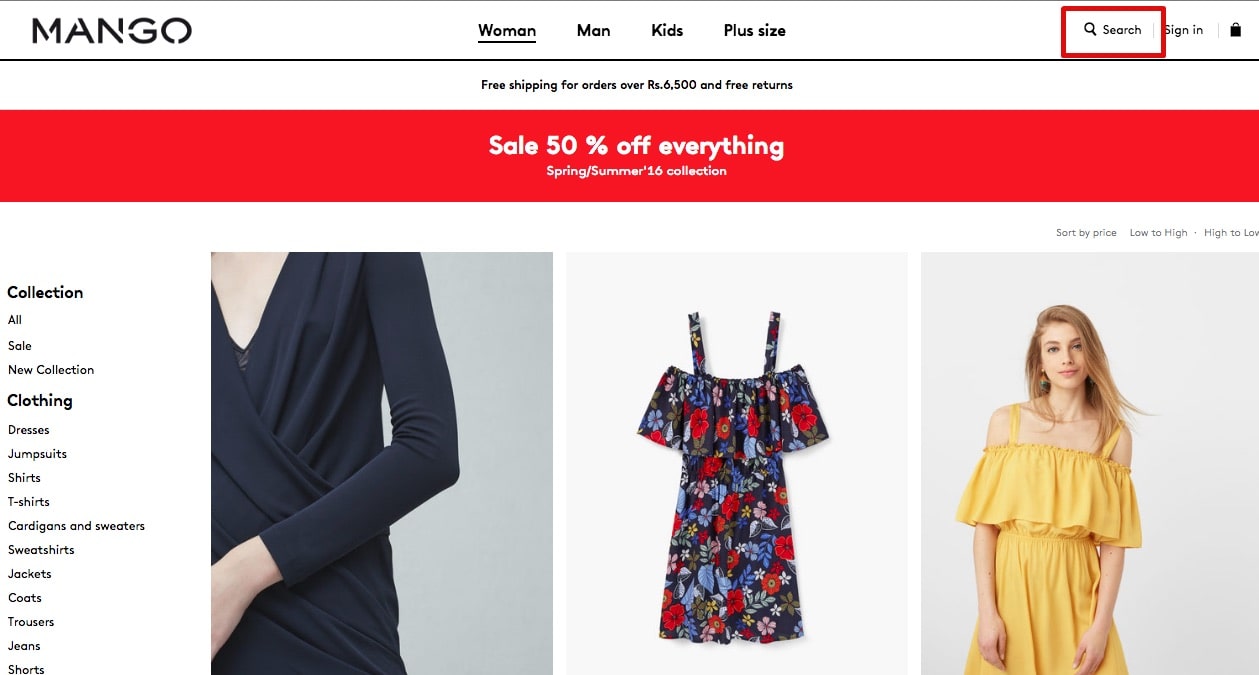 1. Omnipresent Search Box
The first tip for eCommerce homepage best practices is to make an omnipresent search box. A great example is the Mango eCommerce website, where the search box is an unabashed tag. Online shoppers do not need to scroll the page to find the necessary products. If the instant search box does not work for your online shop design, you can use allrecipes.com's strategy, instead. On this homepage, they used a search box that expands after a visitor clicks.

2. Clear Navigation Bar
If you went shopping for a particular product, you would probably be disappointed if all the products, including some from different categories, were stacked together. You might even think about visiting another shop to find what you want. We can see the same behavior when online shop visitors fail to find the necessary categories on online retail websites. If your online shop has a complex structure, customers will go to your competitors in less than 15 seconds. When developing a homepage for an eCommerce website, keep in mind that users expect to find a navigation bar horizontally on top and vertically on the left. If you want to make your navigation bar persistent, use Kipling's example. As you can see, the navigation bar remains on the top of the page even when users scroll down the website.
If you want to provide users with a smooth journey, creating responsive navigation is a must. According to Statista, mobile retail eCommerce sales will reach 420 billion dollars by 2021. For that reason, all online retailers should provide customers with navigation menus that fit any screen size. Here, you will find a case study that shows how responsive online shop design can increase the company income. Are you still in doubt? This article will give you a clear understanding of how design can influence your eCommerce business. You can use these ideas to create the best eCommerce homepage for your online shop.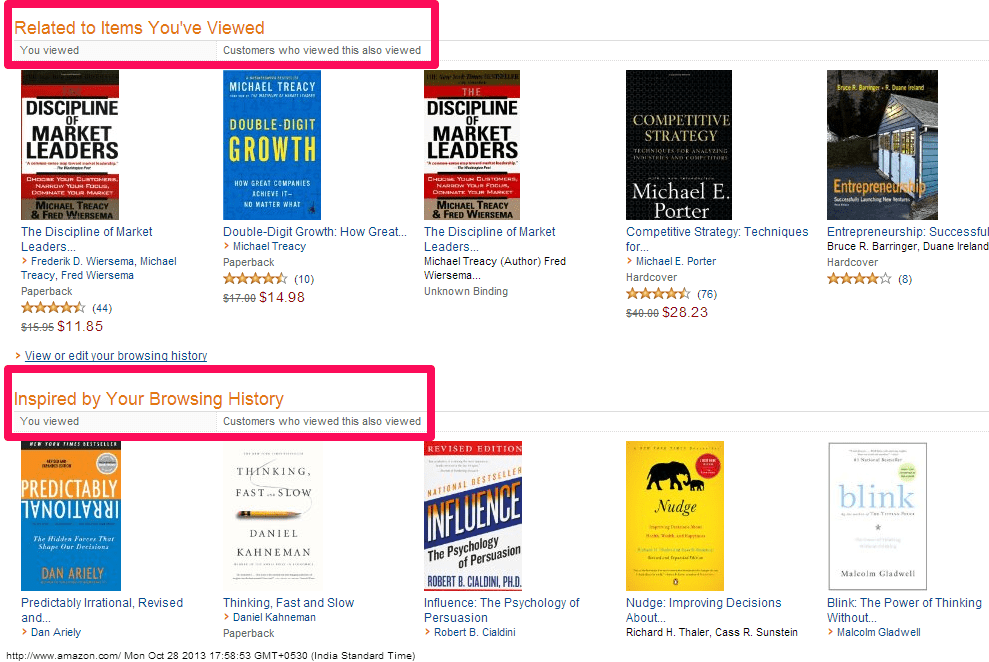 3. Personalized content and product recommendations
Let's review how Amazon reminds users of their search results and makes recommendations based on them. Personalized product recommendations increase not only conversion rates but also the average number of items added to the cart. As a result, you receive more profit from one customer. For that reason, you should use this tip to create an eCommerce homepage design with a high conversion rate.
Moreover, collecting such user data as the traffic source, geographical location and pages viewed gives you even more opportunities to provide users with a more personalized experience and increase customer lifetime value.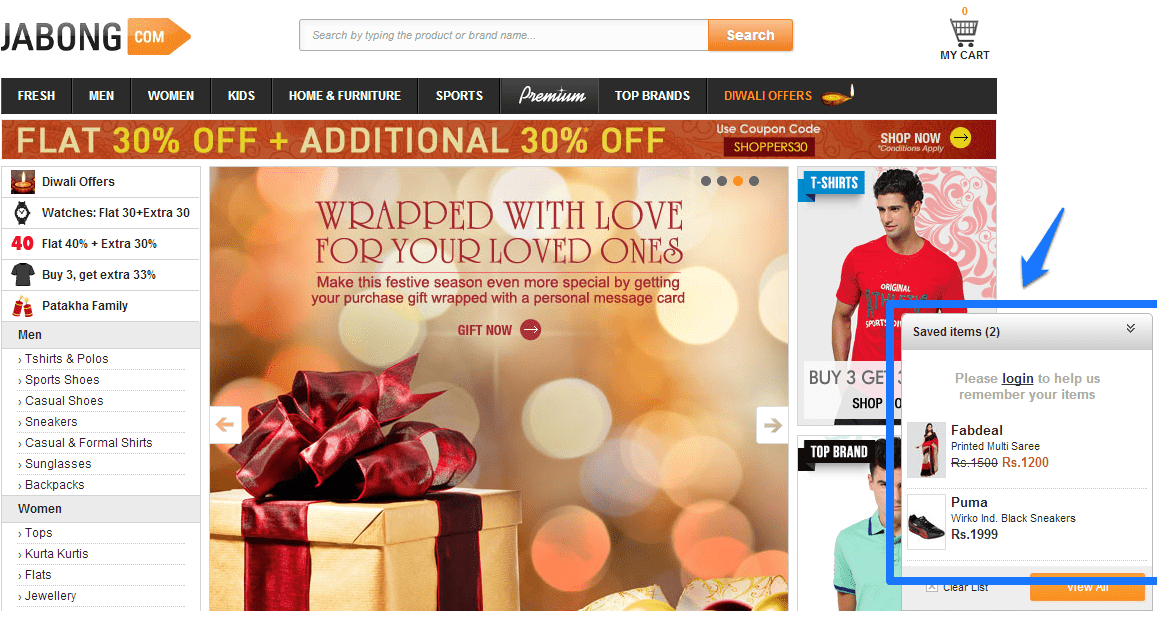 4. Persistent Shopping Cart
Look at the image of shops on Jabong's homepage. Look on the bottom right corner. How does it work? If shoppers add goods to a cart and close the website, the products will remain in the cart when users visit your site the next time. Jabong's homepage uses long-term cookies and shows products added to the cart over a long period of time.
According to Magneto, such shopping carts keep track of the number of non-purchased products that shoppers have left in the cart. The technology allows saving items for the customer's next visit.
Also read: 5 Best Conversion Rate Optimization Tips for Your Ecommerce Website
Some visitors use 'add to cart' as a wish list, in practice. This is an undesirable behavior, because it leads to a product subtraction from the online shop inventory, which also affects the sales pipeline. While some online retailers choose not to use a persistent shopping cart, there is a significant percentage of businesses who successfully use this tip.

5. Phone Number and Address
First time visitors will always be a little suspicious and apprehensive about buying from your online shop, even if you do have strong credentials. If you want to win the trust of such online shoppers, add the physical locations of your company and a contact number in the website header. Otherwise, they may think that you want to steal their credit card information.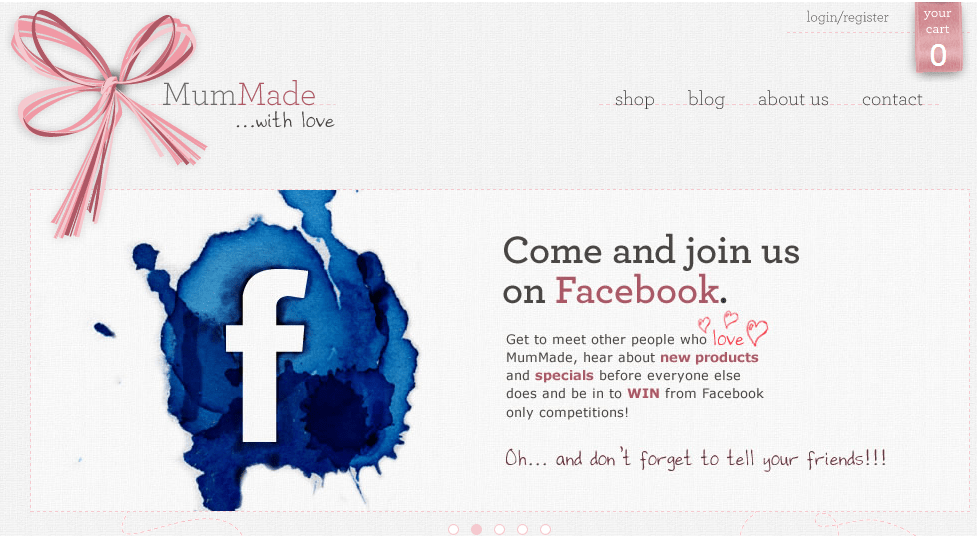 6. Sharing via Social Networks
According to Shopify, over 85% of all eCommerce orders come from networks like Facebook. Take into account that customers who share information about your e-business, might also increase your conversion. Another report also emphasizes how social media presence is important for every online retailer.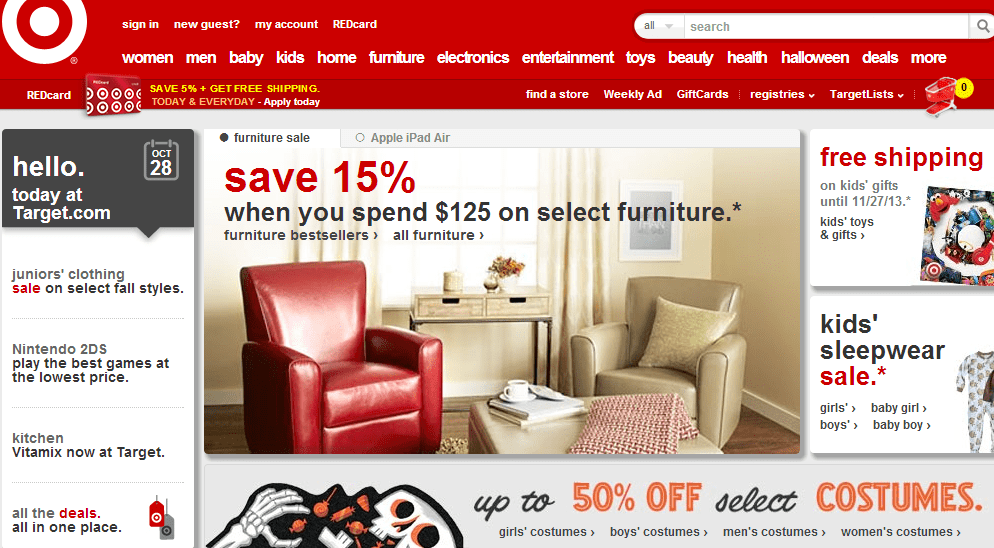 7. Eliminate rotating carousels
If you want your online shop to have the best eCommerce homepage, do not use rotating carousels with product images. This is really important, and we can even show you some figures and stats to back it up. While we understand that online retailers want to show off more products, they usually, nevertheless, ignore the fact that it actually annoys shoppers. Moreover, carousels slow down your eCommerce website, which results in bad SEO. Take into account the fact that successful online shops use static images on their homepages.
A case study, conducted by Grizzlyzoos, only confirms that carousels on the homepage are a bad idea. The A/B testing showed that homepages with carousel received 2.06% clicks, while homepages with static images received 40.53% clicks.

8. Trust marks
This works like ice-breakers, especially with new customers. When they see trust badges on a website homepage, they start considering a purchase. As an example, House of Kids uses this tip. Since the company put a trust mark on their website homepage, the conversion increased by 32%. Do you want the same result? Consider this advice when developing a homepage for your online business.
Of course, only well-known trust badges will help you to show a guarantee of security for your customers. If your online shop homepage displays many unrecognizable trust marks, your customers will think that you are trying to create a false sense of security or attempting to steal their credit card number.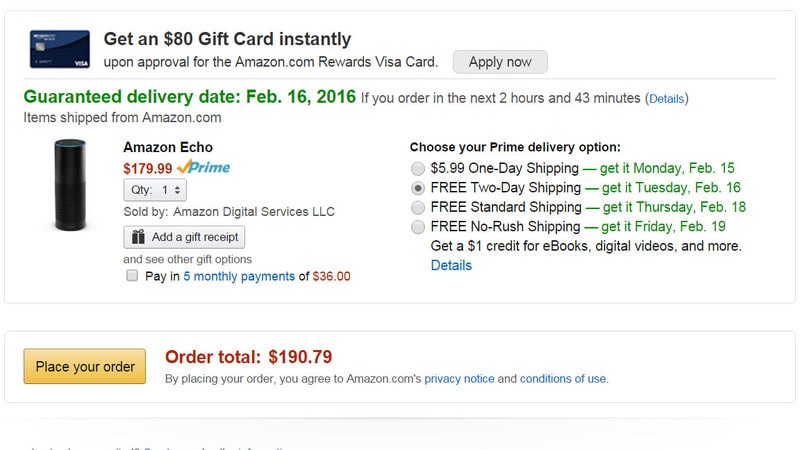 9. Free shipping
If your online shop has a high cart abandonment rate, we probably know why. The main reason why your customers add products to a shopping cart but do not buy them is due to high shipping charges. Additional costs are not welcomed by any customers. Online shops that provide customers with free shipping are more successful over those who do not.
Online shoppers also want their products to be delivered as soon as possible. For instance, Amazon claims that orders will be shipped in a day.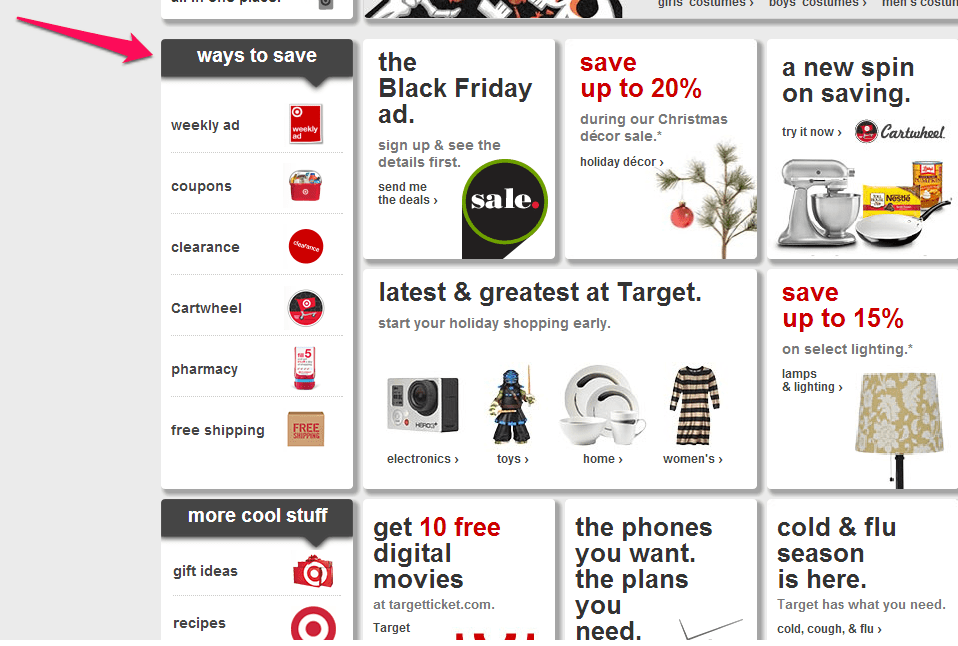 10. All discounts in one place
If your online shop marketing strategy includes multiple discount options, you can create a menu for them. Using this strategy, and storing all coupon codes, newspaper cuttings and loyalty point offers in one place, you can increase conversion and attract more loyal clients.
We hope these tips are useful for your business and that they help you to improve your online shop homepage. While our examples helped lay out a theoretical pictures, it is now time to put the pieces in practice. Below is a list of the best eCommerce homepage designs that will give you a clear idea how this conversion magnet can work effectively.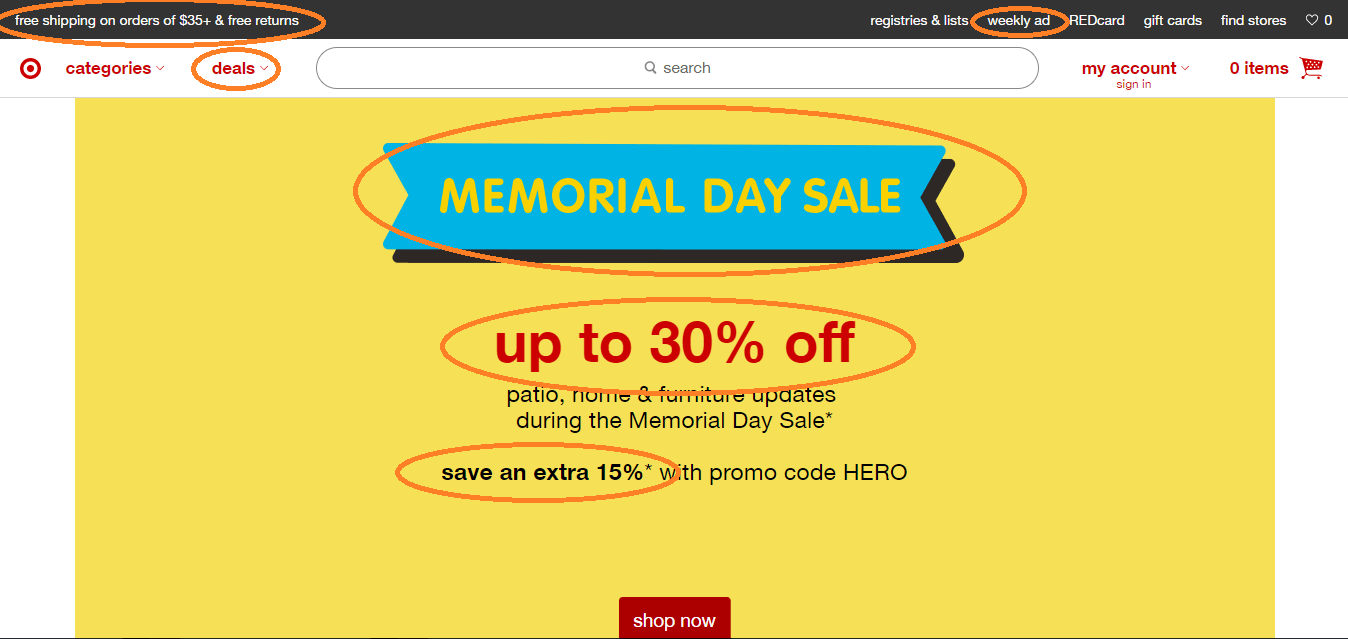 Target.com: Urgency results in more sales
This online shop's homepage tells us that we can save six times than if we were to shop with a competitor and, moreover, it makes us do it quickly. Using relevant sales events during a limited period on your online shop homepage will increase your sales drastically. You can place such offers below the folder to attract shoppers to the product categories that they might be interested in.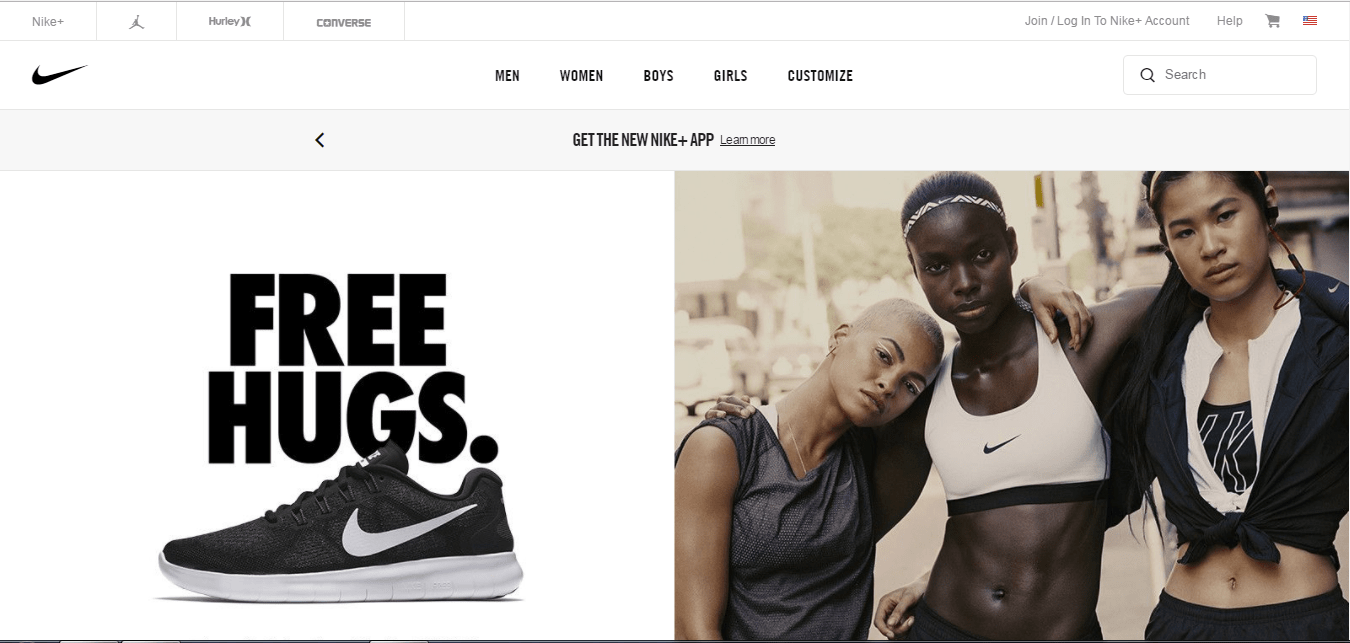 Nike: The power of visual content
Being one of the biggest retailers of athletic products, Nike tells customers their business value using a single image on a website homepage - and they succeed at it. The image show-shoppers that Nike produces are a combination of confidence, diversity and inclusiveness. All this information makes up one message and the responsive website design helps to increase the conversion rate.
Zoffoli: Message and Video
Moving objects attract customer attention, which is why Zooffoli uses the background image to clearly communicate their value proposition. Online shoppers understand the powerful statement from this company clearly, even at first glance
Home Depot's Customer Digital Journey
Home Depot has used special sub-categories for their electrical goods landing page. This way, customers have access to more specific product categories. They have also used a banner to inform customers about timely promotions, providing customers with a sense of urgency to buy.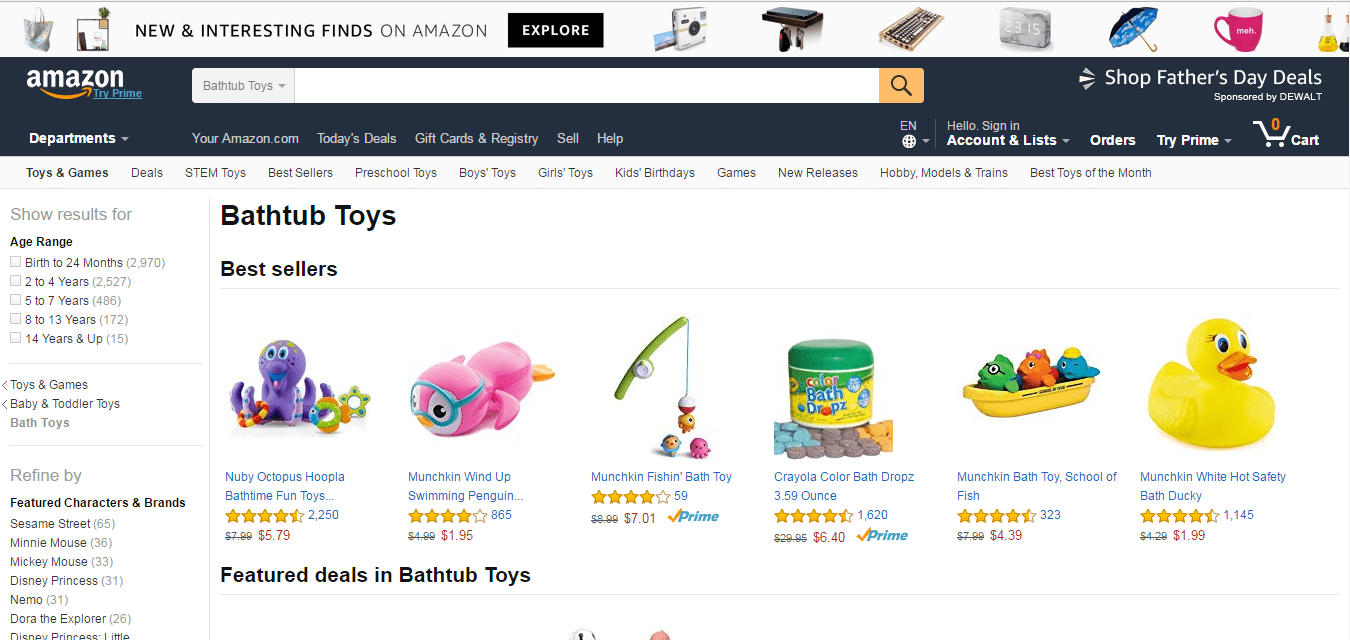 Amazon: "Best Seller" in a Category
As an eCommerce leader, Amazon is a company that all online retailers should look up to. Every category page has a "Best Seller" section. Here, customers can find images of products, ratings and more, based on real-time data. For maximizing conversion, they use clear and organized item presentation.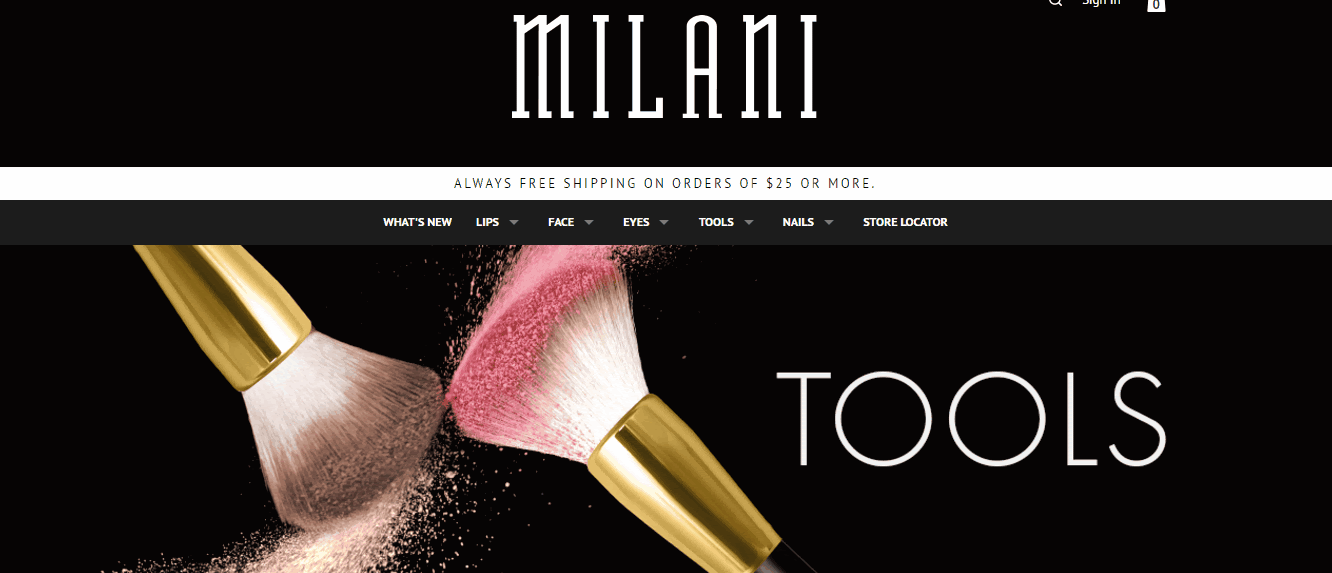 Milani: Comparative Imagery
To display the products on their category page, the Milani online shop uses images. This is a powerful technique from contextual and visual points of view, as it takes less time for viewers to compare goods and to select relevant ones on the base of products insights.

Conclusion
The homepage is extremely important for eCommerce businesses. Based on the layout and information provided, your online shop visitors make a decision to buy your goods or not. So, when creating an online shop homepage, you should pay extra attention to details and use eCommerce best practices.
How can Dinarys help your eCommerce business?
The team specializes in the development of online shops and eCommerce website design. If you do not know how to design an eCommerce homepage, we can help you. Being experts in online retail, we can develop a homepage design that will fit your industry and business values perfectly. Just fill out this form and we will contact you ASAP to get started.
Want to read more
Get fresh articles, news and case studies to your email firstly
Related articles