What is the difference between responsive and adaptive web design?
eCommerce Jan 09, 2020

Main / Blog / What is the difference between responsive and adaptive web design?
We are living in a digital era, where people prefer using mobile devices for visiting websites. Moreover, there is a significant increase in the number of online purchases made with mobile devices. It is vital for businesses to make their website easily viewed on smartphones and tablets.
Otherwise, you will drive less traffic and lose visitors. Moreover, the absence of responsive vs adaptive design results in lower website ranking by search engines.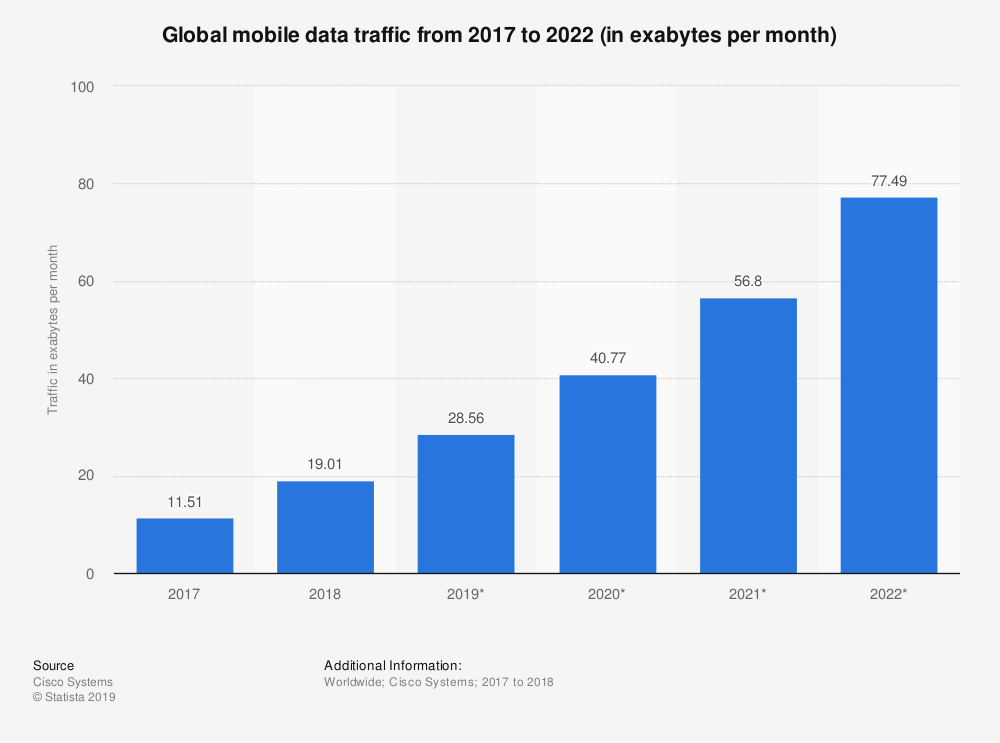 Image source: Statista

Now you can browse your website or an online shop on your mobile device. If it is difficult to view, your design is outdated. Probably it was built applying pre-mobile methods with fixed width design.
However, don't get upset. We are here to help you. In this article, we will tell you:
What is responsive web design
What is an adaptive web design
Adaptive vs. responsive web design examples
Moreover, how to choose adaptive vs. responsive web design for your website
Keep reading to find out more and make your site more convenient to use.
Let us start!
As we said, website owners should not ignore mobile traffic. You can make your website more convenient to use on mobile devices with adaptive and responsive design. Both types of design can prepare your e-commerce website for mobile use. Still, there is a difference between them. They suit different website needs. Also, they differ regarding costs.
What is responsive web design?
Responsive web design responds to the size of any target device screen size. Websites with such design adjust the layout and functionality equally well to browsers 300px or 30000px wide. This adjustment is possible because of 'fluid' layout, CSS media and 'fluid' grid. Responsive design allows the page to resize its height and width and show correctly on any screen.
Our design team claims this type of design is straightforward to develop and takes less work to implement. The responsive design allows less control over the design of each screen size. It uses percentage-based CSS rules for changing the style based on the size of the screen.
Today it is a preferred method for developing new websites. Most ready-made templates for CMS like Magento 2, Shopware have responsive design by default.
Our design team creates a single look of a website that will be used for all screens. The first thing they produce is the middle of the resolution. Then, they determine the adjustment for the lower and higher end of the resolution scale. Following these simple steps, we make our clients and their website visitors happy, since such design translates to any device's screen. From the point of user experience, such uniform design provides customers and website visitors with a seamless and smooth journey.
What is adaptive web design?
The main difference between adaptive and responsive web design is that adaptive webpage has several layouts that suit particular types of devices. In other words, a web designer should develop specific plans for mobile phones, tablets, and desktop computers.
How does it work? The website detects the device being used and delivers the pre-set layout for this particular type of device.
This way, adaptive design provide website visitors with the best experience since all the website elements suit a particular interface. While responsive websites screens "flow" from one screen size to another, the adaptive design offers tailor-made solutions.
For us, as a development team, it is important to show users that we understand their needs for usability. Therefore, we do our best to make each screen touch responsive. We develop several stand-alone designs of your future website to make sure that every element of the layout is on the right place. Unlike responsive design, which requires using percentage-based CSS rules, the adaptive design uses one static layout per each anchor point. When the anchor point has been detected, it adjusts to the screen size.
We start the development process of adaptive design from the lowest resolution version of your website. Then, we move to the highest and create multiple renditions of the same design. The current standard is six adaptive designs for different devices' widths: 320px, 480px, 760px, 960px, 1200px, and 1600px. However, depending on the data of your website visitors, you might need fever designs.
While responsive design works great for simple websites, we highly recommend using the adaptive model for mobile versions of online shops and sites with a layout consisting of many elements. Moreover, adaptive sites work 2-3 faster, compared to responsive websites, which might be useful for conversion increase.
Adaptive vs. responsive web design examples
We hope you understood our explanations about the difference between adaptive and responsive web design. So let us move further because we are going to show you some excellent illustrations of responsive and adaptive websites.
Responsive web design examples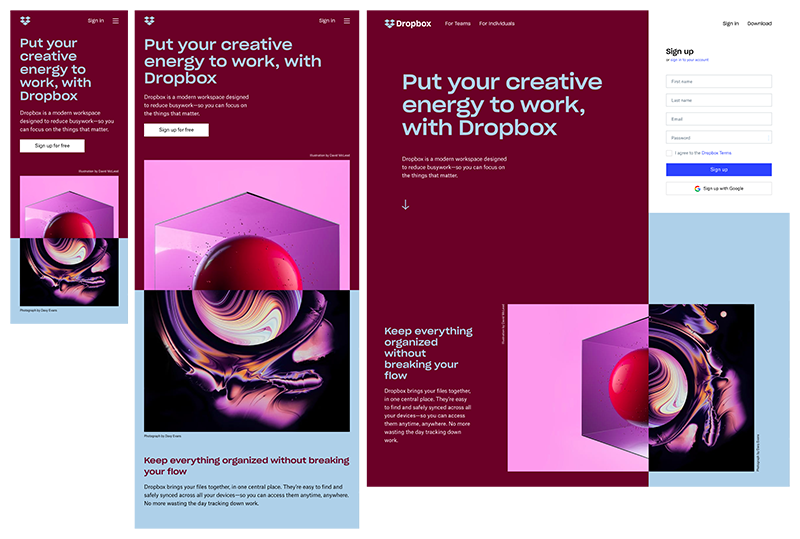 Image source: Dropbox
1. Dropbox
Dropbox has a great responsive website. In addition to flexible visuals and fluid grid, the site changes the front color version to accommodate the background color and image orientation. Users can enter the website by using signup form, hidden behind a call-to-action button. Thus, Dropbox offers users a convenient experience across each device.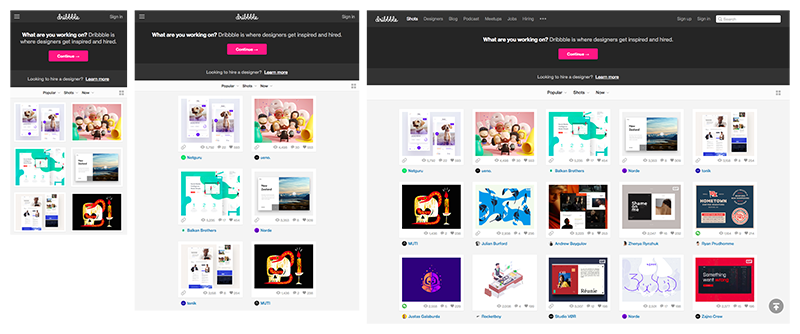 Image source: Dribble
2. Dribbble
The responsive web design of a Dribbble's website has become one of the company's hallmarks. Apart from a flexible grid, the responsive design of this website changes the navigation menu from five columns on desktop computers to two columns on mobile devices and tablets. The company, to make the responsive version even more user-friendly, removed the search bar and hid a menu behind a hamburger icon.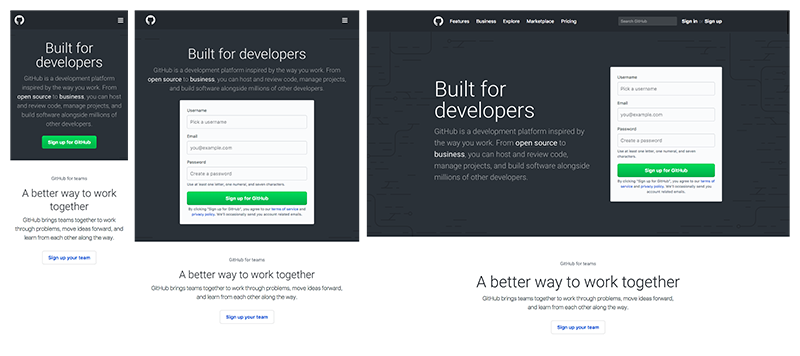 Image source: GitHub
3. GitHub
GitHub is another company that uses responsive design for mobile website version. To offer a consistent experience across all devices, they changed the area above the fold from two columns to the single-column layout. To reduce clutter on mobile devices, GitHub removed the search bar and hid the menu behind a hamburger icon.
Adaptive web design examples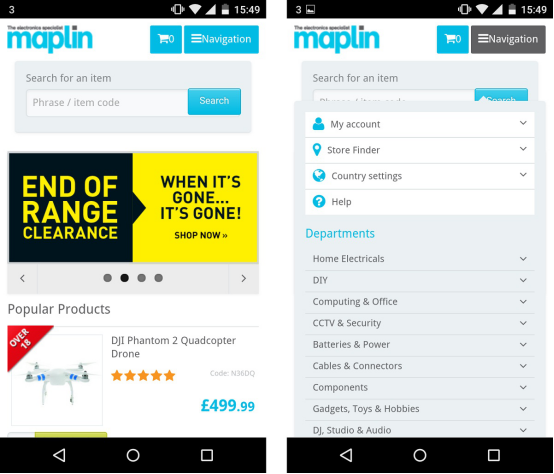 Image source: Maplin
1. Maplin
The first example is UK-based retailer Maplin. The company chose using the adaptive website without a unique URL for the mobile version. The Maplin website detects the visitor's mobile device and serves a different version of the site. As you can see, the website design allows shoppers to browse products and make purchases in a comfortable and user-friendly way.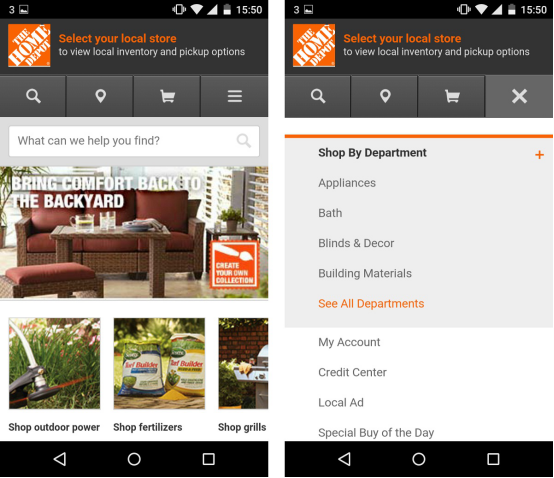 Image source: Home Depot
2. Home Depot
Home Depot, a home appliances retailer, provides a smooth journey on their adaptive website version. Such a feature, as location sharing, shows mobile shoppers the nearest store. The adaptive website design also includes product details and access to real-time store inventory.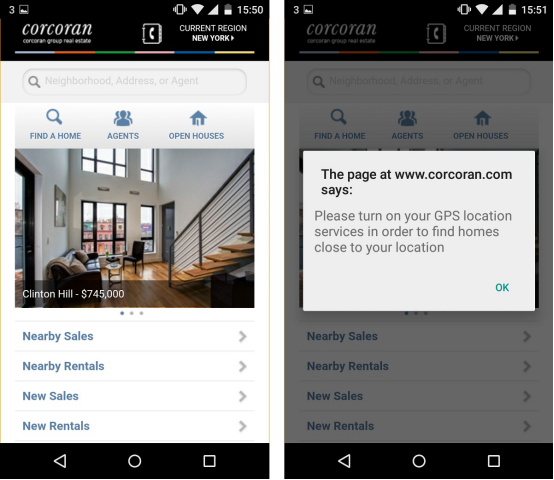 Image source: Corcoran
3. Corcoran
The Corcoran company also chose using adaptive website design. The website of this real estate firm shows potential renters and home-buyers a list of amenities near the searched apartments and houses.
How to choose between Adaptive or Responsive Design
Both adaptive and responsive web design is aimed at providing mobile device users with simple interactions. However, it takes less effort to create a responsive design, compared to the adaptive website version. So, which should you choose? Consider some facts mentioned below, and you will find the answer.
If your website is developed with a popular CMS (Content Management System), like Magento, Shopware, you can buy a theme with built-in responsive web design.
If your website is a custom-made solution with multiple features, then you need to hire the development team to create an adaptive design for various devices and screens.
If you want to rank higher in search engine results, you can go with responsive web design. This way your content will be perfectly visible on mobile phones and templates, which results in high mobile traffic.
If your website includes much content, many buttons, and other design elements, your option is an adaptive design. To implement it, you need to hire a design and development team. They will develop a fixed set of templates for displaying on different screen sizes across many devices.
The responsive web design appears to be a safer option since it functions well with all screen sizes. Moreover, it improves loading website time and costs less than adaptive design.
Still, in some cases, adaptive web design is a better option. This type of plan requires developing a smaller version of a website with different layouts to fit different devices.
Another factor to consider is the mobile website visitor intention. If it is different from desktop visitors (they book a service rather than view a product catalog), you should choose adaptive web design.
Final thoughts
Mobile users use their devices to visit websites and buy online. Mobile traffic cannot be ignored. Your site should have responsive or adaptive web design, to keep the visitor's journey seamless and straightforward. Both responsive and adaptive designs help your customers and visitors easily navigate your website or an online shop.
We recommend developing the responsive design in case of limited time and budget and if there is no difference in viewing and interacting with the website on a desktop or mobile devices.
At the same time, adaptive design wins when the loading speed is crucial, and users use desktop and mobile website versions for different purposes.
Still, there is no single answer on whether to develop a responsive or adaptive design for your website. We think that each case should be considered individually.
If you need additional consultation on what design version to use for your website, or you are in search for web development and design agency, we are here to help. Contact us by filling the form below.
Want to read more
Get fresh articles, news and case studies to your email firstly
Related articles