E-Commerce
Jul 16, 2021
Best Magento and Shopware Electronics Themes For E-commerce Website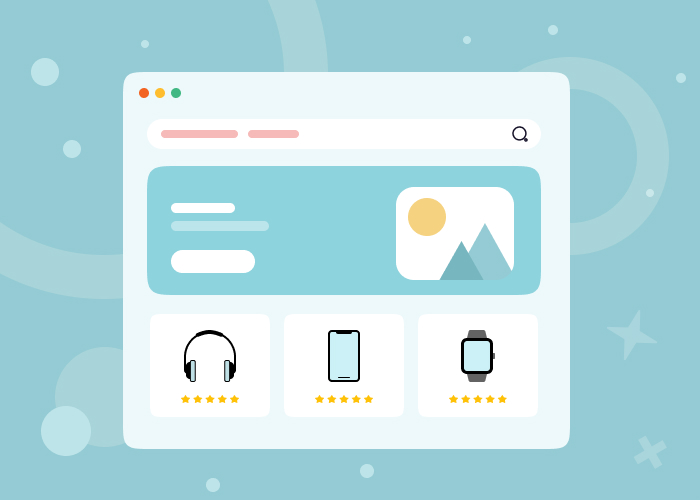 Content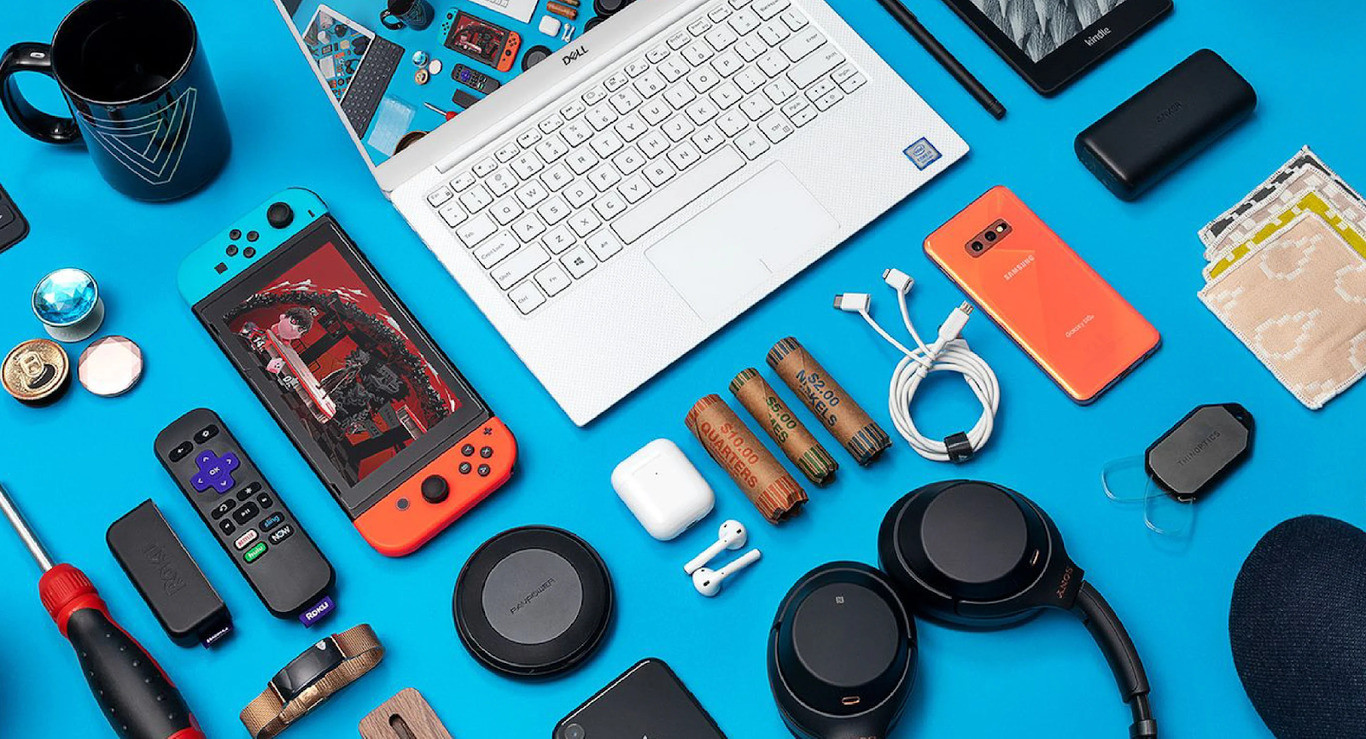 Source: www.merchantcapital.co.za
Online electronics stores have become an exceedingly popular shopping option, and not just due to the pandemic and its limitations on physical commerce. Eсommerce has evolved to such a degree that customers can compare multiple tech items and see the entire shop's price range while simultaneously reading numerous years' worth of reviews. Add that to the ability to shop using mobile and tablet, and you can see the allure of electronics e-stores.
Anyone who wants to start an e-shop has various platforms to choose from. However, now a new challenge appeared - selecting the best electronics themes for e-commerce website that will fit your needs. If your shop is using Magento 2 or Shopware platforms, this article will help you with the problem.
How to Choose the Best Magento 2 Electronics Theme
Magento is an electronic commerce platform with an extensive developer community, advanced extensions system, and a somewhat higher overall complexity than other platforms. It has a free Community version, two special editions available through a one-time purchase, and an on-demand enterprise solution.
To choose the right one out of countless electronics themes, online shops should first identify what kind of brand image they want to portray - professional, playful, minimalistic, etc. The style should also accommodate the store's functionality. Remember, the best Magento electronics theme can only be best if it fits you and your business, so choose wisely.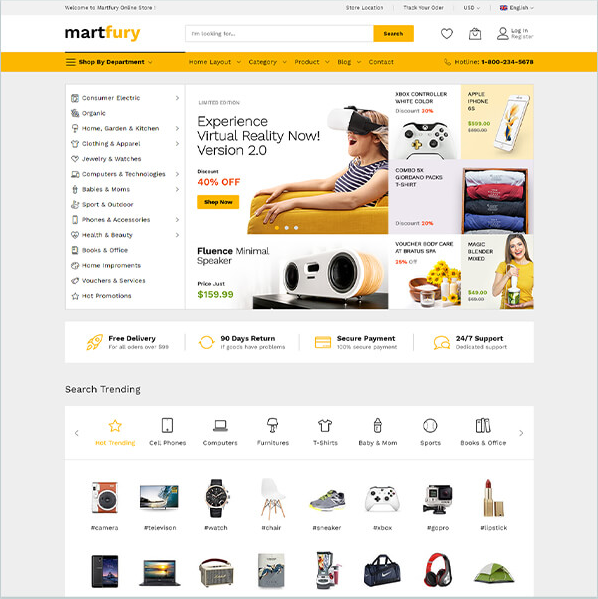 With $129 for a license, Martfury is a quality multipurpose and multi-vendor eсommerce theme with meticulous documentation and six months of support with an option to extend it up to a year. This template is compatible with all the latest Magento editions and practically all available browsers. All pages, blocks, or widgets in Martfury are easily switchable and reusable across all available layouts.

This Magento electronics theme costs $59 and is eye-candy for minimalism enthusiasts. It is a fitting template for various e-shops - digital, hi-tech, accessories, furniture, cosmetics, etc. Mella comes with over seven modern layouts styles that can be quickly individualized. This theme also includes accessible designs for non-essential website pages, such as blogs, faqs, about us, and multiple navigation styles - eleven styles for headers and six options for footers.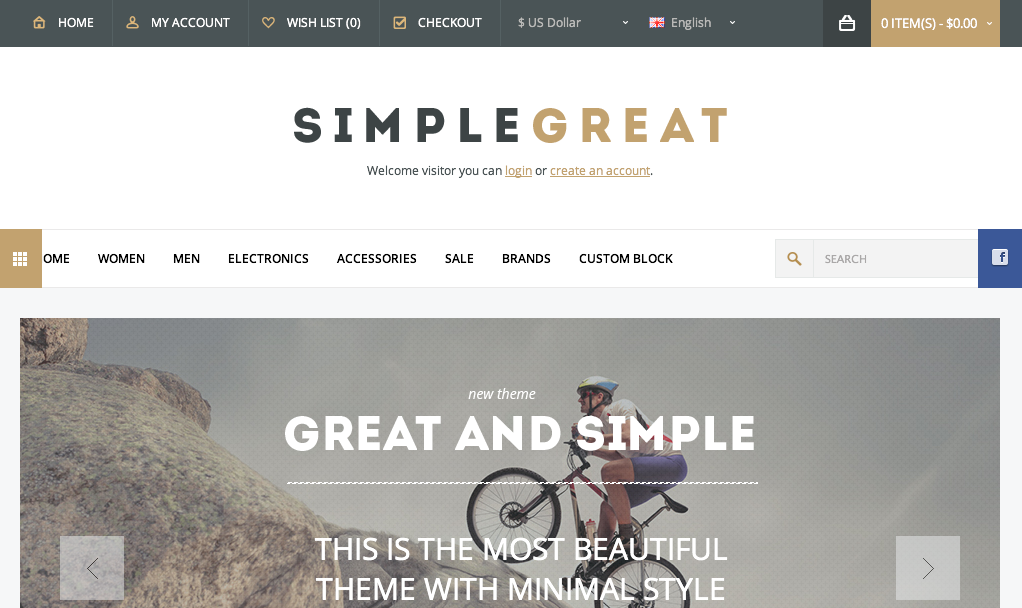 SimpleGreat is a premium Magento theme with touch support, a mega menu, and a built-in color changer. The template is priced at $199 for a regular license and future updates and serves as a multipurpose solution for most stores, including electronics and technology. Its numerous configurations combine more than 500 fonts, over 200 distinct background patterns, several setup effects, and page elements.
Other perks include:
Custom colors in admin panel;
Floating and animated custom block;
Promotional banners.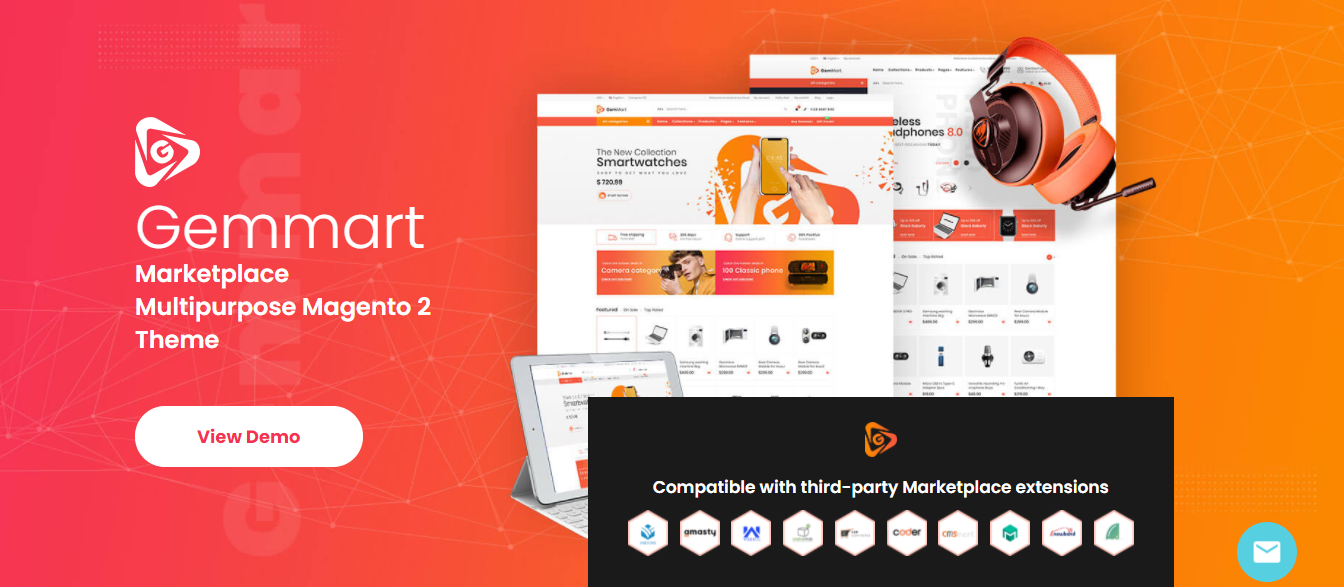 One of the most popular multipurpose Magento 2 electronics themes, GemMart costs $78 and offers professional support, an installation video guide, and very explicit documentation. This theme provides an online shop with more than 18 homepage versions depending on the store's purpose, coloring choices, and the preferred product organization.GemMart includes all the top extensions in its package - Ajax navigation and carts, lookbooks, Mega menu, blogs, and banners.
Virtroni

The relatively recent Virtroni theme specializes in displaying electronics in a professional, minimalistic, and captivating manner with its slightly subdued colors and is valued at only $45. This Magento 2 template also possesses the following features:
Shop by brand filter;
Sample data installer;
Multiple popular Ajax extensions;
SEO optimization;
Accessible for all devices.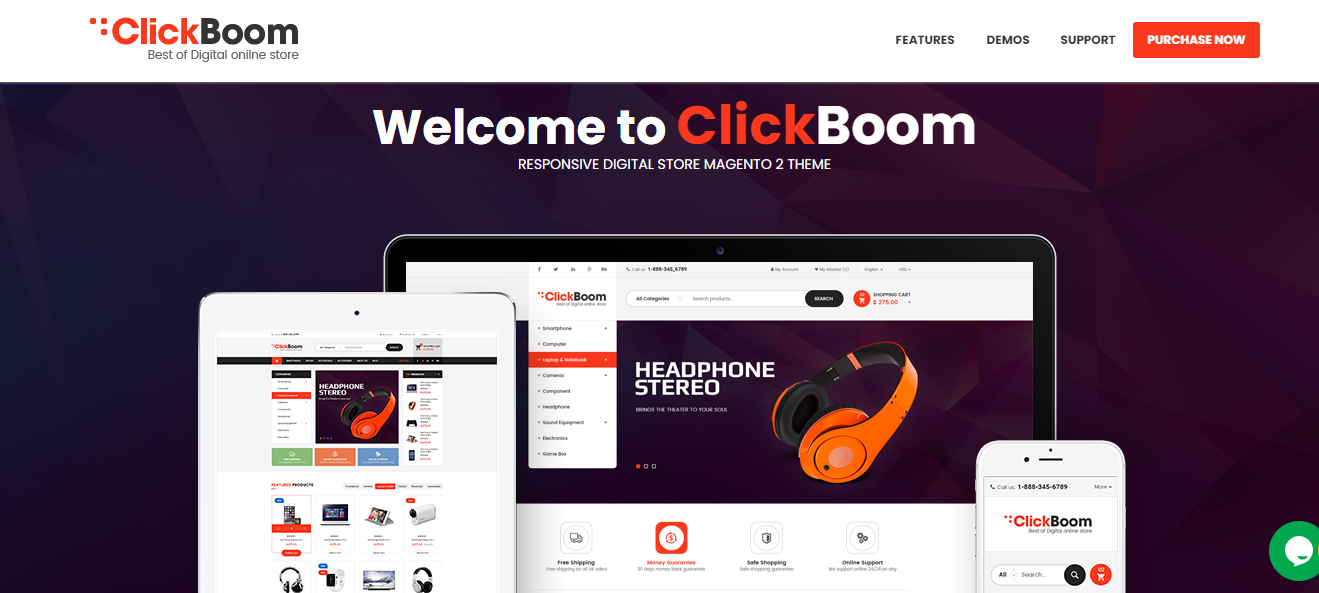 ClickBoom is a responsive theme that specializes in both electronics and fashion Magento eсommerce. For $84, you get several artistic homepage options, one-click sample import, constant helpful updates, and quick views for any detail of your products and page elements. ClickBoom also offers impressive color features - you can create your own color theme or compare your items using different color swatches.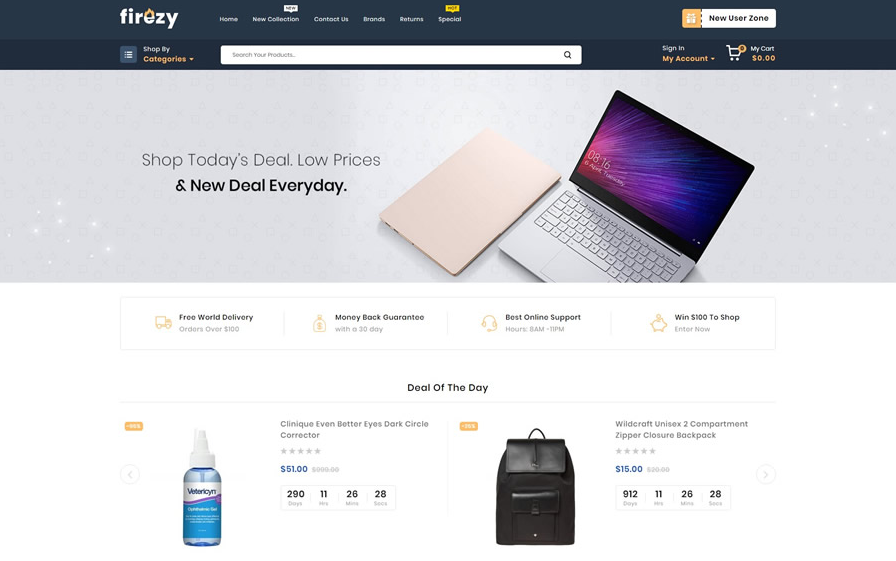 The last Magento 2 electronics theme on our list is called Firezy. This multi-store template is priced at $54 and offers exceptionally efficient customer support, multiple installation tutorials, and color combinations that can make your shop look refreshing yet still presentable and competent.
Firezy additionally offers:
Extra customization options for any of the subpages;
Product color swatches;
Simple newsletter pop-ups;
Unlimited sliders and banners.
Read further our selection of the best minimalist themes.
How to Choose the Best Shopware Electronics Theme
Next in our search for great electronics themes comes Shopware, an automatically configurable eсommerce platform that can grant access to its backend to everyday users. It is primarily popular in European countries, most of all in Germany and Austria, and, like Magento, also has a free Community version.
Read also: Magento 2 vs Shopware 6 Comparison
With a much smaller variety of themes compared to the previous eсommerce platform, Shopware opts for professionalism and a "less but better" mentality. Although the number of customizable plugins they offer can hardly count as "less", plus their community covers more than 40,000 members. Here are a few of their most promising themes for selling electronics.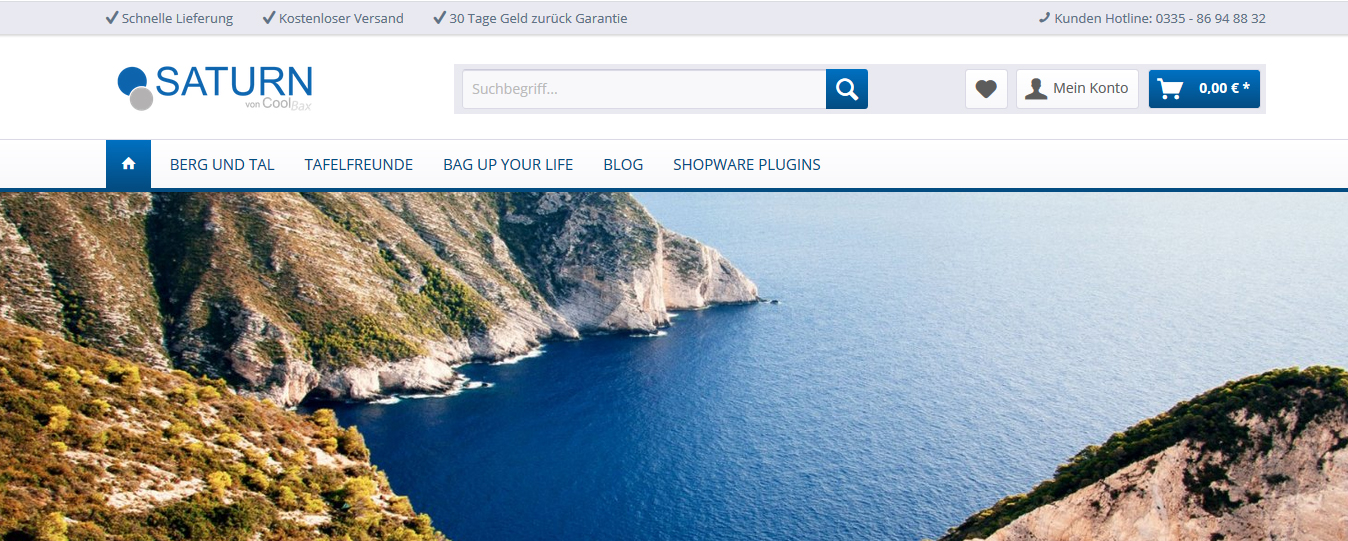 Saturn is a plain and modest theme that gets the job done. Its unpretentious core shifts the focus into much-needed responsiveness, high-quality customizations, and user-friendliness. For 299 Euros come free updates and support for a year, as well as a bunch of other interesting perks this template has to offer:
Numerous color, logo size, and background picture adjustments;
Sticky menus;
Global notification texts;
Article image animations;
Extendable footer.

This Shopware electronics theme is cloud-optimized, so if you prefer a self-hosted version, head here. This template subscription is priced at € 14.90 a month with free updates, the ability to cancel, and a trial month. By using the Tronic theme, you can experiment with the footer area of your website - load up different certificates, integrate newsletters and social media widgets. The header area also has more than 40 options and settings to choose from.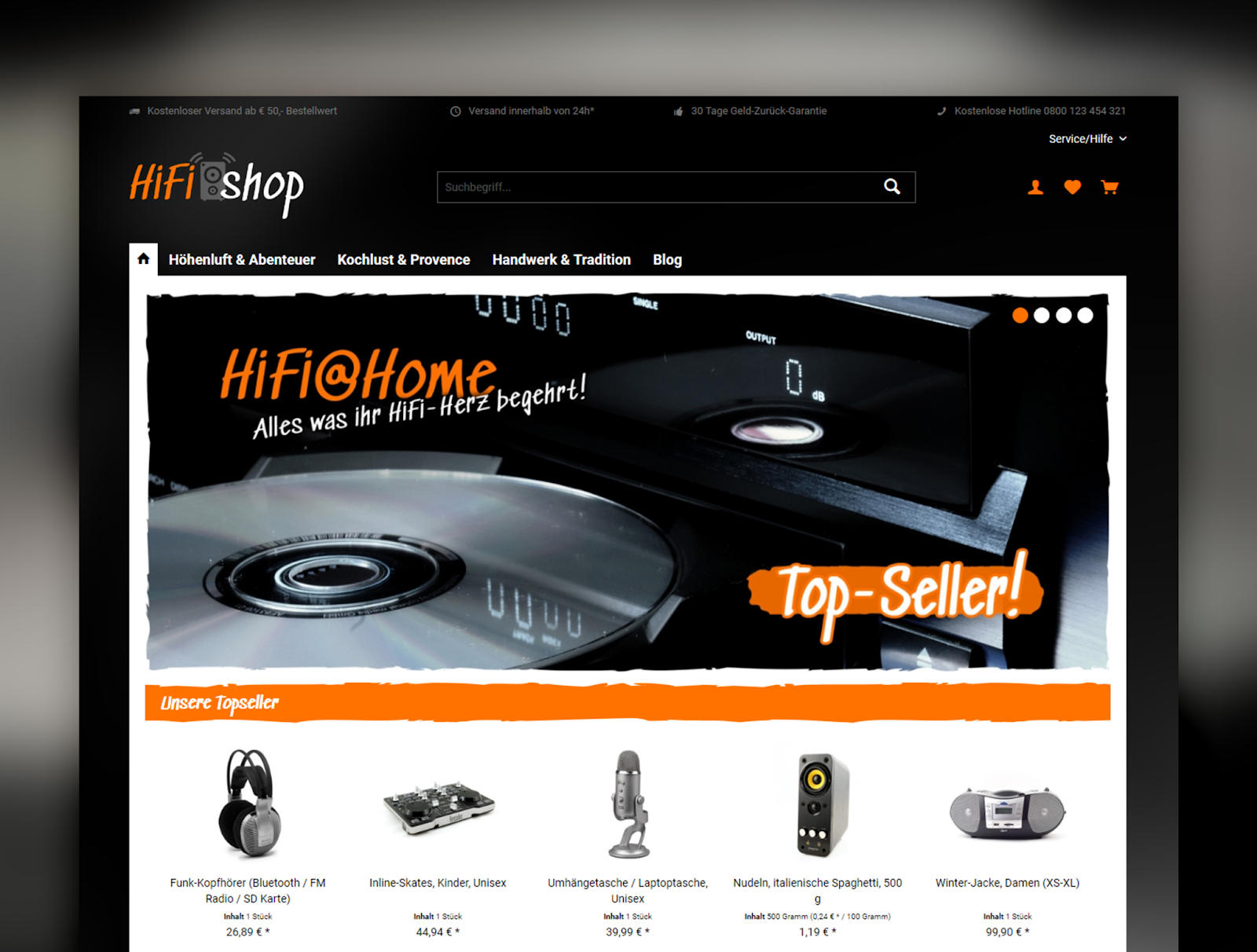 An embodiment of a darker vibe, ThemeWare HiFi is a bit of a pricey theme compared to others - it costs € 497. However, it compensates by having a couple of free trial options and impressive functionality and customization range. The template has over 500 settings and includes dozens of popular plugins. For an average user's convenience, this theme has included some introductory video tutorials, text instructions, and a few helpful online courses to master online sales.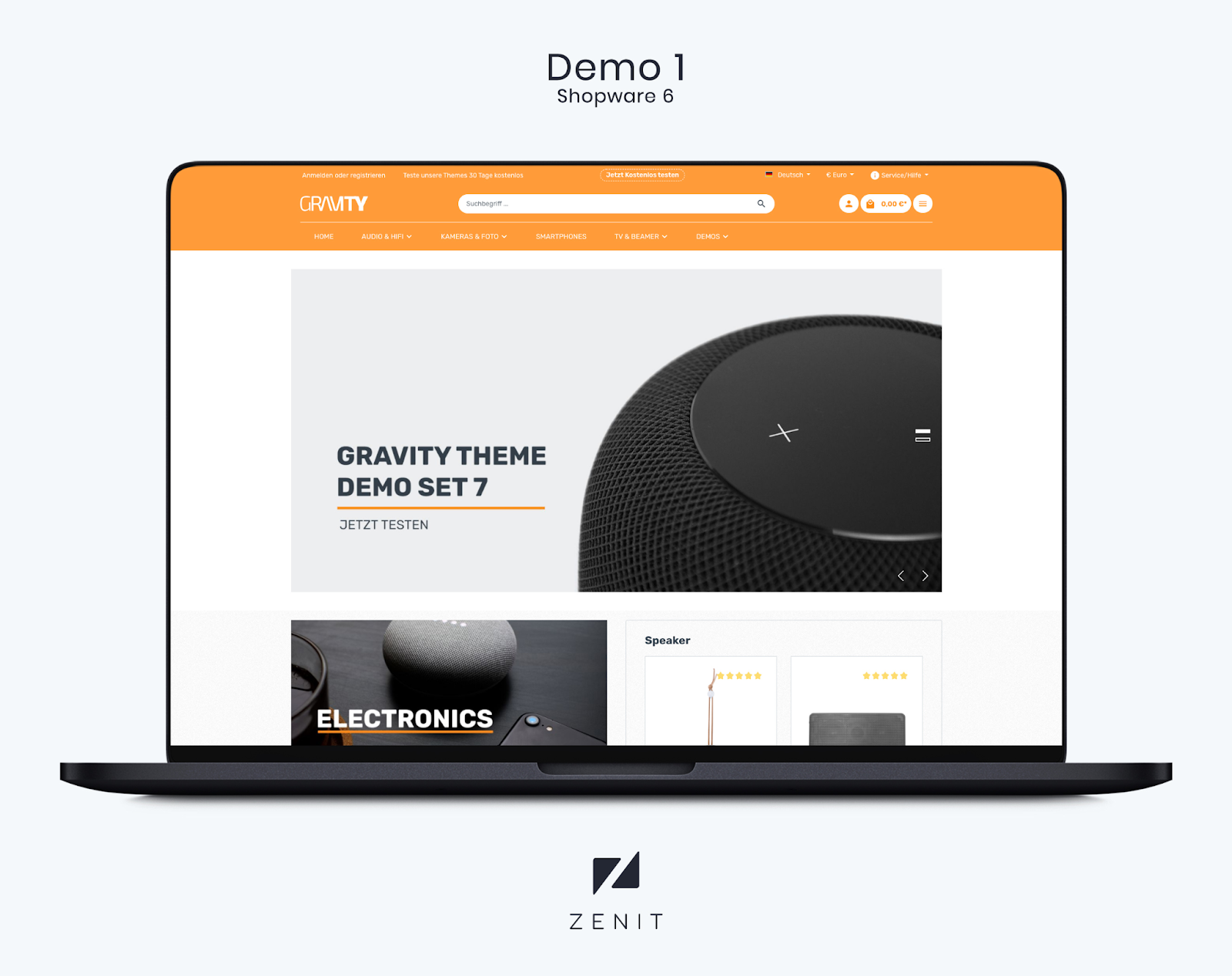 Gravity is a genuinely minimalistic theme incorporating exceptional german professionalism and a strive for moderation. For € 349, you can get a self-hosted responsive premium theme with quick and effective support and thoroughly detailed documentation. You can also switch to any other theme from this creator just by transferring the configuration of another free trial version to your initially purchased theme.
Additional features include:
The absence of intrusive branding and copyrights;
Major configuration capabilities;
Individual headers;
Frequent updates;
Google Fonts integration with over a thousand different options.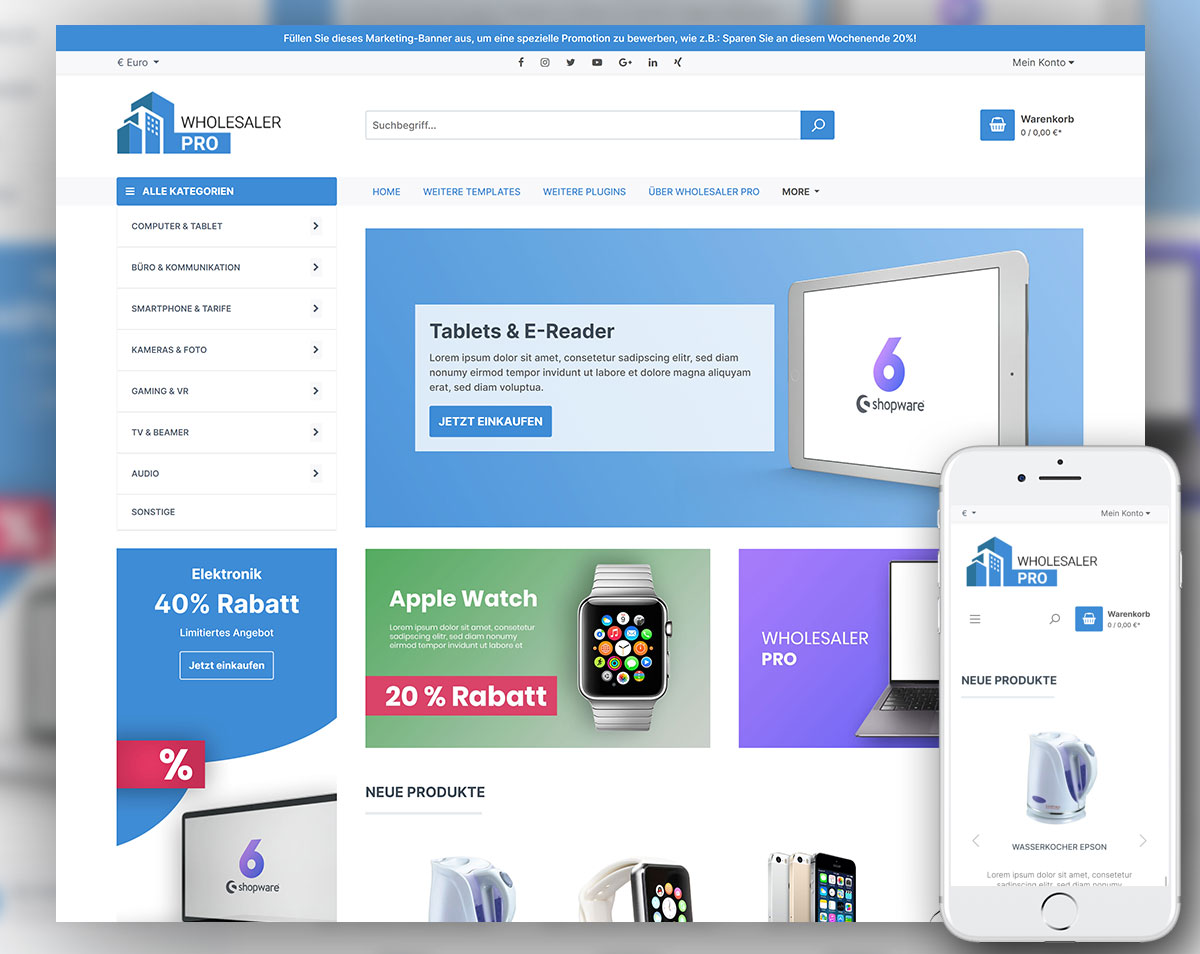 The following Shopware electronics theme costs € 349 and is an excellent option for wholesalers, as the name suggests. It allows you to make individual styling options for each item in your store. This template uses the trustworthy blue-ish appeal to the fullest, which can be an advantage while selling electronics. The Wholesaler Pro theme also presents advanced customization without obligatory programming knowledge, although, if needed, users can adjust any parts of individual code.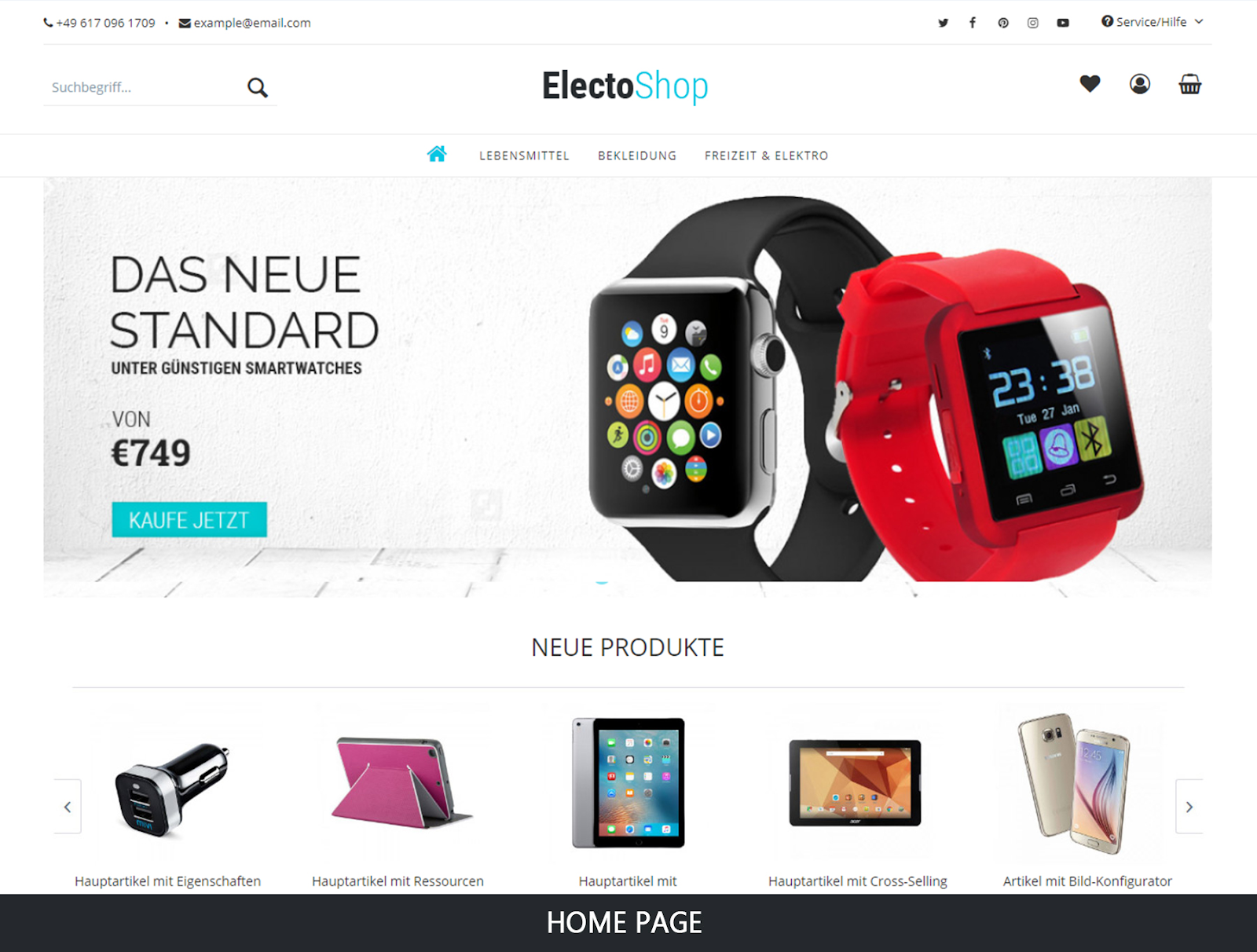 The last one for today is Tech Electo - even though this theme is slightly cheaper than the rest (€ 99.49), it still provides a client with high layout responsiveness, accessibility, and an outstanding structure of a site's internal settings. It also has the following features:
Multiple interesting header and footer variants;
Multilingual support;
SEO based customizable banners;
Sub-shop compatibility.
Read more in our blog How to Vend Electronics Online on Magento or Shopware?.
Conclusion
Website design and its functionality remain some of the top priorities for modern customers. A well-selected theme for any e-store can help with customer attraction and retention. There's a myriad of different themes on the market, and going through them all can be tedious. So hopefully, with the help of this article, you've found the electronics theme you've been looking for, although, if not - our team is always here to help you.
Let professionals meet your challenge
Our certified specialists will find the most optimal solution for your business.
Related articles