How to Build an E-commerce Website Using WordPress
eCommerce Jan 11, 2020

Main / Blog / How to Build an E-commerce Website Using WordPress
What allows some online retailers to succeed while others bite the dust? It's not complicated. In ecommerce, the most important things are a good-looking, easy to use website, and a well-thought-out business strategy. Take the time to create both, and your chances of success are already much greater than your competitors.
If you're looking to dip your toe into selling goods via the Internet, we recommend that you create an ecommerce website using WordPress. Using the WordPress platform will allow you to develop your own full-featured ecommerce site, without the help of an agency or professional developers. You set the theme, you create the look, and you can even add plugins with custom features to make the customer experience smoother.
Since we're an outsourcing agency specializing in ecommerce, Dinarys is often asked how to build an ecommerce website using WordPress. The software itself is free, but people often hire agencies like us to add custom features, to improve the design, or to create a custom theme. The sky is the limit with these things, only dependent on your budget and goals.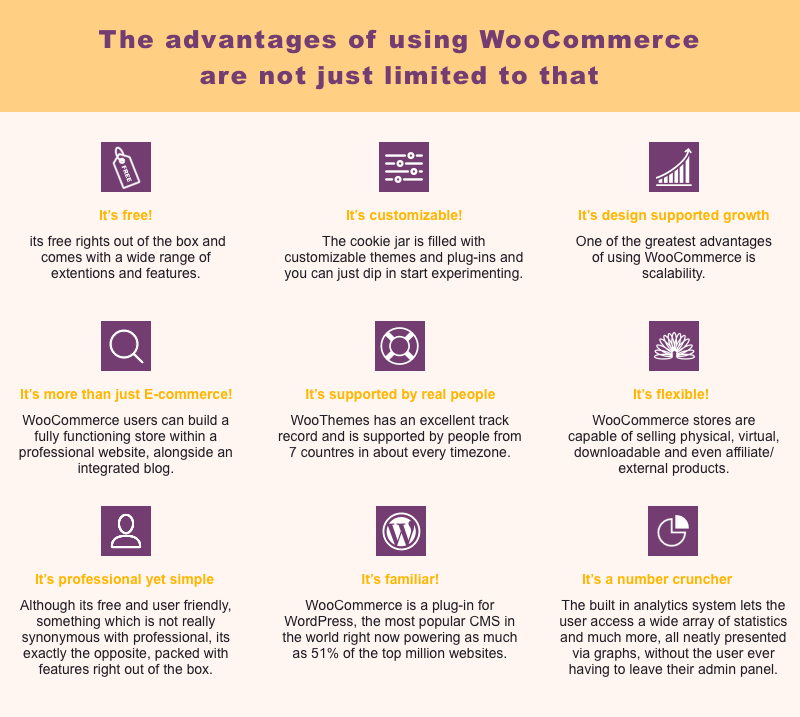 In this article, the most experienced developers at Dinarys will share the entire step-by-step process of creating an ecommerce website with WordPress. We will also provide you with a price list, if you should decide you'd like paid support in developing the store. Remember, the software is free, but expertise may not be.
Are you ready?
As we said, the WordPress platform is free. You only pay for certain custom themes, plugins, and extensions, as well as expert help designing and configuring your site.
So, in this article, we will find out what services and tools you'll need to develop your own online shop. We'll also give you information on custom development of your perfect ecommerce website. By the end, you'll be equipped to decide if WordPress is the platform you're looking for.
One of the most common starting points to creating an ecommerce website with WordPress is to use the WooCommerce suite of plugins. The software can turn your WordPress site into a fully functional ecommerce shop.
What is WooCommerce, and Why You Need It
WooCommerce is technically just another plugin for WordPress, much the same as any other. That means that you need to install it and activate it.
Like WordPress itself, WooCommerce is open-source. It has no licensing fees or agreements.
Believe it or not, this free software contains all the features you need to turn your WordPress site into an online store. You don't even need to be a technical person. Setting up WooCommerce and using it to create an ecommerce site isn't rocket science.
You won't need to make any changes to your current WordPress design as long as you like how it looks. WooCommerce works with any design, and any theme.
Also read: The 5-Step Checklist for eCommerce Website Redesign
However, if you do want some degree of design customization, it's easy to hire an ecommerce agency to work on your website. At Dinarys, our customers often order development of custom plugins and extensions for their WordPress online stores. However, it can be quite expensive.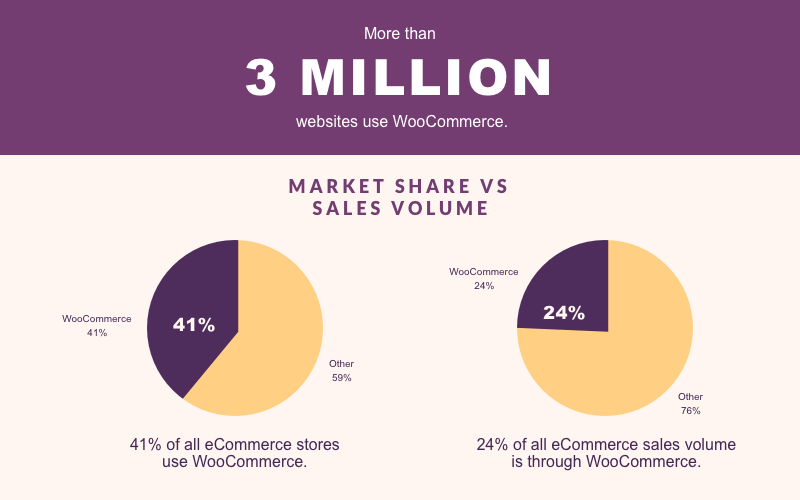 The Dinarys Guide on How to Create an Online Store in WordPress
In this section, you'll find the step-by-step guide to setting up an online store. Let's begin!
Step 1: Estimate the Traffic of your Online Shop
After you estimate how much traffic you'll receive, you'll be ready to select a hosting provider. Choosing the right host will ensure your site loads quickly for all visitors.
If you don't expect more than 1,000 page views per month, we recommend Bluehost. They're a great hosting provider for small businesses, and they provide service at a reasonable price.
If you expect more than 1,000 page views per month, then there are other options. We recommend a managed or dedicated host in this case.
Step 2: Features and Plugins
If you think about the real differences between an online store and a regular WordPress site, it boils down to selecting products, and processing payments.
There are three functions that every ecommerce site uses every day.
Product page and catalog
Shopping cart
Checkout process
All of these features should work smoothly, easing the customer along their journey. For that, you'll need to use an ecommerce plugin like WooCommerce.
Also read – Top 9 Essential Features for Custom E-Commerce Websites
Step 3: Setting Up WooCommerce
This part is easy. Just head to your WordPress dashboard, and install it like you would any other plugin or extension.
Step 4: Product Page Setup
After installing and configuring the WooCommerce plugin, it's time to create your product page. WooCommerce itself provides a great guide on doing this.
Here's a tip: Be careful with the URLs when creating your product categories. Be sure not to duplicate any URLs between categories and URLs. Everything related to a product should have a unique name. Even if you only have one product in a category, still give the category its own name.
Also, be sure that every product page includes at least:
the product name,
description,
price,
and a high-quality image.
One of the advantages of WooCommerce is that it already has a broad user base. If you run into trouble or need advice, it won't be hard to find people who have encountered the same issues before.
Step 5: Custom Settings
Like most WordPress ecommerce plugins, WooCommerce allows you change everything from the borders of your products, to the the style of the footer. This is where many online retailers run into trouble. If you want your online store to have a unique look and a custom design, you will need to know some CSS.
If you'd rather not spend time coding, you can order custom WordPress design development at any good ecommerce agency, like Dinarys.
Also read – 5 Tips for Magnificent eCommerce Website Design
Take care with the settings of product images. Product image size will directly impact how the product appears on your ecommerce website, obviously one of the most important aspects of any online business.
Also, don't forget about setting permalinks. This is an important SEO step that will improve your organic traffic.
Step 6: Testing
Before you finally launch your online store, doublecheck all your settings, and that everything runs smoothly. After your initial testing, test again! You can do this by yourself, or hire an outsourced ecommerce agency for help.
Most reputable agencies offer professional QA managers who can perform manual and automatic testing. They'll root out all the bugs, and help make sure your online store works perfectly.
Step 7: Custom WooCommerce Plugin Development
If you're ready to take your WooCommerce-based store to the next level and really wow your customers, then you absolutely need to order custom extensions and plugins. Unique features are the best way to set yourself apart from the competition.
Early on, though, you can also choose from plenty of existing plugins. WooCommerce provides a great list here. The most popular ones add multiple shipping rates, alternative payment methods, and more.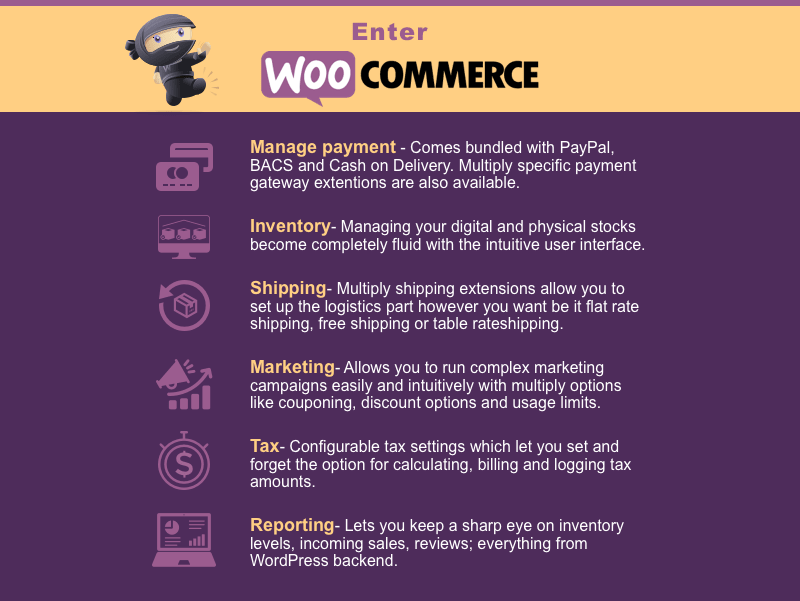 The True Cost of Creating an Online Store in WordPress
Here, we'll look at the nitty-gritty. The piecemeal, specific costs of developing an online store using the free WordPress platform. Expenses start with hosting, and move on to creating new features, custom designs, and building new themes from scratch.
This guide will let you budget properly, by estimating the total price to complete your project.
Basic WordPress Costs
It's common practice among ecommerce entrepreneurs to create their online store using WordPress. Since the platform is open-source and free, users can change it and customize it however they need.
To hire someone to actually do that work, you'll likely spend from $100 to $3,000. This will land you a truly unique online shop, one that looks great and stands out from the competition.
Before that, though, you'll need to register a domain name, and pay for hosting. For ecommerce, you should also purchase an SSL security certificate, in order to protect sensitive customer data. SSL certificates generally cost $70 per year.
Costs of Hosting a WooCommerce Online Store
There are so many options for web hosting, particularly when it comes to an online store. Before you decide, you'll need to estimate how much traffic your store can expect, and how many products you'll sell.
It's generally safe to start with shared hosting, considered the "entry level" choice. As you grow your business, you can expand your hosting plan alongside it.
Here are two specific options for online retail sites built on WordPress.
First, there's HostGator. They offer a very inexpensive shared hosting plan for small companies, starting from just $4 per month.
If you expect to have a large ecommerce site with lots of traffic, we recommend Pagely. This is the premium option, offering managed WordPress hosting starting at $64 per month.
When you're shopping for a host, you'll find that many of them offer a free domain with your hosting plan. Dinarys recommends that you purchase the domain separately, in the event that you need to migrate to a new host later. Keeping your domain registrar separate will make that process much simpler, as well as switching to a different platform or CMS.
So, at a minimum, you are looking at $4 per month for hosting, and about $10 per year for the domain.
Also read – How Much Does It Cost to Build an Ecommerce Website?
Costs of Ecommerce Plugins for WordPress
WordPress is known for its huge library of plugins, including ones for ecommerce. Most of them are free, so be sure you're not paying for something you don't need to. At over 5 million downloads, WooCommerce is one of the most-downloaded WordPress plugins, and it's completely free.
WooCommerce is ideally suited for a website that sells physical products. If you plan to sell digital products, we recommend a plugin called Easy Digital Downloads. Like WooCommerce, it's free and has an extensive library.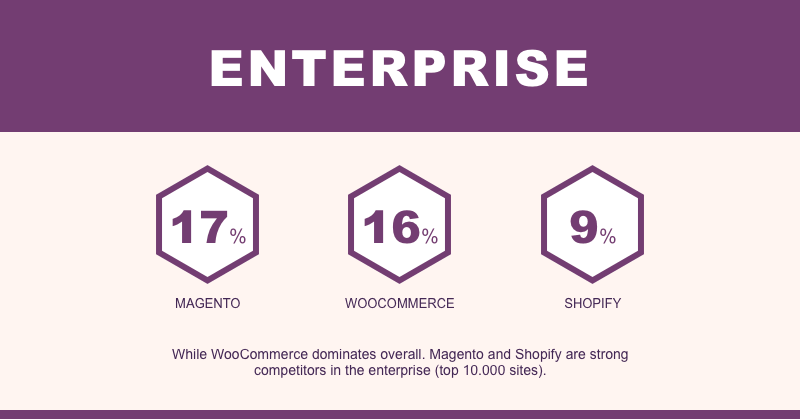 How to Choose a Theme for Your WordPress Ecommerce Website
WordPress has hundreds, if not thousands, of free and paid themes available. You shouldn't find any difficulty finding a theme that suits your industry and makes your site look great. The best thing is you can do most of this without the help of a developer.
If you do want to go with a paid theme, we recommend the collection at DesignWall. A premium theme from them will cost from $50 - $100.
As an alternative, you can hire outsourced developers and designers to create something truly unique. This has the advantage of letting you stand apart from your competitors with your own features and your own look. It can be expensive, but your customers will thank you for it.
Complicating this decision is the difficulty of switching themes. It makes logical sense to start with a free theme, and then switch to a paid one, but the actual process can be a hassle. Your product images and other settings could be scrambled or altered to fit the new theme, making everything look like a mess.
If your budget allows, go with the custom theme from the beginning. You'll save yourself some grief later on.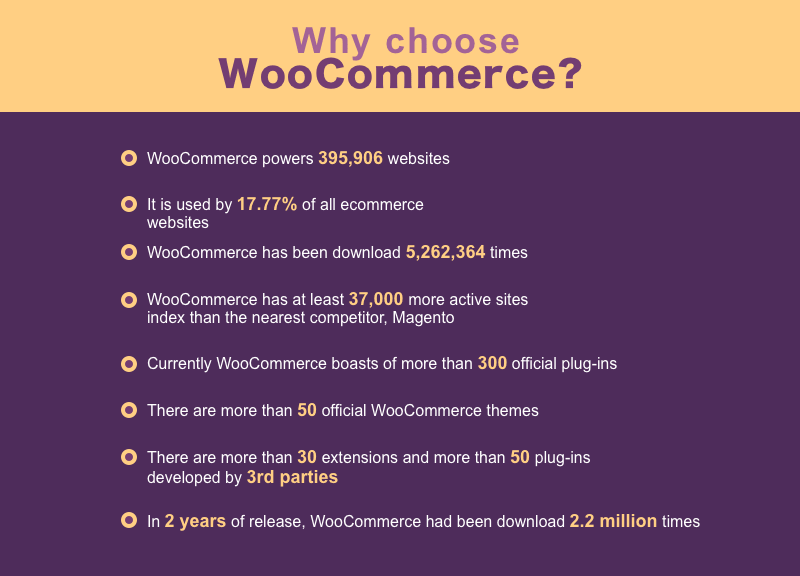 Paid and Customer Extensions for WordPress Online Shops
Most of the best ecommerce plugins for WordPress are completely free, making this the most cost-effective piece of your website budget. However, expanding the functionality of an extension requires the services of a paid developer, and you will likely need to do this at some point.There are already many great premium extensions for WooCommerce and other popular ecommerce plugins. As with themes, though, if you're looking for something truly unique, you will need to contract with an ecommerce agency to develop it.
It may be costly, but you will get what you pay for. In this case, that's a well-designed plugin, perfectly suited to your own individual business.
Also read – The Benefits of Magento Custom Module Development
How Dinarys Can Help
Dinarys is a top-ranked ecommerce agency, experienced in providing WooCommerce customization and development services. Our team can help you every step of the way, from creating a design to your online store, to providing technical assistance in setup and deployment.
We are well-known for our WooCommerce custom module development skills. Our developers can
customize or create plugins based on your specific needs,
and integrate them seamlessly into your website.
For our clients who need assistance with the initial creation of their ecommerce sites, we also provide
payment gateway integration services,
website maintenance,
and more.
We can handle all your software patching, upgrades, QA, and ongoing bug fixes.
The Toolkit to Build an Ecommerce Website in Wordpress
WordPress is a great choice for any online retailer, whether you're selling homemade goods, dropshipping from large manufacturers, or anything in between.
With WooCommerce and other plugins, it's easy to create an ecommerce site that looks great and is easy to use. The plugins add all the features you need to create the perfect ecommerce toolkit. If existing plugins don't offer the features you need, then you can hire a team a developers to create a custom extension or theme to perfectly suit your business goals.
When budgeting, keep these custom features in mind. Even though the WordPress platform is free, custom work will cost, and can add up.
If you have any questions about developing an online store, with WordPress or with any other CMS, just fill out the form below. A Dinarys representative will contact you shortly.
Want to read more
Get fresh articles, news and case studies to your email firstly
Related articles