How to Create an E-Commerce Store with Shopify
eCommerce Feb 26, 2020

Main / Blog / How to Create an E-Commerce Store with Shopify
At first glance, developing a website, especially an e-commerce site, looks very difficult. If you're not a technical person, you might be lost from the get go.
However, if you take a little time to learn, it's not all that hard. If you're looking for an easy platform to start an Internet business,Dinarys recommends developing Shopify stores.
Why?
The simple answer on how to make a Shopify store is that you can do it by yourself, without hiring specialists. It's ideal for small business or solo operators.
Shopify bills monthly, starting from $29. At this price, you'll receive a tool that makes your e-commerce store look as professional as nearly anyone else.
If you have any doubts, Shopify offers a 14-day trial period for new users. Take advantage of this to thoroughly test the platform before paying money.
Read on as Dinarys developers provide their expertise and experience in how to create an E-commerce shop on Shopify, the platform's pros and cons and how to make your Shopify store look good.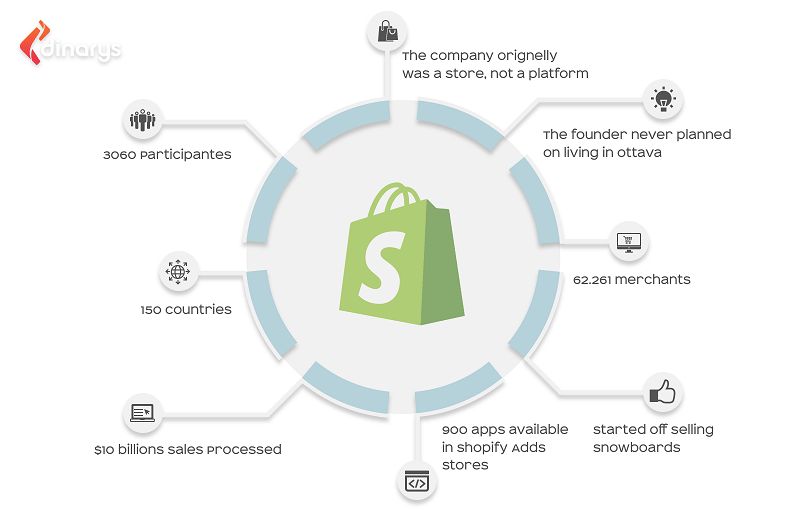 Why You Should Choose Shopify Website Development
As of 2020, Shopify's number of merchants runs over 1,000,000 businesses in 175 different countries.
Why?
The platform allows entrepreneurs to easily build a working e-commerce website, without needing to hire an e-commerce agency. The site looks as good as anything built by most pro developers.
And it does it all at a reasonably monthly fee.
This platform was first developed out of necessity. A group of snowboarding enthusiasts was seeking a way to sell snowboarding equipment online. When they couldn't find a good platform to suit their needs, they decided to create their own. One of them had some development skills, they created a basic version and built from there.
The rest is history.
Today, the platform has a great reputation, and they're well on their way to becoming a top brand like Apple, Magento, and others. The platform is very flexible, able to fit a huge variety of industries and markets. Whether you need to sell a small selection of handmade goods, or expand your successful brick-and-mortar store to the Internet, building an E-commerce website on Shopify is a great step for any business.
Keep reading for the Dinarys comprehensive guide on how to create a Shopify website, and the cost to develop a custom Shopify website, all based on our own first-hand experience.
How to End Up in the List of Successful Shopify Stores
What Makes Shopify Unique? Shopify is a complete platform for your online store. It includes every feature needed for a successful online business. When you create a seller account on Shopify, the platform will allow you to:
Create an E-commerce website
Choose from a wide variety of design templates to fit your industry
Choose a brandable domain to associate with your products
Add products, with descriptions and images
Process customer orders
Take payment using several different options
Offer your customer discounts and specials
And more
Best of all, building an E-commerce website with this platform is much more affordable than hiring developers or an agency. Remember, though, that Shopify won't be quite as flexible or reliable.
An outsourced development team can customize an online store to precisely suit your needs, and they can ensure that it stays operational, taking charge of bug fixes and software updates. A strong customer support team will be best for constantly upgrading software.
Also read: Top 9 Essential Features for Custom E-Commerce Websites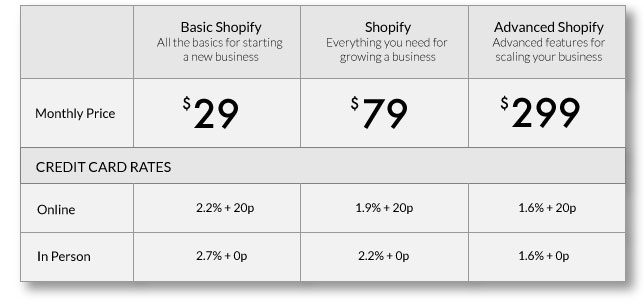 How Much Does it Cost to Build a Shopify Website
For background, over 3,000 new Shopify stores launch every month. As these businesses grow and develop, they may need new design or custom features that aren't available in the basic platform.
That's where an E-Commerce agency comes in. They can provide services such as:
Setup – The basic setup of an online store, integration of third-party apps, and populating the catalog with products generally costs about $500.
Online Store Customization – The most popular service offered by agencies. This includes adding custom features like contact forms, a custom logo, and new colors. The cost starts from $1,000.
Custom Theming and Design – Generally, this costs about $6,000.
The lowest-priced service of building a shop is about $500. This includes the price of a good theme (about $170), and the basic setup of the store.
As a Shopify design and development agency, Dinarys only charges from $3-$6 per hour for setup and customization of an existing theme.
To create a custom theme and integrate it into the platform, we charge from $10-$20 per hour, depending on the custom features needed.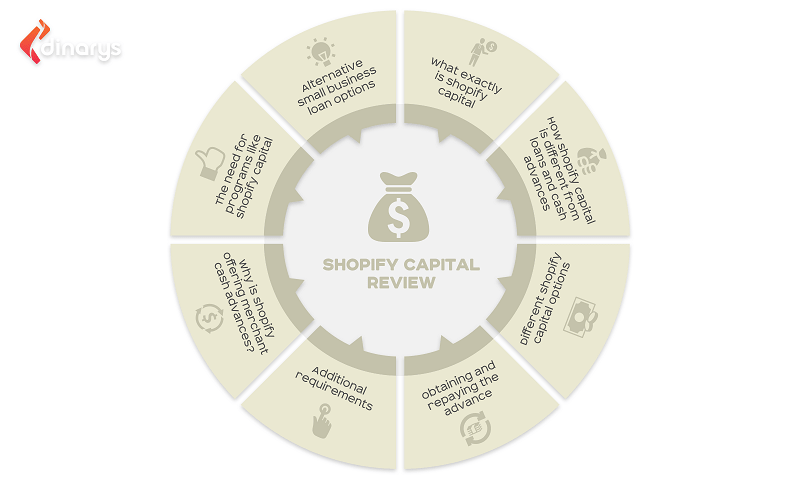 Advantages of Using Shopify for Your E-Commerce Website
Developing an E-Commerce website on Shopify does not require any design or development specialists. The platform itself provides users with a wide variety of beautiful themes to create your store. Most of them do not require any special skills to implement. Like WordPress, Shopify also has many custom plugins, extensions, and an intuitive admin interface.
As you grow, you can scale your online store at anytime without help. How much does it cost to build a Shopify store? One of the platform's advantages is that you can easily and inexpensively grow your store alongside your business. This platform offers five plans to suit any need and budget, with prices ranging from $14 per month to $179 per month. They also offer flexible payment methods.
Shopify offers a large number of apps with which to customize your E-commerce website. It's easy to add custom features to your storefront on your own from Shopify theme store. If the apps don't fit the need, you can hire an E-commerce agency to create one for you, or customize an existing option. The most popular apps for Shopify online stores are product reviews, customer loyalty programs, and expanded shipping options.
Many online retailers go through a lot of stress about shipping, but with Shopify stores for sale, it's easy. The platform has several shipment options built in from the start, including flat rate shipping charges, or calculating based on the weight and size of each item.
If you want to learn how to make a successful Shopify store, we have one more insight. Shopify is easy to use, even for beginners. If you're taking your first steps into the world of E-commerce, Shopify is the best choice for you. The platform is intuitive, making it easy to create an attractive storefronts and add products to your catalog. However, if you're looking for a platform with a fine degree of control and plenty of customization, you should investigate Magento or another CMS.
Also read:
How to Create an Online Shop? Top 4 Paid Platforms for Ecommerce
How to Create an Online Shop? Top 4 Free Platforms for Ecommerce
Even if you're selling products online for the first time, Shopify will make the process easy.
Shopify is a simple tool to build E-commerce websites. It's designed from the ground up for beginners in the online retail space. With this platform, you can create a great-looking website that performs fast and helps bring in more customers.
However, you should be aware of its limitations.
The Disadvantages of Using Shopify for Your E-commerce Website
As an "all-in-one" ecommerce solution, Shopify can be a real alternative to open or self-hosted systems such as Magento, Shopware, or WooCommerce. However, there are some use cases where Shopify is the wrong choice.
In most respects, a Shopify online store is very easy to use and customize. However, many users run into issues with the checkout page. Because of the way Shopify is built, it's difficult to impossible to customize the checkout page without specialized development experience. So, if you want to properly brand the payment page, you will need to outsource to an E-commerce development team.
The other big disadvantage is that Shopify charges a fee on every transaction. So, if you plan to use Shopify to exchange money, be aware that they charge 2.9%+30p on every purchase.
However, this can be mitigated by upgrading to one of the higher-tier plans. If you upgrade past the $29/mo basic plan, the fees start to go down.
Cost model: running costs + revenue sharing
In addition to the monthly basic fee, Shopify estimates a commission of up to 2% for every order. Whether the total commission would exceed the maintenance and IT costs for a self-hosted system depends on the sales figures of the respective shop. The monthly basic fee can also be a reason against Shopify for newcomers with very low sales or a highly seasonal business model.
No changes to the backend code possible
Shopify is a closed system, changes to the backend/admin interface or data processing are therefore only possible to a limited extent, which can lead to problems if the desired workflow deviates from the standard. The range of functions can be expanded with apps and your own plugins can also be implemented via REST API, but of course, there is no comparison with the flexibility of an individual system.
The connection of an ERP / the matching of an existing database can become a problem.
No real multilingualism
If you want to set up your Shopify in multiple languages, you need the help of plugins, as this function is not natively supported. The implementation is rather "hacky" and not really satisfactory from an SEO point of view. (Usually, the second language is exchanged via Javascript in the frontend).
Additional currencies can be converted in the frontend using Javascript, but the shop's base currency is always output in the checkout. Less widely distributed currencies (for example the Iranian rial) are not supported at all.
No changes to the checkout possible
If the store does not run under a Shopify Plus license, the checkout process (in this case the complete ordering process after the shopping cart) is no longer part of the respective template but is outsourced to checkout.shopify.com.
The user always leaves the actual shop layout after the shopping cart. Customization is only possible in the area of font and color, no changes can be made to the layout and process themselves, which is justified by the developers with security aspects.
Limitations in content maintenance
Although Shopify has a blog function by itself, it is not comparable to a content monster such as WordPress. Shops with a strong focus on content marketing are reaching their limits here.
If the shop is only a small area of the website, it can make sense to integrate Shopify into an existing system instead of maintaining the content in the shop system itself.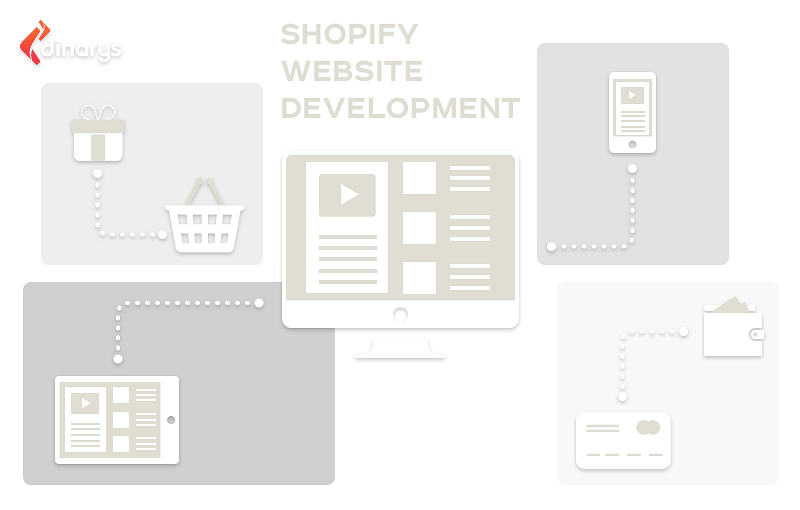 Alternatives: Magento and Shopware
We have already explored Shopify's pros and cons. Let's take a look at other options to choose from when you are building an ecommerce store.
Magento
Magento is the most popular and widely used ecommerce platform in the world with a market share of over 25%. Magento is offered free of charge, i.e. as open-source, and is an "all-in-one solution".
Magento is characterized by its countless features and limitless options for extensions, interfaces, and modules. This is made possible by the good backend architecture. With Magento, you get a shop system with which really anything is possible. The shop system is used to completely personalize the online shop. As an all-in-one solution, Magento users are supported by retailers, partners, and developers so that all company goals can be achieved.
You are in control of the costs of building your online platform. Currently, retailers can choose between three options: Magento Open Source, Magento Commerce, and Adobe Commerce Cloud.
The Open Source Edition of Magento is license-free and is aimed at small and medium-sized enterprises (SMEs) or, as a rule, at companies with annual sales of a maximum of 10 million euros.
The Magento Commerce and Adobe Commerce Cloud editions are subject to a license fee. Magento Commerce is also very suitable for medium-sized companies - but there is nothing to prevent it from also being used by small companies.
Last but not least, Adobe's maximum expansion level, the Adobe Commerce Cloud, is aimed at small and large companies. ACC is a cloud-based version of the Magento platform. Adobe tools such as Analytics Cloud, Marketing Cloud, and Advertising Cloud are already integrated. Both ecommerce versions are solutions for mature and established ecommerce concepts.
Shopware
Developed in Germany in 2004, Shopware is a modular online shop system. It is available as open-source software and in a commercial edition and is now one of the most popular software on the European market.
Thanks to the intuitive handling and an appealing design, Shopware is not only used by agencies or corporations but also inspires users who are not professional developers. Shopware offers a wide variety of functions, numerous useful extensions, and high usability.
Shopware is a stable and increasingly growing "player" in the initially European shop system market.
In addition, it is not a closed system as with many construction kit shops. Every developer/agency can provide technical support for the shop. A shop operator is therefore not bound to Shopware AG. "Only" their shop system, extensions, support, etc. are used.
There are different versions/licenses. The (free) open-source version (Community Edition) as well as various paid versions. The paid ones include different types of manufacturer support and response times. True to the motto who pays nothing, you don't get any support, and the more you play, the faster / more extensive the Shopware support. The chargeable versions already contain a wide variety of functions that can be relevant in larger shops in particular.
How to develop e-commerce website with Shopify
So, with that out of the way, are you ready to launch your Shopify online store?
Keep reading for the Dinarys step-by-step guide on making your first online stores using Shopify, using this platform. We detail the main steps, from niche selection, to choosing a theme, building the site, growing your business, and marketing.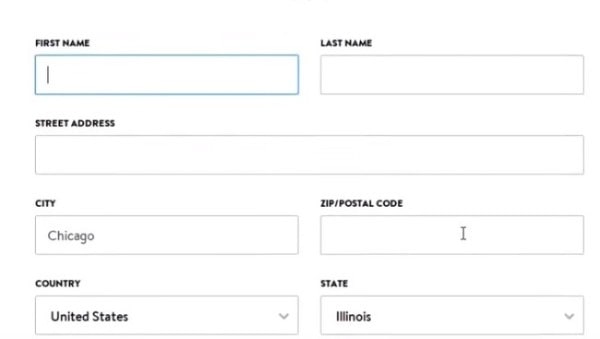 Create a Shopify Account
Visit the Shopify website, and click on Get Started. Fill in your personal details, and choose a name for your store.
Choose one of the plan options, then go to the next page.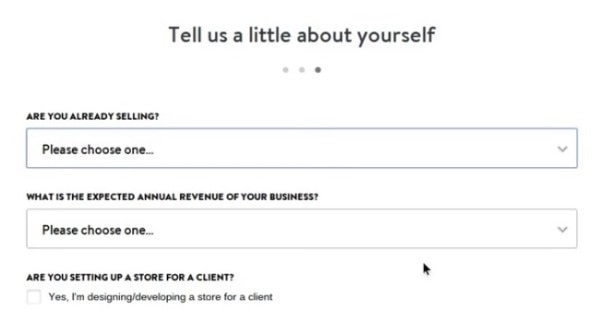 You'll need to fill in some additional information, set up your inventory and tax rates, and then click Next Page.
Now, decide how many goods you plan to sell. When you're done, click the button marked Enter My Store.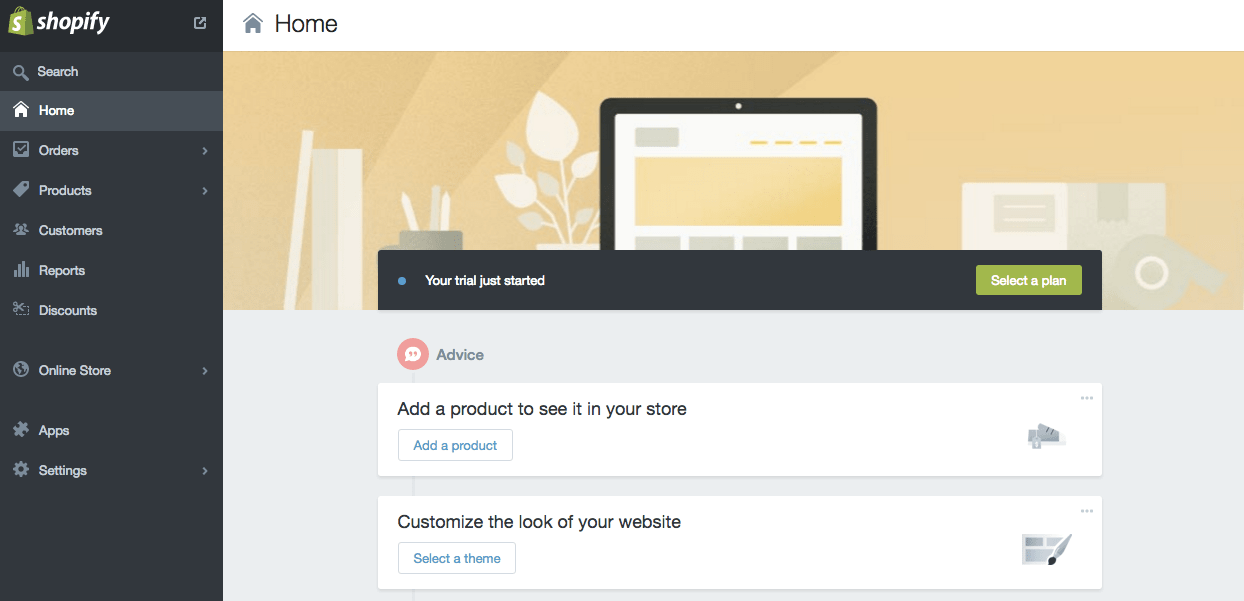 Add Products to the Catalog
When you visit the Admin panel, you'll be presented with detailed instructions on how to develop your E-commerce website. Take note of the button marked Add Products.
After you've taken or obtained quality photos of your products, click Add Products.
The actual process of adding products to an online store is very similar to WordPress. You'll need to enter titles, descriptions, and prices. Try to give as much information as you can that would be helpful to prospective buyers.
When you're done, don't forget to save your changes.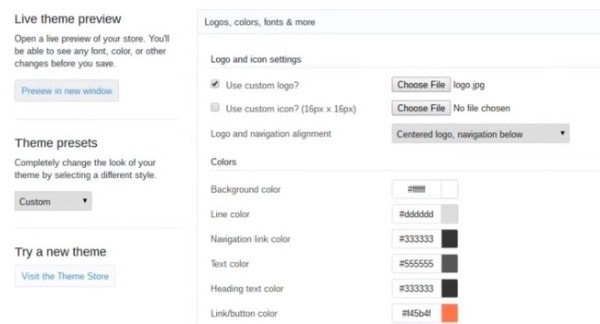 Customizing Your Shopify Online Store
If you'd like to offer more of a personalized experience to your customers, go to the admin panel and click Customize the Look of Your Website.
From here, you can control everything from colors to logos. It looks simple at first, but you might find that a complete overhaul takes more time than you expect.
So, have patience, and keep at it.

You can also purchase a premade theme by clicking the Visit the Theme Store button, or hire an E-commerce agency to develop and implement a custom theme.

Domain Setup
So, you now have a functional store, with its own design and template. Great! To really make your store official, you should now select a domain name.
Go to the admin panel and click Add a Domain. From here, you can register a domain for your new website. Take some time to think of the best domain for your store.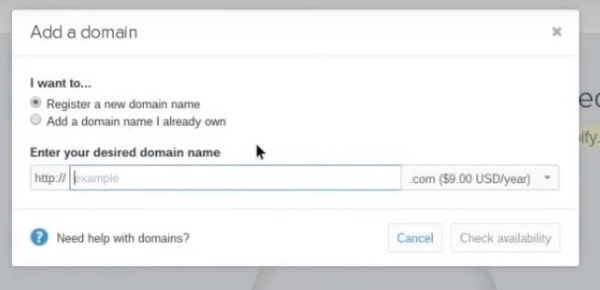 After purchasing the domain, you will need to select a payment method for your account.
Now that your domain is active, you'll soon be able to see your Shopify store on the Internet.
Payment Processor Activation
You'll notice the Payments button on the left side of the admin panel. Click it, and you'll find a wide range of payment processors with which to accept customer payments.
Many online shop owners use Authorize.net and Stripe. Shopify also offers their own payment processor, which is extremely easy to integrate into your store.
Once you've chosen a processor, go through its activation steps as described on the site. Now you can receive payments from your customers.
After completing all the above steps, click on the Launch Website button to learn how to make your Shopify store live.
You did it! You developed an online store, and you can immediately start selling goods.
How to Market and Advertise Your Shopify E-Commerce Website
As an online retailer, you should always be trying new ways to attract visitors to your store. Today, the most successful online marketing techniques are social media marketing, PPS, and content marketing. However, there is no single magic solution for any business. You will need to try all of these techniques and more to find what works best for you.
You should also create an account for your business on Twitter and Facebook. On these social media platforms, you can share both funny and relevant content to attract an audience made up of your target customers.
Speaking of social media, don't neglect more visual platforms like Pinterest and Instagram. A great many online retailers have found enormous success through content rich in photos and pictures.
Social media offers several advantages over other channels. First, it gives potential customers a chance to see products themselves, before they even visit your store. You can showcase select images of actual customers using your products. This will help to build a strong community around your brand.
This community, in turn, adds credibility to your E-commerce store. Everything feeds into everything else to help make the purchasing decision much simpler for your prospects.
Don't Give Up
Now you know how to start an online store with Shopify. When you create your E-commerce website, prepare for success, but also for the long haul. You could hit it big at any time, but you can never know exactly when. You might spend months, weeks, or even years. Or, it could happen on your first day.
Just keep going, and be ready to strike when the moment arrives. If a big opportunity comes and you're unable to fill the orders, your competitors will be more than happy to pick up your slack.
In other words, plan to scale, right from the beginning.
Every business needs to maintain a scaling plan. This doesn't mean that you need to rent a huge fulfillment center with 100 employees from the very beginning of your journey. However, you should keep in mind a plan to handle a sudden influx of orders.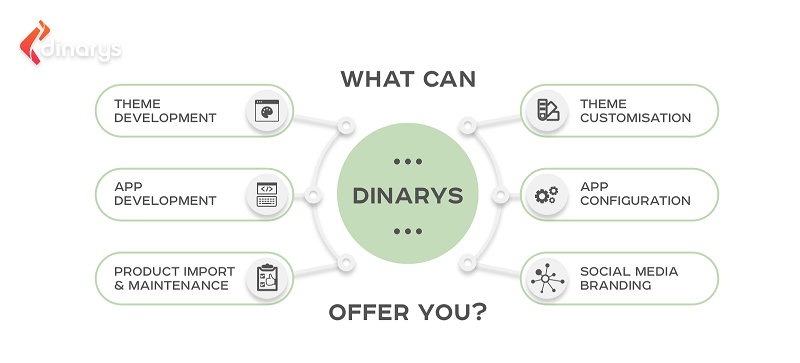 Conclusion: What Dinarys Can Offer
Still looking for the answer on how to build a Shopify store from scratch? As an outsource E-commerce development team, Dinarys can make an online store setup and customization easy.
In addition to Shopify development, we provide Magento and Shopware development services - so be sure we'll help you select the best ecommerce platform to fit your needs!
If we can be of further assistance in your E-commerce needs, we would love to speak with you! Fill out the contact form, and we'll be in touch ASAP.
Want to read more
Get fresh articles, news and case studies to your email firstly
Related articles