Salesforce vs Magento Platforms Comparison
Magento Jun 26, 2020

Main / Blog / Salesforce vs Magento Platforms Comparison
The major factor that provokes transiting from Salesforce is its relative inflexibility upon lots of redundant functionality - especially for online stores that conduct no more than a hundred transactions daily. Below we will discuss the rationality of such a transition in more detail and, in particular, consider the opposition of Magento vs Salesforce.
Read also: Guide on Magento 2 Migration
Faced with the global economic crisis, inspired and aggravated by the ongoing COVID-19 pandemic, many companies are trying to reduce their operating costs as much as possible. This is another leading reason why Salesforce's popularity is dwindling.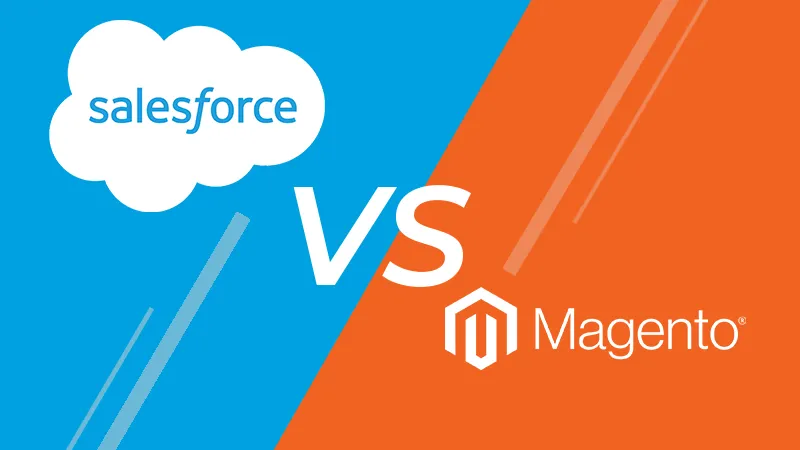 Image Source: i1.wp.com
Salesforce eCommerce vs Magento
Salesforce was founded in the fall of 1999. It was, probably, the first company on the market that offered a serious corporate solution not as a box product but in the form of SaaS. It is yet popular but high cost and some other inconveniences make web developers look for better options.
Salesforce/Magento 2: Key Reasons for Transition
So, let us find out why more and more entrepreneurs are abandoning Salesforce in favor of a newer platform - Magento.
1. High usage cost
When working with Salesforce, in addition to a fixed license fee, you would be additionally charged a certain percentage of the profit of your eCommerce solution. When the store's turnover begins to grow, so would your usage fee.
For this reason, calculating the cost of maintaining the platform in advance is close to impossible.
2. High level of specialization
There are some cases where a company needs both B2C and B2B features.
Read also: The best eCommerce platform for wholesale
Relevant: How to build an ecommerce website in a week
For this reason, in practice such Salesforce users are forced to either create separate solutions for different categories of customers or create a universal solution with limited capabilities.
3. Limited integration options
Salesforce offers little in terms of integration with third-party solutions. This binds the hands of developers and puts certain restrictions on the functionality admissible in the created solution.
Read more: How to Integrate a Payment Gateway
Of course, you can develop your API to make it possible to connect the necessary services. However, these manipulations will require additional time and effort.
Read also: How to Hire the Best Magento Developers in 2021
4. Outdated mechanics
Salesforce is far from being advanced in terms of modern technologies. This is a fairly conservative platform with a proven list of features that are incredibly difficult to improve.
Besides, Salesforce interacts with its repository, which also sets limitations for simultaneous interaction with several data sources.
What are the Main Benefits of Magento?
Now let us explore the alternative and much more affordable solution - the Magento platform, perfect for creating eCommerce sites.
Learn more: How Much Does an eCommerce Website Cost in 2021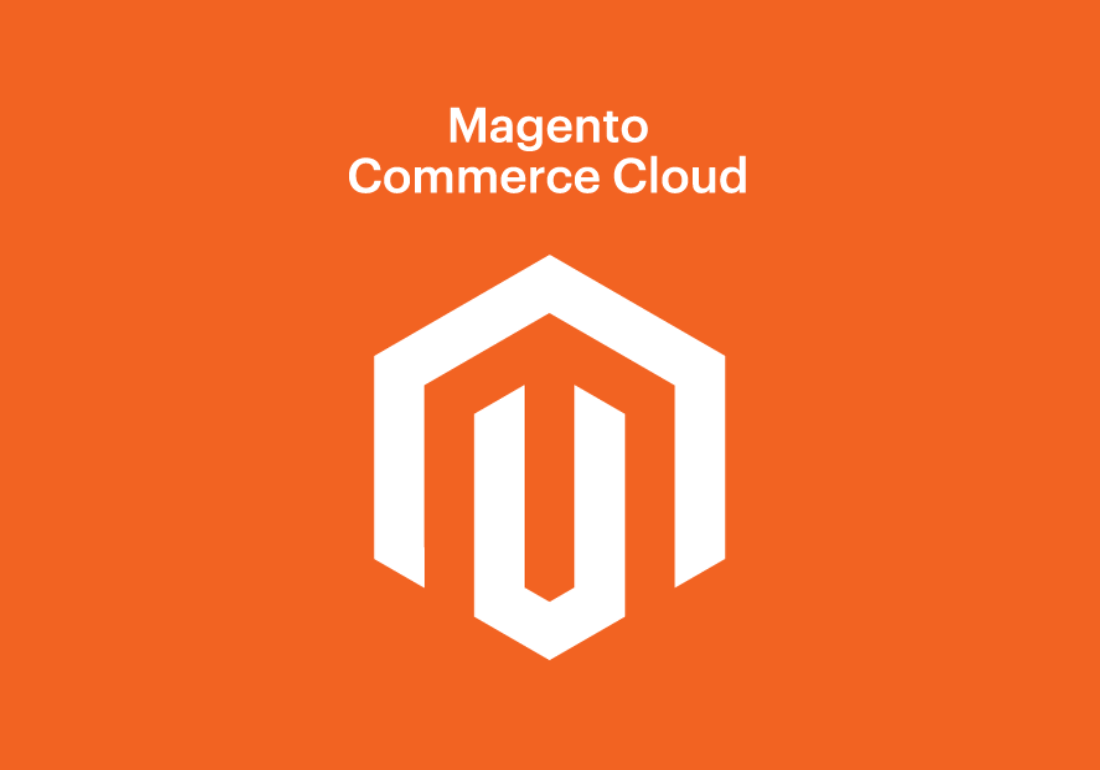 Image Source: magento.com
Magento Community Edition and Salesforce: What Makes Magento better?
The first version of Magento was released in March 2008. Today, the platform is one of the most popular content management systems for online stores in the world. In part, this popularity is due to the powerful support of the eBay company, which has been the owner of Magento since 2011.
Learn: How to Build an Auction Website like eBay
Generally speaking, there are several reasons why Magento CMS is considered the middle ground between price and quality. Below we will consider them in more detail.
1. Advanced development features
Many developers consider an abundance of built-in functions, such as multicurrency/multilingual interfaces, as well as an extensive assortment of various plugins for managing discounts, loyalty systems, reporting, etc., the main advantage of this platform. Also, this CMS supports a huge number of different design templates and, among other things, is scaled easily upon the need.
Related:
What is the Best Multi Channel eCommerce Platform
Multi-Channel or Omni-Channel
How to Build A Multi Vendor Marketplace Like Ebay Using Magento
2. A wide range of features for interacting with retail customers
The Magento online store templates include a bunch of features for interacting with visitors: for example, they can write reviews on products and give ratings.
3. Ability to manage multiple stores from a single admin panel
Magento CMS allows managing several eCommerce solutions from a single user account.
4. Flexible pricing management
In Magento CMS, setting up a variety of pricing options is very simple: you can easily discount some goods temporarily, provide automatically calculated accumulative discounts to regular customers, arrange a promotion, in general, do everything to grow traffic and increase sales.
5. The ideal environment for SEO
Magento SEO provides with many capabilities: there is the possibility of optimizing each product page for promotion in search engines. Moreover, the platform allows creating an XML site map that will contain links to all available pages of the online store. This map is used by search engines to properly index the resource.
6. Custom reporting
Managers note the possibility to monitor the actions of customers in real time using a plethora of convenient tools for reporting and monitoring. You can quickly discover any irregularities in sales and inventory (how many goods are left in stock, what positions are bought more often than others, etc.), what attracts visitor attention, which page is the last before they leave, etc.
Magento vs Salesforce Commerce Cloud: Final Decision
Now, let us try to provide the foundation for an informed decision on what to choose: Salesforce or Magento.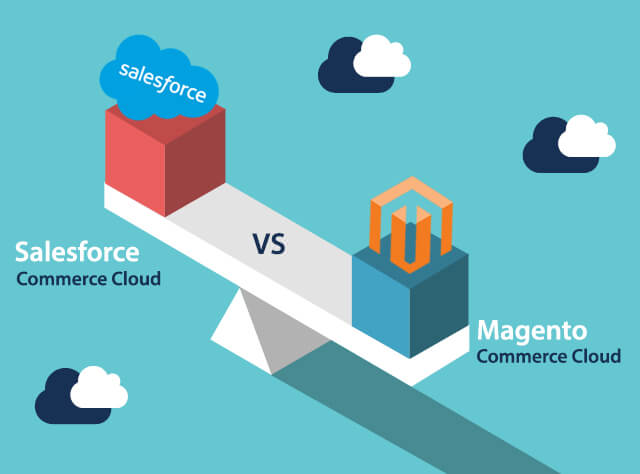 Image Source: www.emizentech.com
Analyzing Salesforce and Magento benefits
First, let us briefly review the advantages of both Magento and Salesforce.
The advantages of Salesforce are as follows:
SaaS model, thanks to which you can minimize the number of office workers due to the ubiquitous access to CRM;
Competent data structure;
One of the best user interfaces on the market;
End-to-end compatibility with major browsers (Internet Explorer, Chrome, Opera, etc.);
Quick launching of a newly created site;
Simple operation through an intuitive navigation bar;
Automation capabilities, thanks to which sales managers will always be able to track the sales funnel and customer behavior at each stage;
Effective personnel management (you can always track the activity of your employees: calls made, letters sent, etc.).
Continuing the analysis of the Magento Commerce vs. Salesforce Commerce Cloud pair, here are the main advantages of Magento:
Direct compatibility with Varnish - advanced caching proxy server, which minimizes the delay when loading rich content pages;
Highly efficient indexing service (another optimization for page loading);
End-to-end integration with Google Analytics;
Multi-stage authorization system;
Support for a wide range of payment gateways;
Quick processing of large orders, up to several hundred different positions;
Increased fault tolerance (Magento sites withstand large influxes of visitors);
Adaptability to mobile device screens.
Anyway, probably the most important benefit of Magento is its notably lower usage cost. Therefore, if you realize that the budget of Salesforce-based eCommerce solution started to stretch your capabilities, consider giving preference to the second option in the Salesforce vs Magento 2 battle.
Read also: Magento vs Shopware
Summary
Having read the above Salesforce vs Magento review, do you still doubt why switching would be advantageous for your business? Do you consider moving to a newer, quicker, and cheaper solution, which is the Magento platform?
Migration is the best solution for those who, at minimal cost, want to maintain the former functionality and performance of their online store. And here the question of finding developers arises.
Dinarys has tremendous experience working with a wide variety of Salesforce and Magento online stores, so we can guarantee that during transfer we will retain the design while optimizing all aspects of the functionality of your online store. As a result, you will get a Magento solution that would be much cheaper in maintenance, and at the same time no less reliable, controlled, and flexible.
Contact us right now to discuss the details of your project and find out the cost of migrating to Magento from Salesforce in your particular case.
Those who timely adapt to changing market conditions usually win. And really, why do you need a heavyweight solution with a bunch of redundant functionality and high usage cost?
Want to read more
Get fresh articles, news and case studies to your email firstly
Related articles