How to Build A Multi Vendor Marketplace Like Ebay Using Magento
Magento Jan 19, 2020
Main / Blog / How to Build A Multi Vendor Marketplace Like Ebay Using Magento
If you decide to develop a multi-vendor store, you might be inspired by such top eCommerce marketplaces as eBay and Amazon. In this is the case, it is vital to understand the diverse aspects of marketplace development.
In this article, we will discuss:
Current marketplace industry profile
How to create a website like eBay
Best open source ecommerce platforms
Most important marketplace features
Cost to build a Magento multi vendor marketplace
The benefit of using M2E Pro for Magento website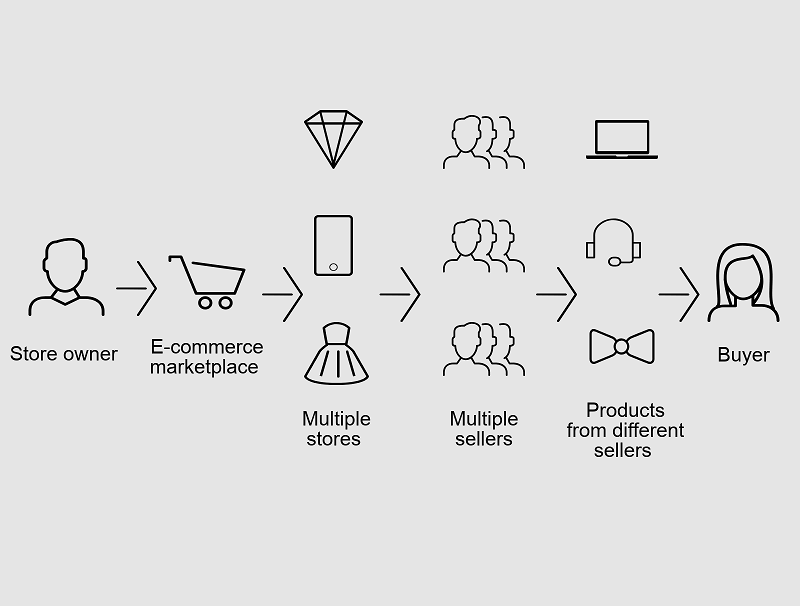 We recommend you read Dinarys' article to get more information for your future project.
What is a marketplace?
An online marketplace is a website where a user can buy goods from different suppliers. Marketplace websites simplify shopping and provide easy and transparent experience. For this reason, the number of marketplaces is continuously growing. More businesses consider creating an e commerce marketplace platform to introduce buyers to vendors and facilitate goods exchange.
What is a multi vendor ecommerce website?
A multi vendor ecommerce platform is a website featuring multiple vendors each having an account on the same store. With the huge popularity of websites like Ebay, Etsy, or Amazon, such platforms became a popular way to sell digital or physical products.
Current marketplace industry profile
The first thing you should understand is that no ecommerce marketplace was built in a day. To create a marketplace website will take time and money, especially if you decide to develop a marketplace from Scratch.
Still, owning a multi-vendor store is a very prospective business. If you are wondering how much do online marketplaces earn, let us look at some data.
E-commerce sales via large global marketplaces were $1.55 trillion in 2017. In particular, Amazon reported sales of $ 177.9 billion in revenue in 2017.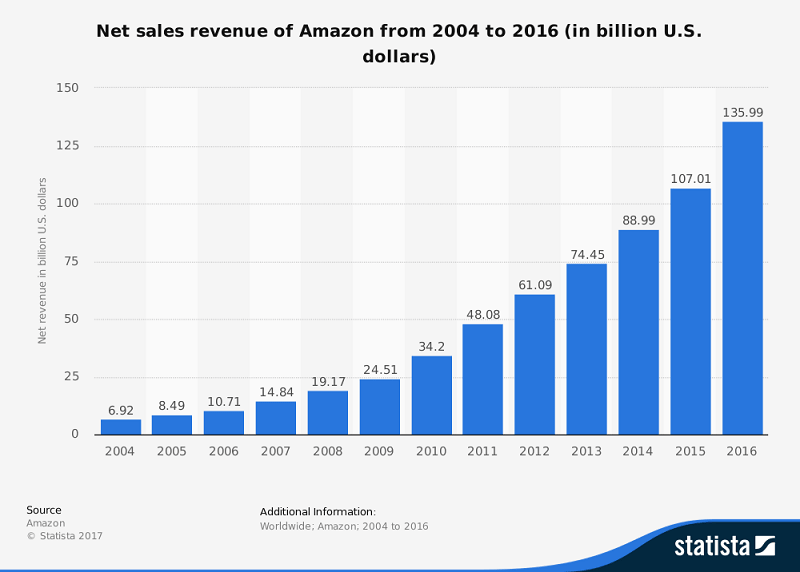 If these statistics sound very inspiring for you, read the article to find out how to create a marketplace like eBay.
How to create a marketplace like eBay
When an online marketplace like eBay or Amazon ventured in a long time ago, they had no alternative but to start everything from Scratch. However, with modern e-commerce technologies, the task of developing a multi-vendor platform is not as challenging anymore.
It is important research several areas before building the best online marketplaces for sellers:

1. Market research
The first thing to do before the development process is extensive market research. To be successful in retail, you need to know and understand your target audience and their needs. As an example, let's look at Amazon target audience. The website focuses on users in the 18-44 age range. It is vital to understand both future marketplace retailers and shoppers to provide customers the journey and features they expect.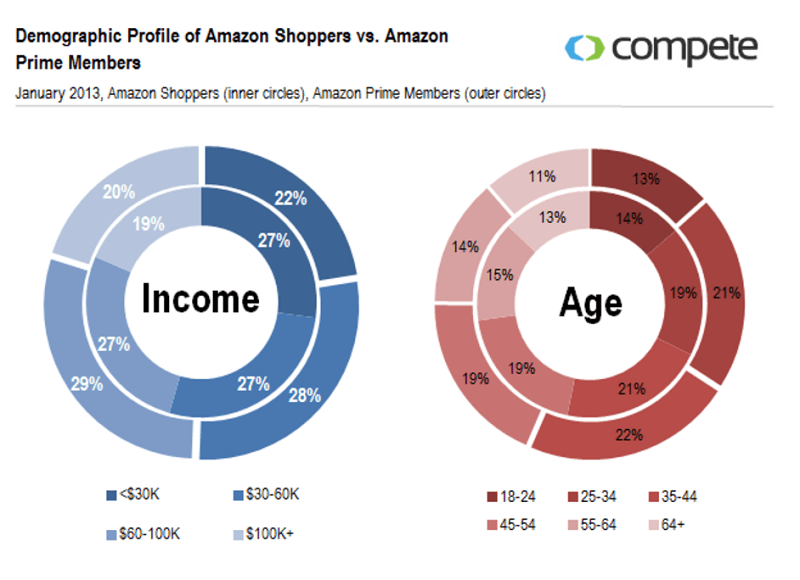 You can do it within your company or hire Dinarys' team to do this research for you.
Cost: From $379.99 to $1 295.00 depending on the project size and industry
Related story: How to Create a Successful Amazon Store in 2020?

2. The perfect domain name
The domain name is essential for the best multi vendor marketplace. We can compare it with the physical address. For that, it should be short, touch an emotion and easy to remember. We also recommend you avoid using a domain name connected with existing popular brands and trademarks.
To get a domain name for your future marketplace, you can use one of many web hosting services, including
Our team recommends GoDaddy because this Domain Register Company owns over 59 million domain names and is reasonably priced so it's not difficult to find one that will suit you.
Cost: From $10 to $15 a year

3. Powerful server
Since you're planning to create an online marketplace, you need to make the right decision on a server provider. Take into account that your future website needs to handle increasing traffic from different geographies. If you want to avoid user frustration on website speed and other inconveniences, your marketplace platform should be robust.
For multi-vendor marketplaces, we recommend cloud-hosting services. A cloud-based hosting is the best option for a marketplace platform since the servers are located on the internet. Users manage and store data without buying a local server.
Related story: What is the best eCommerce platform for wholesale?
Cloud-based servers are less expensive, so you save money and space
Easy to use and set up, even for a beginner could set it up since such servers are easy in use.
Prevent downtime issues because servers adapt automatically to any traffic
Access your data stored on cloud-based servers at any time from anywhere
Cost: free - $5000 per year depending on your website platform
Important Marketplace eCommerce Platform features
If you want to create a platform from scratch rather than use a readymade marketplace software, prepare for a long journey. The development process includes many stages:
Industry and business analysis
Creating technical documentation
UI/UX design development
Development of a platform from scratch
QA and testing
Training your team on platform features
Deploying
Further technical support
The duration and cost of each stage will be determined by your project ideas and chosen technologies. For example, Dinarys' experience in Magento multi vendor marketplace development shows that such a project might cost from $3.000 to $50.000.
Moreover, the price depends on features you want to implement in your future multi-vendor platform.
Here's a list of most common marketplace platform features:
Customer login
Website search
Shopping cart
CTA (call-to-action)
Discounts and special offers
Product catalog and product description
Shipping agency and seller contacts
Safe and secure payment gateway
Chat support
Social sharing buttons
Cost: from $3.000 to $50.000 depending on the feature list
Now you have an understanding of why the development of an e-commerce marketplace is so expensive and time-consuming. However, don't panic! Our team has prepared an alternative to make your project live.
In this section of the article, we discuss how to make a website like Ebay and not to go bankrupt using ready-made scripts. Let's review open source auction software like eBay or similar solutions.
Open Source Solutions for E-Commerce Businesses
When researching the process of how to start a marketplace software, you can find great open source multi vendor ecommerce software that enables businesses to launch a website at affordable costs and at the same time get a reliable solution.
We have prepared a list of best open source multi vendor ecommerce platforms:
OpenCart - easy-to-use and lightweight platform that can be suitable for small projects due to the limited features list comparing to other platforms.

Drupal Commerce - a Drupal module known for its security and high performance. Drupal is mostly intended to be used by professionals, therefore its interface may be too complicated.

WooCommerce - a Wordpress plugin that is simple to use and has great user support. However, it requires a bunch of additional expenses such as theme, extensions, and more.

Magento - an open source e commerce solution that has a paid version in case you need to scale your business. It has an enormous feature list and can be adapted to websites of different scope. Usually, you require developers to set up your custom solution.

osCommerce - a popular solution having many plugins and add-ons available. Unfortunately, osCommerce doesn't scale well and it requires more maintenance than other solutions.

Shopware - an innovative e-commerce technology that lets you provide your customers with the emotional shopping experience, elevate user engagement, and get full freedom of customization.
To make a wise choice of your product or service Marketplace Software, it is important to research each platform and understand their pros and cons. For our clients, we recommend going for Magento Multi Vendor Platform since it allows building scalable and powerful marketplaces while the majority of open source solutions are able to support basic ecommerce websites.
How to create marketplace solutions like eBay with Magento, Best Multi Vendor Ecommerce Platform
As we said before, it is possible to build a marketplace using open source solutions. Let's review Magento, probably the best Multi Vendor Marketplace Platform, in more detail.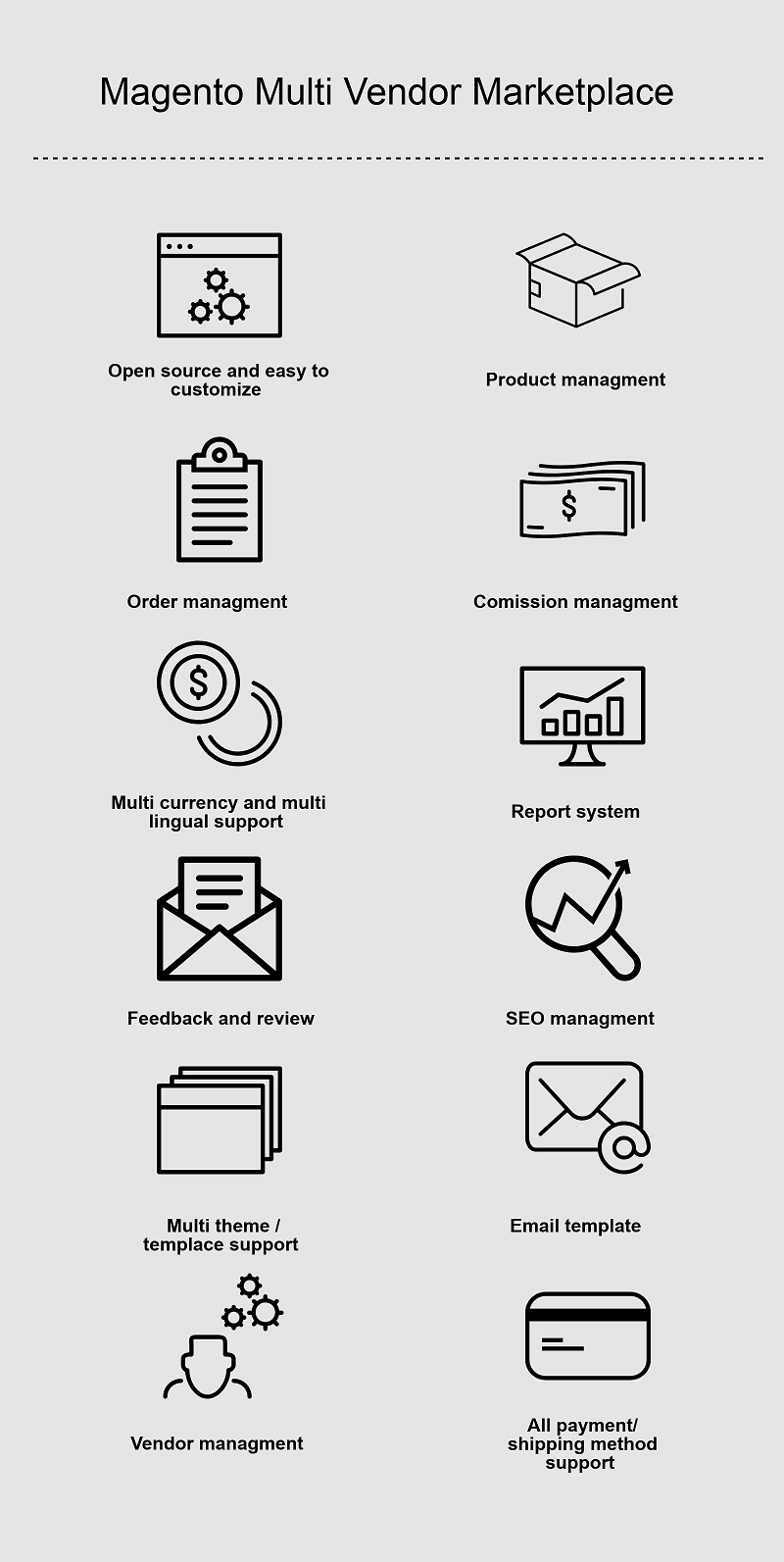 In this case, our team recommends the Magento platform, top ecommerce cms with 29% market share. Magento is known for its smooth running, but most important, the platform is scalable, secure and highly customizable. To make a long story short, Magento has everything a future marketplace owner can dream of.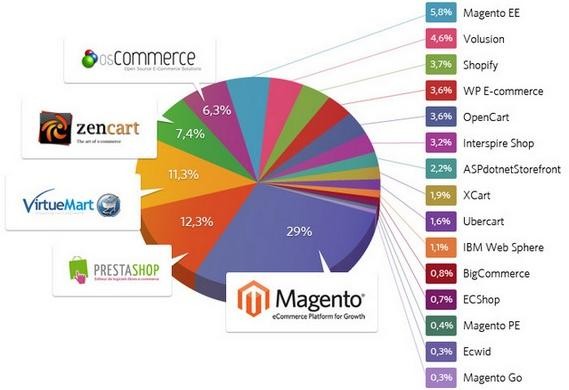 If you still have doubts, here's further information.
According to a Magento report, the platform powers over 200,000 e-commerce websites and recently rolled out the Magento 2.0 version.
Related story: How to Create an Ecommerce Website in Magento?
Magento offers users several plans suitable for businesses of different sizes.
The platform provides small businesses with an open-source free Magento 2 Community edition. Medium and large companies can use Magento 2 Enterprise Edition which costs from $22,000.00 to $125,000.00 per year. The final cost is based on the business' gross sales revenue.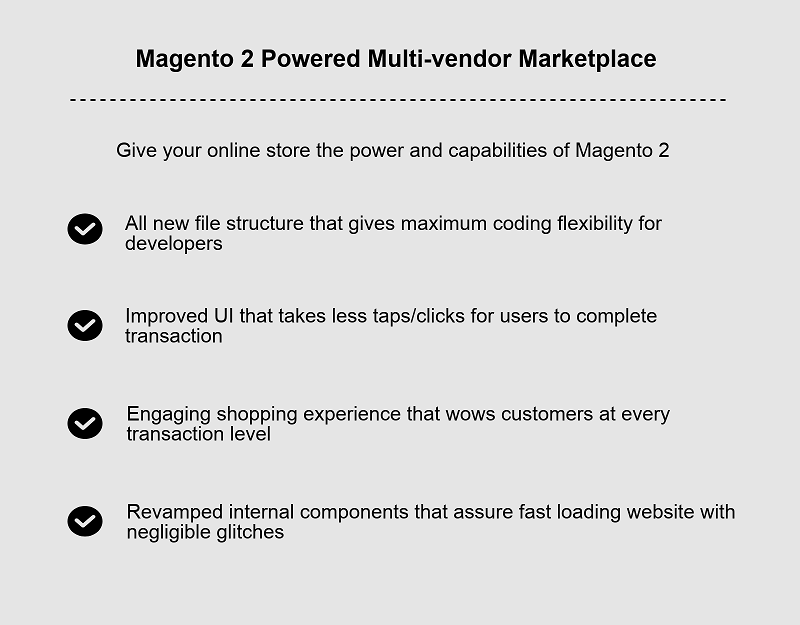 To turn a website into a two-sided marketplace, you also need a ready-made script for marketplaces.
We believe this is the best option because it has such benefits as:
Ability to build a marketplace website within several hours
Customization capabilities to provide users with the best marketplace online shopping experience
E-commerce features of marketplace leaders like eBay, Amazon or Etsy with great perspective for shoppers, sellers and website owners.
Adding new features to script to meet your business needs and goals.
Improving website ranking since most scripts are SEO-friendly
Customer support from script development companies
When choosing a script to develop a multi vendor store, we recommend viewing reviews by existing users and learning more about the Magento development company. Moreover, you can even contact our team to learn more about their abilities.
While developing an online marketplace platform, do not forget about mobile device users. Mobile commerce is wide spread today. In addition to a mobile-friendly layout, customers enjoy using ready-made scripts since they also include ready to go apps. If you want to build your custom application for the future marketplace, you can hire Dinarys. Their team can develop from scratch a perfect and convenient app based on your requirements.
The Cost to build a multi vendor marketplace like eBay
If your business plan requires custom development of a future marketplace, expect to spend from $10,000 to $100,000. The price of building a multi vendor marketplace software from scratch depends on your requirements and features. Since modern customers expect a lot from a marketplace, with all modern features, the price could be even higher – $150.000 or higher. At the same time, the cost to build a Magento website like eBay using ready scripts will be much lower. Practice shows that you can receive a top marketplace with up-to-date features for $750 when using Magento Community edition.
The estimate on e-commerce marketplace development in hours
| | |
| --- | --- |
| UI/UX design, user interface | from 30 to 40 hours |
| Web application development and deployment scripts | from 20 to 30 hours |
| User authorization and security | from 60 to 70 hours |
| Seller and buyer profiles features | from 70 to 80 hours |
| Product listing | from 160 to 170 hours |
| Booking or wish list | from 60 to 70 hours |
| Payment and Payout integration | from 80 to 90 hours |
| Seller rating and customer review | from 60 to 70 hours |
| Notifications | from 20 to 30 hours |
| Browsing content | from 80 to 90 hours |
Based on the table, the development of a custom two-sided online marketplace software from scratch can reach 690 hours of development. Based on our experience, the team delivers the working project in the minimum 3-4 month.
Related story: How to Create a Successful Two-Sided Marketplace
The price of development services may vary from one company to another, the ability of the developer and designer, and the geographical location.
NOTE! Research shows that Ukrainian specialists are the least expensive when compared to other experienced developers. The same amount of work could be done ten times cheaper a Ukrainian team than by a USA e-commerce development team. Take this into account when looking for an e-commerce agency for two-sided platform development.
With this in mind, if you hire a team with the hourly rate from $25 to $49, the project cost will be $25.000. The same project scope developed by an American e-commerce team could cost $190,000.
The benefit of using M2E Pro: Magento multi vendor extension
The following information might be useful for an online retailer, wishing to increase the number of sales channels while managing products from the Magento website admin panel.
Let's take a closer look at one of the multi vendor marketplace open source tools. Here's what M2E Pro can offer current online retailers.
What is most notable about M2E Pro is that this Magento multi vendor marketplace extension helps owners of e-commerce websites sell products on popular marketplaces like eBay and Amazon. Your products will be listed on the marketplace and results in the increase in sales by reaching a wider target audience. Using this extension, you can list products using third-party solution or manually. At the same time, M2E Pro allows retention of order history and product ranking.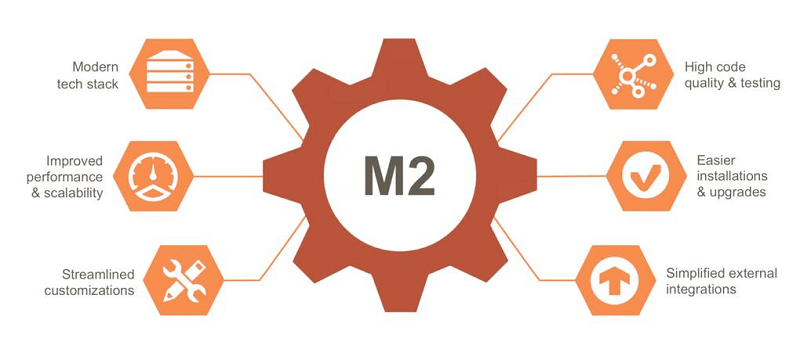 In order to increase sales, online retailers manage several Magento websites at once. However, this strategy is very time-consuming. If you want to avoid missed orders and other related issues that may have a negative impact on your brand and sales, use M2E. This extension helps online retailers in connecting several marketplace accounts and e-commerce websites to a single sales channel, managed from the Magento admin panel.
Here are even more reasons to include M2E into your online retail strategy. M2E Magento extension helps to automate:
Pricing
Merchandising
Product descriptions
Import orders
And much more!
If you want to save time on routine tasks and to focus more on your strategy and business goals, we have even more perks for you. M2E supports not only manual product listing but also third party listing. If you want to list your goods elsewhere, the extension will also list them in the Magento e-commerce website.
Also read: How to create a website on Magento 2
If you are ready to push your e-commerce business to the next level, consider M2E Magento extension as a solution that will drive your sales. Are you interested? Contact the Dinarys team for M2E integration of your existing online store or receive a consultation on how to build a marketplace website.
Conclusion
It is impossible to estimate the cost of multi vendor marketplace platform development without technical requirements. Some Dinarys customers hire the team for custom e-commerce platform development. However, this option could be too costly for average businesses. If you want to make your own multi-vendor Magento store like eBay, you can use Magento platform with the Magento multi-vendor extension to start your business. This way you also receive a Marketplace Mobile App to enhance mobile device users.
Dinarys: Best Marketplace Development Team
Dinarys is a full-cycle e-commerce excellence partner with a wide range of services, including Software Marketplace Development.
Most often, our clients hire us to increase sales in an existing online shop by improving the customer journey with modern technologies.
Nevertheless, there are even more services available; including Business Analysis, Website Design, Mobile Apps Development and Technical Support.
Willing to create an eCommerce Multi Vendor Magento store? If you need a professional consultation on your e-commerce project or you have the new project in mind, fill in the contact form. Our team will get in touch ASAP.
Want to read more
Get fresh articles, news and case studies to your email firstly
Related articles