How to Build a Successful Two-Sided Marketplace
eCommerce Jan 08, 2020
Main / Blog / How to Build a Successful Two-Sided Marketplace
A two-sided online marketplace platform is like a modern El Dorado. Creating a space for sellers and buyers to interact benefits both, as well as the platform owner.
At Dinarys, we receive many requests to build two-sided marketplaces, inquiries how much does it cost, and so on. We can and do perform this type of work frequently, and in this article we'll share some of that experience.
We'll go through the steps to create a two-sided marketplace platform. More importantly, we'll also show you how to create the community that will use the platform. If the platform can not attract buyers and sellers, it isn't worth much.
Get it right, and the rewards are huge. E-commerce provides huge opportunities for retail businesses. According to Statista, the worldwide number of online shoppers in 2020 approached 2.05 billions.
There is a bit of a "chicken and the egg" issue here. An online marketplace is only as good as its users. So how can you bring in that initial set of users to kick off the enterprise?
Let's dig in.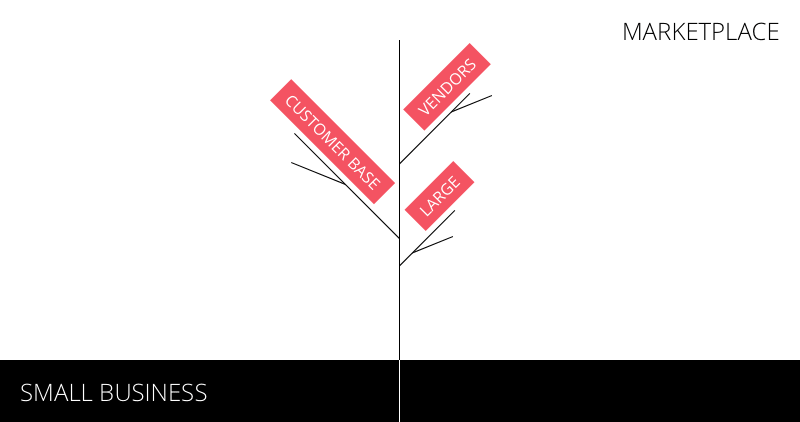 What is a Two-Sided Online Marketplace Platform
The term refers to a website where buyers and sellers meet. The site acts as an intermediary or middleman, facilitating transactions, product discovery, payment, and so on. The platform owner takes a percentage of each transaction.
The platform generally does not offer its own products. Instead, the owner controls relations between online shoppers and third-party creators. It may seem difficult at first, but many of the most successful startups today are two-sided platforms.
As an example, let's look at Uber. Boiled down, the company simply connects riders and drivers. Drivers provide their own cars and driving expertise. Riders pay Uber, which takes a percentage, and passes the rest on to the drivers.
Uber was established in 2009, and is now one of the largest two-sided marketplace platforms in the world. The interesting thing is, Uber doesn't provide any of its own cars or drivers. It's a great example of a disruptive commercial model, but without riders, there would not be any necessity for drivers. Conversely, without drivers, riders would never use the service.
There are plenty of other examples of this type of business. Etsy, Handy, Airbnb, and eBay all stand out. These platforms act as a regular between two parties, providing a space for collaboration, and setting rules and standards.
But how did they get started?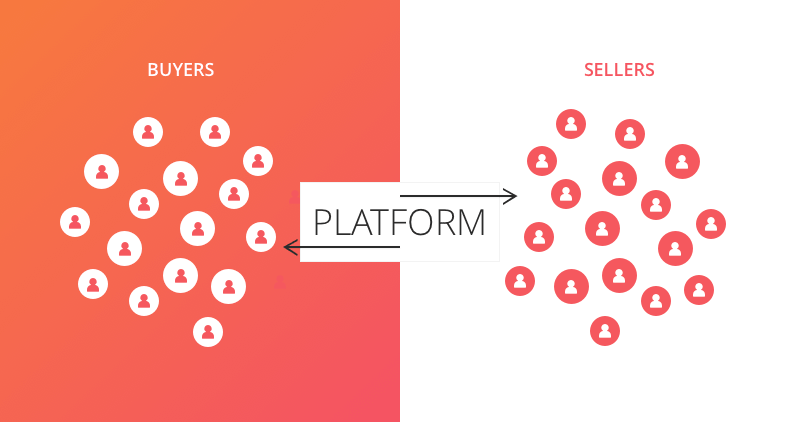 So, as we said, there are three main factors in creating a successful two-sided marketplace.
The Platform brings together user groups with differing goals (buying vs. selling).
Customers are users who want to purchase goods or services.
Vendors are users who want to sell those goods and services.
The trick is developing all three in synchrony
What tactics should a business use to accomplish that task and enjoy success in the two-sided marketplace field? Where should you start?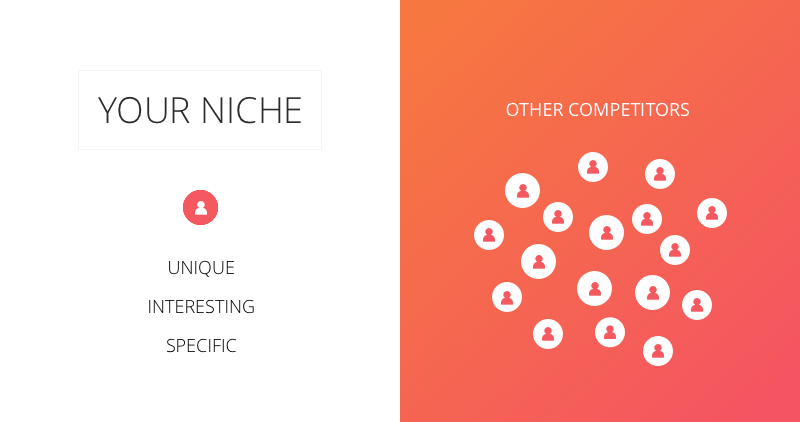 Find Your Niche
Focusing on a particular niche is crucial to building a two-sided marketplace. Your website should offer unique, specific products and services that are interesting to a clearly defined audience.
Our advice is always to choose a niche you already have experience in, or passion for. By starting with what you know, you'll have a better understanding of your customers' problems and needs. You'll likely already have ideas of holes in the marketplace that you could fill, or features that users can't turn down.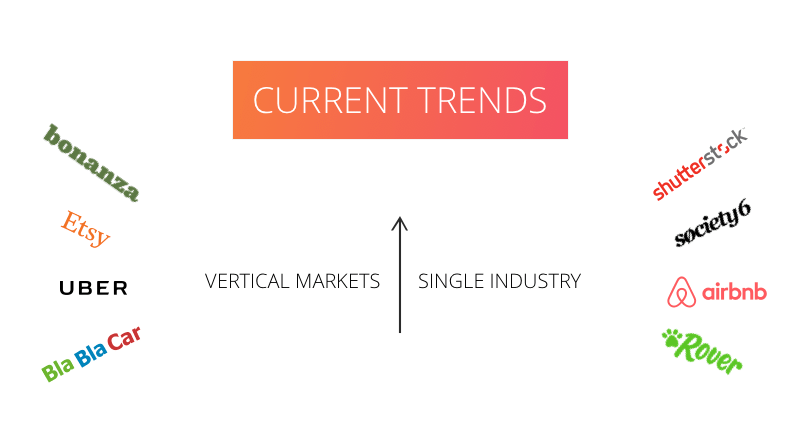 Current Trends in Two-Sided Marketplace Platforms
Before you invest in creating a two-sided marketplace platform, you should take a close look at current trends. New players in the space arise every year, and paying attention to the most successful ones is simply good business.
For example, many successful new two-sided marketplace businesses are focused on vertical markets. That means the goods and services sold all relate to a single industry, or vertical. Some recent examples of this include markets devoted to accounting, banking, agriculture, and others.
Here are a few such projects that are worth studying. If you're founding your own startup in the space, these will give you some ideas.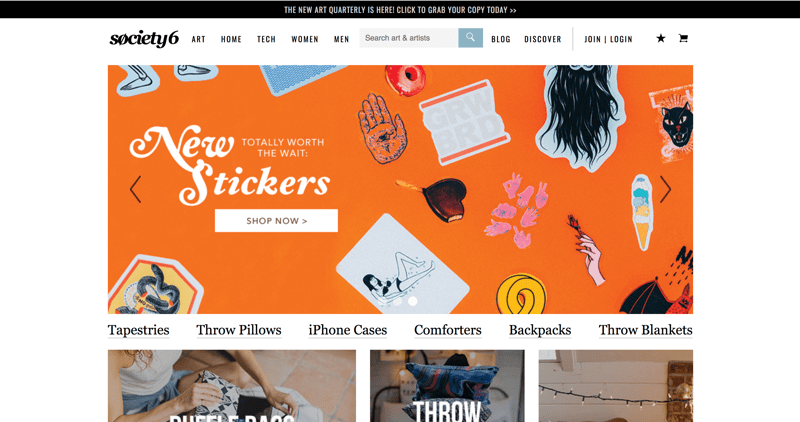 Society6
This two-sided marketplace is developed for artists and art lovers. Creators upload images of their work, which can range from wall tapestries to phone cases.
Fitting with patrons' desire to support their favorite artists, Society6 features a late rate price per product type. So Society6 determines how much can be released from the sale of each item. From everything the vendor sells, they can earn 10% of the retail prices.

The buyer can choose to add a percentage over the asking price, all of which goes to the artist. As well, artists can set their own price for art prints, framed art, and canvas.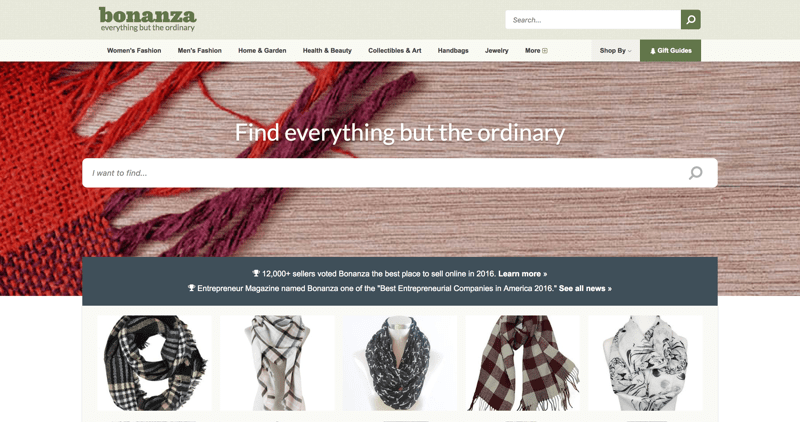 Bonanza
Bonanza is a seller-centric platform targeted at home businesses and entrepreneurs. The platform ranked #2 in the 2020 Sellers Choice Awards. Bonanza specializes in pre-owned clothes, accessories, and jewelry. It serves its trendy client base well by offering a smooth user experience, featuring secure login via Facebook or Google.
For sellers, Bonanza also manages PPC advertising on Google and other buyer channels. This is a huge value add for small sellers.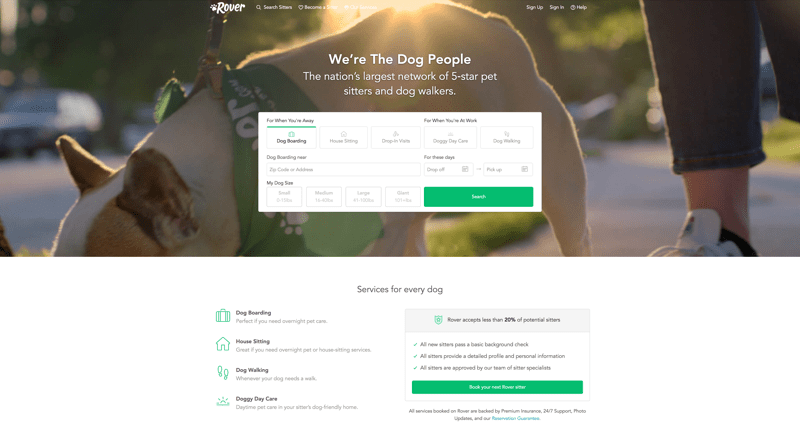 Rover.com
This two-sided marketplace was developed to connect dog parents with a nationwide network of dog lovers for hire, offering in-home dog boarding, dog sitting and dog walking. It includes a wide variety of pet-related services, including pet sitting, dog boarding, drop-in visits, and dog walks.

Community membership is growing steadily, and surveys show that 90% of users recommend the service to others.
Pet owners can open an account for free, while service providers pay $10-$35 for a background check. In return, they receive approximately 80% of the proceeds from every booking. Pet owners, meanwhile, pay a service fee of up to 7% on top of the sitter's rate.
Read also: How to Start Your Online Pet Pharmacy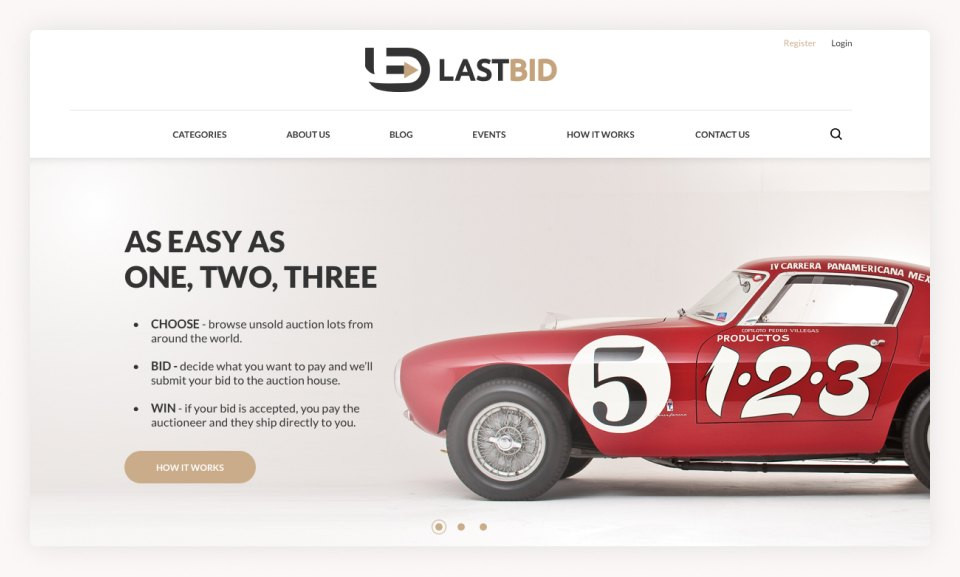 LastBid
LastBid is a global two-sided marketplace, created by Dinarys, that links top auction houses with collectors, connoisseurs and auction lovers.
The main idea of LastBid is to provide auction houses with an opportunity to sell unsold items to any buyers globally and receive the commission.
The LastBid website feels like a real auction where buyers have a limited amount of time to make a bid and buy the item.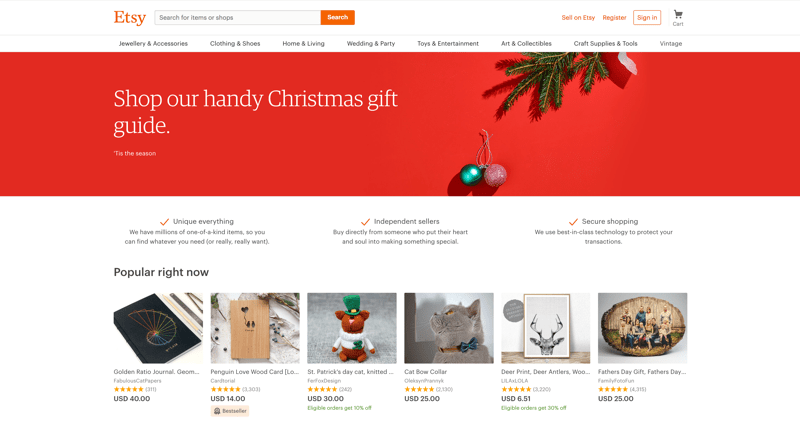 Etsy
One of the greatest examples of the business model, Etsy was one of the first to build a community around its niche market. This two-sided marketplace specializes in handmade items including clothes, accessories, jewelry, and home decor as well as 'vintage' items. Under the umbrella of home crafts, Etsy offers a wide range of offline activities, including workshops, lectures, and more.

On Etsy, sellers can open their virtual storefronts that display their goods. Buyers are able to browse the website with no need to sign up or purchase anything.
Etsy also stands out for the way in which it turns sellers into buyers, and vice versa. They leverage the idea that most craftspeople, even ones selling their goods online, prefer to buy from other craftspeople. Buyers and vendors intermingle, developing the platform and increasing Etsy's bottom line.
Features of a Great Two-Sided Marketplace
There are many other successful two-sided marketplace platforms to learn from. For now, though, we'll share some specific tips on what features a platform needs.
User Experience
User experience is a major factor in the success of any e-commerce business. For a two-sided marketplace platform, it's twice as important. Your platform builder should be reliable, personalized, and convenient for both sellers and buyers. In addition, there should be strong community features to inspire user engagement and loyalty.
Start Small
One of the best things about a two-sided marketplace is that the business can be scaled indefinitely. Since sellers manage the inventory, fulfillment, and product creation, the platform owner only needs to keep the marketplace itself running at optimum efficiency.
In the beginning, though, you'll likely need to employ some tactics that are decidedly non-scalable. For example, many marketplaces start by connecting two discrete systems for buyers and sellers, facilitating their interaction by hand.
During the initial development phases, you may also wish to keep your market area small. Even a platform limited to a local geographic area can be valuable as a testbed, proving out the business idea.
As the marketplace develops, you can add more features to your website, and introduce it to a wider geographic area.
Let's look at two real-world examples of these tactics in action.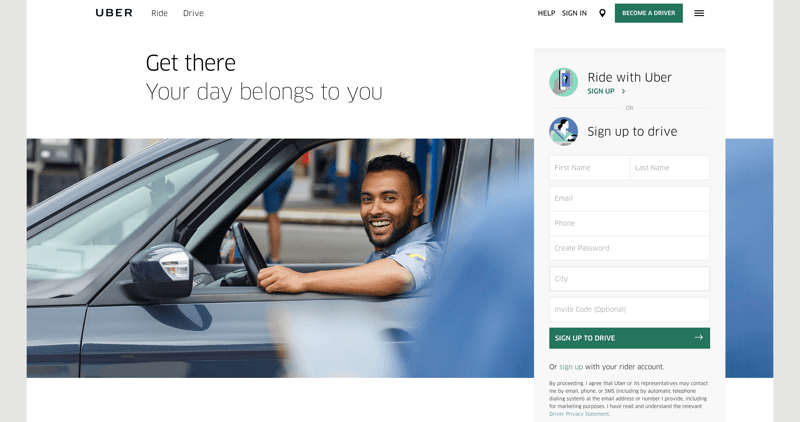 Uber
When Uber began, it was only available in the city of San Francisco. The company had trouble attracting drivers, and started to pay them for idling. This brought in plenty of drivers looking for financial security. The good supply of drivers brought in customers, and soon Uber expanded to Seattle. Today, as you know, it's global.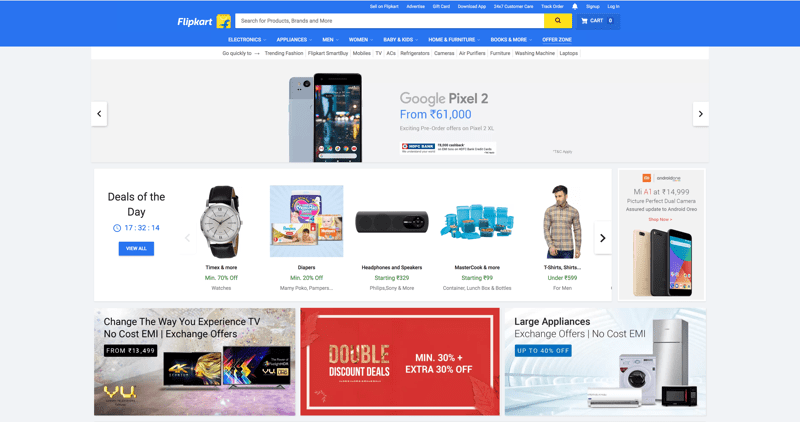 Flipkart
India's biggest online store for electronics, clothing, sporting goods, furniture, and just about everything else started by selling only one product category: books.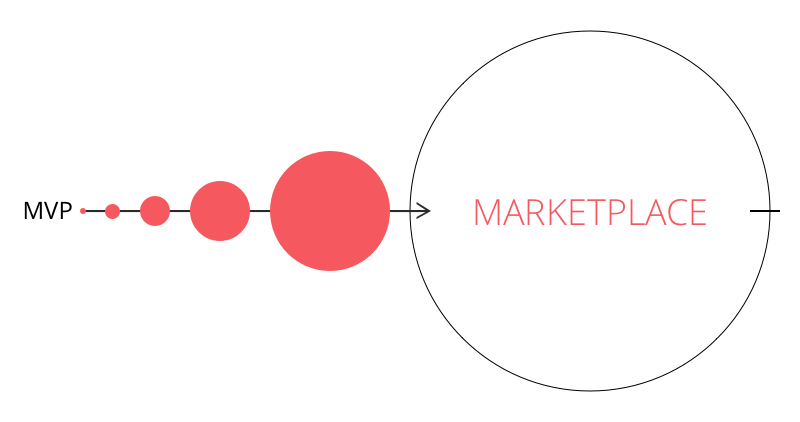 Scaling Up
Once you have a functional small business, it's time to look at scaling up. This is the dream for any online business owner.
As you plan development of your two-sided marketplace, keep large vendors in mind. Cultivate these relationships as early as possible, and plan future additions to accommodate them. Large vendors already have their own customer base, and they can bring huge swaths of them to your marketplace. They'll also help cover the supply-demand gap, flooding the market with products.
Of course, creating a two-sided marketplace isn't quite that simple. Most startups struggle with what we call the chicken-and-egg problem. If you're not familiar with this common dilemma, keep reading.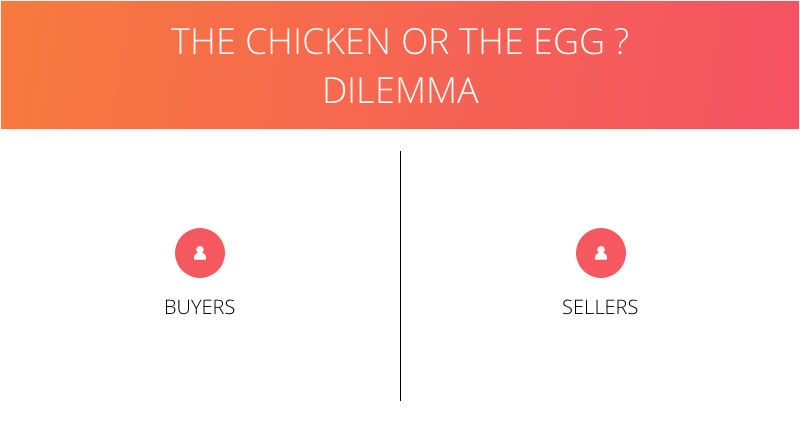 The Chicken or the Egg Dilemma
Which came first? The chicken or the egg? The chicken hatches out of the egg, but the egg is laid by the chicken. So, how do you get one without the other?
It's the same for two-sided marketplace platforms. A platform needs sellers to offer anything to buyers, but sellers won't come if there's no one buying.
This can be a real challenge for startups and unknown businesses in any business model, but especially in two-sided marketplaces. For this model to work, it needs to have both buyers and sellers almost from the start, so that they attract and support each other.
The answer is to create an alternative way to attract one side or the other. For Uber, the answer was to pay drivers even when they had no riders. For others, the answer may be to offer value-add enticements to buyers. A community membership or informational resource can be a great way to bring buyers into a store that is light on merchandise.
Next Steps to building a two-sided marketplace
Platform development isn't the only important piece of creating a successful online business. When planning, be sure to budget for marketing and advertising, SEO, content creation, maintenance, and support. Before you launch your two sided marketplace for startups, have these resources ready.
Promotion
Have a marketing plan ready to bring users to your site as soon as it goes online. Postcards or leaflets can work well, especially in a local geographic area. Email blasts and social media are also useful.
Customer Service
Treat every new customer like gold. If you make them feel significant, they will turn into loyal advocates for your platform. A small gift or a hand-written thank-you note to buyers and sellers can do wonders, and always ask for feedback via email.
Above all, be responsive to their communications and requests. Nothing will turn off a new client faster than being ignored.
For more ideas and tactics on community building, read our previous article How to Build Rapport with Your Clients.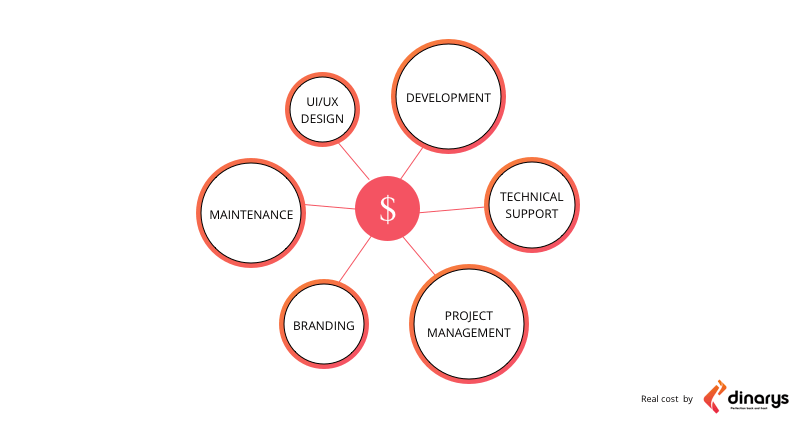 The Real Cost of Online Marketplace Platform Development
At Dinarys, we often receive requests to build online marketplaces "just like Etsy". It's difficult to give a universal answer to how much this work costs.
Project cost estimation depends on many factors, such as the details of your business model, two sided marketplace software and which features you need. For a more detailed look at these issues, read our previous article How Much Does It Cost to Build an E-Commerce Website.
Before embarking on any project, we create a detailed plan that includes budget, scope, software and price. As a full-cycle development company, we can handle a range of functions including:
Project Management
Maintenance
UI/UX Design
Branding
Development
Technical Support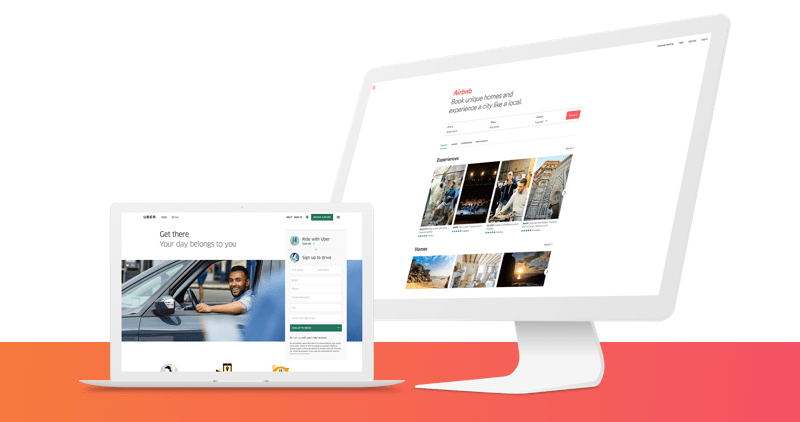 Conclusion
Two-sided marketplaces are very attractive for their scalability and strong business model. At the same time, though, they can be very difficult to start.
The transactional nature of the business is interesting. As the platform owner, you receive revenue from every sale, whether or not you took an active role in it.
We at Dinarys hope that this article on how to build a two sided marketplace helped you in your journey to creating a two-sided marketplace platform. For more advice or consultation at any stage of development, please fill out the form below.
Want to read more
Get fresh articles, news and case studies to your email firstly
Related articles