Best eCommerce Integration Solutions for Your Clothing Store

Main / Blog / Best eCommerce Integration Solutions for Your Clothing Store
Content
Like many other industries, more and more fashion businesses worldwide are going eCommerce to take full advantage of the growing global market. The recent influx of Chinese customers, which now make up about 40% of global online sales, gave a powerful boost to online shopping.
When demand is higher than ever, it is important for online retailers to use all available tools to streamline business processes as much as possible. That's where eCommerce integration comes into the picture. Both large and small stores can be empowered with sector-specific solutions that ensure seamless and effective store operation at all business levels.
Analyzing Top Integrations for Your Fashion Store
Using the Alexa analytics service, we've analyzed 10 top-performing clothing stores to find out what solutions they integrated into their business platforms. We analyzed the following stores:
Hm.com
Yoox.com
Gap.com
Zappos.com
6pm.com
Hermes.com
Net-a-porter.com
Victoriassecret.com
RalphLauren.com
Mango.com
So why not adopt their practices? For your convenience, we got eCommerce integrations classified into groups and compiled a table (10 Top Clothing Stores' Integrations) that shows the systems used by each of the top-ranking websites: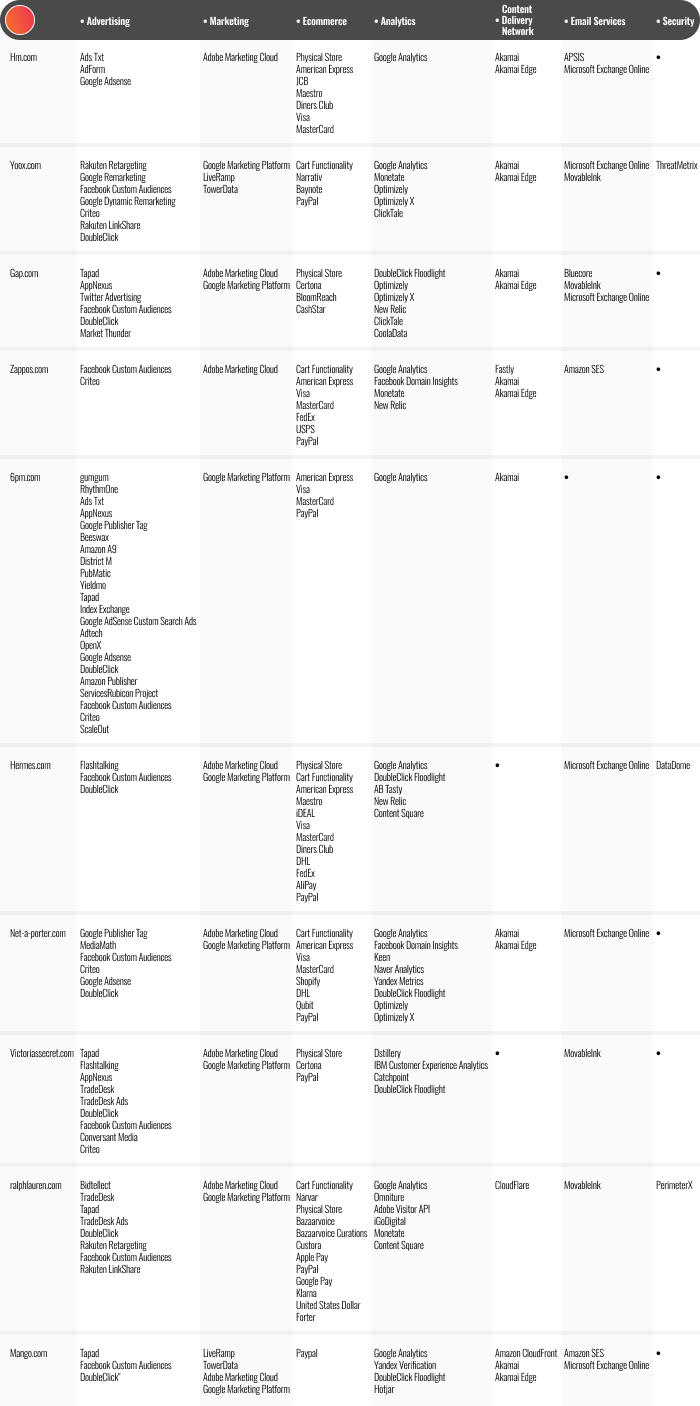 Some of the integrated systems are repeated from site to site. This speaks of their high efficiency and flexibility. That is why we often use such popular systems when developing ecommerce websites. Therefore, in the following section, we'll use some of them as an example of one or another integration group.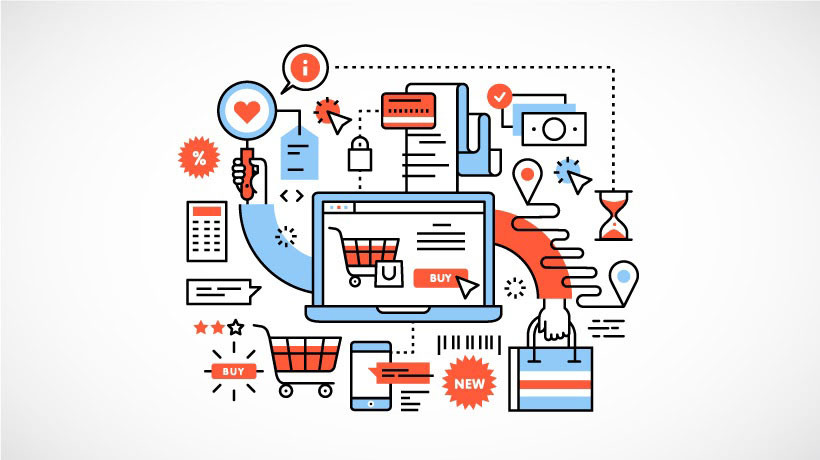 Image Source: cdn.elearningindustry.com
eCommerce Integration Services by Categories
Now, let's take a closer look at some essential eCommerce integration groups. Each of them facilitates managing the eCommerce clothing store in its own way, and we'll try to figure out exactly how this happens in practice. It looks like you've got to the most interesting part!
Marketing and Advertising Integrations
Marketing APIs are a must-have for any eCommerce business, and the fashion industry is no exception. Having data on how customers behave on the website, you can form data-driven strategies that will undoubtedly lead to higher profits and a decreased bounce rate. Third-party marketing tools will help website owners organize routine marketing processes, and record user information for subsequent grouping by habits or product preferences. As a result, each individual user will be offered smart personalized suggestions on subsequent visits automatically.
We notice that Google Marketing Platform is repeated in the Marketing group for almost every website. So what makes it a successful eCommerce integration? It unifies both marketing and advertising capabilities, which makes it easy to manage customer data and run successful ad campaigns based on it in one place. The platform itself comprises two powerful products merged together: Google Analytics and DoubleClick. Both solutions are just as frequently found in the Analytics and Advertising groups, respectively.
When it comes to advertising, however, Facebook Custom Audiences proves itself effective for most top clothing stores too. Apparently, this is due to the fact that the fashion industry and social media are inseparably linked.
eCommerce POS Integration
In today's multi-channel shopping environment, it is crucial to ensure your sales and inventory are closely integrated. Regardless of whether you own a brick-and-mortar store, an online store, or both, a point of sale system will make it possible to establish seamless customer experience, find more points of contact with the target audience, and track different behavioral patterns across different channels.
So what does the term "multi-channel" mean? It means that you provide your products or services through two or more of the following platforms:
eCommerce marketplaces like Amazon, AliExpress, etc.;
Your company's website;
Social media (running a Facebook store, promoted posts on Instagram, and so on);
Your physical store. A POS system ensures error-free data collection when selling in-person too.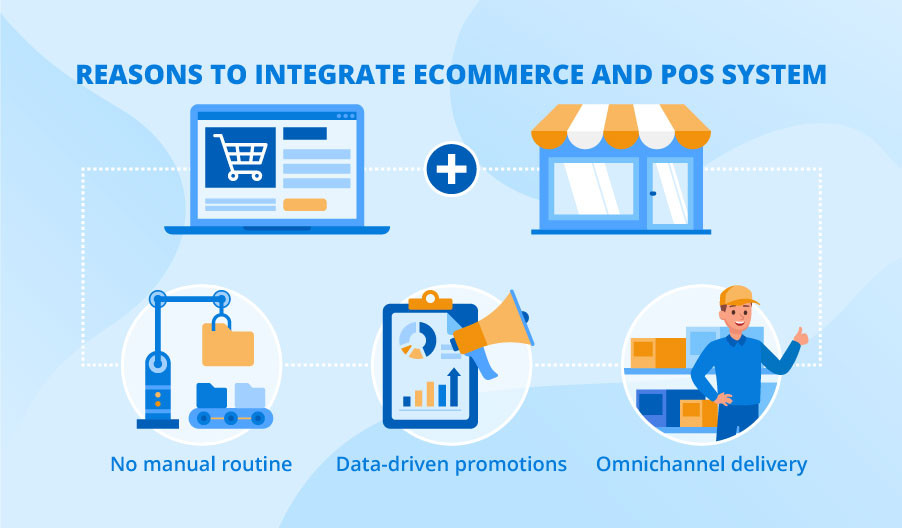 Image Source: scnsoft.com
One of the strongest POS integrations available today is offered by Shopify POS. It could be a great option if you sell both online and in-store. Depending on the package you choose, you'll pay from $29 to $299 a month for a variety of features including inventory and sales management, professional reports, discount codes, gift cards, and much more. Among other popular POS systems are Lightspeed, Vend, Square, Shopkeep.
Warehouse Management Integration
Today, WMS software is indispensable for clothing stores that strive to meet the growing demand for fashion products while keeping inventory in order. eCommerce business imposes its supply chain challenges, so it is important to have a reliable and accurate system that can help you gain complete control over processes such as returns, warranties, picking, and packing, as well as exclude overselling and synchronize multiple warehouses of retailers and suppliers. We've successfully integrated warehouse management solutions for dozens of clothing stores, so we know exactly which system would be a good fit for your small or large business.
CMS Integration
The content management system, as the name suggests, is all about managing, editing, and publishing all types of content on your eCommerce website. It is a key tool to keep marketing information constantly updated. But that's not all. CMS speaks the language of search engines, helping them recognize the differences between nearly identical pages and index them properly. This means that your fashion items will be displayed in search results adequately and won't be lost. Managing such pages manually could lead to a huge number of SEO penalties you don't even know about. Among the best eCommerce CMS for your clothing store are Magento, Shopware, and Woocommerce. We recommend reading our guide on selecting the best platform for a clothing store.
eCommerce ERP Integration
Enterprise resource planning system is an omnichannel solution aimed to accumulate and process critical data obtained from different modules (sales, production, finance, etc.) for further resource optimization. The above-mentioned systems such as POS, WMS, and CMS also get integrated with a single ERP system that uses data received to deliver a complete picture of the company's operation at all levels. When it comes to eCommerce fashion websites, ERP integration is vital, as it automates many day-to-day processes such as inventory and product updating, reduces data entry time, provides consumers with accurate stock levels, and sends notifications when orders are shipped.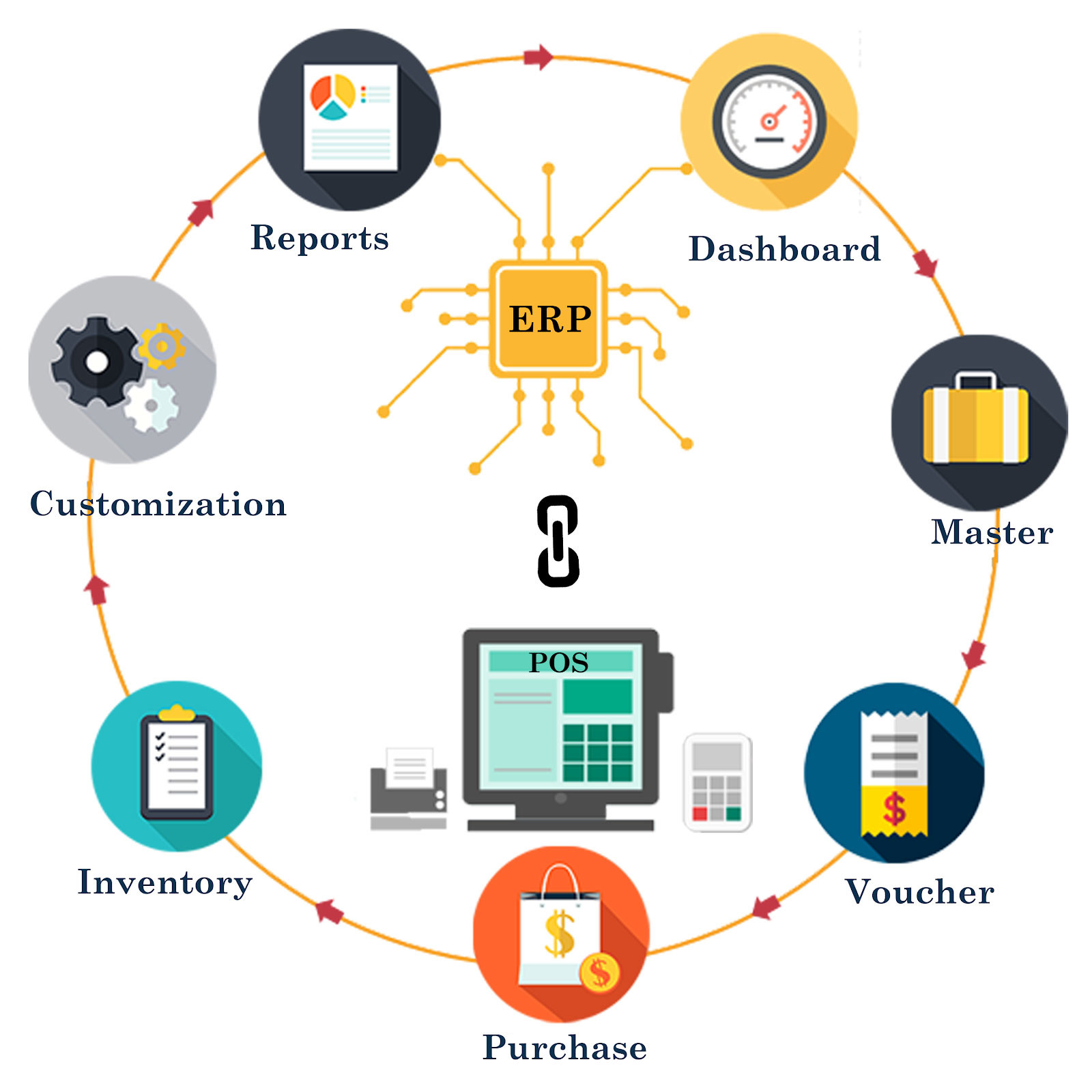 Image Source: techclouderp.com
When there is a single database for all business processes, the likelihood of errors occurring in delivery, orders, and inventory is minimized as much as possible. Another advantage of EPR integration with your store is the freedom to add multiple sales channels without extra costs on handling additional demand.
Some of the most common ERP options for fashion websites are Microsoft Dynamics AX/365, SAP, NetSuite, and others.
eCommerce Payment Gateway Integration
Your eCommerce website is primarily a money-making tool, so it is crucial to offer your customers fast, reliable, and secure payments. When integrating a payment gateway with your fashion store, it is important to consider the following aspects:
Security level. Make sure secure transactions are available to your customers.
Flexible commissions. Why pay more than you have to?
The comfort of the user interface & experience. It should be possible to purchase garments in a few clicks. The user should be redirected to the payment service and back to the website in a matter of seconds.
Popular payment methods support (e-money, bank card, etc).
As we can see from the 10 top clothing stores' integrations, PayPal, Visa, and MasterCard are in especially high demand among fashion websites. While the global dominance of Visa and MasterCard networks is obvious, PayPal is valued by eCommerce websites for its simplicity, flexibility, and secure payments without revealing any financial information. Empowering 1.3 billion websites worldwide, this payment system blurs the boundaries between countries, languages, and currencies.
Site Search & eCommerce Integration Benefits
One of the most important steps in achieving better customer experience is providing users with a powerful site search API, especially in the context of eCommerce clothing stores. That's how you can accelerate UX and increase the customer satisfaction level. Instead of trudging through tons of irrelevant content, the user finds the shortest path to the desired garment intuitively. Besides, if the user is not yet sure what product they are looking for, an advanced site search will help them discover new fashion items they would have never looked for purposely.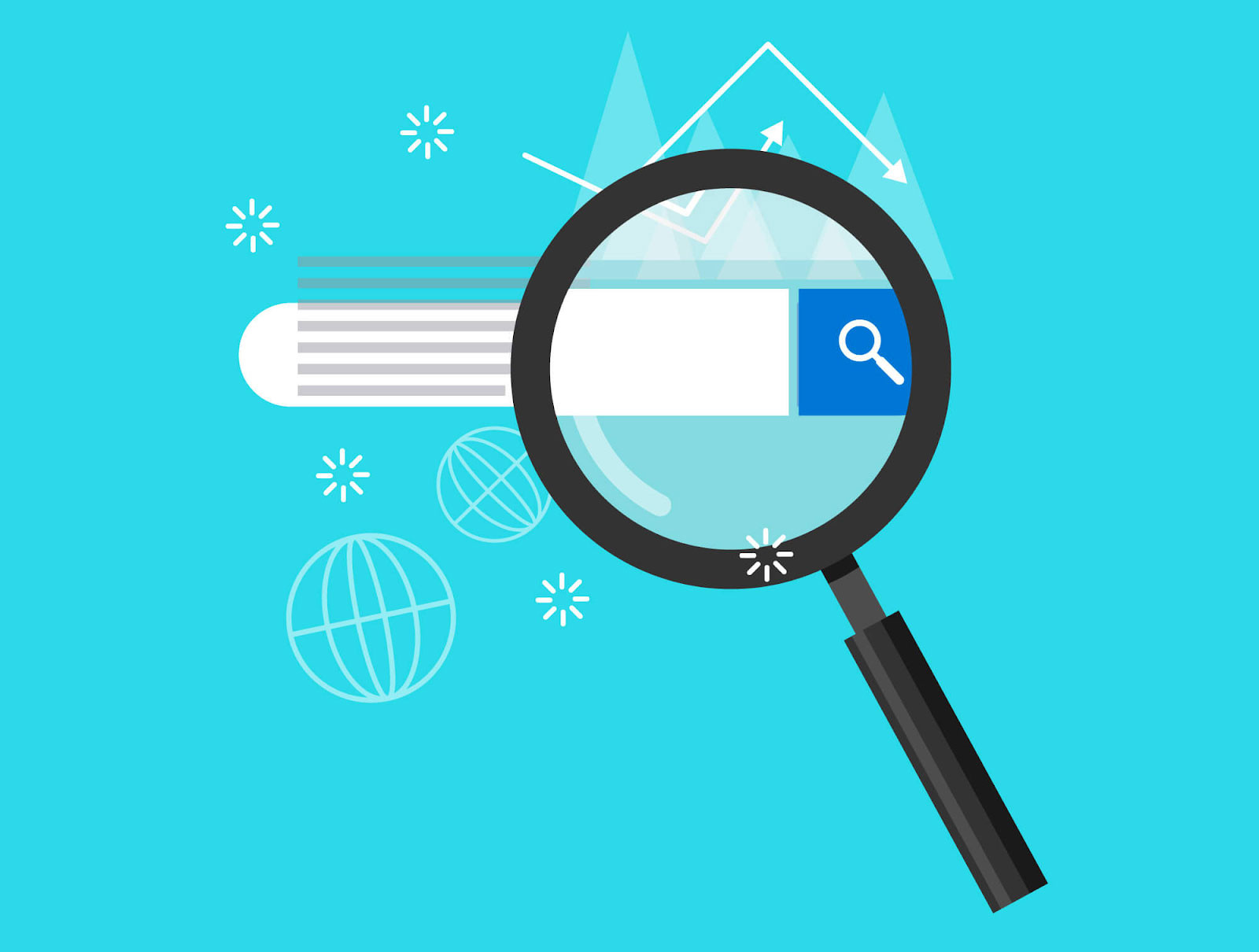 Image Source: cloudfront.net
There is a wide variety of site search solutions with their pros and cons. Keeping this in mind, Dinarys dev team can pick the most effective one for your clothing store. It is also important to undertake all common best practices of ecommerce site search.
eCommerce Shipping Integration
Sooner or later, any successful business starts to grow, and the number of orders to be processed starts growing too. Integrating shipping APIs into your fashion website will help you cope with this problem by automating routine processes related to shipping, package tracking, invoice creation, and order processing. When a garment is purchased from your store, a shipping API signals to the warehouse where a certain product gets the "ready to ship" status and is shipped to the customer promptly.
As our research shows, top clothing stores often prefer American Express, DHL, and FedEx APIs. Integrating features of these international delivery services into their websites and applications, the fashion stores can enjoy professional reporting, labeling, facilitating returns, sophisticated tracking capabilities, and much more.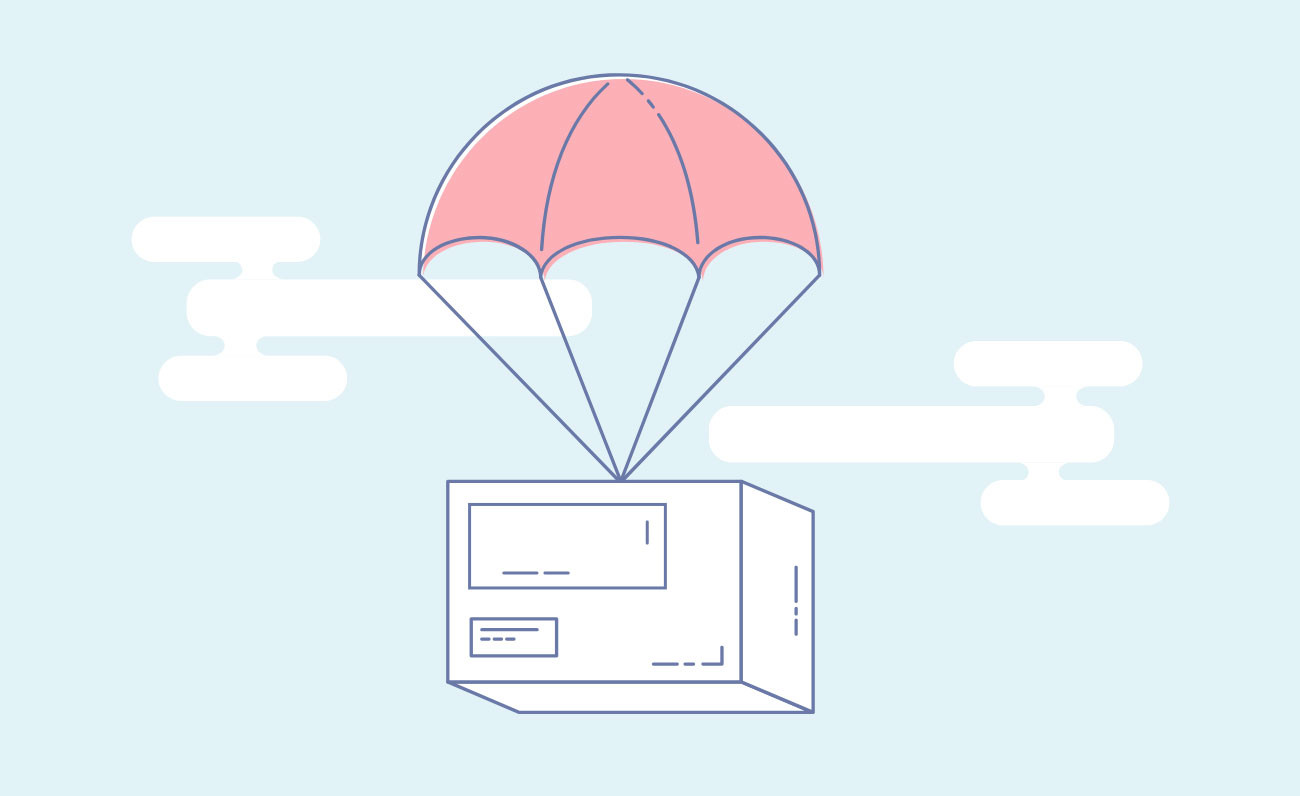 Image Source: www.miva.com
Also, website CMSs have their shipping modules and extensions that simplify the process. For example, Magento-based websites often use the Magento Shipping extension.
Top Shipping Software for Ecommerce
We will review five shipping integrations that became the most popular among Magento merchants. Obviously, each of them has its pros and cons. The competition on the market is so high, that's why the choice could be difficult. But by the time you're done with this integrations list, you will better understand what suits you best.
1. ShipperHQ
It was established in 2014 and is based in Austin, Texas. ShipperHQ was developed by the leading Magento shipping extension development agency, for businesses of all sizes - WebShopApps. ShipperHQ provides innovative cart customization and enterprise-level functionality which includes Click and Collect and Local Delivery.
Among its main features are:
Multiple carrier support - it supports more than 30 carriers, among them are also less-than-truckload freight carriers,
Real-time shipping rates - it includes live rates that can provide you the most exact costs for your shipment,
Multi-origin support - you have an option to choose carriers for every origin. For instance, in the case, you have multiple warehouses or you propose drop shipping, they maintain that,
Automation - it comprises automation rules for setting rates for definite geographic zones and specific shipping variants of your selection,
Extra features and tools - it proposes dropshipping, in-store pickup, address checking, and the possibility for customers to select the date and time of delivery.
2. ShippingEasy
The company was established in 2011 and is based in Austin, Texas. ShippingEasy represents a cloud-based shipping software that lets online retailers download orders from multiple stores and send them. It utilizes a normal integration model and has a web interface. English and Spanish are supported in ShippingEasy and it is focused on small, medium, and large-sized businesses.
Among its main features are:
Support of multiple carriers - it supports USPS, FedEx, UPS, DHL, and DHL Express,
Automation - it includes the rules of automation for order managing and label printing, delivery preference, and package size,
Discounted rates - it provides discounts for USPS discounts for Priority Mail, Flat Rate, Regional Rate, Express Mail, and International,
Alexa for shipping - it lets you utilize Alexa to receive information about the order, batch print labels, pick lists, and much more.
USB scale support - it supports USB scales to transfer the weight directly into the platform,
Extra features and tools - it provides customizable email templates, automated emails and notifications, marketing tools, custom product kits, barcode scanning, order management, inventory management, supplier management, analytics, and shipping insurance.
3. ShipStation
The company was established in 2011. It is based in Austin, Texas. ShipStation assists e-commerce sellers to make shipping labels for shipping their goods regardless of where they trade or how they ship. It has an interface and also apps for iOS and Android. ShipStationis for different kinds of businesses - from small to enterprise-level businesses.
Among its main features are:
Numerous shipping methods - it supports USPS, UPS, FedEx, DHL International, Canada Post, or Amazon Seller Fulfilled Prime accounts and 30+ more carriers,
Shipping rates in real-time - it has real-time rates in cart and checkout and supports 1-step checkout,
Automation - it includes the rules of automation, which can be utilized for customizing the shipping process and order synchronizing from several sales channels,
Discounts - it proposes discounted USPS rates via freestamps.com and includes a free Express 1 account with discounts on USPS Priority and Express Mail,
Extra features and tools - it offers branded tracking pages, branded emails and notifications, analytics, and package return management.
4. Shippo
Shippo was established in San Francisco, California in 2013. It helps businesses cope with shipping difficulties. The users of Shippo are small, medium, and enterprise-level businesses. These businesses can get access to the platform through a feature-rich web app.
Among the main features are:
The support of multi-carrier - 55+ carriers, that it supports include regional, national, and international. For chosen carriers, next-day delivery is also proposed.
Discounted shipping rates - discounts of up to 90% are proposed through USPS, DHL Express, and others.
Automation - it synchronizes orders from the Magento account to create labels automatically and send customers tracking information.
Extra features and tools - it proposes branded tracking pages, branded emails, and notifications, package return management, customs forms creation, order splitting, analytics, and shipping insurance.
5. Ordoro
It was established in Austin, Texas, and is the oldest existing company which have been working since 2010. Ordoro creates a web app for retailers to let them govern their inventory, suppliers, and orders. It is utilized by SMBs and is available as a web application.
Among its main features are:
Some shipping methods - it supports FedEx, UPS, DHL International, USPS, Amazon Seller Fulfilled Prime accounts, or Canada Post,
Discounted shipping rates - it proposes discounts of up to 67% through USPS,
Automation - it comprises auto-fill shipping parameters while making labels and automation rules for orders operation,
USB scale support - for calculating rates automatically based on shipping method it taps into USB scales,
Extra tools and features - it proposes order-splitting, analytics, custom product kits, shipping insurance, dropshipping, barcode scanning, supplier management, and inventory management.
How to integrate the best ecommerce shipping software
Following your business, it may be not necessary to hire a development team for your chosen shipping solution integration. There are three variants of integration you can select:
After reading this article browse the Magento marketplace, press "Add to Cart," and follow the on-screen instructions.

Click the shipping extension's website and then keep the instructions to start working.

The last option is to hire a team with broad experience that guarantees a smooth transition to the new shipping software. This comprises integration, testing, and support.
Conclusion
If you want your eCommerce clothing store to become an efficient, fully automated and controlled sales tool, third-party software integrations are imperative. You can try to integrate APIs yourself or hire an experienced team of professionals. The former option is cheaper but more time-consuming, while the latter guarantees 100% quality results. Whatever it may be, our development team is always happy to implement your wishes quickly and build custom integrations tailored to your fashion store. After all, it makes sense to invest in your eCommerce business today to reap the benefits tomorrow! Contact us with your project idea and we'll gladly estimate it for you.
Want to read more
Get fresh articles, news and case studies to your email firstly
Related articles