Which Platform Is the Best for a Clothing Store in 2021
eCommerce Jun 11, 2020

Main / Blog / Which Platform Is the Best for a Clothing Store in 2021
As a leggings fan, once I visited an online clothing store in search of a new pair. Despite the poor quality of images and the absence of customer reviews, I still gave that online store a chance. However, on the fourth page of the checkout, I left this website and never returned.
If you want to create an online clothing store, remember that the key to success is providing an experience that customers truly love. It's not just about selecting the best platform for online store, but also about features that meet your customer expectations. What features exactly? You will find them below.
What Are Features Vital for a Clothing Store to Sell Online Successfully?
Image Gallery
The images should be bright and of good quality to convince shoppers to make a purchase. Not all shoppers have the perfect body. For that, show products on different models with different body shapes.

Product Image Zoom
Buying at an online store could be risky. A product image zoom is a must to make your customers sure about the quality of your clothes.

Product Reviews
Most shoppers have a low level of confidence in new brands and online stores. The reviews of other buyers increase customer loyalty and build trust.

Social Networking Buttons
Modern customers like sharing products with their friends on social networks. This way, you will increase the cross-channel promotion, and, as a result, receive more orders.

Wishlists
Some customers could not be ready to purchase the first visit to your online store. With the wish list, they can save the items they liked and buy them later.

Marketing Features
To make your online clothing store bring a profit from the very beginning, you can empower it with the following marketing features:
Upselling. When the customers buy an item, you can show them other popular items from this category or other categories. If the customer likes these products, they would buy them and increase average order value, as well as your profit.
Personal Wish List into a Discount. To motivate customers to buy more often, you can make a personal discount on the products they have added to their wish list.
Recommended Products Based on Abandoned Cart Items. Abandoned shopping carts hurt your conversions and online store profitability. This feature will recommend to buy the products in abandoned carts and remind customers about incomplete purchases.
What e-commerce platforms are used by the most popular clothes stores?
Now, let us look at the top online clothing stores and get insight into the e-commerce solutions they are using.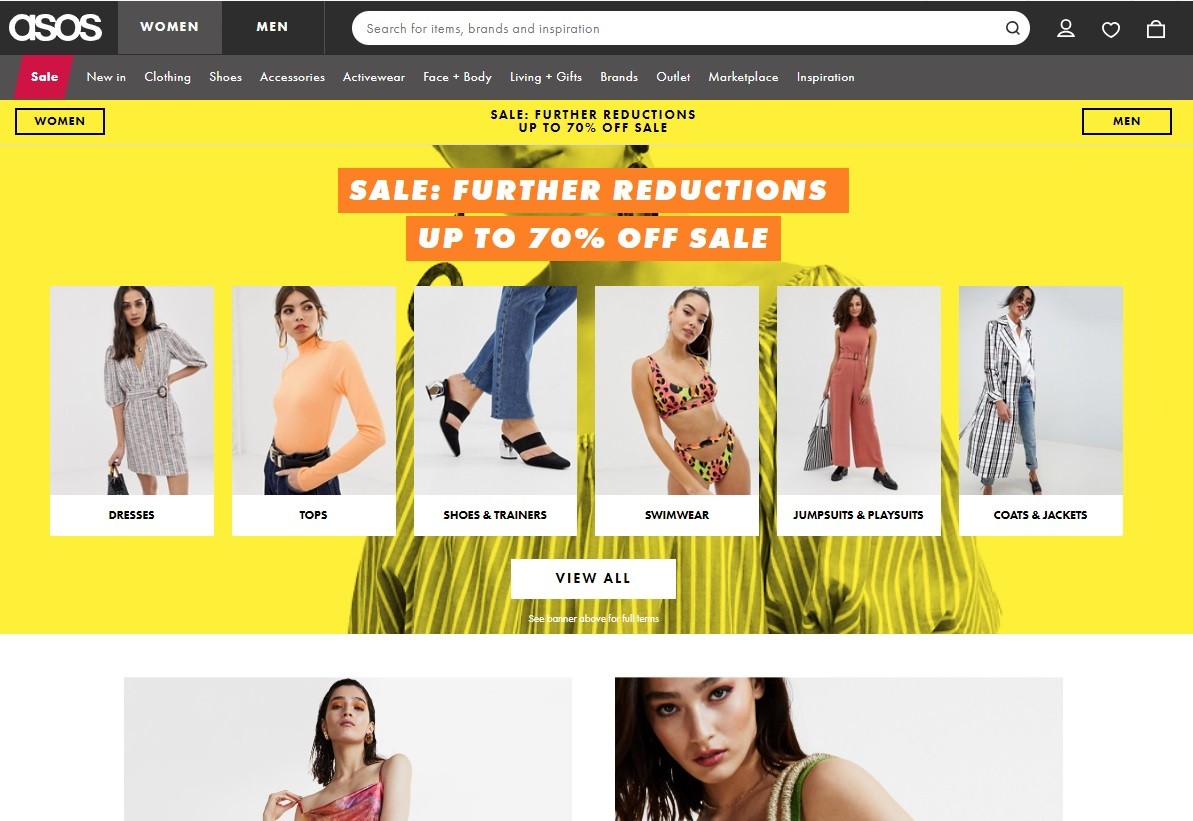 Image source: ASOS
ASOS
ASOS, a British fashion giant with over €2.7 billion revenue, uses a custom e-commerce platform built with Microsoft Azure microservices. Their online store offers a fully localized buying experience to their key international markets.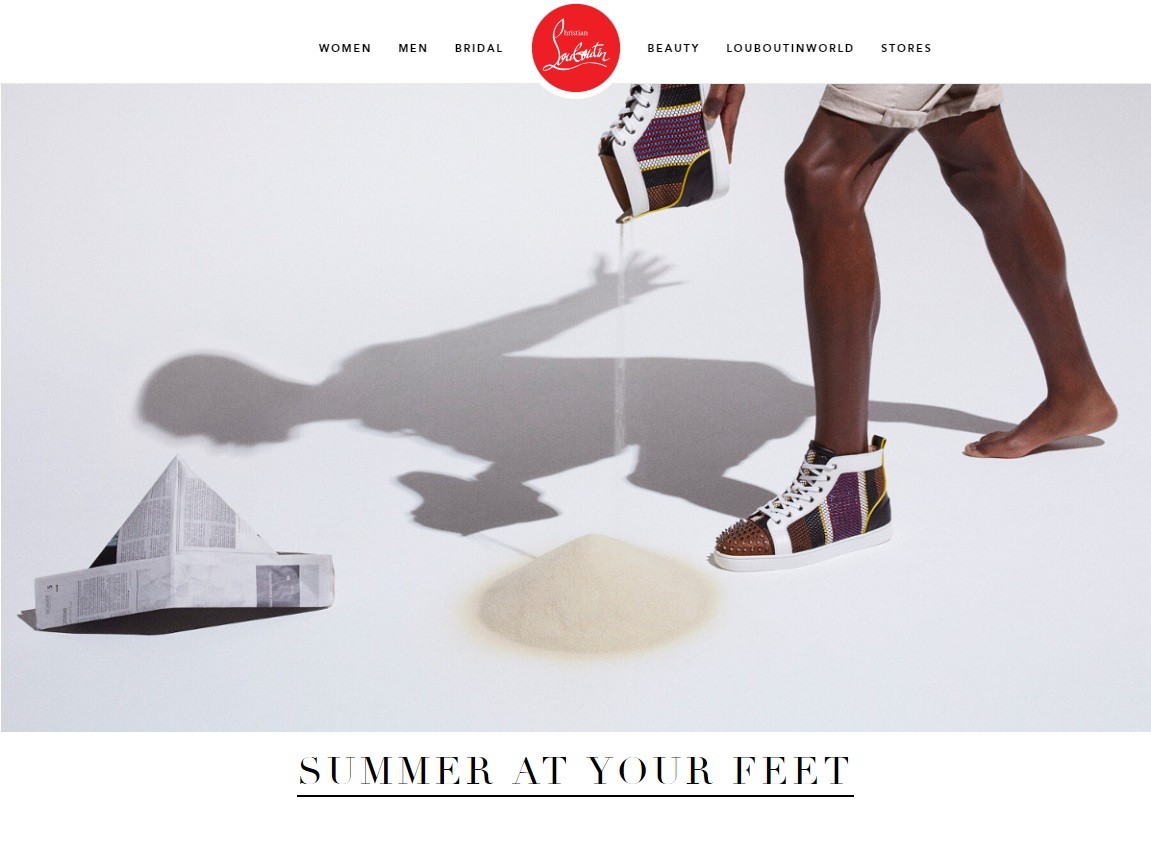 Image source: Сhristian Louboutin
Christian Louboutin
Сhristian Louboutin, the luxury goods retailers, built its online store on Magento, the best e-commerce platform.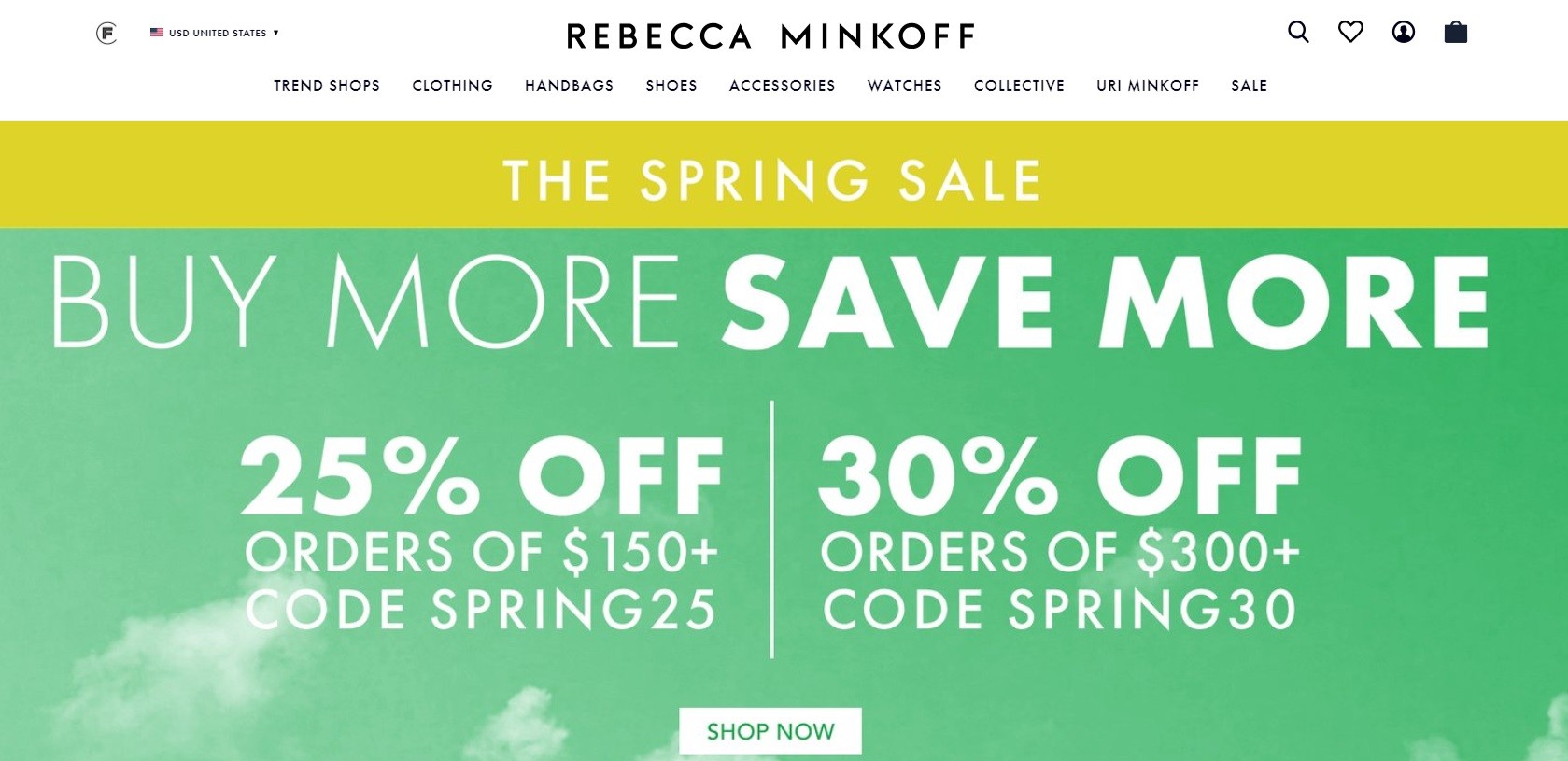 Image source: Rebecca Minkoff
Rebecca Minkoff
An industry leader in accessible luxury handbags, footwear, and apparel Rebecca Minkoff's uses the Shopify platform for their clothing store.
To conclude, while some clothes retailers apply ready-made solutions, others prefer creating a custom platform for their e-commerce online stores.
However, what is the best platform to create ecommerce website? Let's see.
Open Source Platforms for Apparel Stores
Using open-source platforms, you can customize ecommerce clothing sites the way you like and add as many features as you need for your business. This is a great chance to stand out from the crowd and provide customers with a unique shopping experience.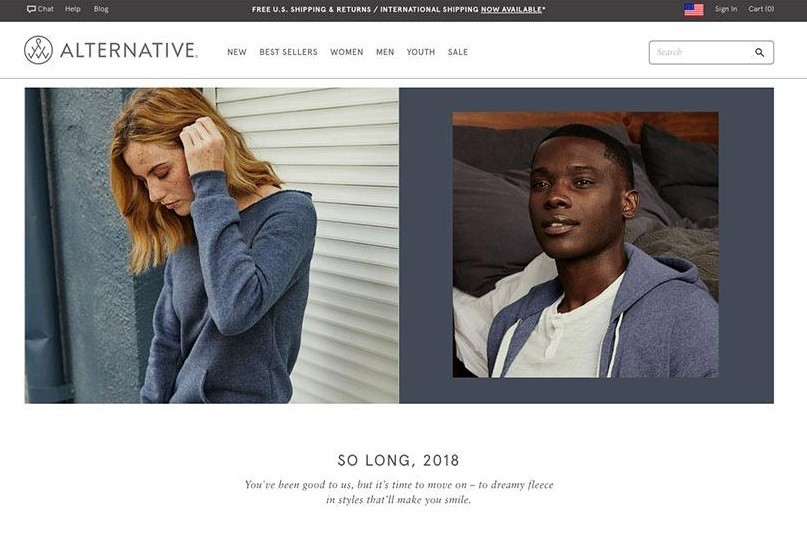 Image source: Alternative Apparel
Magento
Magento is a platform of choice for such brands as Alternative Apparel, Paul Smith, and End Clothing. We recommend this platform if you are looking for a highly customizable and scalable solution, able to handle significant traffic. The platform has several editions to suit different businesses. When considering Magento as the platform of choice, remember that developers created it for developers. It means that to run an online store on such a platform, you need to have fundamental coding skills or hire an e-commerce team.
Magento Community Edition is a free, open-source platform, ideal for small businesses that want to try their hands on building an e-commerce website.
Magento Enterprise Edition is the paid version of Magento. Its advanced capabilities have made it popular among many famous brands.
Magento EE is entirely supported by the Magento team. The pricing also includes security, and advanced features such as personal discounts, customer segmentation, and others. The license fees cost about $22,000/year.
One of our current clients, the online clothing store owner, hired our team to develop an online store on Magento 2 from scratch and migrate the data from the previous platform. Initially, he runs an online store on a custom platform, which was too costly in maintenance and not applicable for a significant traffic load.
The client has chosen the Magento platform because it handles any traffic load and has unlimited space for customization.
Answering the question of how much it costs to develop a Magento website for your online store, we need to consider factors that influence the price:
The cost of a basic Magento website starts at $20,000 and goes up to $40,000. But here you'll be limited to basic Magento functionality, simple design or theme, and no integration with the back-office system;
The cost of Magento custom website ranges from $40,000 to $100,000. Here, you enjoy extra benefits like custom Magento design, integration with back-office systems, custom product attributes, and much more;
Magento Enterprise Website will cost you $100,000+. It concerns large businesses and allows the utility of complete Magento features.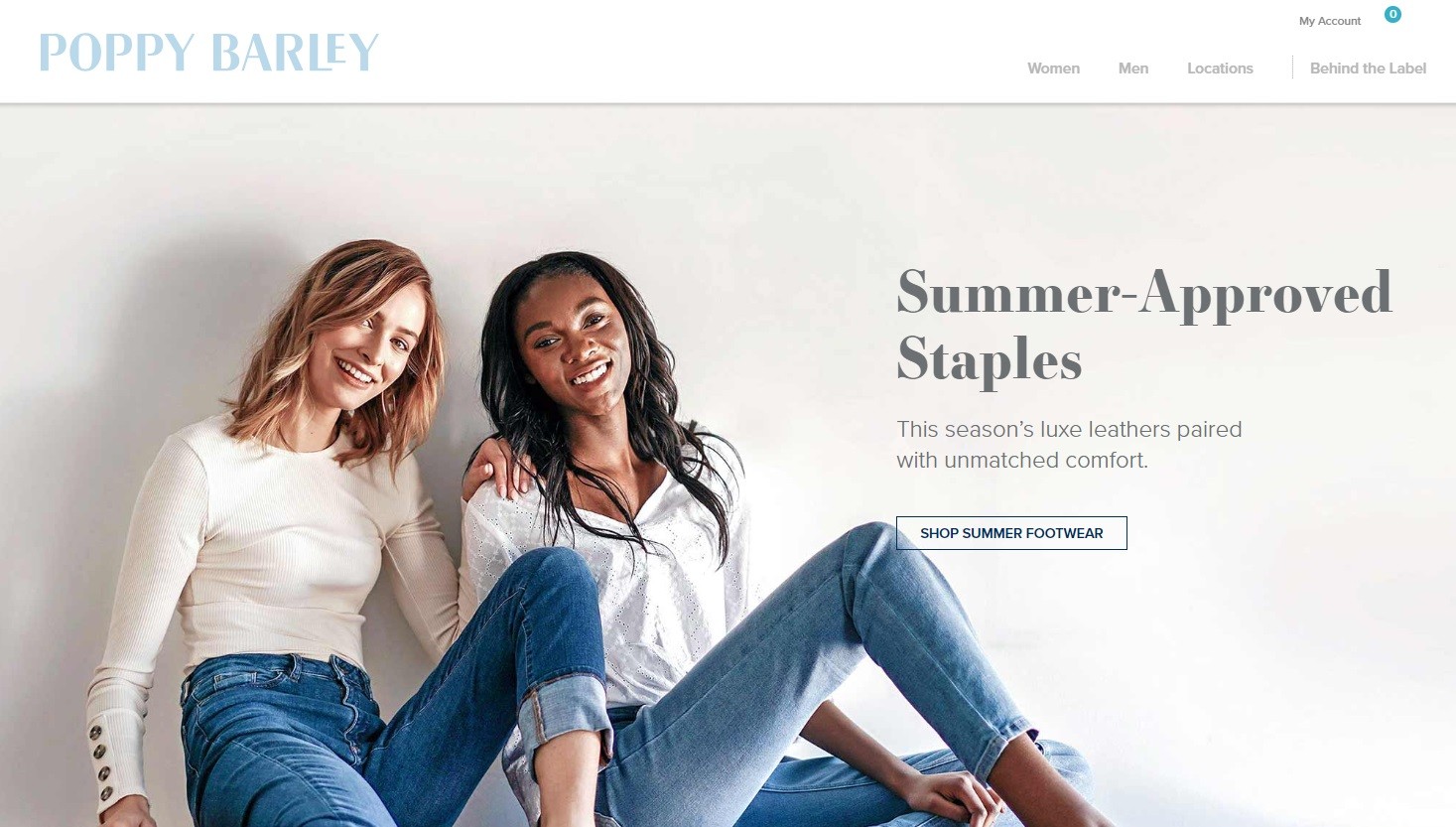 Image source: Poppy Barley
Shopware
Shopware is a great solution for an online clothing store that allows you to create it from scratch to meet business needs. Using Shopware provides the opportunity to grow and focus on perfect customer service. Another important point is that Shopware is more suitable for B2C businesses. Nevertheless, the platform is powerful enough even for a B2B approach.
Shopware is more attractive for small and medium-sized retailers. Because of that, it gains customers from other open-source platforms.
The platform provides different editions, so the prices also differ. Starter Edition is free, Professional Edition costs €199.00 per month and the price of Enterprise Edition is available on request. If you want to develop a Shopware-based website, you should remember that the price varies according to the capabilities you need. Average costs range from $2,000 to $15,000.
WooCommere
This free plug-in for WordPress is successfully used by such brands as Poppy Barley, Thief and Bandit and Hackwith Design House. However, to make a successful WooCommerce clothing store, you will need to buy additional plugins.
For that, we recommend using the following extensions:
Magic Zoom Plus + allows your customers to see your products in all details and influence their buying decisions.
Customer Reviews makes it easy for shoppers to share their opinion on your products, which build trust in your brand.
Product Page Social Share allows shoppers to share your products on the most popular social networks like Facebook, Twitter, Pinterest. As a result, their friends and family can visit your site and probably buy something.
And what's more – we actually found you a 15% discount in WordPress Hosting for you to start designing your store right away. Free domain registration, unmetered bandwidth, and live support. So after you finish this article, head over to the link and use the promo code HPBOUTIQUE to get your deal.
SaaS-Based Platforms for Clothing Stores
Such platforms do not have much space for customization as open source platforms do. Still, SaaS-based platforms have friendlier admin panel and all necessary features to open your first apparel e-commerce website.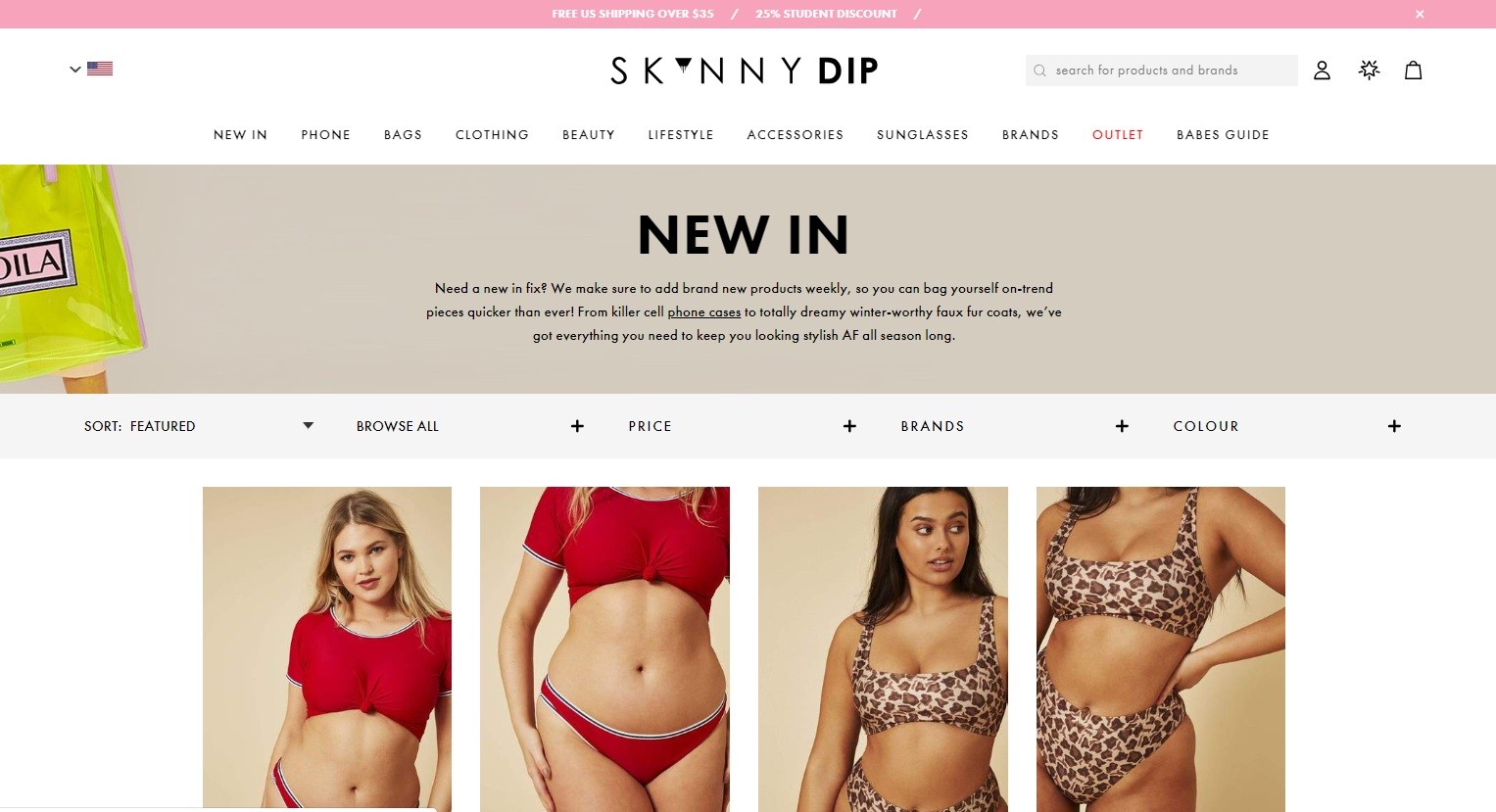 Image source: Skinny Dip
Shopify
The online stores of such brands as Bead and Real, Baggu, Skinny Dip, Kylie Cosmetics are powered with this platform. Shopify comes in several additions. Therefore, despite the size of your offline business, it is a great platform to digitalize your clothing brand.
Basic Shopify costs $29 per month. This edition includes all the essential features for starting a new business.
Shopify costs $79 per month. We recommend this addition for a growing business. It includes such advanced features as gift cards and professional reports.
Advanced Shopify costs $299 per month. The perfect choice for scaling an online boutique. This edition includes advanced report builder and shows third-party shipping apps rates at checkout.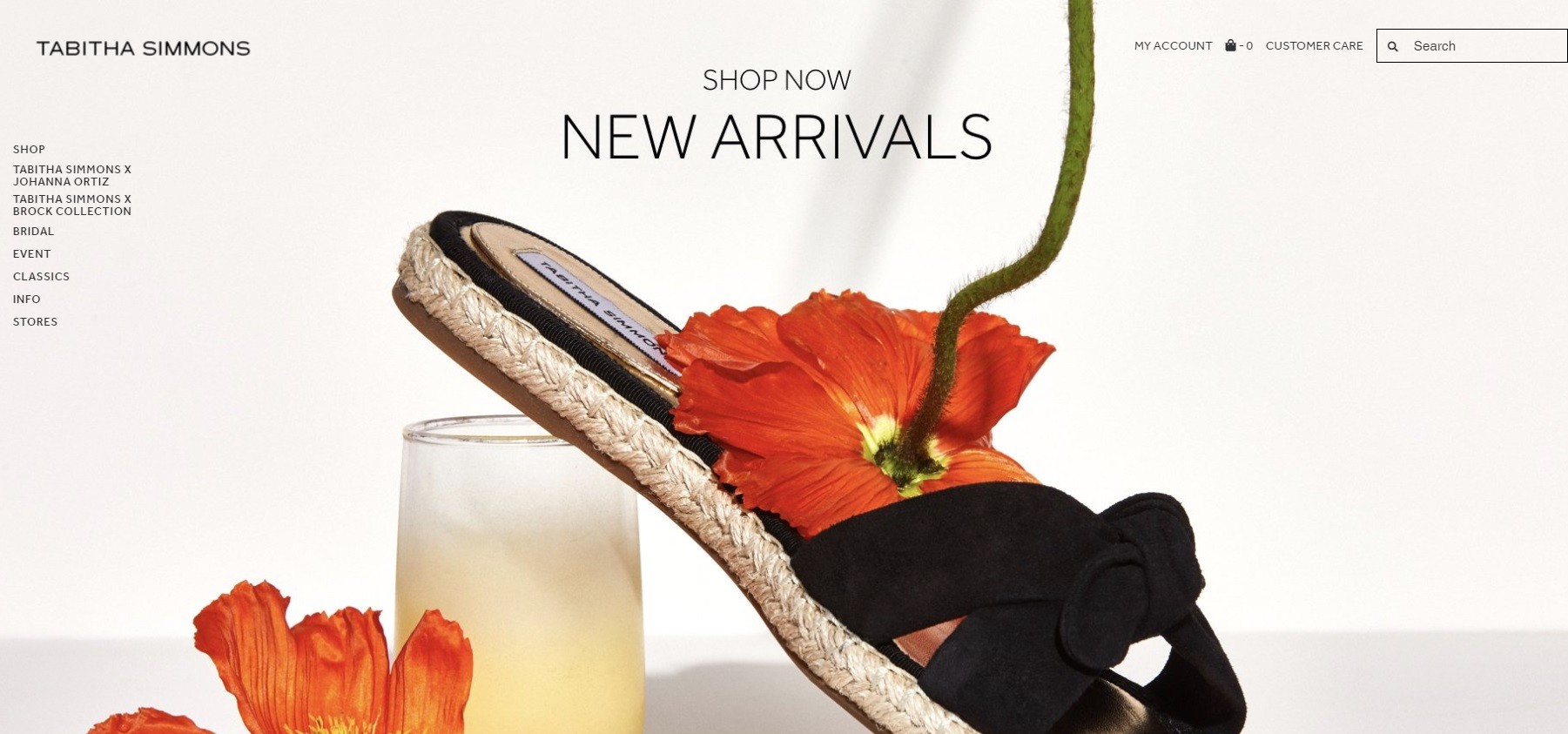 Image source: Tabitha Simmons
BigCommerce
We recommend BigCommerce for beginners on e-commerce who need a simple and effective platform. BigCommerce has a user-friendly admin panel, different pricing plans and fabulous designs for online boutiques.
The Standard Plan of BigCommerce starts from $29.95 per month. It includes the basic e-commerce features as the product catalog, shopping cart, and checkout.
The Plus Edition will cost you $79.95 per month. This edition has customer groups and segmentation, abandoned cart saving, stored credit cards and many other integrated features.
To use the Pro edition of BigCommerce, you will need to pay $249.95 per month. On this price, you will receive such advanced features as Google customer reviews, advanced product filtering, and custom SSL certificate.
Custom Clothing Stores
If you want to provide shoppers with outstanding experience, you need a custom platform. You will receive the total control over the feature list and the storefront.
The cost of custom development varies depending on the online store size, the features required and the design.
The fundamental custom online store with the shopping cart, the product catalog, and the custom website design will cost around $15,000 – $20,000.
Web stores with average product catalog, thousands of monthly visitors, advanced design and development of "pro" features will cost you $30,000 – $50,000, and more.
To make clear what a custom platform is, let's look on the ASOS example. During the journey of a typical shopper, we will see what custom features this custom online store has.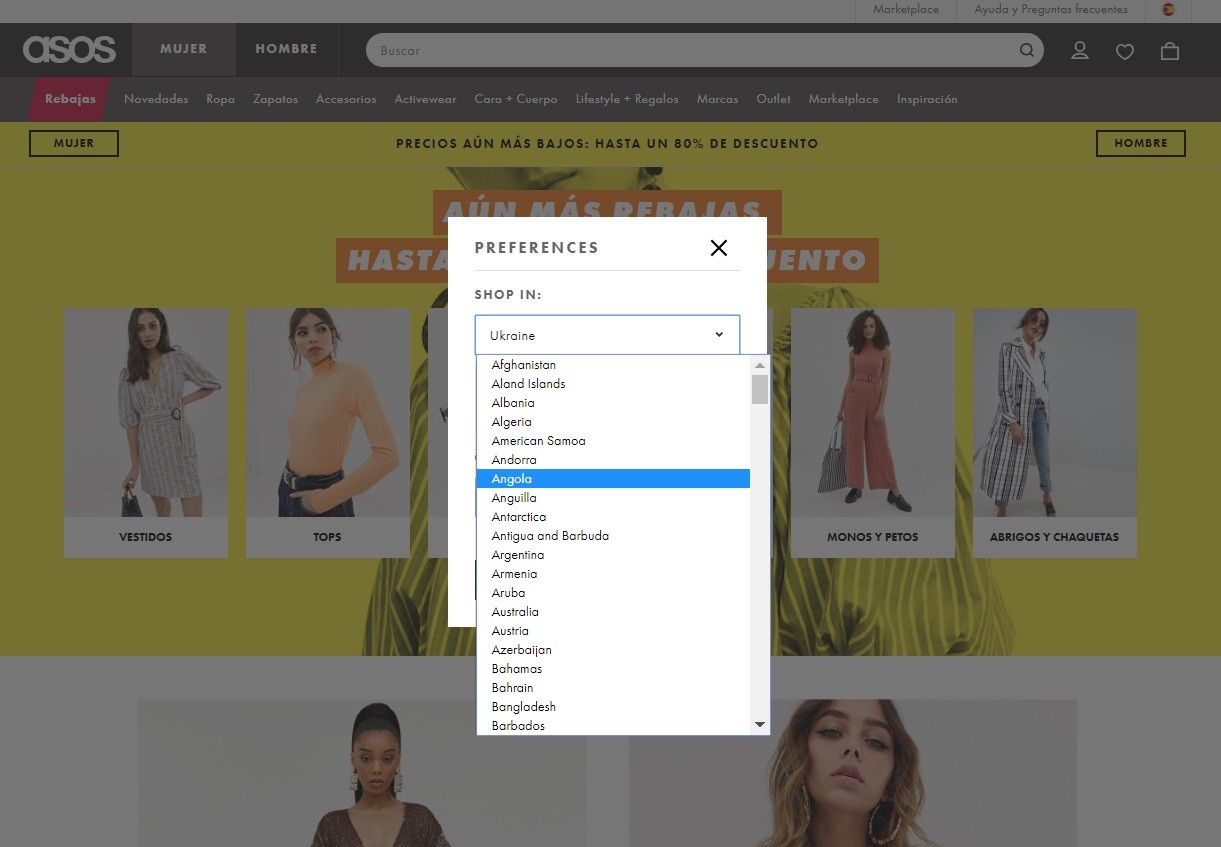 Image source: ASOS
Multilanguage
Since ASOS is an integration brand, shoppers could choose the language and currency for more convenient shopping.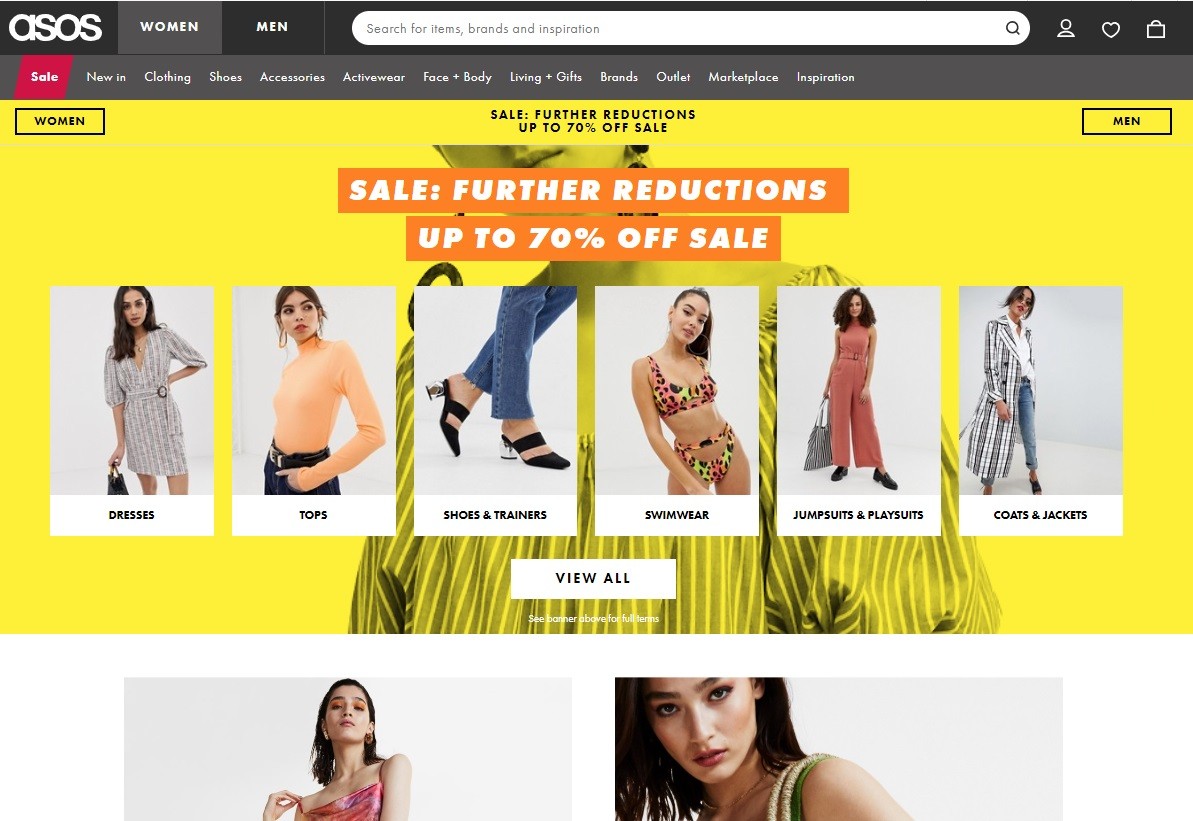 Image source: ASOS
Home Page
The home page has clear product categories to engage customers to start their journey and find a product which they are looking for.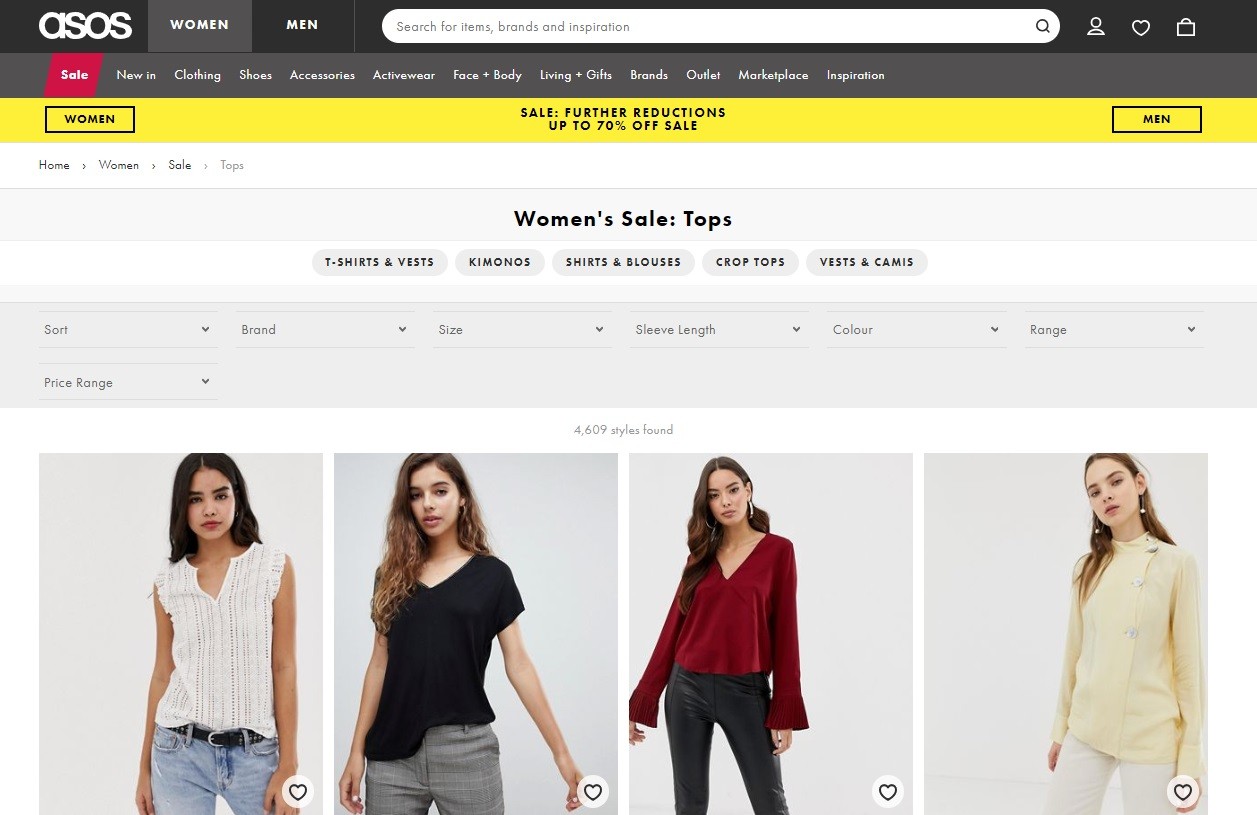 Image source: ASOS
Product Category
Here, website visitors can narrow their search and set the size, color, brand, and even the price filters to find the exact product they want.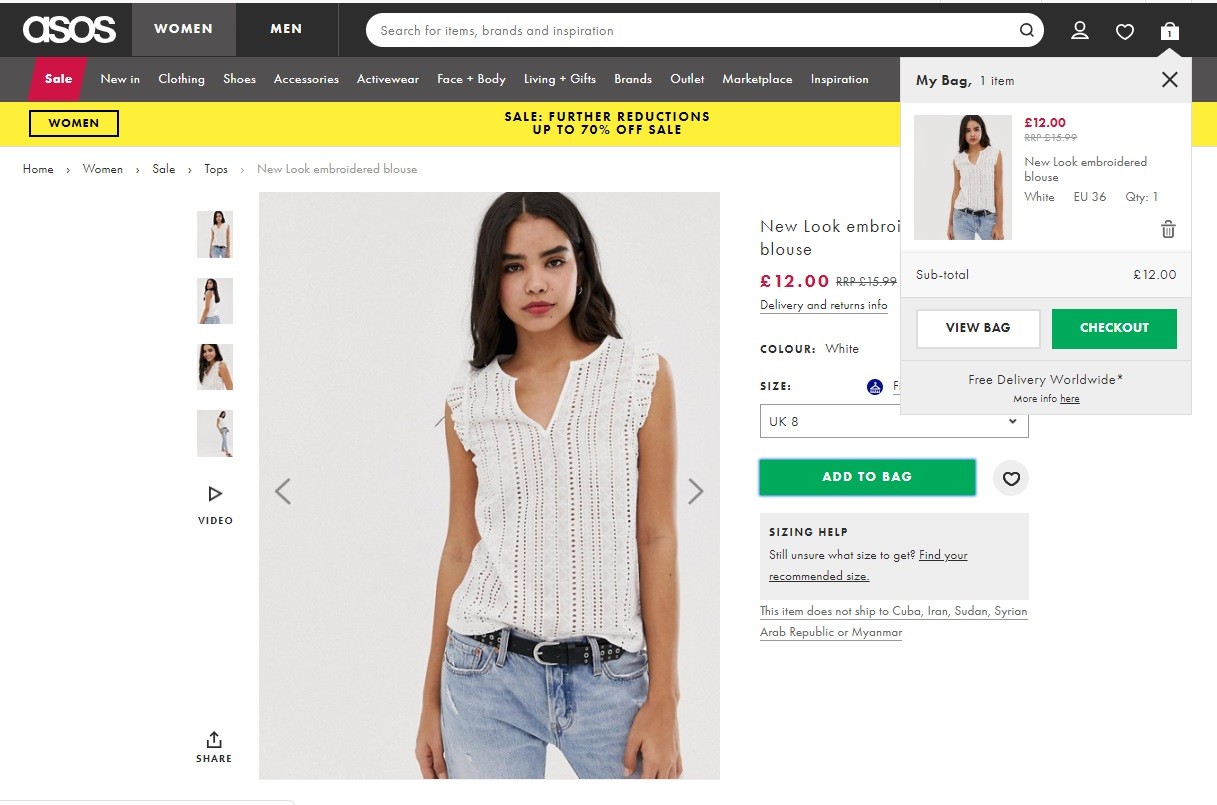 Image source: ASOS
Product Page
The product page has many features to help the shopper to make the purchase useful.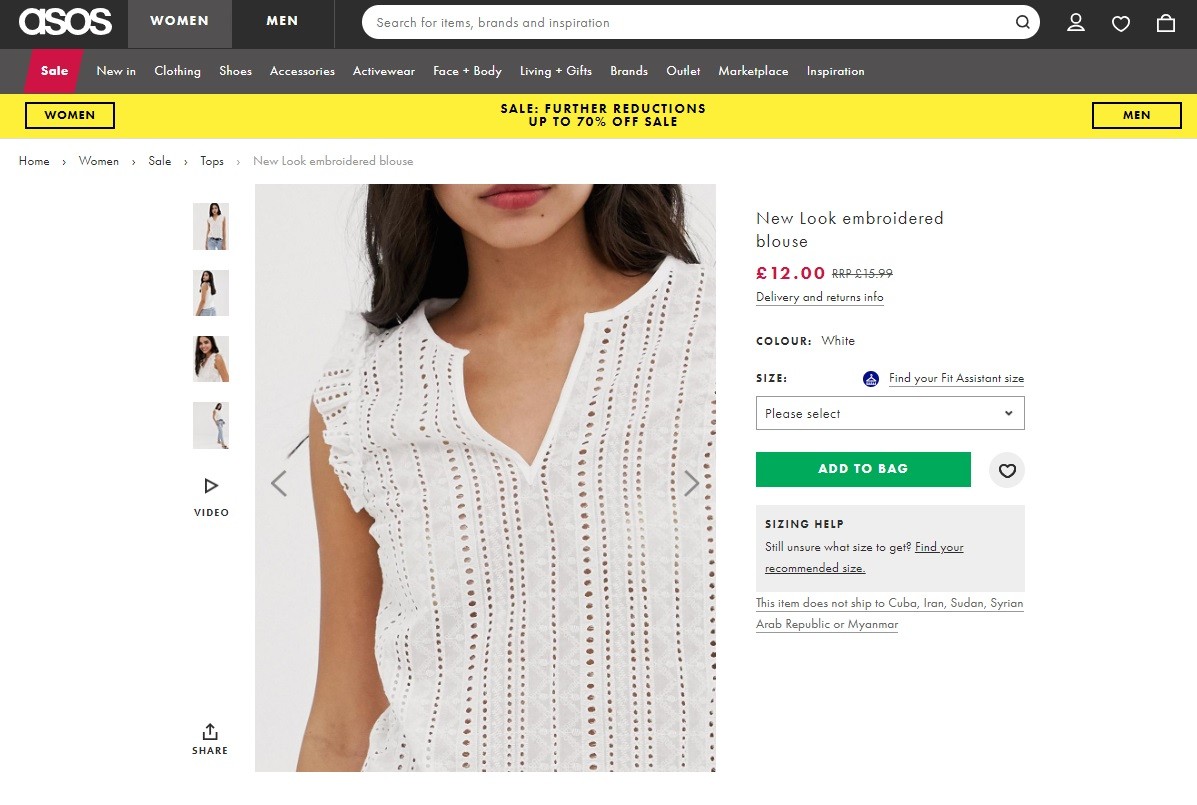 Image source: ASOS
Image zoom allows shoppers to see the product in detail.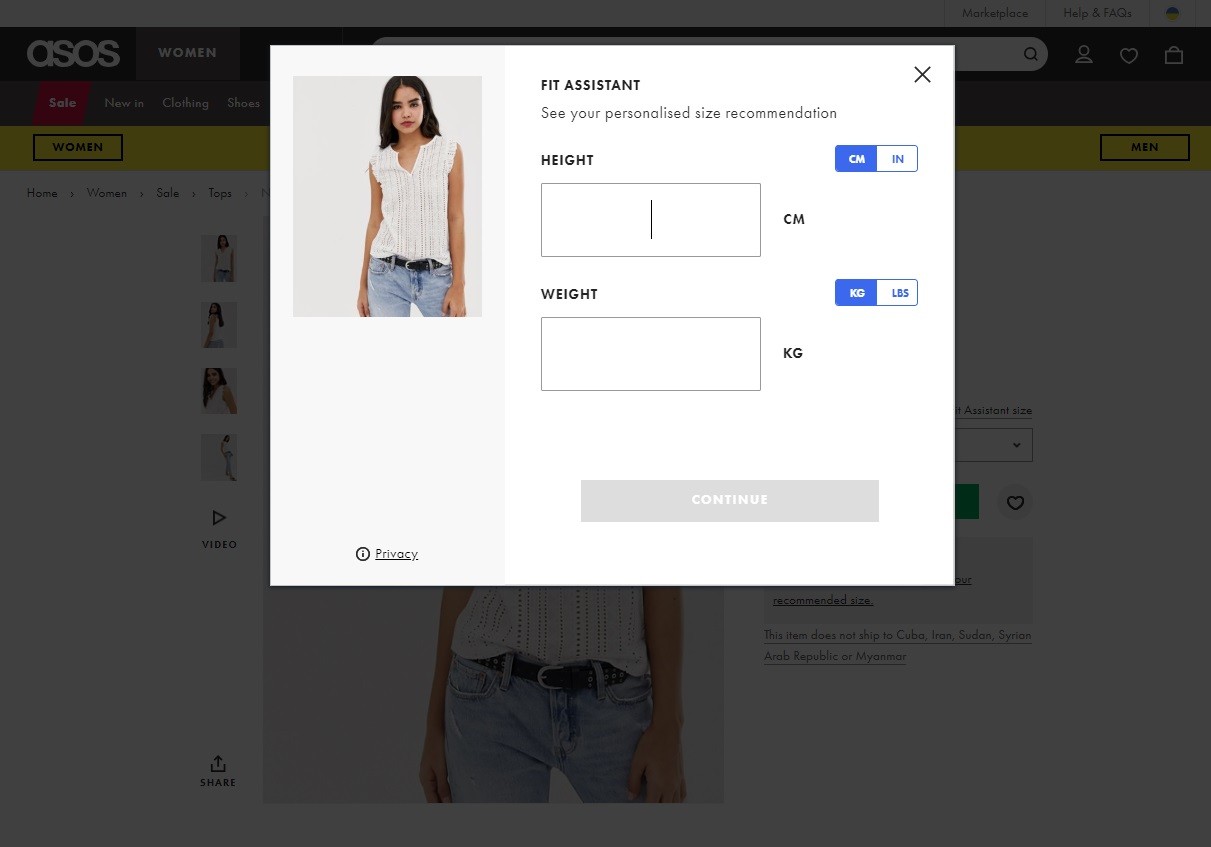 Image source: ASOS
Sizing help section recommends customers the size according to their high and weight that will suit them the best.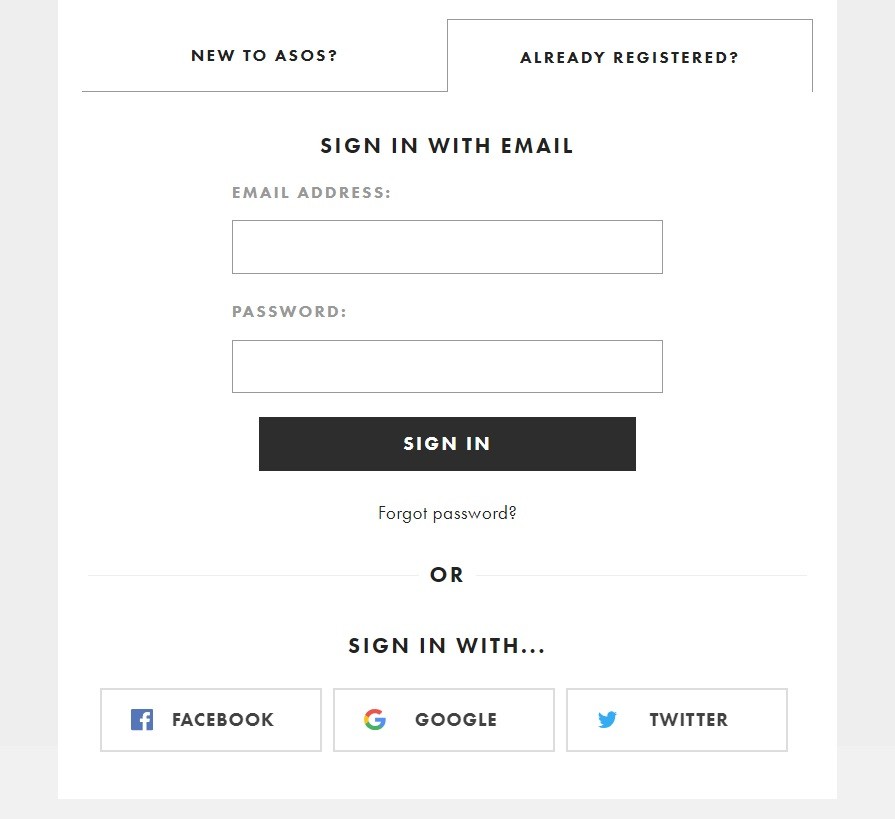 Image source: ASOS
Log in
Shoppers can sing up using their social profiles, which makes the customer journey even more convenient.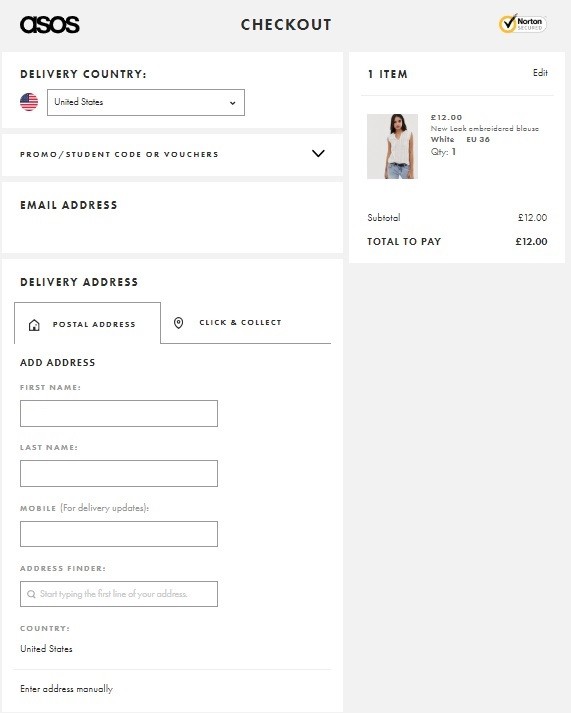 Image source: ASOS
Checkout
The ASOS online store has one-page checkout, which is a must for a modern and convenient customer journey. Customers can check their order and fill in the delivery address and payment information on a single page that leads to higher conversions.
Which is the best ecommerce platform for your online boutique?
Unfortunately, we do not have a single answer about the best online retail platform for you, since we do not know your business size, strategy and the number of products.
If you want to create an online apparel store with basic features, you can use Magento and Shopware. These platforms have user-friendly admin panel and suit the demands of small businesses.
For developed brands with many products and high traffic load, we recommend Magento. This powerful platform allows customizing the online boutique in the way your brand needs.
However, if you want to provide your customers with a unique and satisfying experience, extended features and make them remember your brand, the best choice is a custom e-commerce platform.
We hope this article about how to start an e-commerce clothing store helped you to choose your future e-commerce platform.
Do you have a project in mind? Or do you want to receive a consultation on how to create your online clothing store? Contact us!
Want to read more
Get fresh articles, news and case studies to your email firstly
Related articles