E-Commerce
Jan 20, 2021
How to Create a B2B Wholesale Marketplace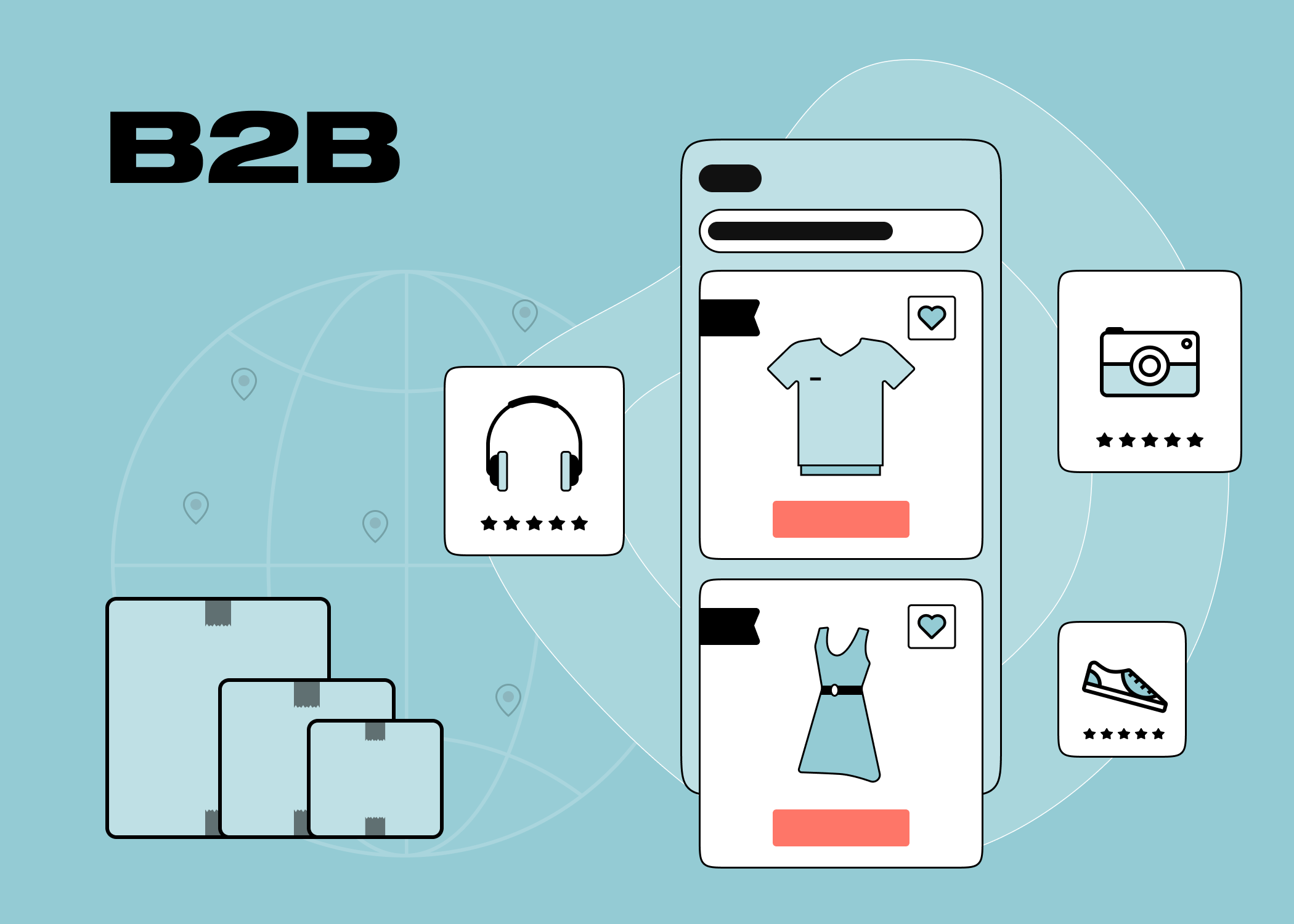 Content
Amazon, Etsy, eBay, or Alibaba - these giants instantly come to mind when you mention the word "marketplace". Some of them started as regular online stores and began to attract third-party sellers to the platform over time. In recent years, the format of such sites has been developing in demand rapidly.
Reputable sources claim that in 2021, more than 50% of the global online trading market is occupied by marketplaces. This is a good enough reason to think about creating a modern or antique wholesale marketplace of your own. To begin with, let's look at what an online wholesale market is.
Also read: How to Build A Multi Vendor Marketplace Like Ebay Using Magento
What is a B2B Wholesale Marketplace?
Leading an online wholesale marketplace in 2021 is a lucrative business that is attracting more and more entrepreneurial attention. At the peak of the popularity of B2B business, a new ambitious trading platform might as well take its rightful place in the market.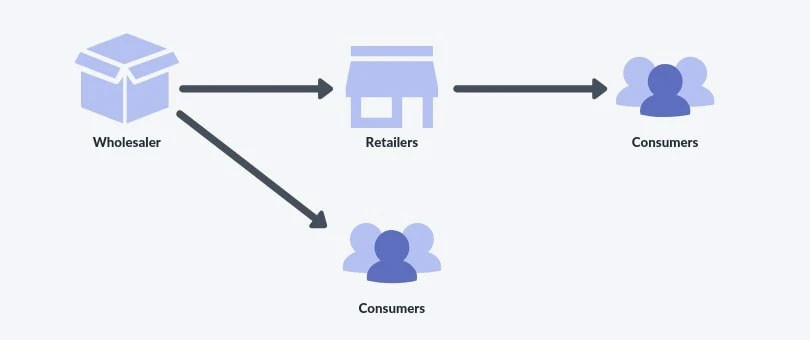 Image Source: www.shopify.com
At the heart of B2B eCommerce (business-to-business electronic commerce) is the online sale of goods and distribution of services from enterprise to enterprise. The main goal is to bring potential wholesalers and buyers together in one place, thereby increasing the competence and efficiency of sales.
Wholesale marketplaces differ from regular wholesale selling sites in that they allow the customer to compare prices, product or service features, interact and ultimately choose the best option. By joining online markets, sellers increase brand awareness, expand their potential customer base, and get more business benefits.
Also read: How to Increase Customer Lifetime Value (CLV) in Ecommerce?
There are five major B2B direction commonly defined:
customer-oriented — platforms are managed by companies looking for goods and services: the buyer compares prices for a product, and then chooses the most suitable one according to preferences and requests;
supplier-oriented — managed by suppliers wishing to scale the business;
independent — the platform is managed by a third party and acts as an intermediary between the buyer and the seller;
horizontal — unites companies of various fields of activity from all regions;
vertical — a local marketplace or one targeting a specific industry.
There are numerous B2B eCommerce wholesale marketplaces working in various directions in the modern market. But not all of them are safe and easy to manage. Others have managed to become premium antique wholesale marketplaces. Such companies should update their business processes, establish strong relationships with customers and partners, and expand marketing activities in line with the trends of 2021.
Still, B2B wholesale marketplaces remain among the most effective sales channels across a variety of industries. Platforms with customer-oriented functionality are especially popular. Together with experts from Dinarys, we will tell you what to consider when creating an online trading platform of such a format.
Dinarys has been developing eCommerce stores, marketplaces, food ordering systems, and corporate websites since 2014. Among their work cases are the unique LastBid marketplace that unites leading auction houses with collectors, a B2B eCommerce wholesale marketplace for a Vivat stationery seller, migration of a leading forklift dealer from Magento 1 to Magento 2, etc.
Reliable Wholesale Marketplace: Step-by-Step Creation Guide
In 2020, the trading market has undergone dramatic changes, mainly due to the Coronavirus pandemic. From the concept to its implementation, you need to remember: only useful and convenient features can help you build long-term cooperation with the target customers. In particular, the major eCommerce trends of 2021 should include:
management of multiple customer communication channels;
focus on the accumulated customer-base;
all-around processes automation;
AR technologies and chatbots;
offline presence effect;
eco-friendliness and sustainable business practices;
voice assistants for cross-sales, support, marketing surveys, etc.
Pick a niche and compose a business plan
Before making your start in wholesale eCommerce, consider the niche you would like to work in. Better to be a shark in the lake than a little fish in the ocean. Don't target all-encompassing niches right away. Focus on a specific market that has future prospects.
For instance, you can sell clothes online - it is a lucrative niche with annual revenues of about $90 billion. According to Statista, the figure will reach $138 billion by 2022. Also among the promising niches for 2021 are men's beauty, fitness, and sports products, natural and eco-friendly cosmetics for women, animal care, smart speakers, antibacterial agents due to the COVID-19 pandemic.
Here are some pro tips on choosing a proper business direction:
consider specific markets in which you can become one of the leaders;
the niche should be profitable and relevant in 2021;
don't go for too narrow a direction that limits action and doesn't provide opportunities for growth.
Then, compose a clear business plan, describing your market path to the final goal. Of course, there will be adjustments and changes during the implementation of the project. But without an initial blueprint, it's hard to build a successful product and get the desired results.
Find suppliers
Initially, every wholesale marketplace is a blank sheet of paper. Finding reliable suppliers of goods or services is not easy. But those who manage to do so are increasing traffic and expanding the platform with many partners. What should be considered when negotiating with a potential supplier?
Experience of work in the specific niche;

Accumulated client base and feedback;

Qualitative and quantitative indicators of the product/service;

Existing business relations with other reputable B2B wholesale marketplaces.
Come up with the monetization method
Often, a marketplace business model is built on two channels of revenue: one-off transactions and recurring payments. On top of that, the following sources of profit are popular:
transaction fees - a commission from transactions that take place on the platform;
subscription fees for using the service - depends on the number of user-posted products and the set of available features;
advertising - suitable for platforms with a developed user base;
extra services - paid access to premium features, loans, warehouse services, etc.
Settle with the marketplace architecture and main features
Dinarys experts share three important rules for creating a successful online wholesale marketplace:
Target a specific niche. If you offer a common, non-specific B2B platform, the initial demand will be pretty hard to achieve. But if the platform is aimed at a specific market, it will be considered a reliable resource to cooperate with.
Build a product that meets market demands. I.e., make sure people and businesses really need your product and you aren't setting out to conquer the market without a unique selling proposition.
Decide which marketplace model you will use. The right model will help you build a profitable business and scale in the future. Otherwise, you will get stuck at the start and lose resources.
After choosing a model, you need to decide on the functionality and logistics: user profiles, catalogs, filters, statistics and reports, inventory management, payment methods, etc. For companies that use different payment methods, it is important to integrate with popular payment systems.
In addition, you need to ensure the security of transactions, data protection, and communication methods. As the wholesale market develops, it is important to ensure the flexibility of procurement, logistics, payments, product management processes on time.
Also read: How to Hire the Best Magento Developers
It is important to offer the user analytics tools, thanks to which you will be able to track the results and adjust the strategy. Implement a real-time reporting feature. This will help suppliers see and analyze visits, views, unique visitors, top-selling products, and more.
If are looking to implement a platform distributing a huge variety of products, such as the online wholesale clothing marketplace, create personalized recommendations for visitors. Special algorithms can help users find the required product faster and provide an effective result for each segment.
Also, if your customers are companies of different sizes and with their own needs, set unique prices for each segment. According to Gartner, B2B sellers who implemented a good level of personalization increased their revenue by more than 15%.
Implement support and knowledge base
After setting up a functional part of a B2B eCommerce wholesale marketplace, you will come across different customers/suppliers. Some will be satisfied with the site's performance, others will require improvements. To handle customer/supplier inquiries, it is important to organize a support service.
Read more: Shopware vs Magento 2 Performance Testing in 2021
Receiving questions and/or requests in real time has a positive impact on business. The clients themselves create points of growth for you. Implement a system that immediately sends requests received to support employees. In this way, you will satisfy the client's wishes and improve the platform.
The knowledge base is another useful implementation. A block with frequently asked questions will help the client to independently understand the problem. You will save resources and support staff won't have to answer the same questions multiple times a day.
Also, for a quick response and customer focus, create a profile in social networks. This is a way to get all complaints, requests, and wishes in one channel, as well as inform customers about innovations.
Bottom Line
Once you think through and implement the features from a customer perspective, the platform is ready to go. After all, service, customer focus, adaptability, and flexibility are most valued today. We hope that this brief article gives you an idea of building a wholesale marketplace. Research the market, focus on your customers, and your marketplace will bring you success.
In case you need ecommerce experts' help don't hesitate to contact us, we'd be happy to provide you with a consultation or a project estimate.
Let professionals meet your challenge
Our certified specialists will find the most optimal solution for your business.
Related articles