Magento
Feb 13, 2020
The powerful tool to improve Magento shops cart abandonment
Content
To make profits is the main goal of all online retailers. Still, shopping cart abandon rate may affect your profit and decrease sales. Do you want to deal with this and conquer successfully? Then check the article below for more information.
It is a common knowledge that high shopping cart abandon rate is a nightmare for all online retailers. According to Statista, in August 2017, 77.3% of all shopping carts were abandoned. That sounds like wasted selling opportunities. In addition, this is a common issue for both B2C and B2B segments.
In this article, you'll discover the main reasons for shopping cart abandonment and the powerful tool for Magento e-commerce websites that might be helpful in increasing sales. Let's begin!
What is Shopping cart abandonment and how is it calculated?
Being an online retailer means to be on the top of your results and data. One of the most important aspects every online retailer should pay attention to is an e-commerce bounce rate. By analyzing these figures, you can get some useful insights on improving your online store. This is because everyone wants a higher conversion rate on their e-commerce websites.
Now it is time to learn more about shopping cart abandonment. This happens when your prospective customers add some items to the shopping cart but drop out during the checkout process. All items stored in the shopping cart but never purchased is called "abandoned." Still, even a high abandonment rate can tell online retailers more on how to improve online shop and receive more profit.
You can calculate this rate by dividing the total number of paid orders by the total number of orders that were not completed. This rate tells us how many online shoppers were ready to buy something at your website but did not complete the checkout process.
The practice shows that high rates of shopping cart abandonment tell us about some issue that exists on e-commerce websites, such as poor user experience or broken sales funnel. That way, reducing shopping cart abandon rate results in more sales and income and many online retailers should pay more attention to conversion rate optimization.
Today, there are many reasons for shopping cart abandonment. The image below shows the reasons for cart abandonment in the US in 2016 and 2017 gathered by Statista.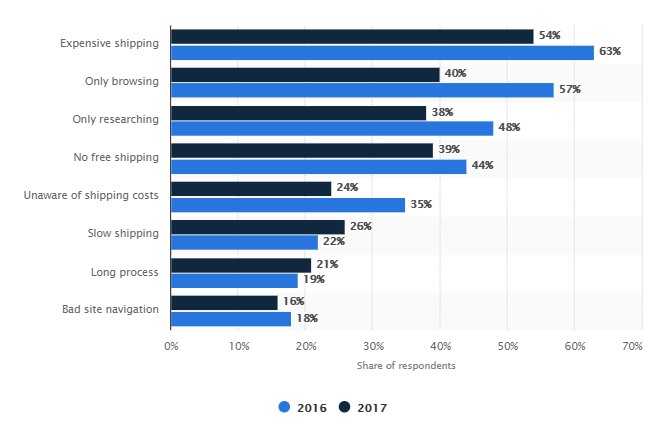 For your online shop, you can use data from Google Analytics to find the points where users drop off your sales funnel. You can also conduct a research or compare your checkout process with your competitors.
After identifying weak points, you can conduct A/B testing to understand whether the solution you use is effective enough to cope with the shopping cart abandonment rate.
For instance, many online retailers are faced with the issue of trust. New prospective customers are not always ready to give their credit card details to unfamiliar websites.
In some cases, the lack of trust makes website visitors to abandon their carts. The solution is to increase trust by adding testimonials and reviews from other customers, together with trust marks and well-known payment gateways.
Another cause that may result in shopping cart abandonment is the checkout process that consists of too many steps. Now users could drop off even on the second page of the checkout process.
If you have identified such issues on your website, you can add a progress bar to visualize the checkout progress. Moreover, it's important to read this article to the end, because in the end, I'll tell you about a great tool to solve such issues.
There are many reasons that may result in shopping cart abandon rate, even including unexpected shipping costs. However, to discover the reasons, you'll conduct testing and then improve your sales funnel to receive more profit from your e-commerce business.
Why should you use One Step Checkout for your Magento e-commerce website?
It is believed that the previous part of the article was useful for you because this part will even give you more value. Now we'll tell you about an amazing tool, a real game changer for online shops that have too many stages in the checkout process, and, as a result, high shopping cart abandon rate.
OneStepCheckout is a very useful Magento extension that turns the checkout process of your e-commerce website into the one page with payment and shipping details.
If you have such issue as high shopping cart abandon rate, you can use this simple extension to receive more orders and increase your income.
The main issue most Magento e-commerce website owners have faced is that the original checkout process took users through multiple steps. So, this extension helps to simplify it.
This is an amazing opportunity for you to increase conversions and reduce customer abandonment.
Developed in 2010, One Step Checkout has become popular among small merchants and retail industry leaders. The main goal is to provide users with convenient user experience and short customer journey. With an improved checkout process, online merchants get more orders from their websites.
The key feature of this product is that it eliminates friction for shoppers and allows online retailers to customize their checkout page.
OneStepCheckout is compatible with all Magento versions; this makes it easier to set up and use without external help. Main UX pros:
The checkout is fully responsive for all devices
The checkout process is on a single page
GeoIP technology helps to auto-detect customer country
The extension uses Google Places to auto-complete addresses
The solutions also help to auto-update total when the user selects payment and shipping methods.
Most importantly, online merchants have full control over the fields on the checkout form. Base on your needs, you can disable unnecessary fields like telephone, fax, company, zip and other. OneStepCheckout even has built-in delivery date feature to make your customers enjoy buying at your online shop even more.
Moreover, One Step Checkout has many perks as for review and cart. For instance, shoppers can double-check their order using "Review your order" feature. In case something went wrong, website visitors can change the quantity of products right from the checkout. If your online shop has coupons, this extension allows them to enter the coupon code on the checkout page.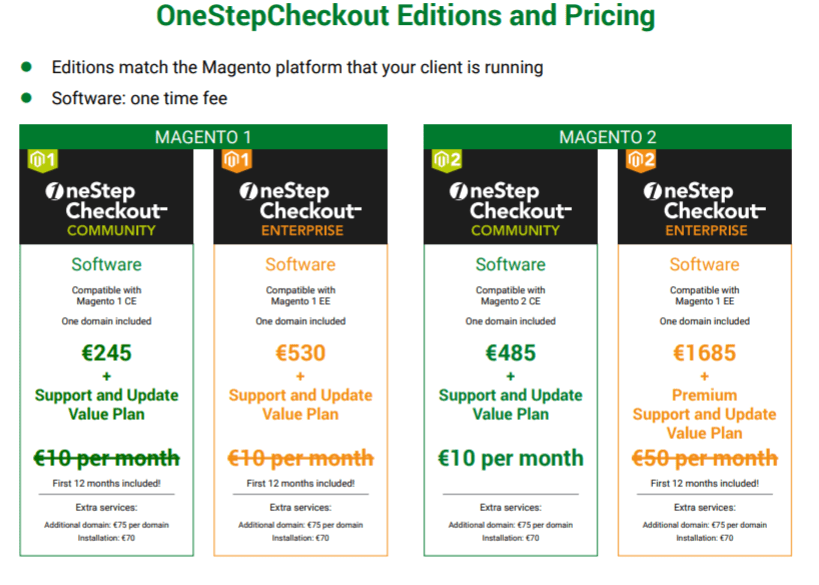 Online shop managers might enjoy some shipping and payment features from OneStepCheckout. For instance, this extension allows setting a default method for shipping or payment. Then, if your online shop is international, auto-update available shipping rates might be helpful to avoid customer frustrations caused by unexpected costs.
In terms of customization, this extension also has something all online retailers enjoy. For example, apart from easy installation, the extension has PSD of all graphical elements; so you can customize it to your language.
"The most critical part of any online business is checkout. A merchant can't make money without it. The beauty of our product is meant for all merchants. Whatever you sell: high value, low value, electronic, fashion, tickets...or whoever you sell it to, B2C, B2B, or cross-border. If you want to increase conversion rates and reduce cart abandonment at checkout, OneStepCheckout is the most single effective technical change that you can make. And it all takes as little as 30 min to set up."
Thien-Lan Weber, CMO at OneStepCheckout
You can check the full interview on the link
Final thought
As said above, the main reason every online retailer start the online shop is a profit motive. Still, without some elements including convenient and fast checkout, online shops will remain unprofitable and experience high abandon cart rate.
To improve the default Magento checkout, the team recommends using OneStepCheckout, the reliable solution, trusted by many online retailers.
If you need short consultation or you need to define if your Magento version is suitable for OneStepCheckout, please fill in the contact form. The team will contact you ASAP.
Let professionals meet your challenge
Our certified specialists will find the most optimal solution for your business.
Related articles