Baby Clothing Stores Online: How to Start
eCommerce Oct 29, 2020
Main / Blog / Baby Clothing Stores Online: How to Start
How to start a successful online children's clothing store? Opening baby clothing stores online does not start with the purchase of the first batch of products or with the first order. This should be preceded by a thorough analysis of the business niche.
Business Relevance
The birth rate may be slightly declining in recent years, but still, more than a million babies are born every year. And these are only newborns - there are still babies, preschoolers, schoolchildren, and teenagers. Their parents can be the target audience of your baby clothing online store.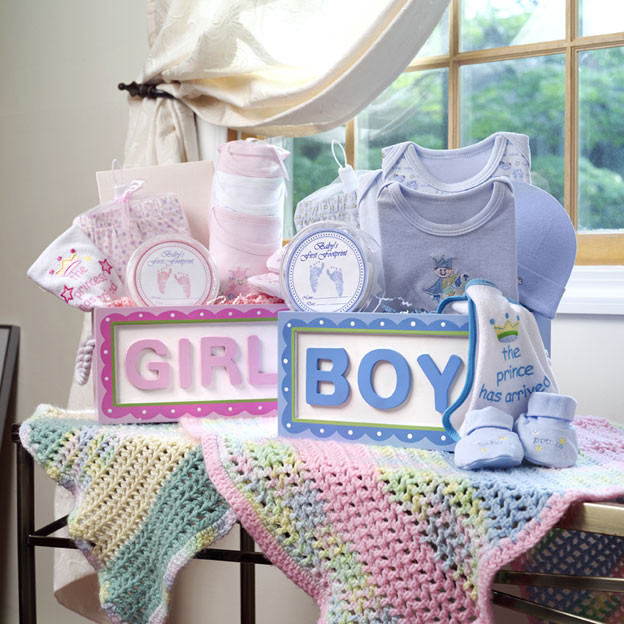 Image Source: arawa.fm
It is also useful to study statistics for your own and neighboring regions. You can run an online business within your location before venturing out to nearby regions.
Market and Competitor Assessment
To assess the potential market for selling children's clothing through the internet, you can start by simply entering "baby clothing shop online" in Google and studying the search results. Then repeat the same operation for your region. The direct competitors of your future shop online baby clothing will be the websites included in the TOP-10 search results for key queries.
It is important to collect results for individual product segments, for example, "baby products", "baby outerwear", etc.
Take the time to study the top online baby clothing stores and the useful features they implement in their websites.
Target Audience Analysis
The target audience of an online children clothing store is moms. This demographic has the following features:
they are interested in shopping online, as it is difficult to go offline shopping with children;
they are very active on forums and social networks, which can be great advertising platforms;
they prefer cheap baby clothes stores online, but are also willing to spend significant money on baby clothes within the family budget.
Don't be limited only to the characteristics of "mother" - create the most detailed portrait you can come up with. For example:
woman, 25-40 years old;
one or two children, the eldest is going to school soon;
married;
average income level;
works full/part-time;
is fond of handmade clothes (sews, knits).
One baby clothing online shop can have several target audience groups. It is important to write out a similar description for each of them to better envision what product categories they are interested in and what type of advertising will work for them.
Range of Products
The success of a business is highly dependent on the range of its products. Every group of products is offered by a huge number of suppliers, and it often turns out quite hard to find the most suitable ones among them.
Stores can choose one of the following strategies:
selling only one segment of clothing (for example: for newborns, sportswear, denim, school uniforms, etc.);
combining several categories in a catalog.
The first case requires fewer expenses, it is easier to set up advertising campaigns, but such an online baby clothing shop is highly dependent on seasonality and other factors (for example, the demand for school uniforms will be predictably minimal in winter and reach its peak by August). The second strategy makes the shop baby clothing online less dependent on such factors but requires high costs for advertising, your own warehouse, staff, etc.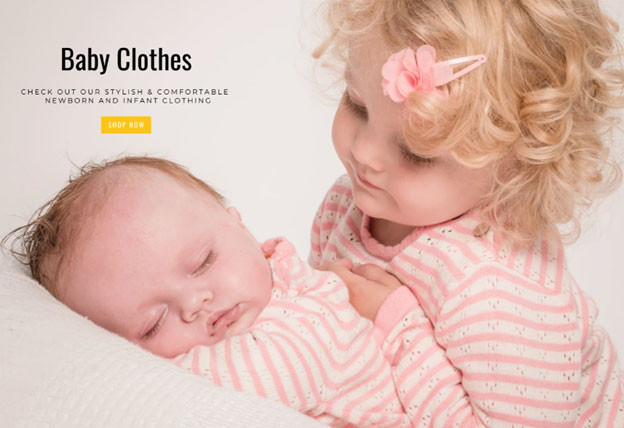 Image Source: infantoasis.com
In a broad sense, the range of a children and baby clothing store online can be divided by age groups:
For newborns. Quality and comfort are important. The baby's skin may react to poor-quality knitwear with dermatitis, thus the online store will get negative reviews on all forums where the mother is active. Another important feature is the almost complete absence of fashion trends in children's clothing of this group. It's rare that something fundamentally new appears, so even if the purchased batch is not sold within three months, the product will not become outdated.
For toddlers and preschoolers (6 months - 7 years). It is natural that a child grows out of all clothes fast, rips and stains them, so many mothers choose baby clothes online stores cheap. But even cheap children's clothing should be comfortable, wear-resistant, have no special requirements for care (no "hand wash"), and at the same time be bright enough to please the eyes of both children and their parents.
For schoolchildren. School uniforms are a significant part of the segment because a child spends most of their time at school.
For teenagers. This group still needs a school uniform, but grown-up children want to look fashionable outside of school. If you plan to have products for this group in your online store, be sure to closely follow fashion trends and promptly update the range.
Choose the Type of Baby Clothing Shop Online
An online store of clothing implies choosing between two business schemes:
direct purchases from a supplier and sales to a client;
dropshipping, when the seller does not purchase the product but transfers the buyer's data to the supplier. The latter delivers on behalf of the online store and sends a commission to the owner for each sale.
Both have their benefits and risks. In any case, an online store owner should choose a supplier thoughtfully. Mothers cannot wait long too long for shipping - the child will simply grow out of the purchased clothes.
Business Plan for Baby Clothing Store
Besides the fact that you may need to find an investor, it is also extremely necessary to draw up a plan for yourself, even if you invest your own funds in the opening of the store.
An online store baby clothes business plan must include:
a description of the selected segments of the range of clothing and the specifics of their marketing;
your target audience;
a strategic business development plan - main goals and objectives;
assessment of the risks of future activities and ways to reduce them to a minimum;
organizational and technological aspects (whether you need a warehouse, a call center, to hire staff, etc.);
financial aspects (main items of expenditure and expected profit, attraction additional funds for development in the future).
Financial Calculations
This is the heart of any business, and a shop online baby clothing is no exception. When drawing up a financial plan, it is important to include the following points.
Initial Investment
The initial investment is relatively small for a baby clothing store online. This includes:
Purchase of the first batch (the minimum amount depends on the conditions set by the selected supplier). Not relevant for dropshipping.
Launching and filling the website and social networks of your online store;
Advertising costs (you cannot do without advertising);
A good camera or professional photographer services. It is important to create high-quality visual content.
If you plan to open an online store with a wide range of product groups, you need to immediately include warehouse rent and staff recruitment. In this case, the costs will be higher.
Running Costs
This is the amount needed to maintain your online children's clothing store on a monthly basis, including:
renting a warehouse and office;
hosting and maintenance of the website and social networks;
advertising budget;
purchasing new products;
staff salaries;
taxes.
Income from the Sale of Children's Clothing
To become the best online store for baby clothes, you need to set an optimal margin for various categories of products:
from a minimum of 10-30% on the most basic goods like T-shirts and sweatpants;
up to a maximum of 70-100% on seasonal outerwear, which children need once a year, but parents are willing to pay for quality.


Image Source: worldapparelstore.blogspot.com
It is also important to consider the months of peak demand and decline. On average, it is quite possible for a small baby clothing online shop to reach a monthly income of $2500 or more within three to five months.
Profit Calculation
The profit of an online store is difficult to calculate in advance since this figure depends on the business turnover. However, this market can be defined as growing, since the number of parents who don't want to spend time on constant shopping trips, but still dress their child comfortably, efficiently, and stylishly is growing every day. And although new online stores of baby clothes are also constantly opening, the demand is not yet fully satisfied.
Profitability and Payback Period
Depending on the characteristics of the product range and the target audience, the payback period for an online shop of baby clothing is six months to one and a half years on average. It depends on the quality and relevance of the products, website, and advertising, favorable terms of purchase, and, of course, your reputation.
Instructions for Opening an Online Store
To open a baby clothing online shop, you need to first of all search for suppliers of children's clothing. An online store owner has two options:
overseas suppliers;
domestic manufacturers.
In the latter case, it will be much easier to return the goods if a defective batch arrives, and you will not have to wait several months to receive the ordered batch. On the other hand, foreign goods may be more in demand for those groups that value a unique look (like teenagers).
All suppliers that an owner of an online baby clothing shop can work with are divided into two groups:
Manufacturers. Usually, you can buy products from the manufacturer at a lower cost. However, this group is reluctant to work with small, newly opened online stores. Usually, the standard batch size is quite large, which may be not profitable at the beginning of your business.
Distributors. Those who resell goods purchased from manufacturers. Usually, they are quite willing to work with small online stores, and they don't set a large batch size. However, an additional link in the chain always comes at a cost. Prices set by distributors of children's clothing will be higher than manufacturers' prices.
It is necessary to request copies of certificates from any supplier. Also keep in mind that orders for seasonal items such as winter outerwear are best placed in advance.
Website Creation
Now that you have a plan, it's time for the technical part. The step-by-step algorithm for creating an online children clothing store website is as follows.
Creating and designing the website is the last stage before the business launch. You have to register a domain, choose hosting, and create the store on your own, or entrust it to professional developers.
Read our guide on how to create an ecommerce website in 7 days.
Menu and Navigation
The visitor should be able to operate the website as easily and quickly as possible. A long and convoluted catalog reduces conversions and scares most potential buyers away. Divide the menu into a moderate number of logical categories (no more than 6-7 items at one level). It is better to design the buttons in a single style.
For easier navigation, provide a convenient and understandable filter system that allows finding the desired product in just 1-3 clicks. Use correct filters for the following parameters:
age categories;
brands/manufacturers;
gender;
size;
color;
material;
price;
popularity.
Design
The design of an online store for children's clothes should be moderately bright, without boring dull tones. On another hand, "childish" graphics are unnecessary. Large companies in this field prefer minimalistic design, simplicity, and functionality. When creating designs, use photos of children and happy families.
The header should be kept compact: don't overload it with illustrations that don't carry practical meaning. Leave only the necessary elements: corporate logo, name, contacts, opening hours, shopping cart, search, log in/personal account, delivery information.
Content
Here are some recommendations to follow when filling your website:
write in an accessible and meaningful way, without using slang;
show your expertise by adding a blog where you publish informative articles on the topic;
don't forget about the emotional component - support the desire of parents to give their children the best and take care of their health. Emphasize the safety and quality of your products.
Take the time to create a blog section, where you analyze actual problems that interest parents. For example, the right choice of clothing for gardening, sports or outside walks, popular colors and prints in children's fashion. Offer an effective solution in the form of a link to a specific product, post the links to articles in social networks, add an e-mail newsletter.
You should also create a separate FAQ block. On this page, answer popular questions, describe the process of ordering, payment, delivery, return, and warranty.
Product Cards
A detailed description and high-quality photos are not enough for children's clothing. In practice, things often may not correspond to the specified age. Since all children have different bodies, consider the following when composing product cards:
dimensional grids;
comparative tables;
correspondence tables for certain parameters (for example, height and age);
additional characteristics: sleeve length, chest, waist, hips, crotch, and other measurements.
Reviews are also an important part. Real-world recommendations that describe the benefits and advise the appropriate size of the item always contribute to the purchasing decisions. Encourage customers to leave reviews in return for small bonuses and discounts.
Online Store Baby Clothes Website Promotion
Without promotion, no one will know about the existence of your online children's clothing store, so don't try to save on advertising. Here are the best traffic sources:
Word of mouth. The method is as old as the world, but it works great in this niche. Offer your customers a discount for reviews, promotional coupons that they can pass on to their friends, etc., and it won't be long before you get a good result.
Contextual advertising on Google will give you only interested users who have clicked on your ad.
Product aggregators like Google AdSense allow you to differentiate your products from others for interested users who are purposefully searching for them on the internet.
Social networks are the main environment for the target audience of an online children's clothing store. It is there that young mothers who have temporarily dropped out of the usual social way of life (work or study) spend most of their time. To motivate them to follow your pages, don't limit yourself to product ads. Offer users useful content like a kid's fashion guide or general parenting tips.
Baby Clothing Online - Case Study
To give you a real-world example, we'd like to describe one of our projects - Montresor online store (Israel/USA). The website was originally developed with Shopify.
Project Description
The mon-tresor-bebe website is an online shop for wholesale customers seeking baby wear and gifts that provides users with information about the company, the ability to browse through a catalog and purchase necessary products.
Problem
The website was developed on the Shopify CMS where orders cannot be edited and payments are managed in installments. The customer had a requirement: changing to a new platform with the capabilities to manage orders, invoices, payments, and shipments.
Solution
Migrating all data (users, products, articles, gallery, orders) from the current website on Shopify to the new one on Magento 2.
What We Did
Customized the platform for the client's business;
Merged a wholesale store with a retail store and created a new management system from a single admin panel;
Connected third-party modules;
Integrated the website with the Quickbooks and Barcode Scanner services;
For wholesale - registration through the website (approved by the moderator), pre-order for customers with large orders of products;
For retail - sale per item with regular payment;
Thanks to integrating with Barcode Scanner, store administrators can now quickly and easily control warehouse stocks.
Create Custom Boutique for Children Clothing with Minimal Cost
The children's clothing market is extremely saturated with suppliers, therefore, the best online store to buy baby clothes is always focused on expanding the sales market and increasing the turnover. Therefore, pay a lot of attention to studying supply and demand in the preparatory stage.
How to start a baby clothing store? Opening an online store in this niche does not require large investments. At first, you can just get by with a personal computer and telephone. The only thing that you have to invest in from the moment of launch and on a regular basis is the website and advertising.
As for technical tasks such as creating and promoting a website, it is best to contact professionals. Our developers know all the nuances of creating and promoting online stores of any format. Our experience allows us to implement the most needed features in your online baby clothes store and help you start profiting as soon as possible.
Contact us for a detailed inquiry.
Want to read more
Get fresh articles, news and case studies to your email firstly
Related articles