How to Create a Magento Mobile App: Tips and Guidelines
Magento Jul 02, 2020
Main / Blog / How to Create a Magento Mobile App: Tips and Guidelines
In the coronavirus-inflicted world, both entrepreneurs and consumers have no other choice for survival but to go digital. The IT revolution that started at the turn of the millennium has initiated this e-commerce drift, which the global pandemic turned from a nascent vogue into a mainstream trend.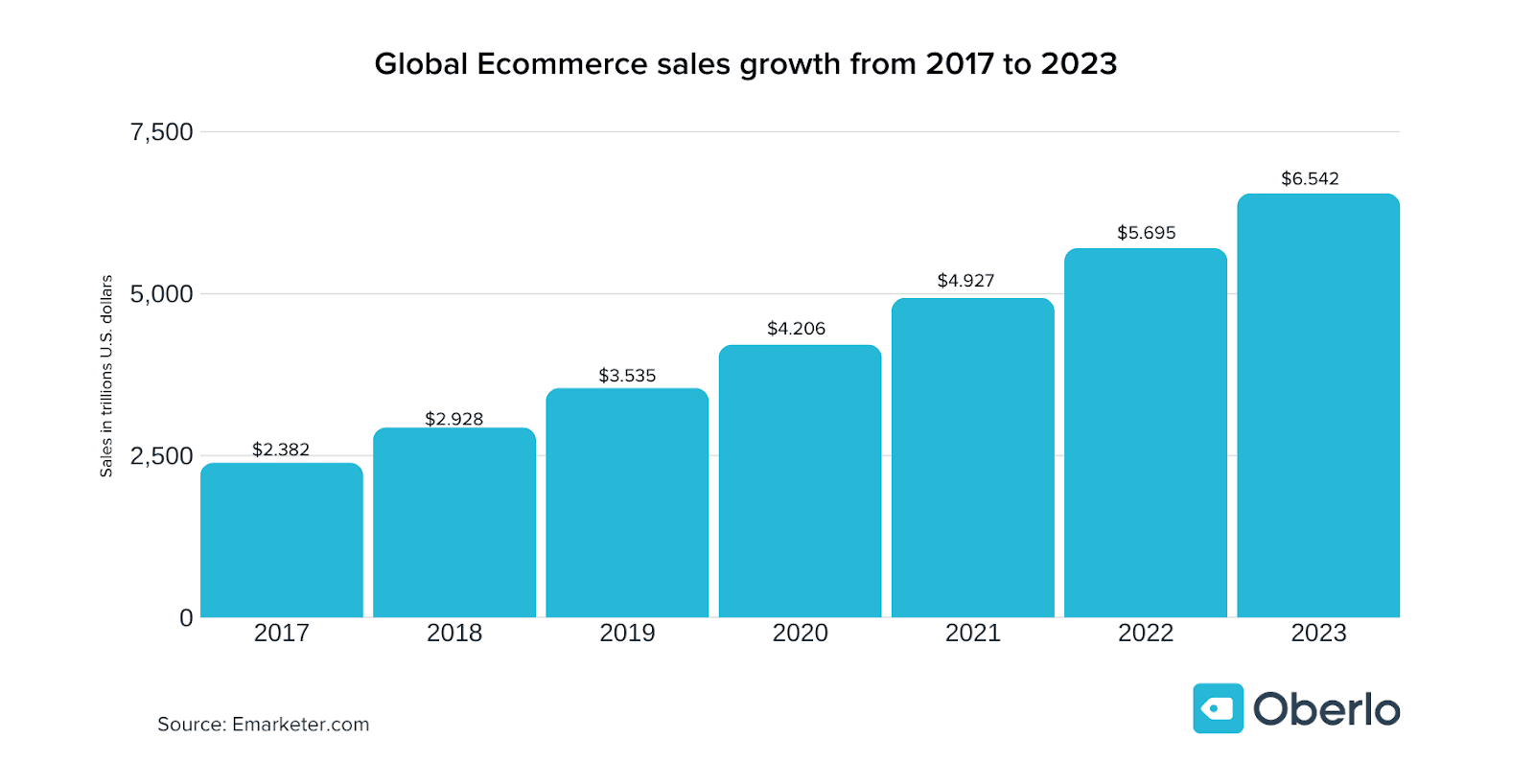 Image Source: www.oberlo.com
With a mobile boom, this trend underwent a major shift and gadget screens became storefronts. In their attempt to reach out to a maximum number of clients, companies are busy adapting their e-stores to the growing smartphone market. With this goal in view, building a Magento mobile app and adding an m-store to the existing e-store becomes a sine qua non for businesses aspiring for thriving expansion.
Reasons to Opt for Magento Mobile App DevelopmentMobile apps are viewed as an extension of e-commerce sites, so it seems natural to use for building the app the same tools that were instrumental in creating a site. The modern roster of platforms for building e-commerce stores is quite an extensive one, but our specialists' tip is to select those that have passed the test of time and are enjoying wide popularity in the IT world that translates into a numerous community of users. Magento is one of such platforms.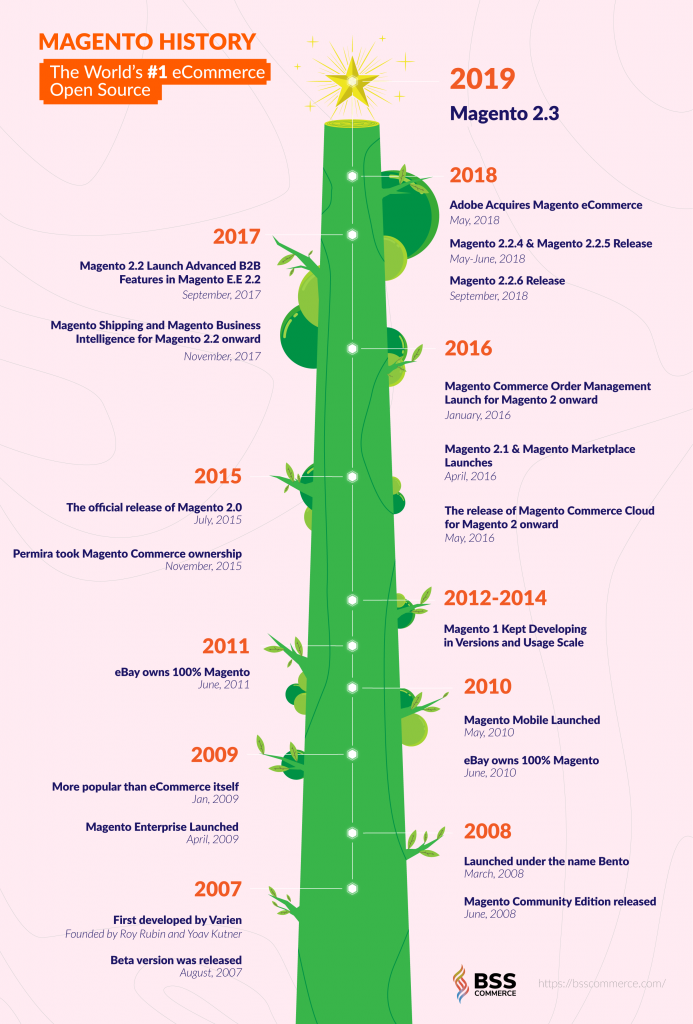 Image Source: bsscommerce.com
Thousands of enterprises leverage it to build their e-shop, so if you want to create a Magento app for your site you should start with the latter. Why do experts of Dinarys recommend this platform?
When our specialists speak of the Magento mobile app open source and high scalability of it (in comparison to, say, Shopify) is what they praise most. Such apps are secure and SEO-friendly scoring 100 points out of 100 in the latter parameter. They display efficient performance, smooth third-party integration, and a wide gamut of features. Magento also has multiple stores and multiple language support, which helped to earn it the top position in the majority of rankings in its niche.
About five years ago, the manufacturer came up with Magento 2 that contains additional features and is based on a completely different architecture allowing easy creation of new extensions. Thrifty users will find one more boon in it since its Community Edition is free.
Also:
Why Choose Magento for Building an eCommerce Store in 2020
Magento Ecommerce Development Guide
A Full Guide on Magento Migration
Magento 1 to Magento 2 migration
The Benefits of Magento Custom Module Development
How to Choose the Best Magento Developers in 2020
Pertinent to our topic, the current version of the platform manifests excellent mobile experience, which makes it a perfect choice to create an app for your Magento site.
What Makes Magento 2 App Development Worthwhile
Magento mobile apps have a number of advantages. They feature a common admin panel for all devices, which spells smooth integration, easy configurations, and effortless updating. The function of catalog management makes it possible to vary your customer policy turning it into a targeted issue that depends on a client's purchasing frequency. A Magento app displays a unique SEO-friendliness, which is attained through combining Google sitemap with Google content API for shopping. The backing that such apps receive from Google Analytics allows you to get a range of reports on sales, taxes, tags, etc.
One of the most attractive perks is that Magento 2 mobile app development process effectively addresses perhaps the most sensitive element of the sales funnel – the checkout process. In Magento apps, the functionality of one-page checkout is coupled with multiple Paypal gateways. One more multi-solution – the ability to ship merchandise to different locations in one order and do it free of charge – gives you enhanced flexibility and promptness in handling business processes.
Finally, the pocketbook issue. For many entrepreneurs, it is a crucial consideration while opting for an app building platform. To create Magento 2 mobile app will cost you nothing, which is incredibly good news for calculating managers. Moreover, this free tool comes with a pre-fabricated layout and some basal integrated plugins coupled with a whole array of features to boot (see below). All of this makes Magento 2 app development a breeze and fast app publishing a routine.
Yet, every medal has its reverse. Being given a free tool might serve some tight-fisted businesspeople a dirty trick. When you get a free set of foodstuffs and a cookbook, are you sure you will eventually come up with a dish of a Michelin restaurant level? Hardly. Something similar may be said of trying to build Magento app without requisite skills and experience. This may become especially evident if you want to create a custom Magento app tailored to your unique needs. Dinarys' dedicated team of professionals is qualified to tackle any Magento-related project you might have in mind and deliver a top-notch product.
Magento Mobile App Features: The Big Batch
When it comes to constituents of the app Magento reigns supreme offering them aplenty.

Image Source: bsscommerce.com
User-friendly interface. A foolproof UI with a variety of intuitive font options will make shopping with it fun. By using one-tap Google/Facebook/OTP/Fingerprint login shoppers can get quick access to the app and the single-screen checkout procedure turns browsing the e-store into a satisfying experience.
Customizable home screen. All elements of screen design (including top categories, multiple products and banners of various shapes, recently viewed products, etc.) can be modified and their positioning can be easily altered through the drag-and-drop option.
Tab bar icon. Its main function is to let clients swiftly switch between the app sections making the user experience very comfortable.
Live website synchronizing. If you managed to create app Magento will see to it that all the information in it is in sync (no relation to the boy band) with the data on your website. Once the latter is updated the app inventory automatically does the same.
The universality of devices to be used on. Apps built with Magento 2 Mobile App Creator can be run not only on smartphones but on tablets no matter what their operational system is. And if we remember about multi-lingual and RTL writing support offered by the tool, the universality will also mean covering users from all corners of the world.
The universality of payments, shipping methods, and product types. You can sell single, bundled, configurable, downloadable, and other products that will be paid for in and delivered in a number of ways. Moreover, Magento apps support all kinds of vouchers and coupons. And customers can track their orders in real-time.
Wishlist. If a user liked the product in general, but the required color or size wasn't available, they can save it via the wishlist and check out on it in the future.
Streamlined navigation. The inbuilt multiple filtering and sorting functions make the product search a cakewalk. Besides, in Magento Android apps customers can avail themselves of voice search as well.
Handy push notifications. Magento apps enable sending limitless push notifications (both automated and manual) to inform customers of daily offers and highlights to come
Round-the-clock chat. In case shoppers want to immediately contact the store admin, they can do it via WhatsApp or Zopim chat support which is available 24/7.
As you see, the app is rich in useful features. In spite of the fact that the tool can be extremely instrumental in building apps, it would be inveterately naïve to hope to let Magento 2 create mobile app for you. This is the job you will have to handle yourself.
How to Create Magento Mobile App: Some Pitfalls to Avoid
If you adopt a DIY approach to building a Magento mobile app you should not only possess requisite expertise, but also be aware of the most common mistakes novices in the field make.
1. Cluttered User Interface
As surveys claim, clients spend close on four minutes while shopping on mobile. That much you have to engage them. If your interface is overloaded with features and options the odds are that the user will first get lost among them and then will abandon the app never to return to it. Bland design will not suit either, so balance is the key word in planning the app layout. Ideally, the UI design should support double-tap and pinch-to-zoom functions as well as "save item/shopping cart" options.
2. Overlooking the Rule of Thumb
About three-fourths of users operate their thumbs while playing the smartphone.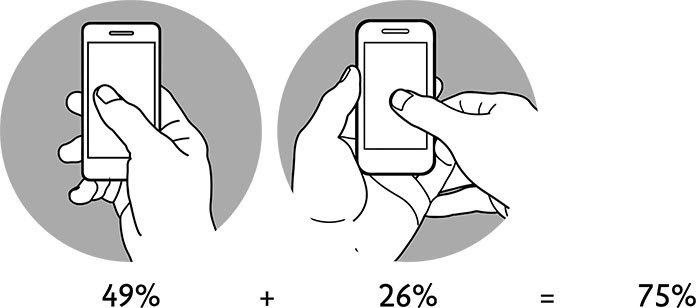 Image Source: alistapart.com
You should take that into account while positioning the principal tabs on the app screen.
3. Neglecting Security Considerations
Security of their personal and financial data is the primary concern with online shoppers so you must make every effort to allay all their fears and doubts. By using trust badges, applying lock symbols, sporting safety words (like "secure" or "encrypted"), and leveraging color psychology you can convince shoppers that their purchasing via your app is perfectly safe.
4. Focusing on One Platform Only
With a view to reaching out to a maximum number of consumers, you should have both iOS and Android apps. Moreover, it is advisable to have every possible kind of app. Naturally, building them is never a five-minute matter. On the average, creating a Magento progressive web app will take you about a month, a Magento hybrid app – 3 months, and twice that building a Magento native app. However, by having all of them, you will make sure you have gone all the way to win you every customer there is out there.
5. Underestimating Loading Speed
The faster your app loads, the greater is the probability that the user will stay with you to do some shopping. We have already discussed this point for Magento websites speed. Yet, mobile apps take almost 90% longer to load in comparison to regular desktop pages, so make sure you compress the app's code and diminish files' weight to reduce the loading time as much as possible.
If you have avoided these blunders and built a good app your worries aren't over since it is the time to test it.
Magento Mobile App Testing Basics
Testing is the only way to discover whether your app lives up to the needs and preferences of the audience. Why is it important to know? Because such expectations immediately translate into the number of people who will use your app on a permanent basis and won't dump it any time soon. There are some principles you must follow if you wish testing results to be accurate.
Come up with a testing strategy. If you want testing to do its job well you should prepare a meticulous plan of it. It won't do to launch an app and expect users to report bugs in it.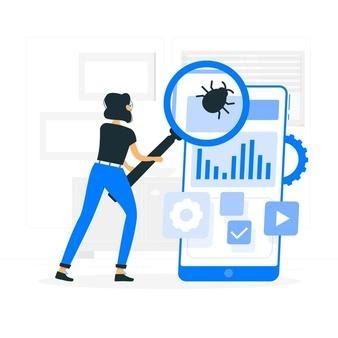 Image Source: www.freepik.com
Testers must consider the target audience, users' experience and location, network coverage, and other minute details.
Know your app. Testers must have a deep knowledge of the app's functionalities and business logic to determine which element of it underperforms or malfunctions. If they think that testing is about page swapping and reviewing product listings, you are in trouble.
Go broad. The rapid pace of digitalization constantly brings new devices with varied specifications and screen sizes onto the market. So multi-device testing should be the cornerstone of the procedure encompassing an as wide scope of gadgets as possible.
An app is not a site. Apps are meant for devices using Android or iOS operation systems that, unlike web browsers which remain unaltered for years, are frequently updated. Consequently, the testing period for apps must be much shorter but more intense.
As you see, testing an app is a no-nonsense task that should be delegated to a team of committed professionals and Dinarys is proud to have such employees who can efficiently cope with app testing. But both testing and creating an app are not cheap ventures, so you should be aware of Magento mobile app development cost before you start any moves in this direction.
Magento Mobile App Cost
There is no way to determine the price of creating a Magento app once and for all. The total cost of ecommerce mobile development depends on a plethora of factors the basic of which is the type of app you want to receive.
1. Core Magento App
Such apps have average functionalities (product addition, page management, payment method configuration, website synchronization), plain design most likely based on a default theme, no integration with back-office systems, but free access to Magento Community site. The design of such an app will cost around $600, development and testing twice as much, and about $300 for maintenance. Thus, the total price of a vanilla Magento app should come to approximately $3000.
However, if you want your app to stand out against the unspectacular majority, you should have it tailored to your specific needs and purposes.
2. Customized Magento App
This type of app may have as many unique features as Magento 2 can offer. You can outfit it with custom product attributes, multiple languages, currencies, and stores options, social media logins, and other characteristics you would like to see in it. It can be geared to integrate with back-office systems and shipping providers and be ready to accept numerous extensions.
Naturally, such an app will be costlier, but how much more is hard to fathom. Designing it may cost between $800 – $2000, development and testing – from $2000 to $6000, and maintenance – anything between $500 and $1000, which brings the total to a considerable sum of as little as $2000 and as much as $8000.
All the given reckonings are a ballpark figure calculated for a hybrid Magento app, but if you settle on a native app the total sum may vary between $20,000 and $100,000.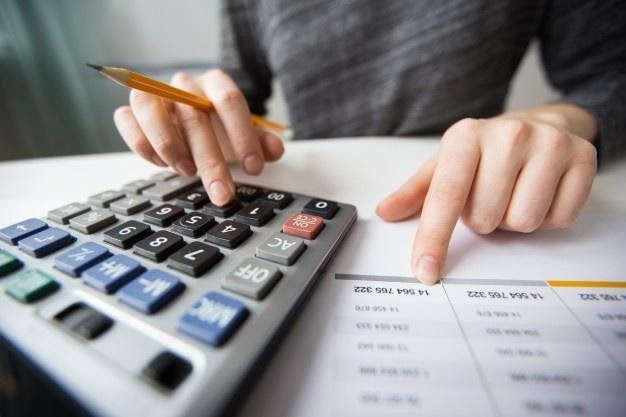 Image Source: www.freepik.com
How come is there such a discrepancy in prices? Because the deal you will eventually strike with developers to a great degree depends on where they hail from. Outsourcers from Western Europe and North America charge much more while the services of those from Asia are much cheaper, but with them, the question of the finished product quality remains open.
The wise balance between the two extremes is to find a developer from Eastern Europe. Hiring Dinarys to build a Magento app for you will bring you Western European quality at an Eastern European price.
Conclusion
Any Magento e-store owner aspiring for expansion and increase of profits should consider having an app. By enlisting the help of a dedicated team of professionals you will receive a top-quality product that will provide you with an additional channel to engage your customers.
Want to read more
Get fresh articles, news and case studies to your email firstly
Related articles