7 Steps On The Way To a Multi-Vendor Marketplace Solution
eCommerce Feb 01, 2021
Main / Blog / 7 Steps On The Way To a Multi-Vendor Marketplace Solution
To figure out whether one or another business line is worth following there is nothing better than to observe some successful projects available in the segment. Fortunately, contemporary ecommerce has no shortage of super-popular multi-vendor marketplace websites.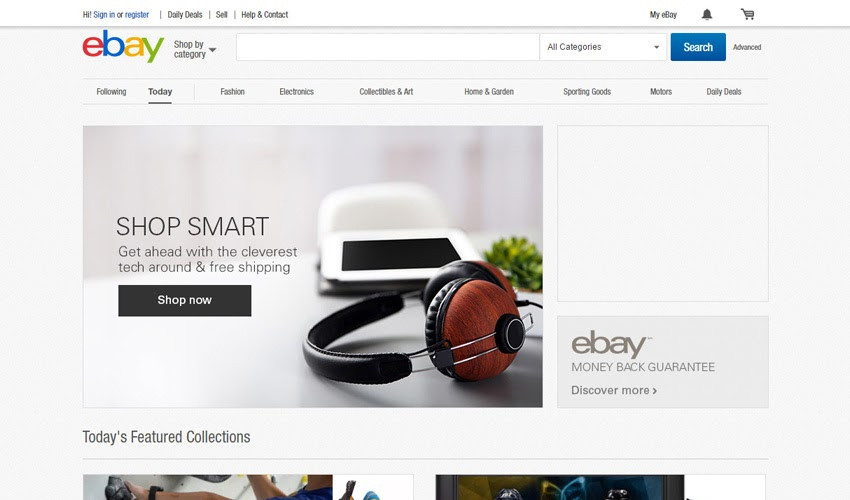 Image Source: webdesign.tutsplus.com
Amazon, AliExpress, Airbnb, eBay, OLX, Kickstarter, Steam, Google Play are just a few of dozens of the famous peer-to-peer ecommerce aggregators whose business model reflects the future of online business. No doubt, the game is worth the candle if you suppose that another multi-vendor marketplace won't hurt.
The recurrent COVID-induced lockdowns are adding fuel to fire: the global online commerce will unlikely stop growing amid the agonizing offline markets. That's why it is appropriate to give you a step-by-step tutorial on how to create a multi-vendor marketplace website.
Step 1: Niche & Rivals
The diversity of available online marketplaces hints at a quite severe competition in the industry. Indeed, a platform where you can find products and services from various vendors has to attract both customers and competitors. It is therefore clear that a systematic approach to your new multi-vendor marketplace is a must.
The niche, name, business model, technology stack, and software developers constitute the options you should select over the development process. It is worth spending some time to study your target audience, the latest ecommerce trends, rivals in the niche, available technologies, and some other aspects we describe below. Any successful multi-vendor marketplace website is to belong to a particular business segment. In other words, you need to figure out what to offer to your future customers.
Many marketers suggest starting with a narrow segment to extend the list of products subsequently as in the case of Amazon that has started from books to end up with everything for everyone.
To focus on the right product category it is necessary to observe both possible competitors and the ecommerce marketplace types that are classified as follows:
Product Platforms
Consumers visit the platforms to buy products. This type combines both B2B and B2C audiences. Besides, a P2P (peer-to-peer) option is also available in many cases. The most famous ecommerce giants belong to this type of marketplace: Amazon, eBay, AliExpress, Etsy, Google Play, etc.
The widest possible range of payment options is inherent in the majority of product multi-vendor marketplace websites: cash on delivery, wire transfer, credit/debit cards, PayPal, Google/Apple Pay, and even Bitcoin/Altcoins all enable buyers to ignore problems with payments.
Gift cards, free delivery, coupons & discounts, bidding, customer reviews as well as many other specific features are available on the websites to attract and retain consumers.
Regarding the most frequently used multi-vendor marketplace software, there is no leading type occupying the entire niche. CMS, ecommerce frameworks, and JS libraries all cover different projects depending on each particular business model. Besides, both a desktop version and a mobile one is to be available by default. We believe that Magento 2 is the best solution for any sort of multi-vendor marketplace platform. But more on that later.
Service Platforms
Household maintenance, startup funding, apartment rental, car sharing, medical & beauty treatment, freelance workers as well as many other types of service are what consumers visit service marketplaces for.
Airbnb, Kickstarter, Uber, TaskRabbit are among dozens and dozens of service platforms appearing every day on the market.
Both payment options and website features do not differ too much from the ones available on product multi-vendor marketplace websites.
But as for the software used at service platforms' development, custom solutions built from scratch occupy a significant share of all websites. It does not mean, however, that frameworks and CMS are less appropriate. The thing is that a multi-vendor booking marketplace, for instance, should have many special features and options that have to be developed individually.
Project Platforms
When a new project needs funding both bank credits and IPO procedures often appear unaffordable for many entrepreneurs. That's why such crowdfunding multi-vendor marketplaces as Kickstarter, Indiegogo, and Fundable became very popular among startupers and creators.
The payment options of project platforms go in line with the ones available on all the other multi-vendor marketplace websites. The only exceptions are those crypto exchanges where crypto projects are getting funded through ICO, STO, and the other specific procedures of crowdfunding.
Both frameworks and custom development from scratch are suited for the creation of project platforms.
Hybrid Platforms
This type of multi-vendor marketplaces combines both products and services. Despite such a combination, the platforms have simpler architectures than the other types of multi-vendor ecommerce websites do. OLX and Craigslist are examples of hybrid platforms. They offer several membership plans with limited listing options.
Customer feedback, optional/mandatory registration, help desk, private messages, and social media sharing are among the features inherent in hybrid platforms. PayPal, cash, and credit/debit cards usually constitute a sufficient set of payment options on the platforms.
Various sorts of software development can be equally appropriate for this type of platform. Many popular multi-vendor marketplaces SaaS would fit.
Each particular creator of a multi-vendor marketplace website is to decide about both a niche and a platform category to which a new project is to belong. But a large target audience and strong expertise in the offered products/services are highly recommended. The selected audience is important in the context of the set of features to be provided for your marketplace. For example, a B2B multi-vendor marketplace should offer some extended membership plans along with some specific authentication options inherent in the corporate sector.
At the same time, the narrower the segment you cover the better. If your field is consumer electronics begin with headphones only, for example. Chinese cheap brands would be even more relevant: it could simplify the promotion of your website at the initial stage. Create your multi-vendor marketplace business plan and move on to the next step.
Step 2: Site Name & Domain Name
When you are thinking over the name of your website just try to imagine it as a banner above the entrance of your shop. This is what your customers see first of all. The name should tell your customers about the products you sell as well as about your project's mission.
This issue is not less important than an appropriate development technology along with a successful promotional strategy. It was not a tough task before the present boom of multi-vendor marketplace platforms: the mane product's name was often determining the name of the website. But even in those days, many projects had to invent new words on their own: Facebook, Twitter, Spotify all appeared as a result of creative internet rhetoric.
You can try the following tools to select a decent name: Domain Name Generator, Wordoid, and Domain Hole.
Nevertheless, don't try to be too creative since very weird names are scaring away potential customers. The name should reveal the main idea behind the project and explain why customers should visit your website. Bet on brevity and cognitive ease, avoid numbers along with nonconventional domain zones.
When the name for your multi-vendor ecommerce marketplace solution is chosen its official registration is the only thing that remains. The largest user bases along with available domain names can be found on GoDaddy, Dreamhost, Namecheap, and some other respected websites.
Step 3: Functionality & Monetization
The practical development of your project should begin with a conceptual description of your multi-vendor marketplace. All key parameters of your website should be available in it: goals, activities, markets & rivals, design concepts, marketing strategies, semantic kernels, and so on. This general document is a stepping stone for the further progress of your project. It should not be too detailed, however, since particular nuances will appear over the development process.
Nonetheless, it is worth mentioning some special features for the buyers such as:
deeper integration with social media
pop-up notifications
customer reviews
gift certificates
wish lists.
and for the sellers:
advanced inventory control
customer behavior analysis
landing page toolkit
marketing campaigns.
Another critical issue to be determined from the very beginning is the monetization method of your multi-vendor marketplace project. If it is not a non-profit organization you can build the following revenue channels:
Commission fee. A platform charges each transaction executed through the platform with a fixed fee.
Subscription. Both buyers and sellers pay some annual (monthly) fee for using the platform. Some websites charge only sellers although.
Listing fee. Sellers pay fees for their products listed on the platform. The fee amount depends on a particular product category
Freemium plan. Some basic features of the platform are conditionally free while premium plans are chargeable
Advertisement. Some third-party services can pay for their advertisement appearing on your platform. The on-platform goods can be advertised as well: the top position in the list, colorful banners, recommendations from customers, etc.
Whichever method of monetization is selected, an appropriate multi-vendor marketplace payment gateway should be pre-installed on the platform. The development team hired for the creation of your platform could suggest which payment gateway would fit your platform best. This is quite a specific issue to be available out-of-the-box in many multi-vendor marketplace open-source: software. That's why an expert consultancy is recommended.
Another important thing that should be mandated to professional developers is what grabs the attention of your customers when they visit your multi-vendor marketplace website. We are talking about the user interface, of course. The UX/UI design should reflect the niche products you work with. Professional designers and developers know better how to make your marketplace both usable and attractive.
Step 4: Promotion campaigns
In contrast to ordinary online stores having only one seller, every multi-vendor marketplace ecommerce solution has to deal with both different sellers and numerous buyers. The old chicken-and-egg dilemma is to be solved in such a case: you need to attract sellers in the absence of buyers and vice versa.
Some experienced multi-vendor marketplace owners suggest looking for sellers first of all because your platform seems to be some sort of investment for them. You can try the following well-tested ways to go:
Reach sellers from other markets. That was a strategy of Airbnb that has poached the sellers from Craigslist.
Simply use Google to search for the sellers on various marketplace platforms. The market aggregators such as Yellow Pages are worth trying as well.
Look for the sellers' accounts on social media: there are a lot of social profiles of various product suppliers on Facebook, LinkedIn, and Instagram.
Spend some time with the detected sellers: explain to them why your multi-vendor marketplace is worth their attention. Encourage them to attend your project with all your baits: provide them with discounts and bonuses for being the first sellers on the platform.
After the sellers move on to the buyers. The standard PPC-advertisement on both Google and social media works well. The initial stage of your website promotion can make you particularly bountiful with your first buyers: discounts, gifts, bonuses will pay off handsomely for your multi-vendor marketplace project in due time.
Step 5: Development Approaches
In general, there are three different approaches to the development of multi-vendor marketplace solutions. Each of them has its own pros and cons in the context of the deployment speed, cost of development, and available features.
Development from scratch
This is the most expensive and the longest way to go. At the same time, nothing can compete with the approach in terms of creativity - only the sky's the limit. Absolutely unique and unprecedented multi-vendor marketplace software solutions become possible only with custom development. Opt for this type of development if your goal is an unparalleled tailor-made website. But think twice before making such a decision: both a powerful business idea and a significant budget should stay behind this type of multi-vendor marketplace development.
Ready-to-use Open-Source: Software
This is the cheapest and the fastest way. There are several open-source: multi-vendor marketplace SaaS that allow creating a marketplace website with no professional developers in many cases. You can try such open-source: software as Mayocat or Sharetribe to make and launch your platform with relative ease. But the available multi-vendor marketplace templates can meet the expectations of quite unpretentious merchants only. Forget about the uniqueness of your project: your website will have to look and feel like many others. Besides, you will face problematic after-launch updates of your content most likely.
CMS-based development
Such a flexible highly-customizable CMS platform as Magento proposes the golden mean between the above-mentioned approaches. This middle way leads to fully-fledged multi-vendor marketplace solutions created with no redundant expenditures. The approach absorbs the best from both worlds: the deployment speed goes hand-in-hand with almost infinite creativity. Much could be said about the numerous advantages of this type of development but multiple persuasive arguments can be substituted by only one self-referencing use case. Read about how one of the best multi-vendor marketplace projects has been created with Magento by a global market leader.
Step 6: Specifications & Budget
The successful realization of any multi-vendor marketplace solution relies on a streamlined development agenda that in turn leads to a reasonable budget. Feasibility always matters, and the conceptual design of your platform should match your financial capabilities. Stages of a well-balanced schedule usually go in the following sequence:
Creating a multi-vendor marketplace business plan. This implies a brief description of your project that includes your marketing strategy, risk analysis, preliminary budget, and expected revenue
Making technical specifications. This is about your website development through the lens of the selected technology stack. The UX/UI nuances beginning from the user story and up to security risks are included
Designing basic shells. Visualization of user interface with both navigation shells and content screens usually belongs to designers
Budgeting. Project managers, designers, and programming engineers all are involved in the assessment of both the specifications and shells. The estimated development time along with the necessary labor cost can show you the exact sum you will have to spend to create your multi-vendor marketplace website.
Step 7: MVP & post-deployment development
Minimum viable product (MVP) allows representing your project to a target audience as soon as possible. Testing your multi-vendor marketplace under the real user conditions for insignificant cost makes sense. After the MVP is launched your team has an opportunity to get customers' feedback that enables developers to improve the usability of your website. Revisions of the visual design can be combined with adding of new features. Since no totally ideal software is possible an MVP is a decent tool for improvement.
An efficient system of feedback helps analyze the user experience of your audience. In the case of a multi-vendor marketplace platform, the audience includes both sellers and buyers. Google Analytics, AV-tests, focus groups, and questionnaires constitute just a small part of methods applicable to the post-deployment development of your project. A customer support service along with an easily graspable help desk won't hurt as well if you expect your multi-vendor marketplace website to have strong prospects of business growth.
Conclusion
The given above steps may not necessarily cover a full road map of the way towards a multi-vendor marketplace website. However, they represent a sufficient guideline for understanding what mandatory tasks have to be completed by those who want to enter a highly competitive sector of online multi-vendor commerce.
The present post has been created under the thorough supervision of our skillful developers not to miss anything really critical. Even though we strongly believe that Magento 2 multi-vendor marketplace is the gold standard for a relevant ecommerce segment, no technical constraints can arise in front of our team if a potential customer leans to some other technology. Our experienced engineers possess all advanced development approaches to what is assumed to be the best multi-vendor marketplace software.
Contact us today to discuss how we together can outrun the richest multi-vendor marketplace giants. Why not?
Want to read more
Get fresh articles, news and case studies to your email firstly
Related articles