Comprehensive Comparison of Multi-Vendor Marketplace Modules for Magento and Shopware
eCommerce Apr 27, 2021

Main / Blog / Comprehensive Comparison of Multi-Vendor Marketplace Modules for Magento and Shopware
As business growth specialists, in our practice, we observe a clear trend of transforming a traditional e-commerce website into a multi-vendor marketplace. An increasing number of digital entrepreneurs are expanding their single-vendor stores and offering their clients a variety of products and services provided by different, independent retailers.
Although both e-commerce websites and marketplaces are designed to maintain the online activities of retail businesses, some core differences still exist between them.
An e-commerce website, in most cases, is developed to serve a specific brand and exclusively sell the in-house goods in its own inventory.
On the contrary, marketplace owners only sell their platform's services. For example: each retailer rents the space on a marketplace website and, depending on monetisation methods, pays the fee.
Advantages of Marketplaces over e-Commerce Websites
So what is the reason for such a rapidly growing number of online marketplaces, and why does the popularity of this business model surpass, to some slight degree, that of building simple online stores? Here are several benefits of marketplaces:
A marketplace itself does not sell any products; this reduces financial risks. An e-commerce website owner has to invest in inventory and sell off new supplies as quickly as possible. If this does not happen, the investment will not bring profit.

Marketplaces are in high demand among various retailers, as registering and selling on a marketplace website is easier and much more reasonable than putting efforts into building and maintaining a separate website.

In general, marketplaces offer a wider range of products and services than e-commerce websites; therefore, buyers can compare the quality and price of goods and make more informed choices. According to statistics, 87% of B2B buyers prefer to shop on online marketplaces.
Read more: Marketplace vs. Your Own e-Commerce Website in 2021: What Is Best for Business
How to Convert an e-Commerce Website into an Online Marketplace?
If you wonder how to add marketplace functions to your web store, the Dinarys team has the clue. Multi-vendor marketplace extensions are an efficient method to turn your traditional e-commerce website into a full-fledged marketplace. Many marketplace extensions are available on the market.
In this article, we will introduce a comparison of multi-vendor marketplace modules for Magento and Shopware, the two leading e-commerce platforms, to help you decide which one might be the most appropriate for your business objectives.
Marketplace Multi-Vendor Module for Magento 2 is an all-together solution for creating your own shopping web-mall. The extension includes a variety of payment and shipping integrations, such as PayPal, Aramex, FedEx and DHL. We often provide this solution to clients who intend to launch a world-class marketplace.
Check also this article: How to Build a Multi-Vendor Marketplace Like eBay Using Magento
The Shopware Multi-Seller Marketplace extension is a ready-made solution for Shopware-based websites. The module is compatible with all Shopware versions starting from 6.x.x. This extension is relatively young; that is why its functionality is less extensive than Magento's. But it makes sense to choose the Shopware marketplace extension if it is your first attempt in marketplace development, or in e-commerce as a whole, and you need to quickly and cost-efficiently validate your idea.
Main Characteristics of Multi-Vendor Marketplace Modules for Magento and Shopware
Below, we will describe the basic feature sets of both the Magento and Shopware extensions. We will also analyse the additional functionality of the Marketplace Multi-Vendor Module for Magento 2 and explain the general difference between the extensions.
Customer functions
Let us take a quick look at what functions are accessible to marketplace users in both cases.
Common features
Each user can:
Apply to become a seller on a platform.

Be a seller and a buyer at the same time.

See a seller's page with all added details.

View all details about a product given by a seller.

Order from multiple sellers on a platform using the same shopping cart.

Check out at once, having multiple sellers' products in the shopping cart.

Rate products and publish reviews.

Add reviews to a seller's page.
Additional functionality of the Magento marketplace module
As we previously mentioned, Magento has more to offer marketplace users. With the Magento marketplace module, customers can:
Search sellers by sellers' shop names in a sellers' list page.
Compare products based on price, vendor rating and location.
Compare prices of different sellers' products.
Contact sellers with captcha support.
Read more detailed and complete info about sellers (shipping policy, return policy, etc.).
Vendor panel
Although vendor panel areas are not visible to buyers, they are vital to managing all inner processes in a convenient way.
Common sections
Each of these extensions provides the following basic sections for sales process management:
Dashboard
Order management
Product creation
Product management
Seller profile settings
Additional functionality of the Magento marketplace module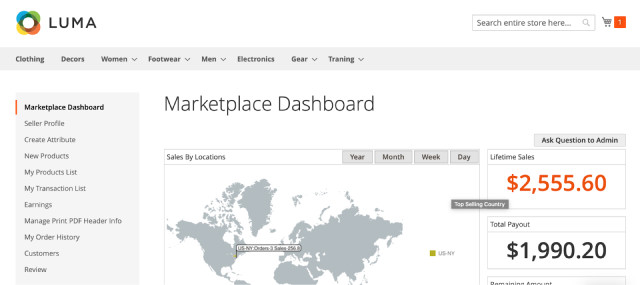 The Magento marketplace extension provides many more tools than the Shopware extension to manage an online store.
The Magento module offers two interface options for sellers: as a user account on a website and as an admin panel.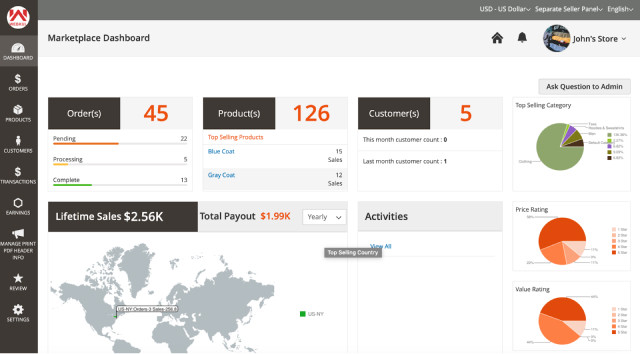 With this module, vendors can:
Keep track of their transactions and earnings.

View the total earnings of their store by day, month and year.

Set marketplace settings and add all needed info for customers.

Generate reports and create new product attributes and multiple product types (simple, configurable, virtual and downloadable).

See main customers' info, such as who placed an order in a store, and keep track of all customers' order history.

Get notified by mail when product inventory reaches the specified minimum level set by an admin.

View hints for fields if enabled and set by an admin.

Set header info for invoices and shipments sent by a store.

Make a withdrawal request to an admin for their remaining amount via a vendor panel.
Admin panel
Let us compare the Magento and Shopware marketplace modules in terms of admin panel functionality.
Common features
Both modules enable an admin to:
Sett the option to auto-approve a seller.

Sett the option to auto-approve a seller's products.

Approve or disapprove a seller or a seller's products manually.

Mass-assign products to a seller.

Check sellers' product information.

Sett commission percentage.

Track a seller's income, total orders, total buyers and the latest order.

Create template-based emails for a marketplace, which will be used according to admin selection.

View a list of all the marketplace's sellers in one place.
The Magento's additional functionality
Magento has richer capabilities than Shopware in terms of the admin panel as well. An admin can:
Easily enable/disable the marketplace extension.

Assign a category and subcategory to each seller.

Enable/disable minimum order functionality.

Set minimum order amount.

Allow a seller to add a product limit for a customer on product purchases.

Allow a seller to add related products, up-sell products and cross-sell products from the seller's panel.

Configure setting for SKU prefix for a seller's products.

View notifications for seller requests, seller products and feedback reviews.

Choose to auto-approve orders or not.

Refine the search process by enabling the seller filter in layered navigation.

Manage tax for a seller's products.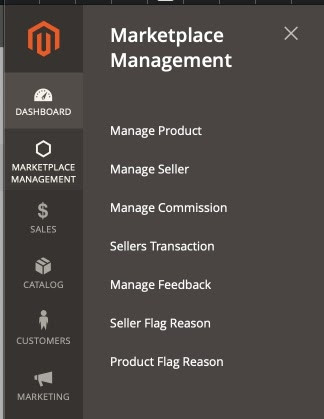 Dashboard
Let us look at an overview of what the Magento and Shopware marketplace dashboards are capable of.
Shopware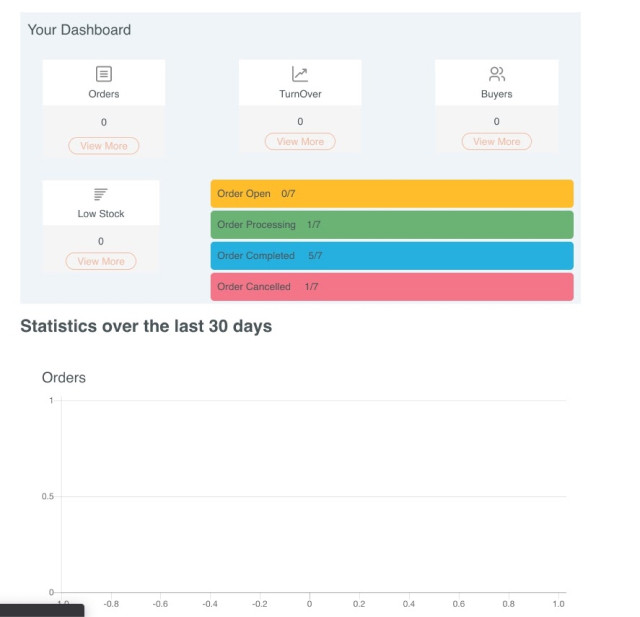 Compared with Magento, Shopware's dashboard provides less information about the current status and statistics of the system work:
Amount of orders
Amount of customers
Amount of turnover
Amount of orders in different statuses
Order statistics
Magento
Compared with Shopware, Magento's dashboard is more complex, with all needed information and statistics for a seller, such as:
Sales by location,
Lifetime sales,
Total payout,
Remaining amount,
Top selling products,
Latest orders and
Latest comments and reviews.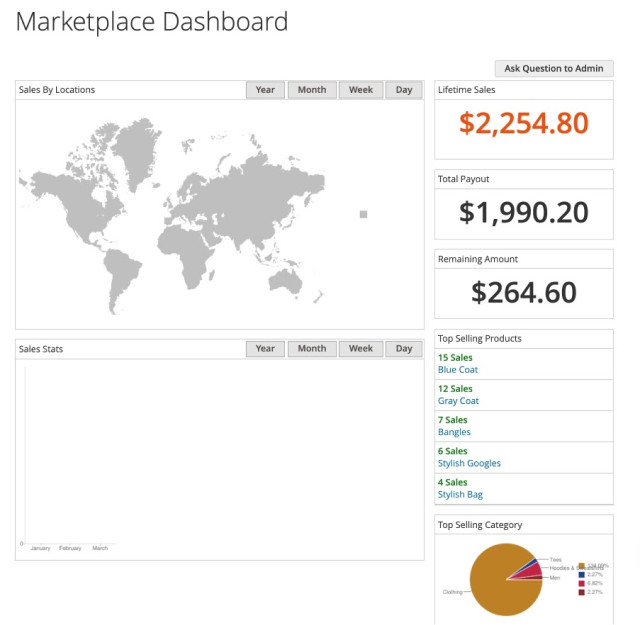 So, using the dashboard, sellers can track their income, latest orders and customer reviews.
Seller profile
The Shopware and Magento marketplace modules' functionality allows sellers to add the following information to their profiles.
Shopware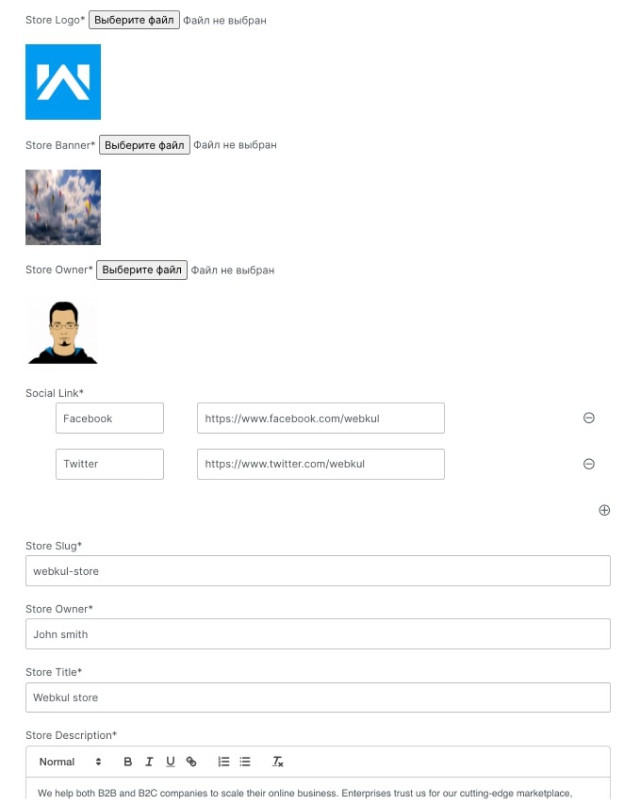 The Shopware seller profile is limited to the next sections:
Store name

Store logo

Store banner

Store owner

Owner name

Social links

Store slug (URL)

Store description
Magento
The settings of Magento's seller profile allow vendors to add much more information to the system, such as:
Short title field,

Option to upload a logo,

Option to upload a company banner,

Company description,

Meta keywords,

Meta description,

Option to set a background colour of a detailed page on a website,

Option to manage a shop URL,

Contact number,

VAT number,

Company localisation field,

Country,

Return policy,

Shipping policy,

Privacy policy

Payment information,

Option to set minimum order amount,

Twitter ID,

Facebook ID,

Instagram ID and

YouTube ID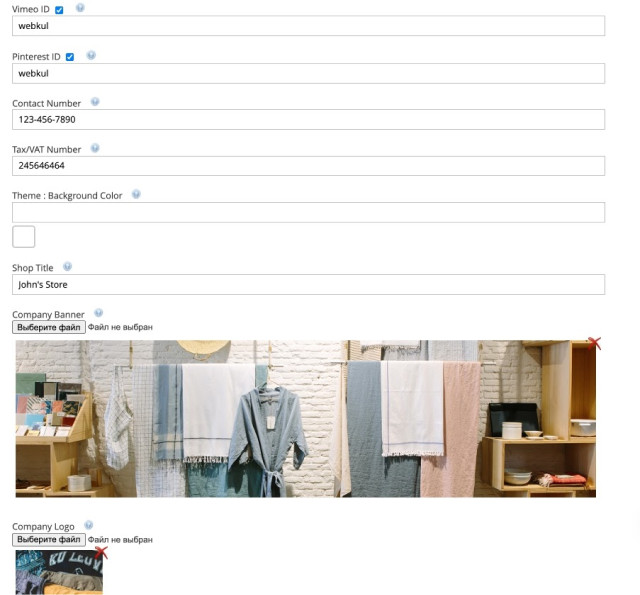 Product management
The Shopware and Magento product grids are almost the same, but Magento provides more options for filter and management from the Product table and a more user-friendly and intuitive interface.
Adding new products
Shopware provides basic fields to fill when adding new products.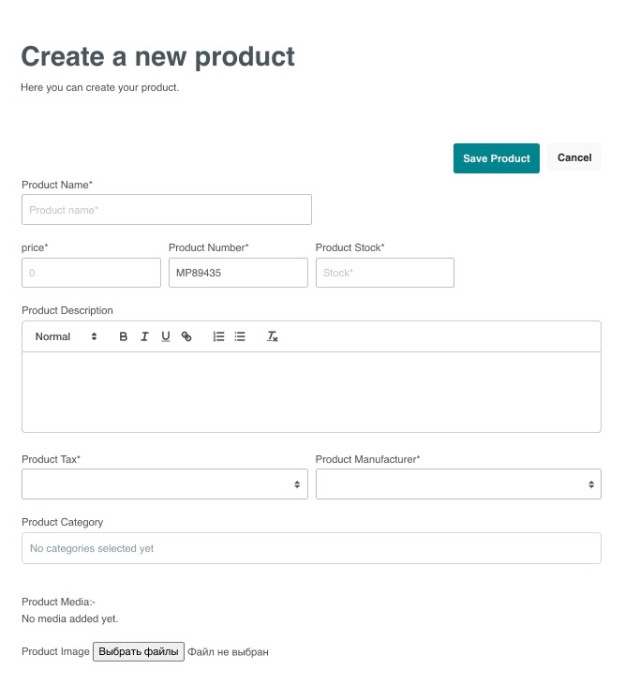 Compared with Shopware, Magento has more settings and options to create a new product:
Option to create different product types
Option to set sale prices
Option to set related products
Option to set up-sell products
Option to set cross-sell products
Option to set the SEO for a product
Option to set allowed product to purchase for customers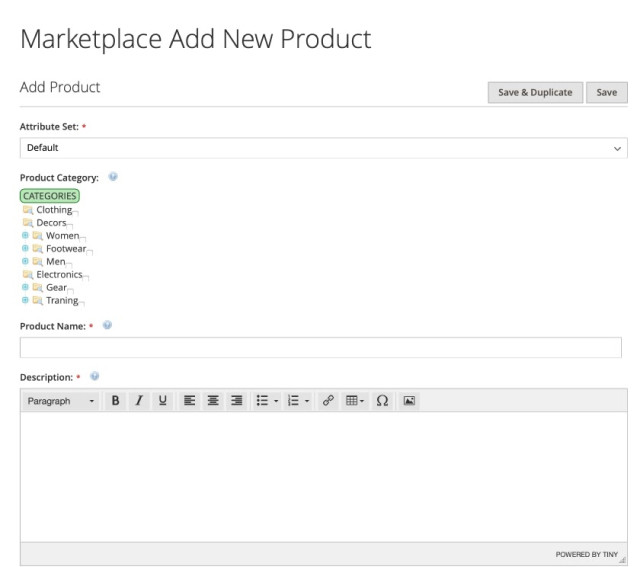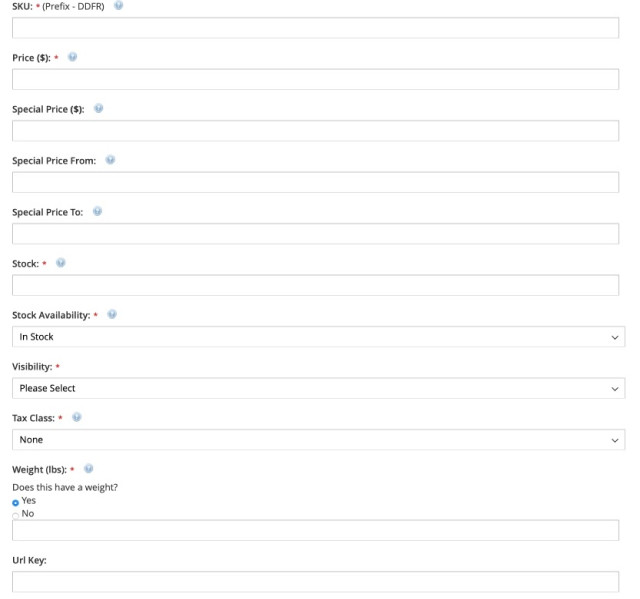 Order history
The Shopware marketplace module displays only general basic info (date, order number, order status and payment status).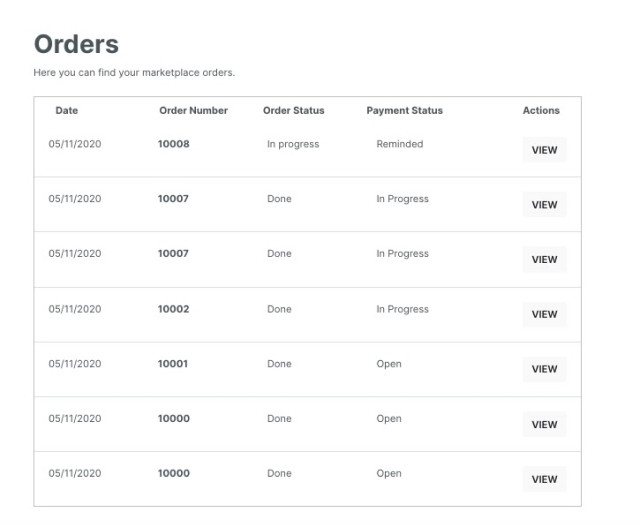 The Magento marketplace module gives vendors more information about orders on the order history page with a more user-friendly interface.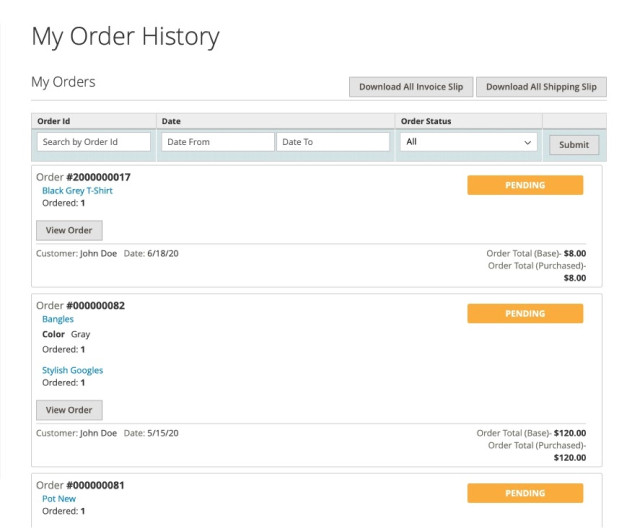 Additional functionality will help vendors to quickly filter orders and download all delivery and/or shipping slips.
Order management
With the Shopware marketplace module, vendors cannot manage their orders. Only status change is available.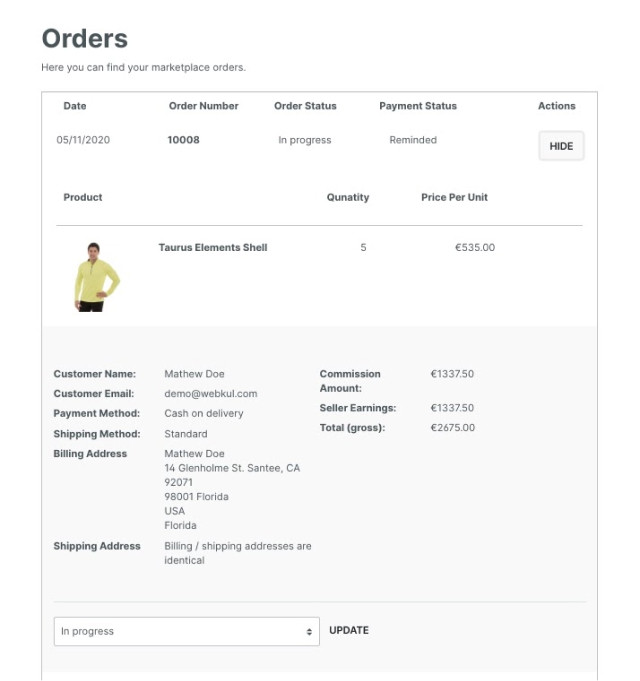 But the Magento marketplace extension enables options to work with orders (create an invoice, create a shipment, resend order details to a customer and cancel or print an order).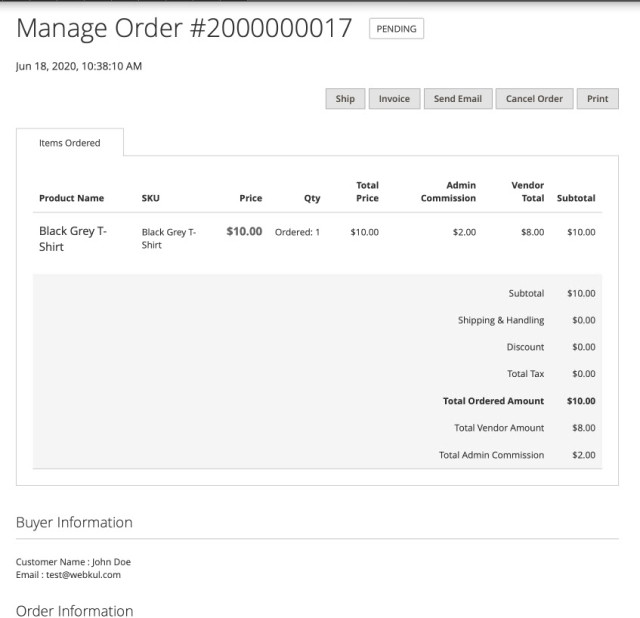 Thus, vendors have full control of orders as well as all payment and shipping info.
Advantages of Shopware and Magento Marketplace Extensions for Different Business Levels
Finding the right tool for marketplace development based on your particular company needs and purposes certainly influences your further business growth.
Based on our comprehensive analysis of these two marketplace extensions for Magento and Shopware, we made a conclusion about which extension will be suitable for one or another business process.
Shopware Multi-Seller Marketplace
The Shopware Multi-Seller Marketplace extension is well-equipped for start-ups, which research a market and the market competitors to understand who their target audience is.
The Shopware marketplace module can help to validate a business idea and define the next steps – for example, whether to focus on a vertical or horizontal market. Providing all basic marketplace features, this extension may become an efficient tool for testing if a product has real demand. Moreover, it can be achieved without huge investments owing to the added bonus of the Shopware platform's low total cost of ownership and fast time to market.
In our practice, we also frequently notice the extensive use of the Shopware marketplace extension for developing midsize e-commerce businesses, which start with a narrow niche and subsequently expand their product assortment. This fact proves that the Shopware marketplace module is a proper solution for e-commerce business development in its early stages.
Marketplace Multi-Vendor Module for Magento 2
The Magento Marketplace Multi-Vendor module can serve as a starting point for more experienced businesses that have already determined their further path and know exactly which heights they need to reach.
As we can observe, the Magento marketplace extension is a perfect match for ambitious trading platforms. Its enormous feature list for building a marketplace website allows seamless website management, giving the opportunity to put online business performance on autopilot and dive deeper into more important things, such as reconsidering your e-commerce strategy according to current circumstances.
With the extension, it is more than real to build a reliable, wholesale, international-level multi-vendor marketplace using numerous available functions, such as multi-currency and multi-lingual support.
We believe this is the best choice for any enterprise-level organisations and for those who strive to become so.
You might also like: Shopware 6 vs. Magento 2: Can the New Player Dethrone the Leading CMS?
Examples of Successful Companies That Use the Marketplace Extensions
Shopware
Stoffwald – a popular fabric and sewing accessories store based in Zurich. The company was founded in 2018, and its main concept involves supporting local sellers under competitive pressures owing to more powerful brands.
Stoffwald helps both family sewing businesses and fabric stores to keep afloat in an intense competitive environment and overcome the challenges that current market conditions bring.
Stoffwald's website is well-structured and simple to use. It simplifies the process of online fabrics shopping, allowing buyers to find what they need in one place and with just several clicks.
Magento
Roadzila – an exceptional B2B automotive marketplace, which has a vast range of products provided by over 700 tyre brands from France and other European countries and over 80,000 customer reviews.
The portal's challenge was to automate the selling process and help B2B clients save time while making purchases, giving them the opportunity to compare similar products and their prices and removing the need for searching across multiple websites of tyre providers.
The Roadzila website was created and customised on Magento 2. Being a modern, open-source e-commerce platform with high functionality, Magento 2 helped the founders of the marketplace to fit their goals and strategies to the current demands of B2B suppliers and buyers.
Drezzer – an independent fashion labels marketplace based in Vienna. Since 2017, the website assists buyers in exploring new designers, searching for the finest fashion exclusively manufactured in Europe and buying clothes and accessories straight from their favourite local brands.
Owing to the Magento marketplace module, Drezzer is now a fast-growing fashion marketplace that serves as a bridge-builder between buyers and labels and provides them with multi-seller functionality.
Conclusion
Marketplace website development is an evident trend among e-commerce entrepreneurs, suppliers and online shoppers. By running an online marketplace, you will be able to recoup the value of the invested funds in the short term. Nevertheless, to derive maximum benefits from this business model, you should thoughtfully approach development.
In the beginning, it is important to define your current position on the market and determine room for your further business expansion. These aspects will fully influence the choice of your marketplace technological basement.
As a Shopware and Magento solution partner, Dinarys knows all the ins and outs of marketplace development on the Magento and Shopware platforms.
For small and midsize businesses, we recommend starting with the Shopware Multi-Seller Marketplace extension, as this is a more cost-effective solution that still offers flexible capabilities to validate a project idea and test the demand for new products.
The Marketplace Multi-Vendor Module for Magento 2 is most suitable for building spacious marketplace websites, which require a scalable solution. Magento's modern e-commerce frontend along with countless marketplace features and analytics tools will clearly contribute to a smooth and automated experience for merchants and buyers and help you get ahead of the competition.
Building an online marketplace is not an easy task, but opting for proven e-commerce developers and the best technologies will justify efforts and bring profit.
Success is only a few feet away! Just contact Dinarys, and we will gladly provide you consultation on any stage of development.
Want to read more
Get fresh articles, news and case studies to your email firstly
Related articles