Choosing a Magento 2 B2B Theme
Magento Jul 06, 2020

Main / Blog / Choosing a Magento 2 B2B Theme
Constant changes in online retail commerce cannot but affect the conservative wholesale market. The high-tech technological innovations of industry giants such as Google, Amazon or Alibaba have gradually made B2B online trading fashionable, and Magento 2 B2B themes became popular among online store owners.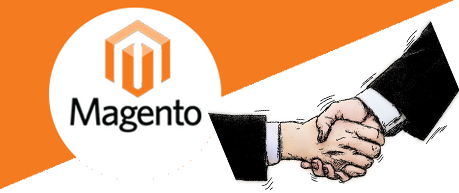 Image Source: magepow.com
Automating Wholesale Using a Magento B2B Theme
Convenience and speed
Purchasing managers are used to ordering products by phone, email, or via in-person negotiations. But the B2B industry is being changed, and the same is happening on the mass product market: customers want omnichannel or at least multichannel interaction when an order can be placed at night without waiting for a manager's working hours, or canceled in minutes via the website instead of waiting for an employee to take care of it. Some companies have managed to significantly increase profits by using a B2B marketplace theme with flexible order management in a few clicks.
Read also:
What is Multi-Channel Platform
What to choose: Multi-Channel or Omni-Channel
How to Build a Marketplace Website
Time saving
The time that employees spend on phone calls can be spent on finding new customers instead, as well as on cross- and after-sales in the process of personal meetings with the main clients.
Also read: How to choose CRM for E-Commerce
Loyalty
A good Magento B2B theme will help to improve the service. Reducing the number of calls will save time and help to better solve the problems of those customers who can't order online and still want to call. Integrating the solution with the back office will help achieve omnichannel interaction. Customers will be able to place orders through two channels at once, both online and in the process of personal communication. Others will use mobile clients.
Learn more: How to choose theme for your store
Sales growth
The opportunity to publicly present all the products, describe their advantages and make the right recommendations will encourage the curiosity of customers and so they will buy more.
Entering new markets
Such a resource helps you reach more potential customers, and not necessarily in the existing market. Since you will now be available 365 days a year 24/7, companies from anywhere in the world will be able to become your customers.
Data-Based Marketing
The data the new resource will collect will give you business new opportunities. You will be able to build more personalized communication, do narrow segmentation, and carry out targeted marketing campaigns.
Magento Themes for B2B: Perfect ECommerce Solution
When introducing online commerce for the first time, many companies are wondering how to create a truly good solution that customers will use. It is not that hard: a Magento 2 theme B2B is simple and convenient for working with wholesale customers. Using Dinarys project experience, we have compiled a list of the most popular B2B e-commerce portal features that allow your customers to quickly start using the solution and experience all its advantages.


Image Source: magestandard.com
Let's name the main points of contact between the client and the B2B Magento 2 theme - these are the product catalog, personal account, and cart.
How to Make the Client Want to Work in Their Account?
The client's personal account is surely one of the most interesting and important components of a B2B store. How to make it convenient?
Provide several roles for the client: for a manager who needs to place orders and monitor their implementation, and for an accountant who needs to be able to request settlement reports and track debts.
Ensure quick ordering. It is very convenient when a client can repeat a previous order in a couple of clicks, or create an order by numbers, without going to the catalog.
A B2B Magento 2 theme will show the client all the important information: order history, shipping statuses, current balance. This will allow customers to be aware of when the next batch is going to be delivered, whether there is any debt that needs to be paid off so that shipments don`t stop, etc.
How to Create a Convenient Product Catalog?
Release the client from troubles connected with the conversion of measuring units. For example, the customer knows how many meters of wallpaper they need to buy, but you sell wallpaper in rolls by the piece. In this case, let the system calculate how many pieces will be needed for the correct order.
A B2B Magento 2 theme speeds up the product selection process. A simplified list will help - one without pictures and detailed descriptions and with the ability to quickly select products. As a rule, B2B clients order the same goods, so it's convenient for them to navigate a small list. An option of mass selection of products from the list will simplify the adding products to the cart.
Offer similar and related products. This will allow you not only to increase the average check but also not to lose the client when the needed product is not available.
Ensure uninterrupted supply by planning your purchases based on large orders. Using Magento themes for B2B, you can predict future sales and plan and adjust your own purchases or production accordingly. For example, for customers who often order large quantities, it makes sense to always show the products they need with the "available" status. This will make it possible not to miss major sales and ensure the correct stock balance.
Keep customers with an individual pricing system. Working with various categories of customers, you can define pricing parameters for each segment or even each individual customer in the system. Flexible cost management also allows setting prices based on order volume or, for example, the selected payment method.
How to Create a Cart that Works?
Speed up the checkout process by manually entering part numbers or loading the part list from a file, saving templates and draft orders.
Make the delivery quick and convenient - provide the option to load the recipient data during the registration process.
Magento themes for B2B speed up future orders. For many customers, it is convenient to create several orders at once, so you need to provide functionality for working simultaneously with different carts and draw up a plan of orders for several months in advance.
How to Choose a Theme for an Online Store?
The Magento B2B platform is considered ideal for small, medium, and large businesses. It is used by brands such as Nike, Samsung, Coca-Cola, and others.
The Magento marketplace provides ready-made ecommerce themes with installed layout files, template files, translation files, and skins for each B2B project.
Standard themes provide:
simple intuitive installation and configuration process in accordance with individual requirements;
the ability to work in various browsers;
support for various languages;
Ready-Made B2B Website Design Themes
Here are the reasons why small and medium businesses choose ready themes:
the price of the theme varies between $25 and $500, which is a cost-effective solution;
ready-made themes have all the functionality necessary for business: RTL support, sliders, widgets, and responsive design;
ease of integration;
support and updates, solving all problems with the Magento community.
Despite the obvious advantages, Magento ready themes cannot provide 100% recognition of your online store. Custom themes are the best suited for this.
TOP 5 Magento B2B Themes
Here are some top themes that contribute to fast sales growth.
Ves Fashion
This theme offers 4 homepage design options. You have access to the built-in style of content, a variety of colors, numerous options, and easy navigation. This is the best solution for a site dedicated to high-tech, fashion, consumer and industrial electronics.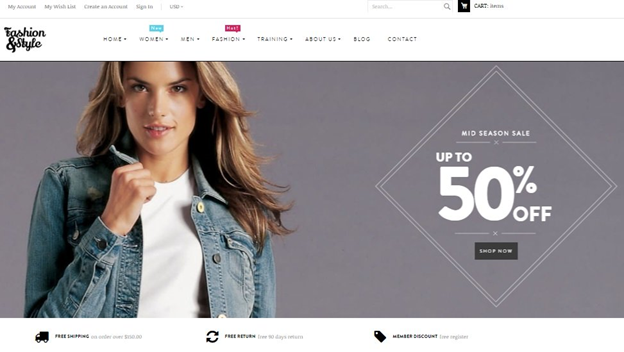 Image Source: firebearstudio.com
The responsive template loads instantly. Visitors to the online store are attracted by:
a stunning slider;
very fast and convenient multi-layer navigation;
off-canvas menu.
The Ves Fashion theme supports the Testimonial, Page Builder, Shop With Brand, and Mega Menu extensions.
You can buy Ves Fashion for $84.
Porto
This theme supports:
18 home page layouts;
30 demonstrations;
RTL;
unlimited footers;
unlimited headers.
An online store on Porto works without problems at any resolution of the PC screen, and on any mobile device. You can optionally install the side panel on the left or on the right, on both sides, or completely disable it. The category page displays up to 9 columns of headings.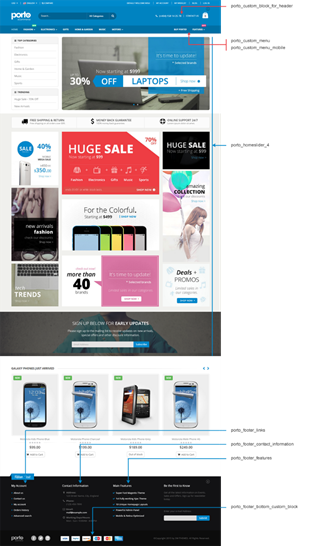 Image Source: www.comlinkpbx.com
The theme is compatible with most Magento extensions and optimized for SEO.
You can buy Porto for $129.
Everything
This theme can be used to sell any product. At your disposal are:
50+ homepage templates;
color range setting;
multi header;
multi footer;
visual mega menu editor;
Ajax shopping cart;
cloud zoom;
advanced admin theme option;
content tabs widget;
RTL support.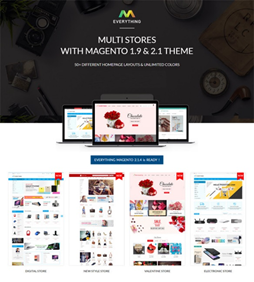 Image Source: www.emthemes.com
You can buy this theme for $89.
Black&White
This theme is designed to work on any device and offers the ability to install and configure your own subtopics in accordance with the characteristics of a B2B business. Here is its advanced functionality:
megamenu;
revolution slider;
Ajax quick view and toolbar;
blog extension;
integrated Google fonts;
one-page checkout;
rich snippets;
unlimited colors;
fully customizable header slider;
configurable font icons, and much more.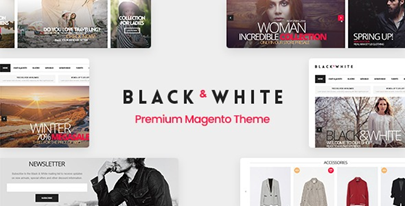 Image Source: stylelib.org
You can buy Black&White for $78.
Sahara
This theme supports over 50 options for ready-made layouts, and several types of headings. Sahara works on all mobile and stationary devices, it is easily configured and supports such convenient functions as:
megamenu;
tab products slider;
Slideshow;
Ajax search and toolbar;
newsletter popup;
Google rich snippet;
awesome icon fonts.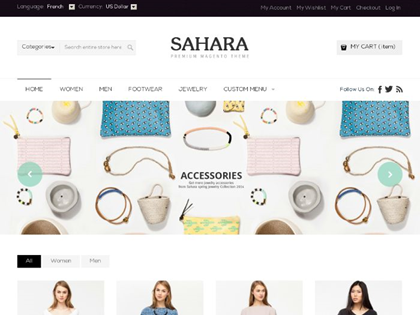 Image Source: bsscommerce.com
You can buy a black and white Sahara template for $45.
Why You Need a Custom Magento Theme for B2B
A standard theme solution is not always good for promoting a B2B website. Brand recognition often becomes decisive, so you need to have a unique theme. In such situations, we carry out individual development that includes the creation of a brand design. Typically, our customers ask to further expand the functionality of their B2B commerce cloud custom theme. To do this, we integrate the modules which are necessary to achieve a particular result they are aiming for. The themes we develop are 100% compatible with the plugins of the online store.
Still haven't decided on a template for your online store? Feel free to contact us and get a free consultation on choosing a B2B eCommerce theme.
Want to read more
Get fresh articles, news and case studies to your email firstly
Related articles