Five Simple Steps to Start an E-Commerce Business in 2021
eCommerce Mar 26, 2020
Main / Blog / Five Simple Steps to Start an E-Commerce Business in 2021
The e-commerce market attracts more and more offline retailers. The perspective to receive a considerable profit from selling online is very attractive. However, you need to find a reliable and robust technology partner to avoid mistakes what starting an e-commerce website. Our team wants to share useful insights into how to start an ecommerce business.
Below, we share five ideas on how to start an e-commerce business including:
How to decide what you'll be selling and to whom
How to find a supplier for dropshipping
How to choose an e-commerce platform
How to find a developer to build an e-commerce website
How to get your business up and running
To learn more keep reading!
Top 6 reasons to start an online shop in 2021
1. Online retail is a fast-growing market
The number of online shoppers is growing. So are the retail e-commerce sales worldwide.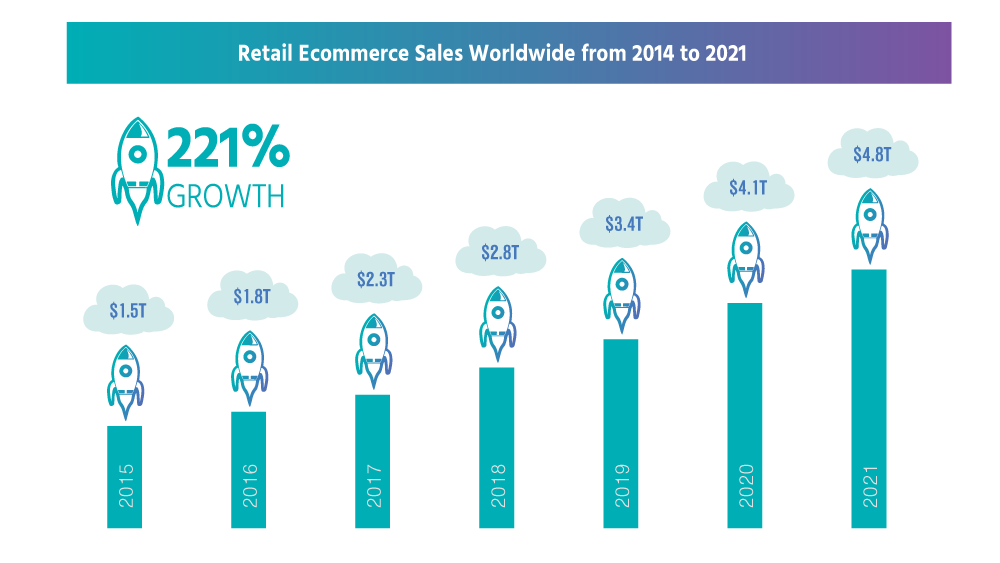 Image source: Smart Insights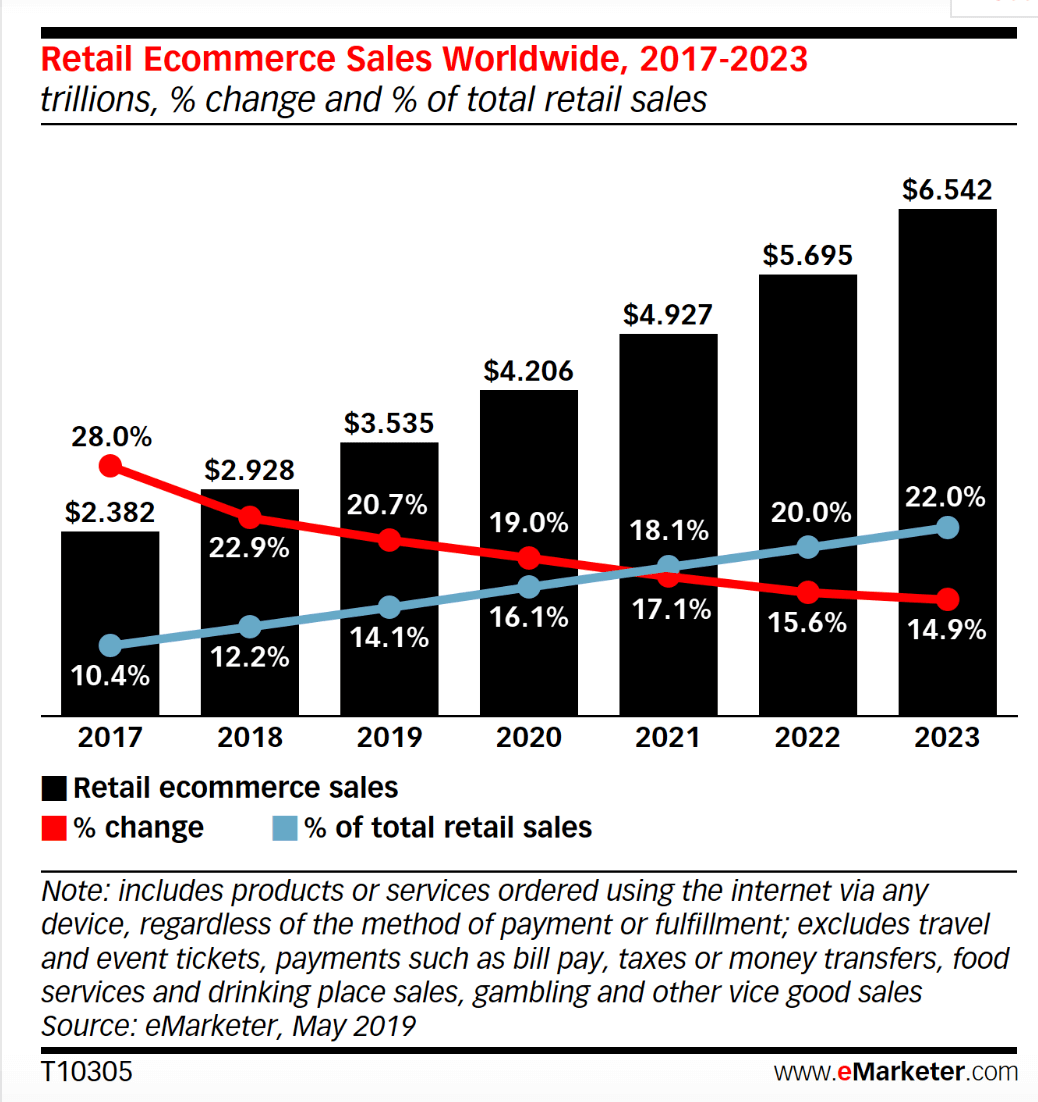 Image source: Smart Insights
In 2021, the e-commerce sales will increase up to $4.927 trillion. This sales increase means an e-commerce sphere is a promising sector in which to invest.
2. Lower barrier to entry
Nowadays you can start e-commerce store without any capital and products in stock. Advanced e-commerce solutions and dropshipping allow beginners to run their own online store.
3. Customer acquisition is cheaper and easier
Compared to offline retail, it is much easier to attract new customers to an online store. Businesses should spend between $300-$500 to draw one potential lead contact. At the same time, the cost to get one online customer is $25-$30. Social networks are the best channels for customer acquisition.
4. E-commerce technologies continue to improve
Today many techniques can help you increase conversions at your online store. You can use tools like advanced marketing extensions and alternative payment methods to increase sales.
5. Opportunities to scale business
One of the reasons online retail is so popular and promising is that it's a scalable business model. Advanced platforms, like Magento, allow for managing several e-commerce websites from one admin panel.
6. Build loyal shopper base
Also, you have many opportunities to build customer loyalty online. An attractive design and discount system can turn website visitors into regular shoppers. Creating more regular buyers means an increase in customer lifetime value.
How do you start an e-commerce store?
Here at Dinarys, we often deal with offline retailers who want to start e-commerce business online.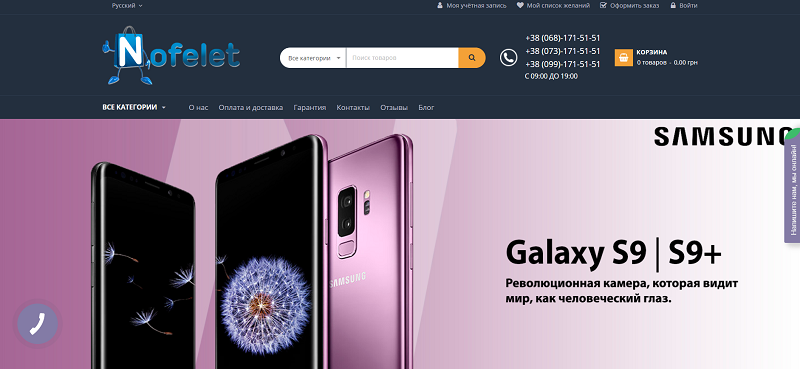 We offer the most suitable platform to our customers regarding the stage of business analysis. It often includes research on the competitors' and the industry overview. Recently, we developed an online shop from scratch for Nofelet. The company deals with electronic devices and laptops. We researched Nofelet competitors and found that their websites have custom features and design, and they don't use templates. Because the competitor had custom features and designs, the project required choosing a platform with considerable customization capacity.
We decided to use Magento 2 because it has a high level of customization. This platform gave a more professional look to the website together with a smooth customer journey. It took our team around six months to fulfill the project and integrate all custom features.
Read also: Why Choose Magento for Building an eCommerce Store in 2021
The website suits both B2C and B2B customers.
The online shop includes the following features:
Customer online support
Shopping cart
Customer reviews section
1. Decide what you'll be selling and to whom
Some businesses produce their own items and have a stock of products.
Some businesses don't. In any case, you need to find your niche.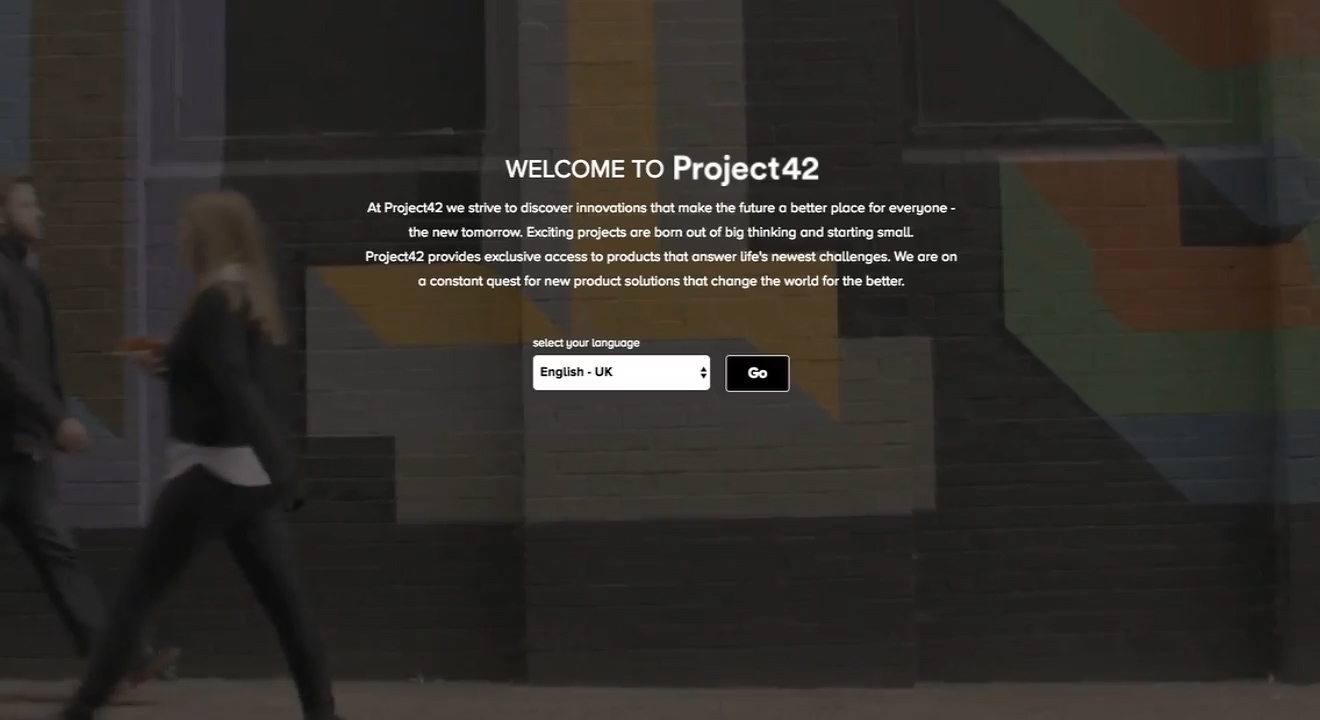 Let's have a look at one of our customers. A UK based company, Project 42, picked electric vehicles niche. It designs, manufactures and distributes electric scooters and electric unicycles. This decision was based on the enormous popularity of these devices, especially among millennials.
Another niche-oriented project we've developed is Pürblack. The company specializes in health and beauty products. They distribute shilajit resin products that have a positive impact on health.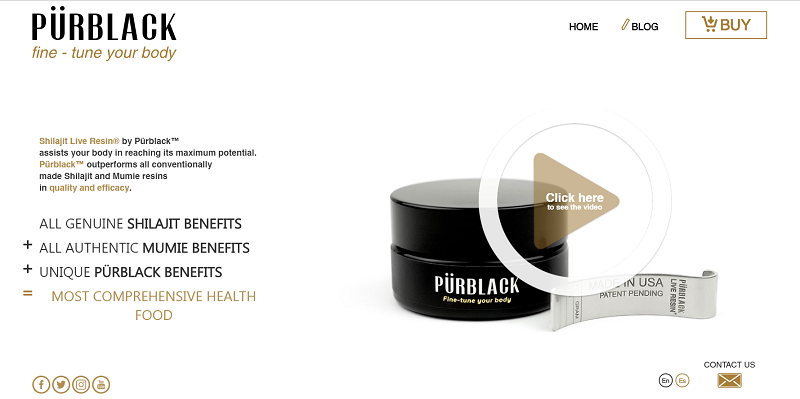 To find your niche in the e-commerce world, try to concentrate on something, about which you are passionate. At this stage, think about products that would motivate you to move forward.
Another advice is to conduct keywords research. This way you will be aware of what products are popular today. For that, you can use the Ubersuggest tool. Just put some keywords, and the device will show you some broad categories devoted to this keyword. Keep searching for narrower keywords until you find your future niche.
Another approach when starting an e-commerce business is to think about something that will solve a particular customer problem. Imagine your future target audience and their needs. Alternatively, think about issues that you face on a daily basis. Your niche lays between something you are passionate about and something that solves difficulties of everyday life.
At this stage, you can also look at prospective competitors. It will give you some insights about what platforms and e-commerce features work for your particular industry. This way you can learn about your future target audience.
If you have found a niche with no competitors, we have bad news. The absence of competition means there is no market. At the same time, we do not recommend you picking an overcrowded area. The more specific niche you select, the fewer companies with which you will compete.
2. Find a supplier for dropshipping
Drop shipping is a prevalent business model among online retailers. The drop shipping advantages are the absence of a stock, low financial threshold, and so on.
Finding a reliable drop-shipping supplier is imperative. The wrong supplier, who ignores the shipping terms, adds unnecessary costs, ships incorrect or damaged goods to your customers can destroy your online business, while a good one could bring profit to your shop.
When looking for a supplier, try to find the manufacturer of the goods you are going to sell. By using the manufacturer, you could decrease the cost of products. When working with the intermediaries, you may find that the same merchandises will cost more. Being more costly occurs because go-betweens add their commission to the product cost. Next, make a list of the mediators, evaluating the pros and cons of each of them. Each will have their advantages and disadvantages.
There are some drawbacks of working with dropshipping suppliers. For instance, you have little control over their stock. If your customer orders something from your drop-shipping website, there is not a 100% guarantee that this item is in stock right now.
Another disadvantage is poor customer service. Some shoppers may want to receive additional information about a particular product. Should they contact you or the supplier? Will the supplier answer their questions about the product? Consider these questions and determine how you're going to provide customer service.
The lack of bulk pricing is another disadvantage. If the supplier does not provide you with bulk pricing, to stay competitive, you won't be able to add extra costs on products. As a result, your margin will remain low.
If you choose to work with drop shipping suppliers, shipping might also take longer than you expect. Also, online shoppers hate waiting for their orders to arrive. Extra weeks of transportation won't make them happier.
You may also like: How to Build a Dropshipping eCommerce Website in 2021
To reveal these disadvantages, read the feedback from other online retailers about working with a particular supplier.
The list of drop shipping suppliers, prevalent among online retailers.
3. Choose an e-commerce platform [Updated]
The most popular self-hosted e-commerce solutions are Magento, Shopware.
Also read:
Why Choose Magento for Building an eCommerce Store in 2021?
Shopware 5 vs 6
A perfect online platform is a key to an online shop's success. To choose one, you need to make a list of your business requirements and future features.
Be sure to clarify the following points:
The number of items needed
The expected traffic load
The budget
The time frame
The feature list
The essential features of e-commerce platforms include:
A product catalog
A shopping cart
A checkout process
Ability to add new items
Ability to add new pages
And so forth
Shopware is available in 3 editions, so always provides appropriate options for the store owners, no matter if you are just searching for the quickest way of launching your ecommerce project, or already have a project with quite high requirements. So, let's have a look at Shopware editions:
Starter Edition. This edition is free to get started. You should pay just only when you start making sales. Moreover, the amount of payment is a small revenue share. Nevertheless, such as edition provides limited features and is suitable only for a very basic business with a small number of products.
Professional Edition. Such an edition is considered the most suitable solution for your unique brand presence with comprehensive service. The cost of Professional Edition is €199.00 per month or €2,495.0 per year. By choosing it, you are getting comprehensive Shopware 6 features and additional ecommerce tools to make your future online shop prosperous. Among the features that this edition includes are Social Shopping, Custom Products, and CMS extensions.
Enterprise Edition. Such an edition is for successful ecommerce projects. After registration, you can unlock all the ecommerce features and also the individual and developer support. Using this edition it becomes simple to map B2B and B2C business processes in one system solution. Even the most complex ecommerce projects thanks to the modular platform. It ensures stability, security, and the highest performance. Shopware Enterprise Edition is available on request.
Magento is a reliable platform, which is the most suitable choice for both small and powerful large ecommerce businesses. Magento provides three packages. Let's take a look at them:
Magento Open Source. Such an edition is free to install, but there are expenses you should cover such as hosting, domain, and security. In case you are lack time or technical skills, giving the job to a website developer is the best way out. But is an important thing to remember that the cost in such a case on average will be about $50-$80 per hour.
Magento Commerce. The cost of this edition starts from $22,000 per year. Magento Commerce provides more advanced functionality, so it is considered a better choice for enterprise-sized businesses than the Open Source edition. There should be noted that the price of this edition relies on your gross sales revenue in contrast to Magento Open Source.
Magento Commerce Cloud. The cost of such an edition starts from $40,000 per year. In some aspects, it is like Magento Commerce. Cloud edition is aimed only at large businesses with an enormous amount of sales data. The data are stored in Cloud instead of storing on a hard drive. The high price of Magento Commerce Cloud is conditioned by the availability of all the functions.
Related article: Shopware 6 vs Magento 2: Can the New Player Dethrone the Leading CMS?
The next step is to evaluate the following factors [outdate]:
1) Your budget
Your budget will determine whether you need a hosted or an open source platform.
The price of hosted platforms is quite low (from $29 per month). Such platforms will power your website with basic e-commerce functions. They are the best way to start an e-commerce business for beginners. Hosted platforms have a drop-down website builder and a convenient admin panel. To add more features and outstanding design, you can buy themes and modules in the marketplace.
To develop a professional online shop, try open-source e-commerce platforms.
The cost to start an e-commerce website with basic features starts from $4,000. In this case, the price of e-commerce development correlates with the number of elements. Also, you will need help from the development team.
Open-source platforms allow integrating many custom features and personalizing the website design.
2) Stock size and product variations
Another crucial factor is stock size and product variations, which will determine your future e-commerce platform. Hosted platforms often have limited space for each online shop on their hosting servers. Open source e-commerce platforms do not have limits for product listings. However, if you add too many products to an online store developed on a hosted solution, it will result in slow loading speed. For businesses with extensive product catalog, product categories, and variations, open-source solutions fit the best. You can choose the hosting server you like. As a result, you avoid any limitation in scaling your e-commerce website.
3) Customization
The customization of an online store makes a significant impact on conversions. Shoppers love great design and custom features.
However, most hosted platforms have limited space for customization. If you think that a basic checkout, product catalog, and payment gateway are enough for your store, use a hosted platform.
The only thing you can do to customize your store using a hosted platform is to buy a custom template. You cannot change the sales funnel, nor the checkout process.
If your list of desired features includes custom checkout, personalized discounts, and an animated shopping cart, choose an open-source solution.
4. Find a developer to build an e-commerce website
By hiring a technical specialist, you can avoid mistakes while launching your website.
Still, there are several options. You can hire a freelance developer or an e-commerce development agency. You may need their help for website settings and further maintenance.
Before making a choice, consider both options. They have their advantages and disadvantages.
A freelance e-commerce developer suits businesses with a limited budget. A freelance developer can help you to create your online shop.
You can find a freelance developer on professional networks such as Linkedin. Another option is freelancing platforms, like
UpWork. Pay attention to the experience of the candidate. Also, consider their previous projects.
Still, working with freelance developers is quite risky. When hiring a freelance for e-commerce website development, the main risks are poor organizational skills, confidentiality issues and a lack of trust.
Related article: How to Find and Hire a Great Shopware Developer?
Hiring an e-commerce agency is more expensive. By employing an agency, you engage a team of different specialists who work on the different parts of the project. They may include business analysts, web designers, developers, and QA specialists. You should consider this option if you want to receive a bug-free and attractive website. The e-commerce team may conduct ongoing technical support. It is convenient to have specialists at hand to fix your online store in case of errors.
Working with the e-commerce team on your online store is more reliable. Moreover, you will be aware of task fulfillment and the quality of work accomplished.
5. Get your business up and running
SEO online shop optimization is another way to attract online shoppers.
For that, your future online store should be SEO friendly. The admin panel should include SEO section where you can place page titles, descriptions and keywords. Your keywords should be industry-specific and relevant to make your online shop appear on the first page of Google.
Read also: Magento SEO in 2021: 8 best practices and tools
Online shops with a high ranking are more likely to attract target customers. Such target traffic is more likely to make purchases on your website.
An additional factor online retailers must consider is that searching engines give websites with HTTPS (Hypertext Transport Protocol Security) protocol higher search ranking.
Another feature that influences the ranking of your website is loading speed. Online shops with slow loading speed have a lower ranking. Slow loading speed results in a low conversion rate. An average e-commerce website loading speed is 2.51 seconds. With a slow loading speed, you will lose website visitors and prospective customers.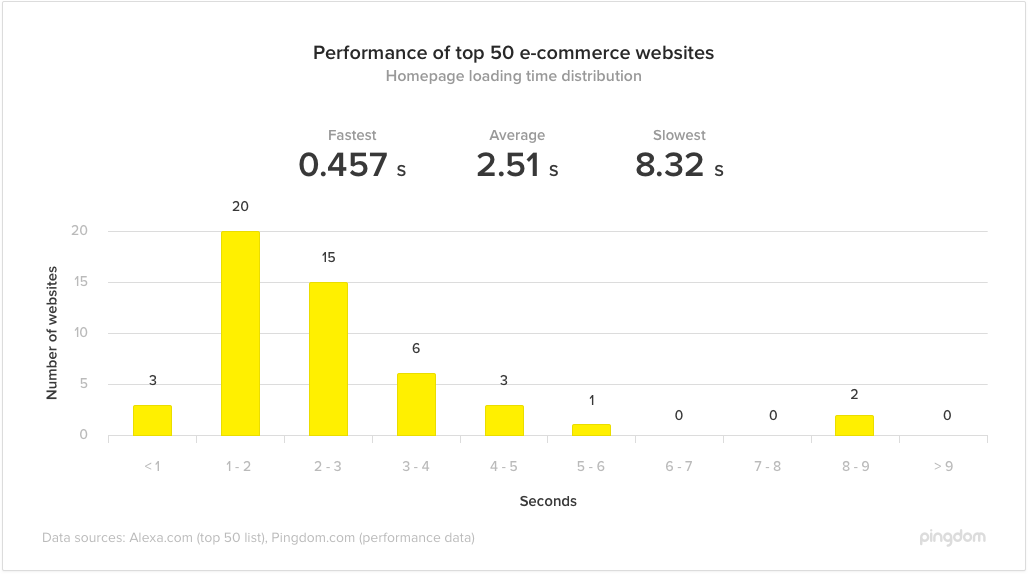 Image source: Pingdom
Dinarys recommendations on how to start your own e-commerce website
Think on the e-commerce website as an investment in your future business success
Be careful when looking for an e-commerce platform
Remember that it is tough to move an online store from a hosted to a self-hosted platform
Consider the desired features list before hiring and e-commerce team or a freelance developer
Pay attention to the UI/UX of competitors' online stores and the checkout process
Consider an e-commerce template with responsive design to get your store ready for mobile shoppers
Final thoughts
Modern platforms for online store development allow you to start your online shop without significant investments. You need to find a reliable supplier, chose the e-commerce platform and employ a freelance developer or an agency.
When considering the platform, think about the current and future goals of your business. When starting a small e-commerce business with limited budget, use hosted e-commerce platforms.
If you have a large enough budget and you plan to scale your store in the future, we recommend using self-hosted platforms.
If you need additional consultations on future e-commerce solutions or want to improve your existing online store, fill in the contact form below.
Want to read more
Get fresh articles, news and case studies to your email firstly
Related articles