How to Reduce and Manage Cloud Costs in 2021
DevOps Jun 15, 2020

Main / Blog / How to Reduce and Manage Cloud Costs in 2021
Companies of all business types increasingly tend to consider cloud opportunities as a way to save the budget, to provide even more flexible and high-quality services, and to virtualize the business overall. On top of all that, cloud-based digital infrastructures are highly secure and accessible from any point one may be situated at.
In recent years, the issue of proper cloud spend management is of special relevance for most users. IT teams must be able to thoroughly optimize expenses in local, cloud, and SaaS systems to save resources.
Here are a couple of key cloud trends from the RightScale 2019 report that point out the ultimate importance of efficient cloud expense management:
cloud cost optimization priority has grown up to 64% as opposed to the previous year's 58%;
13% of companies spend over $12 million per year on public storage management while the rest 50% have to give more than a million;
unreasonably wasted expenses in the matter reach up to 35%;
66% of establishments have their own in-house cloud management team while 21% of others are planning to organize one;
a number of companies that combine public and private clouds has grown by 7%;
establishments tend to employ five cloud storages on average;
PaaS services increasingly grow - the tendency of their implementation has grown up to 36% as compared with 2018;
the employment of containers develops further - the popularity of Kubernetes, a tool that uses Docker, has grown almost twice and comprises 48%.
Also read:
How to Hire a DevOps Engineer in 2021
How Does DevOps as a Service Work
DevOps Development Process
Cloud Migration Risks
Cloud Process Automation
Monitor & Forecast Spendings
Cloud computing expenses are among the most significant budget articles for many companies out there. The thing is, it's difficult to predict the final cost of server rental before the cloud architecture is established. The budget in the this matter may fluctuate. Constant, systematic monitoring of all provider, server, and app processes allows to be prepared for critical overload moments.
Thus, you get to conveniently pinpoint the aspects that require optimization and further constant monitoring, which include:
team expenses - all the obsolete resources and those of low significance should be tracked and excluded;
expenses per profile - you can use an expenses decryptor to set a budget for each profile manually and always establish realistic budgets;
regional - the overall tendency of providing services per region can reach up to 60%. Juxtapose the demand and quality of the provided services with their ultimate costs;
cleansing of storages and work schedules - the efficient employment of the resources you already have and manage will allow you to decrease expenses on implementing the new resources;
Cloud Audit Logs - allows for efficient maintenance of Google Cloud's audit trails to increase overall system security among everything else.
Optimize Infrastructure
Unnecessary IT expenditures are not new to pose issues to the global community. Startups that purchase quite large infrastructures of data centers several years in advance are especially susceptible to this one. They need to pay special attention to this issue, otherwise, serious downtimes may have to be handled.
In the conditions of a limited budget of starting-up projects, cloud cost optimization strategies can help not only to keep one's head above the water but also to grow into a full-blown business. You can employ the following key expense optimization opportunities:
Autoscaling - only a certain part of resources is being employed for particular activities. Depending on the specifics of every other business, two major business activity-driven ways to save can be defined:

seasonal economy - most relevant for retail businesses when sales spikes can be forecasted and depend on the time of year (Christmas holidays, summer vacations, etc);

daily economy - when the maximum rates of demand take place during certain hours while the rest of the time it is mostly downtime.

Cloud computing - cloud cost reduction opportunities here lay in that you don't need to purchase any hardware or software, you can just rent the needed space from a specialized provider. And if you don't need any excessive space at the moment, you don't have to pay for it. Rented cloud servers are also available for any point of the world, which enables you to rent cloud storages by lower tariffs.

Containers - small virtual machines containing microservices that are activated upon request and are unloaded from the virtual memory if there is no initial need in them. Numerous companies went and rewritten existing architectures to fit them;

Clusters - to step the game with the containers further up, you can employ tools like Kubernetes and manage clusters that control multiple containers simultaneously. Within large infrastructures, Docker and Kubernetes often perform in combination. Databases may also be organized into these clusters for higher fail-proof ability.

Cloud cost management software - products that are usually intended to optimize the data storing routines and to remove obsolete and sine elements from the storage.
How to Reduce Cloud Costs
Among the major cloud cost management tools in the company, should be knowledgeable in-house handling of resources and powers' optimization. There are three major ways to save cloud expenses: instances, discounts, and data storing.
Instances
Virtual machines or instances are most expense-intensive, taking up 55% of total expenses. Therefore, efficient cloud cost management should start exactly with them, step-by-step as follows:
Excessive resources. Over 40% of instances are twice, thrice bigger than is needed at the workload. The efficiency boost allows reducing up to 30% of virtual machine expenses and over 15% of cloud costs;

Downtime. Many resources operate 24/7, even if they are factually used only on workdays. Scripts that activate cloud services in the 12-hour workday and five-day week mode allow for reducing over 60% of expenses in the matter. If you timely disable resources upon finishing stretches of time-based projects (presentations, demonstrations, etc.), you get yet another expense optimizing tool.

High pricing. According to your selected type of instance, you can switch regions to save. For AWS in the USA, for example, South California is more expensive than Oregon while for Azure, prices differ for several virtual machine families located on the East Coast.

Updates. Suppliers offer new types of instances that are more productive and economic than the existing ones. Implementing progressive options allows for saving up to 5% cloud expenses.
Discounts for instances
Employing providers' discounts, you get another great ability to reduce cloud expenses. Conditions and sizes of their representation may differ, but the assignment principles are quite similar.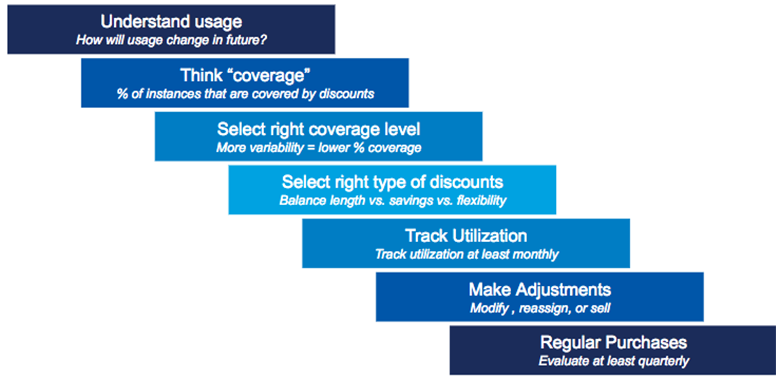 Image source: Habr
Consider the rules and abilities to offer discounts on the example of several major providers:
AWS
Azure
Google
Type
Instance reserve
Sustained Use Discounts (for the period of use), Committed Use Discounts
Period
one or three years
Discount size
up to 75%
up to 55%
Changes
Standard: change of zone or type of network. No ability to switch region or machine family Convertible: any customizations
Any changes
Changes in network type and machine family. Inability to switch region
Refund
Independent sale
Refund for 12% of payment
No supported
Data storing
As the storage grows, so does the costs of maintaining it, which may reach with time up to 25% of cloud storage expenses. There are a few key methods to optimize data-related expenditures.
Unattached drives. Drives attached to a virtual machine often stay in place even after the machine is deleted. As it accumulates, data attached to the instances start to take up a significant volume of storage and require to be detected and removed manually by an admin.

Old snapshots. Immediate copies frequently aren't removed. It's efficient to delete such elements upon the end of necessary terms of storing set up by a company.

Expensive options. Inexperienced users can often select pricey reserving, operating frequency, and drive options, like SSD and HDD, without an ability to use employ them to the fullest.
Virtual Server vs Cloud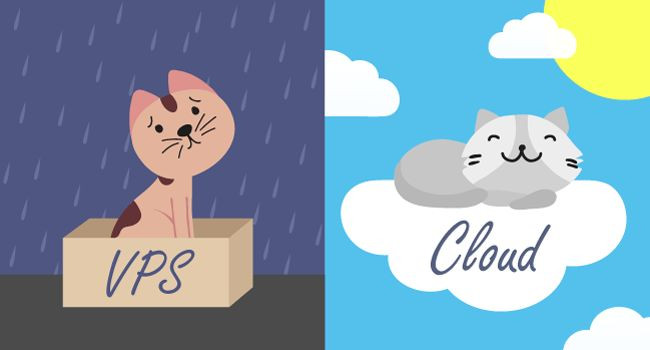 Image source: Spark
An optimal choice of one or other type of storing depends on two crucial factors: the need and the provider's offer. The key differences between the major types of hosting are as follows:
Criterion
VDS/VPS
Cloud
Payment
Advance fixed payment
Per actual usage
Configuration
Mostly, only one server
Server cluster
Reliability
Average - one OS for all machines
High - distributed server cluster structure
Accessibility of customizing virtual machine parameters
Difficult - a machine has to be reloaded and re-established so that parameters can be customized
Simple - parameters can be customized in real time without stalling any processes
Limit of capabilities
At the most - configuration of a server (cluster) excluding virtualization resources
Pricing
Average
High
Data storing
In a RAID-array configured by a provider or client
Double data replication in data storage systems Source
Automate Processes
One of the major cloud cost optimization tools to highlight as well is automation that helps to dramatically boost the efficiency of managing finances, security, and operations. Small, recurring tasks should definitely be automated. In this aspect, pay attention, primarily, to:
security - an establishment can optimize security checks for identifying and notifying about potential and existing threats;
reserve copying - allows to forget about cloud-stored data issues;
cloud adjustments - configuration of elements necessary for launching automated tasks, combination of several processes into a single one.
With the required tools, one data center operator is able to manage thousands of virtual machines. Such an approach allows not only for efficient cloud cost optimization but also for increasing business flexibility and lowering the influence of human factor on the final results.
Point solution of issues in managing cloud expenses is, unfortunately, of low efficiency. Companies tend to choose DevOps outsourcing to hire experts offering a complex approach to minimizing expenditures: analysis and subsequent implementation of the best project infrastructure optimization solution with further support.
Summary
Increasing profitability by reducing expenses is an ultimate goal of any business. Managing cloud expenses reasonably requires the selection of the most optimal service provider and constant monitoring of efficiency in employing the existing resources.
All the highlighted-above points, despite the seeming simplicity and logic, require a good share of experience to be implemented properly. Contact our DevOps experts right now to avoid numerous errors and keep each detail that can help accelerate the establishment and further growth of your business in check.
Want to read more
Get fresh articles, news and case studies to your email firstly
Related articles