How to Create and Launch a Successful Online Store in 2021
eCommerce Apr 20, 2020
Main / Blog / How to Create and Launch a Successful Online Store in 2021
If you are selling on Etsy or eBay but still want more opportunities for your online business, maybe this is the time to put you energy into developing your own e-commerce website.
Making an online store has many benefits including more engagement with customers, better brand identity, and more opportunities for small businesses to have all the tools and options that meet specific needs.
The process of building an online store may sound daunting. However, using modern technologies even a non-tech person can do it. If you want to learn how to create an online store, read the article below.
Why create an online store?
The realm of e-commerce shows a rapid growth in the last several years.
According to Statista report, sales in e-commerce in 2015 accounted for about 10.2% of retail sales worldwide. In 2021, e-commerce sales are expected to be over 17% and sales in e-commerce in 2024 accounted for about to reach 476 million of revenue annually.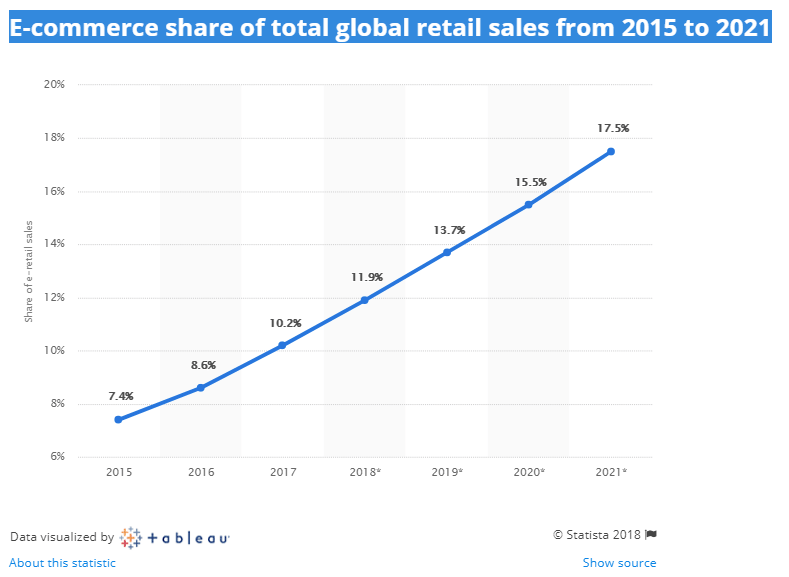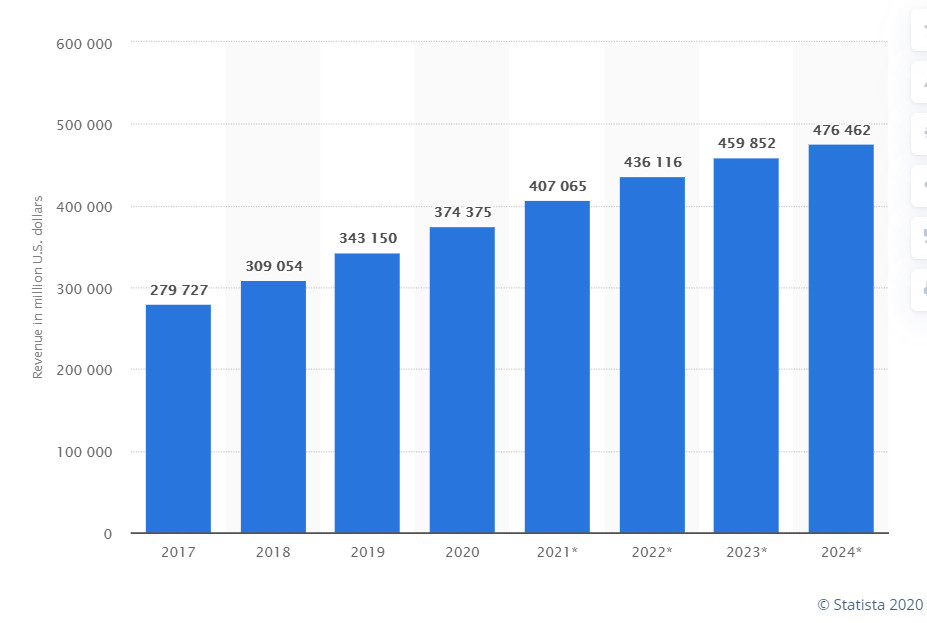 To be more specific, in 2017 sales for the e-commerce sector were 2.3 trillion dollars. In 2021, the revenue of online retail will grow to 4.88 trillion dollars.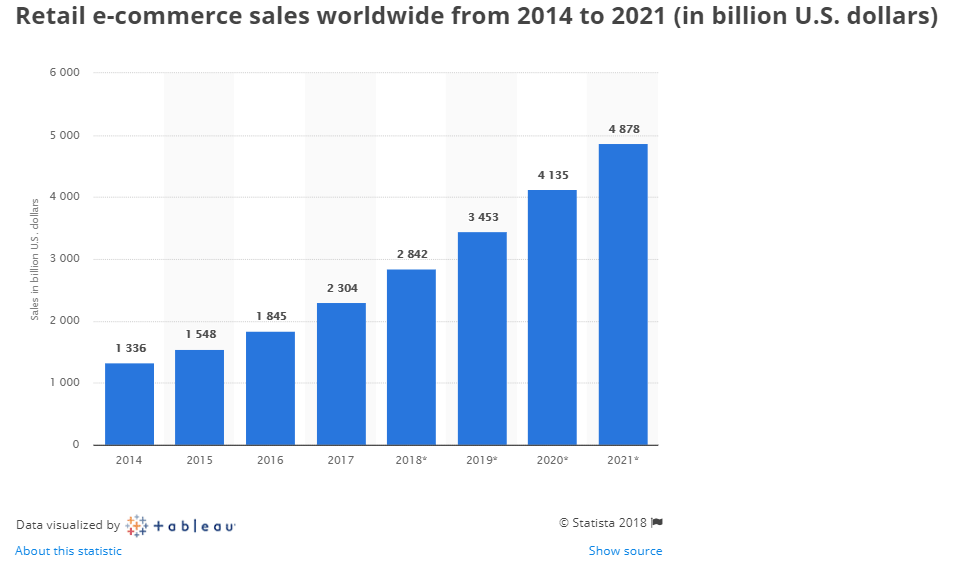 Moreover, building an online store has even more benefits for your retail business, including:
Huge competitive advantage since all your customers can make a purchase 24/7.
Expanding your customer base and launching into new markets because your business is not limited by your geographic location.
Online shops allow owners to track buyers' behavior so you can understand their customers better, providing them with more relevant items.
When building an online store, take into account that the e-commerce website's success depends on the integrated features. The feature-rich online shop will be convenient for shoppers while bringing extensive marketing and analytic opportunities to the owner.
The e-commerce retailer should have the full set of tools to manage the website successfully. Moreover, these tools should meet your business needs and fit business processes. For instance, when integrating the payment gateway to your website, remember to include security and multiple payment options. Besides, your future website should have email marketing capabilities to meet the expectations of modern shoppers.

As an e-commerce development team, Dinarys incorporates the most important features of an online store:
The capabilities to manage the website content
Marketing tools like discount codes and promotions
The simple and optimized checkout process
Analytic and reporting tools
Integrated articles or blog section
Integrated e-mail marketing tools
The payment gateway with multiple options for payment
Powerful e-commerce platform to upscale your website
Now we move to the most important stage that all future e-commerce website owners should go through.
Below you will learn about choosing an e-commerce platform, modern platforms benefits, and other milestones of online shop development.
How Long Does It Take to Build an Online Store?
Finding the best e-commerce platform
At this stage, it is vital to concentrate on your business goals, because the right platform could be a real game-changer for your online business. Since all businesses have different needs, we have gathered the most common requirements toward a good e-commerce platform that might include:
A low entry cost
User-friendly admin panel and low cost of development
Opportunities to scale your online store
Moreover, your future e-commerce platform should have a great community of users and developers to analyze how this solution influences the business success.​
It is important at this stage to read some forums, platform blogs and even support material to get the full picture.
You might also like: 10 Best Open Source Ecommerce Platforms for 2021
Below you will find the information about the milestones you should include in your research.
Compose a list of questions the new platform must answer
For that, you need to imagine that you already use the platform for your online business. The first question that could arise is "Can I add my whole product catalog at once, or must I add products one by one?"
Ask all the questions of the support staff or even the sales team. Another option is to hire an e-commerce agency and select the right platform according to your business needs.
If you are looking for answers on how to run a successful online store, take into account that some e-commerce solutions, like Shopify, have a free trial period. We recommend using this option to understand which one is the best for you.
Below, you can find the most common questions online retailers ask when building an online store.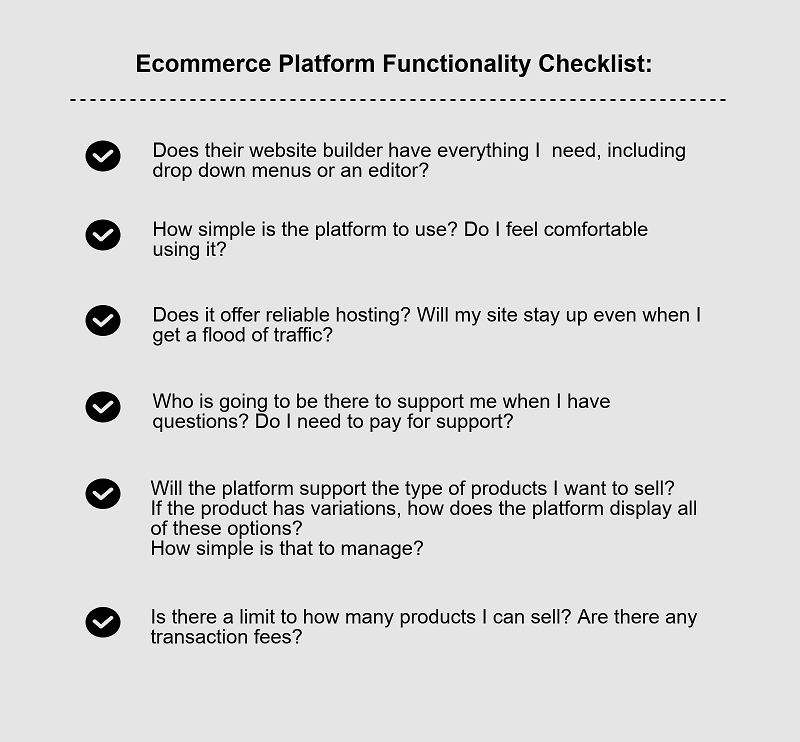 Compare the fee of several platforms: Compare the fee of platforms
If you want to know how to start a successful online store, we have even more useful information for you.
As you know, even open-source solutions are not actually free. Even if you set up an e-commerce extension for WordPress, you still need more services for online retail; including hosting, payment gateway, analytic tools and others.
When doing cost research, pay attention to the services they have included in the fee.
Many platforms like Shopware or BigCommerce have built-in features, unlike Shopify. If you want to surprise your customers with custom features, think twice since this is always a paid option.
We at Dinarys mostly recommend choosing Magento or Shopware - let's see their advantages.
Magento vs Shopware: basic comparison
A large number of extensions certainly speak for Magento. These make it possible to implement almost all customization ideas and introduce the requireв features. Magento also scores with the number of interfaces. The integration with systems such as SAP, OpenERP, Sage, Nova, Salesforce, and many more is possible here. Shopware, on the other hand, cannot offer as many integrations with other systems.

Magento is definitely a more common and widespread system. One point that is very positive for Magento is certainly the large community that supports the system. Another benefit of Magento is its B2B features. With version 2.2, some important functions have been added, but the B2B functionalities are only included in Magento Commerce. Magento offers a very solid basis for large and individual projects due to the many extensions.

Compared to Magento, Shopware, the shop system from Germany scores with a very convenient operation. Thanks to the page builder in the Community Edition, e-shop managers are a little more independent of agencies and can thus save budget. The steadily improving usability and user experience speak for Shopware. This aspect is particularly beneficial for store managers who work with the system every day and save a lot of time with a good user experience. Usually, you get a cheaper price with Shopware, this is due to the lower development effort and thus lower development costs.

The Dinarys team does not recommend Magento for small businesses. It is even more expensive to maintain and develop than Shopify. Still, if you want to create an outstanding online shop or even a two-sided marketplace, you can consider Magento as your e-commerce website.

If you are looking for a flexible solution to fit small business needs, go for Shopware as a cost-efficient yet robust solution.

To find out more about pricing and to find the platforms that fit your budget, contact the Dinarys team for a quick consultation.

| | | | | |
| --- | --- | --- | --- | --- |
| Platform | Initial Setup Cost | Hosting | Domain | SSL Certificate |
| Magento | $0 | $20-$600+ | $10/year | Free-$200 |
| Shopware | $0 | €1 | €17/month | Free-€199 |
| WooCommerce | $0 | $5-$60/mo | $10/year | Free |
| Shopify | $0 | $29/mo | $9/year | Free |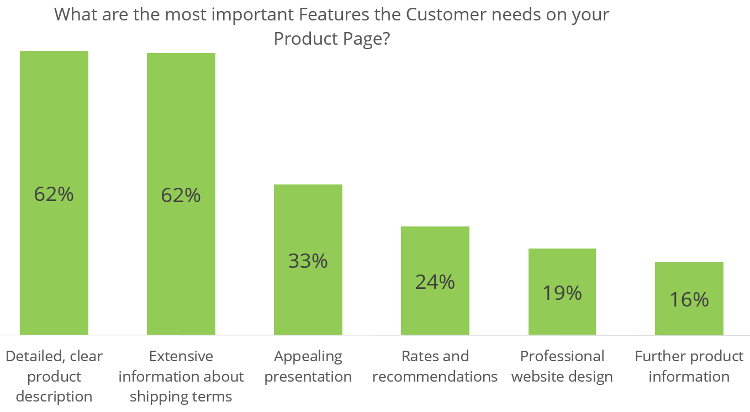 Setting up the e-commerce website
There is no easiest way to build an online store. However, your future e-commerce platform should have an easy setup process. The manual should explain all the stages you need to do before launching an online shop. These stages are:
Loading products
Setting up taxes
Registration of a domain name
Payment gateway integration
Plus others
Moreover, it will be even better if the platform supports social networks and marketplace integration; so you can increase the number of sales channels and increase your income.
The approximate cost to create a website is the following:
Small e-commerce website cost: $5,000 – $20,000
Big e-commerce website cost: $20,000
Keep reading for even more insights on how to create an online store and how to calculate the costs.
Find the platform with good design capabilities: Choose your website design
Remember, the design of an online shop is very important in terms of business success.
The online shop's look and layout is the first thing your customers see. To provide them with an excellent journey, your online shop design should have a good UX.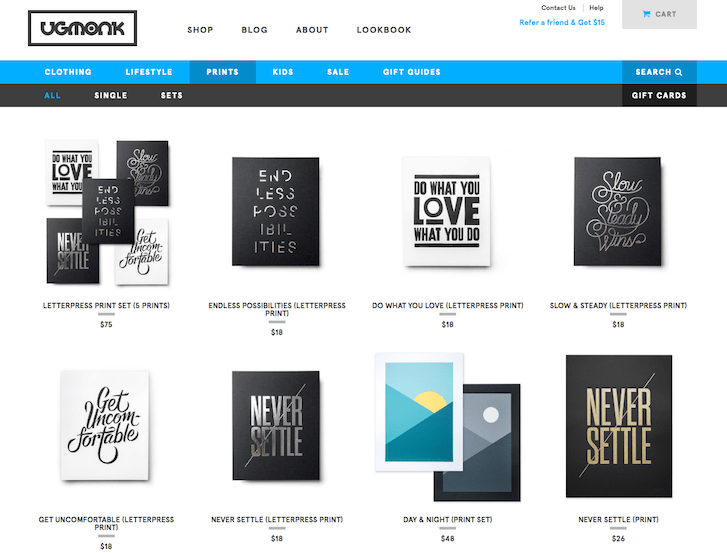 Image credit: Shopify
When finding the template for your online store, remember your brand representation.
Your future template should be customizable to make your online shop even more outstanding.
You might also like: How to Create a High-Converting eCommerce Landing Page
When looking for a way to run a successful online store, remember that e-commerce platforms have both free and paid themes and designs. Moreover, you can hire an e-commerce agency to develop an online shop design from scratch for more brand identity.
When looking for the most suitable theme, do not worry about colors. Try to concentrate on how the template displays your services or products.
The design of your future online shop should be both bright and intuitive. Remember, if your online shop design is overly styled, the customers will probably go to competitors who have a more convenient customer journey and check out process.
Another element you should pay attention to is an online shop navigation. It should be clear and intuitive to your customers.
With clear navigation, your customers are more likely to find the necessary items in various product categories and to make a purchase.
If you have a wide range of products and product categories, select the template with a horizontal navigation on the top of the page.
Another option is to use a template with product categories placed on the right or the left side.
Online shoppers do not want to spend time scrolling down the page. All important and relevant content should be placed at the top of the website.
You can use your homepage to show your customers all your product categories. Allowing them to start their journey from the very beginning.
Mobile commerce is very popular these days, so ensure your online shop theme has a responsive layout.
Without a good mobile shopping experience and streamlined checkout, you will lose a significant share of your potential buyers.
Launching Your an Online Store: How to make it
After completing all the previous stages, it is time to take your website live. However, before that, you need to check some essential features to be sure that your website will process orders correctly. The following steps will help you to set all the necessary features and run an online store.
Make sure your online store looks professional
You need to be sure that your online shop looks and feels good before the launch. Pay attention to the customer journey and design. Moreover, a particular design might attract particular customers. To make sure your e-commerce website is suitable for your target audience, you can hire an e-commerce team to develop a customer profile and edit the design according to your customer preferences.
Another essential point is a product display. If a product page will be flooded with many elements, customers can not concentrate on the products they want to buy.
Online shoppers make the purchase decision within 3-5 seconds. If your website does not look trustworthy and easy-to-use, you will lose your profit because of the high abandon rate.
Below you can see the Marucci Sports example on how to use focused and clean design.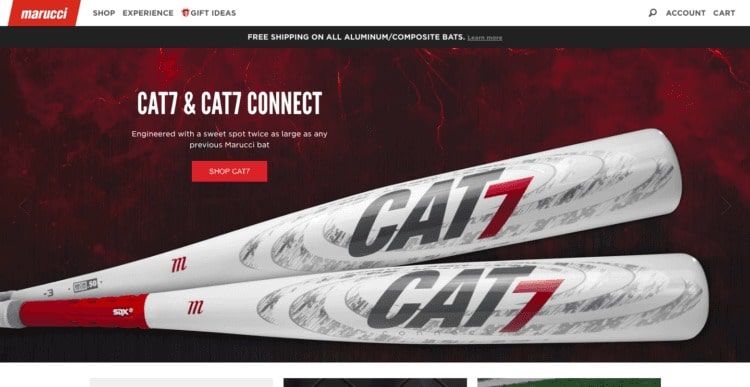 Select the right payment gateway
The payment gateway is essential for every online shop. If you choose the wrong or an inconvenient payment module, your customers will not buy at your shop. Check what payment options your e-commerce platform supports.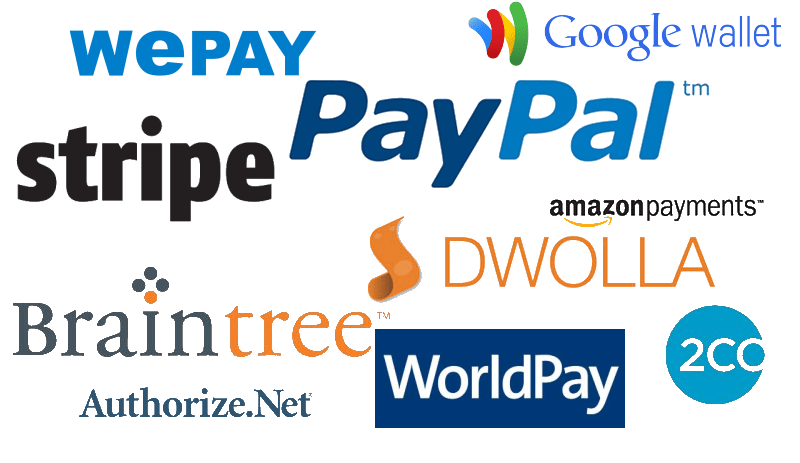 You might also like: How to Integrate a Payment Gateway in Your eCommerce Website
Before deciding on your payment module, you should ask the following questions:
Does the solution have set up fees?
Are there any transaction fees?
Does the gateway have minimum balance requirement?
How to deal with transfer delays?
Is there any technical support?
The cost of payment gateway integration varies from $250 to $5,000 initially, and from $0 to $150 per month for the gateway provider.
Find your perfect shipping module
This stage could be complicated for beginners in e-commerce. Still, shipping options are essential for your future success. It should suit not only your platform, but also your target audience, your business model and your type of products.
Remember that shipping is essential for the future success of your e-commerce website. It could be an important value proposition and attract your customers. However, at the same time, it could push them away.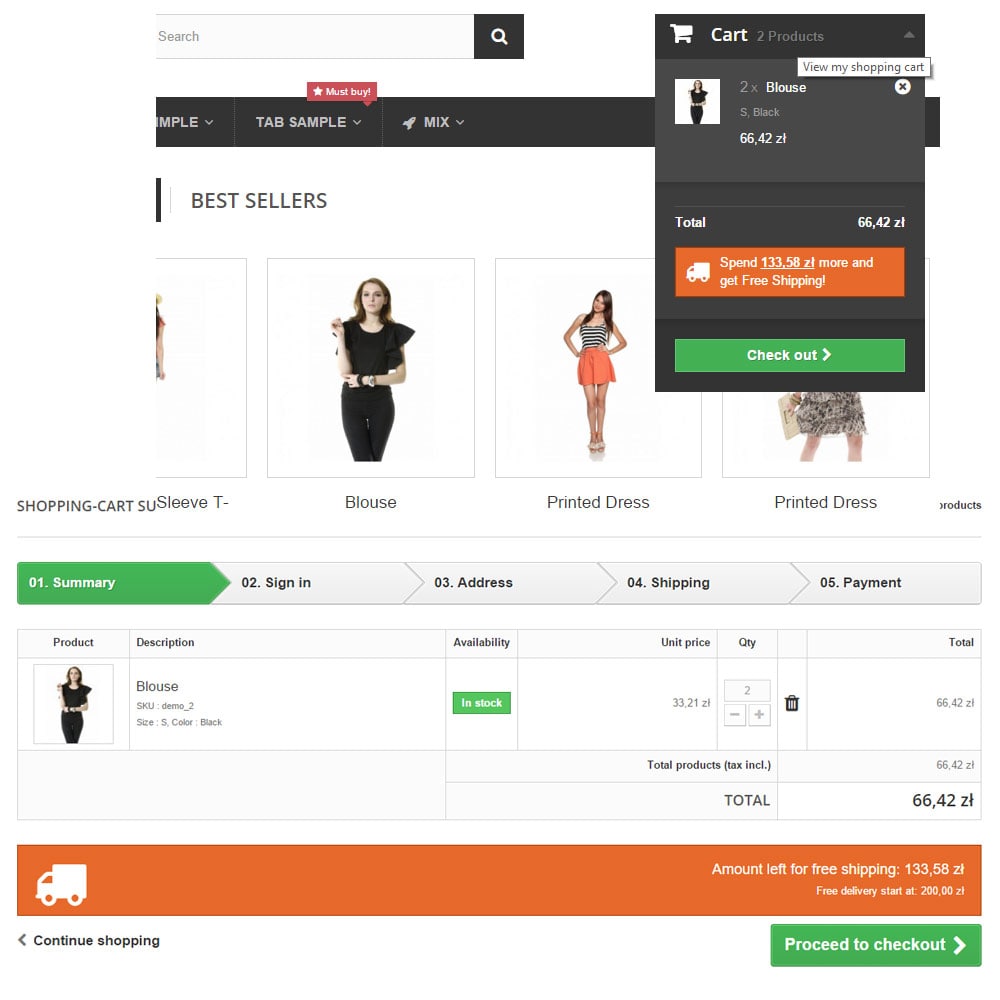 Image credit: prestashop
If this is your first experience in e-commerce, it is better to start small.
You can provide your customers with domestic shipping before diving into international shipping.
Below we have a couple of recommendations regarding online shipping for future e-commerce retailers.
Take a close look at your competitors. That way you can get some insights on what really works in your specific industry.

Your shipping policy should be straightforward. Moreover, most e-commerce websites put the shipment fees and the date of delivery on the product and checkout pages to avoid customer frustration.

Modern shoppers do not want to wait too long for their orders. Try to find the fastest carrier. The time of delivery is as important as your business income.
Take into account that free shipping is a great way to increase your average order value.
How Much to Build an Online Store?
The cost to develop an online store depends on the ecommerce platform you choose, your store design, the required features and integrations. Below we will provide you with approximate pricing breakdown, however, we recommend requesting a custom quote from a web development company to understand your costs more precisely.
Estimate the total cost of an e-commerce website development: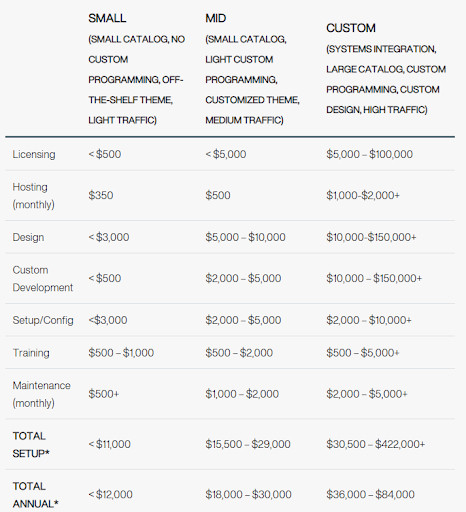 The average development cost is shown in the table:
| | | | |
| --- | --- | --- | --- |
| | Small | Mid-Size | Enterprise |
| Design | $5,000 | $10,000 | $35,000 |
| Programming | $2,000 | $15,000 | $75,000 |
| Integrations | $500 | $8,000 | $20,000 |
| Data Imports | $0 | $5,000 | $10,000 |
| Hosting (annual) | $500 | $6,000 | $10,000 |
| SEO (annual) | $12,000 | $36,000 | $60,000 |
| Average eCommerce Website Cost (Annual) | $20,000 | $80,000 | $210,000 |
Conclusion
If you are looking for answers on how to start a successful online store, remember it consists of several elements and stages.
First of all, you need to find the best e-commerce platform that will satisfy your business needs and goals. Then, you need to select the features that will be helpful in managing your online store while providing your customers with a smooth journey.
Do not forget to select the perfect e-commerce theme that will reflect your business identity and suit your target audience. If you have some ideas about the design of your future online store, contact the Dinarys e-commerce agency to develop it from scratch.
How to make your own online store with Dinarys
The team can help with your future e-commerce business from the very beginning. Starting with the industry analysis and QA, we provide a wide range of development services. If you already have an online shop, our team can give you some useful insight on how to increase sales based on our expertise.
Want to read more
Get fresh articles, news and case studies to your email firstly
Related articles