How to Create a High-Converting eCommerce Landing Page
eCommerce Mar 28, 2020

Main / Blog / How to Create a High-Converting eCommerce Landing Page
A well-developed landing page to sell products is a key tool to persuade your customers to buy from your online shop; however, many e-businesses do not know how to create an eCommerce landing page design that will convert visitors into customers.
In this article, we have prepared the top ten insights for effective and best selling landing pages. You will also find the best eCommerce landing page examples to improve your website and boost conversions.
This case study by Deloitte shows that, out of 2000 online shop visitors, approximately 54% abandon their shopping carts. Why? Let's look a bit closer. First, on average, 96% of online shop visitors are not ready to purchase anything. For the second more detailed explanation, Statista has more info.
Here, you'll see the most common reasons why customers abandon their eCommerce website shopping carts.
Considering this information, let's look even further. What is a landing page, exactly?
What do you need to know when building landing pages for eCommerce?
We can group landing pages into two categories:
Lead generation landing page
eCommerce landing page
The first type of landing page is aimed at receiving customer information. The second type is devoted to converting online shop visitors into customers. For that, a landing page should communicate a particular message to customers, in order to perform a particular action.
In fact, every page your customers land on is a landing page. For instance, a landing page could be:
A homepage
Category pages
Product pages
These are the most popular landing pages a first-time visitor sees when they enter online shops.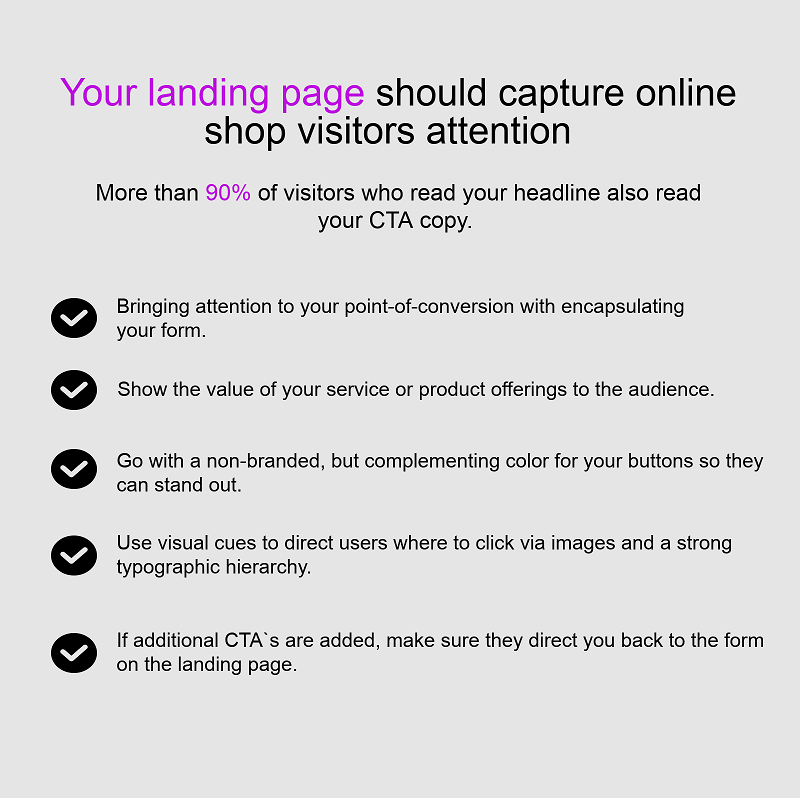 Many things have changed since the time when a customer's journey was linear. You can check your online shop analytics and you'll find that some pages are more popular than the homepage. There is a tendency for customer journeys to be even more fragmented, since there are more channels and new points of brand engagement.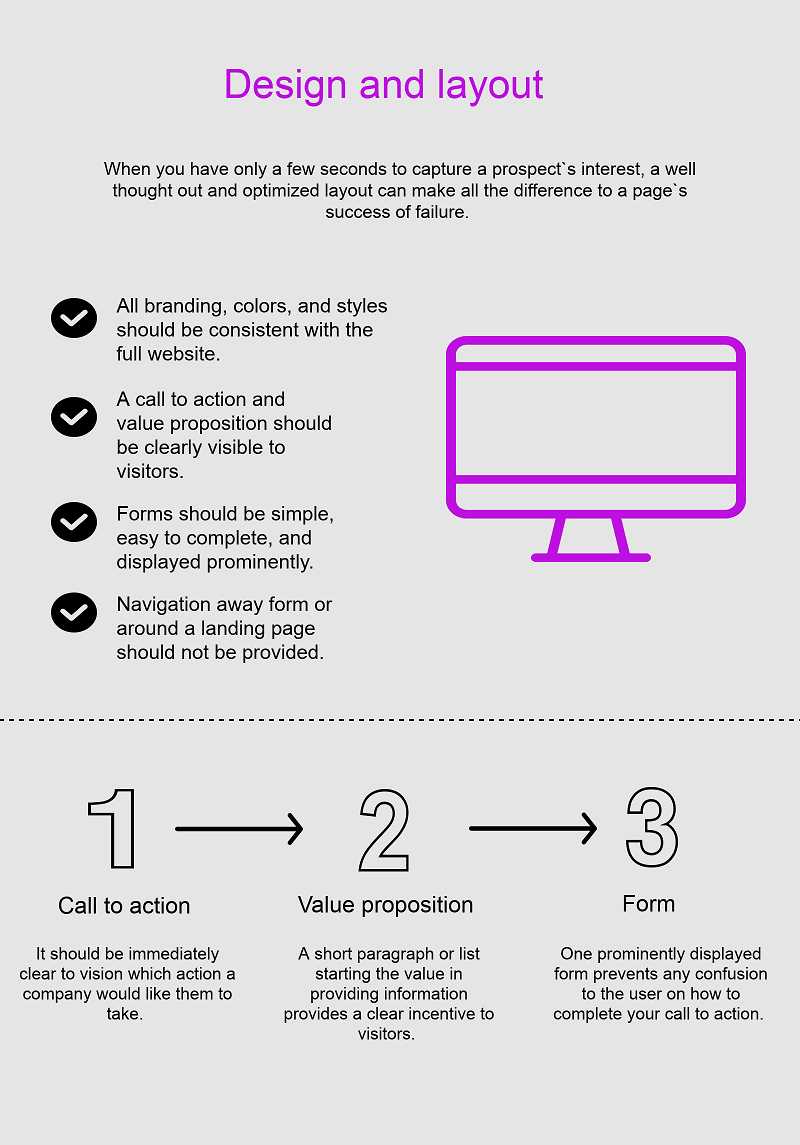 The tips we are going to discuss are highly applicable to almost all pages in your online shop. All pages with high traffic must attract prospective customers' attention, explain the value of your items, and convince them to make a purchase.
How can you make high converting eCommerce landing pages? In the article below, we share the best eCommerce landing page design inspiration.
1. Detailed images for your products
Do your product pages have low conversion rates? In this case, using high-quality images is a great solution for your best product landing pages. Your customers should see your products in great detail. This example by TYME shows us how to use visual content to persuade customers.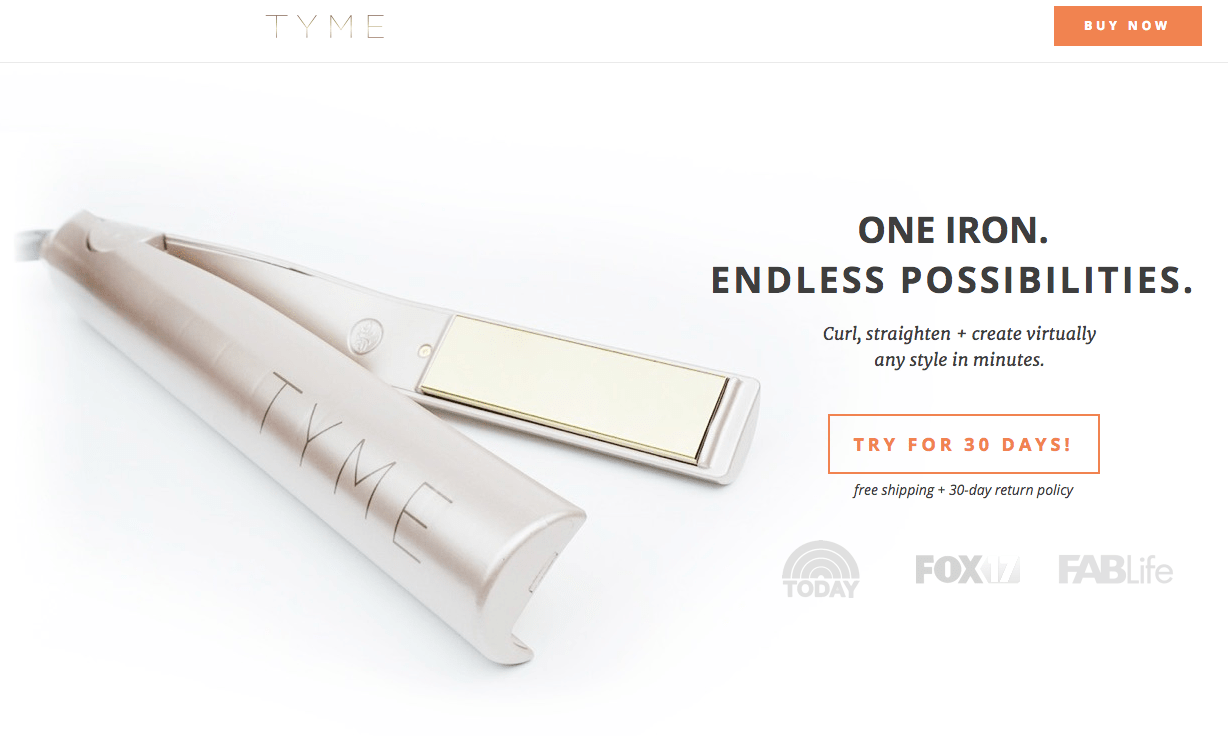 Image source: klientboost
With high-quality close-ups of each product, the company gives online shop visitors detailed information.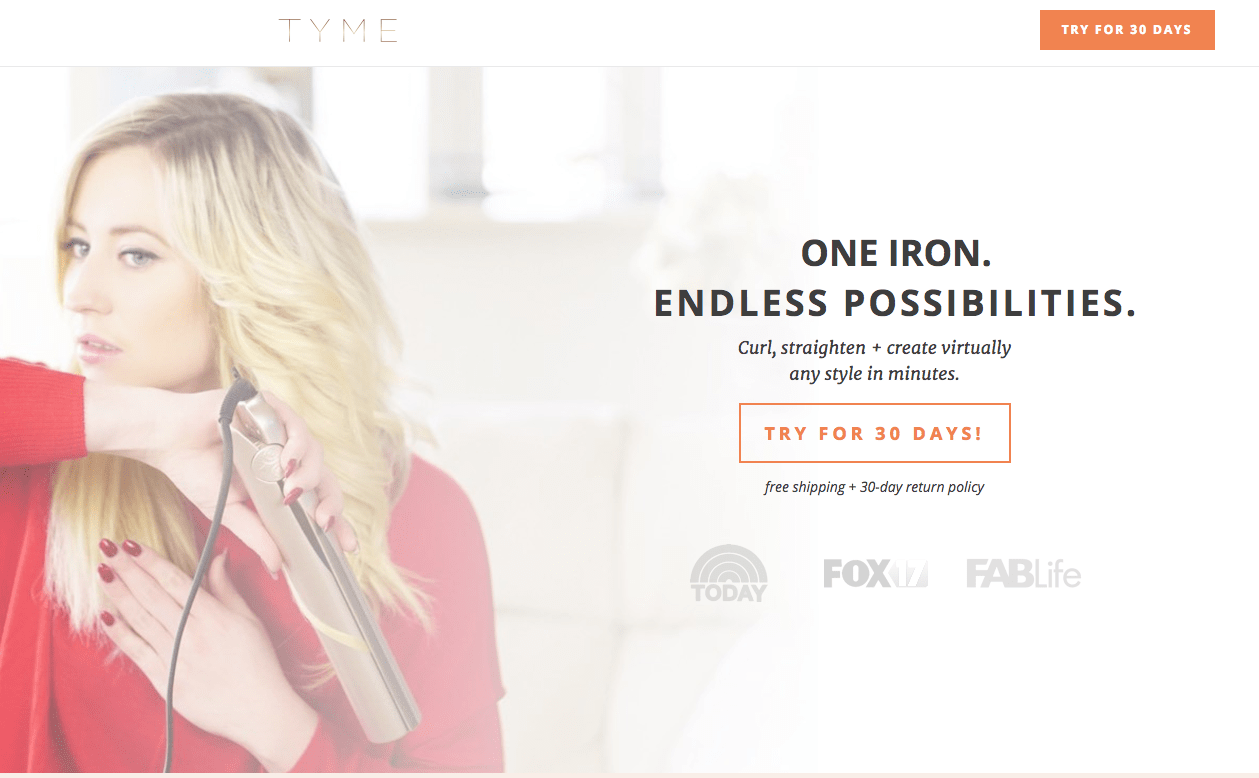 Image source: klientboost
The company also saw a decrease in conversion by 44% on the pages where they placed images showing how to use this product. The reason is simple. Such images are uninformative and prospective customers cannot compare them with competitor products.
If an online shop specifies just one item, it should show customers all the details of the product to persuade them to purchase it and give the product value. Online shop visitors, who are not sure whether to buy a product or not, are looking for additional information to make a final decision.
2. Using testimonials on landing pages
Building trust in an online shop is always a great task. What can we learn from eCommerce landing page best practices? First, that most of them use customer reviews to help improve their business. Next, consider testimonials. These are great for winning customers' trust. In addition, don't forget about the proof behind social media.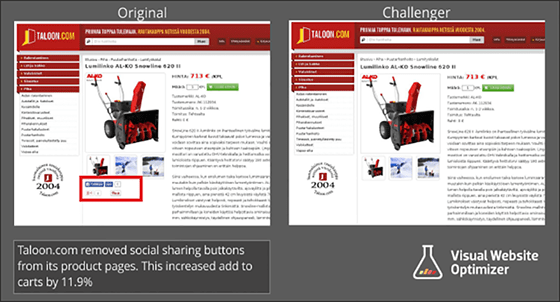 Image source: klientboost
If you still wondering how to create a high conversion landing page, review this example by Taloon.com. They removed social sharing buttons from landing pages with products to encourage customers to stay on the website. Using that tip, the company raised its "Add to cart" conversions by 11.9%.
Using reviews is also a great way to improve landing pages. Still unsure? In the statistics below, you will find some figures that will convince you that this strategy really works.
When using customer reviews, it is important to not delete negative ones. When customers consider buying a product, they want to see both the positive and negative sides of the product.
Also read: Best Conversion Rate Optimization Tips for Your Ecommerce Website
Revoo states that bad reviews increase conversion by 85%. Take into account that customers who are looking for negative reviews on a product are more interested in making a purchase, ultimately.
3. Special offers for loyal clients
Do you want to make your landing pages more effective? Try using a discount or promo to achieve this. In this secion, we will share some secrets about special prices.
Yoast teaches us that online shops can use discounts not only to convert online shop visitors into customers. Moreover, discounts are a great tool to make your customers even more loyal.
Does this strategy actually work? Yes, it does - and there's proof in the case study by Corkscrew Wine Merchants. They placed a "15% discount" on most popular landing pages, and it improved their conversion by 148.3%.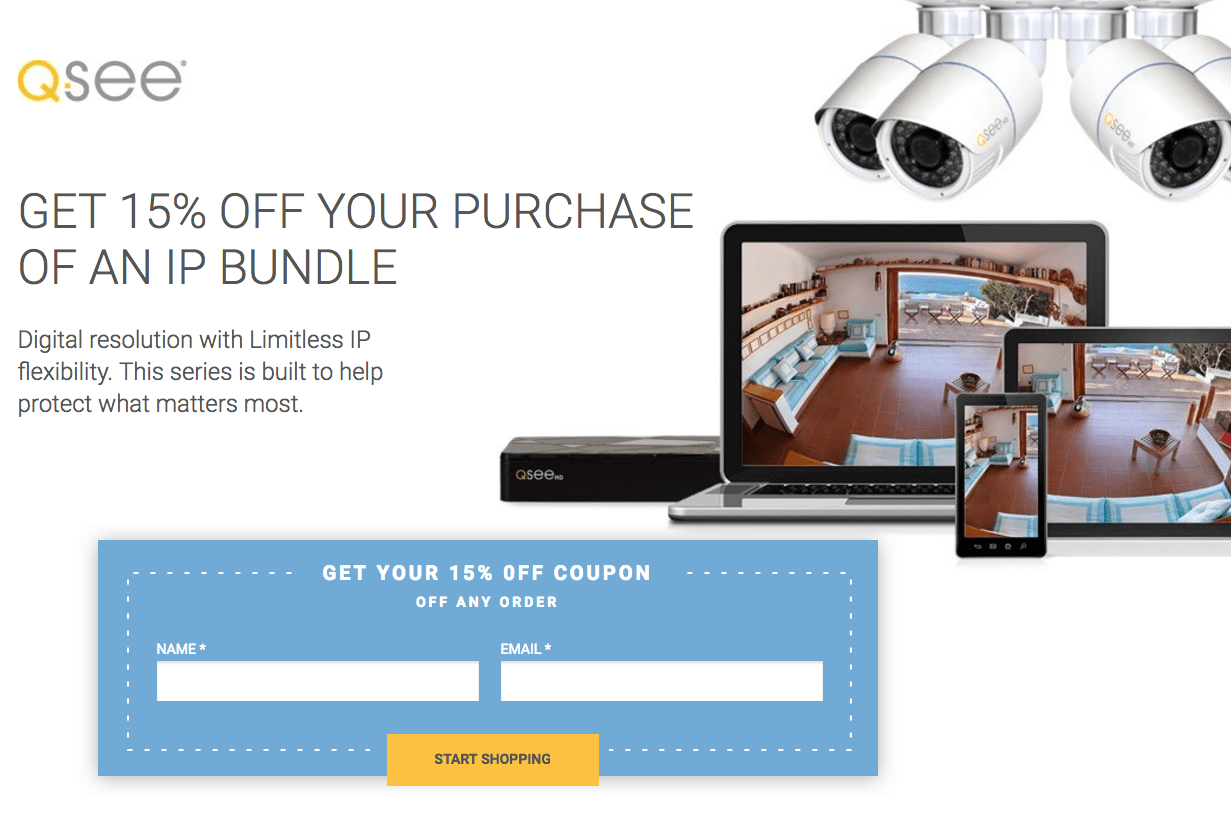 Image source: klientboost
Need more examples on how other companies use discounts on landing pages? Q-See has more tips here.
Another way to attract more clients is to inform customers about special offers in the title. In this case, the company increased conversion by 4%.
4. Lead your customers using Call-To-Action copy
Placing a copy of your CTS button on the page makes the page goal more clear to customers. KlientBoost agency has tested three different call-to-action buttons, aimed at different segments. The CTA with the text LEARN MORE refers to online shop visitors who know nothing about the online shop and the goods within.

Image source: klientboost
Also read: 10 Main Reasons to Redesign Your e-Commerce Website
They used TRY FOR 30 DAYS to attract customers who already know about the product.

Image source: klientboost
Once website visitors are sure about the purchase, the BUY NOW call-to-action helps them to take their final step.

Image source: klientboost
So, what was the result? This case showed us that the TRY FOR 30 DAYS button raised conversion by 18%, compared to the 'Learn more CTA' option. The button with BUY NOW CTA was more effective by 2%.
5. Inform customers about products that are out of stock
When customers want to buy a product that is out of stock, they feel quite disappointed. How can you deal with that?
First, your landing page (with product information) should inform customers that this product is out-of-stock. At the same time, if the product is popular among others, it should be of high quality, allowing users to already trust this product.
The second thing you should do is use the Notify Me option. With this option, you inform customers when the product will be back in stock. In addition, online shop visitors will provide you with their email address, which you can use in the future for further marketing activities.
One more tip to create an eCommerce landing page design that increases sales is to inform online shop visitors how many items are in stock. This technique will stimulate them to buy the product now, especially if there are low quantities remaining.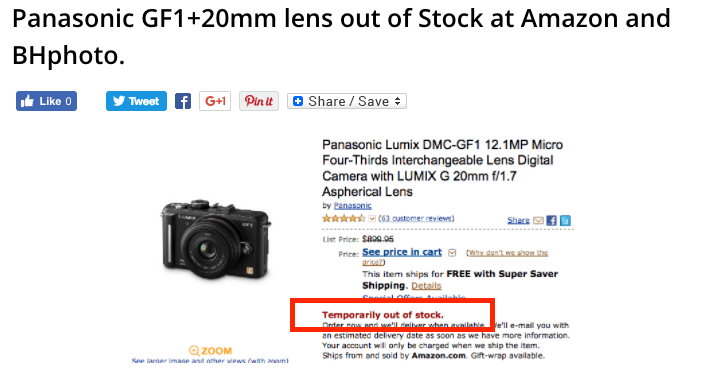 Image source: klientboost
As an example, you can see how Amazon applies this tip.
6. Use the product zoom feature
With this feature, your potential buyers can see your product images more precisely.
How do you add a zoom feature to an online shop product page? With one of these tools:

Image source: klientboost
To provide customers with more features, use Magic Toolbox's Magic 360. This tool allows users to rotate through the entire catalog of online shop products.
7. Adding product categories on a landing page
Another secret to high-converting eCommerce landing pages is categorizing products in groups.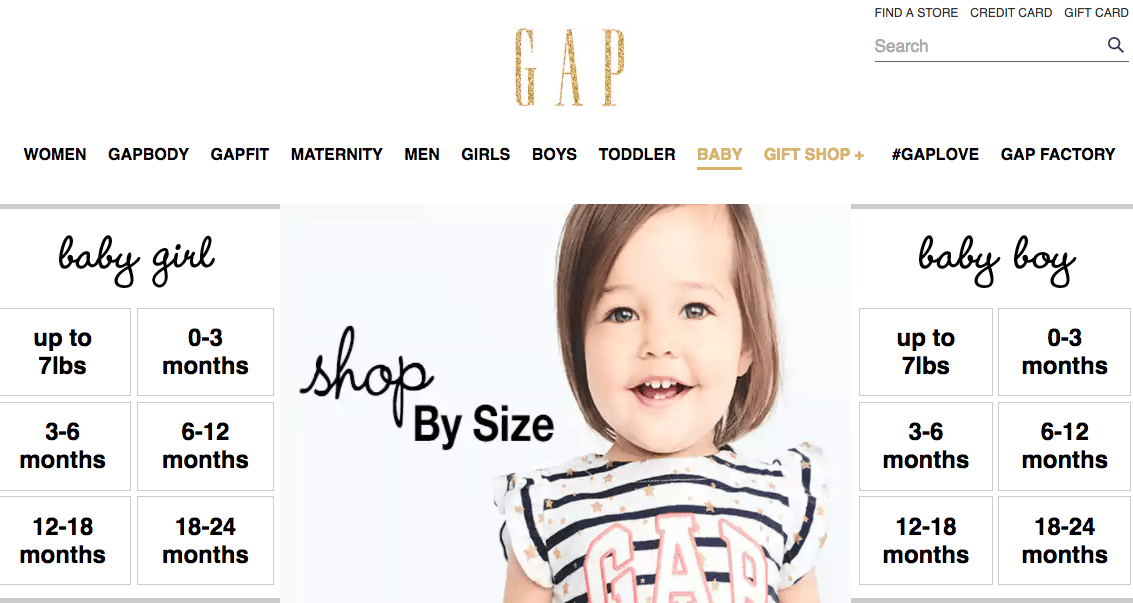 Image source: klientboost
Below you can find examples from Baby Gap and Bold Commerce, showing how these companies use product categories.
Using this tip, you create a more smooth and convenient customer journey. If the categories are easy to navigate, online shop visitors can find what they need and buy it. Many eCommerce leaders use this common practice of organizing product types.
8. Short order forms to improve the customer journey
The number of fields in your order form influences conversion a lot. This is a very important stage of the sales funnel because online shop visitors are engaged and ready to buy. Because of this, it is important to consider what type of information you ask and in what order.
If you place the questions in the wrong order, online shop visitors will abandon the checkout process.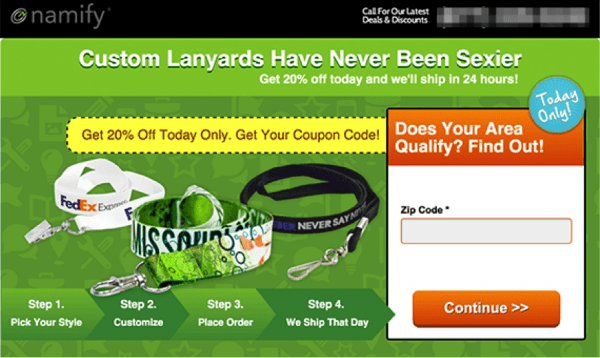 Image source: klientboost
In the Namify example, we can see how the company used their checkout page. They asked online shop visitors to enter their zip code first. With the improved checkout process, Namify improved conversion by 311%.
9. Live chat to increase customer satisfaction
By using live chat boxes, your online shop managers can help to convince hesitating customers. How? Simply by answering their questions.
The case study conducted by Maru/edu said online chat boxes are extremely helpful for online shoppers. To be specific, of 2,000 customers, about 31% are using live chat. In addition, 73% are satisfied with this channel of communication and 67% of online shoppers found this method of communication easy to use.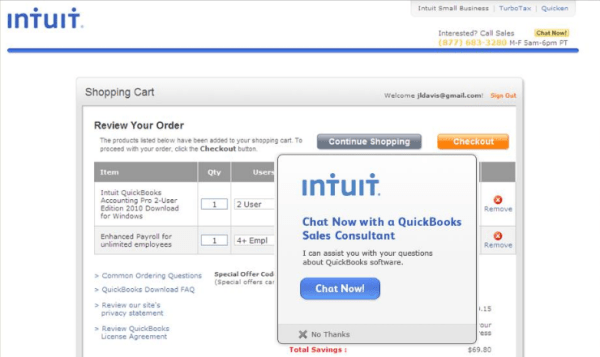 Image source: klientboost
Why are live chat boxes so popular among online shop owners? Because they increase sales, conversion rate, and order value. After adding a live chat box, Intuit achieved great results and increased the average order value by 43%, along with an increased conversion rate of 20%. Live chat is also great because online shoppers can communicate with managers anonymously, giving them an additional level of comfort.
10. Special page with sizing info
If your products have sizing and dimensions, create a special page with all the relevant information. When your customers are aware of product details, they are more likely to make a purchase.
If it is still not clear how your page should look like, take a look at the example by Marmot.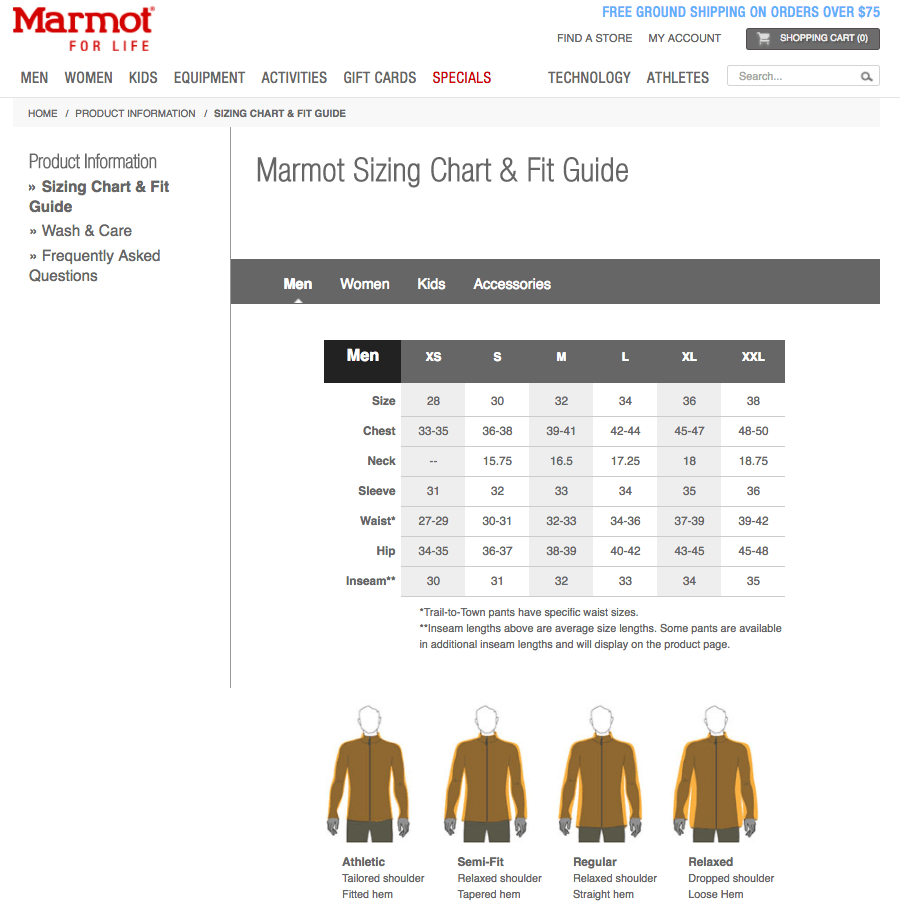 Image source: klientboost
Also read: How to Launch a Successful e-Commerce Website: The Ultimate Checklist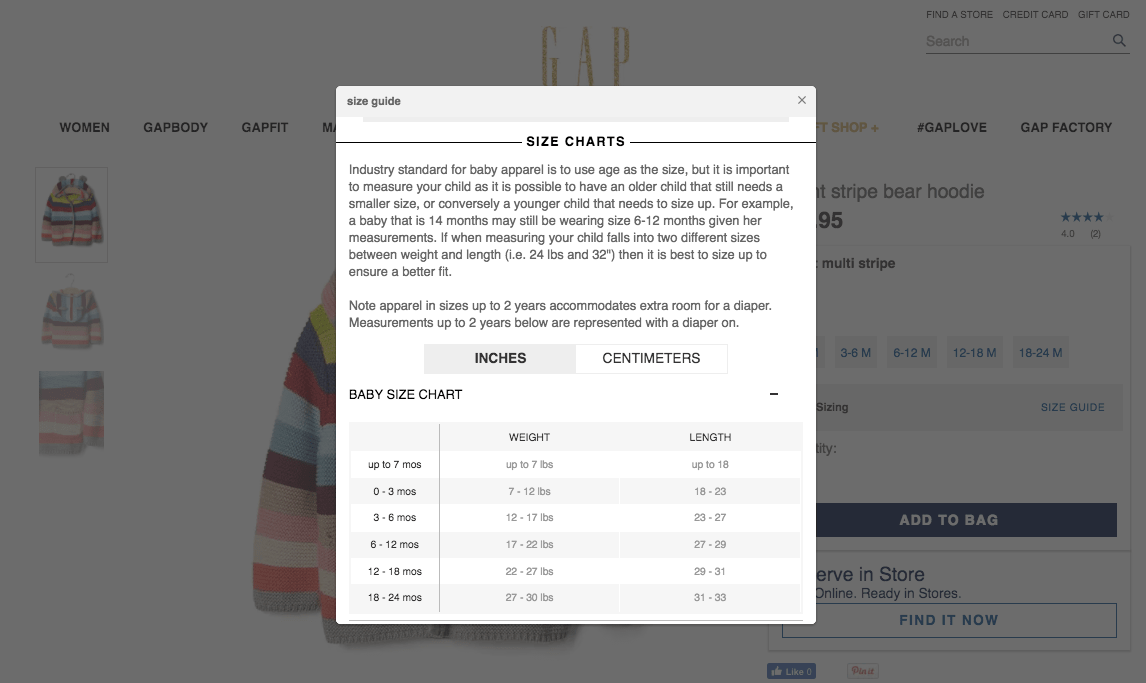 Image source: klientboost
Another example is Baby Gap's online shop with its pop-up size guide.
What tip will work for your online shop? Perform A/B testing to find out the best strategies for your eCommerce landing page. Using the eCommerce effective landing page design ideas we told you about, you can increase sales, improve conversion rate and enhance the customer journey.
Top 5 eCommerce landing pages
In this part of the article, we have prepared the most successful examples oftop converting landing pages.To make you understand why these pages are great, we also added some commentary, below. So, prepare yourself and get ready to take down some notes on how to improve your landing pages.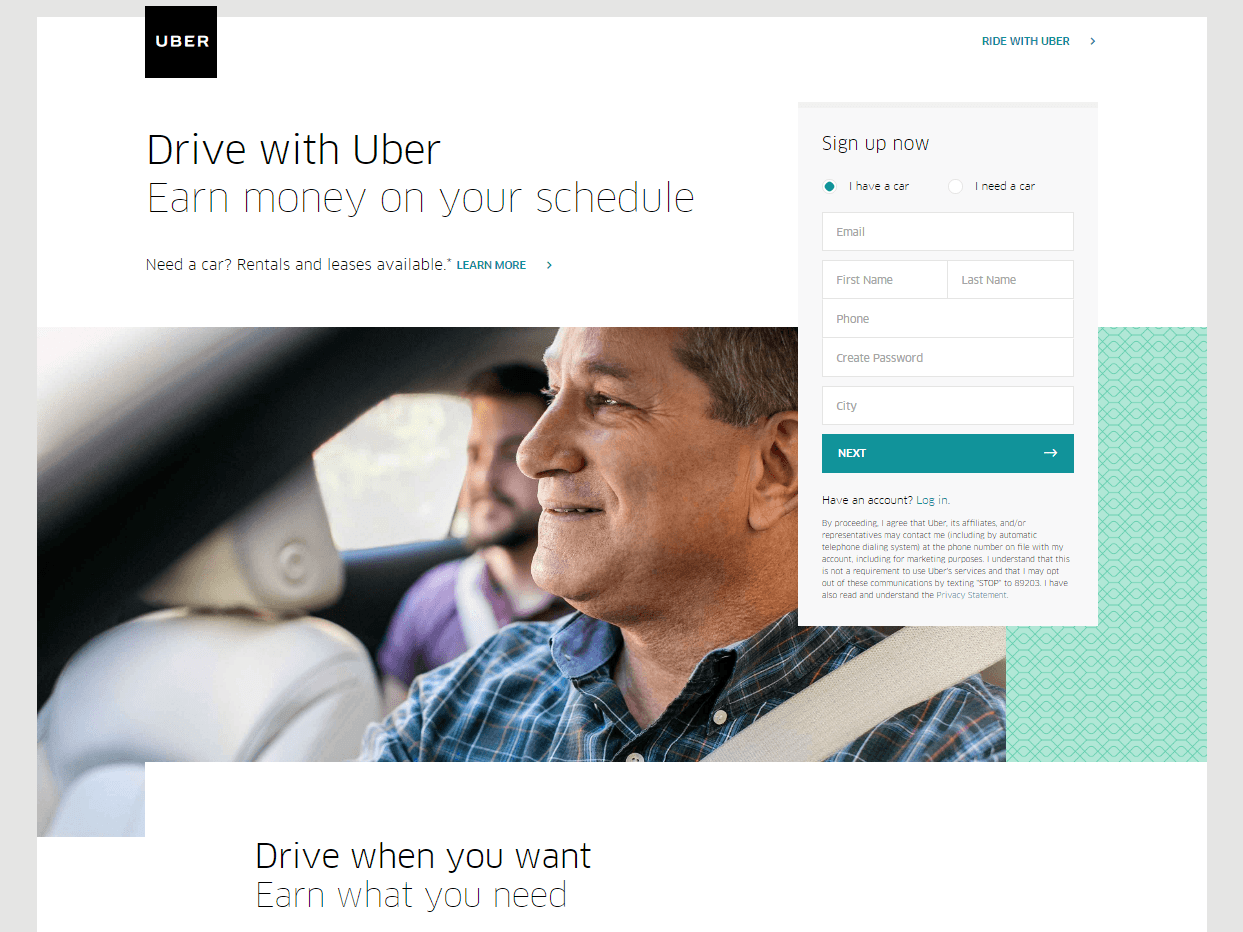 Uber
The company added a headline so that website visitors would see the clear benefit. In addition, the company used a short contact form to increase conversion on this landing page.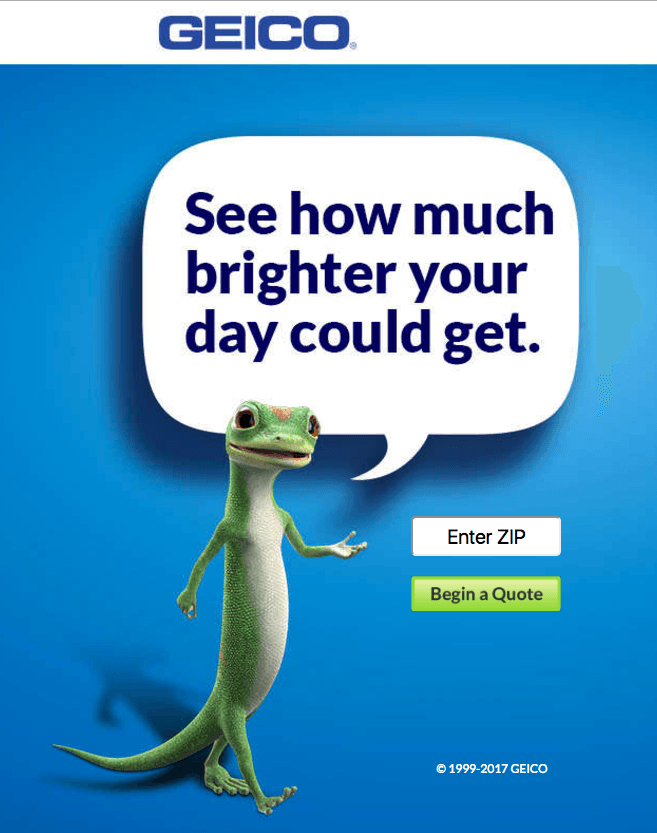 Geico
For this website page, the company used a non-hyperlinked logo. Why? The answer is that they want visitors to stay on this particular page. Pay attention to the fact that the form is extremely short. It consists only of one field for the customer's zip code. Later in the process, the form gathers more information from the visitors. The company uses CTS button copy; pay attention to the fact that the footer has a minimalistic design. The company eliminated links to social accounts and other pages in order to avoid any distractions for the customer.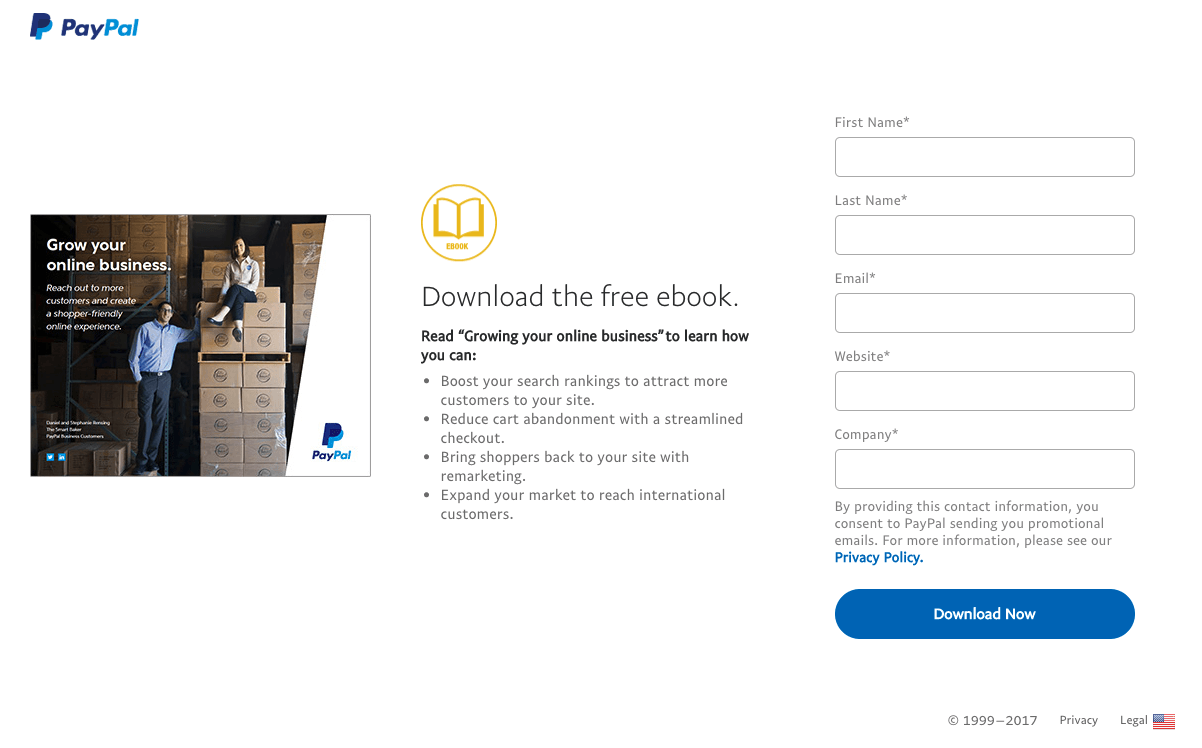 PayPal
This company attracts visitors by using the word "Free." From the first visit, prospective customers understand the benefit of the company's offer. Then, landing page visitors pay attention to the blue CTA button. To communicate benefits, PayPal uses bulleted copy. Website visitors pay attention to this list, too. The company shows visitors what they will get from this offer using visual content.

HubSpot
This is a great example of how to make a landing page convenient to navigate through. HubSpot uses bulleted copy and short paragraphs and, to further attract customers' attention, they use color for the CTA button. An additional tip from this company is to use multiple CTAs. This way, you will convince prospective buyers to convert.

WordStream
This landing page has a creative headline. The main offer here is a little-known secret solution that keeps website visitors wondering. The next great element of this landing page is the fallen chess piece, which works like a visual aid and points to the CTA button. The company decided to emphasize the word "Free." in their copy. That way, the company plays on the customers' desires to get something for free.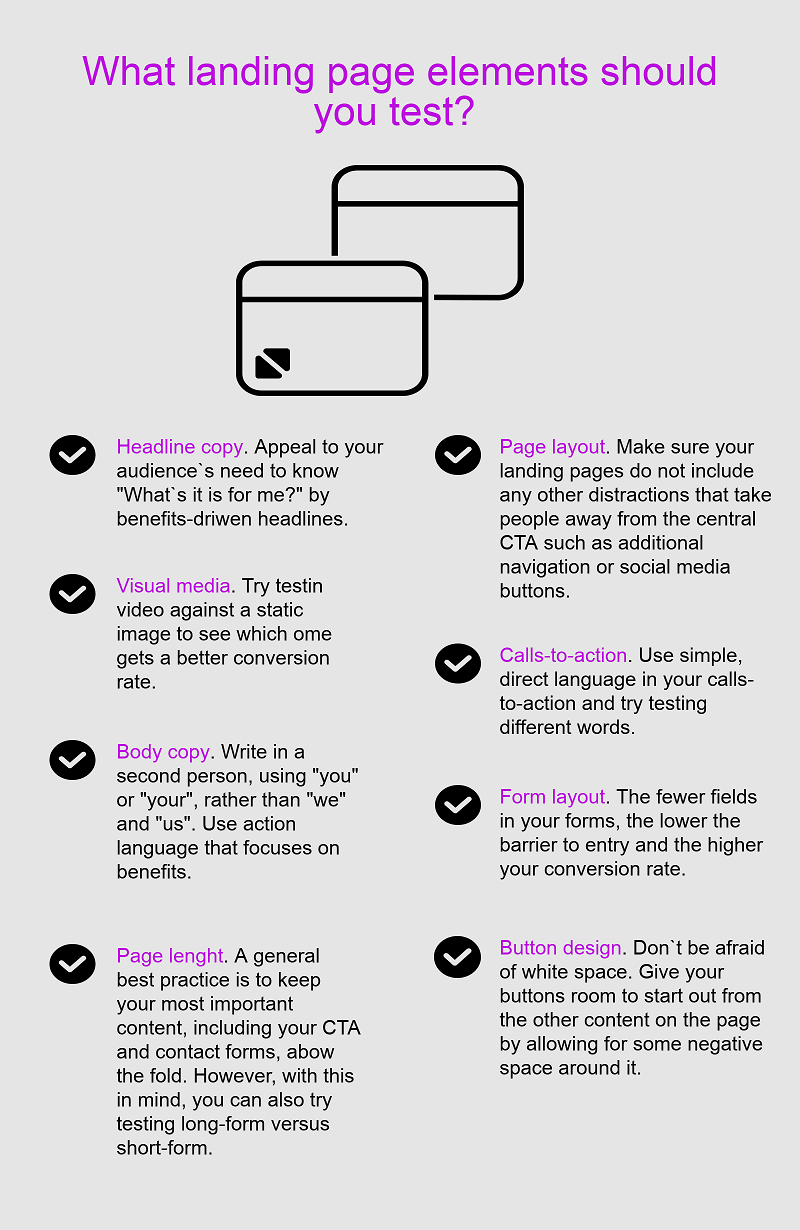 Conclusion
There are tons of tips for getting your landing page to increase sales; however, to be sure of strong results, you can start with the ten tips we described in the first part of this article. The experience of eCommerce leaders is a great starting point to make your online shop more profitable.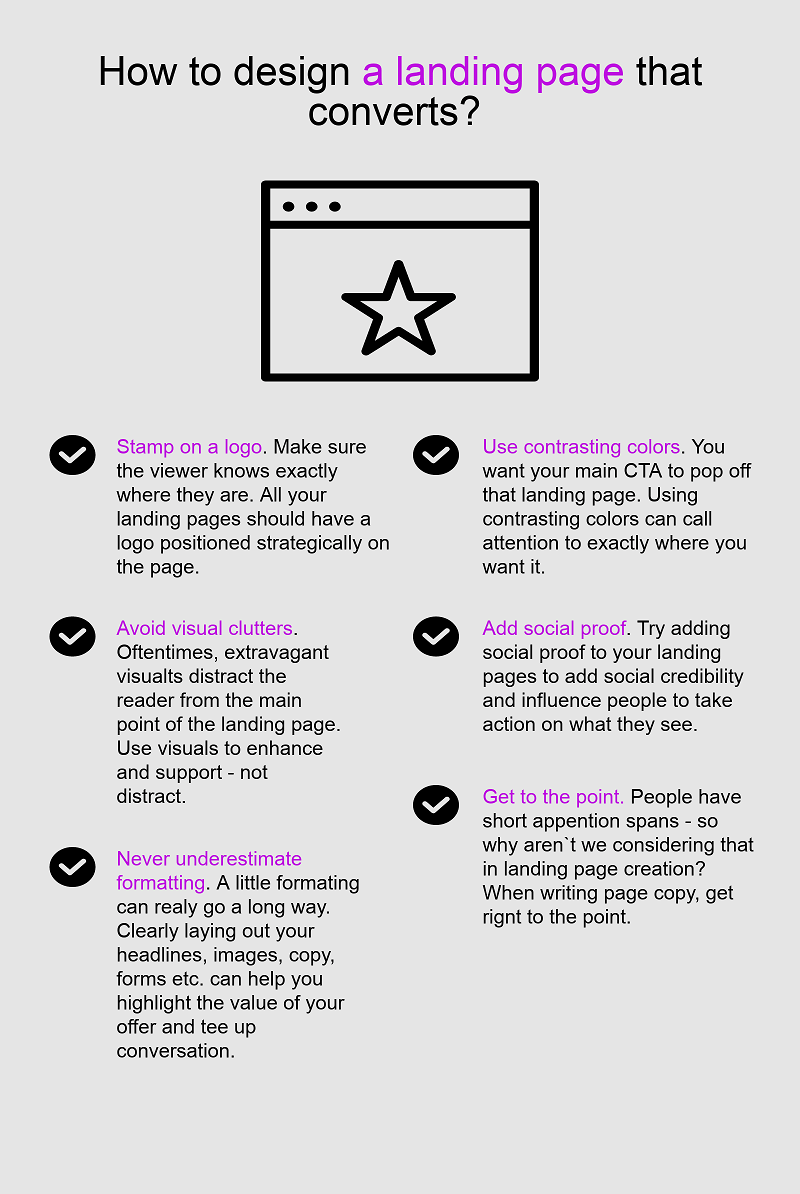 When developing a design for an eCommerce landing page, be clear about the actions you want shoppers to take. Make the message clear and short.
The Dinarys team wishes you a high conversion rate!
How can Dinarys help your online shop?
Do you have an online shop with low conversion? Want to know how to create a high converting landing page?
Don't panic. Being experts in eCommerce and UI/UX design, Dinarys can help you in multiple ways. Business analytics and our QA team can help you to improve an eCommerce website, providing a bug-list and full competitor analysis. Interested in learning more? Fill out our form and the team will get in touch ASAP to start your project.
Want to read more
Get fresh articles, news and case studies to your email firstly
Related articles