How to create an Online Clothing Store in 2021
eCommerce Jun 04, 2020

Main / Blog / How to create an Online Clothing Store in 2021
With developed internet technologies, people now have the option to purchase items online. This is a very comfortable way of shopping, especially for those who are living busy lives and have no time to visit physical stores.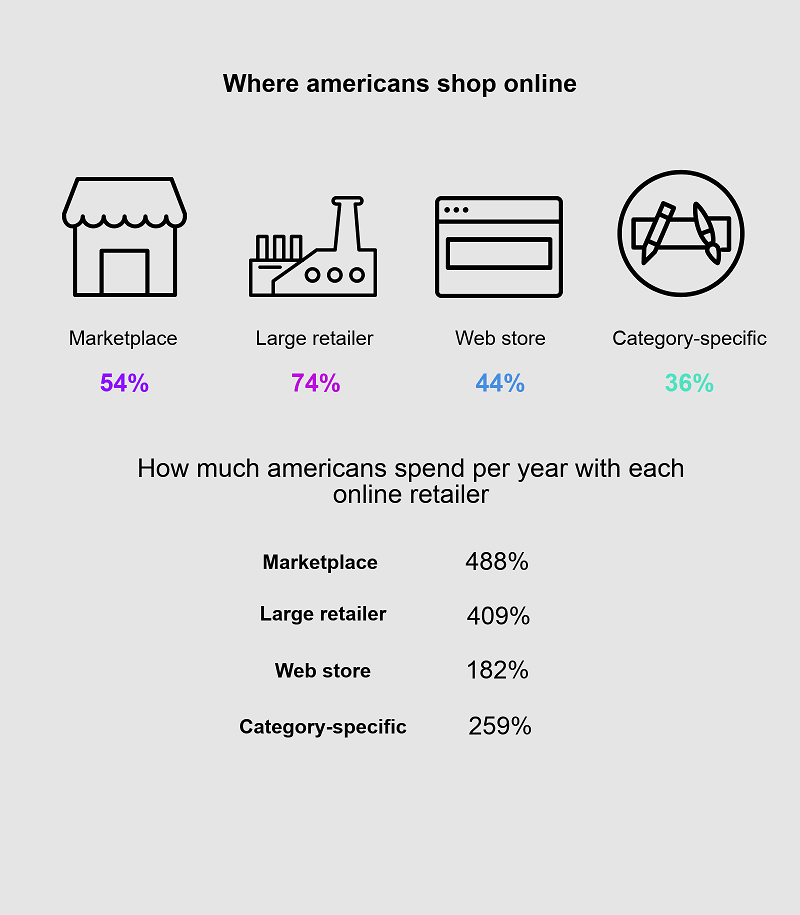 If you have decided to rethink your online clothing store business plan in 2021, this is the right time. Why? Because of high demand and endless online shop-building opportunities which can allow you to build a clothing website with the help of an eCommerce agency or even on your own. To be more precise, let's look at some of the data: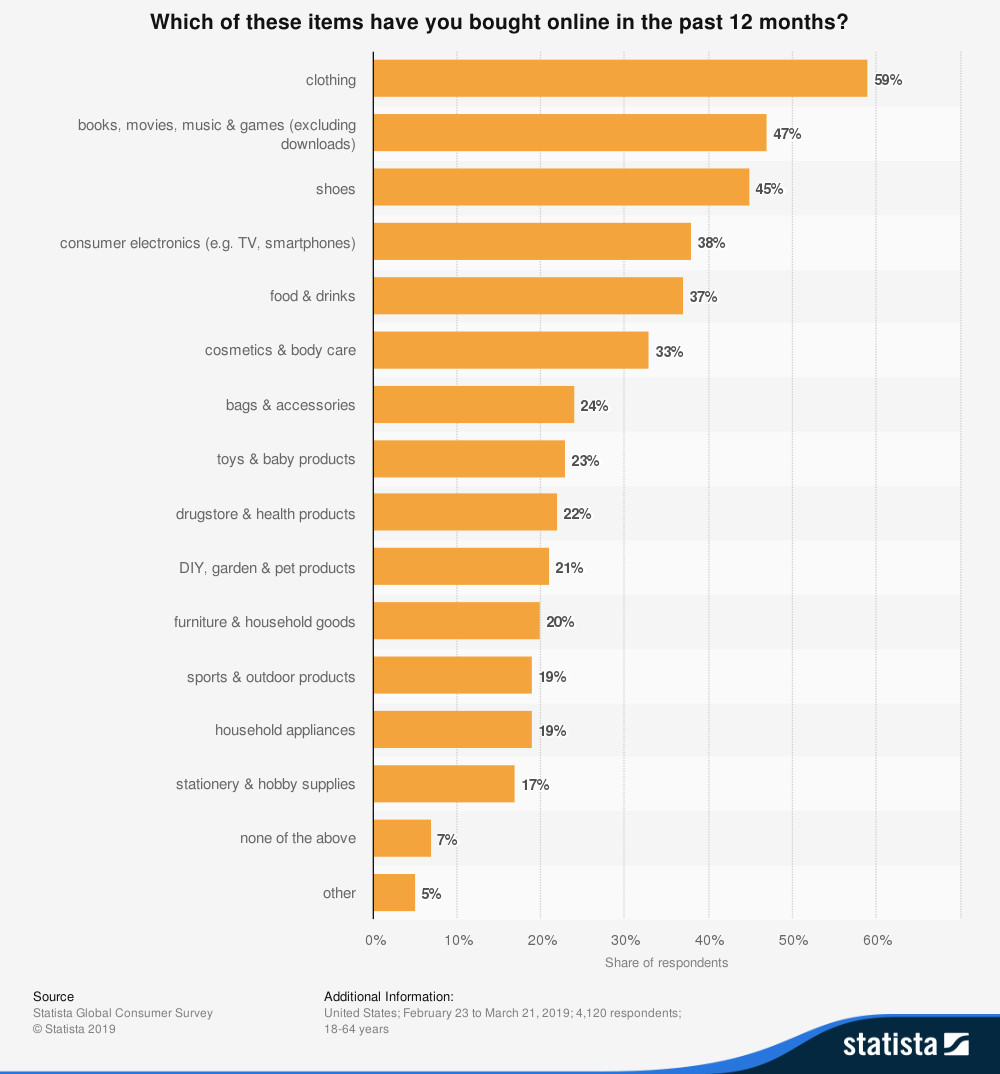 Internet Retailer notes that, in 2016, US online shoppers spent over $342 billion on goods, which is 15% more than in 2014.
Moreover, the apparel market in the US in 2015 was valued at $343 billion.
Clothing is the most popular retail product to buy, leaving books, movies, and music behind. So stop wondering "Are online clothing stores successful?"
Since the ecommerce market is so popular, you can start your own online business using multiple tools, including drop-shipping services, online shop builders, and online promotion tools.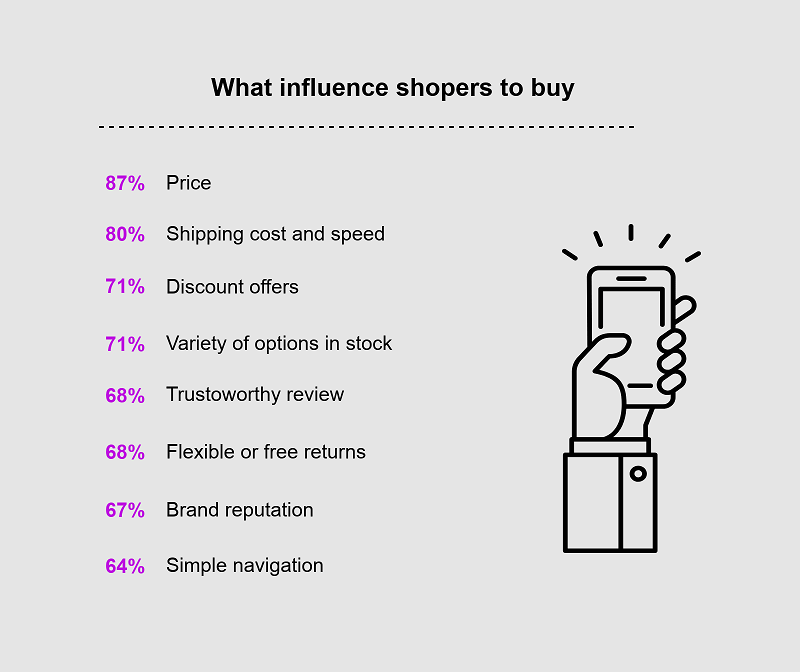 You might also like: How Ecommerce Business Can Increase Customer Lifetime Value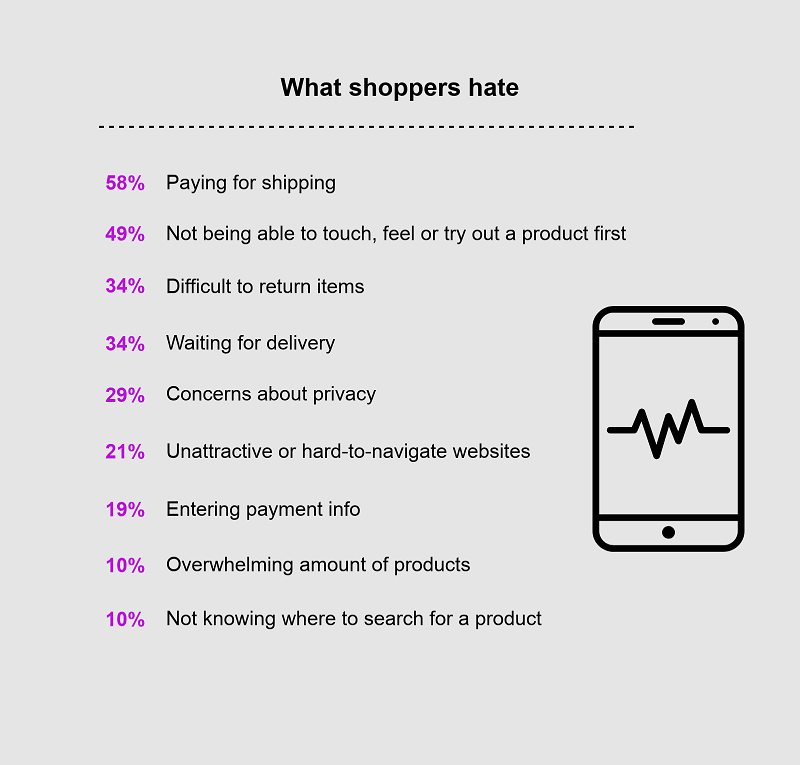 If you feel enthusiastic about starting an online clothing business, keep reading. In the article below, Dinarys will tell you about the useful eCommerce website features and include a step-by-step tutorial on how to open an online clothing store.
Starting an online clothing business: useful features
When looking for an answer regarding how to set up an online clothing store, you should be aware of the most useful features for online retail. For this, we have selected the most effective options that might be helpful for your online shop and improve your customer experience.
1. Beautiful eCommerce website design
The first point in How to create a clothing website list is always the design.
Even if your products are not the best in the world, pay extra attention to design of your site when starting an online clothing boutique. Otherwise, your website visitors will never convert into customers and you will never get the profits you desire. When making a purchase, 93% of online shoppers consider appearance as the most important factor, according to a Kissmetrics study.
When starting an online clothing business, you have several options to achieve beautiful design. You can either pay an eCommerce agency and their team of designers, or buy a ready-made template which you can customize according to your business needs.
There are many online marketplaces with online shops templates to choose from; the most popular are TemplateMonster, TonyTemplates and Apollotheme. The advantages of such templates include their intuitive layouts, and clear and up-to-date design.
As a rule, online website design should include full-width product images and a minimal amount of text. Below, you can find a Reebok example of online store design.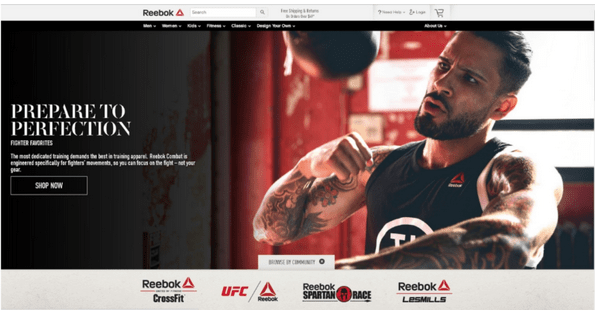 2. Live chat option
Your online shop customers need to know that you will provide them with support after a purchase. Consulting them before and after the purchase is a powerful strategy to increase conversion rates.
The best options for such a high-level service is through 24/7 live-chat. Online retailers, who use this for their business, claim to have an increase in conversion by 10% or more.
If your online business is a start-up and you have limited resources, you should still provide shoppers with support during your working hours.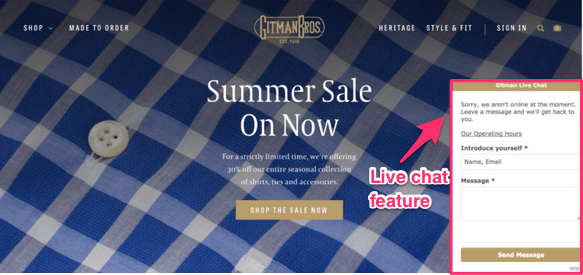 Take a look at the GitmanBros experience of providing live-chat to their customers.
3. Use a popular payment gateway
The main difference between a standard webpage and online shop is that eCommerce websites allow visitors to pay for goods online. If you want to have satisfied and grateful customers, provide them with several of the most popular payment options.
You might also like: How to Integrate a Payment Gateway in Your eCommerce Website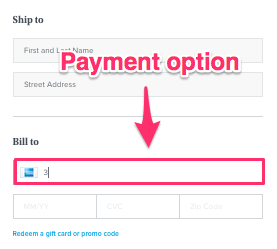 As an option, you can consider PayPal as a payment gateway for your online shop - though there are plenty others on the market, too. Here, you can learn about other popular methods of payments, selected by Entrepreneur magazine.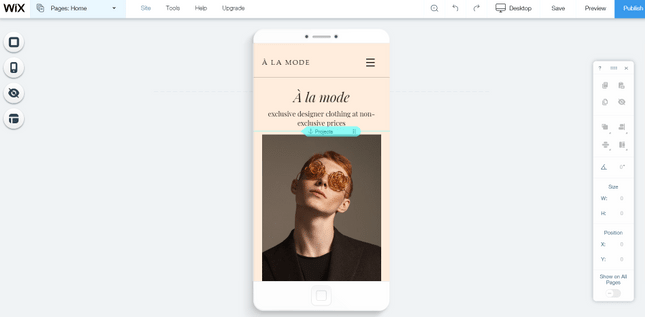 4. Responsive design for mobile devices
Several years ago, mobile commerce accounted for 30% of eCommerce as a whole, and this figure will increase in the future. For instance, Business Insider expects mobile shopping to reach 45% by 2020. Mobile shopping is expected to reach 54% of all ecommerce sales in 2021.
The rising popularity of m-commerce is a sign for online retailers to make their shops mobile-friendly. To make your existing website responsive, you can review the iOS guidelines or hire an eCommerce agency. If you are starting an online business, try to use a mobile-responsive template so as not to miss the m-commerce segment.
5. Secure SSL certificate
To make your customers feel more secure and comfortable, pay attention to the SSL certificate. Most online shop builders have this feature by default; however, if you decide to develop a custom online shop on your own, you won't want to miss this important feature.
Why is it so important? It gives you secure and encrypted communication between an online shop and a custom web browser. All customer bank account data will be safe, so your customers will trust your business more and, as a result, you will receive customers that are more loyal.
Now it's time to make a clothing website! Below you will find a comprehensive list of the detailed steps to start your eCommerce website.
How to make a clothing website: step by step
If you decided to launch an eCommerce website, you can ask an eCommerce agency for help or create the site and then promote it. Want to know more? Read the full description of each step below.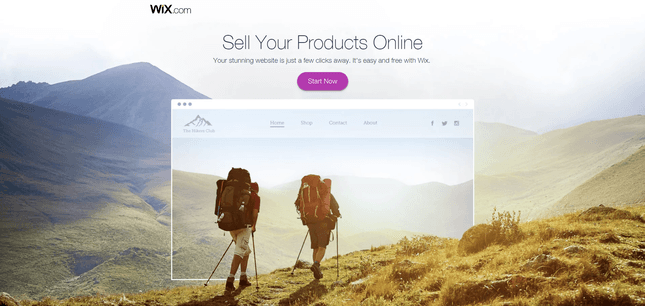 Choose an online shop builder
Most people who are not familiar with coding might find an eCommerce builder very useful. Why? Because they allow you to start your business from the very first day.
There are many builders nowadays and most cannot determine what is best for you, as they don't necessarily know how many products you are going to sell. What we can tell you is what factors to consider when choosing an eCommerce website builder.
To start, you can try several builders to find out which option suits you the best.
The best thing is that most eCommerce website builders have a trial period, so you don't have to pay before you try.
To decide, which eCommerce builder suits you the best, you can seek answers to the following questions:
Is the interface intuitive and simple to use?
Is it easy to add new pages and products to an online store?
Does the platform provide you with support in the event of any issues?
Is there enough design and templates?
Does the template display your products the way you like?
Are there enough customization opportunities?
If you answered "yes" to all of them, then the platform you currently use works best for you.
You might also like: How to Launch a Successful eCommerce Website: The Ultimate Checklist
Note: if you make the right decision with the platform and template, you will save money on further website customization. There are many different ecommerce platforms to choose from, but the Dinarys team recommends using Magento or Shopware due to their features and possibilities. Let's take a closer look.
Magento
Magento is a powerful open-source e-commerce platform with a paid plan available. The use of Magento Open Source is free of charge, but there are additional costs, e.g. for hosting. The ecommerce platform is very flexible and offers good functionality. However, some technical actions are required before you can start your online shop.
The individual customization options for the shopping experience and personalization are among the main strengths of Magento. As an online retailer, you can view promotions and offers based on various characteristics such as purchase history, location, wish lists, abandoned shopping carts, and much more. This ecommerce platform can also automatically set rules for up- or cross-selling to specific customers.
With the user-friendly administration panel of Magento, you always have invoices, stocks, and customer data under control. Assign your products to multiple sources and track the inventory of a specific location. Import/export rates and tax rates are defined by location. With a clever extension, you can send customers individual messages and alert them to low stocks. Does your inventory need to be replenished? You will then automatically receive a notification.
Check out our portfolio to see examples of Magento-based stores.
Shopware
Shopware has blossomed into an absolute recommendation in recent years when it comes to ecommerce development, especially for small and medium-sized businesses.
With a large community in the background, there is the possibility of using the free community version of Shopware to start your new e-commerce project. In addition to this, commercial versions are also available that offer a wider range of functions. In addition, there are a large number of plugins available, so that there are many expansion options, e.g. for the connection of other payment methods.
In order to convey further information to the visitor in addition to article pages for the description of the articles, shopping worlds have always been used at Shopware. In addition to articles, these can also contain banners as landing pages. Shopware 6 uses so-called experience worlds for this. This transports storytelling to a new level. The drag & drop editor has also been revised for this purpose.
A rule builder ensures that many aspects of Shopware can be adapted without any programming effort. For example, the price calculation can be influenced or certain shipping types can be activated for certain customer groups.
Read our comparison of Magento vs Shopware to make an informed choice.
The right eCommerce builder plan
As a rule, the more you pay for a store builder plan, the more features you get. This is also applicable for storage and templates.
The storage area is the place where all the data will be stored. With more space, you can store more product images, videos and customer data on your website.
The additional space is useful when you expand your product range or add product videos or a web app to show products from different angles.
Consider that visual content directly impacts your conversion rate and customer engagement.
If you have the budget for premium templates, you have more opportunities to make your clothing website more custom and to get rid of the builder`s logo. Moreover, with a premium theme, you can connect a custom domain name to reflect your business and its uniqueness.
Domain names provide a professional touch
A custom domain name will help your eCommerce clothing website look more professional. As a result, it will attract more potential buyers and increase sales. Think about the domain name as a part of your company identity.
Most online shop builders might help you purchase a domain name. You can also use such services as GoDaddy or Namecheap.
What option should you choose? Remember that, if you would buy a domain via website builder, you will need to migrate it to another platform, which can sometimes be quite difficult.
Your domain name must be catchy, not too short or too long, and it should not be similar to existing brands.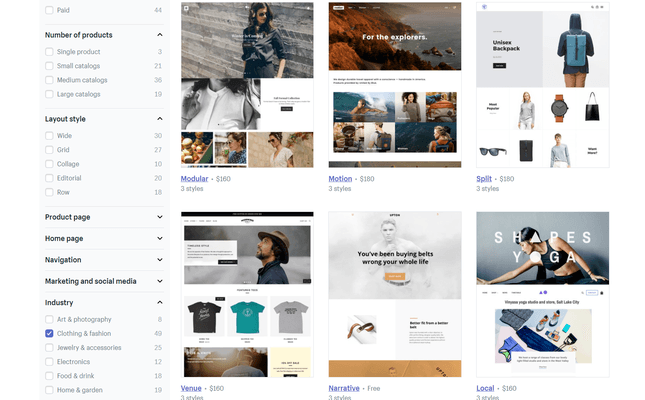 The right template for a clothing website
For most online sellers, this is the best part of starting a clothing website. Now you can create the online shop layout you've dreamed about, which will result in an online shop that's even better than your competitors'.
Using professional templates available in most ecommerce builders, your clothing website will look attractive to your customers.
Shopware offers a large selection of ready-made themes with many helpful features. Of course, with a ready-made theme you are always bound to the specifications of the respective template and in some points, for example, extensions of certain functions or adaptations to the design, are somewhat limited. However, there is still the option of developing a shop according to your individual appearance. Either way, the Dinarys team won't leave your side when it comes to design issues and technical implementation until your e-commerce project corresponds to your very individual wishes.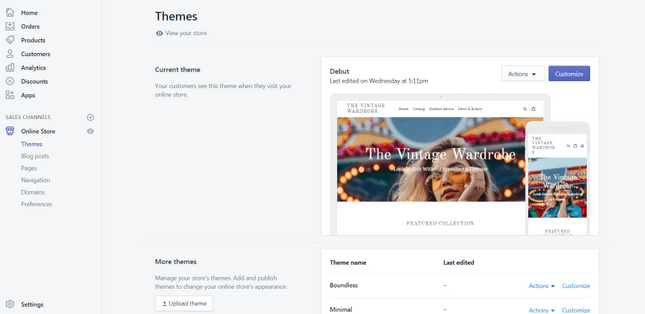 Online clothing store template customization
If you have successfully passed the previous stage, it is high time to personalize your online clothing store.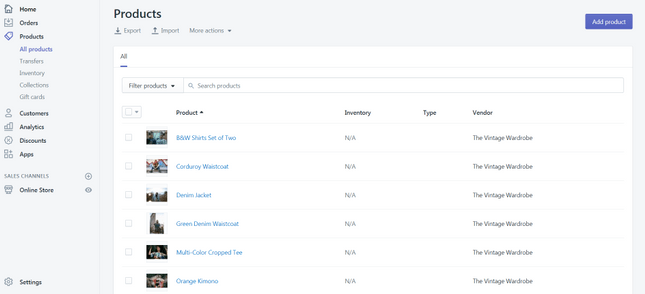 By "customization", we mean:
Adding product pages
Creating a blog to launch the content marketing campaign
Setting your background image to tell more about your company to prospective customers
Changing the color palate to stand out from the crowd
"If you have doubts about your company's style and branding, contact us to receive a consultation from the Dinarys design team."
You can also change the size, color and cover of the main sections in your online shop.
Don't forget about integration with social media platforms like Instagram and Facebook, for social proof. This will increase your chances of becoming popular among target audiences in a shorter period of time.
At this stage, do not forget to check what your template looks like on mobile devices. We also advise that you use eCommerce website templates with responsive design, to avoid frustration.
You might also like: Best Conversion Rate Optimization Tips for Your Ecommerce Website
When it's time to build a clothing website, don't ignore shoppers who prefer to use mobile devices, especially since more and more eCommerce website customers prefer to buy online via mobile devices than desktop.
Also, consider that 52% of internet traffic is from mobile device users. If you do not want to lose this significant share, make sure your website looks good and your future customers will be comfortable with the journey.
Creating product pages
In the previous article, we have told you how important product pages are. To make a long story short, the product page is the place where visual content converts your online shop visitors into customers.
If your online shop home page is the storefront, your product pages are like the shop floor at a brick and mortar store.
You might also like: 10 Best Practices for Creating a Successful eCommerce Homepage
In most ecommerce website builders, you can add product pages without the help from the developer side. Keep in mind, however, that you should focus on the customer journey. The point is that shoppers should find the necessary and desired products easily and quickly; otherwise, your conversion rate will stay low.
Check out your competitors to have a clear idea of what a convenient customer journey and product pages should look like.
Online payment processor
Payment gateway integration can be the most challenging part of starting an online clothing business; however, you can fulfill even this stage without external help from developers.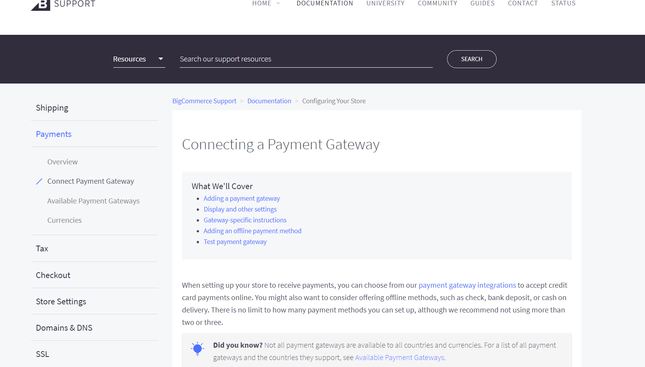 The payment gateway allows your eCommerce website to receive online payments from online shoppers. The process of payment gateway integration directly depends on your eCommerce platforms. If you face any issues at this stage, you can ask for help from the builder`s support center, or hire the Dinarys team to solve it for you.
Make your clothing website live
When launching an online shop to sell clothes, do not forget about the SEO settings; otherwise, prospective customers would never find your store among your competitors.
With Magento, you have a variety of vouchers, discounts, and other advertising material at your disposal. Create pricing rules to trigger promotions based on specific conditions. Definable values such as time, customer benefit, or free shipping from a certain order value are used for this. Shopware focuses on online marketing with shopping worlds and other tools.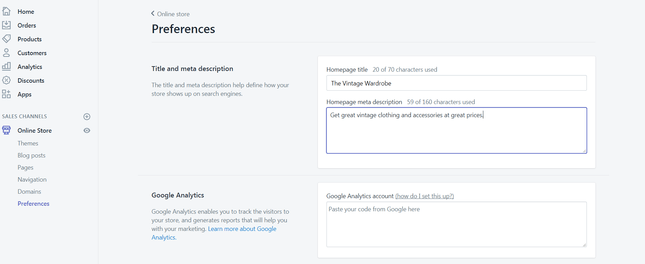 Optimizing an online store for search engines includes dealing with keywords, page titles and meta descriptions.
If you have never heard any of these words, it is better to hire an SEO agency, which will allow you to focus on your business strategy, rather than the technical details.
How Much It Cost to Develop an Online Clothing Store
If you have decided to go with Magento, carefully check the additional costs of this ecommerce platform. Do you have no technical knowledge? Then the support of programmers or designers can be expensive. Magento also incurs costs for hosting, the purchase of a domain name and extensions, as well as ongoing costs for support and maintenance. Would you like extended functionalities for your online business? Then the paid version Magento Commerce is a good solution - its pricing starts at $1988.00 per month.
If you want to use Shopware, then you should get a professional license for 1,295 euros. Things like storytelling and others are important functionalities.
Whether Professional Plus is worthwhile depends on whether you will really use many extensions. Instead of buying them individually, you can do it with a one-time fee.
Now let's see the estimated cost of the clothing website development.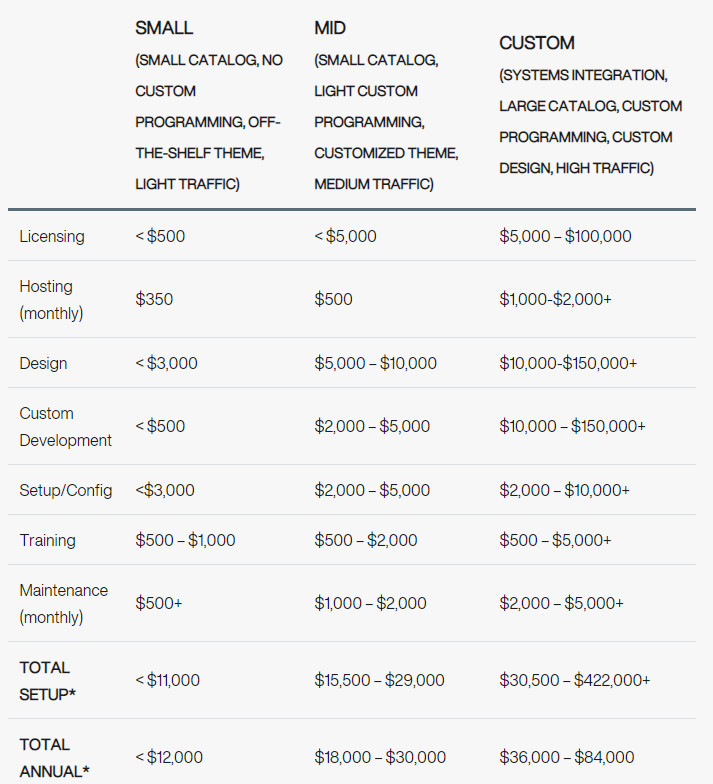 How to start an online clothing boutique: conclusion
Now, you have a vision and understanding of how to start a clothing website. The main tip from the Dinarys team is to find the right eCommerce platform that will meet your business goals and suit your budget.
Try to choose the most convenient eCommerce template with a responsive design. If you plan to scale your business in the near future, you should also consider this.
If you need a more detailed consultation on how to start your own online clothing store, industry analysis or online shop feature list that might be helpful for your business, fill out our contact form and our team will be in touch. We have the relevant expertise to cope with common eCommerce website issues and business analysis to give you the vision and make your online shop successful.
Want to read more
Get fresh articles, news and case studies to your email firstly
Related articles